Minecraft is a world-famous game, which has over 126 million monthly active users. Multiplayer mode makes Minecraft even more interesting and is highly valued among advanced players.
A Minecraft server is a private network for multiplayer that allows players to choose team members. Using a server, you easily control exactly who will play with you and who will not.
There are two ways to create a server. You can do it yourself (which is certainly difficult), or you can buy a dedicated server from a hosting provider. The latter will also cost money. But in this case, you do not have to look for equipment and processes to establish the correct operation of the server.
This article will consider the best hosting server for Minecraft, compare their key features, and provide tips for choosing the best provider. Are you ready? Let's figure it out together!
Minimum Minecraft Server Hosting Requirement
Many games require good server hardware because they have high demands for correct operation. As for Minecraft, we can say that here you are lucky. The game has low requirements, which allows you to buy the cheapest hosting and be sure that its performance is enough for a good game.
Nevertheless, we are still reviewing the minimum and recommended Minecraft hosting requirements. From these values, you should be guided by when choosing a provider or organizing your server.
Minimum Requirement
Recommended Requirement

1 GB RAM

1 CPU Core

2 GB RAM

2 CPU Core
Benefits Of Running Your Own Minecraft Server
If you're still in doubt about whether you need to create your server for Minecraft, then let's figure out its benefits. With your server, you get the opportunity to customize the game according to the parameters you need. Connect the necessary add-ons, activate plugins, change the settings at your discretion.
With Minecraft hosting servers, you get full control over the gameplay and make the gameplay a unique experience. You'll have the ability to select players by IP address: it means you'll be able to choose who is allowed or not to play with you. Very convenient if you want to play only with your friends.
Owning your server is an opportunity to create a unique gaming world and attract a community of fans just like you. Make friends, improve your skills, share experiences with other players and enjoy the game with the best Minecraft server hosting!
The Top 7 Best Minecraft Server Hosting 2022
Best Minecraft Hosting in Details
Choosing the best Minecraft hosting among the many providers is a difficult task. What parameters should I pay attention to? What price to focus on? Do not think about these difficulties because we have selected the 7 best servers, and now we will make the Minecraft hosting review of each of them.
1. Hostinger – Most Popular Minecraft Hosting
Hostinger is probably one of the leaders among hosting providers. They not only specialize in Minecraft hosting but also offer their customers cloud and dedicated servers. The price is high; many players are supported, it is possible to connect add-ons and customize the gameplay to your liking.
It is a very good option for advanced users, as it allows you to experiment with the settings. However, new players will also find it easy here, thanks to a very simple interface.


MAIN FEATURES
Price: from $8.95/month
RAM: 2 GB
Free trial: No
Players: 70
Control panel: Multicraft
DDoS protection: Yes
Mods allowed: Yes
Instant setup: Yes
Pros
Cons

99.9% Uptime

Easy server management

Great support

Instant setup

No phone support

High prices
2. Shockbyte – Powerful Minecraft Server Host
Shockbyte gives you a 100% uptime guarantee. It means that the company's servers will always be available for users; even in unforeseen circumstances, you will be sure that the provider has emergency servers. It is a very important feature for game hosting, and you should consider it when choosing a provider.
Starting from only $2.50/month, you will get a reliable server hosting Minecraft with free DDoS protection and the ability to connect add-ons.


MAIN FEATURES
Price: from $2.50/month
RAM: 1 GB
Free trial: No
Players: 20
Control panel: Multicraft
DDoS protection: Yes
Mods allowed: Yes
Instant setup: Yes
Pros
Cons

100% Uptime

Unlimited SSD

Powerful high-end plans

Slow customer support
3. BisectHosting – Most Flexible Minecraft Provider
BisectHosting provides its customers with many options. You will be surprised, but you will get quite acceptable performance and power to ensure a good game for such a low price.
Check out the full list of nice perks on the official BisectHosting website and make your Minecraft game more unique with this top Minecraft server hosting!


MAIN FEATURES
Price: from $2.99/month
RAM: 1 GB
Free trial: No
Players: 12
Control panel: Multicraft
DDoS protection: Yes
Mods allowed: Yes
Instant setup: Yes
Pros
Cons

SSD Servers

Daily Backup

Flexible options

Occasional server downtime
4. GGServers – Simplest Minecraft Hosting
GGServers is good Minecraft server hosting. You won't encounter complicated settings here, because the provider has done everything to make your server experience easy. For the low price, you'll get enough features to suffice for the recommended Minecraft requirements.
You will be limited to only 12 players, but if that's enough for you, choose GGServers as your first Minecraft Server Hosting.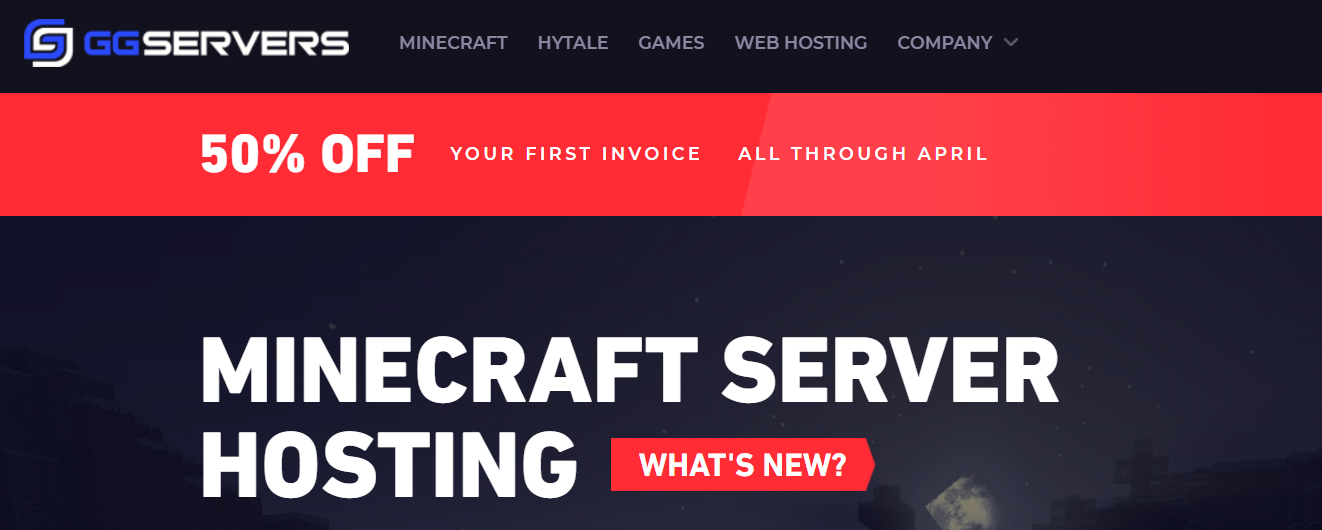 MAIN FEATURES
Price: from $3.00/month
RAM: 1 GB
Free trial: No
Players: 12
Control panel: Multicraft
DDoS protection: Yes
Mods allowed: Yes
Instant setup: Yes
Pros
Cons

Unmetered SSD

1-Click Installer

9 locations to choose from

MySQL database only included
in the premium plan
5. Apex Hosting – Multicraft 2.0 Provider
Apex Hosting is one of the top Minecraft server hosts. With DDoS protection, 1Gbps connections, and RAID hard drives, you can be sure that your hosting will run smoothly if you choose this provider.
There are unlimited players and an improved control panel. Apex Hosting is a reliable provider for Minecraft, and many positive Minecraft server hosting reviews online can prove it.


MAIN FEATURES
Price: from $4.49/month
RAM: 1 GB
Free trial: No
Players: Unlimited
Control panel: Multicraft 2.0
DDoS protection: Yes
Mods allowed: Yes
Instant setup: Yes
Pros
Cons

99.9% Uptime

Lots of server choices

Automated backups

MySQL Databases

Not available in Multiple Languages

Not Dedicated IP
6. ScalaCube – User-friendly Minecraft Server
ScalaCube is one of the best Minecraft hosts. You will not have any difficulties using this hosting provider, even if you are a novice user. The control panel is simplified here so that every user can easily customize the gameplay to their preferences.
The low cost allows you to test the service and get your money back if you are unhappy with the services' quality.


MAIN FEATURES
Price: from $2.50/month
RAM: 768 MB
Free trial: No
Players: 10
Control panel: TCAdmin
DDoS protection: Yes
Mods allowed: Yes
Instant setup: Yes
Pros
Cons

Easy to use

User-friendly interface

99.9% uptime guarantee

Slow support service
7. MCProhosting – Leader In-Game Server Hosting
MCProHosting Minecraft best server hosting aims to improve the gaming industry with new technology and high performance. It is more expensive than the other alternatives on our list. Nevertheless, you will not be limited in RAM and the number of players for this high price.
It is probably the best solution for those users who play in large teams and create a community. Plus, there's a unique opportunity to take advantage of a 7-day free trial and test how good is this server. Take advantage of the opportunity by all means, even if this provider is too expensive for you.


MAIN FEATURES
Price: from $7.99/month
RAM: Unlimited
Free trial: 7-days
Players: Unlimited
Control panel: Custom
DDoS protection: Yes
Mods allowed: Yes
Instant setup: Yes
Pros
Cons

Worldwide locations

Full file access

Enterprise hardware

Free trial

High prices
Best Minecraft Server Hosts Comparison
We have shown you the 7 best Minecraft server hosts. You can choose any of them, considering your own needs for the game. Pay attention to the price and choose the provider that offers the best option for you.
Hosting
Pricing / mo
(starting at)
RAM
Free trial
Players
Control panel
DDoS protection
Mods allowed
Instant setup
Hostinger
$8.95
2 GB
No
70
Multicraft
Yes
Yes
Yes
Shockbyte
$2.50
1 GB
No
20
Multicraft
Yes
Yes
Yes
BisectHosting
$2.99
1 GB
No
12
Multicraft
Yes
Yes
Yes
GGServers
$3.00
1 GB
No
12
Multicraft
Yes
Yes
Yes
Apex Hosting
$4.49
1 GB
No
Unlimited
Multicraft 2.0
Yes
Yes
Yes
ScalaCube
$2.50
768 MB
No
10
TCAdmin
Yes
Yes
Yes
MCProhosting
$7.99
Unlimited
7-days
Unlimited
Custom
Yes
Yes
Yes
How to Choose The Best Minecraft Hosting Provider
Above, we briefly talked about the features of the best servers for Minecraft. If you are considering other alternatives outside this list, then it will be helpful for you to know what to pay attention to.
First, we recommend you read the reviews of other players. So you can find out whether the claimed capabilities of the provider are true. Moreover, the price will also play an important role. If you plan to build a community of players and play in big teams, you need more performance and power. It will cost more than if you just plan to play with friends.
You also need to look into having a free trial. Some providers allow you to get your money back if you're not satisfied with the quality of service provided. It is a great opportunity to try working with a provider and not lose money.
Pay attention to the amount of memory provided and the ability to connect add-ons to the game. Following these recommendations, you can easily differentiate a bad provider from a good one and make the right choice!
Paying for Minecraft Hosting Servers vs. Hosting Yourself
If you have enough experience with hardware, you can try hosting yourself. We would like to warn all other users at once: do not waste your time and efforts; it's better to use ready-made solutions from hosting providers.
Yes, it will cost you more, but you won't have to deal with the technical side of the question yourself. It's better to spend your time on the game!
Cheap Minecraft Server Hosts
Minecraft does not require high performance from the server. As we mentioned above, there are minimal requirements. The simplest plan will be enough if you use the server to play with your friends. Don't overpay for a large amount of memory and the number of slots if you don't need it for an interesting game.
To choose the cheapest option, you just need to make sure that the provider is reliable and that his plan covers the recommended Minecraft requirements. The less you expect from the game, the cheaper plan you can choose without losing the fun of the gaming experience.
Final Thoughts
Well, here we come to the end of our Minecraft server hosting review on the best server hosting for Minecraft. Let's go over the main points of the article again briefly:
If you want a more enjoyable Minecraft experience, then you should get a Minecraft server. It has many advantages, and believe me, you'll love it!

Your server allows you to play with your friends, change the game, experiment with settings and adds-on.

When choosing the

best server hosting Minecraft

, you should be guided by its reliability, availability of free trial, price, and the number of players.
Minecraft Server Hosting FAQ
Why Get a Minecraft Hosting?
Manage your settings, choose your team members, and create a community of fans of the game.
What to Look for in a Minecraft Server Hosting Service?
Pay attention to such parameters as the maximum number of players, free trial, support for add-ons, the simplicity of the interface, as well as the price.
How much RAM is good for a Minecraft server?
2 GB RAM is recommended. Keep this in mind when choosing a hosting provider.