Besides selling design and amazing content, one of the most important proper tools is web hosting, which helps you get the job done to a high standard.
There are tons of hosting providers. Sometimes it can all get a bit confusing. Fortunately, we've prepared a detailed web hosting guide based on the factors that matter, from server uptime and load speed to customer support and pricing.
Read on and find your best web hosting for small business.
8 Best Web Hosting Providers for Small Business
How to Choose the Best Hosting for Small Business
For small business website owners, picking a reliable provider is vitally important. Your choice will have a large impact on customer loyalty and the company's revenue.
But you agree that no two businesses are the same? How, in that case, to pick the right provider for you? Your decision really comes down to your personal needs. In particular, you should consider the type of your business and the size of your website.
The three features we've focused on the most during our research process are:
Multiple Server Types
How many server types hosting provider offers?
There are several types of web hosting for business, such as shared, WordPress, cloud, VPS, and dedicated hosting. Each with its own strengths and weaknesses.
Server needs can change as the situation changes, so we've chosen companies that offered more than one type. If your business will grow, you should have the option to switch from, say, a shared hosting to a VPS or dedicated server without any stress.
Uptime and Load Speed
How dependable and fast is the server?
There are two critical factors in choosing the best hosting for small business — uptime and load speed. Uptime means the amount of time that a hosting system is operational, while load speed refers to how fast website pages load. These two factors affect the speed and reliability of your website.
Ideally, you need a provider that experiences less than two hours of downtime over an entire year. If your site is down, or each page is loaded slowly, customers may lose confidence in your company and even might go to a competitor.
Customer Support
How fast is it to get help when you need it?
The less you are tech-savvy, the more support you might need. And If you have an issue or your website will go down, it's crucial to resolve it quickly.
The providers offer support in a variety of ways, particularly live chat and phone, for each of its clients. Perfect when you have 24/7 customer support, and customer service reps are professional, friendly, and can solve problems with a minimum of wasted time.
The Different Types of Small Business Website Hosting
Get acquainted with various modes of small business website hosting. Then, you'll have a clearer idea of what type of hosting you need, and you'll pick the best web hosting for business.
Shared Hosting
Shared hosting is where you share a server with other entrepreneurs.
We recommend shared hosting for a small business owner starting for the first time, a small business of under five employees, and a solo merchant. In all cases, a shared hosting plan will help you stay within budget and cater to your technical needs.
For more information, see Best Shared Web Hosting Providers.
VPS Hosting
VPS is a virtualized server, a nice middle ground in a shared server environment.
If your business grows, you can transition from a shared to a VPS hosting package. VPS server applies most to small and medium-sized websites.
For more information, see Cheap VPS Hosting Providers.
WordPress Hosting
WordPress hosting is hosting that optimizes to better ensure WordPress's security and performance needs. It usually includes one-click WordPress installs.
WordPress is the most popular web platform. WordPress web hosts provide managed solutions, which give you a hand to hold through the process of creating and managing your website. If you're too busy with daily work, the WordPress server can be the best small business web hosting for you.
For more information, see Best Cheap WordPress Hosting Services.
Cloud Hosting
Cloud hosting is a hosting that makes websites accessible using cloud resources.
Unlike traditional hosting, solutions are deployed on virtual and physical cloud servers. It ensures better scalability and flexibility. This type of hosting can be the right choice for companies who want to grow their servers as they see fit, without restriction.
Dedicated Hosting
Dedicated hosting means allocation to you your own server — more powerful and, consequently, more expensive.
Small businesses should look at a dedicated server if he expects to receive more website hits. Or if an organization has a large marketing budget and plan to pay for visitors to the website.
For more information, see Best Cheap Dedicated Server Hosting Services.
#1 – Bluehost – Best Overall Small Business Host
When it comes to value for money and quality of plans, Bluehost is at the top of small business web hosting services. Another reason why start-up companies choose Bluehost is its easy integration with WordPress.
Provider offers shared, VPS, WordPress, and dedicated hosting.


Features and benefits of Bluehost include:
At 99.98% uptime or less than two hours of downtime in a year
Free website domain
Free SSL certificate
24/7 live chat and phone customer support
Pricing options start from $2.95/month.
Server location: USA

Ready to choose your plan? — Go to Bluehost hosting
Want to read some more information — Go to
Bluehost review
#2 – Servermania – Best Features for Windows and Linux
Dedicated servers for Windows and Linux of Servermania provider are some of the best on offer. You only take a look at some of the features:
Up to 20TB Bandwidth
WHMCS/cPanel
Customized hosting
24/7/365 tech support
1GBps Network Speed
All popular CMS apps are supported (WordPress, PrestaShop, Joomla).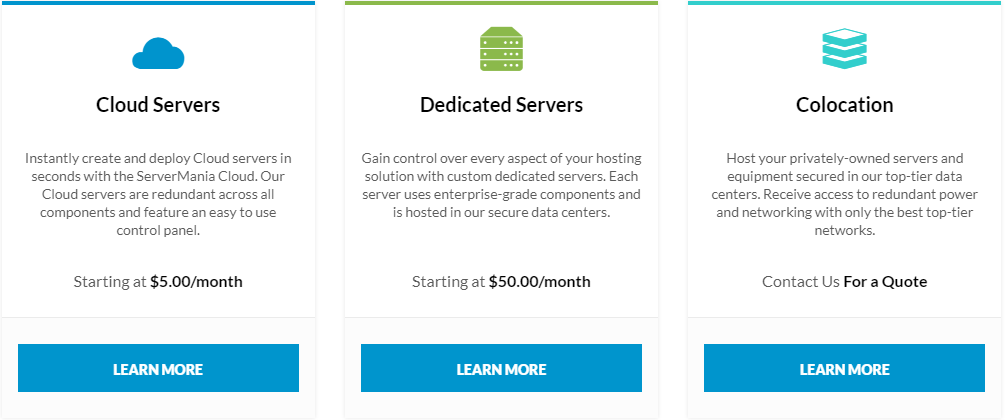 ServerMania deals in cloud and dedicated servers. Cloud server starts at $5/month.
Server locations: USA, Europe

#3 – InMotion – Best Features on a Cheap Plan
Unlimited bandwidth, free email account, and free SSL — all these options are available in a most basic shared plan. Up to the second Launch shared plan, you'll also get up two websites and access to InMotion's website builder. Other tools include visitor statistics, emails on any device, and advertising credits.
InMotion offers shared, VPS, WordPress, and dedicated hosting.

InMotion's uptime rating is 99.97% or less than three hours of downtime per year.
Prices for these hosting options start at $2.49 per month.
Server location: USA

#4 – HostGator – Best Web Hosting with un Unrivaled Uptime Service
In a world where 100% uptime is impossible, HostGator demonstrates a 99.99% uptime rate or less than an hour of downtime per year. It is more than other providers from our top list can offer! HostGator is the best small business website hosting on this parameter.
Other high-quality features:
Unmetered bandwidth
Free email marketing tools
Unlimited storage
Own website builder called Gator

HostGator offers shared, VPS, WordPress, and dedicated hosting packages.
Price starts from $2.75/month.
Server location: USA

Ready to choose your plan? — Go to
HostGator hosting
Want to read some more information — Go to HostGator review
#5 – A2 Hosting – Best Cloud Hosting for Small Business
A2 Hosting is on the top in cloud hosting. Cloud plans can offer extreme flexibility and a set of useful features, including 2 – 4TB of data transfer, 150 – 450GB storage, and root access. It is one of the few hosts to offer multiple server types: both Windows and Linux hosting are available.
A2 Hosting offers cloud, VPS, dedicated, WordPress, and shared hosting.

Shared plans for Windows and Linux server hosting include:
Free SSL
Unlimited email accounts
100GB storage
Hosting uptime of 99.95% or less than 4.5 hours of downtime per year.
The cheapest plan is offered at $2.47/month.
Server locations: USA, Europe, Asia

#6 – Hostinger – Most Affordable Web Hosting for Small Business
Hostinger combines a huge range of features at affordable prices. It discounted prices starting at just $0.99 per month and includes 10GB storage, free SSL, and 100GB bandwidth. Besides, you get a multilingual support team with offices around the world. The provider gives 24/7 live chat, email, support tickets, and a searchable knowledge base. So, Hostinger offers the best hosting sites for small business in the cheap category.
Hostinger offers shared, VPS, WordPress, and cloud hosting packages.
Hostinger's uptime guarantee of 99.90% or almost eight hours predicted downtime per year.
Server locations: USA, South America, Europe, Asia.

Ready to choose your plan? — Go to Hostinger hosting
Want to read some more information — Go to
Hostinger review
#7 – GreenGeeks – Most Eco-friendly Website Hosting for Small Businesses
Impressive green hosting offers a 300% renewable energy match. It returns three times the power consumption to he network. On top of that, it has unlimited disk space and bandwidth, which gives your website plenty of resources to grow. So, today they don't need to sacrifice power to be green.
GreenGeeks offers shared, VPS, and WordPress hosting.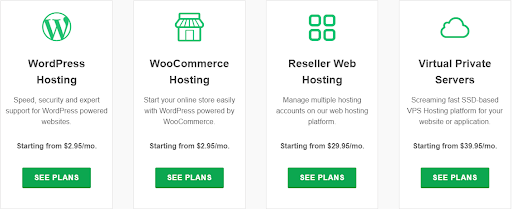 The main benefits are:
WordPress installation
Free website transfer
Free backups
Uptime guarantee of just 99.90%
All these core strengths make GreenGeeks the best business web hosting in the green category.
The cheapest package costs $2.95/month. It is a perfect proposal for small websites or blogs that are just getting started.
Server locations: USA, Europe

Ready to choose your plan? — Go to GreenGeeks hosting
Want to read some more information — Go to
GreenGeeks review
#8 – DreamHost – Best Value for Money
Preferring to Dreamhost provider, you get a lot for your money, especially if you buy its shared and WordPress hosting. It is also a great choice if you have a lot of content to host because the smallest storage limit on its cheapest shared plan is 50GB. It is one of the best web hosting for small businesses in e-commerce, isn't it?
Other high-quality features on the cheapest shared plan:
One-click WordPress installation
Automated daily backups
Advanced features like Shell access
Free domain privacy
It's all for just $2.59 per month!
Except for shared hosting, you can choose between VPS, cloud, WordPress, and dedicated hosting.
Server location: USA

Ready to choose your plan? — Go to
Dreamhost hosting
Want to read some more information — Go to Dreamhost review
Web Hosting Comparisons
So, what is the best web hosting site for small business?
If uptime is your number one priority, then HostGator will be more suitable. If you want cloud hosting, we recommend provider A2 Hosting. Are you looking for an eco-friendly website Hosting? Your only option is GreenGeeks, no compromise. For the cheapest plan, refer to Hostinger.
Generally speaking, Bluehost offers the most comprehensive all-around package. Its features are unrivaled. Bluehost also has resources to handle your site as you grow from a small business into a large company.
Are you choosing between two providers and cannot decide? We compare two or more of the best hosting companies in our detailed articles. Read on and define which is right for you.
Web Hosting
Server location
Customers
Storage
Control
Pricing / mo
Trial
Servermania.com
Review
USA, Canada, Netherlands
8000
250 GB
cPanel
$29/mo
–
Inmotionhosting.com
Review
USA
320,000
Unlimited
cPanel
$4.99/mo
90 days
A2hosting.com
Review
USA, Netherlands, Singapore
200,000
Unlimited
cPanel
$4.90/mo
30 Days
Bluehost.com
Review
USA
2,000,000
50 GB
cPanel, Custom built
$3.95/mo
30 Days
Hostinger.com
Review
USA, Europe, United Kingdom, Netherlands, Singapore, Brazil
29,000,000
Unlimited
hPanel, Custom-built
$3.99/mo
30 Days
Greengeeks.com
Review
USA, Canada, Netherlands
40000
Unlimited
cPanel
$3.95/mo
30 Days
Useful Hosting and Seo Tools
Hosting Checker — Find out the best hosting for SEO
Website Down — Test if the website is down
Speed Test — Test pages for speed and optimize it

Expired domain checker (coming soon)

— Check domain duration and its availability for sale
Website Safety — Check is your website listed as dangerous
Domain Availability — Choose a domain name for your website
Best Hosting for Small Business FAQ
What is Small Business Web Hosting?
For small businesses, a reliable provider is central to successful development. The best web hosting service for small business allows your site to run with no downtime and with fasting page loading. But the most basic benefit of a web host is to provide the space needed to store files.
What to Look for in a Small Business Web Host?
Best business hosting must offer the following advantages: excellent load speed history and uptime, multiple servers types available (because your company changes and grows), 24/7/365 customer support, security features.
What is the Cost of Small Business Web Hosting?
Depending on the chosen provider and plan, website hosting for business can cost from $0.99 to more than $100 per month. Paying annually one-time will usually shave off the monthly fee. A few bucks for a year is nearly free web hosting for small businesses.