For more than 10 years, HostPapa has helped loads of entrepreneurs, business owners, digital experts, and bloggers turn their online incentives into award-winning web hosting reality.
Today, the company is known as an independent and reliable hosting provider that offers a range of special plans and features. Its affordable costs mean that most owners of small businesses looking for unlimited features can afford it.
While working on this HostPapa hosting review, we've tested the system to check its products, features, and solutions offered at all levels.
HostPapa Hosting Pros & Cons
Based in Canada, the company itself is an option for small businesses. However, its pocket-friendly rates make it open to anyone looking for ways to make their website visible. The big question is whether HostPapa will work for you. To help you make the right choice, we have listed some of the pros and cons of the source.
Pros
Cons

99.97% uptime guarantee

cPanel Control Panel

24/7 support

30-day money-back guarantee

Free domain (if you pay for a full year of web hosting)

Free website transfer

Cloudflare CDN

One-on-one training

Free SSL

Eco-friendly approach

Costly add-ons at checkout

No free backups

No Windows hosting

No speed boosting software
HostPapa Hosting in Brief
| Characteristic | Information |
| --- | --- |
| Uptime guarantee | 99.97% |
| Server response time | Within 30 seconds |
| Support options | Chat and telephone support available 24/7 |
| Plans | Web hosting, Online store, WordPress, VPS, Reseller, PapaCare+ |
| Features | Great drag-and-drop website builder; Shared, reseller, WordPress, VPS hosting |
| Service locations | Toronto (Canada) |
| Starting price | $3.95 per month |
Go to Hostpapa
When to Use HostPapa Hosting
When preparing this HostPapa review, we figured out that the service is a great option to host web apps and sites. Owners of organizations, businesses, and growing websites should consider using the services mainly because of the professional marketing focus of the company owners.
They provide a wide assortment of website products that range from providing domain names to web design and hosting. The service works best for small business owners and DIYers.
Besides, you will easily be able to manage domains, billing, add-on, and support services because the interface is beginner-friendly. If you know nothing about the basics of web hosting, the experts at HostPapa will do their best to make their services as accessible to newcomers as possible.
When Not to Use HostPapa Hosting
If you check HostPapa reviews available online, you will see for yourself that the service doesn't have that many pitfalls. However, if the question of pricing means anything, ensure to consider costly add-ons at checkout.
Even though the company's mid and low-tier plans are discounted, keep in mind that the discounts are available only if you choose a 3-year commitment. If not, at renewal, you will have to pay quite a sum for a plain shared hosting plan.
HostPapa Performance
When one reviews hosting HostPapa, it is important to test its performance. When it comes to uptime guarantee, HostPapa offers 99.97%. That's a good standard. It's no doubt, you can't find a service ready to offer a 100% guarantee since (let's face it) things happen.
In addition to a great uptime, the user is also provided with less than three hours of downtime per year.
HostPapa Speed Test Results
It doesn't matter what HostPapa hosting plans you pick, they provide every customer with high rates of speed. We've performed a range of tests to see how the company performs on a global level. We're very happy with the results, and here they are:
| Test | Average Loading Time |
| --- | --- |
| GTmetrix test | 13.6s |
| Pingdom test | 2.00 s |
| PageSpeed Insights (Google) | 2.7 s |
As you can see from the table above, the test results aren't the worst in the industry. It confirms that HostPapa is fast pretty much in all locations.
HostPapa Hosting Uptime Guarantees
We're happy to report that according to our hostpapa.com review, the company's uptime has been excellent from the very beginning. They promise a 99.97% uptime with only an hour of downtime.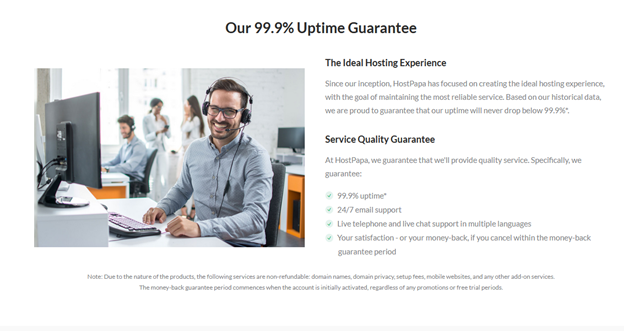 That's a very good number since many companies tend to struggle with keeping the websites live. Whether you're planning to run a shop front or a personal blog, HostPapa is here to help.
HostPapa Server Response Time
The reps of HostPapa ensure their servers are fast enough for your audience. To review HostPapa web hosting, we tested it at www.bitcatcha.com. Turns out, the results are pretty impressive: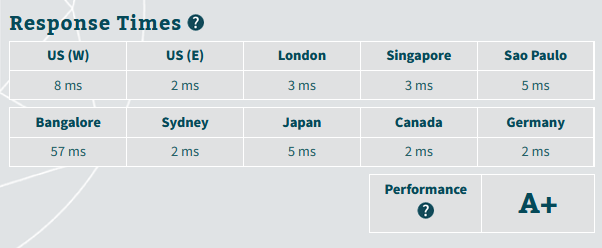 As we can see from the A+ results, their servers are quick, which means your audience will enjoy a high-quality speed whenever required.
How to Change a Hosting Provider to HostPapa?
To transfer your website from your current provider to HostPapa, login to the HostPapa dashboard and choose a web hosting plan. For additional help, you can open a support ticket. Choose the relevant subject line that says that you want to transfer your site.
Provide the name of your current company; give the URL to your site, and any other details that will help online managers to speed things up. You will be then asked to provide more information and login credentials to your current provider. It will enable them to start transferring as fast as possible.
HostPapa Hosting Types, Features, and Pricing
The company offers HostPapa reseller, VPS, managed shared, reseller hosting, and even some nice website builder plans. Regardless of the plans that the user chooses, you get it with free site migration and unlimited bandwidth.
WordPress Hosting
If you choose HostPapa WordPress hosting, you get extra security and a range of features, such as enhanced speed, 24/7 support, and top-quality performance. You're required to pay $3.95 per month (3-year commitment included) and $12.95 per month if you go for the options of the WP Business Pro level.
If you already have your domain name, you can easily transfer it to HostPapa with no extra fees. In preparing this HostPapa WordPress review, we came to know that a dedicated expert would assist you when it comes to WordPress migration. S/he will make sure you get started the right way.

In general, it's a wonderful hassle-free option for the small business owners on the lookout for reliable platforms to build a small WP site, as JetPack is available pre-installed.
Reseller Hosting
HostPapa offers resell hosting services that come complete with CacheCade, SSD Drives, RAID array, and so on. To make this HostPapa reseller review clear for you, let us explain what reseller hosting is. Basically, it is a VPS, dedicated, or shared server plan that goes with management and is attached with the third-party billing.

Reseller options are available for a starting price of
$29.99
. It gives you an opportunity to start your own hosting company without the need to actually do that. Essential features include free SSL certificates, 500GB-2.5TB bandwidth, 50GB SSD-250GB SSD storage, free billing, and an automation suite.
VPS Hosting
If you are in the market for HostPapa VPS hosting, get started with the Mercury plan for $19.99. Through this HostPapa VPS review, we're here to inform you that you have 100% control over a certain amount of resources. Besides, you don't have to lease an entire server – you just get a specific allocation of its resources.

With VPS plans, you can host as many sites and domains as you want on your VPS, use extra resources (entry processes, CPU, memory), and launch additional VPS servers from your HostPapa Dashboard.
Web Hosting
Web hosting is the heart of the online presence. HostPapa offers individual accounts available on a Linux server. On a LAMP Stack, they can run WP or any app. If you're looking for potential options for a basic blog or website, you get the best deal for $3.95 (Starter plan).

If you choose a Business plan ($3.95 per month), you get unlimited add-on domains, 2x CPU, and MySQL resources. With Business Pro ($12.95 per month) option, you're welcome to benefit from 6x performance and speed, enhanced security suite, and unlimited MySQL databases.
PapaCare+
The company ensures to get your email setup and keep your site up-to-date and working at its best for $49.95. 24/7 support, friendly staff ready to help you with cPanel functions (managing domains, redirects, spam filters, email accounts, etc.) – PapaCare+ is the right choice for the website owners looking for a chance to focus on their business without the necessity to think of IT issues.

Email Hosting
To write complete HostPapa reviews email hosting should be considered. The company offers a list of options for the clients who don't like the idea of doing Microsoft or Google productivity suite.

Get a Basic Email for
$1.00 per month
using a company domain name.
Security
HostPapa offers its shared hosting plans with quality Panda Cloud protection, GlobalSign SSL certificates, monitoring, server firewall, and intrusion detection. Due to solid security measures, all your data is kept from third parties.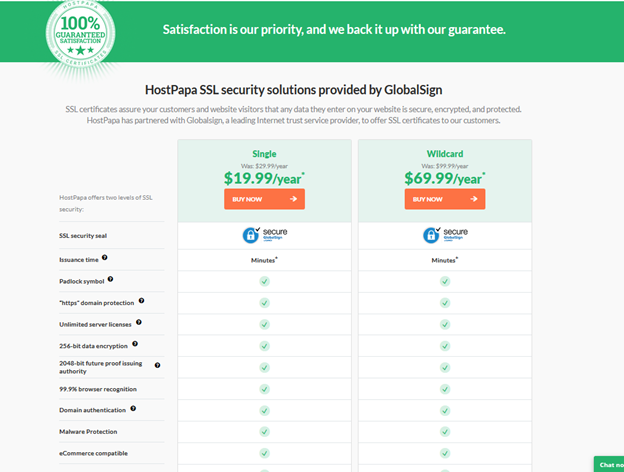 If you choose the Business Pro plan, you will be provided with additional features like dedicated IP address, domain privacy, and automated site backups. GlobalSign SSL certificates mentioned above use the strongest data encryption that exists at the moment to protect the personal info of your clients.
Support
The company is solid on its support options. For availability, they provide email, fax, online chat, phone, and social support.
For the clients who prefer non-human communication, the company provides an extensive base of useful materials that cover all possible questions from account management to web hosting.
HostPapa Quick Facts
| Fact | Information |
| --- | --- |
| Website migration | Free site migration |
| Free features | Free domain registration, free domain transfer, free SSL, Free billing and automation suite, free enterprise-grade hosted email |
| Control Panel | cPanel |
| Email accounts | Unlimited |
| Bandwidth | Unmetered |
| Webspace | 100GB + Unlimited |
| CDN | Cloudflare |
| Hidden fees and clauses | The advertised price is offered for the first payment term only. You get renewals for a higher price. Clients will have to pay a setup fee of $29.99 if they use a refund policy |
Go to Hostpapa hosting
HostPapa Hosting Review: Do We Recommend It?
Yes, we do. The company has boosted its services over the past couple of years. Today, it is a reliable and independent small business host. Its main advantage is that it offers a good value for a moderate price.
The clients are provided with a decent assortment of hosting options, some exclusive features (for instance, a starter plan that supports two sites), user-friendly rates, dedicated support, and excellent self-help selection.
Their loading time and uptime are nearly perfect. Besides, they can be reached via different channels, which means the most positive communication experience is included. If you're a newcomer and serious about your business, HostPapa could be a nice option.

HostPapa Hosting Alternatives
If you're wondering about the possible alternatives to the company under study, check some of the options available on the web:
FAQs on HostPapa Hosting
What extras do I get with HostPapa Hosting?
At HostPapa, you get solid security options, free SSL certificates, free domain, and a 30-day money-back guarantee.
Can I buy a domain through HostPapa hosting?
Most hosting packages offered by the service include a free domain name. At the same time, you can also buy one.
Can I Upgrade My HostPapa Hosting Plan at Any Time?
Yes, this is possible. The reps of the company will guide you through the process.
Is HostPapa Hosting Good for Beginners?
Yes. Both the website design and the managers' availability are solid proof that HostPapa is a good place to go if you're a newcomer.
Is the customer support multilingual?
Yes, they do provide multilingual support. The support team reps speak English, German, Spanish, and French.