ServerMania offers a wide range of hosting solutions. Small and large businesses will find an option for their needs here. It is a reliable service with a long history and thousands of satisfied users worldwide.
A team of experienced developers is constantly working on improving their service quality to ensure that customers get the best experience possible. Let's take a closer look at this service in our servermania web hosting review.
ServerMania Pros & Cons
We have collected all the advantages and disadvantages in one table for those who do not have time to read the entire review!
Let's quickly go over the key pros and cons.
Pros
Cons

Unmetered Bandwidth Available

Enterprise-Grade Hardware

Custom Hardware Configurations

Global Data Center Locations

Dedicated KVM for Instant Reboot and Custom OS Install

Up to 20 Gbps Network Speeds

No shared hosting packages

Payments are non-refundable

High renewal prices
ServerMania in Brief
| Characteristic | Information |
| --- | --- |
| Uptime guarantee | 100% |
| Support options | live chat, phone |
| Server hosting plans | Dedicated, Hybrid, Cloud |
| CMSs | WordPress, Joomla, Drupal, PrestaShop, TotalCode |
| Features | 10 TB Bandwidth, Solid State Drives, Full Root Access,  |
| Starting price | $5 a month |
Go to ServerMania hosting
When to Use ServerMania
Use this one if your site needs a lot of resources. It is a reliable hosting service that will give you as much memory as you need to host your site. There are solutions for e-commerce sites, and blogs. Most companies will be fine with this service in terms of resources, and if you need more, it's not a problem to find a suitable variant with the sales department.
When Not to Use ServerMania
If you are a beginner, then using this service may cause you some difficulties. It is not critical. But in that case, you should still pay attention to other services. Many providers have less advanced functionality and control panels, which are suitable for novice users.
Later on, you can return to ServerMania when you gain experience. If you have enough time to figure out the settings, then it's certainly worth a try.
ServerMania Performance
Modern database software is optimized for fast and efficient data storage and retrieval. But without the right server, database software can't perform efficiently, and you may experience hardware bottlenecks. Slow database performance manifests as sluggish applications, extended data processing, and increased latency for business-critical operations.
ServerMania Dedicated Database Hosting is optimized for seamless database performance. From the latest Xeon CPUs to ECC RAM, and high-performance SSD storage and NvME drives with RAID redundancy — they choose every component so that your database never has to wait for the hardware to catch up.
ServerMania Speed Test Results
To verify the high performance of the server, we will check the download speed of the content. To do this, we used popular services that you are probably familiar with as well.
Here are the results:
| Test | Average Loading Time |
| --- | --- |
| GTmetrix test | 12 s |
| Pingdom test | 1.50 s |
| PageSpeed Insights (Google) | 2.9 s |
The results are great! The site loads almost instantly. It will positively affect your search engine rankings since both Google and visitors love fast sites (you probably love fast sites, too!). ServerMania cheap hosting provides perfect speed! You can't expect more for such a low price.
ServerMania Uptime Guarantees
Uptime is a critical indicator of the success of any provider. It should aim for 100%. The more likely it is that your site will be unavailable for some time, the more users you may lose, and accordingly, your site will be worse ranked by search engines.


ServerMania
offers a
100% network uptime guarantee
. This uptime guarantee provides you with compensation if the network is not available to you 100% of the time.
ServerMania Server Response Time
Another indicator that you should pay attention to when choosing an ISP is Server Response Time. To determine this indicator, we will use the popular Bitcatcha service. By the way, you can use this service on your own to check other servers.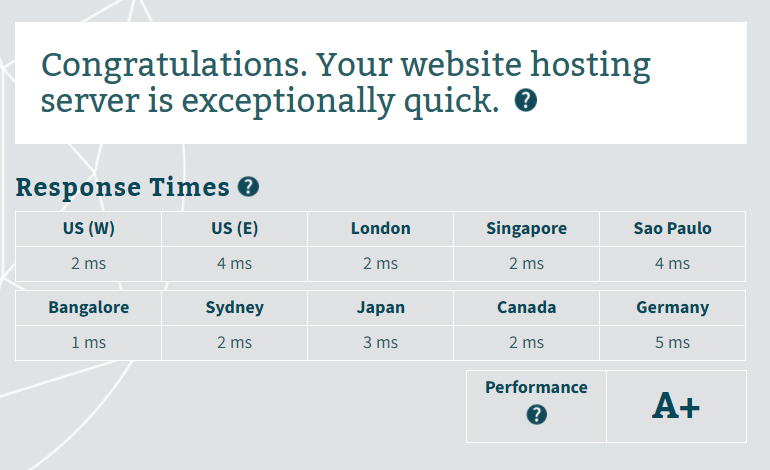 ServerMania
has a
great result
! Google considers fast sites that load faster than 200ms. As you can see, from anywhere in the world, ServerMania loads in less than 5 ms. That's awesome!
ServerMania Site Migration
If you already have a website on another hosting, you can easily switch to this provider. To do this, just create an appeal to the support service, and specialists will help you. It is completely free and included in the cost of all hosting plans.

ServerMania Types and Pricing
ServerMania offers the possibility to host your website on Dedicated Server, Hybrid Server, and Cloud Server Hosting. Deciding which type of server is suitable for your business can only be done by evaluating all the resources you need. You can read in detail about each type of hosting and analyze which suits you best. Below we will tell you a little about the features and prices.

Dedicated Server Hosting
Dedicated hosting is the ideal choice for those sites that need the entire server's resources, not part of it. You will not share the performance with other users. All the power of the server will be directed only to your resource.

This type of hosting is ideal for sites with high power and performance consumption. Dedicated servers are usually provided to users for no more than a day.
Hybrid Servers
A hybrid server from ServerMania is similar to a VPS, but it has far fewer users per node. The performance of a hybrid server is much better than a VPS. The number of cores for your business directly depends on the hybrid server plan you choose. ServerMania offers hybrid servers with configurations of 2 to 4 cores.

Here cPanel / WHM and Plesk are available for an additional fee when ordering your plan. The Lite series hybrid servers are connected to 100 Mbit/s connections, and the Performance series servers are connected to 250 Mbit/s connections. It is an excellent connection speed even for websites of large companies.
Cloud Server Hosting
Cloud Server Hosting is a great option for hosting your site on the network for processing and backing up data. The provider offers users a reliable platform for high availability and continued uptime in the event of a hardware failure. As a self-healing cloud, resources will automatically re-deploy as needed to ensure optimal performance and uptime.

The cost of the plan package depends on the amount of RAM and Storage. You simply need to determine what resources you need to keep your site up and running and activate the appropriate plan. If you have any difficulties, contact support for advice. It's free.
Security Measures
Databases are often the medium for confidential customer records and a lot of personal information of the site owner. With every day of technology development, the issue of data security becomes very critical. Your business's reputation and your earnings depend on it, as users will not want to use an insecure site.
When choosing a hosting service, you should pay attention to the provider's security measures to protect your information from hacker attacks, natural disasters, and emergencies. Regarding ServerMania, all servers here are guarded around the clock with firefighting technology.
Besides, all data centers precisely meet the data hosting requirements of your company's residences. It is a great advantage that adds points to this provider. Well done!
Support Team
A provider's support service shows how valuable customers are to that company. The faster and better the support specialists help the user, the better the company cares about you. ServerMania gives you the possibility to contact specialists by phone or online chat. The stated response time is less than 15 minutes.


We decided to check how quickly the experts responded. As you can see, the experts were not available at the time we contacted them. We waited for about half an hour and still could not get in touch with the experts. Maybe we were just unlucky! In numerous
Servermania reviews
, users have noted that support is very responsive and helps users very quickly.
ServerMania Quick Facts
| Fact | Information |
| --- | --- |
| Bandwidth | Unmetered |
| FREE SSL Certificate  | included in each plan |
| Cloud Backup | 50 GB |
| Advanced Features | Dedicated KVM for Instant Reboot and Custom OS Install |
Go to Servermania hosting
ServerMania Review: Do We Recommend It?
Definitely yes! Of course, we recommend this service. High performance, trouble-free uptime, reasonable prices for great capacity, variety of pricing plans. All this makes ServerMania a great competitor for other hosting market leaders. Maybe they are not as popular as other market giants, but certainly not inferior in service quality.
You can be sure that there is a suitable solution for most types of business in terms of power and performance. It's a stable and reliable service whose reputation has been proven over the years and by thousands of satisfied customers from all over the world!

ServerMania Alternatives
If you're not ready to make a final decision, and you need to take a look at other options – use this list of alternative providers!
Cloudways – provides excellent quality of managed cloud hosting plans.
Nexcess – the provider that supports many platforms.
WP Engine – managed premium WordPress host. Much cheaper than most similar competitors.
We hope that our detailed review will give you an idea of the providers and help you figure out what kind of hosting your business needs. Good luck with your choice!

FAQs on ServerMania
Is ServerMania good for Game Hosting?
Yes. There are special features for this type of hosting as well. The cost of a game server depends on the game being run, the number of users connected to the server at any given time, and a variety of other factors.
What are the requirements for running an ARK dedicated server?
8 GB RAM
20 GB Disk Space Minimum (50-75 GB Recommended)
2 CPU Cores @ 3.0GHz+ (For 10-15 players)
64-Bit Windows or Linux OS (CentOS Linux Recommended for a standalone server)
Is the customer support multilingual?
Yes. Specialists provide help in four languages.