The question of choosing the best web hosting for blogs is crucial. Why? You can't let your hosting work incorrectly, so it's essential to select the most reliable of the possible options. No less important are the speed, cost, and time it takes the support team to respond to your issue tickets.
The more reliable your hosting is, the less you risk losing the readers of your blog. That's why choosing VPS for your blog is a significant step when you launch it. Let's take a closer look at what factors are critical and compare all the best blog hosts.
5 Best Blog Hosting Providers
How to Choose the Best Web Hosting for Blogs
To choose the best host for blogging, you should know what to pay attention to. We suggest you consider three main factors. Pay attention to them when you study the detailed information about the provider.
Factor #1 – Uptime
It is the most significant factor. If uptime is below 99%, you should not even consider this service. Your blog should be available all the time. Remember. Every minute that your blog is unavailable will lead to a loss of readers and traffic. Make this point your priority when choosing a hosting.
Factor #2 – Speed
Do you agree that you will not wait even 10 seconds while the site page is loaded? High download speed is a guarantee that users will positively receive the blog. The reader will not only stay on your blog page but can also go to other articles. Make sure that the pages of your site are loaded quickly enough. For this, pay special attention to the speed of web hosting for blogs.
Factor #3 – Customer Support
Speed of support, qualification of its operators – these indicators also matter when choosing a provider. Learn about all possible ways to contact the support service. Ensure that the support operators are available 24/7 so that you don't have to wait long in case of problems.
The different Types of Best Hosts for Blogs
There are many types of best blog hosts. We will consider three main ones, which will help you choose one of the top blog hosting sites. Some hosting places emphasis on some specific features.
Depending on the amount of time you can spend on your blog and technical knowledge, you can choose one of the following options. To find the best hosts for blogs, take a look at these types.
Type #1 – Self-hosting
You can choose this type if you have sufficient technical knowledge. Self-hosting has its advantages. You are not limited to a third party; you can administer your blog yourself. However, in the end, it can be too complicated and sometimes unreasonably expensive.
Type #2 – Managed WordPress Hosting
If you are a beginner blogger, then this type of hosting a blog is just for you. There are a lot of managed WordPress hosting on the network. Here, all the work's technical aspects will not be done by you, but by the host.
In this case, you will have resources to focus on other factors of your blog development, delegating all of the 'technical' obligations to the host.
Type #3 – Hosting With Extra Features
In case you need to get additional functionality, you should look for such hosting. They offer different options depending on your needs and goals. Best web host for blogs with extra features provide domains, do not limit you in disk memory, and so on.
#1 – DreamHost – ideal for developers
This is not the most popular web host for bloggers mentioned, but many users simply underestimate it. DreamHost provides more opportunities than competitors in this price range, but it is vital to understand their variety. You can find the full list in the website instructions.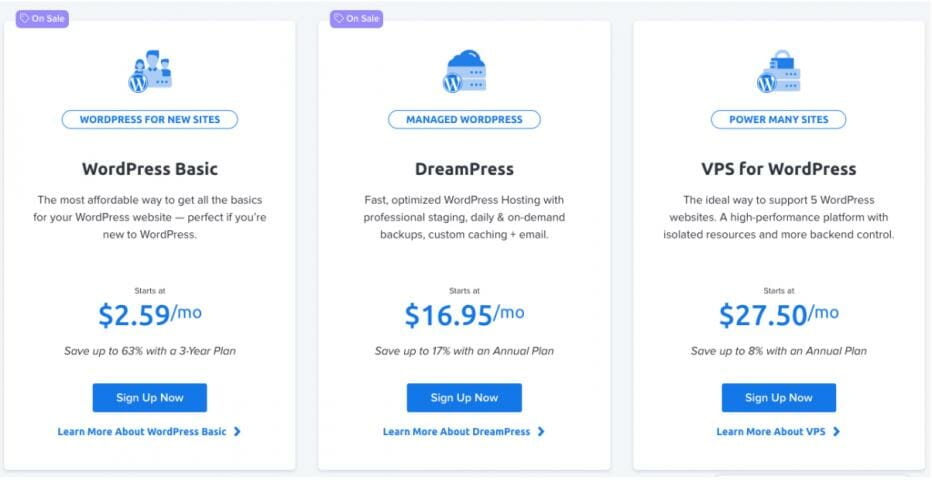 Here are some advantages of the service:
Free SSL Certificate
Automated Backups
Auto WordPress Updates
Except for the 14-day free trial, the provider promises to return the money at any time if you don't like hosting. You can start using the basic plan of best blog hosting services and eventually move to a more complex rate if you want.
DreamHost is an incredibly affordable hosting and can be ideal if you need maximum support from its specialists.

#2 – HostGator – best provider for blogging sites
HostGator is probably one of the best blog hosting sites for blogging. 99.9% uptime guarantee. They provide the domain for a year free of charge. This option is one of the most affordable options for beginner bloggers.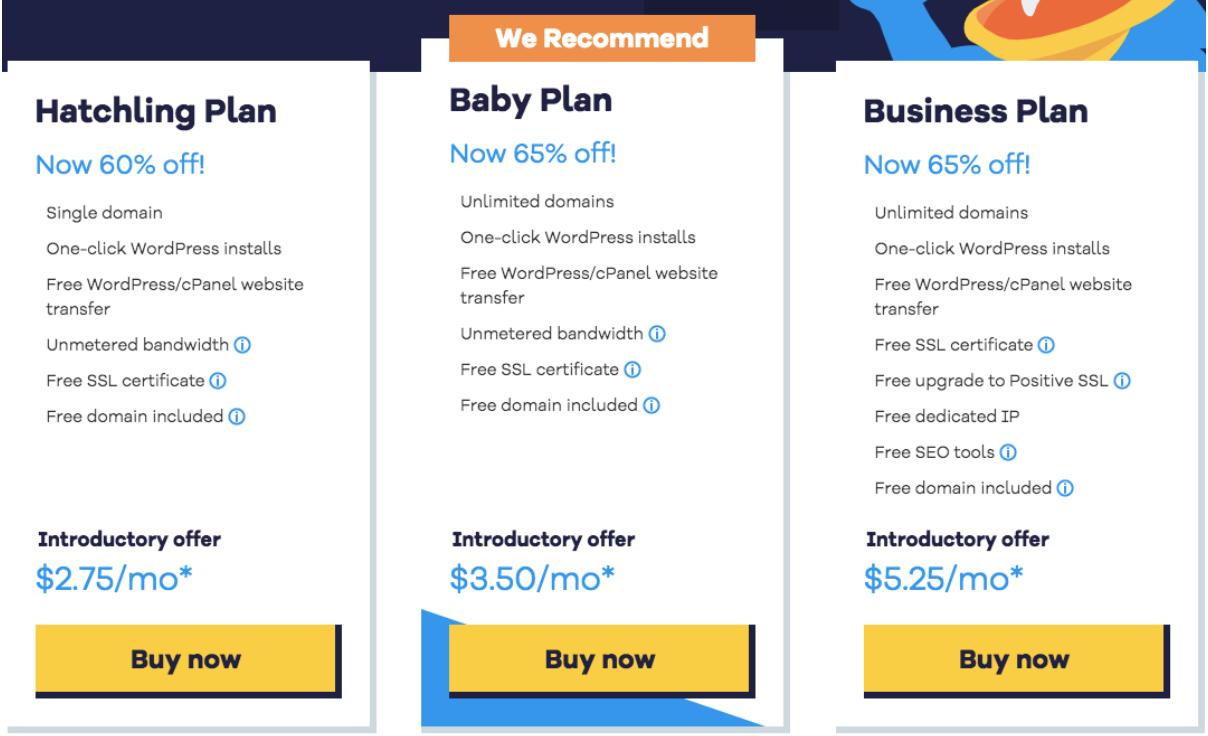 These are the most important advantages of this provider:
Free domain
Free site transfers
Unmetered bandwidth
Free SSL certificate
Besides, the service provides round-the-clock support. At any time, you can get help from the support service and solve any problem you may have. HostGator doesn't offer a test period, but refunds are possible for all packages except for dedicated servers within 45 days after purchase.

#3 – A2 Hosting – fastest provider for blogs
Service with a very user-friendly interface. All technical specifications are well written. Protection of A2 Hosting servers also is at a high level. The company provides an inexpensive shared hosting for Windows. It's swift.

There WordPress is a separate category of VPS. The company has two types of blog hosting providers: Linux and Windows-based.
Some advantages of this provider:
Unlimited SSD Space & Transfer
Free & Easy Site Migration
Free Automatic Backups
VPS and dedicated servers fall into two main categories: managed and unmanaged. For the first type, you get the initial configuration from the start; for the second – only the operating system of choice.
Dedicated servers are expensive but very well protected. They also have a lot of disk space and traffic.

#4 – Bluehost – best provider for WordPress
Bluehost seems to be among the best hosting sites for bloggers. When buying for more than one year, you can find some reasonable discounts. Almost all tariff plans have no limits on disk space, traffic, and number of domains. The company also provides separate packages optimized for WordPress and WooCommerce.

You can get a free consultation, and a hosting specialist will help you choose the appropriate tariff plan for your purposes. Customize your blog to your content with design flexibility.
The support is high, the prices for shared hosting and WordPress are low, advanced cPanel is quite convenient. On the other hand, there is not sufficient information on VPS and dedicated servers' characteristics.
The level of protection may also seem questionable. Judging by the numerous blog hosting reviews, this one is more suitable for professionals than for beginners.

#5 – SiteGround – most popular provider
SiteGround is one of the most popular blog hosting services, which allows you to use many features for successful blog management—storage running on SSD disks for an optimal speed and a high-level of redundancy.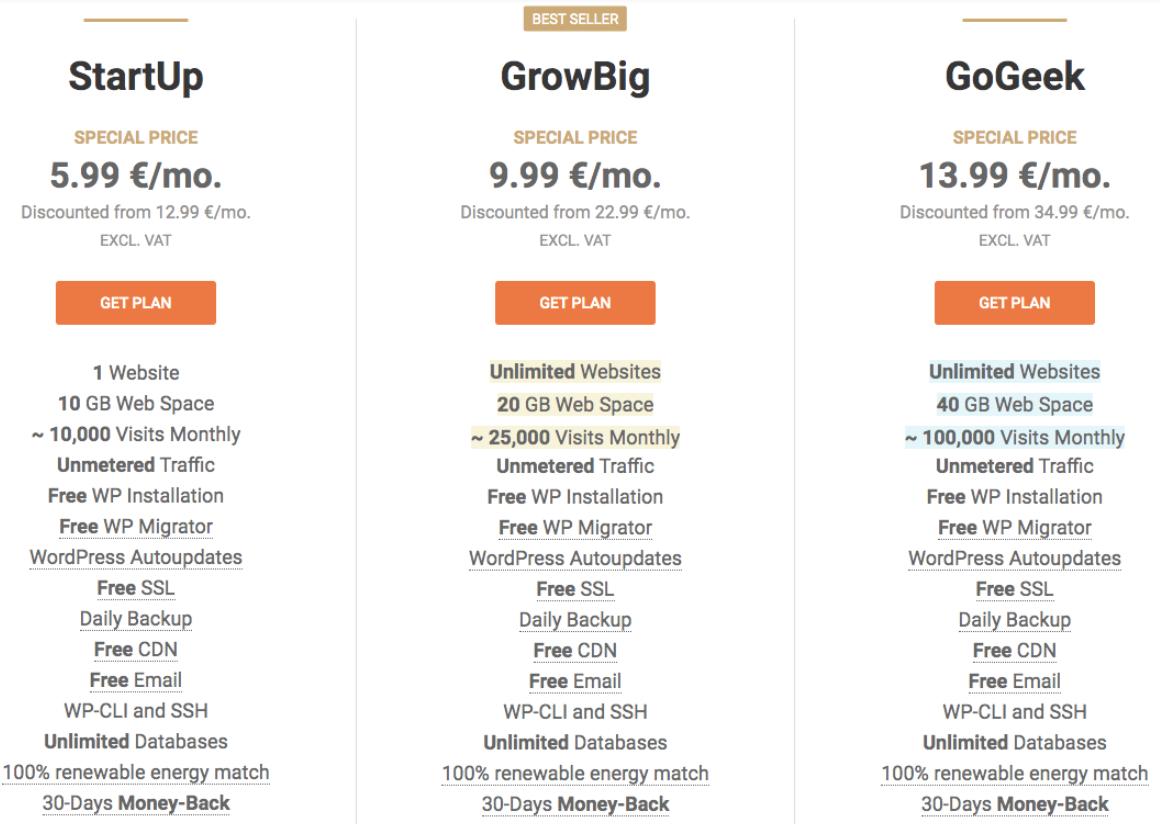 For virtual and WordPress top blog hosting, the company offers users a panel of its own design. SiteGround protects against DDoS attacks, application firewall, free SSL, and SGtool – antivirus and malware scanner for all packages.
So you can not worry about the speed or security of your site by trusting this provider.

Server location

Server location is the location of the data centre where your website is hosted. This location can be anywhere in the world irrespective of where you are based.

Hosting plans

Different types of website need different types of hosting, so we've shown you which web hosting services provide which types.

Storage

Storage is to do with how much content your website needs to hold.

Control

Dashboard used by hosting providers. You can manage your site's hosting through the type of dashboard.

Pricing / mo (starting at)

Bluehost.com Review
USA
Shared, WordPress, VPS, Dedicated, Managed WordPress
2.000.000
50 GB
cPanel, Custom built
$3.95
30 Days
Siteground.com Review
USA, United Kingdom, Netherlands, Singapore
Shared, VPS, Dedicated, Green, Reseller, WordPress, Web, WordPress, WooCommerce, Cloud
1.700.000
20 GB
Custom
$3.95
30 Days
A2hosting.com Review
USA, Netherlands, Singapore
Shared, WordPress, Reseller, VPS, cloud, Dedicated server, Email200.000
200.000
Unlimited
cPanel
$4.90
30 Days
Hostgator.com Review
USA
Shared hosting, Website builder, WordPress hosting, VPS hosting, Dedicated hosting
No data
Unlimited
CPanel
$2.75
45 days
Dreamhost.com Review
USA
Shared, WordPress, VPS, cloud, dedicated, managed
No data
Unlimited
Custom
$2.59
14 days
Justhost.com Review
USA
Shared, VPS, Dedicated server
1.000.000
Unlimited
cPanel
$3.38
30 Days
Interserver.net Review
USA
VPS, Dedicated, WordPress
50.000
Unlimited
cPanel, Direct Admin, Plesk, Custom panel
$4.20
30 Days
Hostmonster.com Review
USA
Shared, VPS, and Dedicated Hosting
1.700.000
Unlimited
cPanel
$8.45
30 Days
Netim.com Review
Europe
Web, Email-oriented, WordPress, PrestaShop
30.000
Unlimited
Parallels Plesk
$7.45
-
Domain.com Review
USA
Web hosting plans, WordPress, Shared, Dedicated, Email
10.000
Unlimited
cPanel
$3.75
-
Canadianwebhosting.com Review
Canada
Shared Hosting, Cloud Hosting, Managed WordPress, VPS Hosting, Dedicated Servers
100.000
1 GB
cPanel
$3.95
60 days
Hostupon.com Review
Canada
Shared, WordPress, VPS, dedicated servers, reseller, cloud
10.000
Unlimited
cPanel
$9.95
30 Days
Milesweb.com Review
USA, India, United Kingdom
Shared, WordPress, Reseller, VPS, Dedicated server, Cloud
10.000
1 GB
cPanel, Plesk
$0.60
-
Greengeeks.com Review
USA, Canada, Netherlands
Shared, VPS, Dedicated, Green, Reseller, WordPress
40.000
Unlimited
cPanel
$3.95
30 Days
Fastwebhost.com Review
USA, Germany, India, Netherlands, China
Web hosting, VPS, Dedicated servers, Domains
30.000
20 GB
cPanel
$2.95
30 Days
Exabytes.com Review
USA, Singapore, Asia
Web hosting, Email, WordPress, Cloud SSD VPS
100.000
1 GB
cPanel,Plesk
$1
-
Mochahost.com Review
USA
Shared, WordPress, VPS, dedicated, reseller
500.000
Unlimited
cPanel
$1.95
180 days
Cloudways.comCloudways.com Review
USA, Germany, Singapore
Digital Ocean, Linode, Vultr, AWS, Google Cloud
12.500
xx
in-house
$10
3 days
Eukhost.com Review
Europe, United Kingdom
Web hosting, Email, VPS, Cloud, Dedicated
35.000
Unlimited
cPanel, Plesk
$4.44
-
Netfirms.com Review
USA
Shared hosting
1.200.000
Unlimited
Custom built
$4.45
-
Namecheap.com Review
Europe, United Kingdom
Shared, WordPress, Reseller, VPS, Dedicated
3.000.000
Unlimited
cPanel
$2.88
14 Days
KnownHost.com Review
USA, Europe
Web Hosting, WordPress Hosting, VPS Hosting, Dedicated Server Hosting
No data
Up to 300 GB
cPanel
$3.47
30 day
Hostwinds.com Review
Seattle, Amsterdam, Dallas
Shared, Business, Reseller, White label
No data
Unlimited
Custom
$5.24
-
Gameservers.com Review
Worldwide
Ventrilo, Teamspeak 3, and Mumble
500.000
10 TB
Custom
$69.99
No data
Gandi.netReview
France, Europe
Dedicated, WordPress, PrestaShop, Cloud Servers
30.000
Unlimited
cPanel
$4
-
Easyspace.comReview
United Kingdom
Dedicated WordPress Hosting, Shared hosting, VPS
300.000
10 GB
Plesk, cPanel
$4.8
-
Midphase.comReview
USA
Shared, VPS, Cloud, and Dedicated
120.000
Unlimited
cPanel
$3.48
30 Days
Fatcow.comReview
USA
Shared, WordPress, VPS, dedicated
100.000
Unlimited
vdeck, Custom built
$4.08
30 Days
Startlogic.comReview
USA
Shared Web Hosting
50.000
Unlimited
cPanel
$5.99
30 Days
Server4you.comReview
Germany
Dedicated, Virtual Dedicated, Virtual
10.000
20 GB
cPanel
$5
-
Servermania.com Review
USA, Canada, Netherlands
Dedicated, Hybrid, Cloud
8000
250 GB
cPanel
$5
-
Hostpapa.comReview
Canada
Web hosting, Online store, WordPress hosting, VPS hosting, Reseller hosting, PapaCare+
150.000
Unlimited
cPanel
$4.95
30 Days
UltaHost.comReview
Frankfurt (Germany), Dallas (USA), New York (USA), Los Angeles (USA) Toronto (CA), Amsterdam (NL)
Shared, WordPress, VPS, Windows, Dedicated, Managed WordPress
49K
50Gb NVME
cPanel
$2.90
30 Days
LWS.fr
France
Shared, VPS, Dedicated, Reseller, WordPress, Web, WordPress, WooCommerce, Cloud
1.000.00
100 Gb
cPanel, Custrom built
$1,99
30 Days
Kinsta.com
35 locations, across USA, Canada, South America, Europe, Asia, Australia
Managed WordPress
25,400+ companies
Varies per plan, starting from 10 GB
Custom-built (MyKinsta)
$35
30 days
No matches
Web Hosting Comparisons
Our specialists have made a detailed analysis of the mentioned hosting services, especially for you. Learn about all the pros and cons of hostings, and pay attention to the key features. Here are a few articles on this topic, which will help you make the final choice and compare hostings:
With this table of blog host comparison, you can analyze hostings by main crucial parameters. This information will help you make the right choice.
Useful Tools
We have also prepared some useful tools for you to promote your blog more efficiently.
FAQ
What is the best free blog hosting site?
What is blog hosting site for you? You can select from the ones above, keeping in mind what is most vital for you to get. As you can see from the hosting descriptions, they differ between the functions, memory, and price presented to the client. There is no ultimate, all-in-one service. However, the options available are quite good.

Are there any disadvantages to a self-hosting?

There are some disadvantages. This one is a more complex type of hosting. Yes, it will be harder for you. Think carefully before choosing a self-hosting.
The configuration can be much more complicated than in the case of VPS platforms. Keep this in mind if you are just starting your blog.
You won't be able to count on help from the support team if there will be any problems or difficulties.
The cost of this type may increase over time. Depending on many factors, you may need to spend more and more.
You need technical background knowledge to be successful. In the VPS provider's case, all the technical tasks on your blog will not depend on you.
What are the costs of a self-hosted blog?

About $200-225 per year. The amount may depend on your goals. Cheaper will come out if you use VPS blog hosting companies. If you are a newbie blogger, this option will take more energy than benefits for you.