What is Onset? It's an open-world scripting sandbox made on Lua programming language by Blue Mountains studio. Users can create their scripts and game modes without any restrictions. It's often called one of the best starting points for beginners in programming.
The Onset game has simple graphics. It works even on old machines with i5-2300 chips and 4 GB RAM. Users already have 400+ pre-made functions to customize the world, but they can create even more unique features using the Lua language.
You can host the Onset server with any rules, modes, and scripts. At the same time, any player can learn how to program fast and efficiently. Otherwise, their game character won't survive for too long.
That's why many users started looking to create their own unique gaming experience. We are here to help you with this complex task! We've gathered 6 TOP Onset servers, so you can easily choose the best for you!
Minimum Onset Server Hosting Requirement
As previously mentioned, this game works even with an old or cheap PC. But how to get Onset on these computers? The easiest legal way is to buy it on Steam.
We also recommend you look for the minimum requirements. To run a game for multiple players simultaneously, a server should be more powerful than the following settings:
System: Windows 7 64-bit (there is no 32-bit support)
Processor: Intel Core i5-2300
Working Memory: 4 GB RAM
Graphic Card: GeForce GTX 660 2GB
Storage: 20 Gb
Additional notes: SSD storage
You can find other recommended settings on the official Onset Steam page. There are no PS4, Xbox, or macOS versions. But the system requirements are friendly to most PC users so that you can build your dream team.
The Top 6 Onset Server Hosting Providers
Now that you know the preferable Onset host server parameters, it will be easier to find a suitable option. It's time for a fair review! Let's compare six popular Onset servers to find the difference between them:
Does this list contain Onset server free hostings? No, there are no free hosting providers for this game. But all options from this list are affordable, and you can customize the bill by adding or removing extra features.
Best Onset Servers Hosting in Details
Choosing the finest Onset server host is difficult. It requires time and effort to compare variabilities and find which choice suits every team member. Take a closer look at those features: FTP access, location changes, DDoS protection, number of slots, SSD storage limit, friendly support, low ping, and a user-friendly control panel. Fine Onset multiplayer servers should have 3+ features from this short-list.
1. GTX Gaming — top-tier hardware
It's one of the oldest game server companies. They were established in 2008, and since then, GTX Gaming has been one of the major players in the market. They are famous for the fact that they're the first to host best sellers, so you can find a lot of exciting games to play.
They've achieved this because they are constantly updating software to meet the requirements of the high-demanding games. As for early 2023, they are running on ultra-fast SSD drivers, i7 and i9 processors installed on Dell machines.
They have worldwide coverage, so you can always find a server located near you. Users can set up international teams and play anytime they want. This Onset hosting is always online. The subscription already covers all power and network expenses. You can create admin sub-users and give them various permissions.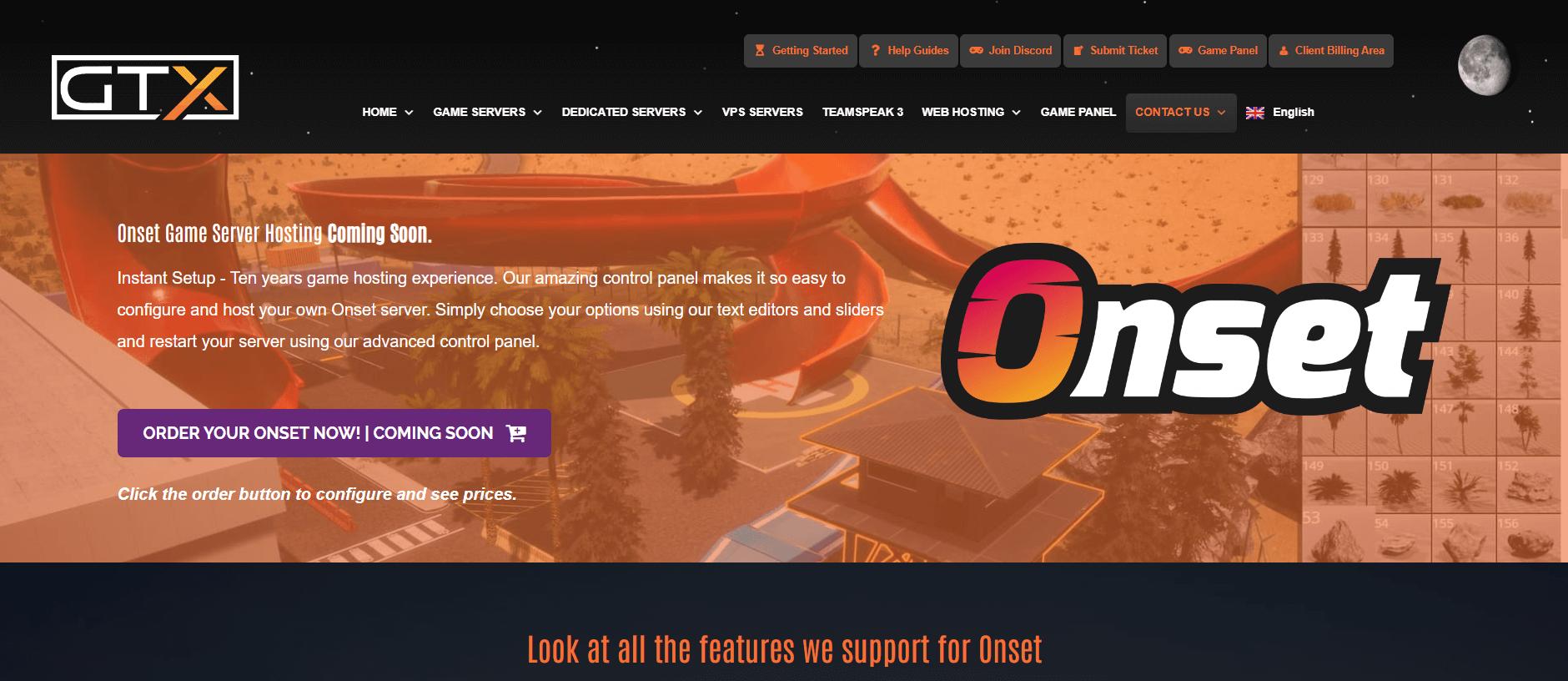 KEY FEATURES
Price: Doesn't provide information
Trial: No
Players: Doesn't provide information
Control panel: Custom
Pros
Cons

30+ servers with worldwide coverage

Sub-user feature allows to appoint multiple admins and moderators

Discord chat

Lot of payment options, including cryptocurrency

Game switching feature

24-hour refund

Slow support
Ready to choose your plan? — Go to
GTX Gaming
hosting
2. Host Havoc — fits every team size
You can find many popular and indie games on Host Havoc: from CS:Go and DayZ to Arma 3 or Unturned. Users like this Onset server rental because it can simultaneously fit up to 300 players.
Host Havoc has in-depth DDoS security that covers servers from any type of distributed denial-of-service attempts: from UDP floods to Source Engine query attacks. If you like to use proven customization solutions, you can install pre-made Lua scripts and C++ plugins.
Host Havoc also has an extended 72-hour refund, so you can fearlessly test all its features. Set up your international team with Oncet 10 data centers worldwide.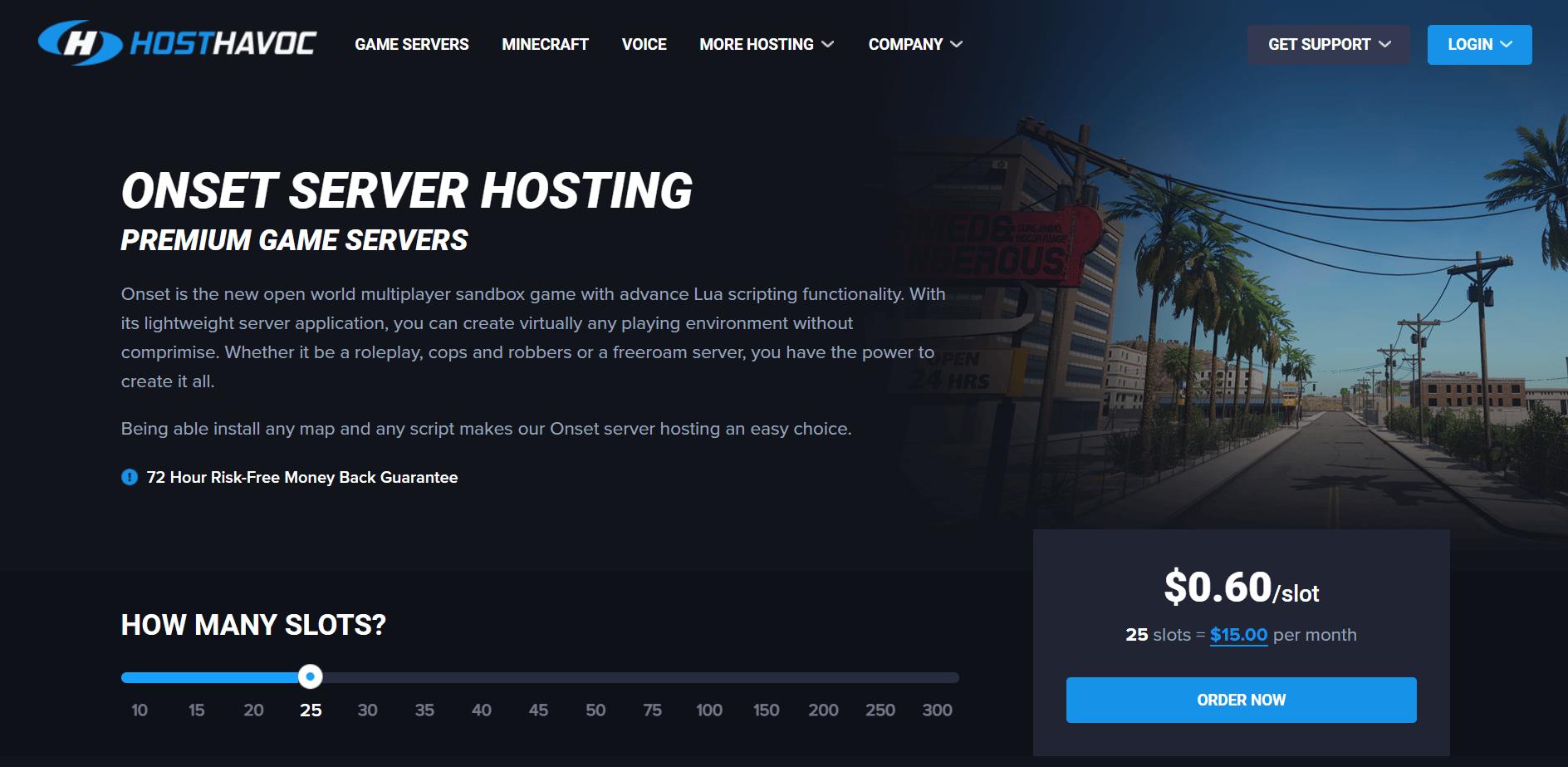 KEY FEATURES
Price: from $7.50/month
Trial: No
Players: 10 – 300
Control panel: TCAdmin
Pros
Cons

10 data centers

Extended file management.

Suitable for small and big teams

Low price per slot

Doesn't have a free trial

You can't switch to another game
Ready to choose your plan? — Go to
Host Havoc
hosting
3. Streamline Servers — data centers around the world
Streamline Servers provide various servers for work and game purposes. You can find voice, VPS, dedicated, and game servers. It offers an easy mode-installing system: add it to the Mod Manager and install it in one click.
Streamline Servers offer you customizable CPU speed and priority of Onset game servers. You also can choose one of the 22 data centers as your primary and switch between them anytime you want.
They also have an affiliate system: you can earn up to a 10% discount per referral. It's not an essential feature of a gaming host server, but it is still pleasant to save some money.

KEY FEATURES
Price: from $11.50/month
Trial: No
Players: 50 – 300
Control panel: TCAdmin
Pros
Cons

Instant setup

One-click mod installer

Variable CPU speed

Cryptocurrency support

Don't fit small teams

No trial or money-back
4. Zap Hosting — extra customization
It's one of the best Onset server host providers: users are fans of in-depth customization from Zap Hosting. You can choose the location with the lowest ping for your area, expand the server's RAM to 32 Gb, and select CPU configuration and settlement type.
You can get your own Onset dedicated server for an extra €3.03/month. It's an advantageous offer for those who want to promote their server in the gaming community.
They can offer you a 7-day billing interval on prepayment settlement type. Thus, you can test all server host features with the least possible expenditures.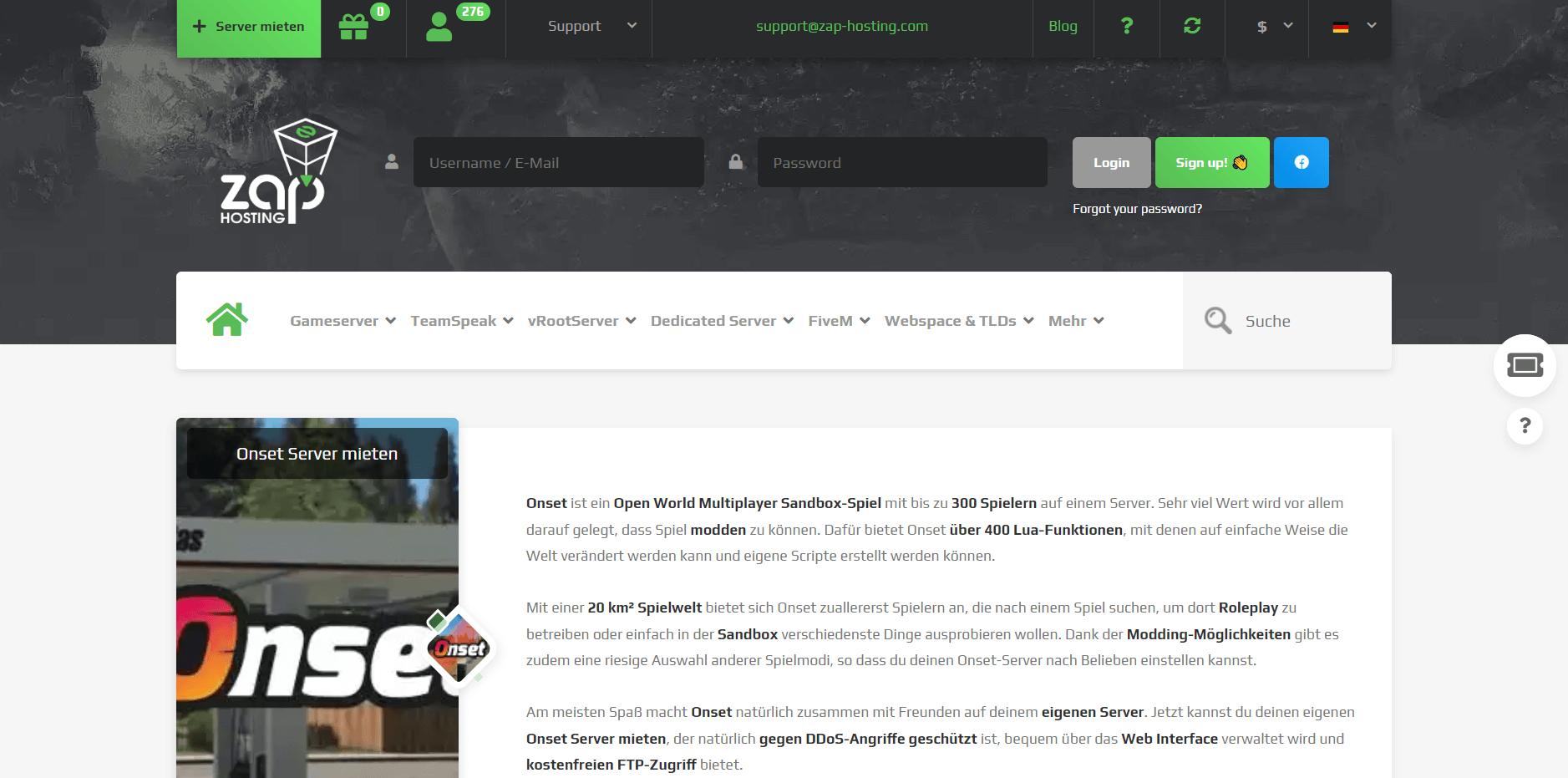 KEY FEATURES:
Price: from €4.90/month (or $5.00)
Trial: No, but you can subscribe to a 7-day plan
Players: 10 – 300
Control panel: Custom
Pros
Cons

Many payment options: from internal currency Zap Coins to PayPal, Bitcoin, or credit card.

Dedicated servers

You don't need to sign a contract: prepaid settlement type is available for all bildivng intervals

Memory boost feature: adds extra RAM to the server

Access to the DDoS overview even on non-dedicated servers

Complex price policy

Slow customer support
Ready to choose your plan? — Go to
Zap
hosting
5. Citadel Servers — dedicated server with cloud backup
Citadel Servers is the second most customizable service on this list. You can adapt the bill to the tiniest details. It includes cloud backup, server location, migration service, and Onset dedicated server hosting features.
The last term means a single server is devoted only to one user. Thus, you can add mods, create a unique gaming experience and promote your dedicated server Onset in the gaming community.
This host uses server computers with high-performance Xeon processors and SSD drives. They also provide a sub-user feature so that you can add moderators and admins in one click.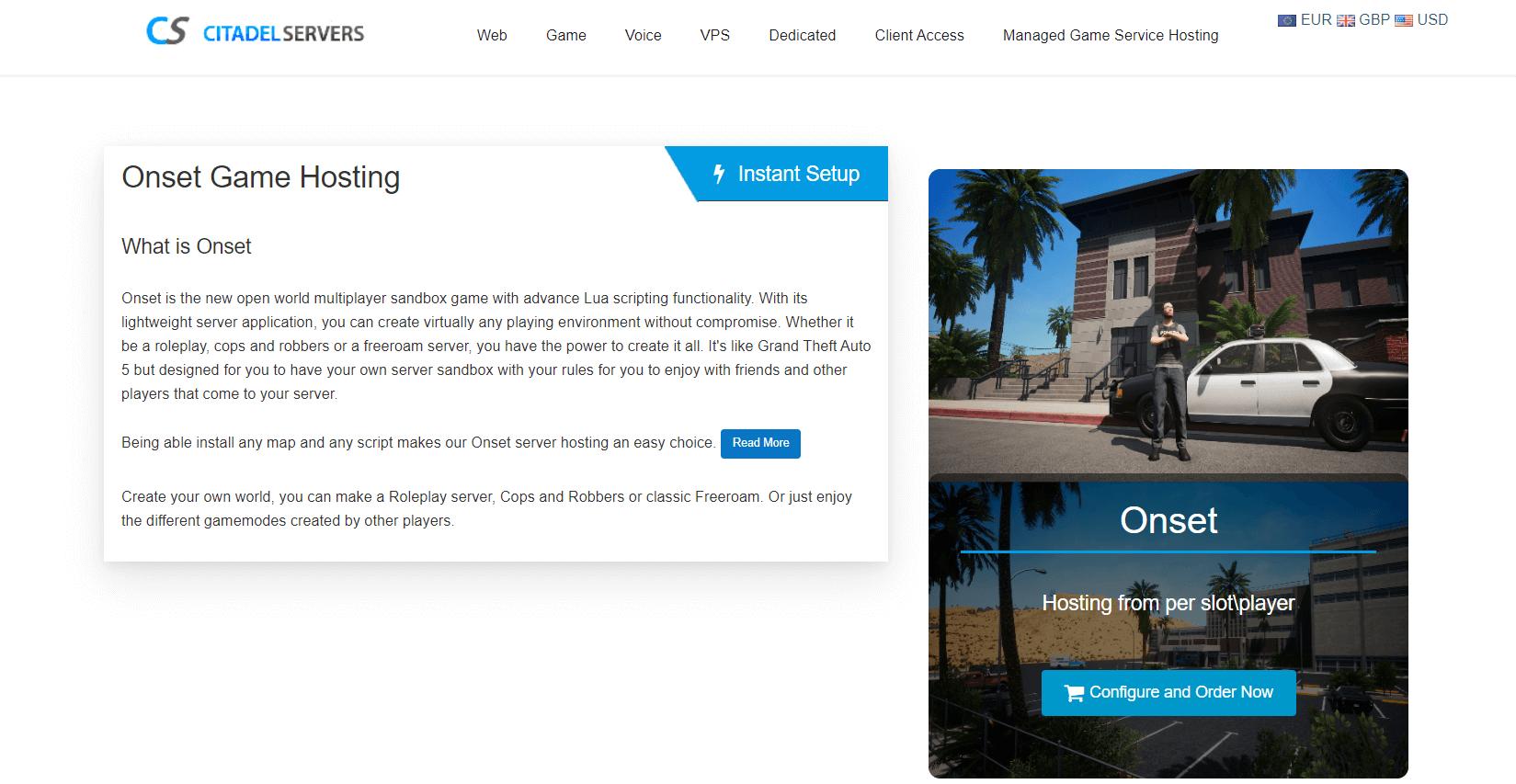 KEY FEATURES
Price: from $7.50/month
Trial: No
Players: 10 – 300
Control panel: Custom
Pros
Cons

Bill customization

One click mods

15+ servers

Server pass locking

Slow support

They don't give any refunds
6. Survival Servers — easy mode installment
Survival Servers was founded in 2012 and has been pleasing users for more than ten years. They run on ultra-fast SSD and the highest single-thread benchmark Intel AMD CPUs.
Users like it for instant server setup, easy mode installment, customizable control panel, and access to various third-party tools. Picky players can rent Onset server and create their own version of a game with unique rules and surroundings.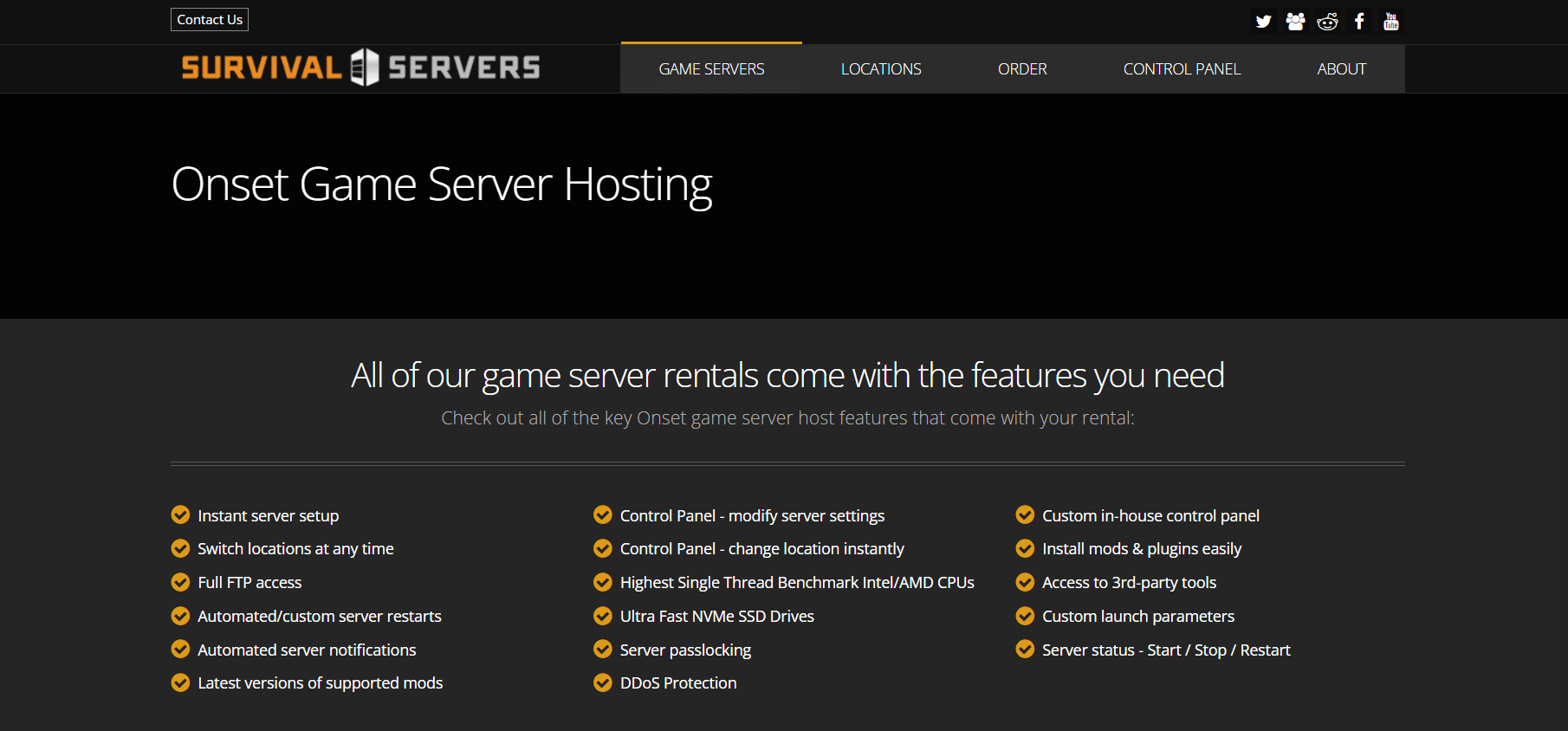 KEY FEATURES
Price: from $10/month
Trial: No
Players: Doesn't provide information
Control panel: Custom
Pros
Cons

Customization

Server passlocking

Automated notifications

Great hardware

FTP Access
Onset Servers Hosting Comparison
The easiest way to distinguish the differences between the servers is to compare Onset hosting services side-by-side. Check this table to find what option fits your needs:
Hosting
Pricing / mo
(starting at)
Free trial
Players limit
Control panel
GTX Gaming
Doesn't provide information
No
Doesn't provide information
Custom
Host Havoc
7.50
No
10-300
TCAdmin
Streamline servers
11.50
No
50-300
Custom
Zap Hostings
5.00
No, but you have 7-day billing interval option
10-300
Custom
Citadel Servers
7.50
No
10-300
Customizable TCAdmin
Survival Servers
10
No
Doesn't provide information
TCAdmin
How to Choose the Best Onset Server Hosting Server Hosting Provider
It's not the easiest task to find a suitable Onset host server. However, a fine server should include at least 3 points from this list:
Fast internet connection. It mainly depends on the location. Look for a provider with suitable hardware and a lot of data centers. It will provide the lowest possible ping in any part of the world.
Mods availability. Onset gameplay encourages users to create their own rules and environment details. Thus, you should look closely at Onset modded servers: they will provide you with this freedom.
Performance and overall reliability. Choose the best possible hardware for your budget. Pay close attention to the hard drive type and working memory (RAM) volume. SSD is faster than HDD: games will run more smoothly and with fewer glitches.
User-friendliness from the beginning. You should feel comfortable while surfing the Onsets server hosting website. It shows that the data center provider does its best to create a user-friendly interface anywhere.
Customer support. Look for a provider with a reliable support team. They should be helpful and responsive.
Price and payments. Every work needs to be paid. Thus, you don't find free Onset server hosting because they need to pay bills to provide high-quality services.
Buy or Rent Onset Server Hosting Hosting vs. Hosting Yourself
Onset is a multiplayer game. That's why users tend to collaborate to get the best gaming experience. But which choice will be better: buy a server, rent it or host from your PC?
It depends on your needs and technical capacities. If you have a powerful server computer with constant high-speed internet, you can host Onset server. If you are 100% sure that you will play this game even 10-15 years later, you can buy a dedicated Onset server.
But if you are looking for an easy 'plug and play' solution, consider rental. You can stop your subscription anytime, even after one month of gaming. Rental server companies often provide in-depth bill customization, so you will pay only for the tools you use.
You can also find many Onset dedicated servers that combine the best features of rented and bought solutions. You'll have exclusive use of the entire server, but you easily opt out of this by unsubscribing.
Final Thoughts
Onset multiplayer provides users with a unique learning experience for beginner programs. Instead of poring over books and boring programs, they can have fun and study the Lua language simultaneously.
A fine Onset server hosting provider can provide a fine gameplay experience for small and big teams. They will also allow you to customize your own bill, including or excluding extra features in various combinations. There is no free Onset server hosting, but plenty of affordable options exist.
We've gathered the six best options to save you time. Our team hopes it will help you find the best Onset server for your needs.
Are you still confused about Onset server rental, or have other questions? We will gladly help you.
Onset Server Hosting Server Hosting FAQ
How do you host an Onset server?
If you want to be a host Onset from your PC, you should constantly be online. Otherwise, players will see the Onset server host has left the game memo. Thus, they wont be able to play on your server. Or you can use external hosting, where the provider takes care of the server maintenance.
How much RAM does an Onset server need?
It should have at least 8 Gb RAM. It's listed as a recommended system requirement on the official Onset Steam page. But it would be great if hosting provided you with more RAM. In this case, the game will run much smoother.
Hosting providers need to pay bills to maintain their servers in working conditions. That's why you won't find an Onset server hosting free services. But you can customize your bill to pay only for used tools.
Does Onset use GPU or CPU?
This game uses both graphics and operating memory cards. Your PC should have at least 4 GB RAM and GeForce GTX 660 2GB graphic card. The Onset will run more smoothly if you have modern hardware.