Midphase hosting is as cheap as chips and can become your one-stop-shop for website and email hosting, site building, and domain management. Is that what you dream about?
Midphase has 23 years of experience working with American startups and businesses, providing them with budget-friendly and reliable hosting for simple websites and complex ones that need a dedicated server.
Midphase Hosting Pros & Cons
Let's dig deeper into the advantages and disadvantages of Midphase Hosting in our Midphase web hosting review. Keep them in mind. This information will be useful when comparing several options to choose from.
Pros
Cons

Unlimited storage and bandwidth

Free domain

Unlimited emails

30-day-money-back guarantee

Nightly account backups

Free site transfer

Slow average speed

No security support

Expensive upgrade
Midphase Hosting in Brief
| Characteristic | Information |
| --- | --- |
| Uptime guarantee | 99,9% |
| Server response time | 1100 ms |
| Support options | 24/7 Live Chat, Phone, Ticketing, and Knowledge Base |
| Hosting plans | Shared, VPS Cloud, and Dedicated Hosting |
| CMSs | PHPNuke, osCommerce, ZenCart, Ruby-on-Rails, Python, Perl |
| Features | Unlimited Storage and Bandwidth, Free Domain, One Website, Unlimited Emails, 30-Day Money-Back Guarantee, Nightly Account Backups |
| Server locations | Providence and Salt Lake City (Utah, USA), London (UK), and Lviv (Ukraine) |
| Starting price | $0,99 |
When to Use Midphase Hosting
If your budget is limited and you want to create a simple blog–Midphase is just for you. Midphase has a limited number of features in its packages; that's why the price is so low. If you stick to the basic plans and don't need to scale your website in the future, you should definitely consider this hosting.
When Not To Use Midphase Hosting
If you are looking for something like HTTPS, fast loading speeds, exceptional security, it's better to consider Midphase alternatives. Besides, the Midphase hosting page loading time leaves much to be desired.
The average speed is approximately 939 ms, which is not so bad, but if you need your website to be fast (for example, if you run an e-commerce site or other commercial websites), Midphase isn't the best way to go.
Midphase Hosting Performance
When you look at the Midphase website, you will see no information about SSDs, caching technologies, or LiteSpeed servers. That means there is nothing related to speed enhancement.
When it comes to server and network uptime, Midphase guarantees 99,9%. According to most reviews and studies, Midphase hosting keeps its word.
Midphase Hosting Speed Test Results
To find out how Midphase hosting performs, let's see the testing results of websites hosted on Midphase.
| Test | Average Loading Time |
| --- | --- |
| GTmetrix test | 4 s |
| Pingdom test | 3,5 s |
| PageSpeed Insights (Google) | 4,9 s |
As you can see, Midphase websites are slow compared to the average. According to the latest analysis, the average speed of most Midphase hosted websites was 939 ms, which is not the best metric.
Midphase Hosting Uptime Guarantees
Midphase provides a 99,9% uptime guarantee across all web server packages. If they fail to deliver this promise, they will compensate for each hour of the downtime.


According to the Midphase Hosting Reviews, this hosting provider's average uptime was 99,96%, with a little over three and a half hours of downtime during the last 12 months. The general number of outages is 21.
This result is pretty good, so Midphase is good at delivering what they promise.
Midphase Server Response Time
We've already checked the average loading time in our Midphase.com review. Now, let's see what Midphase delivers in terms of server response time in different locations.
There are special tools that measure the server response time with excellent accuracy. One of them is Bitcatcha, and we will use it for our research.


As you can see from the table above, Midphase provides fast server response speed. Its rating is
A+
, which is truly outstanding.
Midphase Site Migration
Transferring your website data from one provider to another may be tricky. That's why many web hosts offer site migration services. However, it may cost you a pretty penny.
The reviews suggest that site migration to Midphase is free, at least if you have a cPanel control panel. Note that the company's website also provides extensive information on how to transfer your domain to this host.
Midphase Hosting Type, Features, and Pricing
Midphase offers affordable services with web domains available for less than $1,50 a year and email hosting for just $0.50 per month. It provides such hosting types: email hosting, web hosting, WordPress hosting, VPS hosting, and dedicated servers. Let's review each type in more detail in our Midphase hosting review.
Email Hosting
With email hosting at Midphase, you get the following benefits: professional email that matches your domain, personalized email to grow your authority, access to email, contacts, calendar, spam, and virus protection.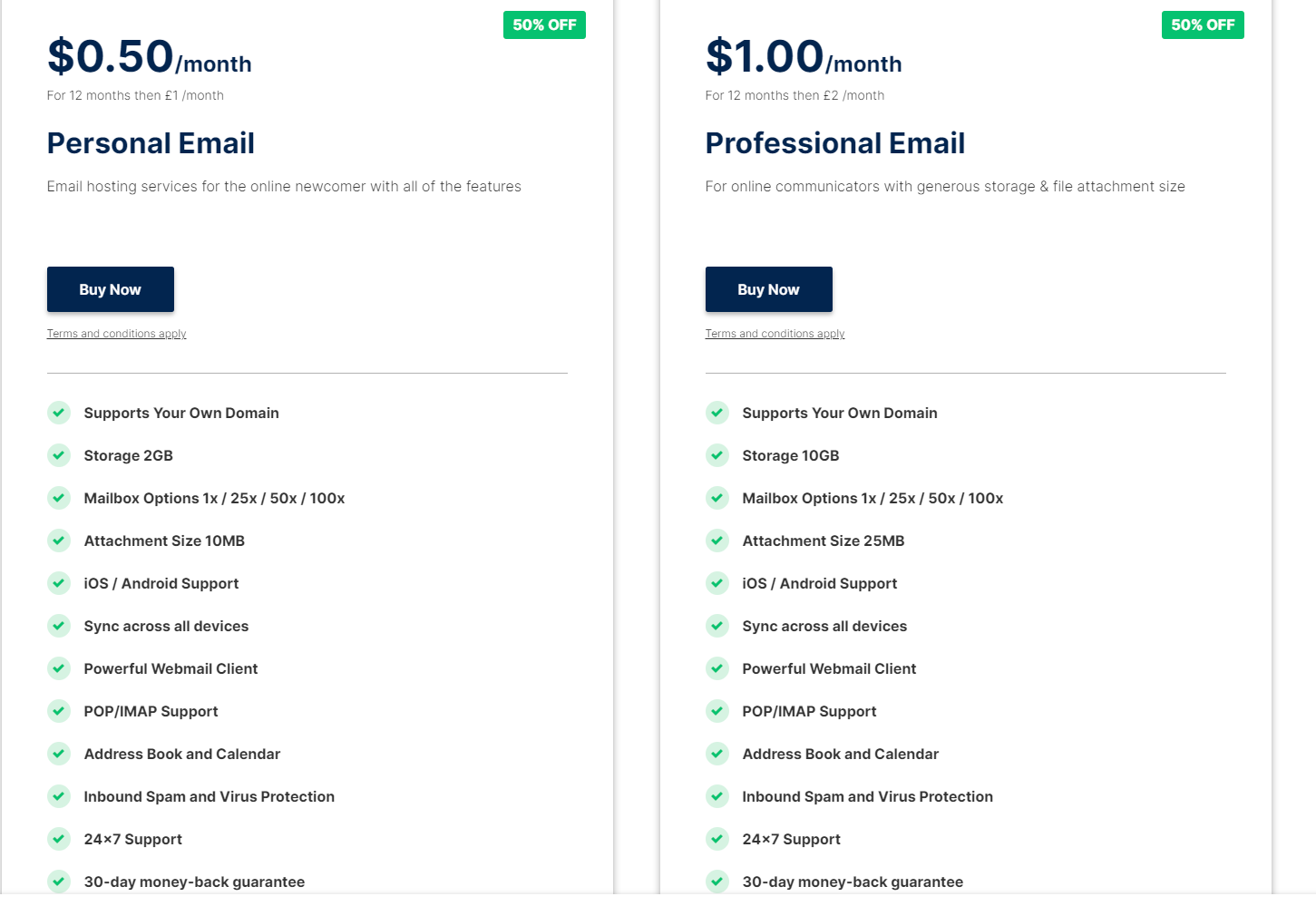 Midphase has years of experience in professional email hosting for companies of all sizes, from startups to enterprises. It will help you build better business relationships, and you'll get your business domain and get unlimited addresses to match.
Web Hosting
Here is what you get with Midphase web hosting: free domain name, unlimited webspace, bandwidth, and email, hosting plans for companies of different sizes.
Their web hosting packages support a network of data centers worldwide, so their Midphase hosting is available at each corner of the world. When it comes to web hosting, Midphase offers three types of packages: personal, professional, and business.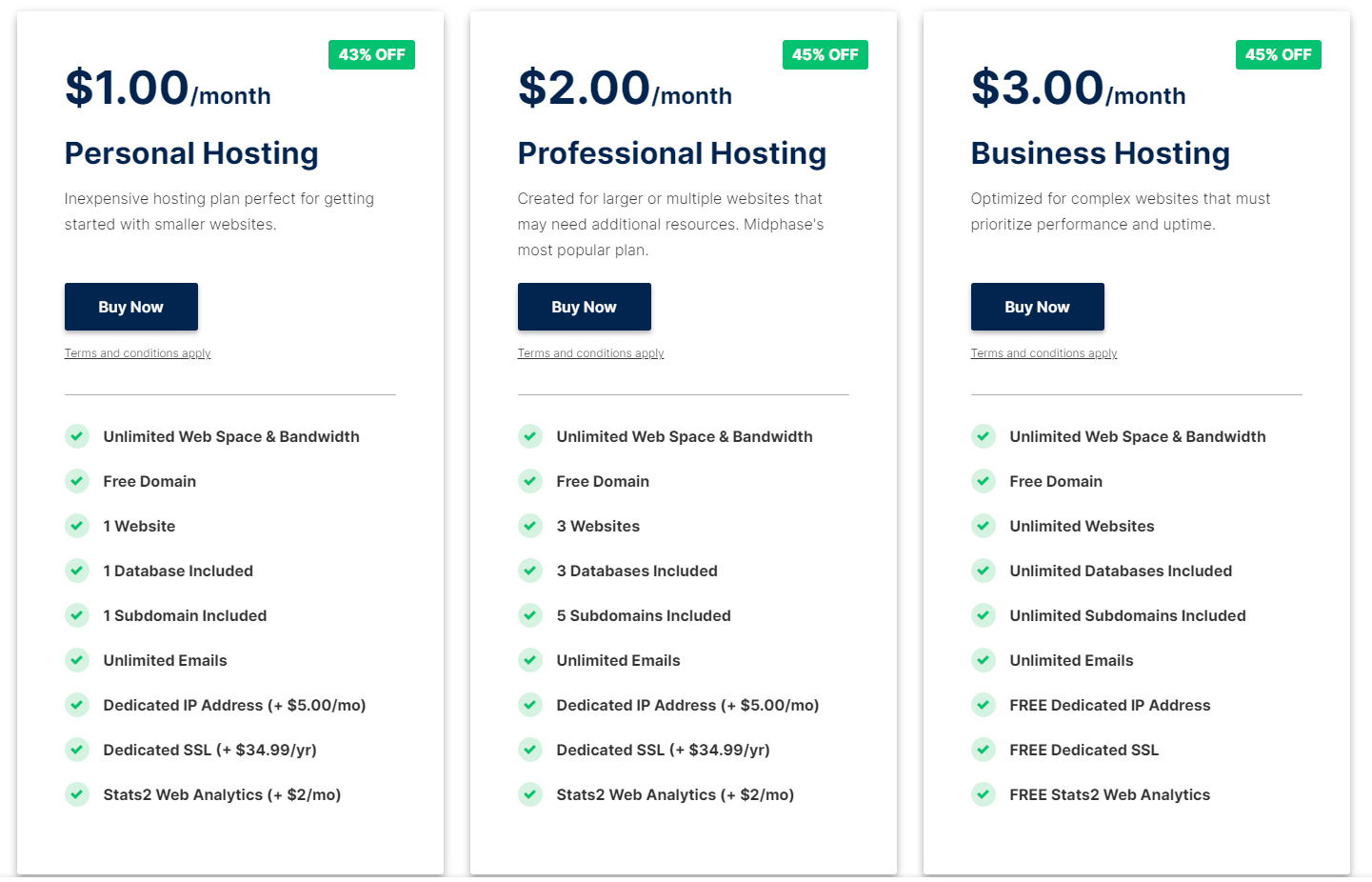 All the packages include one free domain name, unmetered disk space, unlimited bandwidth, unlimited professional email mailboxes, 10GB email mailbox size, WordPress and Drupal ready, low contention, full DNS management, 24/7 support, and a 30-day money-back guarantee.
WordPress Hosting
With Midphase WordPress hosting, you can create blogs and websites that will stand out among your competitors. You will get a free domain name, an easy 3 step WordPress installation wizard, and even 1000's of free templates and plugins to choose from.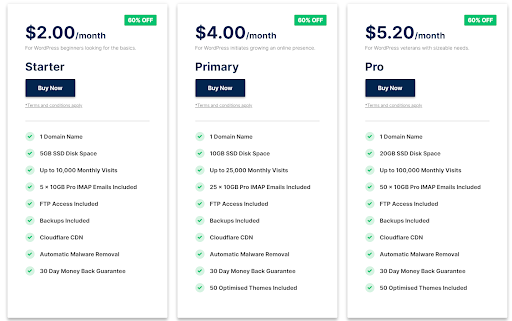 You will get a chance to impress your audience with seamless intuitive designs and high-level UX. You can also build advanced eCommerce websites that will showcase your products. You will get a chance to add new products quickly, send discount promo codes, and market your business in any part of the world.
Midphase offers three types of WordPress hosting packages: starter, primary, and pro. All packages provide FTP access, backups, Cloudfare CDN, automatic malware removal, and a 30-day money-back guarantee.
VPS Hosting
Super-fast connectivity, a global network of data centers, 24/7 expert support–this is all about VPS Midphase hosting. Despite shared hosting, VPS hosting offers resources that are available only for you, which means you don't have to worry about security.


VPS hosting is more budget-friendly and allows you to grow your site or application. With Midphase, you can rest assured that your data is in a reliable place. Their virtual private servers keep your data secured, and if your VPS servers suffer an outage, your data will be transferred to a live machine with no interruption.
Security
When it comes to security, Midphase somehow lags behind its competitors. The shared plans have nothing to boast about security, but WordPress plans still offer some security features, But in general, things could have been better.
Midphase doesn't offer an SSL/TLS certificate in their plans, so your website will not encrypt the connection and protect the user data transferred to your website. However, the plans include Cloudflare – a content delivery network that takes assets from your website and stores them on servers around the world.
When it comes to WordPress hosting, things are better. The packages include the tools that scan your website for malware and viruses and removes potential issues. Also, WordPress hosting includes such features as malware removal, DDoS protection, backups, and a CDN.
Support
You can see the support button on the main screen, so contacting them is easy as a pie. If you navigate these links, you will see a support page with different email requests or live chat links. You can also track the recent conversations with support via email.
According to other Midphase hosting reviews, the average response time of the Midphase support team is several hours, which is good. Also, Midphase offers many articles where you can find answers to all your questions with screenshots and step-by-step instructions.
Midphase Hosting Quick Facts
| Fact | Information |
| --- | --- |
| Website migration | Free |
| Free features | A domain name, migration, unlimited disk space, and bandwidth |
| Control panel | C-Panel |
| Email accounts | One email account |
| Bandwidth | Unlimited |
| Webspace | 10GB for the starter plan |
| CDN | Cloudflare |
| Hidden fees | No |
Midphase Hosting Review: Do we Recommend It?
Midphase is one of the most affordable hosting providers on the market, so we recommend it. It has well-structured shared hosting plans, and you can pay monthly, so if you are not satisfied with this hosting provider, you can cancel it at any time.
Midphase has fast support and detailed articles and guides, so if you have any concerns, they will help you. There are negative sides as well—for example, security issues and slow response time.
However, if you are looking for a budget-friendly solution for a small website, Midphase is the right choice.
Midphase Hosting Alternatives
Keep in mind the following alternatives to choose from and read about in other Midphase reviews.
FAQs on Midphase Hosting
Can I transfer my website to Midphase?
Sure, You can upload your web files via file transfer protocol (FTP) or directly from within your Midphase control panel.
Can I move my domain name?
Yes, Midphase will help you more your domain name in one click. It will help you manage everything from your domain to your dedicated server with thor dedicated control panel.
What are the benefits of Midphase technologies?
Midphase uses convenient drag-and-drop functionality so you can create websites with no coding skills. Also, their email hosting services screen their emails for spam and malware.
What email services will I get access to?
You will get an opportunity to CC and BCC people into messages and replies, add attachments, search your email folders for keywords or phrases.
A free domain name, one-click installer, many add-ons, and additional services, and multiple data centers.