Video content occupies a substantial part of the Internet. According to forecasts, next year, this media type will account for 82% of all traffic. You should start making videos if you're not already doing so!
However, to manage content on your site is problematic. It weighs much more than text or images, so it will require more resources from hosting. Video player integration and other technical aspects are incredibly complicated, requiring a specialist to perform this task.
You can avoid all of this by choosing a separate site to publish. That's what free video hosting is for – a dedicated website where you can post your videos. There are many video hostings of this kind, from well-known ones like YouTube or Vimeo to specialized ones.
In this article, we've gathered for you four of the best hosting sites that will suit any website or content producer.
4 Best Video Hosting Platforms
How to Choose the Best Video Hosting Site?
But before you start choosing, you need to understand what you should pay attention to first. Free video hosting website is very different from the usual, so the selection criteria will also be other. Consider the most critical.
Hosting factor #1 – Goal
If you are going to work with content, you need to understand the purpose of creating it. It can be a marketing effort to promote a product, part of an educational system, live-streaming, or just clips for monetization. The choice of the best video hosting sites will also depend on the purpose because each of them has its advantages in one direction or another.
Hosting factor #2 – Storage space
Some of the best video hosting have limitations on uploads, quantity, or duration. If you're going to work with a lot of content, it's advisable to choose a service with more or unlimited storage space. Such hosts may cost more, but you won't have to think about the server's remaining space continually.
Hosting factor #3 – Features
Video hosts also differ in the range of features available to content creators. Some support online broadcasts; others have advanced monetization features, etc. You should also pay attention to the capabilities of the player. Not every service supports standard features on autoplay, setting the resolution, full screen, and others.
Hosting factor #4 – Ability to embed video
If you want to supplement your site with content from a third-party hosting service, you need to pay attention to the options for embedding clips into the site. Some services do not support this feature.
The service should have the ability to change the video format to HTML5, which is the easiest to work with. You should also pay attention to the limitations. Some services allow you to embed clips on the site, but only with low resolution or without the ability to view in full-screen mode.
Hosting factor #5 – Price
All the video hosting sites on this list are paid providers. For a monthly subscription, they offer advanced features and special capabilities. However, it is better to choose the best free video hosting if there is no need for them.
You should also pay attention to the profitability of using paid hosting. If the tariff's cost is higher than the expected earnings, it is better to look for a cheaper solution.
Unfortunately, there is no hosting service that is perfect for everyone. Even YouTube, which seems like an excellent solution for every purpose, may not be suitable for specific destinations. That's why you should choose hosting carefully, paying attention to all its specifications and features.
The Different Types of Best Video Hosting
Video hosts, as mentioned earlier, come in all shapes and sizes. Some regular hosts are suitable for most tasks: publishing video content, promotion, organizing live broadcasts, collecting basic statistics, communicating with the audience, etc. Such a host, for example, is YouTube. However, there are more specialized video hosts that perform specific tasks.
Hosts for online courses
Video providers often serve as educational platforms where various online-lessons and online courses are published. Regular sites are not suitable for this, as they cannot organize paid courses and video conferencing for classes.
Monetization methods are not appropriate, either. Therefore, educational platforms usually use specialized services for creating and managing online courses. Video content on such hosting services usually costs money, i.e., a fee is charged for a course or an individual video lesson.
Such best video hosting platforms usually support additional content: audio files and text documents.
Hostings for marketing
Many businesses often use video content to promote their products or analyze audiences. Regular hosts often provide very few statistics, which are insufficient for full-fledged audience analysis and product popularity assessment.
Third-party services that offer not only advanced statistics but also other marketing functions cope better with this task. For example, integration of SEO tools, implementation of CTA (Call to Action), sales funnel, and other features.
Hosts for online broadcasts
Conventional hosts sometimes support live-streaming, such as YouTube or other video streaming hosting services. However, online broadcasting capabilities on traditional hosts are minimal and do not let them entirely communicate with the audience or implement additional monetization.
Therefore, third-party services are used specifically for online broadcasts. Their main difference from conventional video services is the earning possibilities. For example, if YouTube allows you to earn only on advertising, video streaming hosting can include a paid subscription or viewing and donation opportunities.
Also, such hosts have more opportunities to communicate with the audience in broadcast chat.
#1 – Vidyard – most popular provider

Vidyard is a business video hosting solution designed for companies that create a lot of video content and need in-depth analytics. It is the main advantage of this video web host.
Vidyard allows you to do A/B testing, connect SEO for media promotion, set up integration with social networks, and much more. The hosting has a lot of tools for marketing, which makes it an ideal solution for businesses.
Another essential advantage of Vidyard is the price. Hosting has several pricing plans that will suit any business. There's even a free video-hosting service package that includes unlimited clip uploads.
For $15 a month, that adds advanced audience communication features, password protection, and CTA creation. However, these plans lack analytics features. They are available in the more expensive plans, which start at $300 per month.
And the most expensive plan, priced at $1250 per month, allows you to use all the marketing features: lead generation, sales funnel, and more.

Ready to choose your plan? — Go to Vidyard hosting
Want to read some more information — Go to
Vidyard review
#2 – Jetpack – best-known provider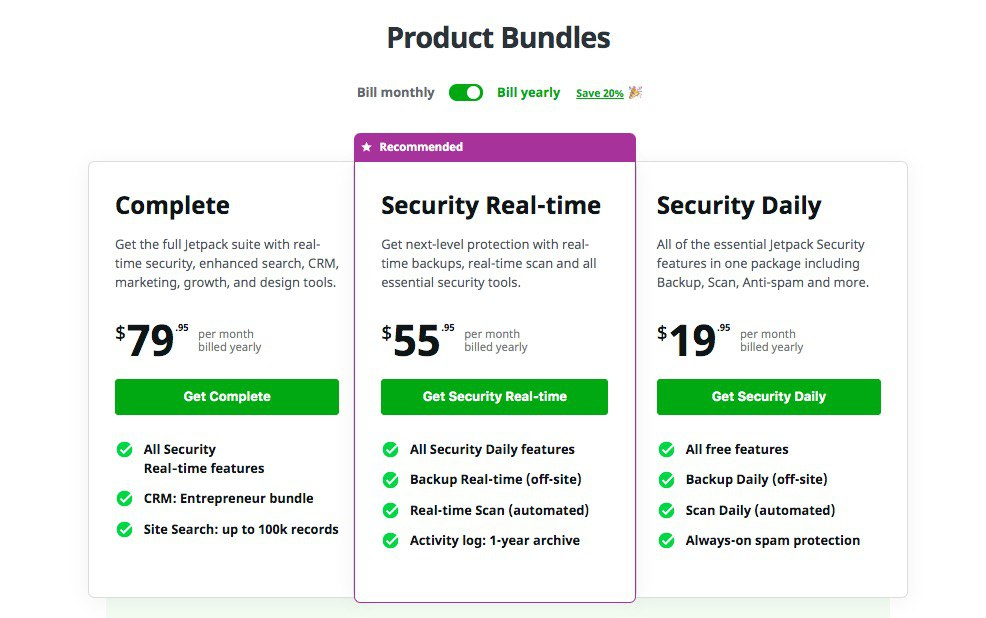 This cheap video hosting is designed exclusively for WordPress sites. Jetpack is a CMS built-in plugin that allows you to host. You may already have the free version of this plugin installed, which has a lot of limitations. However, a premium subscription greatly expands these features. For $9 a month, Jetpack offers these terms:
2 TB free space;
2 GB maximum video size;
Unlimited video length;
Supports all popular video formats (MOV, MPEG4, MP4, AVI, MKV, etc.)
Jetpack has other advantages. First, it's a customizable built-in player. Secondly, convenient statistics, located in the administrative panel of WordPress. Thirdly, additional features: automatic playback, looping, mute, etc.
However, Jetpack has several unpleasant shortcomings. The main one is the lack of an internal audience, so the service will not give you new viewers. Also, the plugin does not have some critical features that are present in other paid hosting. For example, you can't insert CTAs or edit clips after publishing.

Ready to choose your plan? — Go to Jetpack hosting
Want to read some more information — Go to
Jetpack review
#3 – Uscreen – best for online lessons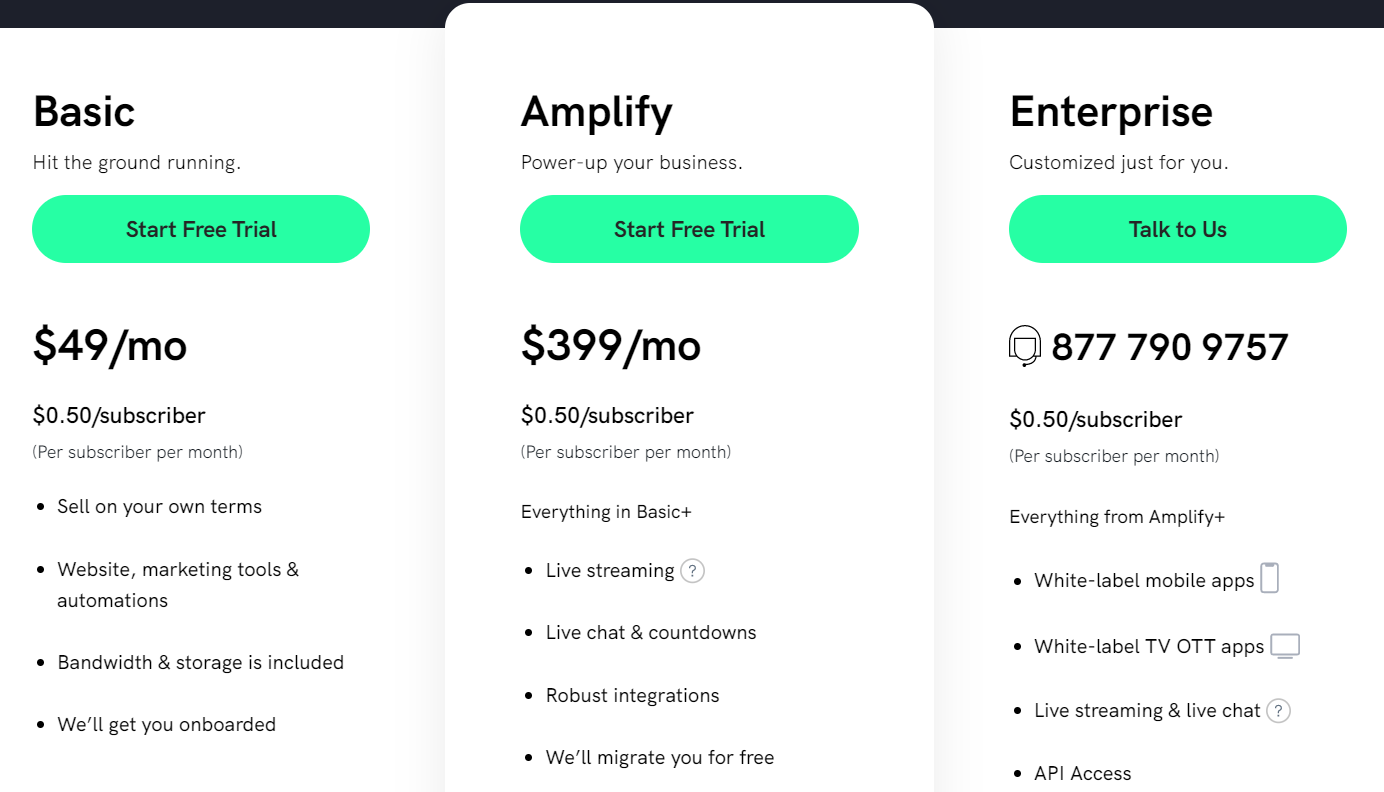 A video provider can also be useful for conducting online lessons. Now it is especially relevant since many teachers have to stay at home.
Uscreen
is an excellent choice for this purpose.
Streaming video host is designed specifically for online courses and can help teachers make money online. Uscreen offers these clips specifications:
Maximum resolution: FullHD (1920×1080 px);
Video format: MP4;
3.000 minutes of video for storage (at a basic rate).
Uscreen allows you to create and organize closed-circuit video courses as well as host online streams. Hosting integrates with OTT applications on cell phones and Smart-TV. IUscreen also supports audio files and PDFs.
However, Uscreen has a few significant drawbacks. The main one is the price. Although it is one of the best platforms for online courses, the cost of hosting is higher than its counterparts.
A basic subscription will cost $99 per month. Hosting takes $0.50 for each subscriber and 5% of the cost of the course. You can save money by taking out an annual subscription, which costs $49 per month. But it's still a pretty expensive proposition.

#4 – Muvi – most expensive provider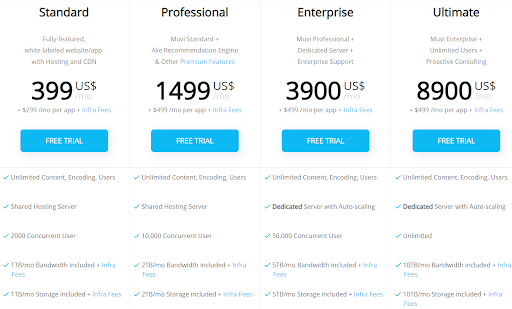 Muvi
is a flexible video hosting service that offers a wide range of video content options. It is mainly used like streaming video hosting and online broadcasting.
The main advantage of Muvi is its wide range of video monetization options. Hosting offers to earn on content in different ways: advertisements, subscriptions, and paid views. Therefore, Muvi is great video hosting for businesses that plan to make money from video content.
Muvi has some other significant advantages:
4K support;
Library and playlist organization;
Support for additional content (images and audio files);
Cloud encoding;
Adaptive player;
24×7 support;
OTT TV support;
Analytics.
One of the disadvantages of Muvi is the price. Hosting is quite expensive, and the cheapest plan costs $399 per month. For that, you get a shared server and 1 TB of free storage space.

Server location

Server location is the location of the data centre where your website is hosted. This location can be anywhere in the world irrespective of where you are based.

Hosting plans

Different types of website need different types of hosting, so we've shown you which web hosting services provide which types.

Storage

Storage is to do with how much content your website needs to hold.

Control

Dashboard used by hosting providers. You can manage your site's hosting through the type of dashboard.

Pricing / mo (starting at)

Bluehost.com Review
USA
Shared, WordPress, VPS, Dedicated, Managed WordPress
2.000.000
50 GB
cPanel, Custom built
$3.95
30 Days
Siteground.com Review
USA, United Kingdom, Netherlands, Singapore
Shared, VPS, Dedicated, Green, Reseller, WordPress, Web, WordPress, WooCommerce, Cloud
1.700.000
20 GB
Custom
$3.95
30 Days
Justhost.com Review
USA
Shared, VPS, Dedicated server
1.000.000
Unlimited
cPanel
$3.38
30 Days
Interserver.net Review
USA
VPS, Dedicated, WordPress
50.000
Unlimited
cPanel, Direct Admin, Plesk, Custom panel
$4.20
30 Days
A2hosting.com Review
USA, Netherlands, Singapore
Shared, WordPress, Reseller, VPS, cloud, Dedicated server, Email200.000
200.000
Unlimited
cPanel
$4.90
30 Days
Hostmonster.com Review
USA
Shared, VPS, and Dedicated Hosting
1.700.000
Unlimited
cPanel
$8.45
30 Days
Netim.com Review
Europe
Web, Email-oriented, WordPress, PrestaShop
30.000
Unlimited
Parallels Plesk
$7.45
-
Domain.com Review
USA
Web hosting plans, WordPress, Shared, Dedicated, Email
10.000
Unlimited
cPanel
$3.75
-
Canadianwebhosting.com Review
Canada
Shared Hosting, Cloud Hosting, Managed WordPress, VPS Hosting, Dedicated Servers
100.000
1 GB
cPanel
$3.95
60 days
Hostupon.com Review
Canada
Shared, WordPress, VPS, dedicated servers, reseller, cloud
10.000
Unlimited
cPanel
$9.95
30 Days
Milesweb.com Review
USA, India, United Kingdom
Shared, WordPress, Reseller, VPS, Dedicated server, Cloud
10.000
1 GB
cPanel, Plesk
$0.60
-
Greengeeks.com Review
USA, Canada, Netherlands
Shared, VPS, Dedicated, Green, Reseller, WordPress
40.000
Unlimited
cPanel
$3.95
30 Days
Fastwebhost.com Review
USA, Germany, India, Netherlands, China
Web hosting, VPS, Dedicated servers, Domains
30.000
20 GB
cPanel
$2.95
30 Days
Exabytes.com Review
USA, Singapore, Asia
Web hosting, Email, WordPress, Cloud SSD VPS
100.000
1 GB
cPanel,Plesk
$1
-
Mochahost.com Review
USA
Shared, WordPress, VPS, dedicated, reseller
500.000
Unlimited
cPanel
$1.95
180 days
Cloudways.comCloudways.com Review
USA, Germany, Singapore
Digital Ocean, Linode, Vultr, AWS, Google Cloud
12.500
xx
in-house
$10
3 days
Eukhost.com Review
Europe, United Kingdom
Web hosting, Email, VPS, Cloud, Dedicated
35.000
Unlimited
cPanel, Plesk
$4.44
-
Netfirms.com Review
USA
Shared hosting
1.200.000
Unlimited
Custom built
$4.45
-
Namecheap.com Review
Europe, United Kingdom
Shared, WordPress, Reseller, VPS, Dedicated
3.000.000
Unlimited
cPanel
$2.88
14 Days
KnownHost.com Review
USA, Europe
Web Hosting, WordPress Hosting, VPS Hosting, Dedicated Server Hosting
No data
Up to 300 GB
cPanel
$3.47
30 day
Hostwinds.com Review
Seattle, Amsterdam, Dallas
Shared, Business, Reseller, White label
No data
Unlimited
Custom
$5.24
-
Hostgator.com Review
USA
Shared hosting, Website builder, WordPress hosting, VPS hosting, Dedicated hosting
No data
Unlimited
CPanel
$2.75
45 days
Gameservers.com Review
Worldwide
Ventrilo, Teamspeak 3, and Mumble
500.000
10 TB
Custom
$69.99
No data
Dreamhost.com Review
USA
Shared, WordPress, VPS, cloud, dedicated, managed
No data
Unlimited
Custom
$2.59
14 days
Gandi.netReview
France, Europe
Dedicated, WordPress, PrestaShop, Cloud Servers
30.000
Unlimited
cPanel
$4
-
Easyspace.comReview
United Kingdom
Dedicated WordPress Hosting, Shared hosting, VPS
300.000
10 GB
Plesk, cPanel
$4.8
-
Midphase.comReview
USA
Shared, VPS, Cloud, and Dedicated
120.000
Unlimited
cPanel
$3.48
30 Days
Fatcow.comReview
USA
Shared, WordPress, VPS, dedicated
100.000
Unlimited
vdeck, Custom built
$4.08
30 Days
Startlogic.comReview
USA
Shared Web Hosting
50.000
Unlimited
cPanel
$5.99
30 Days
Server4you.comReview
Germany
Dedicated, Virtual Dedicated, Virtual
10.000
20 GB
cPanel
$5
-
Servermania.com Review
USA, Canada, Netherlands
Dedicated, Hybrid, Cloud
8000
250 GB
cPanel
$5
-
Hostpapa.comReview
Canada
Web hosting, Online store, WordPress hosting, VPS hosting, Reseller hosting, PapaCare+
150.000
Unlimited
cPanel
$4.95
30 Days
UltaHost.comReview
Frankfurt (Germany), Dallas (USA), New York (USA), Los Angeles (USA) Toronto (CA), Amsterdam (NL)
Shared, WordPress, VPS, Windows, Dedicated, Managed WordPress
49K
50Gb NVME
cPanel
$2.90
30 Days
LWS.fr
France
Shared, VPS, Dedicated, Reseller, WordPress, Web, WordPress, WooCommerce, Cloud
1.000.00
100 Gb
cPanel, Custrom built
$1,99
30 Days
Kinsta.com
35 locations, across USA, Canada, South America, Europe, Asia, Australia
Managed WordPress
25,400+ companies
Varies per plan, starting from 10 GB
Custom-built (MyKinsta)
$35
30 days
No matches
Web Hosting Comparisons
Our experts have taken the time to make video hosting services comparison about the pros and cons of each service. So you can analyze and choose the best option for you. The results of the comparison and features you will find in these articles:
Useful Hosting and SEO Tools
SEO-tools will help you find and correct mistakes that hinder promotion. Here are some useful services:
Best Video Hosting FAQ
What is live video streaming?
Live video streaming is the transmission of content in real-time: no additional publishing, processing, or encoding. The concept of streaming videos hosting is often confused with streaming. Such a type of content distribution implies any transmission of multimedia without additional downloading.
What is the best file format for streaming video?
There are a lot of video file formats, and most of them are used by all providers. Each of them has its properties that do not significantly affect the quality of the original image. However, the most commonly used web hosting for video streaming format is MP4. It is universal for most systems and has good compression quality. That is, it keeps a high resolution of video at small file sizes.
How much does video hosting cost?
The cost of each video hosting service is different. Free solutions are available, namely YouTube or Vimeo. These providers usually provide basic video publishing features. Typically, specialized services that have unique features cost money. On our list, the cheapest option is the Jetpack WordPress plugin, which costs $9 per month. The most expensive hosting is Movi, which plans can go as high as $8900 per month.
What are the benefits of paid video hosting?
Paid video sites usually have an advanced set of features that free ones don't have. For example, Uscreen from our list allows you to organize paid online courses, which free YouTube doesn't.