MilesWeb is an Indian web host. It is relatively new on the market, operating since 2012. At present, MilesWeb claims to have 28 000 customers. The company specifies its aim in its mission statement–to "deliver quality services at affordable prices."
Besides, it mentions "providing exceptional customer support." But does this web host live up to its standards? You'll find it out from this MilesWeb review.
MilesWeb Pros & Cons
The overview suggests that MilesWeb has a lot of upsides. However, this web host is not ideal. The cons are few — but they are worth paying your attention to.
Pros
Cons

Free SSL certificate

Free website migration

Free website builder

Free domain for one year

Unlimited storage and bandwidth for middle- and top-priced plans

SSD storage

Datacenters in different regions

Both Linux and Windows hosting available

30-day money-back guarantee

No real uptime guarantee

Automated back-ups come at an extra cost

Dubious marketing practices (the end-of-sale time meter never reaches zero)
MilesWeb in Brief
| Characteristic | Information |
| --- | --- |
| Uptime guarantee | None |
| Support options | Email, live chat |
| Hosting plans | Shared, WordPress, Reseller, VPS, Dedicated server, Cloud |
| CMSs | WordPress, Joomla, Drupal |
| Features | Unlimited bandwidth and disk space (except for Tyro plan), free SSL, free domain, free site migration, 30-day money-back guarantee |
| Server locations | India, USA, Canada, UK, Australia, Singapore |
| Starting price | $0.60 a month |
Go to Milesweb hosting
When to Use MilesWeb
This provider is a good choice for beginners and small web projects. The prices are low, and the plans come with a lot of freebies. You can easily use a drag-and-drop builder with hundreds of templates to create your website.
An extensive knowledge base with tutorials and 24/7 support will help you. On top of it, Magento hosting options make MilesWeb the right choice for small online shops.
When Not to Use MilesWeb
Although this host has many packages, it is questionable whether it fits big and complex projects. The prices are low, but they come with restrictions. "Unlimited" bandwidth and storage mean that the limitations aren't explicitly specified.
MilesWeb reviews point out a non-existent uptime guarantee and notifications about never-ending sales. It casts doubts on the image of this company as a reliable partner for a large business.
MilesWeb Performance Features
Even the cheapest plans include SSD (Solid State Drive) storage. That is much better than traditional HDDs (Hard Disk Drives). SSDs don't have rotating platters or shifting read heads, which the latter use. Therefore, their access speed is not restricted mechanically.
If data is distributed randomly, SSDs perform noticeably faster than HDDs. MilesWeb claims that its SSDs improve website speed up to 200%.
Magento hosting packages include the LiteMage solution to boost site performance and handle sudden traffic spikes. Its cache management system is among the best solutions for Magento 1 and 2. LiteMage enhances the website performance by combining all the received responses into a full-page. Besides, it consumes less RAM and CPU resources.
MilesWeb Speed Test Results
Web hosting providers should ensure fast transmission of site data to the visitor. Each second of delay has its price. Impatient users leave, and new visitors are less likely to find it.
MilesWeb doesn't mention speed among its key advantages. Nor do MilesWeb reviews place it among the fastest providers. We've used the most popular tools to access its average loading time. Thus, you can get a more comprehensive picture.
| Test | Average Loading Time |
| --- | --- |
| GTmetrix test | 2.2 s |
| Pingdom test | 0.1 s |
| PageSpeed Insights (Google) | 3.8 s |
MilesWeb passed our test with flying colors. The average for all three tools was around 2s, which is a great result! It proves that you can rely on this host for speed.
MilesWeb Uptime Guarantees
Uptime is of prime importance for website hosting. Website, which is often down, has fewer visitors. Besides, it is ranked lower by Google and risks losing advertising revenues. That's why many web hosting providers offer uptime guarantees. The clients receive compensation if the host doesn't meet designated benchmarks.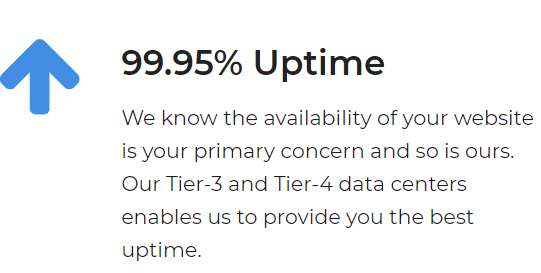 MilesWeb claims to provide
99.95% uptime
. However, its website doesn't specify any refunds in case of prolonged downtime. Moreover, the Terms of Service page points out that "although we offer 99.95% uptime, we can not fully guarantee this". It seems that MilesWeb doesn't offer a real uptime guarantee after all.
Milesweb hosting reviews suggest that the company meets the 99.95% uptime standard. Its record seems to be quite reliable. Nonetheless, Milesweb's average uptime for several months didn't reach 99.99% of top-performers.
MilesWeb Server Response Time
Loading time reveals the speed with which the website data gets to the user. However, sites come in all shapes and sizes. Some are slower because they have many images or videos, which take more time to load.
Server response time is a more objective metric. It indicates how fast the server reacts to the request from a web client. We've tested MilesWeb with Bitcatcha to check this indicator.


As well as for loading speed tests, the results are excellent. Note that the response times don't differ too much for the locations around the world. Multiple data centers do their job well. Wherever your audience is, with
MilesWeb
, it'll open your website in an eyeblink.
MilesWeb Site Migration
Some website owners may be reluctant to change their host because of site migration challenges. That's why many providers try to make it as easy as possible. MilesWeb is one of them.
The host doesn't charge its new clients for site migration. Moreover, it promises to take care of everything from moving website files to managing your hosting server. MilesWeb assures that transition comes with zero downtime. Note that for swift migration, your old host should have a cPanel control panel.
Types, Features, and MileWeb Hosting Pricing
MilesWeb lists a lot of web-hosting categories on its website. Some of them essentially duplicate each other. However, marketing tricks aside, the choice is still impressive.
The client may opt for shared hosting, reseller hosting, cloud VPS or dedicated servers. Besides, MilesWeb offers Magento plans as a separate category.
Shared hosting
MilesWeb's shared hosting prices start as low as $0.60 a month. However, this price comes for a three-year contract, only 1GB of storage, and only one website. All plans get optimized for WordPress. Therefore, if you compare MilesWeb WordPress vs normal hosting, you will find no essential differences.

MilesWeb calls its shared hosting plans "unlimited." The disk space, bandwidth, and number of email accounts have no limits with Swift and Turbo plans. Nonetheless, beware of the limited number of concurrent connections.
It restricts the number of visitors interacting with your website at the same time. The highest limit for the Turbo plan is 200.
VPS Hosting / Cloud Hosting
Milesweb offers both managed and unmanaged VPS hosting plans. The latter implies that server maintenance and upgrades are the client's responsibility. The cheapest package will cost you $5 a month for an unmanaged and $9 for managed option.

You can choose your operating system and control panel. Managed VPS hosting packages are identical to cloud hosting plans.
Dedicated Server Hosting
If you need even more resources and scalability, you can choose MileWeb's dedicated server plan. The prices start at $71 a month. As well as for VPS plans, the user has a choice of a control panel and operating system (including Windows).

All servers have Intel Xeon processors with at least four cores and 8 GB of RAM.
Reseller Hosting
MilesWeb also offers cheap reseller hosting packages. The most affordable Bronze plan will cost you only $4.20 a month. To make the management of reselling hosting easier, MilesWeb offers a license to use the automated billing platform WHMCS for $10 a month.

The bandwidth is unlimited for all plans. However, the provider points out that these packages are designed for small and medium-sized websites.
Magento Hosting
MilesWeb designed a set of packages with enhanced support for Magento, a popular eCommerce platform. The M1 plan has a monthly fee of $24.5 for one site with up to 250 daily visitors. All Magento hosting plans come with CloudFlare's CDN and Railgun optimization to boost loading speed.

The provider promises to help clients with Magento upgrades, suggest new plugins, and solve database-related issues.
Security
MilesWeb offers several security features. In particular, it provides a web application firewall, which protects your website from such malicious attacks as SQL injection, XML-RPC DDoS attacks, etc. A two-step authentication process secures access to your website.
The malware removal tool will scan your site for any threats or viruses and remove them. BitNinja server security tool also offers projection from malware, script injection, brute force, and other attacks on all major protocols. Besides, all hosting accounts are isolated from each other on the server.
LiteSpeed software, included in Magento packages, serves not only to improve performance. It also has a built-in anti-DDoS feature to defend your site against several common attacks.
Support
MilesWeb claims it aims to provide the "best-in-class customer experience." It offers 24/7 technical support in English via email and live chat. At present, no ticket system or phone are available. However, the company promises swift responses: instant via chat and 15 minutes for email. Expert reviews suggest that the support team is responsive, friendly, and helpful.
Besides, the host offers an extensive knowledge base with numerous video tutorials. It contains FAQs about cloud servers, control panel, domain, SSL, CMS, Shopping Carts, etc. The details of entries show that the content is kept up-to-date.
MilesWeb Quick Facts
| Fact | Information |
| --- | --- |
| Website migration | Free |
| Free features | SSL certificate, domain, website builder |
| Control Panel | cPanel |
| Email accounts | 10 to unlimited |
| Bandwidth | 200GB to unlimited |
| Webspace | 1GB to unlimited |
| CDN | Cloudflare (Magento hosting) |
| Hidden fees and clauses | "Unlimited" shared hosting plans have a limited number of concurrent connections. An .XYZ domain is free for one year, and each subsequent year will cost you $12 |
Go to Milesweb hosting
MilesWeb Review: Do We Recommend It?
Yes, we do.
MilesWeb has some peculiarities to be frowned upon. It offers vague promises instead of uptime guarantees and bombards potential clients with false notifications about "ending" sales. Besides, it hides restrictions of its "unlimited" plans from plain view.
However, we didn't spot any serious red flags. The uptime and loading speed seem to be OK. The plans are very cheap, and the features are plentiful. You can easily migrate your site, install the software you need, use WordPress, Magento, etc.
The range of packages is vast, as well as the list of data centers to choose from. And if you don't like MilesWeb, you can change your mind within 30 days and get your money back.

MilesWeb Alternatives
MilesWeb claims to be among the best hosting providers. Nonetheless, the market is full of great alternatives. Have a look at some of them:
Hostinger is one of the most affordable hosting providers for small businesses. Its discounted prices start at $0.99 a month, and the cheapest plan offers 10GB of SSD disk space instead of MilesWeb's 1 GB;
Hostgator is another popular hosting among users with minimal needs: bloggers, start-ups. This provider has higher starting prices than MilesWeb ($2.75 per month) but offers a 99.99% uptime guarantee;
SiteGround, as well as MilesWeb, has a specific set of e-commerce plans. They include multiple options for WooCommerce, an open-source e-commerce plugin for WordPress.
FAQs on MilesWeb
What payment methods does MilesWeb accept?
MilesWeb provides a variety of payment options. The client can pay via Paypal, use credit or debit сards, cheques, etc.
What extras do I get with MilesWeb?
Its packages include a free website builder with over 500 templates, website migration, a domain name, and an SSL certificate. All plans have SSD storage.
How long are the back-ups stored?
Once a week, on Sunday, all the backup files are removed from the server without notification. You can't use the hosting space to store backups.
What billing cycles does MilesWeb offer?
The provider offers monthly, 1-year, and 3-year contracts. The longer the term is, the lower the price you get.
Can I choose my data center location?
Yes. Choosing a web hosting server closer to your target audience improves loading speed. MilesWeb allows you to pick the preferred data center location depending on the region you are interested in.