If you are a fan of football but always wanted more, Supraball is certainly a game you need to pay attention to. Today we are going to elaborate on supraball game servers, technical requirements, features of the server hosting for supraball, as well as take a look at the comparison of the best server hosting providers. Let's get started!
In Supraball, gamers play football multiplayer in first-person view. Everyone controls one player. However, gamers push the ball not with their legs but with a special cannon that has multiple combinations of spins. This cannon fires a yellow ball at an incredible 400km/h. Sounds exciting?
It's hard to imagine what level of coordination is necessary to play harmoniously in a team of several individually-controlled players. Supraball is definitely all about multiplayer. Consequently, if you want to experience such gameplay, a supraball server is a must. So, we prepared this review on supraball servers to provide all the necessary information and guidelines.
Minimum Supraball server Hosting Requirement
Before we move to server host providers and their features, let's first look at the system requirements for a supraball server. To run the game itself, you need at least the following parameters:
Processor: Intel Core 2 Duo 2.66GHz
Memory: 2 GB RAM
Graphics: Geforce GTX 500 series or better (Does not work with Intel HD Graphics!!)
DirectX: Version 9.0
Storage: 1000 MB available space
As we can see, the demands for machine hardware are not very high. However, to run a supraball dedicated server, players need Intel Core 2 Duo E8600 3.33GHz / AMD Phenom II X3 720 processor, AMD Radeon HD 7720 or NVIDIA GeForce GTX 650 1GB video card, 4 GB of RAM or better parameters.
The Top 3 Supraball Server Hosting Providers
For our review, we selected some of the best server hosting providers for supraball game.
Streamline servers – Global Coverage
Gameservers – Excellent Hardware
Survival Servers – Flexible Management
Each of these supraball server rental providers has distinctive features that make him stand out from the crowd. You can figure out below how we selected them.
Best Supraball Servers Hosting in Details
While assembling this list of top supraball server providers, we considered the quantity and quality of their data centers, hardware resources, level of usability, pricing, and the overall quality of services. Let's now examine every company in detail.
1. Streamline servers – Global Coverage
Streamline servers offers low-ping servers for supraball game. Moreover, the company possesses data centers in 22 locations across the globe, so you will probably never experience any lags because of connection issues.
Server management is on the highest level as well. A powerful admin panel has a flexible design and many powerful features, which make players true managers of their servers. Moreover, with one-click mods installation, you can adjust the game pretty easily.
Pricing starts at $8 per month for 10 game slots. There are also options to purchase better CPU speed and priority, as well as more allocated RAM. Some server locations may require extra payments, however, an annual subscription offers a 20% discount.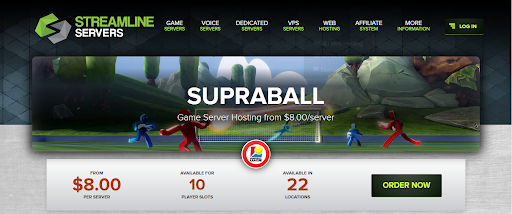 KEY FEATURES
Price: from $8 per month (10 slots)
RAM: 6–10 GB
Free trial: No
Players: 10-32
Control panel: TCAdmin
DDoS protection: Yes
Mods allowed: Yes
Instant setup: Yes
Pros
Cons

Global coverage

Flexible control panel

Accepts Bitcoin

Easy server management

No free trial

Not the largest number of servers in stock
2. Gameservers – Excellent Hardware
Gameservers company provides rented supraball servers with an extreme focus on hardware and game performance. Multiple server locations, in their turn, guarantee the reliable lag-free connection.
Players can also enjoy easy and flexible server management due to an advanced control panel. It allows users to switch locations, upload files, install mods and plugins, share admin rights, and track any server activity. In addition, instant server setup prevents any problems in the early stages.
Pricing starts at $5.95 per month for 6 game slots. Players can additionally purchase a separate voice server. An annual subscription saves up to 15%.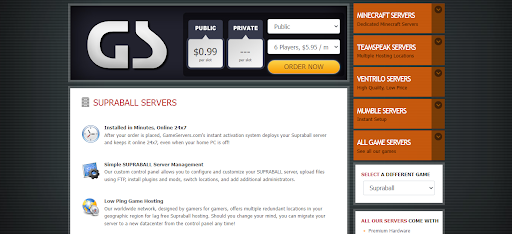 KEY FEATURES
Price: from $5.95 per month (6 slots)
RAM: 16–64 GB
Free trial: No
Players: 6–32
Control panel: Custom
DDoS protection: Yes
Mods allowed: Yes
Instant setup: Yes
Pros
Cons

Many server locations

Impressive hardware

Easy server configuration and management

Additional voice servers

No free trial

The website could contain more information on hardware resources
3. Survival Servers – Flexible Management
Survival Servers is a prospective hosting provider for supraball game. The company guarantees excellent game performance and network quality due to the ultra-fast NVMe SSD drives, the highest single-thread benchmark Intel/AMD CPUs, and high-quality connection. The powerful admin panel allows players to easily adjust and customize their servers, as well as install mods just in one click.
The amount of useful information regarding the game and servers is another prominent feature of this provider. First, there is a dedicated community forum where you can ask any questions, from how to play supraball to the most sophisticated ones regarding server management. Second, there is a huge knowledge base, which contains multiple tutorials and "getting started" guides.
The price for supraball server rental is not considered yet. The pricing model consists of a regular subscription and a one-time payment, usually equal to regular billing. Long-lasting subscriptions offer discounts up to 35% for a 12-month period.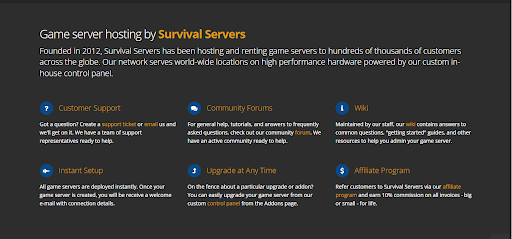 KEY FEATURES
Price: To be considered
RAM: 8 GB
Free trial: No
Players: To be considered
Control panel: Custom
DDoS protection: Yes
Mods allowed: Yes
Instant setup: Yes
Pros
Cons

High performance

Flexible server configuration

Advanced custom control panel

Huge knowledgebase

Comprehensive support

No refund period

A relatively low number of server locations
Supraball Servers Hosting Comparison
These were the best supraball server hosting providers and their main features. Let's sum up the key peculiarities.
Hosting
Pricing / mo
(starting at)
RAM
Free trial
Players limit
Control panel
DDoS protection
Mods
Instant setup
Streamline servers
$8.00
6GB
No
10-32
TCAdmin
Yes
Yes
Yes
Gameservers
$5.95
16GB
No
6-32
Custom
Yes
Yes

<

Yes
Survival Servers
To be considered
2GB
No
To be considered
Custom
Yes
Yes
Yes
How to Choose The Best Supraball Server Hosting Provider
Choosing a proper supraball hosting provider might be a difficult task, especially taking into account the number of available opportunities. We recommend paying attention to the following criteria:
Hardware resources. Excellent game performance is what we expect while renting a server. The provider should possess truly solid machines.
Server locations. Multiple data centers are a must to ensure a lag-free connection if you play multiplayer with teammates from different corners of the globe.
Usability. It might be easy to understand how to play supraball. Server configuration and management are much more difficult. Make sure the provider's services are user-friendly enough.
Pricing and billing. While choosing a provider, keep in mind there should always be a reasonable combination of price and quality.
Mods availability. The vanilla supraball game may get boring over time. Double-check whether you can modify the game for an even greater experience.
This is certainly not a complete list of important parameters. However, by paying attention to them, you can easily find the best suitable option for your needs.
Buy or Rent Supraball Hosting vs. Hosting Yourself
Hosting a supraball server on your own may seem a good idea if you have a powerful PC and intend to play in small teams with your friends. Hosting yourself is usually free, you do not need any intermediaries, and you have full control over all the processes.
Such an approach, however, may have a lot of underwater stones. Playing online multiplayers requires the host to possess a lot of hardware resources and a truly reliable network. Building such a powerful computer is not cheap. Moreover, to set up and run a server, you need some specific expertise.
On the other hand, specialized providers possess enterprise-level hardware and top-notch data centers in multiple locations. So, the game performance and connection quality are on the highest level. Furthermore, instant setup, easy and flexible server configuration, and user-friendly management due to admin panels allow gamers to experience fascinating gameplay without any lags or crashes.
Final Thoughts
The decision to rent a dedicated supraball game server might not be an easy one. Players need to pay attention to various factors: allocated hardware, quality of data centers, level of usability, available knowledgebase, level of support service, mods availability, and, of course, pricing.
However, supraball server rental offers gamers a unique opportunity to get the max of the game. You can experience excellent problem-free multiplayer gameplay on the highest settings with the largest possible teams. And taking into account all the advantages of the supraball dedicated server, the average costs.
To make it easier for you to find a good supraball server hosting provider, we prepared this review with a detailed analysis and comparison of some of the best hosting companies. So, double-check the guide and enjoy the supraball multiplayer with your own dedicated server!

Supraball Server Hosting FAQ
Is the Supraball server safe?
If you host a server on your own PC, you risk losing some data because of computer viruses. On the other hand, specialized hosting providers invest a lot in boosting their DDoS protection to keep all the players' data secure. Moreover, typical two-factor authentication prevents unauthorized entry.
How to update the Supraball server?
You can do it manually via the control panel. However, the majority of hosting providers offer regular automated server updates.
How many people can play Supraball?
Everything depends on the capacity of server providers. The best hosting companies offer up to 32 players on a server.