Do you use email in your business? Not surprisingly, email has been one of the essential elements in attracting and retaining customers for years.
That's why business processes within a company depend on its reliable operation. You should take care of choosing a reliable and the best email hosting in advance to avoid unpleasant situations with your tasks. Your site's domain name in your email address will allow you to build user trust.
The market offers many good and not so good options. To make it easier for you to understand, we have prepared a description of the five popular email hosting providers. Some email hosts offer a free trial period, which will give you the opportunity to learn more about this provider.
All the services mentioned are refundable for the first month of use, allowing you to try each option in theory without losing your money.
Here we go!
5 Best Email Hosting Providers
How to Choose the Best Email Hosting Service?
You don't have to be an expert in what is email hosting to make the right choice. For starters, there are three critical criteria to consider. Evaluate the hostings for compliance with these factors because it matters for reliable operation.
A little spoiler. The smaller your business, the fewer features you can expect from your provider. If you're already at a higher development stage, then it's worth paying attention to popular web hosting companies that provide advanced features.
Here are the things you need to pay attention to:
Factor #1 – Storage limits
This one is probably the most obvious factor. How often do you delete emails? We think it's pretty rare. Or never at all. The same is true for the other users! So you should consider only those providers who provide sufficient storage space.
If your employees often communicate with customers by email, they'll need plenty of storage.
Factor #2 – The Mobility
Most users use email with their mobile devices. So you really need to make sure that everything works correctly on smartphones. Find out whether the provider supports optimization for mobile devices? What operating platforms and devices do they support?
It's critical to ensure that your customers can always access their mail, even from mobile devices.
Factor #3 – Spam filters
One of the biggest annoyances for users is spam. You have to agree that unwanted letters are annoying. That's why you should choose a provider who uses advanced technologies to filter emails. Usually, these are operators that have been present on the market for a long time.
Machine learning provides quality filtering. Larger companies prefer to choose third-party services for filtering. But if you're just starting your email business, you're better off trusting the best personal email hosting to handle this issue.
You have to make sure that your emails are sure to reach your customers. If your emails go into spam, you won't be able to achieve your goals.
Factor #4 – Security
You should also be concerned about security. Users store a lot of important files with sensitive information in their emails. And of course, this information should not fall into the wrong hands. That's why you should choose a provider who provides a reliable service.
It is very critical to be able to connect the function of encryption and coding of messages. In this way, you can minimize the risks of hacking information.
The Different Types of Best Email Hosting
Let's look at the three types of hosting to see which one is ideal for your needs.
Unlimited memory
Some hosts allow their users to store an unlimited number of messages. It's called an unlimited email host. It is useful if you have too many emails and simply do not have the time or ability to filter them. However, there are limits here, so you should check with your provider to see if there is a maximum limit.
This type is suitable for you if you are dealing with a large flow of incoming emails.
No limit on messages sent
For large businesses, an email strategy is a critical way to promote. That is why you should pay attention to this type. Such hostings are a perfect choice if you plan to send messages in bulk. They do not put a time limit on the number of sends. If you use mass mailings, this is the most suitable option for you.
Enabled email filtering
To filter the flow of spam, you no longer need to connect additional services because there is a type of hosting service that provides the built-in ability to filter all the emails coming to your address. It is suitable for those who are just starting their way into a promotion.
#1 – Midphase – Best for Email
Midphase is the cheapest provider presented in this article. It is ideal for all operating systems and also supports your personal domain.
The size of the attached file in the cheapest plan is 10 MB. To send files up to 25 MB, you should sign up for a professional plan starting at $1 per month. You also get unlimited email hosting and access to some professional tools, like a dedicated email server hosting and IP address, SSL, and web analytics for your email.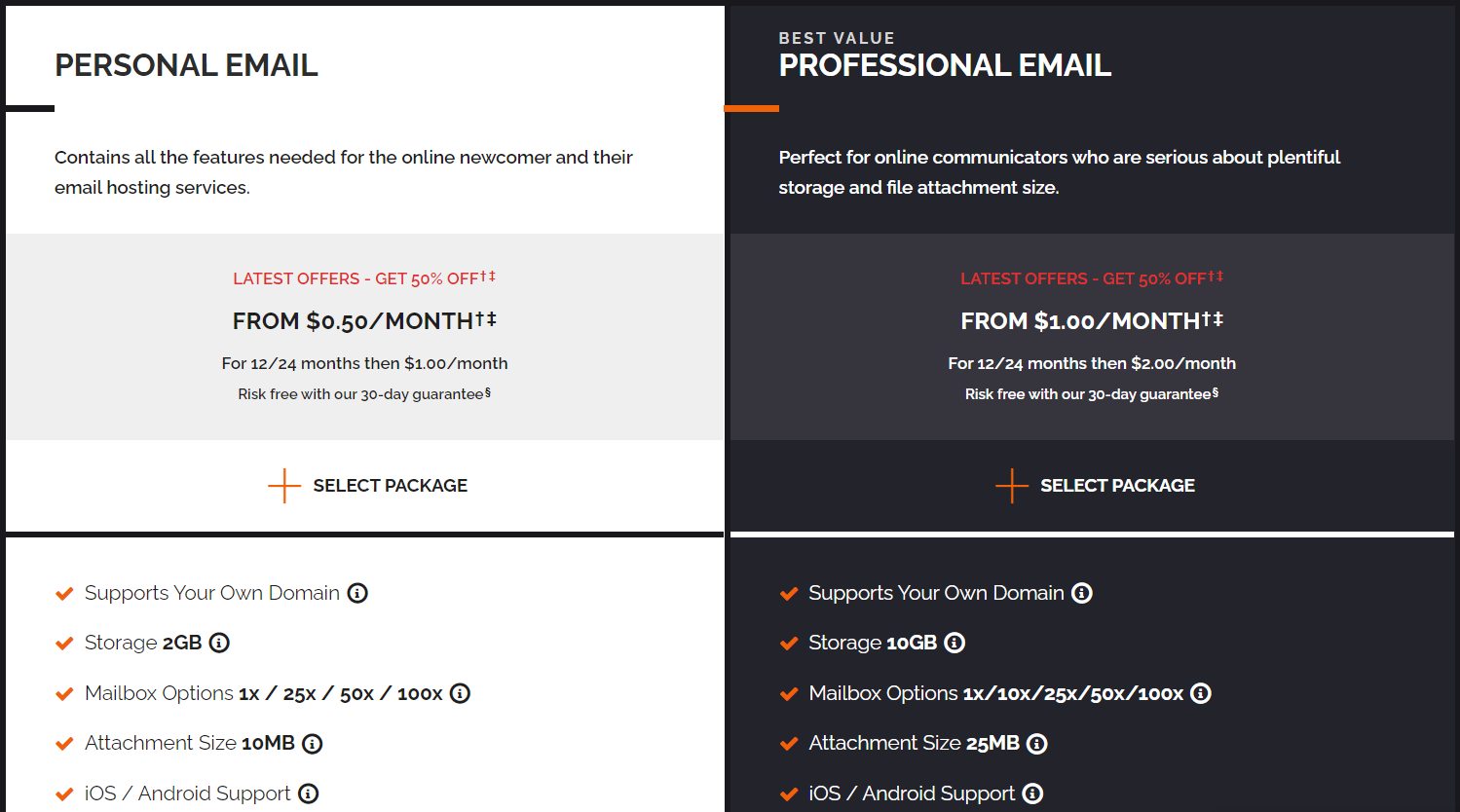 On the hosting website, you can find more detailed conditions provided by the service. Besides, the email hosting provider is known for its support service. It is a reliable and inexpensive best email hosting for small businesses.
The service also has its disadvantages. You can often find email hosting reviews about slower performance compared to more expensive competitors. However, if you have a few emails, then you can use this service.
In any case, here and in other providers, the rule of refunds applies if you are dissatisfied with the email hosting companies. Just try it and make conclusions!

Ready to choose your plan? — Go to Midphase hosting
Want to read some more information — Go to
Midphase review
#2 – Hostinger – Most Popular Service
Hostinger in 2007 and now has more than 50 million users. It shows that this provider is probably one of the most popular hosted email service providers in the world.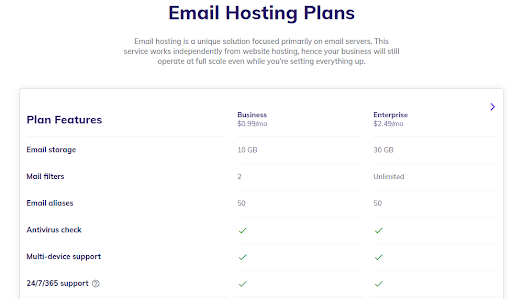 It is available in most countries globally, which means you won't have any problems sending letters. A very affordable rate plan and refunds allow you to test the service's capabilities and draw conclusions.
Another critical advantage is the simplicity of the admin panel. Absolutely anyone can cope with it. It is also worth noting the high speed. Hostinger has eight processing centers around the world, which ensures a suitable worksite anywhere in the world.
The advantages are also an excellent security system that will protect you from hacks and unwanted emails. 24/7 support service is provided even as part of the cheapest plan. The service provides its users with built-in quality antivirus.

#3 – Ipage – Simplest Provider
Ipage has been in existence since 1998. It is part of the EIG. It is a reasonably reliable and popular service with a simple interface. As far as e-mail is concerned, there are unlimited accounts. However, the memory of each account is limited to 15 Gb.
If you have a hosting-dependent project (such as e-commerce or popular blogs), I would recommend that you look for a more reliable alternative. Their subpar performance can be detrimental to your project.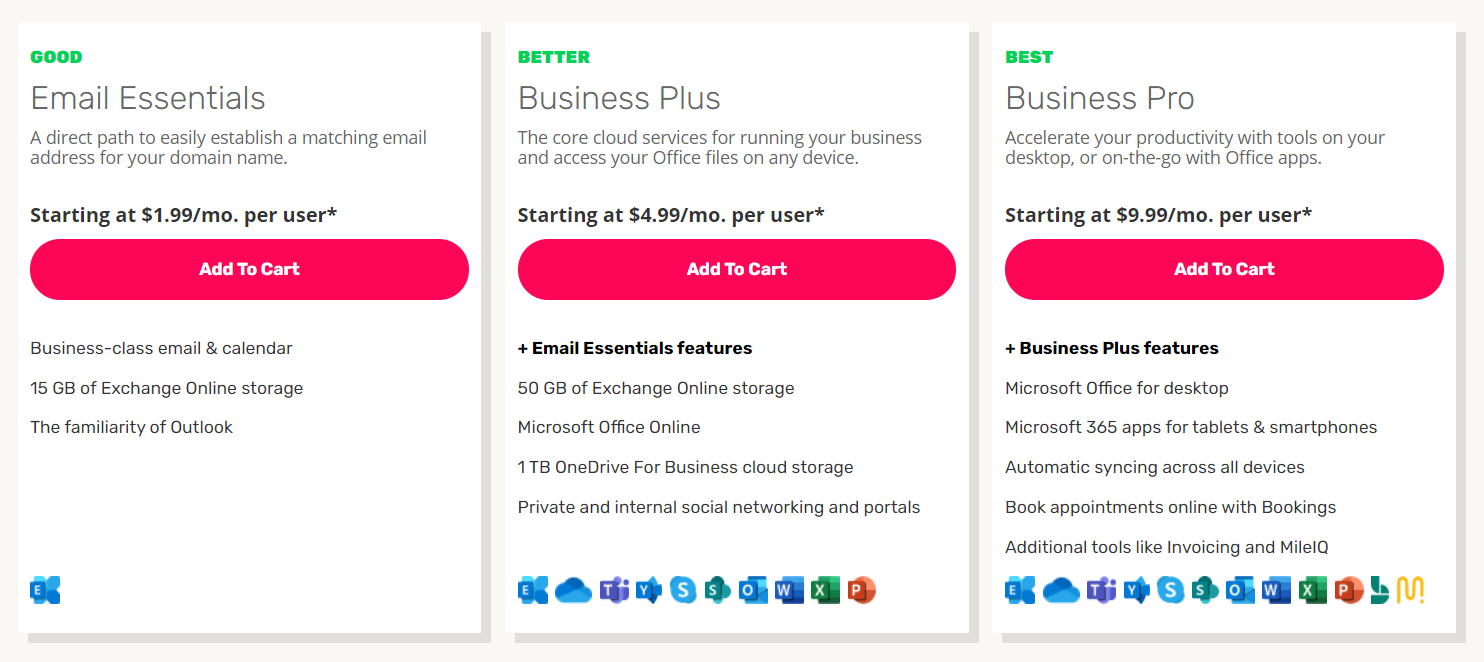 The support service by the email hosting reviews is not very fast. Sometimes, you will have to wait for some time before you manage to get a response. It, of course, is a significant disadvantage of the service.
It is excellent email hosting for small business and beginners. It does not have many unique features, but all the standard functionality works well.

Ready to choose your plan? — Go to
Ipage
Want to read some more information — Go to
Ipage review
#4 – A2 Hosting – Best Spam Protection Provider
A2 Hosting has been around since 2001, and they are a reliable and reputable email hosting service.
The Service has an excellent uptime, which makes their best email hosting services reliable. Also, the service monitors the quality of the security system as well as the filters. It makes it possible to provide reasonable protection against spam.
Their support team responds to user inquiries very quickly. By default, all plans contain a free SSL certificate. There is also a refund if you are dissatisfied with the service.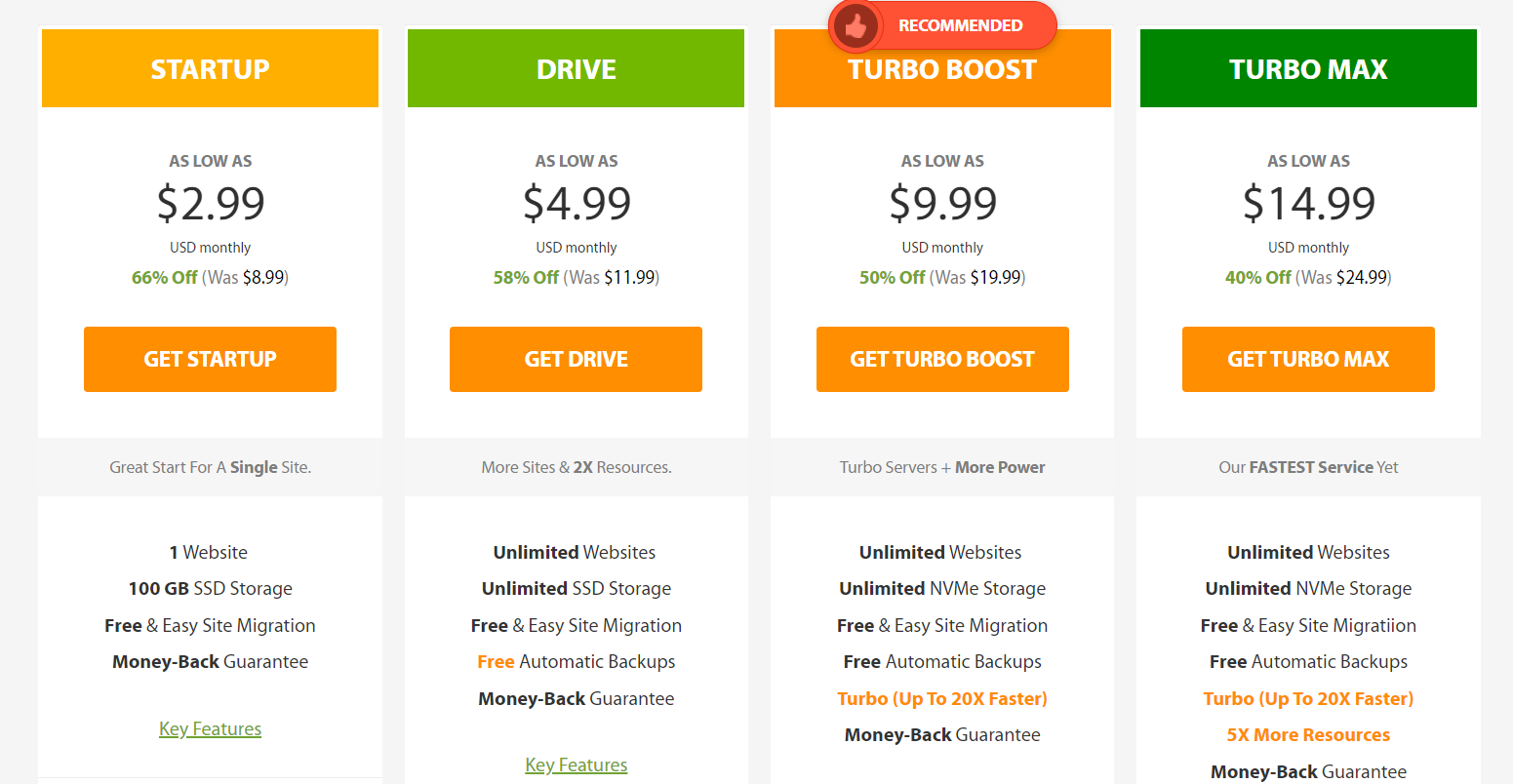 A nice bonus is that all the provider's plans come with an unlimited number of email accounts. You also won't have a storage limit for each account. It means that the provider is suitable for sending mass mailings. Pay attention to this feature if your task is to send many letters.
Unlike cheaper competitors, this provider provides 100 GB of storage, even for the starter plan.

#5 – Bluehost – Most Reliable Provider
Bluehost is a popular email hosting service founded in 2003. Bluehost has long been the largest and most reliable web hosting service.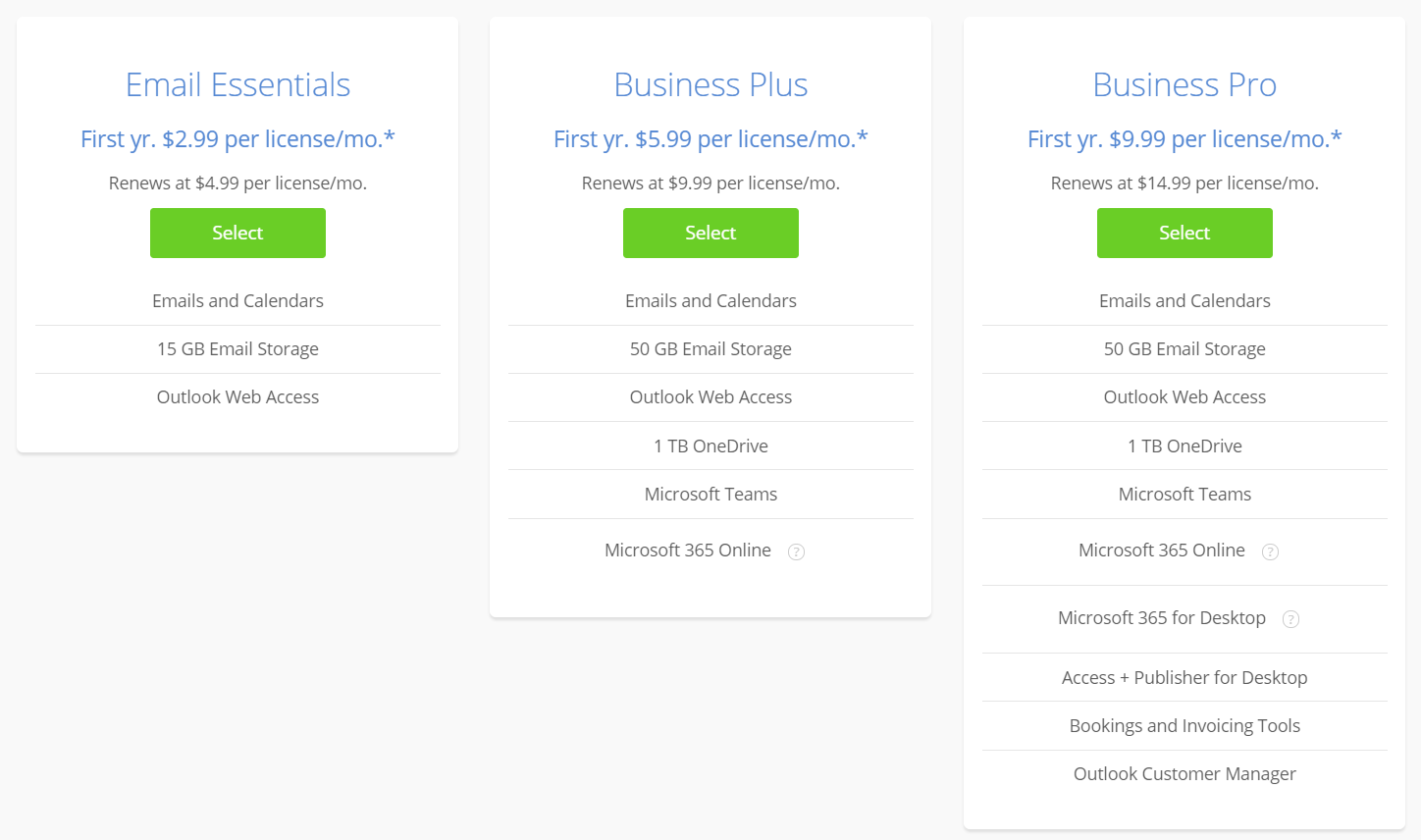 Bluehost offers a wide range of products and services to help you get started with your email setup. They focus on meeting the digital marketing and training needs of small businesses.
The cheapest plan gives users 15 GB of storage. At the Basic level, your limit is five email accounts, unlimited with more expensive plans. It's worth noting that you can't send more than 500 emails per hour. It means that Bluehost is not the best email hosting service for sending bulk emails.

Server location

Server location is the location of the data centre where your website is hosted. This location can be anywhere in the world irrespective of where you are based.

Hosting plans

Different types of website need different types of hosting, so we've shown you which web hosting services provide which types.

Storage

Storage is to do with how much content your website needs to hold.

Control

Dashboard used by hosting providers. You can manage your site's hosting through the type of dashboard.

Pricing / mo (starting at)

Bluehost.com Review
USA
Shared, WordPress, VPS, Dedicated, Managed WordPress
2.000.000
50 GB
cPanel, Custom built
$3.95
30 Days
A2hosting.com Review
USA, Netherlands, Singapore
Shared, WordPress, Reseller, VPS, cloud, Dedicated server, Email200.000
200.000
Unlimited
cPanel
$4.90
30 Days
Midphase.comReview
USA
Shared, VPS, Cloud, and Dedicated
120.000
Unlimited
cPanel
$3.48
30 Days
Siteground.com Review
USA, United Kingdom, Netherlands, Singapore
Shared, VPS, Dedicated, Green, Reseller, WordPress, Web, WordPress, WooCommerce, Cloud
1.700.000
20 GB
Custom
$3.95
30 Days
Justhost.com Review
USA
Shared, VPS, Dedicated server
1.000.000
Unlimited
cPanel
$3.38
30 Days
Interserver.net Review
USA
VPS, Dedicated, WordPress
50.000
Unlimited
cPanel, Direct Admin, Plesk, Custom panel
$4.20
30 Days
Hostmonster.com Review
USA
Shared, VPS, and Dedicated Hosting
1.700.000
Unlimited
cPanel
$8.45
30 Days
Netim.com Review
Europe
Web, Email-oriented, WordPress, PrestaShop
30.000
Unlimited
Parallels Plesk
$7.45
-
Domain.com Review
USA
Web hosting plans, WordPress, Shared, Dedicated, Email
10.000
Unlimited
cPanel
$3.75
-
Canadianwebhosting.com Review
Canada
Shared Hosting, Cloud Hosting, Managed WordPress, VPS Hosting, Dedicated Servers
100.000
1 GB
cPanel
$3.95
60 days
Hostupon.com Review
Canada
Shared, WordPress, VPS, dedicated servers, reseller, cloud
10.000
Unlimited
cPanel
$9.95
30 Days
Milesweb.com Review
USA, India, United Kingdom
Shared, WordPress, Reseller, VPS, Dedicated server, Cloud
10.000
1 GB
cPanel, Plesk
$0.60
-
Greengeeks.com Review
USA, Canada, Netherlands
Shared, VPS, Dedicated, Green, Reseller, WordPress
40.000
Unlimited
cPanel
$3.95
30 Days
Fastwebhost.com Review
USA, Germany, India, Netherlands, China
Web hosting, VPS, Dedicated servers, Domains
30.000
20 GB
cPanel
$2.95
30 Days
Exabytes.com Review
USA, Singapore, Asia
Web hosting, Email, WordPress, Cloud SSD VPS
100.000
1 GB
cPanel,Plesk
$1
-
Mochahost.com Review
USA
Shared, WordPress, VPS, dedicated, reseller
500.000
Unlimited
cPanel
$1.95
180 days
Cloudways.comCloudways.com Review
USA, Germany, Singapore
Digital Ocean, Linode, Vultr, AWS, Google Cloud
12.500
xx
in-house
$10
3 days
Eukhost.com Review
Europe, United Kingdom
Web hosting, Email, VPS, Cloud, Dedicated
35.000
Unlimited
cPanel, Plesk
$4.44
-
Netfirms.com Review
USA
Shared hosting
1.200.000
Unlimited
Custom built
$4.45
-
Namecheap.com Review
Europe, United Kingdom
Shared, WordPress, Reseller, VPS, Dedicated
3.000.000
Unlimited
cPanel
$2.88
14 Days
KnownHost.com Review
USA, Europe
Web Hosting, WordPress Hosting, VPS Hosting, Dedicated Server Hosting
No data
Up to 300 GB
cPanel
$3.47
30 day
Hostwinds.com Review
Seattle, Amsterdam, Dallas
Shared, Business, Reseller, White label
No data
Unlimited
Custom
$5.24
-
Hostgator.com Review
USA
Shared hosting, Website builder, WordPress hosting, VPS hosting, Dedicated hosting
No data
Unlimited
CPanel
$2.75
45 days
Gameservers.com Review
Worldwide
Ventrilo, Teamspeak 3, and Mumble
500.000
10 TB
Custom
$69.99
No data
Dreamhost.com Review
USA
Shared, WordPress, VPS, cloud, dedicated, managed
No data
Unlimited
Custom
$2.59
14 days
Gandi.netReview
France, Europe
Dedicated, WordPress, PrestaShop, Cloud Servers
30.000
Unlimited
cPanel
$4
-
Easyspace.comReview
United Kingdom
Dedicated WordPress Hosting, Shared hosting, VPS
300.000
10 GB
Plesk, cPanel
$4.8
-
Fatcow.comReview
USA
Shared, WordPress, VPS, dedicated
100.000
Unlimited
vdeck, Custom built
$4.08
30 Days
Startlogic.comReview
USA
Shared Web Hosting
50.000
Unlimited
cPanel
$5.99
30 Days
Server4you.comReview
Germany
Dedicated, Virtual Dedicated, Virtual
10.000
20 GB
cPanel
$5
-
Servermania.com Review
USA, Canada, Netherlands
Dedicated, Hybrid, Cloud
8000
250 GB
cPanel
$5
-
Hostpapa.comReview
Canada
Web hosting, Online store, WordPress hosting, VPS hosting, Reseller hosting, PapaCare+
150.000
Unlimited
cPanel
$4.95
30 Days
UltaHost.comReview
Frankfurt (Germany), Dallas (USA), New York (USA), Los Angeles (USA) Toronto (CA), Amsterdam (NL)
Shared, WordPress, VPS, Windows, Dedicated, Managed WordPress
49K
50Gb NVME
cPanel
$2.90
30 Days
LWS.fr
France
Shared, VPS, Dedicated, Reseller, WordPress, Web, WordPress, WooCommerce, Cloud
1.000.00
100 Gb
cPanel, Custrom built
$1,99
30 Days
Kinsta.com
35 locations, across USA, Canada, South America, Europe, Asia, Australia
Managed WordPress
25,400+ companies
Varies per plan, starting from 10 GB
Custom-built (MyKinsta)
$35
30 days
No matches
Web Hosting Comparisons
Our team tested the top email providers and compared them on reliability, security, ease of use. Find the results of email hosting providers comparison in the articles below:
However, you can also use this table to compare the key features of the best email hosting providers.
Useful Hosting and SEO Tools
We have prepared for you some useful tools that will help improve your site's performance in search results.
FAQ
What is the best email hosting for small business?
Small businesses can take advantage of some cheaper options since their recipient base is usually much smaller than large companies.
What does unlimited email host mean?
Some providers have plans with unlimited emails that are usually featured and unlimited in the best domain email hosting and storage.
Do I need anything special for sending bulk emails?
You can send a bulk email to up to 500 recipients with Gmail. If you need to send a letter to more recipients, use special mail services. For example, MailChimp. Remember that only more expensive providers are suitable for sending bulk letters because they allow you to avoid spam filters.