If you are looking for the best cheap hosting for WordPress websites, you are lucky to find this page. Firstly, nowadays you have access to lots of useful and efficient hosting providers. Secondly, we have gathered these providers in one article for you. And last but not least, these services are very affordable for everyone who plans to host a website on WordPress.
This list will be useful for startups, small businesses, and individuals who want to run their own WordPress website. WordPress is one of the most famous website constructors. WordPress's main page says there are 39% of websites on the Internet work on the WordPress platform. The platform itself is an open-source system for website management written on PHP with a base on MySQL. The main scope of the WordPress application is blogs, news, and other simple online resources.
The 5 Best Cheapest WordPress Hosting Providers
How to Choose the Best Cheap Web Hosting for WordPress?
To choose the appropriate web hosting service you should understand your business goals and needs. Web hosting will determine how much traffic you can have, what uptime and speed, and other options. We recommend you to pay attention to the following factors if you want to find cheap hosting for WordPress with all the necessary functions.
Factor 1 – Uptime
WordPress hosting should have a high percentage of uptime reliability. This is a time of uninterrupted work. For example, if hosting has 99.9% uptime it means that it works almost all the time and your website won't go down. Fortunately, almost all modern hostings have high uptime reliability. Also, if the website goes down, you can contact support and get compensation. You also can count the downtime for a week. If hosting says, it has 99% uptime, the 1% is for downtimes. It means, your website can be down for ~1 hour and 40 minutes during the week. So, pay attention to this detail.
Factor 2 – Speed
Loading speed is crucial for a website in 2020. Nobody likes slow pages, but you don't need to pay for the plan with the highest speed. Look for your needs and goals. If you have a website with a small audience, you don't need lots of resources. But if you share the server with other users and some of their websites suddenly have a lot of users, you will have fewer resources. For such situations hosting providers have a monitoring system that looks for "greedy" websites. If you will be one of such sites, the provider will advise you to buy a bigger plan. Also, you can check the speed from time to time via third-party services to ensure your website is fast and optimize it if not.
Factor 3 – Customer Service
Every bug or timeout can be quite expensive for the business. That's why it's quite important to find hosting with responsible and qualified customer support. If something goes wrong, good customer support will help you with any problem. Even if you have a crucial error, support can help you to recover the website with backups. All of these are especially important if you're new to WordPress, websites, and hosting.
Factor 4 – Price
Every project has a budget and you should stick to it. Startups, small businesses, and individuals usually have a limited budget, so pricing is quite important. Pay attention to low-cost WordPress hosting. Fortunately, there are lots of good affordable wordpress hostings. You also can compare different plans and choose the optimal one.
Factor 5 – Traffic Volume
Different services and plans can provide different traffic volumes. Usually, the bigger the volume, the higher the price. So, you can estimate how many users you have or will have in the first month and buy the appropriate plan. Pay attention to the ability to increase traffic volume because you can suddenly need to scale your website, so your provider should have such an ability.
Different Types of the Best Cheap WordPress Hosting
There are three common types of web hosting: shared, VPS, and dedicated. Each of them provides you different space on the server and a pack of features. The cheapest one is shared and the most expensive is dedicated. Below you can find out the difference between them.
Type 1 – Shared Hosting
This is the cheapest WordPress hosting and the most popular one. It's very helpful for users who are just starting to launch their own websites. Shared hosting provides you the one server and shared disk space for lots of websites. Here you'll have common resources like CPU, memory, and others. It's very similar to the apartment building where you have your own flat (place on the server) in the one big building (server) and can use shared commodities.
If you need, you can read about Best Shared Hosting in detail.
Type 2 – VPS (Virtual Private Server) Hosting
These are also shared resources but you share them with less quantity of users. Every website has its own environment and pack of services. But you can order additional features if you need them. VPS is similar to the condominium where you share the territory but you have more freedom and can customize your place a bit.
Know more about Best VPS Hosting if you don't want to share server space with anyone.
Type 3 – Dedicated Hosting
This is the most expensive and customizable option. You will have your own server for your website with all the capacity and resources. You can customize the environment for your needs and don't need to share a memory, storage, and other services. The closest analogy is your own house where you can do what you want but also have full responsibility.
If you are interested in this type of hosting, you can read more about Best Dedicated Hosting.
#1 – MilesWeb – The Best Prices for A Long Cooperation
MilesWeb is the cheapest web hosting WordPress at the moment of writing this article (middle of December 2020). Plan "Tyro" costs only $0.6 per month if you're buying the plan for three years. You will have 1 free domain, 10 email accounts, 1 GB SSD space, and 3 MySQL databases. This is a good tool for small websites or personal blogs. If you need more, you can buy one of the next plans for $2 or $2.6 per month.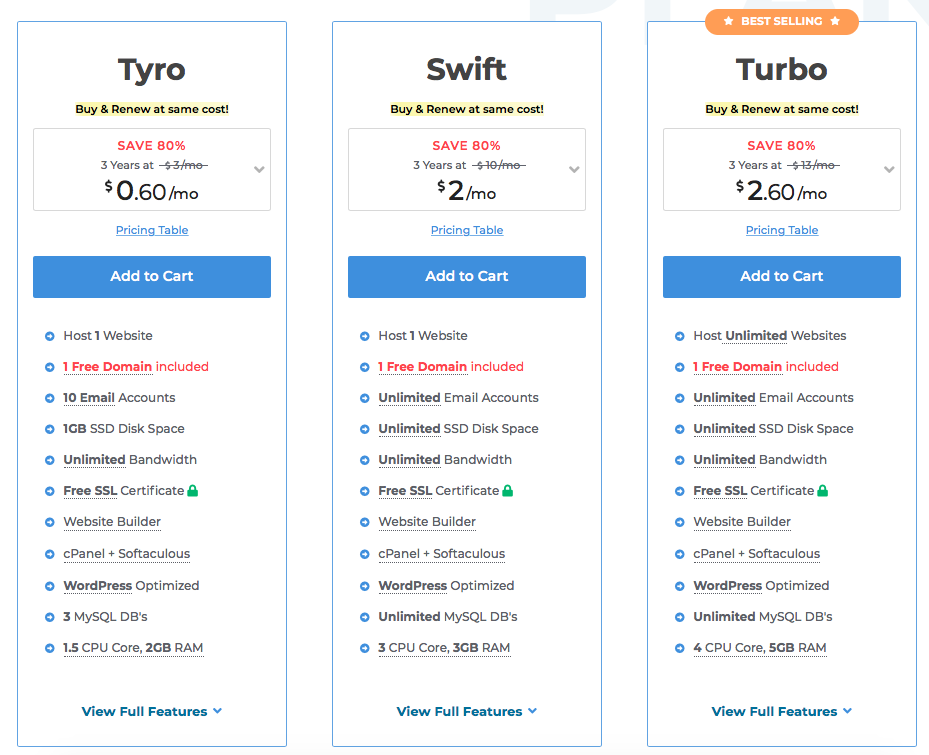 Other features and benefits of Milesweb:
30-day money-back;
99.95% uptime (other services usually promise 99.9%);
free SSL certificate.
Server locations: USA, UK, India, Australia

#2 – Hostinger – Good Solution for Small Companies
This service provides free site migration and weekly backups but it has limits with 10 GB storage, 10,000 monthly visits, and 100 GB bandwidth. But it has good pricing – only $0.99 per month for the cheapest plan. If you need more, you can buy a bigger plan for $2.99 per month. Hostinger has plans for beginners, personal websites, small and medium businesses, and advanced solutions for big companies.

Other features and benefits of Hostinger:
customizable themes and plugins;
optimized for WordPress CMS;
one-click WordPress install.
Server locations: UK, USA, Brazil, Netherlands, Singapore, Asia, India, Indonesia

Ready to choose your plan? — Go to Hostinger hosting
Want to read some more information — Go to
Hostinger review
#3 – Ionos – Hosting with Affordable yet Rich Tariff Plans
This service has three plans for WordPress hosting. The most expensive is the "Unlimited" plan that costs $8 per month. The cheapest one is called "Business" and costs $1 per month. The prices are valid for the first 12 months. Then you should pay $16 for "Unlimited" and $8 for "Business". Also, there is an "Essential" plan that costs $3 per month for the first year and that $4. Even the most affordable Ionos plan is quite rich. You will have 100 GB SSD storage, 100 email accounts, and a max of CPU and MEM resources.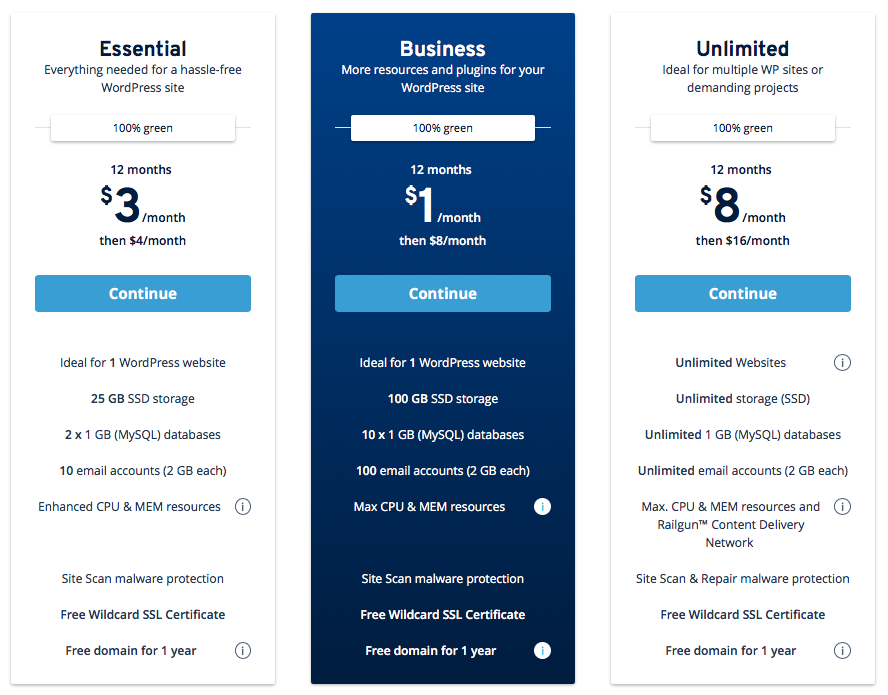 Other features and benefits of Ionos:
traffic monitoring;
money-back guarantee and 99.9% uptime;
regular scanning for potential malware.
Server locations: USA, UK, Germany

Ready to choose your plan? — Go to Ionos hosting
Want to read some more information — Go to
Ionos review
#4 – GoDaddy – Well-Known Hosting for Monthly Cheap Plans
This is one of the biggest hosting names and one of the well-known cheap hosting for WordPress. The Basic plan costs $1 per month and includes services for 1 website, 30 GB storage, free business email during the year, free domain, and automatic malware scans. It will suit you if you have one or two websites. GoDaddy has 24/4/365 support via live chat and lots of phone numbers.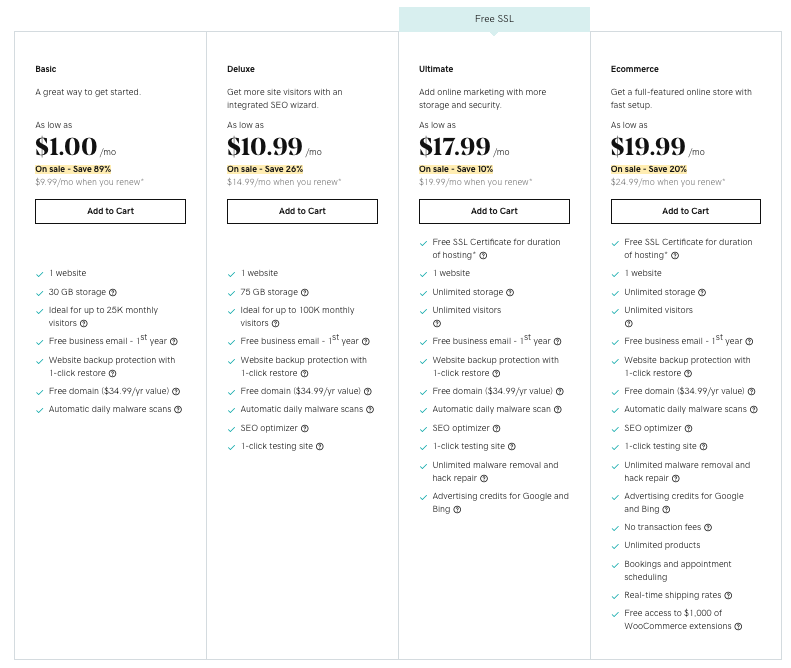 Other features and benefits of GoDaddy:
free domain in the cheapest plan;
99.9% uptime promise and money-back guarantee;
one-click migration tool.
Server locations: USA, Singapore, Netherlands

Ready to choose your plan? — Go to Godaddy hosting
Want to read some more information — Go to
Godaddy review
#5 – Resellerclub – Hosting With Additional Security
This service has an intuitive dashboard, data mirroring, malware scans, and other options. There are four plans for WordPress hosting: Starter, Performance, Business, and Professional. The "Starter" costs $2.79 per month for three years. It provides one website with 25,000 visits per month, 5 GB storage, unlimited email accounts, and a jetpack plugin pre-installed. Resellerclub also provides plans "WordPress + Security". They cost more, starting from $6.79 per month, and provide additional security features like site lock security and automated cloud backups. This is not the cheapest web hosting for WordPress from our list but it provides quite interesting features, so we decided to include it.


Other features and benefits of Resellerclub:
easy scalability;
automatic updates;
DDoS protection and automatic cloud backups.
Server locations: USA, UK, India, China

Useful Hosting and Seo Tools
Hosting checker. Quickly find the website owner and where this site is hosted.
Website down. Check if the website is down for everyone or only for you.
Speed test. Find out the current speed and get advice on how to make the site work faster.
Expired domain checker. Find out the expired date of the occupied domain to buy it immediately.
Website safety. Check the website's safety, if the website is suspicious, you'll have a notification.
Domain availability. Finds available domain names for your business or personal website.
Web Hosting
Server location
Customers
Storage
Control
Pricing / mo
Trial
Milesweb.com
Review
USA, India, United Kingdom
10000
1 GB
cPanel, Plesk
$0.84/mo
–
Hostinger.com
Review
USA, Europe, United Kingdom, Netherlands, Singapore, Brazil
29,000,000
Unlimited
hPanel, Custom-built
$3.99/mo
30 Days
Ionos.com
Review
Spain, USA, France, Europe, United Kingdom, Netherlands
15000000
100 GB
Custom built
$1/mo
–
Godaddy.com
Review
USA, Canada, Australia, India
17,000,000
Unlimited
cPanel, Plesk 12, Custom-built
$9.39/mo
30 Days
Resellerclub.com
Reviews
USA, India, United Kingdom
200000
Unlimited
cPanel, Plesk, WHM
$0.49/mo
–
Webhosting.uk.com
Review
United Kingdom
25000
5 GB
Plesk, cPanel
$3.32/mo
–
Iweb.com
Review
USA, Canada, United Kingdom, Netherlands, Singapore, China
100000
1000 GB
Parallels Plesk, cPanel
$105/mo
–
Servermania.com
Review
USA, Canada, Netherlands
8000
250 GB
cPanel
$29/mo
–
Easyspace.com
Review
United Kingdom
300000
10 GB
Plesk, cPanel
$4.8/mo
–
Best Low-Cost WordPress Hosting: FAQ
How to look for inexpensive WordPress hosting?
Actually, we've gathered this list of WordPress hosting cheap plans especially for people who are looking for inexpensive WordPress hosting. You can choose the service from our list or try to find it for yourself. We recommend paying attention to the different pricing plans and what they include. You might find a cheap plan without necessary functions and find the necessary features with big pricing, so be careful. Also, you can look for sales. Sometimes not the cheapest services make special prices before some holidays and you can buy a good plan for a cheap price. And don't forget to read feedback from previous customers. Unfortunately, young cheap services can have bad quality.
Do I also get a domain name included with cheap WordPress hosting?
It depends on the plan that you choose. For example, GoDaddy has a free domain in the cheapest plan and Hostinger has not. If you need a free domain with cheap hosting, pay attention to the terms of the plan and pick the one that has it.
Is the customer support good with cheap WordPress hosts?
Yes, it's good. Usually, customer support doesn't depend on the plan and all the users have the same terms of services and customer support. Most parts of modern services provide 24/7/365 customer support via support tickets, chat, email, or phone. But some hostings provide VIP support in the expensive plans.