Gandi manages nearly 2.5 million domain names and offers a wide range of hosting services and settings, from domain names and SSL certificates to shared hosting and cloud servers. It is a reliable company that has been providing its services for many years and has an excellent reputation among users worldwide.
If you're looking for a basic WordPress installation or even a reasonably priced e-commerce installation, Gandi does a great job. Just don't expect lots of features or thousands of free themes for such a small fee.
To increase your options, we recommend upgrading to a more expensive plan. Here is a comprehensive gandi.net review!
Gandi Pros & Cons
Despite the excellent reputation and many positive reviews, we decided to look into the advantages and disadvantages of the service. Let's look at them and move on to a more detailed analysis of the provider.
Pros
Cons

30-day Money-back Guarantee

10-day trial

Simple WordPress installation

Free SSL Certificates

Unlimited bandwidth

Technical support by email

No live-chat

No VPS hosting

No gandi video hosting
Gandi in Brief
| Characteristic | Information |
| --- | --- |
| Uptime guarantee | 99.95% |
| Support options | 24/6 email |
| Hosting plans | Dedicated, WordPress, PrestaShop, Cloud Servers |
| Platforms | PHP, PYTHON, NODE.JS, RUBY, POSTGRESQL, MYSQL |
| Features | Extensible Storage, Simple WordPress installation, Choice of language and database, Automatic linking to your domain names, Recent versions of PHP, Expandable storage |
| Starting price | $3.75 a month |
When to Use Gandi
Well, it is an excellent hosting solution for most tasks of a modern business. The variety of pricing plans will allow you to choose the right solution for your site's needs. Here you will find both cloud solutions and dedicated servers with a large amount of data storage.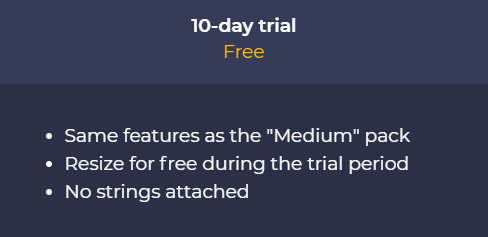 By the way, a unique feature for providers, the ability to test the service, is here. You can take advantage of the 10-day trial free of charge and test the quality of the product. To be honest, we had never met providers who offer such an opportunity. It's amazing! Why not take advantage of it?
When Not to Use Gandi
Hosting provides a limited amount of storage space. Keep this in mind when choosing a provider. Rely on your needs to meet your business goals. If you require more storage space, then you're better off choosing a host that offers more storage space as standard. These are usually the popular big companies that include the ability to expand storage in their plan.
It's also not the best provider for building e-commerce sites on it. Although there are tools for online stores here, users have noted that they were not satisfied with the services' quality. Of course, it's up to you, but we had to note this in our gandi review.
Gandi Performance
The performance and capacity of hosting servers are essential when choosing a provider for your business. You should clearly understand that the performance level will determine how well your site will rank in search engines. The higher you are at the top of search engine results, the more users and views you will get.
The performance also ensures uninterrupted access to your resource, which is very important for modern websites for many reasons.
Let's take a look at what kind of performance the Gandi servers provide.
Free private networks to mount a secure multitier infrastructure

CPU and RAM resources available on demand

Move IPs and disks from one server to another

Unlimited bandwidth

Popular Linux distributions and FreeBSD

IPv4 / IPv6

Total root access and delivery in 2 minutes
Keep in mind that performance will depend on which plan you decide on. The more performance you need for your resource, the more expensive the right plan will cost. It is logical and fully justifies the power provided.
Gandi Speed Test Results
Why is performance important? Because it ensures the loading speed and constant availability of your resource. Let's find out how fast sites will load on this hosting service. We will use services to check the average loading speed of content.
Here are the results:
| Test | Average Loading Time |
| --- | --- |
| GTmetrix test | 2.3 s |
| Pingdom test | 353 ms |
| PageSpeed Insights (Google) | 1.8 s |
Amazing results! Content will load faster than you blink! Not all industry leaders can boast such a result, so Gandi proves its performance in practice. We're pleasantly surprised by such a high loading speed in our gandi net review. Keep up the good work, guys!
Gandi Uptime Guarantees
Constant availability of your business website to customers is critical for any company on the web. Uptime Guarantees should be near 100%. The closer to 100% of this figure, the better hosting takes care of its clients' sites.


Gandi Uptime Guarantees is
99.95%
. That is a great benefit! Gandi is all about providing you with a high-quality service. Of course, there is a possibility of failures, but the company claims to fix any possible problem quickly.
Gandi Server Response Time
We come to another critical factor. The download time of the first byte of content. According to Google's recommendations, sites should deliver the first byte of content faster than 200ms.
With the help of Bitcatcha service, we will check how well Gandi web hosting copes with this task!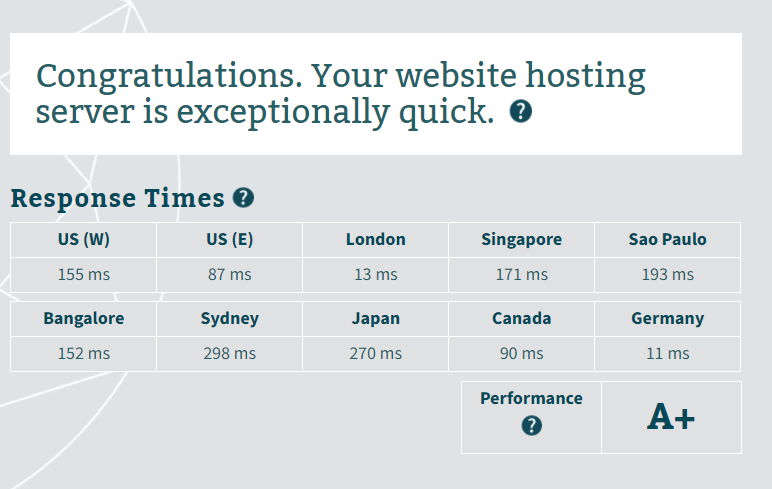 As you can see, the provider received
the highest A+ rating
. That's what industry leaders get so that you wouldn't dream of a better score.
Gandi Site Migration
Migrating a site on a Simple Hosting instance to a Simple Hosting instance located in another data center can be done in a few steps:
Backup the source code of your website and database,

Create the new Simple Hosting instance in another datacenter,

Remove the virtual host from the old instance and recreate it on the new instance,

Edit the domain's DNS records to point the website to the new instance.
Gandi Types, Features, and Pricing
All Gandi plans, even the fullest, include 20 GB of storage by default. However, users have the option to expand it to 2 TB for a fee.
Gandi hosting packages include unlimited bandwidth and unlimited free SSL certificates for all but the cheapest plan. Here you can connect exactly the solution that will resource your business website. Let's take a look at the possibilities and gandi hosting prices!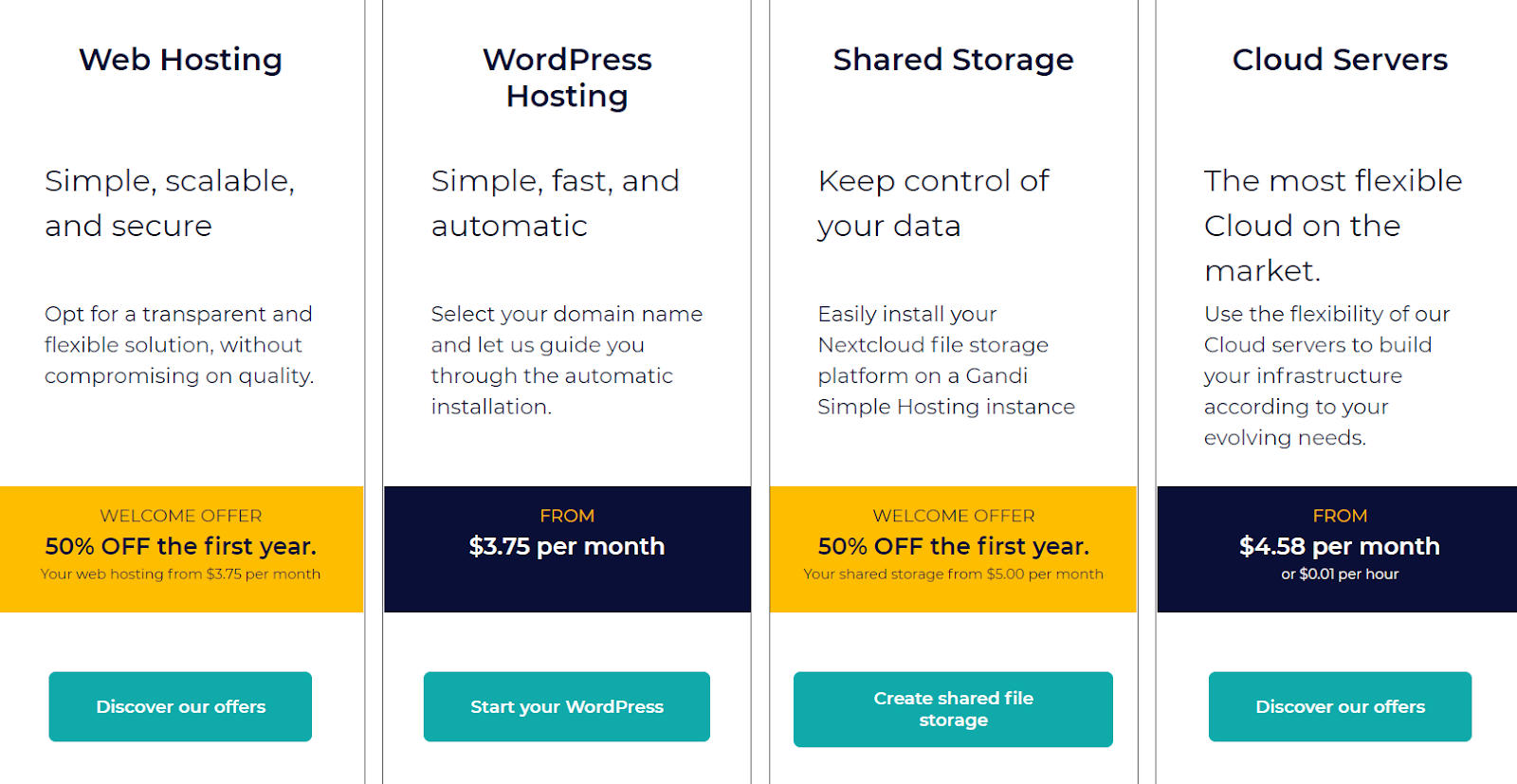 Dedicated Hosting
Get all the benefits of owning your server! The best performance, even in the most affordable plan, gives you all the benefits for your business. Starting at $7.50 a month, you'll be able to host two websites. And if you're just getting started with the service, then the price is $3.75 for new customers!


WordPress Hosting
Everything you need to get your WordPress sites up and running correctly, starting at $7.50 a month! Once WordPress has been installed on your instance, you can personalize it by using the many gandi wordpress hosting plugins and taking advantage of many advanced features.


Prestashop Hosting
Gandi wants to help create your online store and benefit from the many features provided by the PrestaShop CMS. All of this so that your business can grow and bring you new sources of revenue.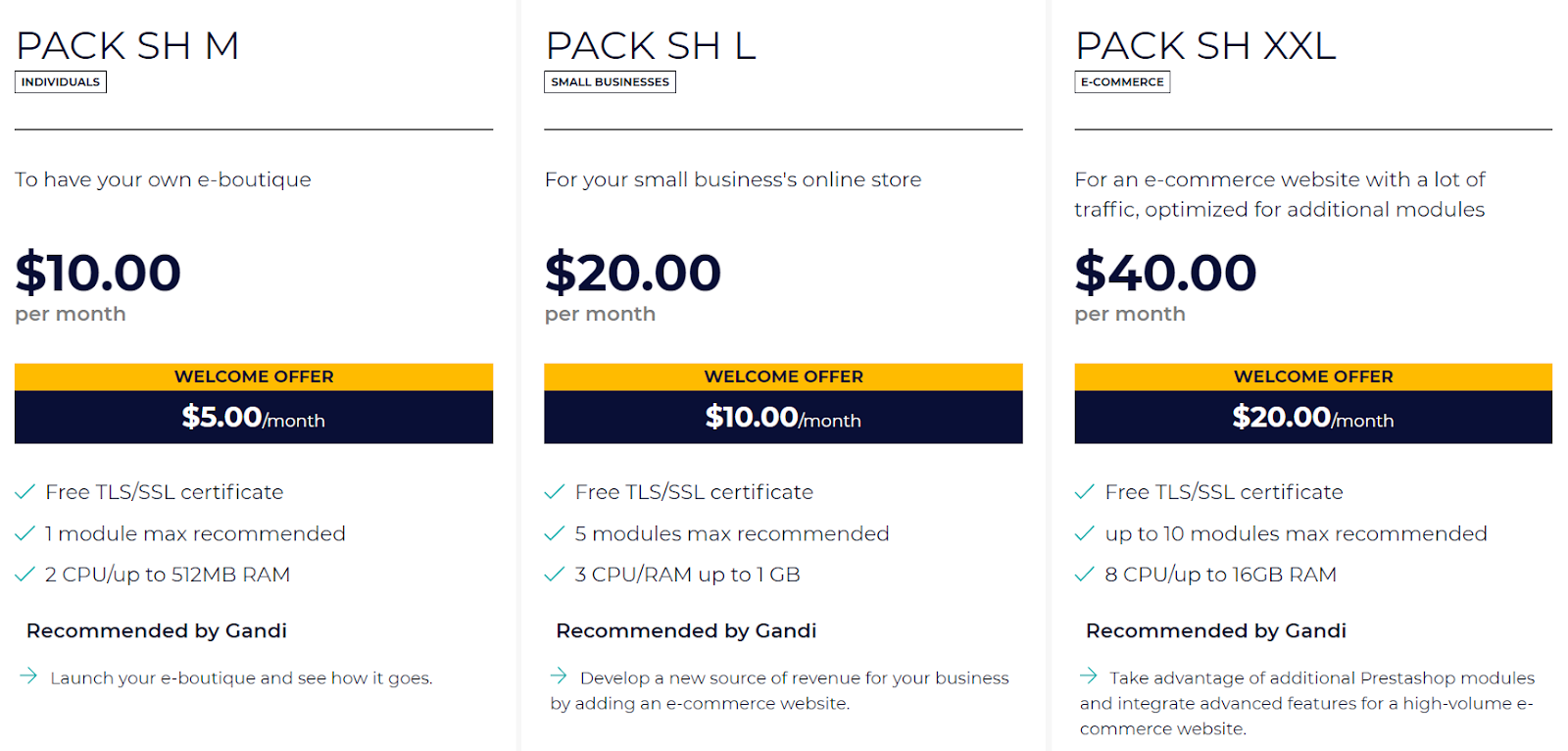 After you have installed PrestaShop, you have full administrator permissions. You should take care not to install too many modules, which can needlessly slow your site's performance. Try it for $10 a month!
Cloud Servers
At Gandi, your server is delivered in less than 2 minutes. You can then change its configuration (RAM/CPU) as needed and add or remove resources (private network, additional IPv4/IPv6, or additional disks). Try it for $4.58 a month.


Security Features
Gandhi puts user security and privacy first. The company supports this by providing a range of SSL certificates, including 256-bit encryption as standard and transaction guarantee up to $250,000 for professional and business plans.
Among other security measures, the provider gives users:
Robust and reliable DNS infrastructure

Stable DNS infrastructure with the addition of a redundant third-party operator for your critical domain names, with good SLAs backed up with penalties if breached.

Securing your DNS zones by DNSSEC

Securing access to your account with two-factor authentication, which allows blocking fraudulent access if your password has been compromised.

Reinforced security by restricting access to your account to only whitelisted IPs
Excellent security measures. You can trust your site's security to this service and not be afraid of data leakage, according to gandi reviews. If you need additional protection, you can connect additional options to your plan for a fee. It is an excellent opportunity to ensure maximum protection for your site.
Support
There is no online chat, but you can create an appeal. After reviewing your request, a support specialist will contact you and help you deal with the situation. It is noteworthy that not only customers of the company but also those who are just exploring the service's possibilities can create a request.
Our request has not been answered in 24 hours, but maybe you will get a quicker response. Try it!


Gandi Quick Facts
| Fact | Information |
| --- | --- |
| Bandwidth | unlimited |
| FREE SSL Certificate  | included |
| Platforms | WordPress, Joomla |
| Advanced Features | Nextcloud Apps, Streamlined installation, Automatic configuration of the domain name |
| Free Domain | included |
Gandi Review: Do We Recommend It?
We confidently recommend this provider to you. You get excellent performance, proven speed, and a variety of rate plans for low and adequate prices. According to gandi.net reviews, users are very happy with the quality of service! The company has a very user-friendly interface of its official website.
You won't have any problems getting started here. Take advantage of the extensive knowledge base or help from the support department to make your work with this provider as productive as possible.
It's a great choice for mid-sized companies that need a reliable place to host their site. The performance is enough to cover the key tasks of your site. It's a great option!
Keep in mind that there are always sales going on here, which is a good chance to get a provider at a low price.
Gandi Alternatives
If for some reason, you're not ready to choose Gandi yet, then we've prepared some alternative providers for you. Check them out and make your final decision. Good luck!
Bluehost — a perfect one for WordPress sites with many specific functions.
Hostwinds — a reliable dedicated web hosting.
Hostgator — a good-known web hosting with low prices.
FAQs on Gandi
Can I host more than one site on the same Gandi Simple Hosting instance?
Yes, you can create several websites on the same Simple Hosting instance.
Which Simple Hosting plan should I choose?
Try to start with an M plan, and upgrade if you need more power to handle your changing needs.
I don't have a domain name at Gandi. How can I link my WordPress at Gandi to it?
If you don't have a domain name yet, you will need one before installing your website on it.