Counter-Strike: Global Offensive (often abbreviated as CSGO) is one of the world's most popular and competitive first-person shooters. One can play CSGO with LAN (Local Area Network) and online. On Twitch, the video platform for gaming, Global Offensive had 84,500 viewers in November 2020.
A reliable server guarantees that the game will last without interruption, and you will not have difficulties with access or any bad experiences. What are the solutions in this case? Well, you can always use your dedicated server or choose one of the ready-made shared options.
Each option is not ideal, but it will be much easier to choose special host servers, which are already designed for CSGO. Let's take a look at the best cs go server hosting review and compare their characteristics so that you choose the perfect option for yourself.
Are you ready? Let's get started!
Minimum CSGO Server Hosting Requirement
CSGO is not very demanding on your server hardware. Of course, the more disk space you have, the less likely it is that there will be some problems accessing the game process. Let's look at the minimum and recommended requirements for host server providers. Note that the official website of the game maker has no information on the requirements.
The data in the table below are taken from the players' forums, where they share their experiences. We hope it will be useful!
Minimum Requirement
Recommended Requirement

1.4 GHz processor (64-bit)

512 MB of RAM

32 GB hard disk space

2.8 GHz processor (64-bit)

2 GB of RAM

50 GB hard disk space
Benefits Of Running Your Own CSGO Server
You can create your dedicated server for CSGO. Of course, it will require more resources to set up and run the process. However, there are many advantages for the players here. First, a shared game servers host allows players to share technical resources, which significantly reduces the game's speed and the update rate.
100% control of the specifications and software in the game falls on you. A dedicated CSGO server will provide players with enough performance to not be distracted by problems during the game. You will be able to customize the game for your team and take advantage of customization.
The Top 6 Best CS GO Hosting Providers
Best CS:GO Server Hosting in Details
How to choose the best CS:GO server hosting provider? What features should you consider? Let's analyze host prices, types of cPanel, available DDoS protection and get key pros and cons.
1. GameServers – Best Choice for CSGO
Years of experience in GameServers will allow players to control Counter-Strike: Global Offensive settings and performance. Change server settings, modify mods and plugins. With the Steam Workshop, you can easily create your collection.
If you have any questions, the 24/7 support team of CS GO server hosting will help you solve any problem. It is a great host service to create your dedicated server.


MAIN FEATURES
Price: from $9.55/month
RAM: 2 GB
Free trial: No
Players: 12-32
Control panel: Custom
DDoS protection: Yes
Mods allowed: Yes
Instant setup: Yes
Pros
Cons

SSD storage

Over 15 locations with low ping

Custom control panel

Not the cheapest provider

Support isn't always competent
2. Host Havoc – Best for CSGO mods
Host Havoc is a registered 2013 Canadian Counter Strike GO server hosting for games. Hosting offers one-click mod support for Counter-Strike: Global Offensive for quick gameplay changes. Host havoc is a great option for plugins because of its extensive knowledge base and fast support team.
Host Havoc has high minimum slot requirements for its CSGO servers. You must purchase a minimum of 20 slots.

MAIN FEATURES
Price: from $10/month
RAM: 64 GB
Free trial: No
Players: 20-100
Control panel: TCAdmin
DDoS protection: Yes
Mods allowed: Yes
Instant setup: Yes
Pros
Cons

99.9%+ uptime

72-hour risk-free money-back guarantee

Servers around the world

Easy plugin/mod support

High minimum server slot count

No free trial
3. RoxServers – Cheap CSGO Hosting
RoxServers CS:GO server provides its customers with excellent performance by partnering with state-of-the-art data centers and storage facilities. The company's servers are located all over the world, which allows for uninterrupted access.
Yes, it's not the most popular hostg company presented here in the article, but it copes with its tasks perfectly! Take a look at the detailed review below, and you might want to give them a chance!


MAIN FEATURES
Price: from $7.23/month
RAM: from 1 GB
Free trial: No
Players: 8-64
Control panel: Custom
DDoS protection: Yes
Mods allowed: Yes
Instant setup: Yes
Pros
Cons

24 hours money-back guarantee

DDoS protection

75 games on their platform

No free trial

Not all plugins are supported there
4. PingPerfect – Provider With Free Trial
PingPerfect is a reliable provider of Counter Strike Global Offensive server hosting. In addition to the fact that refunds are available here, you can also take advantage of a unique opportunity and order a free 48-hour trial. Though you can't customize the plans at your discretion here, the provider is not worse in functionality than its competitors!
The customizable control panel makes your interaction with PingPerfect very easy and efficient. It is the host provider that will provide quite good performance and uninterrupted access for a relatively small fee. Thanks to the free trial, you can try it out and conclude yourself.


MAIN FEATURES
Price: from $5/month
RAM: from 32 GB
Free trial: 48-hour trial
Players: 70
Control panel: Custom
DDoS protection: Yes
Mods allowed: Yes
Instant setup: Yes
Pros
Cons

NVMe SSD Storage

Dedicated servers

Free trial

24 hours money-back guarantee

Ultra-fast processors

Some of their support documentation is lacking
5. Nitrous Networks – Easy-to-start CSGO Hosting
Nitrous Networks is a popular and easy-to-use hosting CS GO server that is also very cheap. It might be a good choice. It offers a limited amount of disk space, but if that is enough for you, we cannot call it a big disadvantage.
Nitrous Networks provides plenty of mods, plugins, and game customization options. It is ideal for novice users because of its ease of use. Moreover, there is a very qualified support team here that is ready to solve your different requests at any time of the day.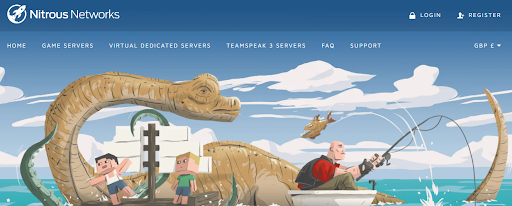 MAIN FEATURES
Price: from $5.90/month
RAM: from 32 GB
Free trial: No
Players: up to 64
Control panel: Custom
DDoS protection: Yes
Mods allowed: Yes
Instant setup: Yes
Pros
Cons

Mod support

SSD storage

Custom cPanel

The lower range of server locations
6. GTX Gaming – Popular CSGO Provider
GTX Gaming is a reliable and popular Counter Strike GO hosting, boasting a user-friendly control panel, quite fast customer support service, and relatively low prices. The provider's servers are located on every continent in the world. As for CSGO, the provider has turned the control panel into a powerful feature center specifically for it.
Maximally simplified text entry fields make it simple for a beginner player. Nevertheless, there is also the possibility to implement more complicated game settings for experienced users if you need it.


MAIN FEATURES
Price: from $6/month
RAM: No limits
Free trial: No
Players: 10-32
Control panel: TCAdmin
DDoS protection: Yes
Mods allowed: Yes
Instant setup: Yes
Pros
Cons

No memory limits

DDOS protection

SSD storage

No free trial

No custom cPanel
Best CS GO Server Hosting Comparison
We took a look at six of the most popular CSGO hosting providers in 2021. Each of them boasts thousands of customers from around the world, reliability, and high security. Choose the one Counter Strike server host that fits your needs, and get started right now!
Hosting
Pricing / mo
(starting at)
RAM
Free trial
Players
Control panel
DDoS protection
Mods allowed
Instant setup
GameServers
$9.55
2 GB
No
12-32
Custom
Yes
Yes
Yes
Host Havoc
$10
64 GB
No
20-100
TCAdmin
Free
Yes
Yes
RoxServers
$7.23
from 1 GB
No
8-64
Custom
Yes
Yes
Yes
PingPerfect
$5
from 32 GB
48-hour trial
70
Custom
Yes
Yes
Yes
Nitrous Networks
$5.90
from 32 GB
No
Up to 64
Custom
Yes
Yes
Yes
GTX Gaming
$6
No limits
No
10-32
TCAdmin
Yes
Yes
Yes
How to Choose The Best CSGO Server Hosting Provider
Well, we've told you about the six most popular Counter Strike server hosts for creating a dedicated server. What should you pay attention to? To begin with, an important factor is the number of players you need to support. That number is different for every hosting service, so consider that when choosing a provider.
Moreover, important is the price, which depends on the server's performance, the disk space provided, and other nice bonuses. If it is your first dedicated server, it is also worth considering how well the support is.
Another important consideration in choosing the best CS GO server provider is the availability of DDoS protection. It allows you to protect the gameplay from sudden attacks. The rest of the parameters are not so important by default and depend on your personal preferences in games.
Paying for CSGO Hosting vs. Hosting Yourself
If you want to get the most out of all of CSGO's features outside the base set, then you should consider getting yourself one. So you'll be able to implement modifications at your discretion and make the game as convenient for yourself as possible. You'll have full control over who can join your games and what team the players will be in.
However, not everyone will suit this option. Take into account that you assume all the risks. With a dedicated server from a provider, you can enjoy the gameplay and not have to worry about the availability of your dedicated hosting.
Let's face it. Experienced users will not have difficulties, while newbies will have not so easy. If you don't have experience, it's recommended to choose paid hosting from the ones we described above.
Yes, it will be more expensive, but you do not have to deal with complicated settings. A convenient control panel will allow you to pay maximum attention to the gameplay because the settings will be simplified.
Nevertheless, it is up to you.
Cheap CS GO Server Hosting
The cost of hosting will directly depend on the offered performance and the number of slots you need for the game. To get the cheapest host server possible, you will have to accept the minimum number of slots and not the highest server specifications.
However, if that's fine with you, then we don't see any problem. In the case of your host, of course, it will be cheaper because you will not have to pay the server provider.
Final Thoughts
It's time to summarize. In this comprehensive article, we compared dedicated servers from several providers and hosting options and talked about six popular providers for CS GO.
Here are the key points:
Hosting yourself gives you more opportunities to modify the game but requires you to assume all the risks and experience setting up game parameters.

A dedicated server from a provider will cost you more. However, you can choose an option according to your preferences and budget.
CS:GO Server Hosting FAQ
Why Get A CSGO Server Host?
Simplify your tasks and take advantage of a convenient control panel. Providers have years of experience in gaming and will take care of your dedicated server. Thanks to the dedicated server, you can modify the game at your choice and control the number of players in the game. It will allow you, for example, to play only with friends or only with advanced users.
What To Look For In A CSGO Server Hosting Services?
When choosing a server hosting services, consider the performance, the maximum number of slots, the availability of attack protection, and the price. To choose the perfect option, talk to customer service before you buy a server. That way, you can find out the details that are important to you individually. Furthermore, you can conclude for yourself how quickly and competently the customer care service responds.