Building your own civilization in a simulated world is an exciting, though challenging, task. Start with looting and crafting and move forward to building a complex economy and community-driven government system with a personal dedicated eco server.
Eco is an open-world survival game created by Strange Loop Games studio. In this game, players must cooperate in multiplayer mode to build their civilization in a virtual world.
A peculiar thing about Eco is that this is a science-backed simulation. The gameplay takes place on an artificial planet where thousands of growing plants and animals live their lives. Every gaming process is united into one interdependent ecosystem. The player's every decision and every action impacts the whole world.
The gaming process focuses on building a sustainable economy and efficient government system to eliminate the ultimate threat to the virtual planet — a meteor looming over the head. Collect the necessary resources, develop trade relations, create your currency, pass laws and regulations, and prepare to counter the jeopardy.
But be cautious. Wrong decisions may lead to the ecosystem's destruction, society's collapse, and the inevitable fall of a civilization long before the guest from space appears.
No doubt, such amazing gameplay unites players in teams and makes gamers spend hours promoting the progress of their in-game societies. Consequently, the demand for high-quality eco game server hosting is constantly growing. For this reason, we prepared a guide on the best server hosting companies for eco game. Let's start.
Minimum Eco Hosting Requirement
Technical requirements are the first thing to pay attention to while looking for eco server hosting. According to the information from the Steam webpage of Eco, only to run the game itself, you need at least the following parameters:
Processor: AMD Ryzen 5 1500X 3.5 GHz Quad-Core or Intel i5-6500 3.2 GHz Quad-Core or similar
Memory: 8 GB RAM
Graphics: AMD Radeon R9 290 or NVIDIA GTX 970 or similar (Minimum: 4 GB VRAM)
DirectX: Version 11
Network: Broadband Internet connection
Storage: 4 GB available space
Sound Card: DirectX-Compatible
As we can see, the system requirements are pretty high. Running an eco game server certainly requires much better hardware. In this case, gamers need at least 16 GB RAM, 8 GB available space, as well as AMD Ryzen 7 3700X 3.6 GHz Eight-Core or Intel Core i7 9700K 3.6 GHz Eight-Core processor (or similar equivalent) and AMD Radeon RX 5700 or NVIDIA GeForce RTX 2070 graphics card (or equivalent) with 8 GB VRAM.
The Top 6 Eco Server Hosting Providers
Now, knowing the benefits of eco hosting own server game we can move to the analysis and comparison of the leading eco hosting providers.
Best Eco Hosting in Details
Now let's take a closer look at each company and find which is the best hosting for eco game servers. In our review, we contrasted companies` hardware resources, servers location, quality of support services as well as general usability.
1. GTX Gaming – Best Reliability
GTX Gaming is a popular eco game hosting provider with powerful machines, reliable connection, multiple server locations, and a good support team.
Another peculiar feature of GTX is its user-friendly service. Players can enjoy an easy and instant server setup. Furthermore, there are a lot of automated processes like automatic scheduled backups, restarts, and updates. Easy world backup manager and DDoS protection secure users' data. In addition, a custom control panel allows gamers to manage their servers efficiently. And let's not forget about game customization – you can upload any mods.
Pricing starts at £7.99 (approximately $8.5) per 10 game slots monthly. In the minimum package, provider allocates 5 GB RAM and 4.2 GHz (6 cores/12 threads) CPU clock speed. We should also mention that players can additionally purchase extra memory allocation, higher CPU priority, better CPU clock speed, and VIP support priority. With a year-long subscription, users can save up to 15%.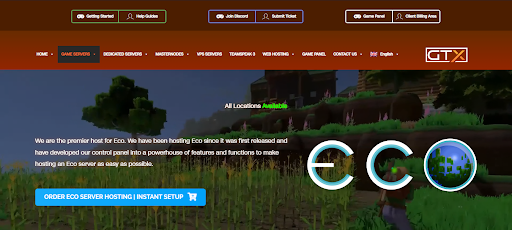 KEY FEATURES
Price: from $8.5 per month
RAM: 5–32 GB
Free trial: No
Players: 10–500
Control panel: Custom
DDoS protection: Yes
Mods allowed: Yes
Instant setup: Yes
Pros
Cons

Global coverage

Custom control panel

SSD enterprise-level storage

Great performance

Many automated processes

No free trial

Priority-based support system
Ready to choose your plan? — Go to
GTX Gaming
hosting
2. Host Havoc – Unlimited Teams
Host Havoc is definitely worth mentioning in our eco server list. The company offers 12 server locations, an excellent network with a 99.9% uptime guarantee, wonderful 24/7 technical support, and a great control panel.
An interesting peculiarity of Host Havoc is the RAM-based cost model. People pay not for the number of gaming slots but for the amount of allocated memory. Consequently, the size of your team can potentially face no limits.
Pricing starts at $10 per 1 GB RAM and can reach $47.5 per 8 GB. As we can see, the more RAM is allocated, the lower the price per GB. Higher CPU priority costs an extra $4. At the same time, an annual subscription can save 12%. Last but not least, gamers can enjoy a 72-hour risk-free money-back guarantee.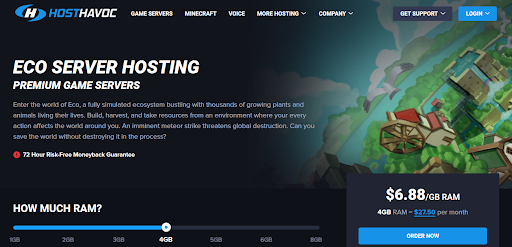 KEY FEATURES
Price: from $10 per month
RAM: 1-8GB
Free trial: No
Players: Unlimited
Control panel: TCAdmin
DDoS protection: Yes
Mods allowed: Yes
Instant setup: Yes
Pros
Cons

72 hours of the refund period

Unlimited number of game slots

Easy mod support

99.9% network uptime guarantee

A relatively low number of data centers location
Ready to choose your plan? — Go to
Host Havoc
hosting
3. PingPerfect – Risk-free Solution
PingPerfect is another provider in our list of top eco game hosting companies. Instant server setup, global location of data centers, free web hosting, and easy-to-use game switching facility ensure a smooth gaming experience.
PingPerfect is also a good choice from the viewpoint of security. A full backup system gives protection to minimize any interruption to the gameplay. There is also a 48-hour money-back guarantee if players are not satisfied with services. The advanced admin panel offers an extensive capability to be a true server manager. Finally, the support service always quickly responds to all inquiries.
We can see here the same memory-based pricing system. Pricing starts at $10.14 per 2 GB of RAM. Branding by PingPerfect can provide additional discounts. At the same time, extra CPU priority, as well as premium support, require additional payments. We should also mention that some server locations are not free.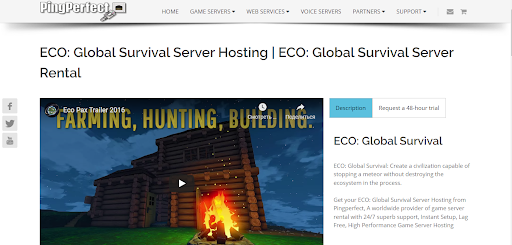 KEY FEATURES
Price: from $9.46 per month
RAM: 2-12GB
Free trial: Yes
Players: Unlimited
Control panel: TCAdmin (custom variant)
DDoS protection: Yes
Mods allowed: Yes
Instant setup: Yes
Pros
Cons

48-hour free trial period

19 server locations

Great support

High level of security and reliability

Price is above average

Debranding eliminates the discount
4. Apex Hosting – Versatile Configuration
Apex Hosting offers really user-friendly services. Instant server setup, powerful control panel, comprehensive support, reliable connections, great hardware, and mods availability guarantee an exciting gaming experience.
Security is also on the highest level. Full DDoS protection and an automated backup system keep all data safe. In addition, there is a 7-day money-back period, so gamers may not worry about their money in case they are dissatisfied with the services.
The payment system provides solid room for configuration. Multiple billing plans allow players to find the best fit for their needs. Pricing starts at $9.99 per month with a discount for the first month – only $7.49. With Apex Hosting, players also pay for allocated memory, not for the number of gaming slots. Via additional 7 packages, you can get access to really enterprise-level hardware and thus assemble a team of any size in the largest virtual world with the highest settings.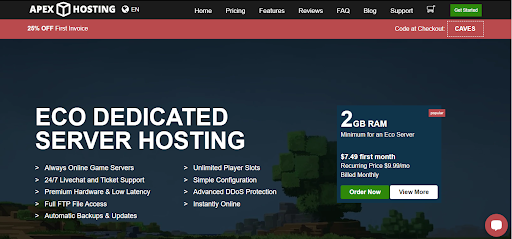 KEY FEATURES
Price: from $9.99 per month
RAM: 2–16 GB
Free trial: No
Players: Unlimited
Control panel: Custom
DDoS protection: Yes
Mods allowed: Yes
Instant setup: Yes
Pros
Cons

7-day refund period

Multiple server locations

Solid hardware

Full DDoS protection

Multiple server configuration options

Many additional features require relatively high extra payments
Ready to choose your plan? — Go to
Apex
hosting
5. Nitrous Networks – Comprehensive Support
Nitrous Networks – a prospective eco pc game hosting server provider. From previous experience, we can mention the following strengths of this company: free web hosting, free 24/7 support, and solid DDoS protection. It is also known for its relatively low prices.
Though Nitrous Networks does not possess many server locations, it offers reliable connection. In addition, players can assemble teams of almost any size due to an unlimited RAM allocation.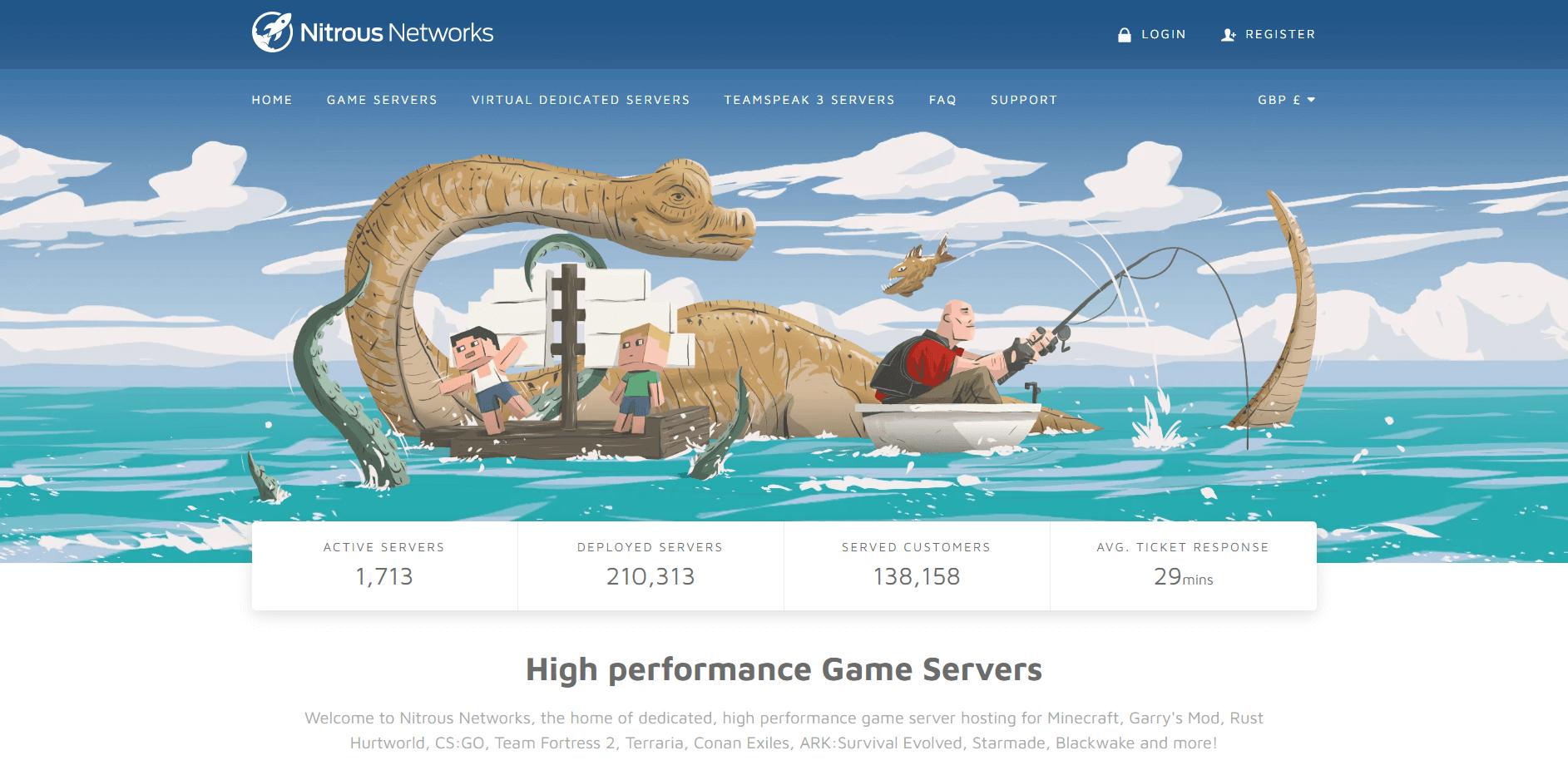 KEY FEATURES
Price: Coming soon
RAM: Unlimited
Free trial: No
Players: Coming soon
Control panel: TCAdmin
DDoS protection: Yes
Mods allowed: No
Instant setup: Yes
Pros
Cons

Advanced control panel

Quick and comprehensive support

Full DDoS protection

No mods available

No free trial

A low number of server locations
6. Survival Servers – Excellent Performance
Our list of the best eco game server hosting providers can not be complete without Survival Servers. Due to ultra-fast NVMe SSD drives, the highest single-thread benchmark Intel/AMD CPUs, and high-quality connection, the company guarantees excellent game performance.
At the same time, instant server setup, powerful control pane, last version mods support, custom launch parameters, and access to 3rd-party tools allow gamers to fully control every aspect of server or gaming activity. Furthermore, many automated processes facilitate server management.
Pricing starts at $12.5 per month per 10 slots. However, there is also a similar one-time payment. Players can purchase additionally up to 250 game slots and up to 15 servers. An annual subscription offers a 35% discount.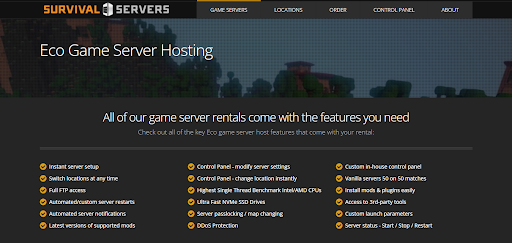 KEY FEATURES
Price: from $12.5 per month + same one-time payment
RAM: 8 GB
Free trial: No
Players: 10–250
Control panel: Custom
DDoS protection: Yes
Mods allowed: Yes
Instant setup: Yes
Pros
Cons

High performance

Top-notch hardware

Custom control panel

Full FTP access

No refunds

A relatively low number of server locations
Best Eco Servers Hosting Comparison
Let's now briefly summarize our findings regarding eco server hosting game providers.
Hosting
Pricing / mo
(starting at)
RAM
Free trial
Players limit
Control panel
DDoS protection
Mods
Instant setup
GTX Gaming
$8.5
5GB
No
10-500
Custom
Yes
Yes
Yes
Host Havoc
$10
1GB
No
Unlimited
TCAdmin
Yes
Yes
Yes
PingPerfect
$9.46
2GB
Yes
Unlimited
TCAdmin
Yes
Yes
Yes
Apex Hosting
$9.99
2GB
No
Unlimited
Custom
Yes
Yes
Yes
Nitrous Networks
$N/A
Unlimited
No
N/A
TCAdmin
Yes
No
Yes
Survival Servers
$12.5 + same one-time payment
8GB
No
10-250
Custom
Yes
Yes
Yes
How to Choose The Best Eco Server Hosting Provider
Choosing an eco game server hosting provider might not be an easy task. There are so many features to pay attention to. However, not all of them are essential. In addition, the importance of some may depend on the player's skills and expertise. We strongly recommend paying attention to the following parameters:
Reliability and performance. This is the very basis of a pleasant gaming experience. Double-check the provider's hardware if you don't want to face lags or crashes. Pay exclusive attention to such parameters as allocated RAM and CPU clock speed.
Network connection. The quality of server hosting depends not only on machines. The network is also essential. Take a look at data center locations and make sure there is at least one close to your area. Otherwise, there might be troubles during the multiplayer game.
Prices and payment. There are certainly no free eco game hosting services. At the same time, due to a considerable number of options. Apart from the price itself, we also advise paying attention to potential additional payments as well as available billing cycles.
User-friendliness. This point is about interface, difficulty level while working with the server, support service, abilities of control panels, and automatization of server processes.
Mods availability. One of the key advantages of multiplayer games is their diversity. Each game session is unique. Make sure you can add even more peculiarities to your gameplay via modding.
Always keep in mind these tips, and you'll never experience any significant problems with hosting eco game.
Benefits Of Running Your Own Eco Server Hosting
Hosting own eco servers requires additional resources, including financial ones. In addition, gamers spend time on the server setup, which, by the way, may call for some specific knowledge and skills. So what do they get instead? Here are some benefits:
Full Control
Running a dedicated server allows you to spectate and manage every process regarding the server itself and the game. The absolute majority of hosting providers offer advanced admin control panels for more suitable server management.
Game Modification
Hosting an eco game on your own guarantees the possibility of establishing your rules in the game. Feel free to boost your imagination and add as many mods as you wish.
Reliability and Performance
As we said in the previous section, server hosting for eco game requires additional hardware resources. Whether you run a server on your pc or rent it via a specialized provider doesn't matter. You have enough system parameters in both cases to ensure a smooth gaming experience.
Network connection
This is mainly the benefit of rented servers. Hosting providers possess multiple data centers across the globe. This allows maintaining low-ping connections among the players in different corners of the world.
Paying for Eco Hosting vs. Hosting Yourself
As for the game hosting services eco certainly has a very popular multiplayer. For this reason, gamers run dedicated servers to get the best gaming experience. However, which option is better: host yourself or rent?
Hosting eco game on your own is a good choice regarding total control over the processes, financial contributions if you already have a powerful PC, and autonomy if you do not want to work with third parties. Setting up and running a server is also very useful from experience, especially if you want to develop in this direction.
However, if you aim at the best gameplay and unforgettable multiplayer experience, you'd better buy or rent a server via a specialized provider. Such companies possess solid hardware, distributed data centers, excellent protection, advanced control panels, and comprehensive support services.
The latter option is also wise financially as it's relatively cheap. Eco game server hosting requirements are high. By far, not many gamers own such powerful machines to run dedicated servers without technical issues. Finally, eco game hosting connecting many players around the globe requires a stable and reliable network. If you want to get the max of the cooperative mode with tens or hundreds of random players, you need powerful datacenters that can connect all the teammates.
Final Thoughts
Eco is an exciting game for multiplayer. It allows players to cooperate in a challenging survival open world and thus show miracles of resourcefulness and ingenuity. Therefore, no wonder why eco servers are so popular.
A dedicated eco game server offers gamers absolute control over the technical and gaming side. It also provides a huge possibility for game modding. Furthermore, hosting eco game ensures smooth gaming.
Rented via a specialized provider eco server, assure outstanding problem-free gameplay. Enterprise-lever hardware and distributed data centers guarantee excellent performance and connection. Advanced security and support avert any troubles. Powerful admin panels stand for full control.
We prepared a list of the best server hosting companies for eco game, highlighted each one`s features, and compared their offerings. Double-check them again and find your top dedicated server provider.

Eco Server Hosting FAQ
Sure you can. Players can either host their own server on their PCs or rent one via a server hosting provider. We have covered in our review some of the best eco game hosting companies, featured their pros and cons, and prepared a comparison of their main features. Make sure to check all the information.
Everything depends on a particular situation. If you host a server on your own, there can be some problems with data safety or connection security. However, if you rent a server via a trusted partner, such a server is 100% safe. Hosting providers invest a lot in DDoS protection as well as backup systems. Moreover, they have skilled support teams.
How do I host a MTA Server?
First, you should go to the download page and download the installer. When you finish the download, open it. Select a folder where you want to install the server and click the Install button. When you finish, set up all the settings. Everything is ready now.
Yes, it has. One player can act as a local server host, while others can simply join it later. To make this possible, a host needs a minimum of an open Network Address Translation (NAT) type. Other players can join the server with an open or moderate NAT type.
How do I join my friends Eco server?
Before joining your friend eco server you need to receive an invitation. The server host adds you to a safelist in such a way. Then, you need to go to the server browser from the main menu. There, find your friend server by name or IP address with the help of the filter bar. Finally, enter the correct password that the server host should have sent you previously.