Muvi is a SaaS-based OTT Platform for launching branded OTT multi-screen video/audio streaming platforms. It provides IT Infrastructure, an online video player, DRM to website and apps for mobile and TV, and a video hosting service.
With the Muvi server, you can host, manage, and deliver multi-format audio and video on any device and any platform you wish. Let's dig deeper right into the possibilities of this platform.
With Movi video cloud hosting, you don't have to worry about your IT infrastructure, as Muvi manages it all for you. With Movi, you'll forget about any website downtime or other speed issues, as it has the instant scaling capability, no matter how many concurrent users you have at the time.
You can easily host, manage and deliver videos of different formats on various devices and platforms with Muvi. No matter what your content volume and consumption are, enjoy a consistent performance and zero downtime.
Muvi Hosting Pros & Cons
Let's take a look at Muvi video hosting pros and cons you may face when using this hosting service.
Pros
Cons

Fully managed infrastructure

Infinite scalability

Leading CDN

Advanced server-side security

99,99% uptime guarantee

Limited design choices

The complexity of managing features

Sometimes CMS works illogically
Muvi Hosting In Brief
| Characteristic | Information |
| --- | --- |
| Uptime guarantee | 99,99% |
| Player | HTML5 |
| Revenue models | SVOD, TVOD, AVOD and Hybrid |
| Integrations | Adyen, PayU, Stripe, Authorize.net, First Data, PayPal, Instafeez, Midtrans, PayGate, Braintree, SOFORT, GIROPAY, WorldPay, etc. |
| CDN | Amazon CloudFront |
Go to Muvi hosting
When to Use Muvi Hosting
Use it for hosting, streaming, and monetizing your video content. You can deliver your content on any platform – Web, Mobile & TV. Muvi hosting already includes CDN, CMS, player, and analytics so that you can track and manage different reports. You can also use Muvi for audio and music streaming and delivering your audio content to all devices with no performance lag.
How is Muvi different from its competitors? It's the only end-to-end solution for launching and monetizing your video streaming platform. They provide all the components you need to build your video streaming platform, while other solutions on the market provide only several components, and you have to build the rest by yourself.
When Not to Use Muvi Hosting
According to other Muvi reviews, it's not user-friendly and sometimes hard to integrate or connect. Also, their CMS user interface is a bit complex and can be difficult to navigate. Also, there is quite limited marketing functionality and no integrations with external marketing providers (like MailChimp and AWeber).
Muvi Hosting Performance
Muvi provides a 99.99% uptime guarantee and, as they state on their website, no downtime. They use advanced load-balancing technology to handle surges and a robust infrastructure. Also, Muvi leverages Amazon CloudFront CDN that has servers all around the world.
Your videos are delivered from the server closest to your user location, which reduces the video buffering and improves the delivery of your video content in any location you need. Also, their plans support unlimited concurrent video viewers and immediately scale should you need more space.
Muvi Speed Test Results
To make sure the performance is good, we will check the loading speed of the content. We can do this with free testing services.
And here are the test results!
| Test | Average Loading Time |
| --- | --- |
| GTmetrix test | 5.4 s |
| Pingdom test | 1.48 s |
| PageSpeed Insights (Google) | 2.8 s |
Nice results. Good download speed shows in practice the performance of hosting.
Muvi Uptime Guarantees
Well, what Uptime Guarantees mean, and why is it critical for SEO? Uptime Guarantees shows how much of the time your site will be available to visitors. The higher the figure, the less likely unforeseen events will occur.
All web hosts support this indicator at about 100%, but it is rare to find exactly 100%. Often an unavailable site will rank worse in search engines and receive less traffic.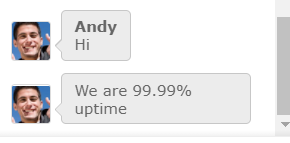 Muvi Uptime Guarantees is 99.99%
. It means that your site on this hosting will be available almost always, except for unforeseen circumstances.
Muvi Server Response Time
Another important factor in evaluating when choosing hosting is Server Response Time. The time it takes for a server to deliver the first byte of content positively affects the service's ranking in search engines. To measure this indicator, we used a special service.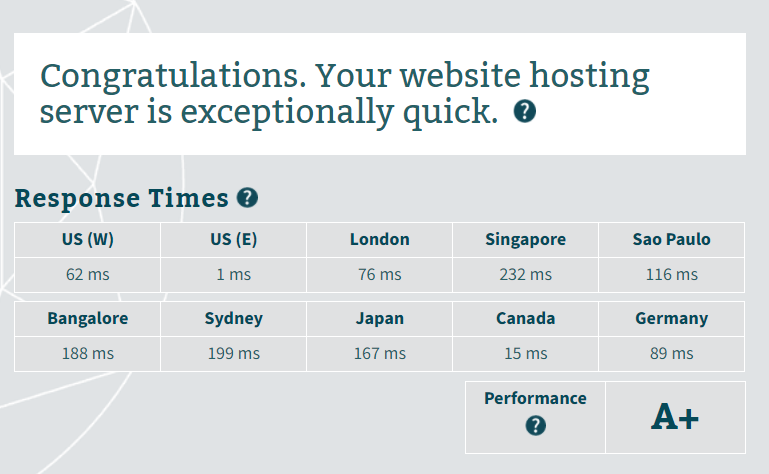 Great results! Hosting loads quickly. Your sites will also load quickly. Perfect rate.
Muvi Site Migration
Muvi provides website migration services to help you easily migrate your existing platform and content to Muvi. Muvi support will take care of all the technical setup while you continue to focus solely on your business. It's completely free and very fast!
Muvi Hosting Unique Features
With the Muvi server, you can track and analyze your best performing content, host and share your videos in one place, and have complete control of your video/audio business. Let's review some of the main Muvi features that make it all possible.
Easy integration
Muvi provides a seamless API with all the necessary endpoints to quickly configure the functionality of your app. Their architecture is set for high volume periods so that you can host your video with uninterrupted multi-format delivery.
Intuitive encoding platform
Their modular encoding platform turns your file-based content into broadcast-quality DRM-enabled one, so you get faster time to value, as well as seamless operational efficiency.
Server's player level analytics
Muvi advanced analytics lets you track who watches your content and in what location they do it. You can also analyze the number of unique users, play loads, content views, viewer span of attention, and sources in Muvi user-friendly dashboard, download reports, and improve your ROI.
Scalable transcoding
Make your content zero-lag with Muvi transcoding SDK. It includes an encoding and transcoding engine that supports all codecs such as Cinepak, MPEG-2, H.264, VP8, MPEG-1, Motion JPEG, YV12, RGB24 for videos, and MP3, AAC, WMA, ALAC, AIFF, and DSD for audio.
Muvi Hosting Pricing Packages
Muvi offers five packages: standard, professional, enterprise, ultimate, and black. All plans include unlimited transcoding, content, subscribers, views, 24x7x365 support, no contract, no setup fee. You can also sign up for a free trial to check if this solution meets your needs. Let's review each of the packages in more detail.

Standard
It includes a fully-featured, white-labeled website/app with Hosting and CDN. It's a shared hosting that is great for 2000 concurrent users and includes 1TB of bandwidth and storage per month. It also has an email and ticketing system.
Professional
It includes five admin accounts, 2TB of storage and bandwidth per month, 500o API calls per month, as well as your own CDN. Despite the standard package, the DRM price is already included.
Enterprise
Enterprise package comes with a dedicated server with auto-scaling and can support up to 50000 concurrent users. It also includes such features as email, ticketing System, SLA, phone, weekly meetings, dedicated account manager. The price also includes stress and security tests as well as staging environments.
Ultimate
The ultimate package includes 10TM of bandwidth and storage per month and can host an unlimited number of concurrent users, as well as unlimited admin accounts and API calls.
Black
Black package includes a dedicated server with auto-scaling, discounted bandwidth and storage fees, and also an on-demand consulting and dedicated support team. Other features are similar to the ultimate package ones.

Security
The Muvi server's architecture will protect your content from cyber-attacks, including DDoS attacks, data breaches, etc. Your video and audio content will remain safe and sound with their studio-grade content protection and advanced security features.
Muvi regularly performs such security tests as Penetration Testing & Security Audits, takes regular backup, and implements Disaster Protocol to make sure you will never lose your data.
Muvi provides an SSL certificate to ensure that your content is securely transmitted from Muvi servers to the client via an encrypted impenetrable code. You can also implement a Studio Approved DRM for your platform to additionally secure your content.
Also, with Muvi, no one can screen-record your DRM-protected content and see a black screen instead. Also, you can watermark your content with the viewer's IP Address, Name, or Email ID during playback to add an extra layer of security to your videos.
All Muvi platforms are also CPI compliant and use VPN detection, so no users can bypass the geoblocking to access your content. Great, isn't it?
Support
Muvi has dedicated support that works around the clock. They provide support via different modules such as ticket system, email, live chat, online tutorials, and help articles. They also provide multiple language support, so you'll find a person who speaks your language.
You can track all the tickets you post in a single dashboard and get instant updates on them. They also have a variety of help articles, as well as 24/7 dedicated engineer support.
Muvi Hosting Quick Facts
Here are some quick facts about Muvi video hosting.
| Characteristic | Fact |
| --- | --- |
| Free features | Unlimited transcoding, video and audio CMS, 24/7 support, no contract, no setup and configuration fee |
| Email | In all packages |
| Bandwidth | From 1 to 10TB depending on the package |
| CDN | Own |
| Add-ons | Recommendation engine, Live Chat, Policy engine, UGC, Credits |
Go to Muvi hosting
Muvi Hosting Review: Do We Recommend It?
Yes, we do recommend it in our Muvi video hosting review. Their platform is a one-stop-shop for everyone who wants to host unlimited video and audio content. They provide all the components and features you need for building your video streaming platform, so you don't have to be torn between different tools and systems and keep everything in one place.

FAQs On Muvi Hosting
What do all plans include?
All Muvi plans include website, preset templates that you can customize with your color options, storage, hosting on the cloud, Bandwidth, Security & CDN.
What payment methods does Muvi support?
Muvi supports all credit and debit cards.
Do the plans include tech support?
All plans except Muvi Starter includes Tech Support, Product updates and regular Maintenance.
Can I request a customization with a payment gateway?
Yes, you can request it, and their team will provide you with a detailed quote.