FatCow is one of the most budget-friendly and popular hosting providers. The company's history started in 1998. At the moment, Fatcow.com provides Shared, Dedicated, WP hosting and VPS.
If you're looking for a budget option with great features, then take a closer look at this hosting service. For a small fee, you will get powerful servers, high performance, and reliable hosting.
FatCow is a good option for first-time customers or those who want to grow, and the service team is there to help you. However, if you're a more experienced user, you may have requests for more advanced settings. Then go to other, more expensive providers and take advantage of their features. Here is a detailed fatcow review 2021.
Fatcow Pros & Cons
It's straightforward hosting with clear pricing plans and an intuitive interface. Hosting is known for its simplicity, so let's take a closer look at its weaknesses and strengths.
Here are the key pros and cons.
Pros
Cons

30-Day Money-Back Guarantee

Average Uptime Record

Daily Backup

Low Prices

Short-term Pricing & Plan Structure

Product Simplicity

Simple Backend

Limited Server Location

No Windows hosting

Not the Most Competent Customer Service

Lots of add-on fees and upsells
Fatcow in Brief
| Characteristic | Information |
| --- | --- |
| Uptime guarantee | 99.96%  |
| Support options | live chat, phone |
| Hosting plans | Shared, WordPress, VPS, dedicated |
| CMSs | Joomla, Drupal, WordPress |
| Features | High Performance Load Balanced Servers, FTP Manager, Unlimited Domains and MySQL Databases, Unlimited Email Addresses at Your Domain, NetApp Snapshot Data Backups |
| Starting price | $4.08 a month |
When to Use Hosting Provider Fatcow
You are better off using this hosting if you have a small website. A business card site, a portfolio site, an event registration site, or a pre-order site. Ideally, a one-page site. While this provider has shown promising results in measuring its performance, numerous fatcow reviews confirm that it is an excellent fit for small businesses.
When Not to Use Fatcow
If you run a large business or an e-commerce site, then you should look for other alternatives. The service does not boast a good customer service and educational base, so the solution of disputes and problematic issues can be significantly delayed. It, in turn, can be detrimental to the state of your business.
Every second that your site is unavailable will cause you significant financial damage. So it is better not to save money and try to look for alternatives for your company.
Fatcow Performance
FatCow has two data centers, both located near Boston, Massachusetts. They are equipped with 24-hour security and have redundant power supplies.
Speed of the website on shared server depends on various factors such as unoptimized images, themes not designed well, poorly written script, plugin etc. Normal speed for a website hosted on a shared server is 0 to 10 seconds.
With FatCow, you won't have the option of choosing a server location for higher site speeds, which is vital if most of your audience is in, say, San Francisco or Europe. FatCow offers its users daily backups included with every plan.
Fatcow Speed Test Results
Since there is not much information on the website about how fast web hosting loads, we decided to test the most popular servers' loading speed. From fatcow hosting reviews, we found that the service has high indicators, and we decided to check this for ourselves.
Here are the results:
| Test | Average Loading Time |
| --- | --- |
| GTmetrix test | 3.5s |
| Pingdom test | 1.86s |
| PageSpeed Insights (Google) | 2.65s |
For a hosting provider with such low prices, these are relatively high results, and you are unlikely to find an alternative with the same performance. For those who are interested in price first and foremost, this is a perfect option. What more could we want?
Fatcow Uptime Guarantees
Uptime Guarantees from this provider is 99.9%. It is excellent, which indicates that your site located on this hosting will always be available to users. There are hosting companies that offer higher guarantees.
However, for the target audience of this provider, these rates will be enough. In this fatcow.com review, we think that it's perfect uptime.
Fatcow Server Response Time
We have already checked the load time of all content on the site. Now we will use a special service to check the download time of the first byte for the user. The most popular web hosts get an A+ rating here. Let's see what kind of rating this provider deserves.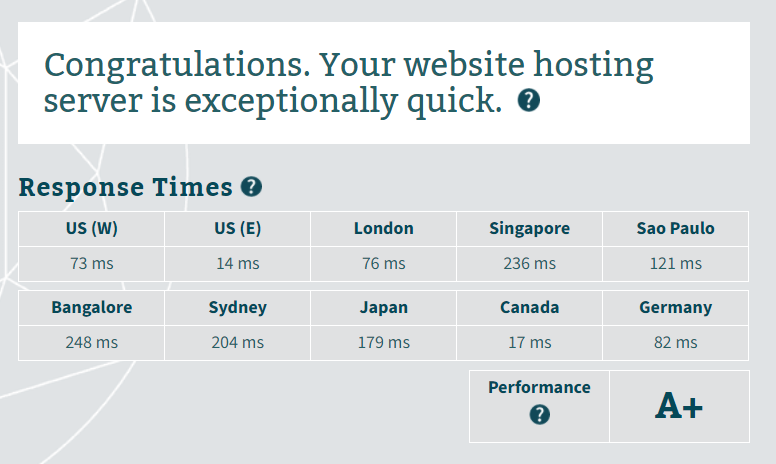 This service gave the hosting provider an
excellent rating
. It is worth noting that FatCow was compared to many sites that load up to 200 ms. Google recommends this indicator that is considered perfect for website loading.
Fatcow Site Migration
Transferring an existing website to another provider smoothly may be a tricky task. Many web hosts include free site migrations to remove that barrier and lure new clients.
Unfortunately, FatCow is not one of them. Moving one website from your old provider to FatCow's server will cost you $100. However, you can transfer the site manually using FTP (File Transfer Protocol).
Fatcow: Features and Pricing
This hosting provider focuses on providing quality services in a small assortment of hosting types. Here you will be able to purchase rate plans for the main types of hosting. Let's take a closer look at them.


Fatcow web hosting prices
Dedicated hosting
This type of hosting is right for those whose business requires a high level of sites requiring a high security level and an excellent performance level. There are three pricing plans with options for different types of businesses. You can read more about the features offered on the site and decide which plan suits you best.


Fatcow web hosting prices
Use this type of hosting for your business if you need good performance and uninterrupted uptime. The company has tried to ensure that dedicated hosting is of the highest quality for its customers so that you will be satisfied with the level of services provided. Faster operating speeds for high traffic sites in every plan. Easy-to-use cPanel and optional root access.
VPS hosting
It is a popular shared hosting plan with noteworthy bandwidth and disk space. The provider's website notes that this type of hosting is useful for sites that provide e-commerce services. You can choose from three plans that contain the features you need for your business.


Fatcow web hosting prices
This option is much cheaper than dedicated hosting and ideal for those who are just starting a business.
WordPress hosting
The provider also provides the ability to host sites on the WordPress platform. There are two basic pricing plans, which differ only in the capacity you need to solve your problems. We have studied numerous fatcow web hosting reviews regarding work on the WordPress platform and concluded that this is not their strongest point.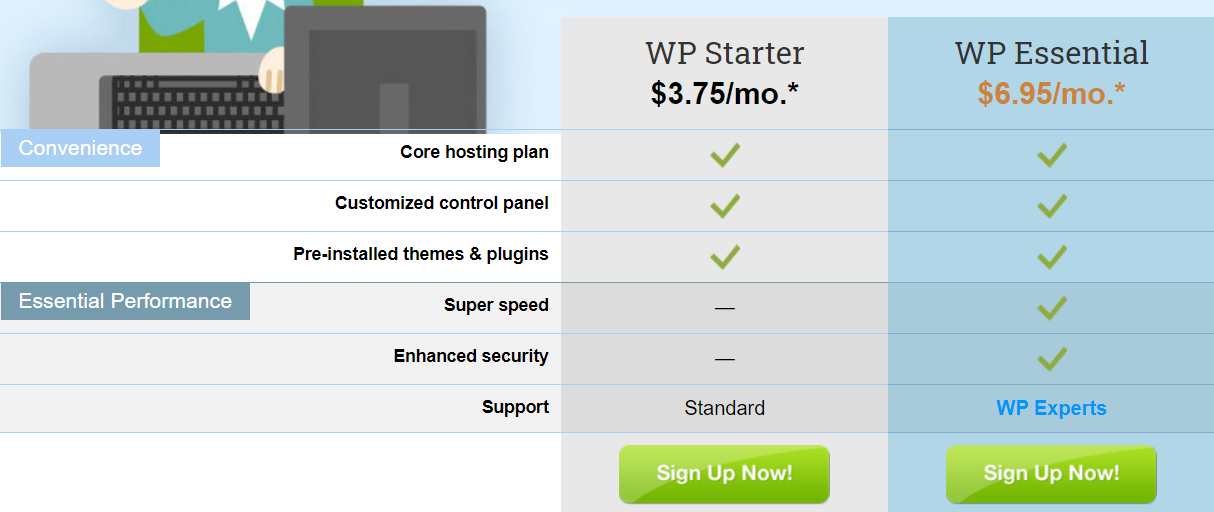 Fatcow web hosting prices
Although the site and listed numerous advantages, the facts are not so straightforward. If your site is on this platform, it would be better to look for other alternatives tailored to WordPress.
Security
Fatcow.com offers Let's Encrypt SSL, which customers can easily enable on the website, to have a secure HTTPS connection. Fatcow.com is stable, and in-company experts take necessary security actions to avoid any kind of DDoS attacks.
Security certificates are provided here for free in every plan. The company pays enough attention to security, and this is one of its real strengths. You don't have to worry that intruders will attack your site.
Support
If you have any problems with the hosting, you can always contact support by phone or via online chat on their website. Keep in mind that you will not be answered by the company's specialists but by hired employees from other countries, which significantly affects the nature of the information you receive.
We contacted the support team with simple questions, but we did not even get the website's information. Although the official website lists several benefits from reaching the support team, in reality, this is the provider's weakness. They still need to work on improving communication with customers.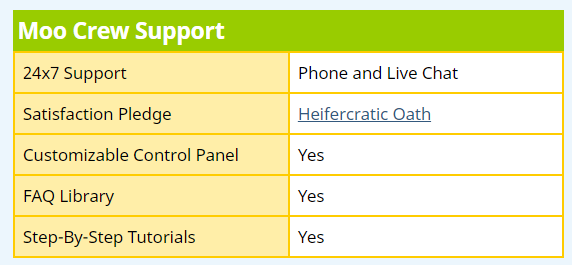 It's also worth noting that we received a response quickly on a business day; we didn't have to wait long. However, there is no possibility to connect a specialist of the company in case of complex problems. That is why it once again confirms that you should not use this hosting if you run a large business.
Fatcow Quick Facts
| Fact | Information |
| --- | --- |
| FTP Users & SubUsers | Unlimited |
| SSL Secure Server | Yes |
| POP Mailboxes | Unlimited |
| Domain Name | Free |
| Website Builder | Free |
| SSL Secure Server | Yes |
| Search Engine Marketing | Included |
| 24×7 Customer Support | Yes |
| Money-Back Guarantee | 30 Days |
Fatcow Review: Can We Recommend It?
The company was originally founded as an ideal solution for positioning creative people and developing various portfolios based on their hosting. Now, however, the provider's capacity has grown, but if you are looking for something for your big business, then check out other alternatives.
According to our fatcow hosting review, we can recommend this provider only for those projects that have a low volume and require relatively little resources and capacity.
Fatcow Alternatives
Since Fatcow.com cannot boast of high performance, we suggest that you consider alternatives with higher resources.
FAQs on Fatcow
Will there be any difficulty in setting up the content with Fatcow?
No, there are no complications. There is a straightforward, intuitive interface. There are a lot of settings to perform any task. It's easy to customize your plan to fit your business.
Are there hidden fees and extra features for the money?
$35 for cancelling your plan early. They will only refund orders placed by credit card. Besides, the site specifies rates for new users. The further you extend your plan, the more you have to pay for using the service.
Can I contact support if I'm not a customer of the service
Yes, of course. You, as the customers of the service, can reach the support via phone and online chat. They are happy to advise potential customers, but as we mentioned above, the quality of support leaves a lot to be desired.
Is this hosting suitable for online stores?
If you have a small store that doesn't need to use many resources, then yes, of course. But if you run a large e-commerce site that requires significant productivity and complicated technical settings, we recommend that you look at other providers.
Can I get my money back if I am dissatisfied with the service?
Yes, there is a 30-day money-back guarantee.
Can I transfer my domain to this service for free?
Yes. This hosting provider gives you the option of transferring your domain to their site for free.