Taking into account the variety of today's options, cheap dedicated hosting turns out to provide the best value plan for your website. In addition to maximum flexibility, privacy, and control in configuration and customization, it serves well for complex projects that involve 40,000 visitors and more. Based on the server's capacity, the price of dedicated hosting varies but always stays within reasonable pricing.
Below, we listed some of the best dedicated hosting services that are currently available on the market. Rating each, we included pocket-friendly options that won't leave you moneyless in the process.
So less talking, let's look at cheap dedicated server hosting reviews.
7 Best Cheap Dedicated Hosting Providers
How to Choose Best Low-Cost Dedicated Server Hosting?
When it comes to choosing the best cheap dedicated server options, it's important to consider a range of factors. Making the right choice now will turn into success for your business later.
Storage
Choose between SSD (solid-state drive) and hard drive for your dedicated server hosting. Both have pros and cons. In general, SSDs are more practical since they guarantee better speeds and aren't equipped with any moving parts that may be at risk of destruction. As an alternative, traditional hard drive storage has a lower price while. Ensure to decide on how much storage space you expect to get. As you consider your requirements for storage, take into account website scalability and growth.
Bandwidth
If the user needs to update bandwidth and consume a lot of it, it's recommended to pick a low cost dedicated server that includes a lot of data traffic. Consider the total monthly bandwidth required since prepaid bandwidth packages that you buy at the beginning of the billing period are less expensive than incremental upgrades. As a result, you'll always be aware of how much you have to spend on your dedicated hosting service.
Dedicated IP Address
If you're looking for the cheapest dedicated server hosting to host multiple websites, it's important to have a dedicated IP address for each. A unique Internet Protocol address allows you to benefit greatly from your dedicated hosting server. In particular, you can maintain the performance or host your own SSL certificate if you get a lot of traffic. Most packages for budget dedicated servers are offered with at least several dedicated IPs. However, you have to consider all pros and cons to ensure this option will allow you to stay within budget.
Support
A dedicated support service will save the day when something doesn't work. For instance, if your website is down for some time, it will cost you a lot. And the wider the time frame is, the more you're going to pay. Ready-to-help support managers available at your service will help you solve all sorts of issues to ensure your website gets back to life. Before you choose one of the inexpensive dedicated servers, make sure they offer an opportunity to contact them via phone or live chat. In this article, we listed only reliable resources that stay in touch with clients.
CPU
Two key brands offering CPU (Central Processing Unit) options exist today – Intel and AMD. To choose the best cheap dedicated server, ensure to explore both. While Intel has always been the leader in the niche, AMD emerged from the shadow in 2019. CPU is one of the core elements of your server. It is the CPU that supplies power to your server, boosts its performance, and deals with all the requests. Choosing more CPU means performing more processing functions.
RAM
RAM (Random Access Memory) is the other fundamental "ingredient" of your server. To run your server, it is recommended to have 4GB of RAM at least. When choosing a cheap dedicated server, remember that performance and speed of your system correlates directly with the amount of RAM.
Different Types of Budget Dedicated Servers Hosting
There are many different types of inexpensive dedicated servers hosting options. That's why many users find it hard to choose the most suitable one. How do you know which dedicated service to pick? We'll check the most popular cheap dedicated servers – what to look for in each, and who is the best match for each type.
Cheap Managed Dedicated Hosting
When it comes to the cheap managed dedicated services, the company takes full responsibility for hiring professional engineers to check, handle, and monitor the servers. If you don't like the idea of being busy with server administration, ensure to choose cheap managed dedicated servers. In addition to a moderate price, the option guarantees more free time for businesses. But then again, this can be a little more expensive than unmanaged hosting.
Cheap Unmanaged Dedicated Hosting
Unmanaged dedicated servers provide the website owners with 100% control and full responsibility for their software and servers. This option is cheaper for companies that prefer managing their servers on their own. Thus, the responsibilities of the company include only making sure the infrastructure works well.
Other Types of Web Hosting
In addition to the options given above, some other variants of cheap web hosting in the budget are available.
Shared Hosting
In case of the shared hosting, the website is stored together with loads of other sites on the same server. If you choose the most suitable one, you'll get an average loading speed and a range of options that can be customized by the user. Keep in mind that shared hosting can't deal with a lot of traffic, so don't expect it to become your long-term solution.
Works best for: startups, simple websites.
Average price: from $2.49 to $15 per month.
If you're interested in the best shared web hosting providers, don't hesitate to dig deeper!
Cloud Hosting
Cloud hosting serves as an alternative to hosting sites on single dedicated or shared services. It offers cheap website hosting on virtual servers. You only pay for the resources you use, which means you don't waste your funds on unnecessary options.
Works best for: businesses with changing requirements for bandwidth.
Average price: from $4.50 to $240 per month.
VPS Hosting
VPS (Virtual Private Server) works better than shared hosting and is a little bit more expensive than the previous ones. You get more traffic and a better loading speed since every website is hosted in a separate virtual space. At the same time, VPS doesn't fit a long-term perspective.
Works best for: fast-growing projects.
Average price: from $20 to $100 per month.
The best VPS web hosting providers can make it easy for you to get your project started – just find out how!
#1 Bluehost – Very Cheap Dedicated Server per Year
Bluehost offers a range of budget dedicated hosting options. When it comes to features, Bluehost is the winner. Moreover, you can get in touch with the company, and its reps will be there for you pretty fast.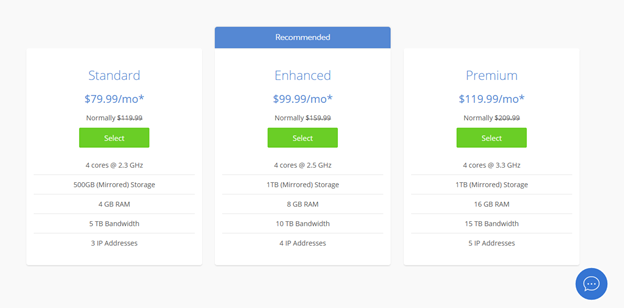 Top advantages of Bluehost:
Excellent uptime of 99.98%
Great support and timely help
Free backup available
Promo price for a year
Server location: USA

Ready to choose your plan? — Go to Bluehost hosting
Want to read some more information — Go to
Bluehost review
#2 HostGator – Inexpensive Dedicated Servers with Maximum Customization
HostGator is one of the largest and oldest web hosting companies in the industry. Various configurations of virtual dedicated servers are able to satisfy any user wishes. And the numbers speak for themselves. More than 2 million websites are currently hosted on HostGator.
Those who have websites with high traffic, as well as with an expandable budget, can have these dedicated servers. Plus, you can choose between Linux or Windows, HDDs and SSDs, get data center-level DDOS protection, and enjoy full root access, unlimited databases, configurations and 3-5 dedicated IPs. To access HostGator's dedicated hosting plans, expect to pay between $89.98 and $139.99 per month.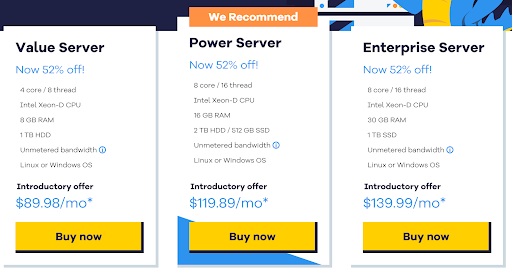 With their servers, you get comprehensive features such as:
Full control over your entire hosting environment,
Multiple layers of network security to ensure server reliability,
Instant scalability at the push of a button.
Server location: USA

Ready to choose your plan? — Go to
HostGator hosting
Want to read some more information — Go to HostGator review
#3 GoDaddy – Low-Cost Dedicated Server with Full Root-Access
With GoDaddy, you get 1TB of disk space and an intuitive interface. You'll need a budget for a dedicated hosting server that ranges from $89.99 to $179.99 per month. Across the plans, RAM and storage tend to steadily increase, with the Economy plan offering the lowest price – $89.99 per month.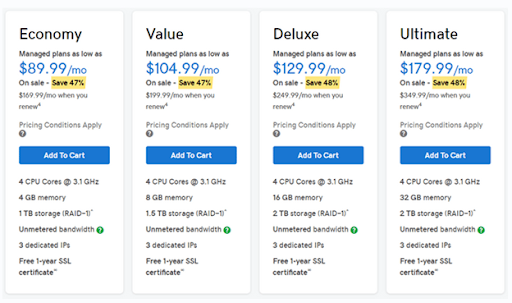 At GoDaddy, you're also provided with the following features:
Decent uptime at 99.96%
Great page load time
Dedicated 24/7/365 customer support
Server location: USA

Ready to choose your plan? — Go to Godaddy hosting
Want to read some more information — Go to
Godaddy review
#4 InMotion – Budget Dedicated Servers with Managed Services Included
If you decide to go for InMotion dedicated servers, you should check cheap multiple dedicated server hosting reviews first. Each states that InMotion offers more expensive services than Bluehost. However, with some expenses come supreme quality services. Professional customer care and fast loading speed, to name a few. Check their tariffs and choose what suits you.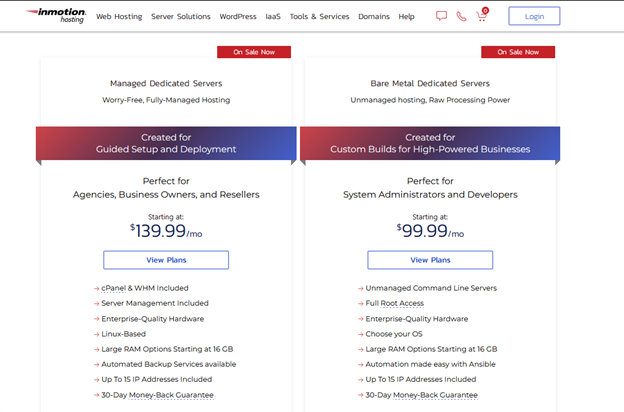 The features are as follows:
Free SSDs
99.99% uptime
cPanel & WHM
Updates without rebooting
Server location: USA

#5 Ipage – The Best Cheap Dedicated Server with Cloud-Based Flexibility
Ipage has been powering more than a million websites since 1998. Typically, it hooks users by providing affordable services that range from dedicated hosting plans to e-commerce functionality. For those needing cheap dedicated hosting, iPage has some plans that start at around $119 per month.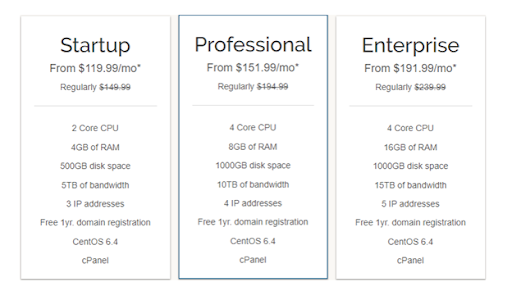 Let's see what iPage has to offer:
Buying domains directly from iPage
Easy-to-navigate control panel
Refund guarantee
99.9% server uptime
Bare metal servers
Server location: USA

Web Hosting Comparisons
Based on the reviews and some testing, we've listed some of the most affordable dedicated hosting options to provide you with much of a choice. If you're still not sure about which way to go, we can help with that as well.
Our research articles include simple and detailed reviews of low-cost hosting services, as well as objective comparisons of each, presented in pairs. Once you check our further reviews, you'll get a better idea of what is a better option for your website. Have a look at some web hosting comparisons we've already performed:
Useful Hosting and Seo Tools
Hosting checker – Check who's hosting the site and where it is hosted
Website down – Find out if your site is not accessible only to you or to all other users
Speed test – Check the speed of a web page and find out how to boost it
Expired domain checker – Find out if a domain is expired and available for purchase
Website safety – Check site safety
Domain availability – Find out what domain names are available and choose one for your business
Web Hosting
Server location
Customers
Storage
Control
Pricing / mo
Trial
Canadianwebhosting.com
Review
Canada
100000
1 GB
cPanel
$3.95/mo
60 days
Inmotionhosting.com
Review
USA
320,000
Unlimited
cPanel
$4.99/mo
90 days
Ipage.com
Review
USA
1,000,000
Unlimited
vdeck, cPanel
$2.49/mo
30 Days
Netim.com
Review
Europe
30000
Unlimited
Parallels Plesk
$7.45/mo
–
Scaleway.com
Review
USA
10000
Unlimited
cPanel
–
–
Ovh.com
Review
Poland, USA, Germany, France, Canada, Australia, United Kingdom, Singapore
1,300,000
Unlimited
cPanel, Plesk
–
–
Gandi.net
Review
France, Europe
30000
Unlimited
cPanel
$4/mo
–
Bluehost.com
Review
USA
2,000,000
50 GB
cPanel, Custom built
$3.95/mo
30 Days
Godaddy.com
Review
USA, Canada, Australia, India
17,000,000
Unlimited
cPanel, Plesk 12, Custom-built
$9.39/mo
30 Days
Best Cheap Dedicated Server Hosting FAQ
What is a dedicated hosting server?
A dedicated hosting server is a web hosting option that includes owning a whole physical server (or a number of servers) that is dedicated to your business website. In other words, the customer's site doesn't compete with the other resources for bandwidth and easily handles a lot of traffic.
Which dedicated hosting provider has the best uptime guarantee?
HostGator and GoDaddy, as dedicated hosting providers, are reported to have the best uptime guarantee. A single business customer's website will be up 99.99% of the time.
What are cheaper alternatives to dedicated hosting?
VPS (Virtual Private Server) is known as the cheaper alternative to dedicated hosting. However, if your site is large enough to require dedicated hosting, ensure to go for inexpensive dedicated servers – you'll avoid a lot of troubles in the future.