The cheapest hosting is recommended for beginners to host the simplest sites (landing pages or business card sites). For multi-page dynamic sites, you need to carefully choose hosting providers. You need to know that you have enough storage space and that your site will not suffer from downtime due to the insufficient bandwidth of cheap web hosting.
Cheap reliable hosting is very important since these servers must work without interruptions at low costs, ensuring round-the-clock processing of requests to your online resource. So if your project isn't too large or financially independent, it is better to rely on budget hosting.
Cheap website hosting is of course notable for its low cost – starting from $3 to $10 per month. But what could be hidden behind a low price? We've created this review only for the purpose of showing the highest quality services that provide cheap hosting.
Best Cheap Website Hosting Options to Consider
How to Choose the Best Cheap Web Hosting for You
"Can this or that service provide all the necessary capacity to ensure uninterrupted operation of my project 24 hours a day? So, what service provider to choose for my website?" The final answer always depends on your needs, goals, expected traffic, resources, etc. Let's focus on the key factors you should consider while choosing cheap web hosting services.
Contract Terms
The standard hosting agreement is the main document that you should pay attention to before paying the plan itself. By concluding the contract, the customer confirms that he/she is fully familiar with and agrees with its terms – service packages and their cost, duration, processing of personal data, rights and obligations of the involved parties, and so on. Therefore, already at this stage you can decide on some hosting offers.
Traffic
It is rather difficult to estimate the number of expected visitors to your resource, so it is best to choose an offer with unlimited traffic. For example, if you plan an original advertising campaign that should attract a lot of interested people. While a large number of people visit the site at the same time, the site simply will not withstand such a load.
Customer Service
In case of problems, the support service should promptly respond to your request. Agree, it will not be very pleasant if you get an answer in a few days. Therefore, you need to pay attention to weekends, working hours, and the maximum response time to a request. Also, look at the quality of the answers themselves.
Uptime
The good uptime is 99.9%. The higher this parameter, the greater the guarantee that your site will always be available to search robots and users. If the site's availability is less than 99%, this means that the site is unavailable for an average of 25 minutes every day. Just imagine how many users will leave and not return when they see the message "Page not found" on your website.
Different Types of Cheap Web Hosting
Low price web hosting comes in several types – shared, VPS, cloud and dedicated. After all, only after comparing the advantages and disadvantages of each of them, you can make the final choice of inexpensive web hosting for your online project.
Shared Hosting
This is a single web server that stores not only your site, but also many other sites owned by different users. It means that you and other users have the same IP address and a common database. It is already pre-configured in the optimal way and can't be changed to suit your specific needs. Now this is one of the most popular solutions due to the simplicity of settings and the low price (up to $ 10 per month). This is several times cheaper than other types.
Find out more about the best shared hosting and it may be right to you.
VPS (Virtual Private Server) Hosting
As with shared hosting, your project will still reside on one server, sharing space with others. However, you will have your own IP address. This is the complete independence from other server clients. The cost of a virtual dedicated server is 3-4 times higher than that of shared hosting (up to $ 30 per month).
See more details about cheap VPS hosting and choose it as a right way out for yourself!
Cloud Hosting
Recently, cloud hosting services are gaining popularity. Users pay only for the hardware resources of the provider they consume, without a fixed tariff. The main advantages of cloud hosting are that it focuses on increased uptime, dedicated resources, easy scaling, and a dedicated IP address. When calculating the cost of a cloud hosting service, the main characteristics (resources) that are actually used are the main price factor. Average prices start at $ 10 per month.
Benefit from cloud hosting by using the additional capacity of the cloud for your own project.
Dedicated Hosting
When choosing this type of hosting, a separate remote server will be available to you, which you yourself can fully control. You get several tens or even hundreds of gigabytes of storage, almost unlimited disk space, high-speed network connection. The hosting company will only monitor the state of the hardware. This is the most expensive hosting option (at least $75 per month) that is usually used for large-scale web projects.
Find out more about cheap dedicated hosting if you're interested.
#1 NameCheap.com – Cheapest Web Hosting per Year
Since its founding in 2000, Namecheap has continued to evolve its service system, serving over 1.5 million websites. They range from registration, hosting and domain management to full service hosting. It is an ICANN accredited registrar.
The plans are equipped with various features and tools to help clients manage their online project. The prices they offer are very competitive making it the cheapest web hosting per year. Take their shared web hosting services, for example. Prices for these shared hosting options start at $ 1.58 on first year. This is slightly below the prices offered by Domain.com, FastWebHost.com, or InMotionHosting.com.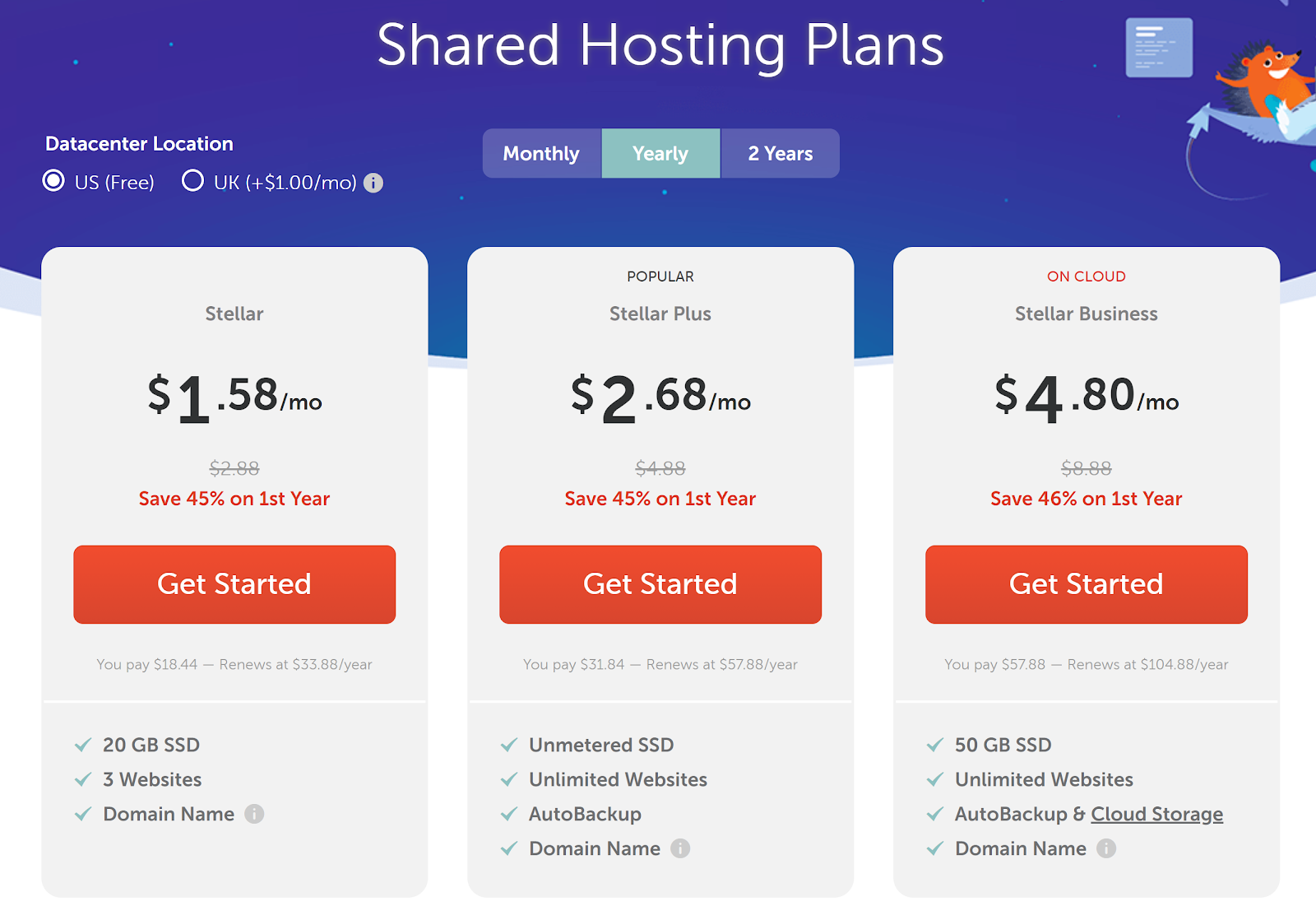 It has a very compact feature set:
Free hosting migration,
Unmeasured bandwidth,
Free automated SSL installation,
Free website builder,
24/7 chat with experts, etc.
Server location: USA, UK, Europe

Ready to choose your plan? — Go to NameCheap hosting
Want to read some more information — Go to
NameCheap review
#2 Whc.ca – Best Cheap & Eco-Friendly Web Hosting
WHC is a privately held web hosting company founded in 2003 and certified by the Canadian Internet Registration Authority (CIRA). The team works with more than 55,000 clients (mostly small businesses) who host more than 160,000 websites in total.
This service invites customers to launch a project online today on one of the fastest, most reliable and secure web servers. In addition, WHC supports the environment. Their system is powered by hydroelectricity. They claim their green renewable energy servers perform better than mechanical ones.
The plans are reasonably priced and the renewals are affordable. WHC is a risk-free company as they provide a 30-day money-back guarantee for their services. This affordable hosting has an initial discounted price of C$ 2.39 per month (applied to the first billing cycle for new online orders only and does not apply to renewals). Renewals are available on WHC.ca starting at C$ 5.99 / month and up.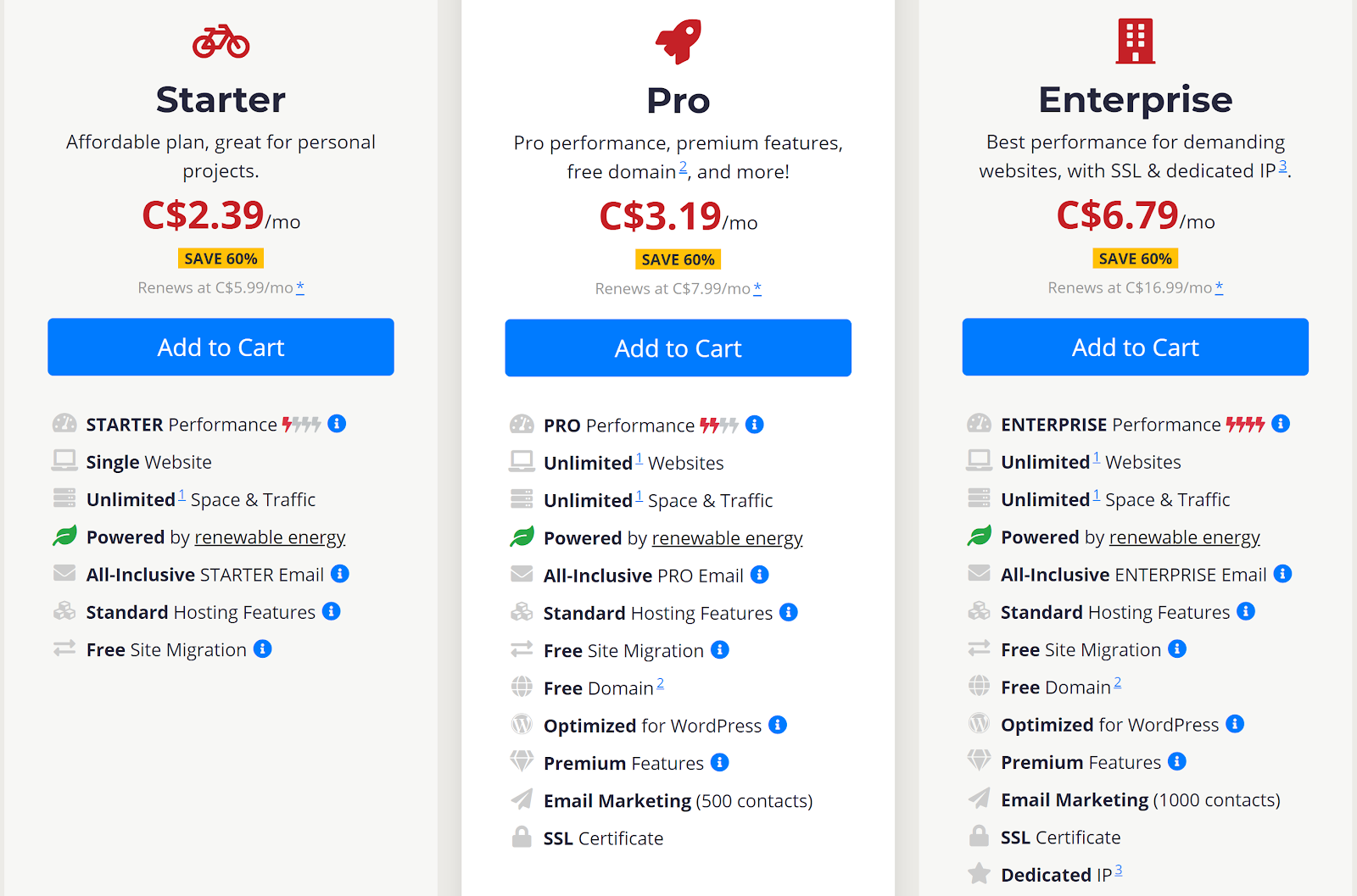 The following features are included in all packages:
Unlimited disk space & traffic,
Free site migration,
Unlimited sites (except entry level plan),
World's best control panel – cPanel,
WordPress, Drupal, Joomla & phpBB support,
24/7 expert assistance, etc.
Server location: Canada

InMotionHosting has been providing services since 2001. It continues to be one of the most popular providers with world-class infrastructure and excellent customer support. According to the team, over 170,000+ customers are satisfied with this hosting service and continue to grow with it.
Thanks to a flexible pricing policy, almost every consumer will be able to find an acceptable tariff plan on InMotionHosting.com. Please note that prices shown in bids already include discounts for one or two year subscriptions. Unfortunately, the cheapest packages do not include a subscription period of less than one year (except for the Pro plan from $ 19.99 per month).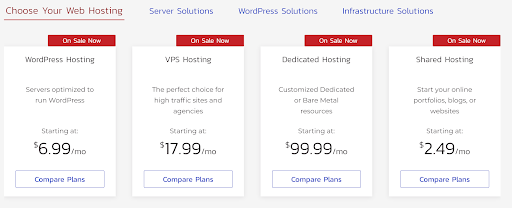 The main characteristics of all plans are as follows:
Free private SSL certificate,
Free site migration with no downtime,
Fully-managed WordPress hosting,
BoldGrid Website Builder,
Innovative high-speed technologies (SSD, PHP7, WP-CLI, UltraStack, more)
Server location: USA

#4 FastWebHost.com – Cheap Monthly Web Hosting
Fastwebhost is one of the fastest growing hosting companies with server locations around the world. Since 2001, they have served over 100,000 clients.
They offer any type of hosting you need, as well as exceptional security measures, reliable support, and a highly demanded network infrastructure. This is suitable for small to medium-sized business owners.
The cheapest hosting services are offered at $ 2.97 per month (that is, with a 50% discount that users get when they first sign up). Regular monthly rates on other plans are also relatively low, starting at $ 5.95 per month (the best option for a simple website). Then the prices go up depending on your needs, but it allows you to get cheap monthly web hosting.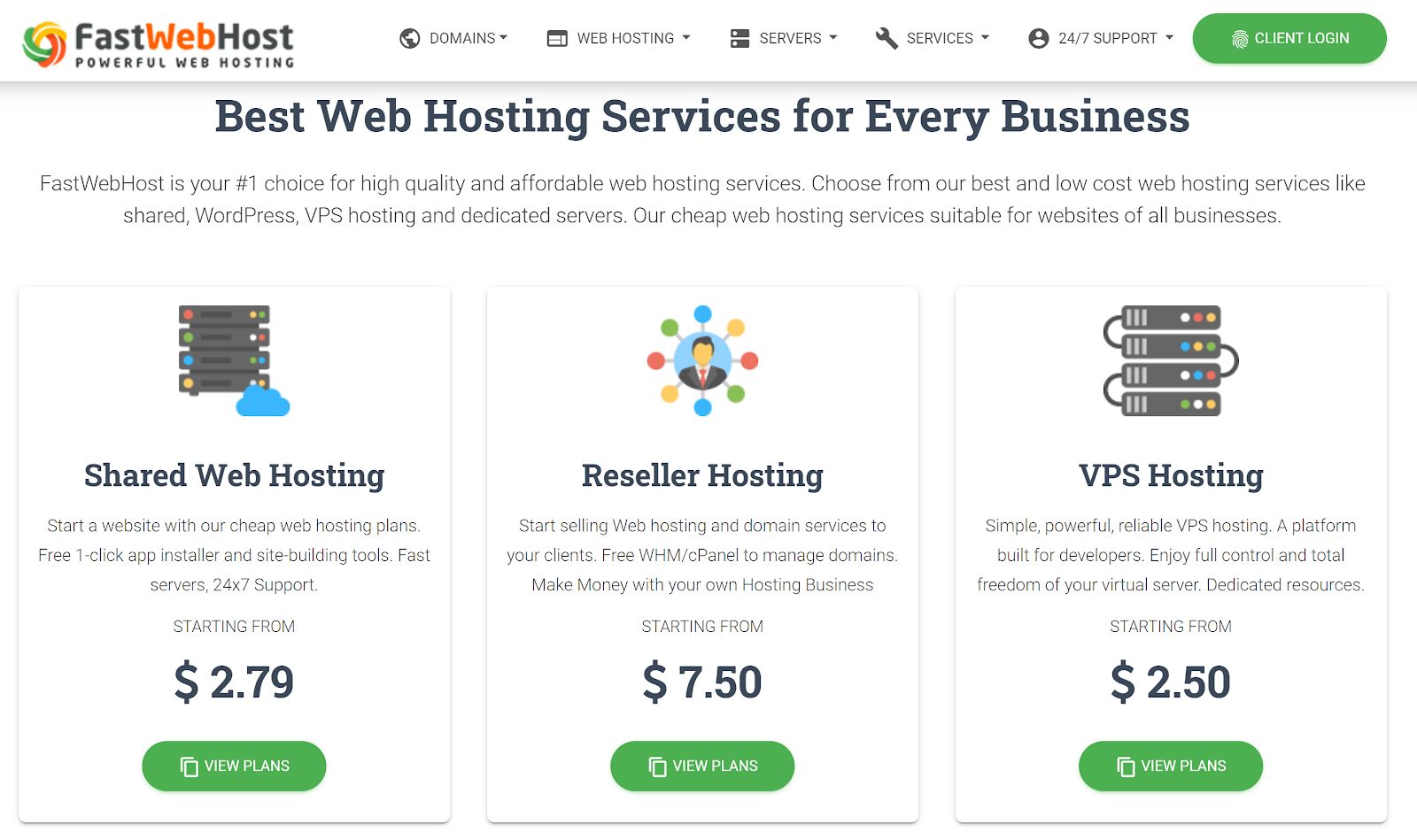 The basic features of all plans are:
Free domain name,
Unlimited bandwidth,
Unlimited email accounts,
Free website builder,
24/7 support, etc.
Server location: USA, Netherlands, India

#5 Domain.com – Affordable Web Hosting
Since 1998, Domain.com is still a strong competitor in the broad hosting space powering about 1.2 million websites worldwide. As the name suggests, it is primarily a web hosting and domain name provider.
This service gives you unlimited storage, scalable bandwidth, wide hosting choices, and more tools to have at least 1 website hosted on Domain.com. This might be the right option for people looking for a basic hosting tier that makes it easy to set up a website.
It offers a wide range of scalable plans with 99.9% uptime on all of them (as stated on their website). The basic plan starts at $ 3.75 per month. And while the basic plan is affordable, it doesn't offer many additional features.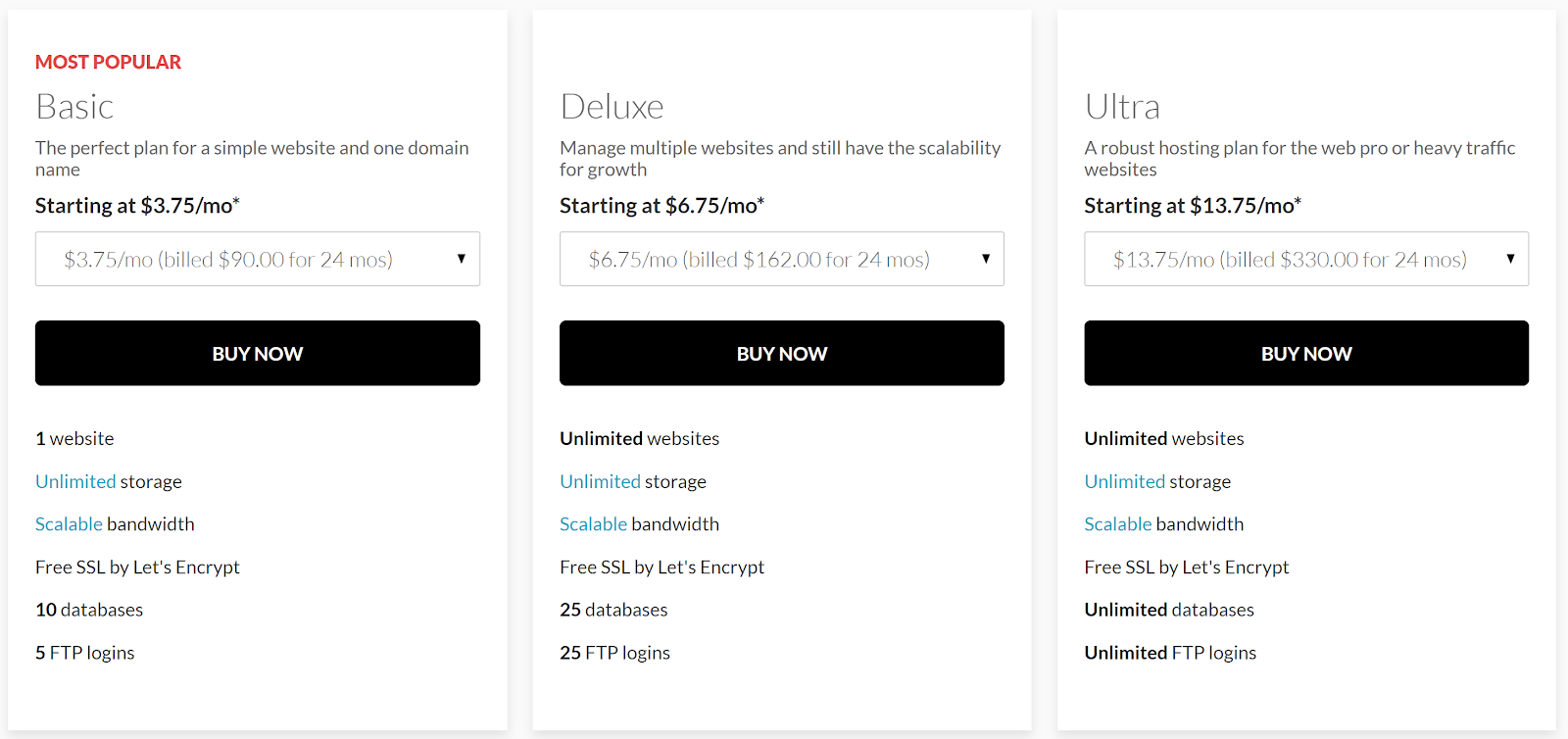 Description/text after image (Optionally)
All the plans come with the following features:
Free domain name with all tariff plans;
Unlimited disk space;
Scalable bandwidth;
Marketing tools;
24/7 qualified support, etc.
Server location: USA

#6 SiteGround.com – Fastest Cheap Web Hosting Provider
It is a globally renowned independent company offering fully managed services to its clients. Indeed, SiteGround.com is the perfect choice for people from almost every corner of the world due to its large server locations. As a result, this service is trusted by the owners of 2,000,000 domains. The team offers effective solutions for speed optimization, site migrations, setup, and more.
Their prices are reasonable considering the offered opportunities and quite competitive. But you need to be prepared for the fact that when prices are updated, they can grow 2 times. For example, if you initially pay € 5.99 per month upon registration, then upon renewal you will be charged € 12.99 per month. Like many hosting providers, SiteGround offers the classic 30-day money-back guarantee.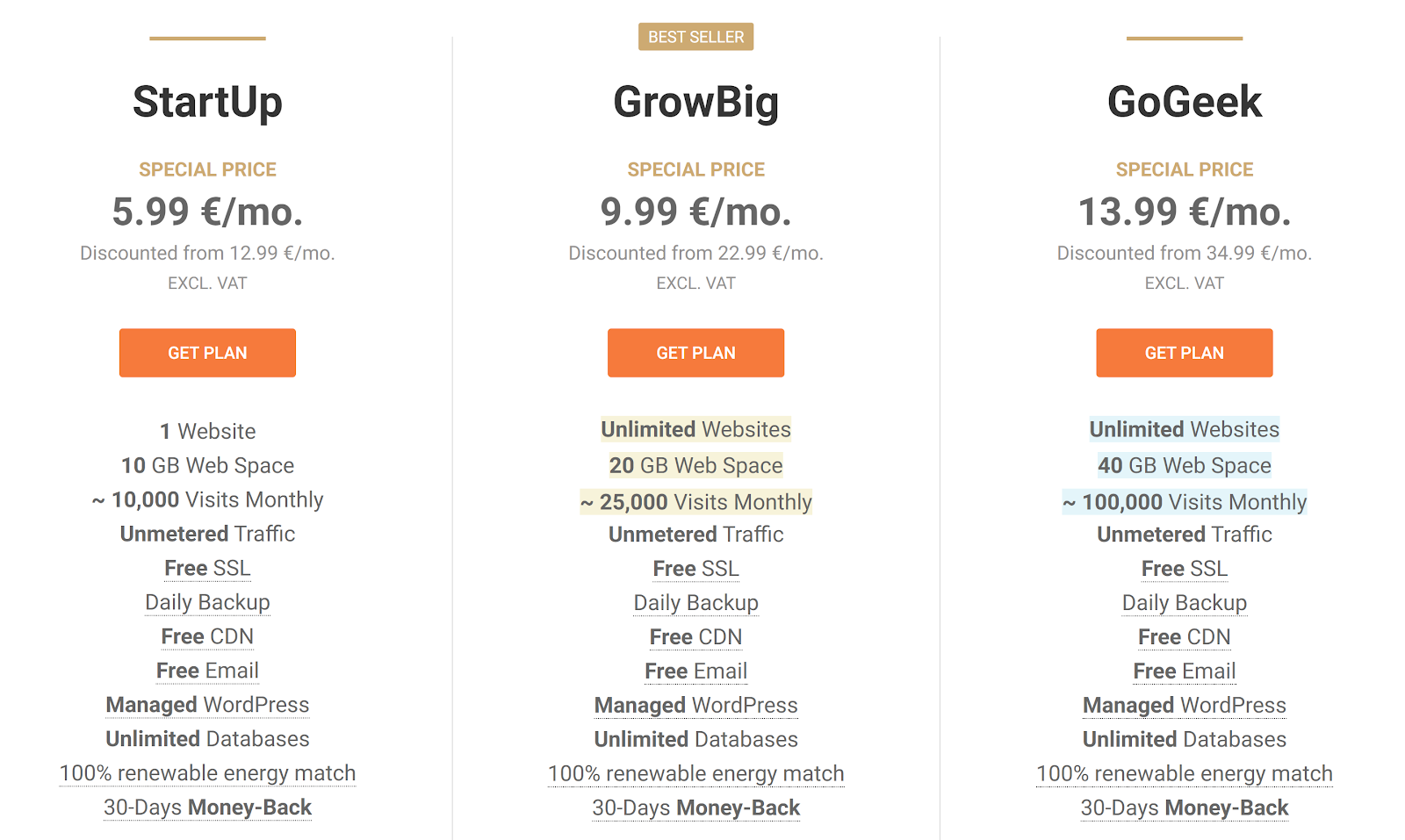 Server location: USA, UK, Netherlands, Singapore

Web Hosting Comparisons
It's worth noting that low-cost web hosting services are already in front of you to choose from. But what if you hesitate between two providers? Well, we've taken care of those cases as well. Take a look at the comparison of the two service providers below. Explore their pros and cons and determine which is right for you:
Web Hosting
Server location
Customers
Storage
Control
Pricing / mo
Trial
Whc.ca
Review
Canada
25000
Unlimited
cPanel
$3.89
30 Days
Inmotionhosting.com
Review
USA
320,000
Unlimited
cPanel
$4.99/mo
90 days
Fastwebhost.com
Review
USA, Germany, India, Netherlands, China
30,000
20 GB
cPanel
$2.95/mo
30 Days
Domain.com
Review
USA
10000
Unlimited
cPanel
–
–
Siteground.com
Review
USA, United Kingdom, Netherlands, Singapore
1700000
20 GB
custom
$3.95/mo
30 Days
Scalahosting.com
Review
USA, Europe
50000
Unlimited
cPanel, SPanel
$3.95/mo
–
Namecheap.com
Review
Europe, United Kingdom
3,000,000
Unlimited
cPanel
$2.88/mo
14 Days
One.com
Review
USA, Sweden
1500000
25 GB
cPanel
$2.45/mo
–
Cloudways.com
Review
USA, Germany, Singapore
12500
xx
in-house
$10/mo
3 days
Eukhost.com
Review
Europe, United Kingdom
35000
Unlimited
cPanel, Plesk
$4.44/mo
–
Best Cheap Website Hosting FAQ
What is cheap web hosting?
At the beginning of a project, in order to save money, users often choose cheap hosting plans. The cost can start from at least $ 2 per month and up. Low price does not mean low quality. You just get fewer resources, but which will be enough for your project. The more you need for your project, the more you end up paying. If you have a clear idea of how much hardware power is needed to run a website, you can save a lot with the least expensive web hosting.
Which hosting companies have cPanel included free?
By default, this comprehensive hosting and automation solution is not free. But companies like InMotion Hosting, WHC, NameCheap are turning to cPanel. But there is a must if you want to get it for 'free'. It will only be available if you are a customer purchasing certain hosting plans.