When it comes to EasySpace hosting, its reputation is typically associated with two parameters – a wide range of hosting plans and additional services. Whether you're new to creating a website for your business or an advanced developer on the lookout for more options for your source, EasySpace hosting is what you have to add to your consideration list.
In this EasySpace review, we're about to make things clear and provide you with the facts on the web hosting provider – whatever is necessary to make the right decision. After all, this is an important step to take to boost your website accessibility and performance.
EASYSPACE Hosting Pros & Cons
We realize that to make a decision to buy EasySpace hosting, it is important that the user sees not only the advantages of the chosen services but also the real gaps of the product.
Here is a quick look at the pros and cons of EasySpace:
Pros
Cons

Daily backups and easy restore.

Faster page loading speeds due to premium NGINX optimized servers.

Beginner-friendly setup and management.

Easy cancellation of your EasySpace account (just a quick click on a cancellation button under each service).

You don't lose critical data (Backup & Restore service takes care of things).

Free SSL (on some plans).

The users have to commit to a minimum of a three-month term.

Money-back cancellation policy is short (7 days).

UK-only datacenters (Europe and the US presence only).
EASYSPACE Hosting in Brief
| Characteristic | Information |
| --- | --- |
| Response Time | 639 ms |
| Uptime Guarantee | 100% |
| Support | 24/7 Messaging System, Email, Phone |
| Features | SSD storage, a free domain name, unlimited bandwidth, security features |
| Hosting Plan | Dedicated WordPress Hosting, Shared hosting, VPS |
| Server Location | UK |
| Money Back | 7 days |
| Starting Price | £2.99/pm |
When to Use EASYSPACE Hosting
EasySpace is a great option for those who are looking for flexibility and a wide range of solutions on every possible budget.
Beginners will appreciate user-friendly setup, management, as well as an opportunity to design one's hosting plan.
At the same time, if you're searching for an unlimited bandwidth, unlimited SSD storage, and a free domain name – EasySpace are worth your attention.
Besides, you should consider this service if faster page loading speeds matter the most.
When Not to Use EASYSPACE Hosting
If you don't feel like going into one hosting company now and would like to check several services, it's better to keep on looking. With EasySpace, you choose their plans and have to commit to a minimum of a three-month term.
All EasySpace reviews stress that the service won't work for those who don't like time limits. With this company, you have to report downtime within five days to have a chance to get fully reimbursed for the trouble.
Also, if you're on the lookout for a budget-friendly plan, keep in mind that your SSL and domain name are free for the first year only, while the customer gets the biggest discounts if s/he pays upfront for five years.
EASYSPACE Hosting Performance
When it comes to performance, the company is known as one of the fastest hosting providers in the UK. Across all of its hosting products, EasySpace guarantees 100% uptime. Since the service uses the most reliable network devices together with the top server equipment on the best network systems, every source is running 100% of the time.
Your website's host plays a crucial part when it comes to the site speed equation, providing measures for protecting your website, and determining the SEO rankings.
EASYSPACE Hosting Speed Test Results
Hosting speed is one of the top things that customers are looking for – because, let's face it, it's not important how many options the company offers if it takes forever for a visitor to get on your website.
In terms of page loading speed, the service is known as the fastest host in the UK. But we need solid proof to make those kinds of statements. Here it is:
| Test | Average Loading Time |
| --- | --- |
| GTmetrix test | 7.7 s |
| Pingdom test | 1.78 s |
| PageSpeed Insights (Google) | 1.9 s |
As we can see, the company provides a perfectly acceptable loading speed. The results are pretty decent for the area.
EASYSPACE Hosting Uptime Guarantees
EasySpace has a 100% uptime guarantee for each of its hosting products. If the company fails to meet its guarantee, you will get a refund for every hour that your website is down.


EASYSPACE Server Response Time
To create the review, we have tried and tested EasySpace server response time. The latter informs the users on how fast all information of the site comes up. All data available on the website include videos, photos, and text content. In order to measure EasySpace server response time, we have used www.bitcatcha.com.
Check out the results below: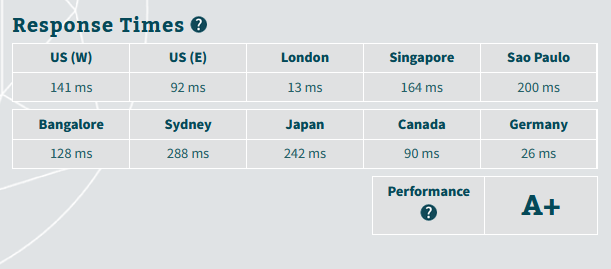 As we can see, the website shows some great results.
A+ score
means that EasySpace's website is exceptionally quick. Wherever you try to access your website, it will have a decent loading speed.
EASYSPACE Hosting Types, Features and Pricing
The server offers a good assortment of packages, such as VPS, WordPress, shared, dedicated, and cloud servers. It means you can easily find the most suitable option for your blog, company website, or any other web resource that you own.
VPS hosting
You can purchase VPS hosting with both Linux and Windows. The prices that you're provided with are the ones you'll have to pay 12 months. Each option (Linux/Windows) is split into three different plans that cover Plesk (a control panel), full root admin access, and round-the-clock support.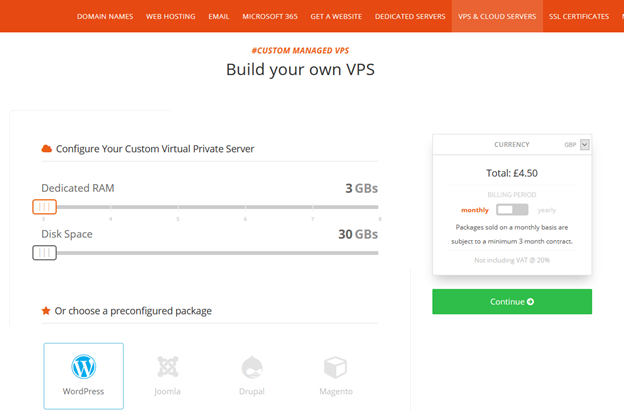 To write this EasySpace VPS review, we did some research to find out that the prices start with £4.50.
Cloud Hosting
Software configurations and options of the Cloud Server are available together with a range Linux choices/Windows 2019 accessibility and Firewall management control panel. Packages are sold on monthly bases with a starting price of £19.99.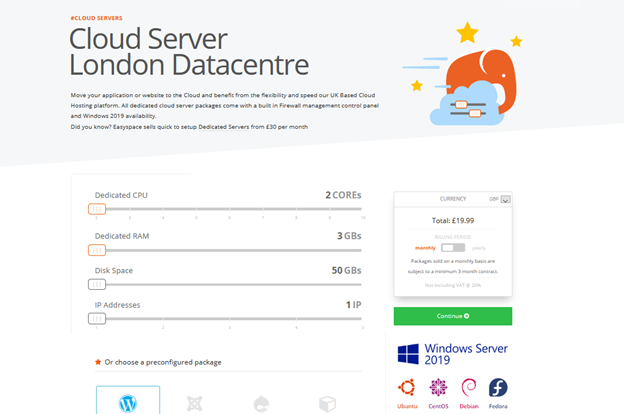 Instant WordPress Website
Instant WordPress option provides you with an opportunity to build an instant WordPress site without having to be skilled in WP. Just a couple of quick clicks, and your tailored site will be there.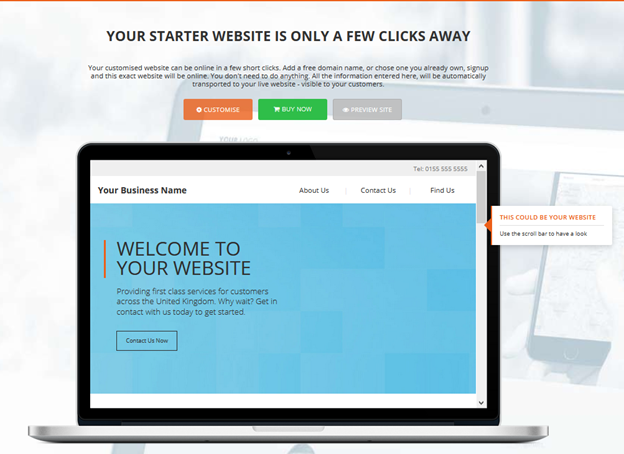 Choose the domain name that you already own or add one for free, signup, and voila – the website is online.
Premium Web Hosting
Premium Web Hosting is as safe as a standard option. It is the most search engine friendly option offered by the company. In other words, your source is HTTPS as standard. Your domain name includes 10GB of email space and 50 mailboxes.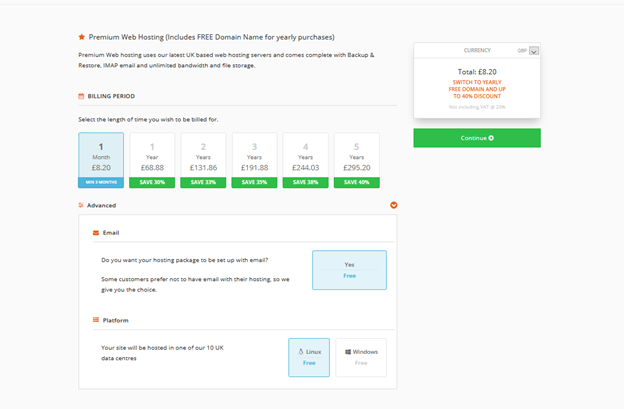 Dedicated Servers
If your budget allows, ensure to choose dedicated hosting. Owners of complicated websites looking for thousands and monthly visitors would appreciate this plan since it means the whole server belongs to you. Ready to Go (from £29.99/pm), Starter (from £129/pm), Reseller (from £299/pm), and The Beast (from £899/pm) options are at your disposal.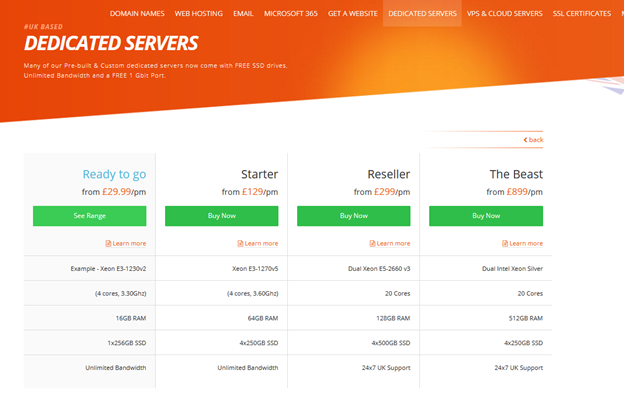 Security
EasySpace offers all the features that are associated with solid security of the client's data. The company adds SSL certificates to any hosting plan (the option includes additional annual payment). You're welcome to benefit from a wide range of SSL certificates offered by the provider depending on the security level that you're looking for.
At the same time, all email functions on the company shared plans are also protected with spam and virus filters. The options are available for some additional cost.
As an extra security add-on, the company also protects each of its servers from DDoS attacks, as well as provides round-the-clocks malware scanning.
It is important to stress that EasySpace provides its customers with SSL certificates from the trusted providers like Thawte, GeoTrust, and VeriSign. Each certificate serves as a solid proof that your website runs the encrypted HTTPS protocol properly.
Besides, SSL certificates guarantee secure browsing and submitting personal data on your source.
The so-called "hardened" server management guarantees top level of security support, including rigorous monitoring of the client's SSL protection, sites, and back-end systems, as well as installation/update of anti-virus.
Support
At EasySpace, you're provided with phone support 9 am – 5:30 pm (UK-based), Monday through Friday. In addition, the company reps are also there to help via online ticketing system. What is more, you're welcome to use self-guides that are also available on the website.
Whatever problem you have faced, the service will require you to take the following steps:
You have to check the system status. The company provides information related to all possible issues on its website. 
Look for their online support. The website of the company includes a wide range of videos, online webinars, and manuals for a quick self-help.
Approach the company with your question. Log into your ESCP account. Ask a question to the reps of the company's support team. As an alternative, you can also send an email. Online managers are there round the clock.
Call the reps of the tech department. You can reach them during the business hours in the UK. All calls are chargeable and can be made 9.00-17.30, Monday through Friday.
EASYSPACE Hosting Quick Facts
| Characteristic | Information |
| --- | --- |
| Website migration | Not available |
| Free features | Free bandwidth, free domain name, SSL (on some plans) |
| Control Panel | Plesk for VPS product/Plesk or cPanel for Cloud VPS/Plesk, ESCP or cPanel, for dedicated servers + their proprietary control panel |
| Email accounts | Unlimited |
| Bandwidth | Unlimited |
| Hidden fees and clauses | Prices on the company's site don't include VAT, which means the users will have to budget for that extra 20% no matter what length of plan they choose |
| Payment methods | PayPal, WorldPay, HSBC, integration with eBay, Google Base, Kelkoo |
| Account cancellation | Instant cancellation |
| Account activation | Instant activation |
| CDN | Pre-integrated Cloudflare |
EASYSPACE Hosting Review: Do We Recommend It?
Absolutely. Taking into consideration all the parameters listed above, it can be concluded that EasySpace does stand out in the set of its competitors with a 100% uptime.
The service is known for its page loading speeds that are high. The users are provided with round-the-clock performance monitoring of all servers, client web sites, and connections together with 24/7 malware and anti-virus scanning.
All web-hosting plans are affordable and include the set of standard features that are available with both Entry Web Hosting (£2.99/pm) and WordPress Web Hosting (£7.70/pm).
In short, the main reasons to choose this web-hosting provider include:
Self-owned up-to-date data centers, with solid cloud architecture that provides an opportunity to guarantee 100% uptime.

A wide range of scopes to tailor your hosting plan according to your requirements.

Loads of extras (for instance, registration and management of a domain name), email features, and website building tools.
EASYSPACE Hosting Alternatives
The pricing offered by the company is competitive. Besides, it comes with the quality features and products that together work towards successful running of your website. But the question is – are there any other good alternatives to the hosting provider?
Here are some of the most reliable one:
FAQs on EASYSPACE Hosting
What extras do I get with EASYSPACE Hosting?
The company offers a range of extras, in particular, website building tools, domain name registration/management, and email options.
Can I buy a domain through EASYSPACE hosting?
Together with pocket-friendly shared hosting and all-included dedicated servers, you can purchase a domain through EasySpace hosting. If you stop paying for it, your domain will get back to the open market, which means the other users will have an opportunity to use it.
Can I Upgrade My EASYSPACE Hosting Plan at Any Time?
Before you choose the most suitable hosting plan, ensure to estimate the size of your site, and how many visitors are going to be there every other month. At EasySpace, you can easily scale up your plan at any time.
Is EASYSPACE hosting Good for Beginners?
The name of the service speaks for itself. EasySpace offers an easy setup experience, which means the user doesn't need any tech skills. If you're not an expert, the managed WordPress hosting is what the doctor prescribed. All you have to consider is the content of your site. The company takes care of all the features, such as updates, backups, and security monitoring.
The setup process is easy as well. The company's tech support team offers professional installation.