How to find a perfect hosting to scale and grow your business with? In this article, we'll dive deep and figure out why over two million users trust SiteGround.
We'll lift a curtain a bit and tell you that it's not only one of the most popular web hosting providers but a perfect place to develop your online stores, businesses of all scales, or personal blogs.
Well, it's time to learn more about pricing, hosting options, customer support and security service in our Siteground review. Let's get started!
SiteGround Advantages & Disadvantages
SiteGround offers its users multiple benefits, yet there are some minor drawbacks. Let's find out what features make this hosting stand out from other website hosting services and points you should keep in mind when building your website here.
Pros
Cons

Officially recommended by WordPress

Extremely fast servers

High uptime rate

Superb customer support

Extensive library of self-help material

Monthly and annual hosting plans

Free SSL certificate with all plans

Multiple free services included

Services located around the globe

No free domain name

Lack of dedicated servers

Relatively low storage
SiteGround Features in Brief
Let's spotlight some key features before we start discussing SiteGround hosting review in more detail.
| Characteristic | Information |
| --- | --- |
| Uptime guarantee | 99.9% |
| Server response time | 122 ms |
| Support options | 24/7 live chat, ticketing, and phone support |
| Hosting plans | Shared, VPS, Dedicated, Green, Reseller, WordPress, Web, WordPress, WooCommerce, Cloud |
| Features | SSD disks, SG Optimizer and HTTP/2, SSL |
| CMS | WordPress, Drupal, Joomla |
| Service locations | Iowa (USA), London (Great Britain), Frankfurt (German), Eemshaven (Netherlands), Sydney (Australia), Singapore (Singapore) |
| Starting price | $ 5.99 a month |
Go to Siteground hosting
SiteGround's Perks
SiteGround is one of the perfect hosting alternatives for your business or personal blog. It's well opimized and provides a full range of features to help your site grow. The system is easy and intuitive to use, so you don't need extra skills to build your website on SiteGround.
Moreover, you'll also get reliable and high-quality hosting at a reasonable price. You can build a new website or transfer the old one avoiding any possible risks.
When opening your account you can choose the best server location for you that is the closest to your target audience's place. With the incorporated features of the platform, you can take advantage of a robust set of features and business solutions to support your company's development and gain planned performance.
Why Not Using SiteGround
Despite all the perks, you should also know about pitfalls that may appear when using SiteGround. Each SiteGround plan comes with a maximum size for each database. This will only be an issue for larger sites.
Secondly, SiteGround prices are far from being the cheapest on the market. If you are looking for more affordable alternatives, you can find them. However, with SiteGround, you get a reliable partner. So, it's all up to you!
Eventually, SiteGround offers no free domain name or dedicated servers.
SiteGround Performance
We understand that speed is a core feature of any hosting service. So what performance can you expect when opting for SiteGround?
First and foremost, SiteGround is one of the most reliable hosts. According to Pingdom, its uptime performance is 99.9%. This rate makes your visitors happy and makes them return to you again and again. What's more important, such a high uptime performance ensures that your site works around the clock and delivers content to your site users really fast.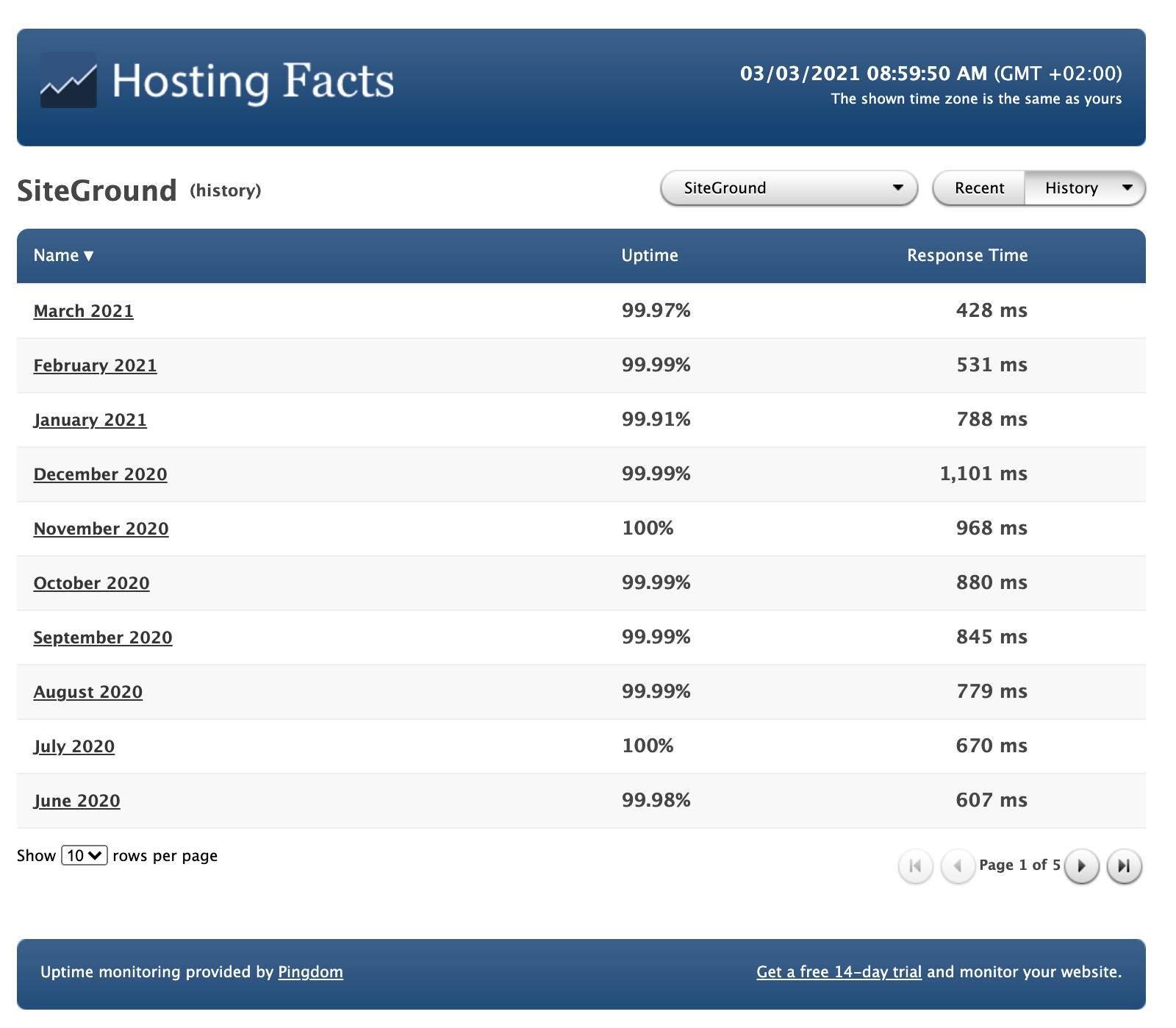 SiteGround Speed Test Results
Speed test result is an essential component of any review, so SiteGround reviews encompass this feature
Let's find out what speed we've detected after testing SiteGround.com:
| Test | Average Loading Time |
| --- | --- |
| GTmetrix test | 1.57 s |
| Pingdom test | 1.00 s |
| PageSpeed Insights (Google) | 3.1 s |
As a result we can notice impressive performance. These speed test rates are one of the fastest within the other hosts in the industry.
SiteGround Uptime Guarantees
Unlike many other hosting services, Uptime offers and guarantees solid 99.99% uptime performance. As a matter of fact, they agree to compensate any fail in the hosting optimization with money. If their hosting ever dips below the indicated rate, they offer free months of hosting.
SiteGround provides "network uptime of 99.9% on an annual basis" under their Service Level Agreement.
What's SiteGround's Response Time?
Server response time is a prime aspect of why users decide to choose you or not. To find out what is SiteGround's server response time, we're using Bitcatcha.
This precise checker always comes in handy when you need to measure the speed on your site. Many also use it in Siteground hosting reviews to estimate a server response time in different spots around the globe.
We'll get information from ten locations: West and East US coasts, London, Singapore, São Paulo, Bangalore, Sydney, Japan, Canada, Germany. The speed is checked three times in each spot and then averaged.
Based on the provided data, Bitcatcha Server Speed Checker shows the following results: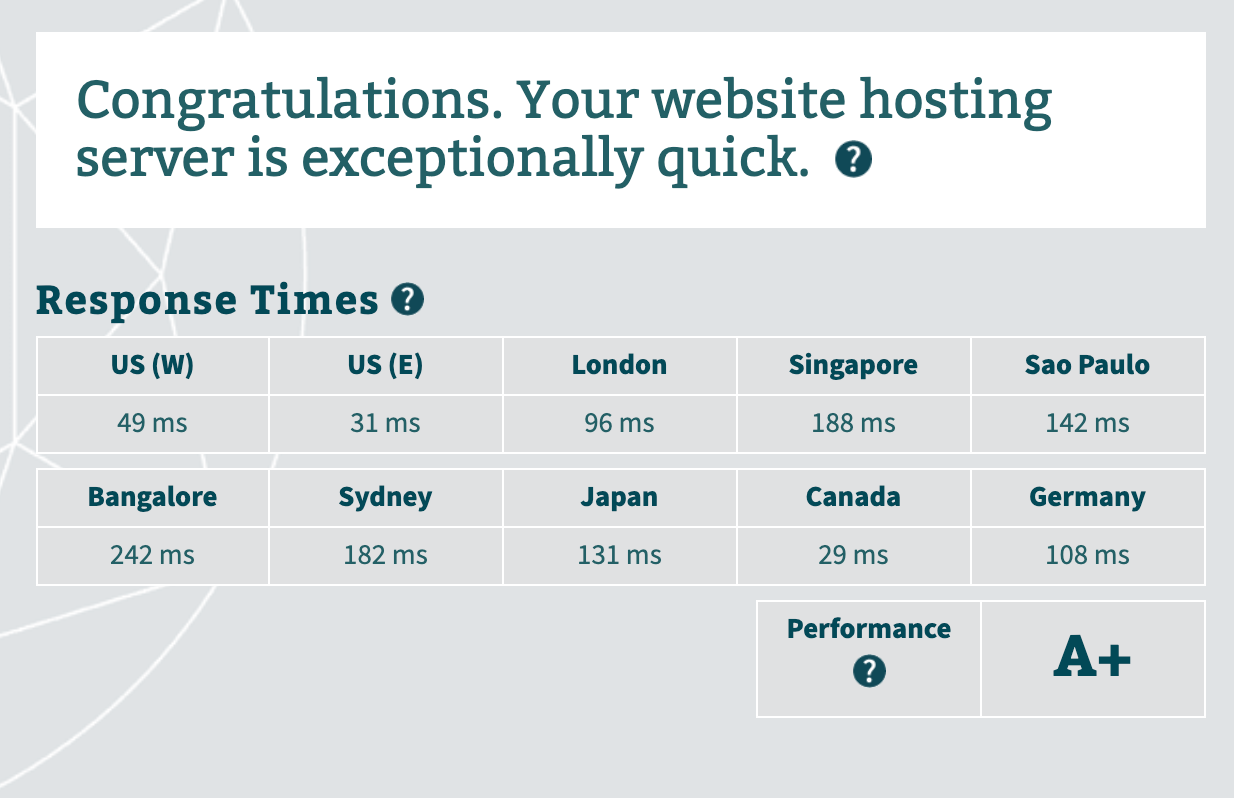 So, what have we got here? It's evident that response time is different in locations distant from North America. This rate is considerably higher in São Paulo, Singapore, Sydney and Bangalore. Yet, hosting got an A+ score.
Overall, SiteGround's response time is pretty high. Make sure that this rate is sufficient for your target audience's needs, and you can place your website at SiteGround.
Site Migration
Well, now it's time to find out more about site migration from our SiteGround hosting review. As a matter of fact, you can transfer your site to and from SiteGround. The platform offers both expert help or step-by-step instruction on how to do it fast.
SiteGround Plans: Pricing & Options
Plans and pricing are the next points of our SiteGround.com review. The company offers multiple fully-packaged services that meet every customer's expectations. So, you can choose the best plan of Web hosting, WordPress hosting, WooCommerce hosting, and Cloud hosting.
Have a look at prices to find the best offer for you.
Web Hosting
Based on the features available, the Web hosting plan includes 3 categories: StartUp, GrowBig, and GoGeek. It's fast and secure, and you can select this plan to build a personal and business website. So despite the price, customers get the following features:
Unmetered Traffic
Free SSL
Daily Backup
Free CDN
Free Email
Managed WordPress
Out-of-the-box Caching
Unlimited Databases
The price for this hosting plans that starts at
$5.99 per month
.
Managed WordPress Hosting
The WordPress hosting plans include free WordPress installation, migration, and auto-updates. Also, you get free email, SSL, and CDN for every package. Whatever plan you choose, you can also receive unlimited databases and out-of-the-box caching.

This plan is available for users, as the price starts at only
$5.99 per month
.
Managed WooCommerce Hosting
Managed WooCommerce Hosting provides fast, reliable, and scalable solutions for online store launch. What's more you can use tons of extensions to make you current e-commerce website work faster. Every package includes unmetered traffic, free email, managed WordPress, daily backup, unlimited databases, free SSL, and out-of-the box caching.

Pricing ranges from
$5.99 to $13.99
.
Managed Cloud Hosting
The Cloud Hosting Plans include the same set of options such as 5TB of data transfer. However, every package differs in the size of CPU cores, memory, and SSD space.

Security
As we are moving to the end of the SiteGround web hosting review, we are now going to assess security options. The company provides numerous security features, specifically:
IP address blocklists to make sure all the links on your homepage are clean; 

the SG Site Scanner to detect whether your website is attacked; 

hotlink protection; 

antispam tools SpamAssassin and SpamExperts.
Also, SiteGround has an integrated content delivery network (CDN) service – CloudFlare. It aims at improving both security and performance. With SiteCheck, you can scan your website to detect malware on the site or in the code.
You can run this tool periodically to make sure that your customers are satisfied with their user interaction with your website, and it is absolutely safe for their devices.
SiteGround Customer Support
Eventually, we include in SiteGround web hosting reviews an estimation of the customer support quality. SiteGround offers around-the-clock customer support in multiple languages, and the website is localized for nine territories.
Users can get replies to their queries in English, Spanish, and Italian by reaching the team via live chat, phone, tickets.
SiteGround ensures that they get back to their customers with an initial response within 10 minutes. It takes a few hours to deal with serious issues. However, the support team stays in touch and keeps updates every now and then.
Moreover, users can also find helpful information in tutorials and articles in the SiteGround knowledge base.
Final Thought: Is SiteGround Worth Using?
We definitely recommend SiteGround. It is one of the leading website hostings in the industry for good reason.
SiteGround delivers solid uptime, and the company ensures that any major downtime issues are hardly possible. Thanks to the servers located around the globe, the site speed remains pretty high in lieu of the spot. You can also get free SSL on each plan.
When talking about pricing, there are lots of advantages of the longest term available for the business of all scales, e-commerce, or personal blogs.

Available Alternatives
If you still hesitate whether to choose Siteground, let's have a look at other alternatives.
GoDaddy is a publicly-traded Internet domain registrar and web hosting company that provides top-notch solutions for online growth.
Bluehost is one of the leading web hosting companies in the industry. The service meets both advanced and begging users' needs.
A2 Hosting is well-known for its turbo servers. This service is easy-to-use and contains high-powered functions.
FAQs: Get to Know More About Sitegroun
Where are SiteGround's servers located?
SiteGround servers are placed in different spots around the world, like Iowa (USA), London (UK), Eemshaven (Netherlands), Frankfurt (Germany), Sydney (Australia), Singapore (Singapore). The SiteGround team have tested their current data centers to make sure they are proven to be among the most reliable ones.
Does SiteGround allow installation of proxies?
SiteGround hosts all the production servers, and installation of proxies is prohibited.
How long does it take to activate account?
The time frame for your account activation depends on the chosen plan. Your account is activated immediately on the shared server and up to a minute on a cloud server.
Does SiteGround provide plans with unlimited bandwidth and disk space?
Unfortunately, no. None of the plans offer unlimited bandwidth or disk space. You should find more information about hosting plans and shared solutions to choose the best option for you.