What is an eBay Keyword Tool?
Sitechecker's eBay keyword research tool swiftly identifies a range of popular suggested keywords. Adopt this tool to discern what potential buyers search for on eBay. Then, tailor the product page to be more aligned with these queries.
Key features of the professional eBay keyword finder
eBay Most Searched Keywords Checker: Discover numerous suggestions and their ranking potential. Make your product pages more relevant and attract more potential buyers.
Cross-Platform Keyword Recommendations: Our keyword tool casts a wide net. It offers suggestions gathered from multiple search engines, extending beyond eBay. Delve into potential queries culled from platforms like Google, YouTube, Amazon, Bing, and more.
Comprehensive SEO Toolkit: Our SEO collection broadens its scope beyond keywords and research. With Sitechecker within arm's reach, you gain access to vast features that cover on-page and off-page SEO assessments, rank tracking, website monitoring, and many other functionalities. Harness this detailed data analysis to pinpoint concern areas and uncover invaluable opportunities effortlessly.
When is the eBay Keyword Generator Needed?
The eBay Keyword Generator is essential for eBay sellers looking to optimize their product listings. It identifies effective queries aligning with what buyers search for. This way, the tool improves the product's visibility in eBay's search results. You can use those queries in your product pages, listings, titles, descriptions, tags, etc. With this app, you get more traffic to your listings and potentially higher sales.
How to Use the eBay Suggestions Parser?
Step 1: Enter one or several base queries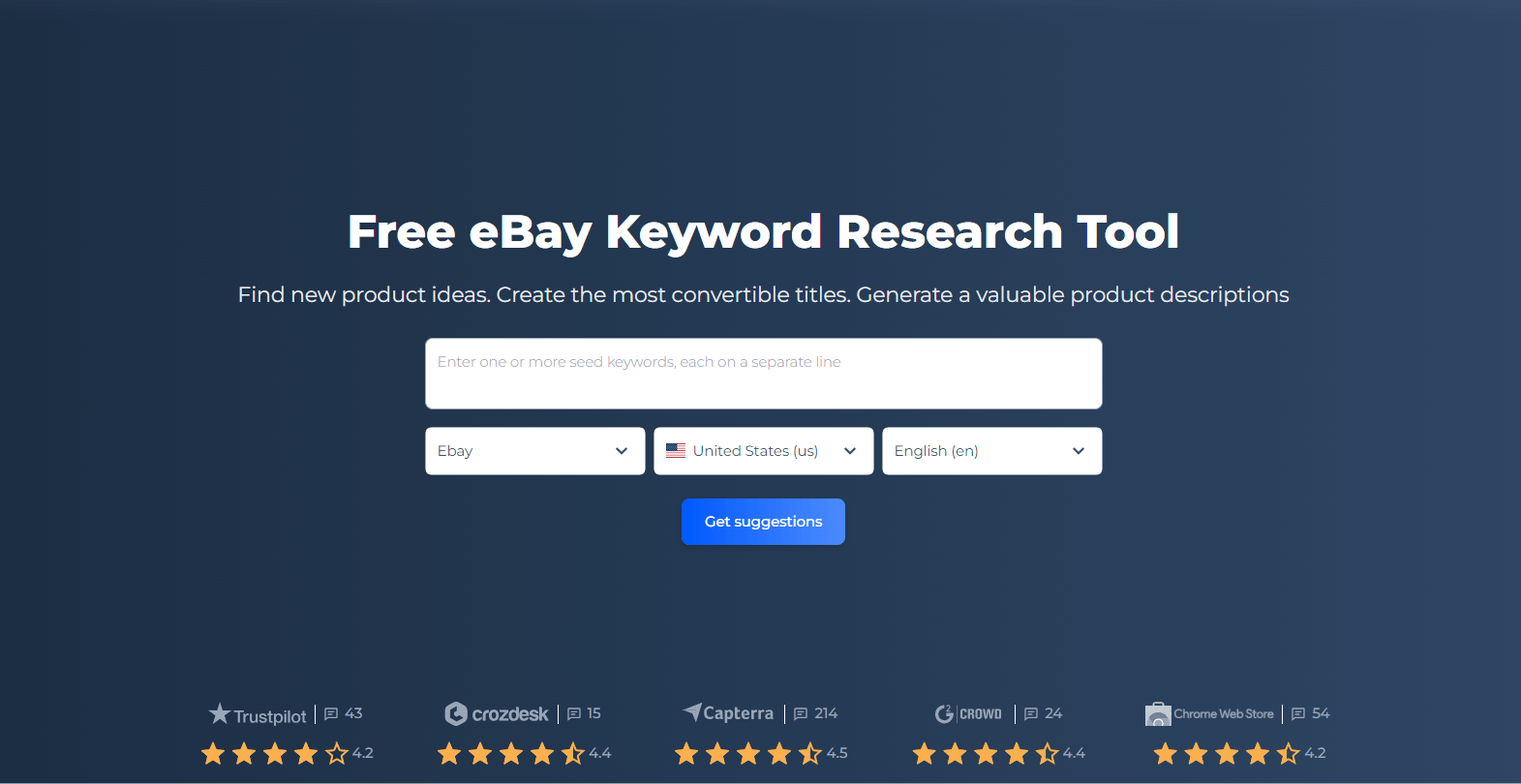 Set up eBay by defining geographical and language preferences. Then, click the "Generate keyword suggestions" button.
Note: To obtain more precise and targeted results, use the additional settings feature. It specifies the search engine, region of interest, and language for the search suggestions.
Step 2: Examine the results and utilize the powerful features at your disposal
Once you initiate the crawl, you will navigate to the results page. It displays data about the number of suggestions discovered and ranked at the top. It occurs while the crawl is still ongoing. You can stop it once you have gathered a sufficient number of the best suggestions keywords for eBay.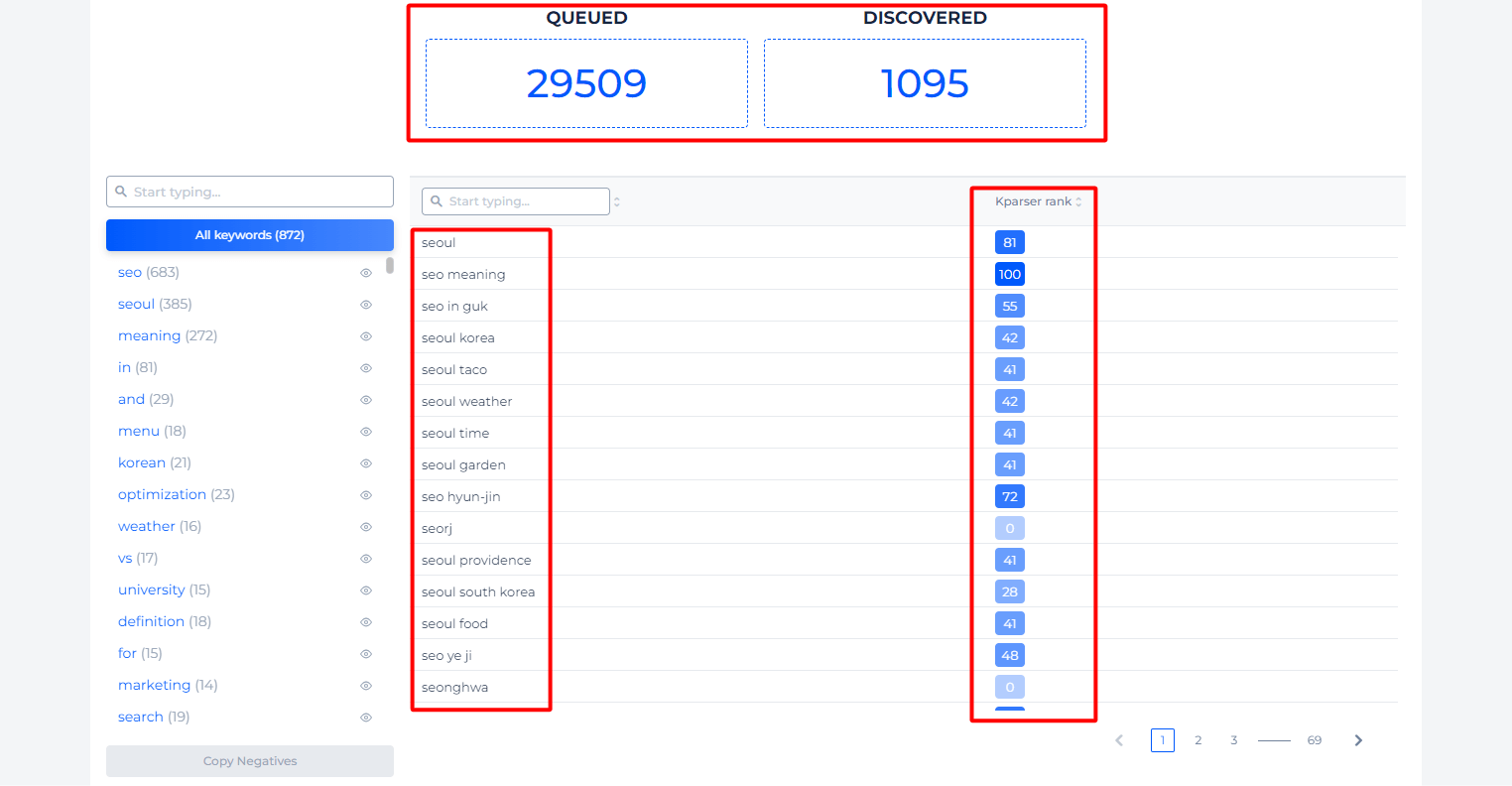 If you aim to gauge the search potential of a specific word or phrase on eBay every month, take note of the keyword ranking. It aids in understanding current trends on eBay. Generally, a higher rank score indicates its popularity.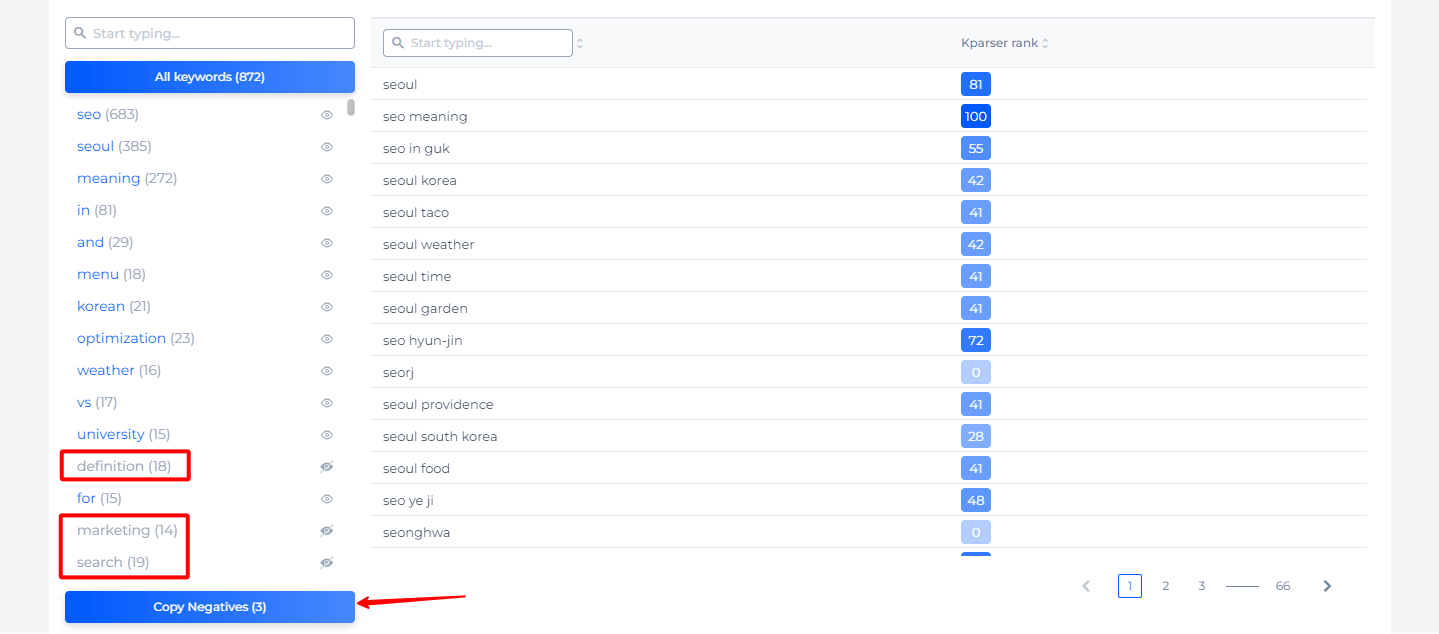 Employ alphabets, numbers, questions, prepositions, and custom text to obtain more relevant suggestions.
Advanced Capabilities of the eBay Keyword Suggestion Tool
Use the advanced mode features to maximize your time and extract the full spectrum of suggestions for your primary queries.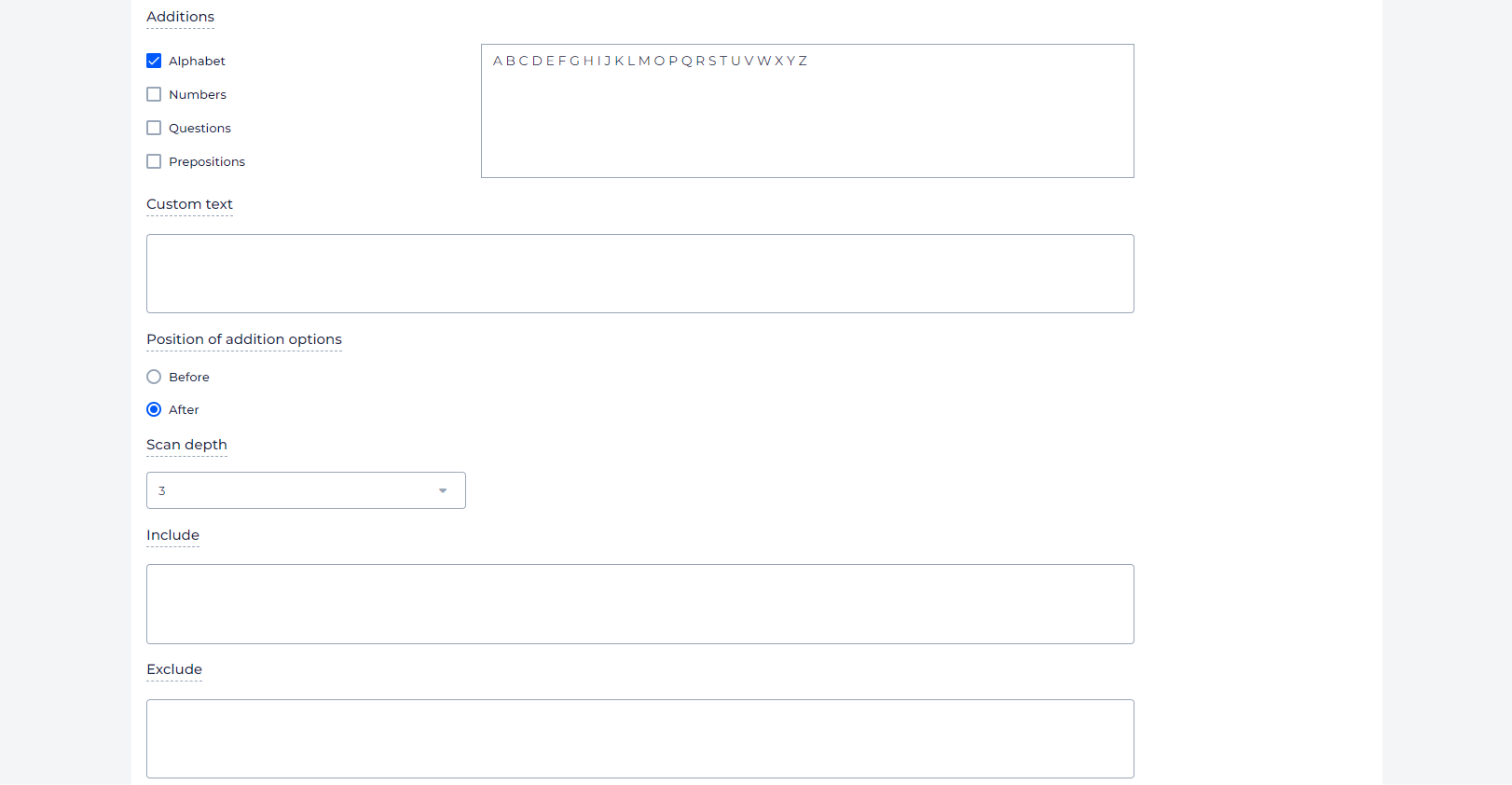 The advanced features include the following:
Additions: Each selection box is an additional conduit for garnering a more extensive array of results. For example, if you choose "Alphabets," the tool will explore suggestions by altering letters in your query. The "Questions" option expands your search by looking for answers to common questions that include your keyword. The "Custom text" field specifies supplementary words, characters, or phrases you want to replace in your query. It aids in the accumulation of additional insights.
Before & After Functionality: With the "Before and After" switches, you control the positioning of Alphabets, numbers, etc., before or after your keyword.
Scan depth: This function specifies the depth the software will delve through the layers of results to retrieve suggestions.
Include: Use the "Include" field to list words or phrases (each on a new line) you want to include in the results. The tool will remove queries devoid of these components from the final dataset.
Exclude: Benefit from the "Exclude" field to specify any terms you don't want to include in the search results. Besides, the tool won't display and use the suggestions incorporating these terms in subsequent searches.
Concluding Remarks
Sitechecker's eBay keyword research tool is an essential resource for sellers looking to optimize store listings. It efficiently identifies critical search terms, aligns product pages with buyer queries, and enhances visibility. The tool also provides cross-platform keyword suggestions and a comprehensive SEO toolkit. Its advanced features allow for customization and precision in results, making it a versatile and powerful tool for boosting eBay sales.
FAQ
How do I find keywords on eBay?
To find keywords on eBay, use Sitechecker's tool. Enter your base queries, specify geographical and language preferences, and click "Generate keyword suggestions." Examine the results and use advanced features for more relevant and customized suggestions.
Do keywords work on eBay?
Yes, keywords work on eBay. Using effective queries aligns product listings with what buyers are searching for. It improves visibility in eBay's search results, increasing traffic and sales.
Yes! When optimizing product listings with relevant keywords and employing various SEO strategies, sellers improve their products' visibility in eBay's search results. It leads to increased traffic and sales. Our keyword suggestion builder will assist you in achieving these goals.