StartLogic is not the most popular U.S. provider. It focuses, though, on empowering small businesses with the ability to host a website for a small fee. It offers only one hosting plan, which includes a Website builder and WordPress and e-commerce support.
StartLogic currently serves more than 50,000 customers. Let's break down who should use this service and what the benefits for your business it offers.
StartLogic Pros & Cons
StartLogic is known primarily as a hosting for beginners. There are no advanced settings to give resources for large sites. Likewise, it has no technologies of its own. However, it is a stable service that performs all of its stated functions.
Let's quickly go over the key pros and cons.
Pros
Cons

Unmetered Bandwidth Available

30-Day Money-Back Guarantee

Extensive Online Help Center

Personalized Domain Name

Unlimited Storage Space

Access to Online Marketing Guides

Customizable Spam Filters

No uptime guarantee

No cPanel

The cost will rise
StartLogic in Brief
Characteristic
Information

Support options

24×7 Phone, Chat, and Email Support

Hosting plans

Shared Web Hosting

CMSs

WordPress startlogic web hosting

, E-Commerce

Features

Customizable Spam Filters

Starting price

$2.75 a month
When to Use StartLogic
You should pay attention if you have a restricted budget for hosting your project. If you run a small business, for the functioning of which a site for a few pages or a landing page is enough, then this is a good option for you. This hosting is also suitable for small online stores or blogs, as it supports appropriate platforms.
The provider's primary mission is to give small businesses, freelancers, and students the ability to host their websites on a reliable platform. If we look at startlogic web hosting from this point of view, it is doing its task well.
When Not to Use StartLogic
Of course, you should not use this hosting for banned sites. If you do, you risk being blocked, according to startlogic reviews. The same goes for sites that sell illegal substances, weapons, or unregistered medicines. What types of businesses will not fit this hosting? Enterprises or other companies running sites that need a lot of resources had better opt for other hostings.
StartLogic Performance
As far as performance is concerned, it is a significant factor when choosing a hosting service. You have to be sure that the provider will offer you the best capacities. Pay attention to where the servers are, what technologies the server uses. It is also worth checking the speed of the provider for yourself. We have done it as part of this startlogic hosting review.
High-Performance Load Balanced Servers

Visitor Statistics/Site Traffic Reporting

24×7 Network Monitoring

Web Hosting Control Panel
StartLogic has two data centers located in Boston, Massachusetts. The provider's facilities consist of thousands of servers. The data centers ensure 24/7 security and run on an N + 1 network (both AC and DC). The network consists of redundant routers connected to the world via multiple ISPs using BGP. You can rest assured of high performance from this hosting provider.
StartLogic Speed Test Results
There is very little information on the service's official website about how fast the performance is. We decided to check the loading speed of all content on the website page ourselves and tell you about the results. It is an excellent way to evaluate the performance objectively because ads may promise far from real figures. They are worth checking!
Here are the results:
| Test | Average Loading Time |
| --- | --- |
| GTmetrix test | 3.5 s |
| Pingdom test | 722 ms |
| PageSpeed Insights (Google) | 3.6 s |
The results are fantastic. Hosting copes with its task flawlessly!
StartLogic Uptime Guarantees
A considerable disadvantage is that StartLogic does not provide any Uptime Guarantees. Our tests show that the site loads quickly. However, as we know, constant website availability is a valuable indicator for your visitors. Every minute when your site is unavailable deprives you of potential users. It is unacceptable, and that's why it's necessary to keep track of what Uptime Guarantees your hosting offers you.
We asked the support team about Uptime Guarantees, but we heard that the company would fix any error very quickly if it occurs. Then why not run tests and specify Uptime Guarantees on the site? It is a significant disadvantage, so from the looks of it, putting a site here is like playing the lottery. You might get lucky, and your site will always be available. But you might not.
StartLogic Server Response Time
It is the speed of downloading the content that matters and the time it takes to download the first byte from the server. We decided to check this indicator using the Bitchata service.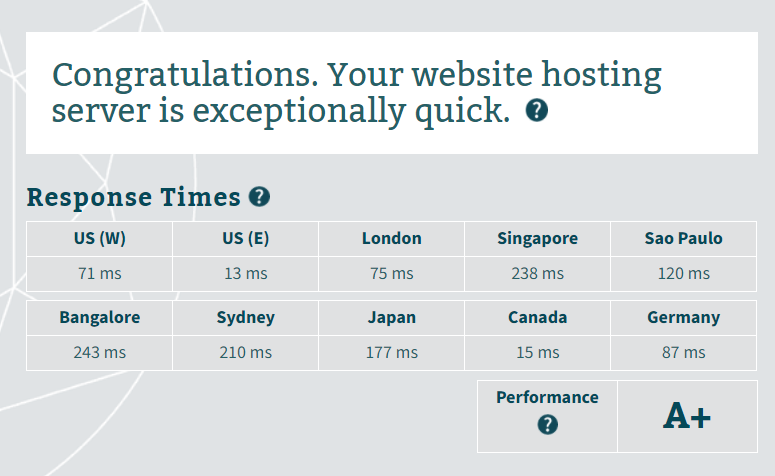 This service evaluates sites that, according to Google's recommendation, load in less than 200 ms. As you can see, StartLogic received the highest possible score. It means that the site loads very quickly, which, in turn, will have a positive effect on search engine rankings. Great!
StartLogic Site Migration
The company allows its customers to transfer their site from another hosting. If you already have a website, you can inform your domain's support service to transfer to this company. It will not take much time and will be entirely free for you.
StartLogic Features and Pricing
StartLogic hosting plans provide unlimited bandwidth and unlimited storage, domains, and MySQL databases. You won't get confused about the right type of hosting because there's only one. It is both a pro and a con.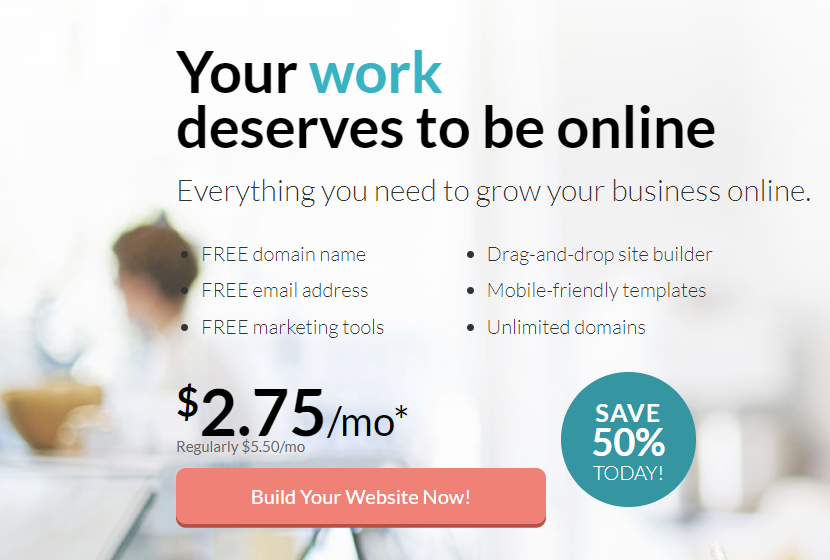 The pro is that the hosting provider specializes in providing one service and most likely does it well. The disadvantage is that if your site's resource needs grow, you will not be able to develop within this provider.
Shared hosting
The web hosting startlogic plan includes access to a free website builder and installing software such as WordPress and e-commerce tools. Web hosting also offers the use of a free domain. It uses a Unix platform.


Keep in mind that the prices listed on the site will increase with each subsequent month of hosting.
Security Features
Hosting security is one of the most critical factors of its reliability. Your website's reputation directly depends on this indicator because no one would want the user's personal data to fall into the hands of cybercriminals. That is why when choosing a hosting provider, you should pay attention to what security measures it provides to its customers.
The provider makes sure that your sites are as secure as possible. To provide a high level of protection, the following features are offered here:
Displaying errors on user pages;

Password protected directories;

POP3 support;

Spam filter.
For small sites, these security measures are enough. If you have a large site, then you will lack additional protection from hacker attacks.
Support
Startlogic hosting has put customer care in the hands of contractors so that company specialists won't contact you. You will talk to assistants who simply provide information about the product. It is a disadvantage because the leaders among web hosting companies usually give customer support to their specialists.
As part of this startlogic hosting review, we decided to check how quickly the specialists respond. Five minutes after the first message, an operator joined the chat and gave us the same information that had already been published on the company's official site.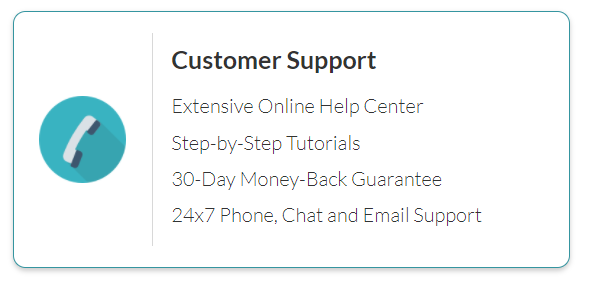 That's why we are not sure that the support service will help you solve the problem. However, we may assume that this superficial answer was because we contacted them as a potential client and not as an existing one. Maybe those users who are already clients of the company get better support.
StartLogic Quick Facts
| Fact | Information |
| --- | --- |
| Storage Space | unlimited |
| Bandwidth | unmetered |
| 30-Day Money-Back Guarantee | included |
| Mobile-friendly templates | included |
| Drag-and-drop site builder | included |
| Free Domain | included |
StartLogic Review: Do We Recommend It?
It's hard to conclude. The provider fulfills all of his obligations, it's true. However, there is no information about Uptime Guarantees. The support service is not qualified enough; the sales team does not join the conversation to explain to you all the details about the service's features. There is only one general type of hosting here.
Nevertheless, it is good hosting for its price. And if basic features are enough for you, then this is a good option for your site. We think that for a small project, the server capacity should be enough.
StartLogic Alternatives
Even though you'll have 30 days to get your money back, we recommend that you start by checking out other services that will give you much more functionality and performance for the same amount of money. They also have better customer service and a more comprehensive selection of hosting plans. In general, check out the alternatives:
Hostinger – cheap and reliable provider with thousands of clients.
BlueHost – good for WordPress and Dedicated hosting.
A2Hosting – you should check this provider because of the low prices!
Study the advantages and disadvantages of all services to make the right decision. Remember that reliable hosting depends on your site's continuous operation, which means its reputation and earnings.

FAQs on StartLogic
Which StartLogic plan should I get?
We recommend that you start with the cheapest plan for your project, and if you like the service, you can easily upgrade to a more expensive plan.
Does StartLogic have a free plan?
No, StartLogic only offers paid plans. But if you don't like the service, you can quickly get your money back in 30 days.
Is StartLogic Good for Blogs?
Yes, of course. If you have a small blog, you can use this hosting. Also, if your blog is on the WordPress platform, you can take advantage of that platform.
Is the customer support multilingual?
No. Support is provided in English only.