Founded in 2001 as one of Southeast Asia's companies, Exabytes provides its clients with an opportunity to grow their business on the web. With more than 18 years of professional experience, the company provides a range of online features, such as domain names, web hosting, digital marketing services, site design, servers, etc.
The core mission of Exabytes is to boost online presence, provide solid solutions for business startups, energize digital marketing, and so on. Is that what the company experts really do? What are the key pros and cons of the service under review? Let's see!
EXABYTES Hosting Pros & Cons
When it comes to the key features that distinguish Exabytes hosting from the other services on the market, they go hand-in-hand with the downsides. Check the pros and cons below:
Pros
Cons

99.9% network uptime guarantee

100-day full money-back guarantee

Pocket-friendly prices

Free SSL certificates

Free domain

Automatic daily backups

Powerful and flexible Web Control Panel

No phone support for the US clients

Extra fees for add-on features

No free trial period

Only Asian servers
EXABYTES Hosting in Brief
| Characteristic | Information |
| --- | --- |
| Uptime guarantee | 99.9% |
| Server response time | 184.75ms |
| Support options | Helpdesk, phone, live chat, or email 24 hours a day |
| Hosting plans | Web hosting, Email, WordPress, Cloud SSD VPS |
| Features | Free SSL certificate, WHOIS domain privacy protection, daily backups, Linux plans + Softaculous, FREE.COM/.BLOG and .ASIA domain, unlimited bandwidth, 24/7 support team, SFTP/SSH access, fast account activation |
| Service locations | USA, Malaysia, Singapore |
| Starting price | $2.99 a month |
Go to Exabytes hosting
When to Use EXABYTES Hosting
Exabytes web hosting is a great option for those who are in need of unlimited bandwidth and flexibility for a reasonable price.
Besides, the provider is user-friendly and comfortable, which means it is the right place to go for newbies. A flexible Web Control Panel enables you to manage your site easily. The company also offers a range of self-support resources, such as video tutorials, a knowledge base, and a blog.
If you're looking for a company that offers 24/7 support, Exabytes is available via ticket, phone, personal office visit, or email.
At the same time, those clients who need to switch from a small to a large website will find the required expert help at Exabytes.
When Not to Use EXABYTES Hosting
As you can from our Exabytes review above, the company doesn't seem to have that many gaps.
Although the company truly excels in providing moderately priced plans, every user should be aware of some extra fees that come with add-on features (for instance, you get the domain privacy service offered by default).
EXABYTES Hosting Performance
As one of Southeast Asia's trusted companies, Exabytes offers the complete package of hosting options (from dedicated to cloud hosting). Everything from updating Exabytes hosting nameserver to hosting your email or starting a reseller account is on the company's wide-ranging portfolio.
To ensure outstanding performance, the company offers 100% redundant infrastructure like SSD storage and top-speed Dell servers that include Intel CPUs. The latter guarantees 99.9% uptime.
By integrating CloudFlare into your package, you get to boost the intelligence, safety, and speed of your website.
Exabytes has special security and marketing tools to run SSL certificates and backups to ensure outstanding performance. The company's partnership with the pros of Symantec, SiteLock, R1Soft, Sucuri, and Cloudflare guarantees 100% protection of customer data.
EXABYTES Hosting Speed Test Results
Regardless of the plan that you choose, the company does its best to provide its clients with decent speed. High-speed Dell servers and SSD storage are accessible in all plans. At the same time, VPS is available with a 100% pure SSD drive that makes the speed 10x better.
Make sure to check some of the testing results:
| Test | Average Loading Time |
| --- | --- |
| GTmetrix test | 4.6s |
| Pingdom test | 153 ms |
| PageSpeed Insights (Google) | 4.4 s |
While the results shown during the test aren't the top possible in the field, the company is still one of the best in the industry.
EXABYTES Hosting Uptime Guarantees
The company ensures you enjoy only the most reliable hosting services together with 99.9% network uptime guarantees.

Clients do not receive any credits under 99.9% network uptime and 99.9% server uptime guarantee in connection with any deficiency or failure of the website.
EXABYTES Server Response Time
To provide you with an actual server response time, we tested Exabytes using a special measuring tool at www.bitcatcha.com. Check the results below: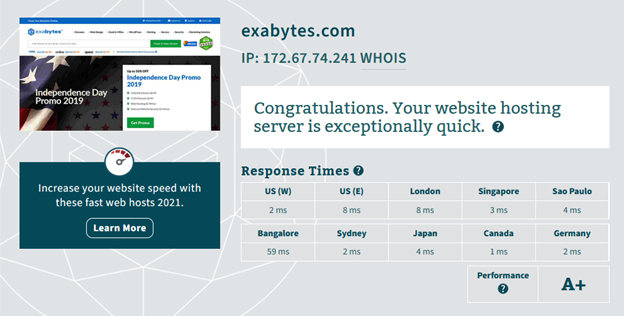 Exabytes
servers are exceptionally quick, according to the test results. No matter where the users are, they will enjoy a leading speed.
How to change your hosting provider to Exabytes?
Exabytes makes it possible to quickly switch from one hosting to its services. Moreover, with great deals – 20% discount. You need to fill out the form (name, email and phone) and submit the order. After that, you will receive advice from experts on tariff plans and prices for them.
Once verified, you will receive the new annual hosting plan you sign up for with Exabytes. Your new hosting period will be: 12 months (new annual hosting plan) + remaining months with your existing hosting provider.
EXABYTES Hosting Types, Features and Pricing
Taking into account the key values of Exabytes – growth, innovation, simplicity – it should be stated that the pricing is affordable for businesses of all levels. Personal website hosting will cost you as low as $2.99 per month.
Personal Web Hosting
Best price for a basic site starts from $2.99 per month. Together with unmetered bandwidth, FREE Daily Backup, SSL, HTTPS, flexible and easy-to-use control panel, the users also get what your blog or personal website needs. If more traffic is expected on the customer's site, and you are looking for a larger scale of requirements, the Ultimate package could be the best option.

2X processing power and memory go together with FREE Premium SPAM Filter and Free Search Engine Submission for
$6.99 per month
.
Keep in mind that the hosting packages are available for both Linux and Windows operating systems.
Business Web Hosting
When it comes to Business Web Hosting, you can digital your business by using one of the following packages. Prime ($29.99 per month) works well for high-traffic, fast-growing sites when performance matters the most. Premium ($39.99 per month) is a perfect choice for community forums, data-heavy, and eCommerce sites. Enterprise ($49.99 per month) is made for business listings and social media.

At this point, the customers are protected by a 100 days Guarantee Program that is 100% free from risks. With no reason, you can cancel and get all of your money back over the next 100 days.
Unmetered bandwidth, Unlimited Email Accounts, and Free SSL/HTTPS are included.
WordPress Hosting
Exabytes offers two WordPress hosting packages – Managed and Dedicated. While Managed WordPress options are the best option for new websites that are on the lookout for the starting point to grow, Dedicated WordPress hosting is best suitable for high traffic and developed and websites that can boast of the best stability.

Daily Automatic Server Backup, pure SSD Drive, and constant uptime monitoring are included.
Reseller Hosting
By choosing Reseller Hosting, you rent storage and bandwidth from Exabytes; however, you are going to use it yourself. With cPanel Reseller Hosting package, you have an opportunity to combine various reseller plans with your value-added services (consulting, website development, programming, and so on).

Customized Reseller Hosting settings are available to enable boost server performance and stability.
The prices for Reseller Hosting starting at
$10.50 per month
for 50 GB of Disk Space.
Singapore Web Hosting
High-performance hosting with 99.9% uptime is available for those choosing Singapore Web Hosting. Depending on the chosen plan (EBiz Lite, EBiz Plus, EBiz Gold), the user gets from 10GB to 500GB Disk Space.

Best for Asian clients, this option enables you to host your site in Singapore. cPanel Control Panel, FREE Daily Backup, and professionally branded email addresses are included along with a 100-Day Full Money-Back Guarantee.
Cloud Hosting
Unlike traditional hosting, the company offers quality VMware solutions. The latter are not deployed on one server. Instead, a network of connected physical and virtual cloud servers hosts the site or app. As a result, you get greater scalability and flexibility. cPanel and Plesk are also available as add-ons.
You can host unlimited websites. Cloud hosting works with all the latest operating systems like CentOS, Linux Debian, Fedora, Ubuntu.

Security
To protect information provided by the clients, the company collaborates with the specialists at Symantec, Cloudflare, SiteLock, Sucuri, and R1Soft.
A free SSL certificate is also available with the packages. It verifies the identity of your website, as well as encrypting data exchange between the server and the site.
Keeping your site safe from malicious attacks is also possible due to Sucuri Website Security. Website Security Platform rates start from $19 per month while you get solid Sucuri proactive protection regardless of the type of threat your site is dealing with.
Support
Get in touch with the company reps via email or live chat round the clock. Keep in mind that you can reach them via phone only if you are in Indonesia, Singapore, or Malaysia. Unfortunately, the company does not provide its US customers with phone support.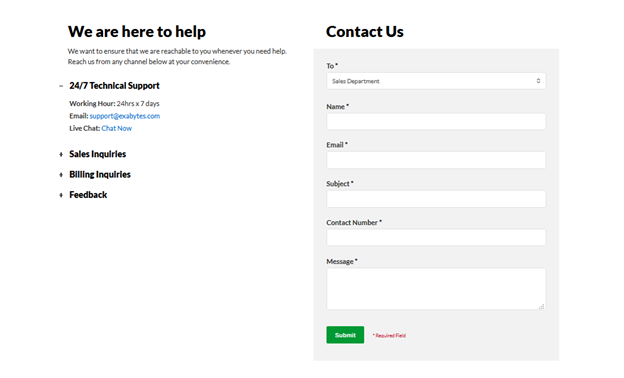 There are also community forums and an extensive knowledge base available on the company's website.
The company is available 24/7/365. According to most reviews, Exabytes managers provide quicks answers and are friendly when dealing with clients.
It is no doubt that you will have to wait a bit to have someone handling your issue. However, when they are there for you, you will be provided with all information required in a clear and friendly manner.
EXABYTES Hosting Quick Facts
| Characteristic | Information |
| --- | --- |
| Website migration | Provided in each plan |
| Free features | SSL certificates, domain, DNS |
| Control Panel | cPanel and Plesk |
| Email accounts | Unlimited |
| Bandwidth | Unlimited |
| Webspace | From 10GB to 600GB |
| CDN | pre-integrated Cloudflare |
| Hidden fees and clauses | The domain privacy service is added by default and includes additional fees |
Go to Exabytes hosting
EXABYTES Hosting Review: Do We Recommend It?
We have thoroughly checked each Exabytes hosting package and figured out that its products are a perfect match for beginners. The best thing about the service is that together with a helpful Customer Care department, you get 99.9% server time.
What is more, it is impressive that the company provides its customers with a chance to choose between Linux and Windows operating systems.
A drag-and-drop website builder and pre-built WordPress templates are given to help you make your web presence stand out.
Most plans comprise free restores and backups, enhanced SEO, free SSL certificates, email tools with top-tier packages.
Backed by 20 years of experience in the web hosting industry, money-back guarantee, and 99% uptime, Exabytes is the real deal for the small-medium businesses looking for an opportunity to benefit from the web.

EXABYTES Hosting Alternatives
If you are looking for alternative options to Exabytes, here are some of the most popular ones:
FAQs on EXABYTES Hosting
What extras do I get with EXABYTES Hosting?
The company clients get free backups and restore, SSL certificate, solid security, enhanced SEO, and email tools with top-tier packages as part of most hosting plans.
Can I buy a domain through EXABYTES hosting?
Most hosting packages include a free domain name. However, you have an opportunity to purchase a domain. Exabytes professional team will guide you through the process.
Can I Upgrade My EXABYTES hosting Plan at Any Time?
Yes. You can always upgrade at any point. The reps of the Customer Care department will help you with the migration.
Is EXABYTES hosting Good for Beginners?
Yes. The company is beginner-friendly. The reps of the company are always there to help if something goes wrong.
Is the customer support multilingual?
The company reps speak both official languages of the country – Malaysian Malay and English.