WPX is a hosting provider specializing in ensuring the correct operation of your business sites on the WordPress platform. The company's goal is to create the easiest service possible, to free its customers from almost all the technical requirements associated with running a business. It is ideal for beginners. Its intuitive interface, simple settings, and good speed make WPX a great solution for small sites on the WordPress platform.
WPX Pros & Cons
Well, we've already figured out that this is inexpensive hosting for sites on WordPress.
Now it's time to take a closer look at the pros and cons.
If you don't have enough time to read our wpx hosting review, then check out the table below for a quick look at the pros and cons.
Pros
Cons

Site Speed Optimization

Unlimited Site Transfers

Lightning-fast CDN

Daily Malware Detection & Removal

Site Fixes If Down

Daily Backups

User-Friendly Dashboard

No Single Site Hosting

No CPanel
WPX in Brief
| Characteristic | Information |
| --- | --- |
| Uptime guarantee | 99.95% |
| Support options | live-chat, tickets |
| Hosting plans | WordPress Business, Professional, Elite |
| CMSs | WordPress |
| Features | Unlimited Site Migrations To WPX, Unlimited SSLs, Staging Areas, Email, Manual Backups, DDoS Protection |
| Starting price | $20.83 a month |
Go to WPX hosting
When to Use WPX
As we have already indicated, this provider specializes in the WordPress platform. It means that if your business website is designed on this platform, then WPX can be a great way to get it online. It can be your company blog, a business card site, or a small e-commerce site. Either way, all the features of the WordPress platform are supported here. So any website that the platform allows you to create will function perfectly on this hosting.
It is a great way to get started online if you don't have any experience hosting a site. With the simplest possible settings, an extensive database, and responsive support, you will have no trouble at all establishing your resource to function properly. No problems with the technical part, just space for your creativity! Build your dream site and host it on WPX!
When Not to Use WPX
Well, it's time to discuss who shouldn't use WPX. If your site doesn't run on WordPress, you might want to look into other providers. That doesn't make WPX a bad provider, just that you're not that company's audience. Larger sites are also better placed on a different hosting provider, as the performance here is not the highest.
Well, what did you want for the price? It is an inexpensive managed hosting with excellent functionality, which is enough to cover most types of businesses' basic tasks. Do not demand from it the power of the level of the expensive market.
You should also not host here sites placed subject. If you plan to sell illegal substances or provide services of fraudulent nature, the provider may block your site without the right to restore. Be careful!
WPX Performance Facts
Providers' performance is what you, dear user, should pay attention to first! The more the provider does to improve performance, the better and more reliable your site will be.
WPX servers are optimized for WordPress websites. WPX uses Lite-speed for the sites to perform as well as they can.
This provider has data centers in the US, UK, and Australia. Their custom CDN comes with each plan. It is free of charge, and it is integrated with the service. With the CDN and the cache plugin that WPX recommends (W3 Total Cache), the sites perform quite fast.
WPX offers an optimization service for free. Their developer's team will review your site and check what could be done to improve its performance. Great option!
WPX Speed Test Results
As you have probably already noticed, we are in the habit of checking the performance of the provider. To do this, we use popular free services. Now we are going to check the download speed of the content. By the way, you too can use these online programs to check those sites whose content loading speed you are interested in.
Here are the results:
| Test | Average Loading Time |
| --- | --- |
| GTmetrix test | 6.0 s |
| Pingdom test | 1.82 s |
| PageSpeed Insights (Google) | 3.3 s |
In general, the results are not bad. However, users note in wpx hosting reviews that the speed of the provider's services could have been higher for such a price. Indeed, the indicators are slightly lower than those of more expensive competitors!
WPX Uptime Guarantees
If your resource is always available, then users have no problem accessing it. It seems obvious, but when choosing a hosting service, you should pay attention to Uptime Guarantees. The market leaders have 100% Uptime Guarantees.
We asked the customer care specialist, and he said that Uptime Guarantees is 99.95%. That's not a bad figure, but there is a possibility that your site will be unavailable at some point in time. These are usually forced Majeure circumstances. The company assures that the users' access to your site will be restored in the shortest possible time, even if they happen. We hope WPX won't let you down!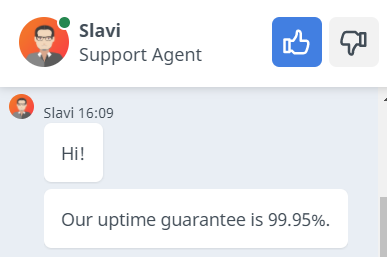 WPX Server Response Time
Let's check the download speed of the first byte.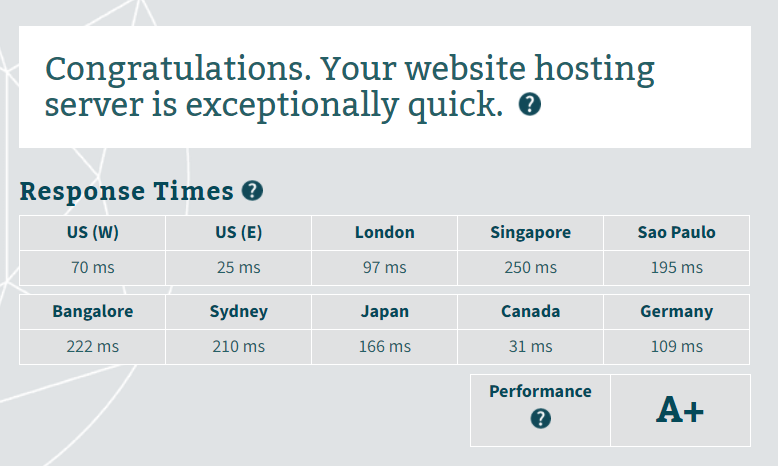 We used Bitcatcha's service, and as you can see, it rated the provider an A+. It is an excellent rating, and it means that sites on this hosting will load fast.
WPX Site Migration
If you already own a WordPress website and would like to move it to WPX, you can do it. Some people choose to use different tools and plugins when migrating such sites. The provider offers free migration services. What makes this WPX different is that the migration process is quicker since it takes around 24 hours.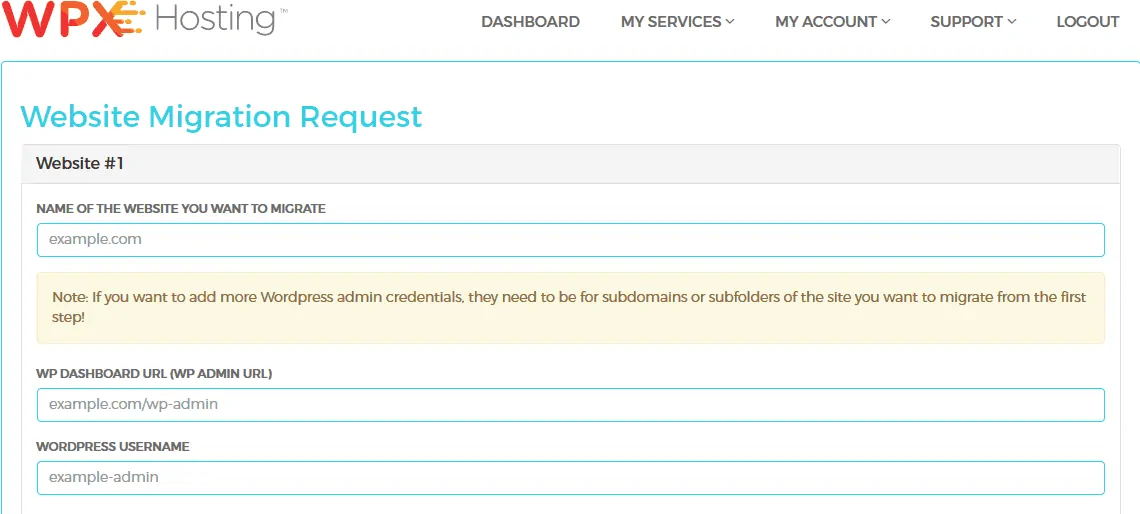 WPX Features and Pricing
WPX specializes in supporting and hosting sites on the WordPress platform. It is very good that there is specialization here. You can be assured that this provider is not spread out to provide all sorts of services but focuses all of its resources on improving service quality. Prices start at $20.83 a month, and you can host five websites for that price. We'll show you all the plans and prices below.


If you're looking for the cheapest way to get online, check out:
WordPress hosting
WPX WordPress hosting has three pricing plans here – Business, Professional, and Elite. In addition to differences in the memory provided and the number of sites to host, you may notice a significant price difference. Choose a plan depending on the needs of your site. Keep in mind that with the Elite plan, you will be able to place 35 sites. For such a price, it is a lot!
If you have any doubts about which wpx hosting plans are better to choose, then we advise you to contact the customer care service, and they will help you choose. Note that each of the plans includes the use of a CDN.
It's like having a server near any of your site visitors, which helps get your site up and running faster and more efficiently for them, even for visitors from the other side of the world. A great option if your site users are all over the world!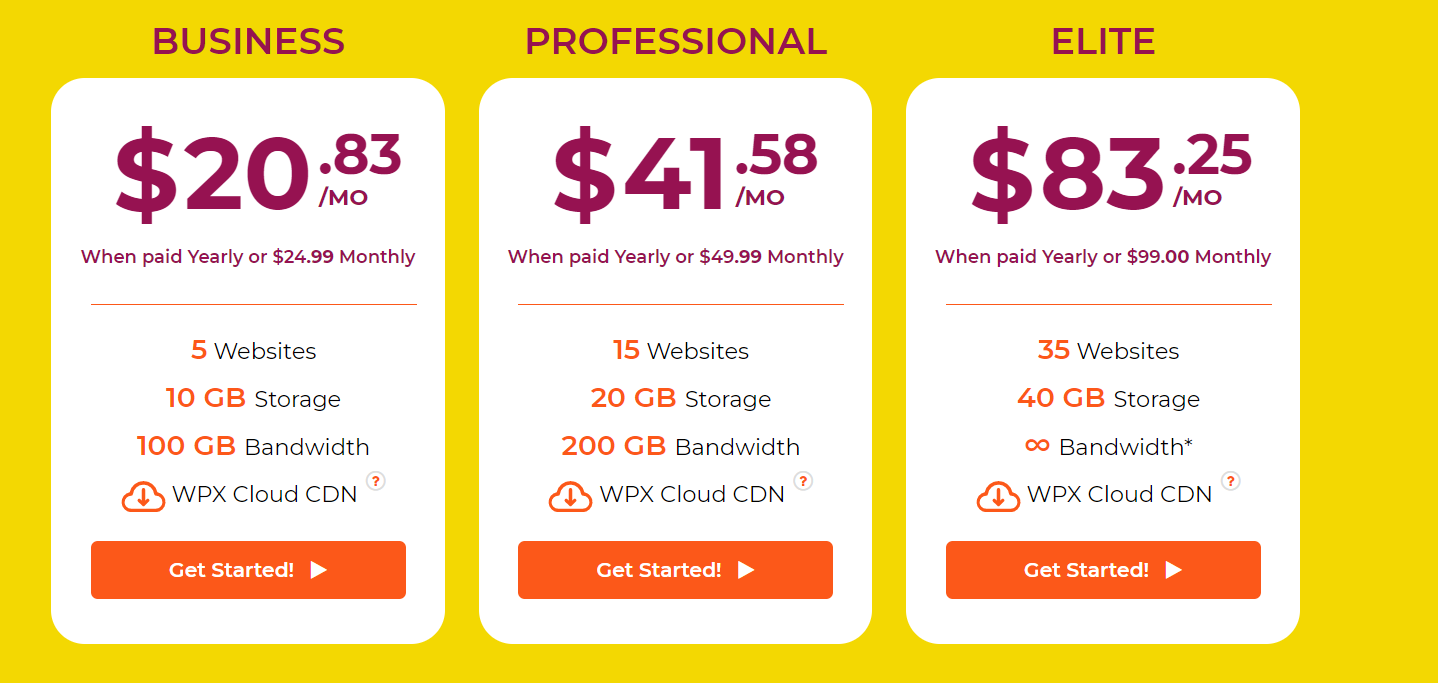 WPX Security Features
DDoS attacks are becoming an increasingly frequent frustration for online businesses, as evidenced by recent real-life terrifying stories. DDoS Protection is a very important security feature that a hosting provider can provide.
Ensuring the security of your business is of paramount importance to the hosting provider. Let's take a closer look at what wpx hosting features do to protect its customers' sites:
Enterprise-level DDoS Protection
WHOIS Privacy
Application Firewalls
Daily Malware Scanning & Removal
These measures should be enough for a small site. However, keep in mind that this is not enough to provide maximum security for larger sites. If you need specific tools to protect your site, contact support to find out if you can implement the necessary functionality.
WPX Support Team
The speed and accuracy of customer service specialists' answers is the hallmark of a hosting provider. WPX makes it possible to communicate with customer support, even for those who are not yet clients of the company. It is a good opportunity for you to ask questions before you subscribe and place your website here.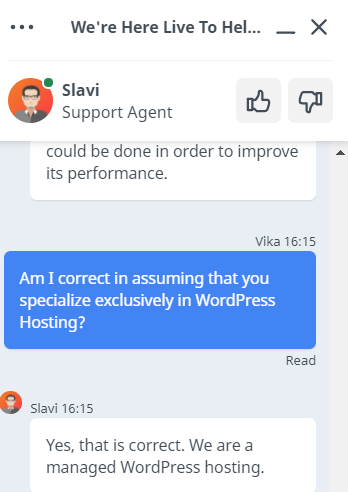 We decided to check how quickly the support team responds to unregistered users, and we were pleasantly surprised! The answer did not take long and came from a specialist in one minute. It is excellent speed since we left the request on a day off, and reviews of wpx hosting say the same. The guys care about customers and potential users. Awesome!
WPX Quick Facts
Site Migrations: Unlimited
Bandwidth: 100 GB — Unlimited
Backups: 28 Day Automatic
Advanced Features: High-Speed Custom CDN
WordPress Installations: 1-Click
WPX Review: Do We Recommend It?
We cannot 100% recommend this service. There are still questions about security measures, as competitors provide more ways to protect your site. Besides, for this cost, the loading speed of the content is not excellent. On the other hand, it is a perfect option for beginners! The settings here are very simple, and it won't be hard to figure out at all.
If you are an advanced user, then here you may be missing some functionality. And this is a good reason to look for another provider. In any case, there is a guaranteed refund if you are not satisfied with the quality of the company's services. It is a good way to try if WPX is right for you.
WPX Alternatives
We've picked up a few more popular providers who specialize in the WordPress platform. If you are still in doubt, we recommend reviewing these options to make your final choice.
Bluehost — a perfect one for WordPress sites with many specific functions;
GreenGeeks — the best-known WordPress provider;
Hostgator — a good-known web hosting with low prices.
The alternatives we present are reliable services with a large worldwide customer base. Our development team is constantly introducing new functionality in line with platform updates. You can be sure that you will get the highest-class service. Good luck with your choice!
FAQs on WPX
What extras do I get with WPX?
FREE site speed optimization
FREE lightning-fast CDN
FREE site fixes if down
Is WPX Customer Service Fast?
Yes! Speed is about them! They'll answer in a minute and help you with your question.
Is WPX Good for Beginners?
In fact, you are unlikely to find such a suitable hosting for newbie users and website owners. Here everything is made as simple as possible so that you won't have any difficulties. And even if you can't figure something out on your own, there's an extensive knowledge base and responsive customer service.