Ionos Hosting is one of the cheapest hosting providers on the market, offering hosting packages and website tools. In addition, Ionos provides each customer with a dedicated support assistant.
Another advantage of Ionos is complete transparency in pricing, so you know what you pay for. However, there are some disadvantages to this hosting as well. Are you intrigued to learn more? Then keep reading our Ionos hosting review.
Ionos Hosting Pros and Cons
Pros
Cons

Affordable prices

A lot of options and features

Excellent uptime

Fast customer service

Not user-friendly technical set-up

Dated custom backend set-up

Performance is not so good

Hidden costs
Ionos Hosting In Brief
| Characteristic | Information |
| --- | --- |
| Uptime guarantee | 99,98% |
| Server response time | 748 ms |
| Support options | Personal consultant, phone support, knowledge base, free email support |
| Plans | Web hosting, WordPress Hosting, ASP.Net hosting, web hosting for agencies, WordPress Pro, dedicated hosting, VPS hosting. |
| CMSs | WordPress, Duda, Drupal, phpBB, Joomla |
| Features | Dedicated SSL Certificate, Dashboard, Website Builder |
| Server locations | Las Vegas, New Jersey, London, Berlin, Frankfurt am Main, and Karlsruhe |
| Prices | $4 / month |
When To Use Ionos Hosting
Ionos provides many plans at an affordable price plus a variety of software tools, for example, email marketing, domain registration, and website builder platform. This provider is an excellent fit for small businesses and individuals who are looking for budget-friendly hosting providers.
Ionos also offers a lot of perks to its clients. For example, they can provide you with web hosting without a contract period and a consultant free of charge. Also, Ionos is great for WordPress websites as all WordPress plans come with a managed option, a first-year domain, SSL, email, and other features.
When Not To Use Ionos Hosting
Ionos has a very dated, confusing, and not user-friendly interface. If you're a beginner, it will be difficult to sort everything out and understand how to set-up all the things in the right way.
Also, they have a limited storage capacity, so if you want to host a complex, data-rich website, it's better to consider another option.
Ionos Performance
All the data you store is mirrored in two data centers, so your website's performance is consistent regardless of maintenance and outages. Ionos also uses its server shield technology to prevent DDoS attacks.
Ionos clients can also adjust their website's performance according to their needs by paying only $2/month for the additional levels. Each time you reach your performance limit, you get notified about it via email, so there will be no unexpected spikes.
Ionos also utilizes HTTP/2 network protocol with multiplexing and header compression for SSL encrypted traffic to keep fast page loading times. The web servers and storage are also on the same platform, so visitors to your website will get faster performance.
Ionos Hosting Speed Test Results
Ionos platforms are built for speed. They always improve their websites' performance using such features as enhanced CPU and memory, PHP with OPcache, Gzip and http/2, SSD Storage. So how does Ionos work? Let's look at the following numbers.
| Test | Average Loading Time |
| --- | --- |
| GTmetrix test | 3.8 s |
| Pingdom test | 2.4 s |
| PageSpeed Insights (Google) | 3.5 s |
So, it has a decent loading speed. According to other Ionos reviews, the average page loading speed of 748 ms in the last ten months, which is a decent result in the industry.
Ionos Hosting Uptime Guarantees
Ionos guarantees 99,98% uptime. They state that they can't claim 100% uptime only because of natural disasters. According to the data gathered by other Ionos reviews, their uptime has been 99.98% over the past ten months with only more than an hour of downtime.


Remember that each minute of downtime costs you money, so make sure to choose a provider with a high uptime guarantee and positive reviews about its performance.
Ionos Server Response Time
We've already mentioned the average loading time in our Ionos.com review. Ionos uses Railgun CDN that automatically distributes your website to more than 60 data centers worldwide, so all of the websites perform fast no matter their users' location.
Let's take a look at the following data from Bitcatcha on the Ionos average server response time.


The results are above the average in the industry, which is a good value for its price. Ionos has 10 data centers in five countries and data mirroring in two data centers, so your website is always performative, and data is always available.
Ionos Hosting Site Migration
Unfortunately, Ionos doesn't offer a free website or domain migration. So if you want to migrate your website, you have to find a third-party company that will help you with the process.
In addition, Ionos provides a lot of educational materials on how to migrate your website, so feel free to check out their knowledge base.
Ionos Hosting Types, Features, and Pricing
99,9% uptime, DDoS protection, stable performance, and personal consultant–this is what you get with Ionos hosting packages.
Let's review them in more detail. With a JIT compiler and a 768 MB memory limit, the latest PHP version boosts your website's performance.
Web Hosting
All plans come with a free website domain for one year, a free SSL certificate, 24/7 support, and professional email. Web hosting consists of 3 packages: essential, business, and expert. The choice depends on the number of websites you want to host.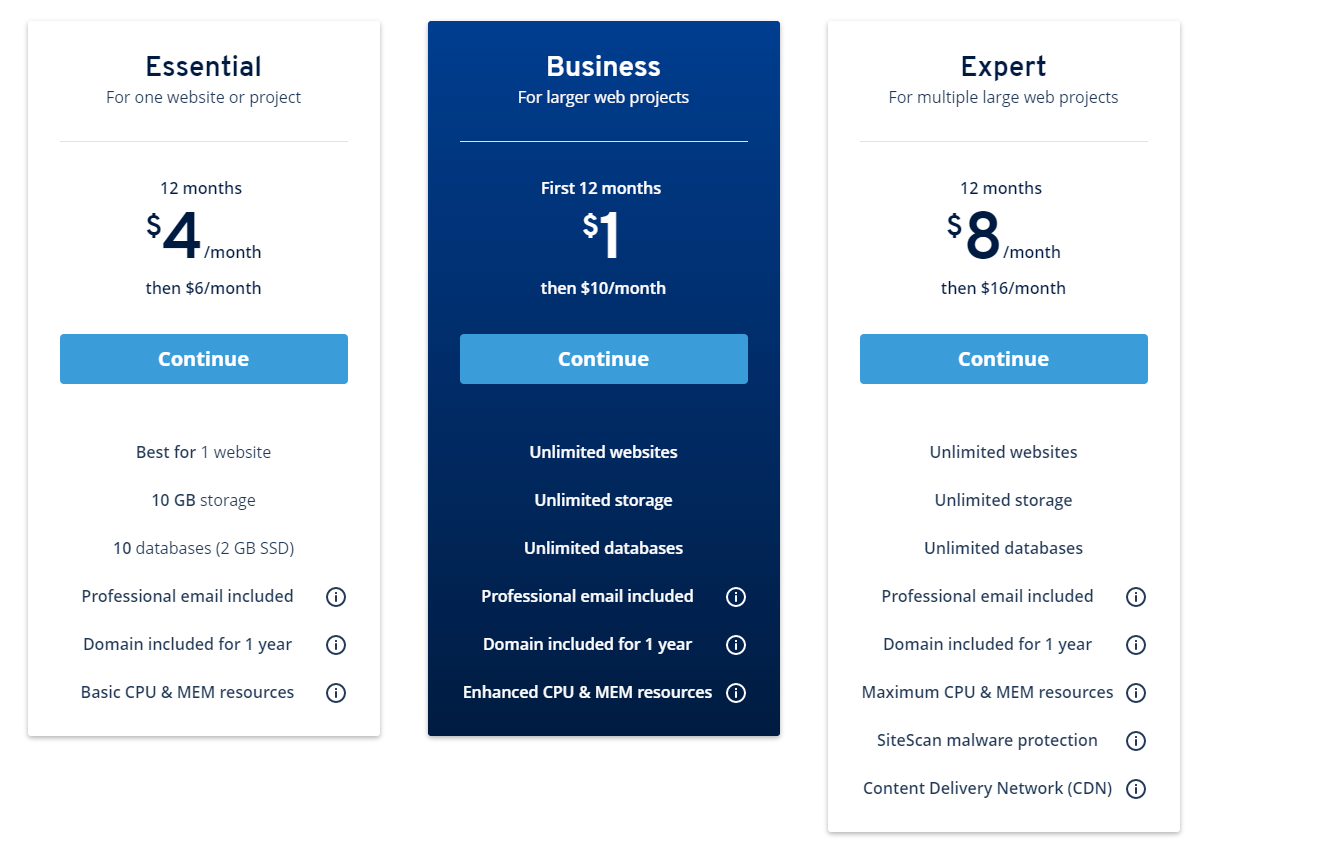 Ionos WordPress Review
With WordPress hosting, you can quickly launch your website without paying extra for the features you need. With all the packages, you get free 24/7 website support. If you don't want to bother with updates, just hire the Ionos support team, and they will manage it for you. Their WordPress option also includes an auto-update for WordPress core files, themes, plugins, and PHP.
All the plans include the following features:
Databases, email, and SSL

99,9% uptime

Security features

Management option

Traffic monitoring

Money-back guarantee
Also, there are many customization features, so you can build a website you want with no limitations in creativity. You can customize the blog, choose from thousands of themes and plugins, and get a responsive web design.
If you are not happy, just apply for a refund and get your money back in the first 30 days. Ionos wordpress hosting review prices are the following: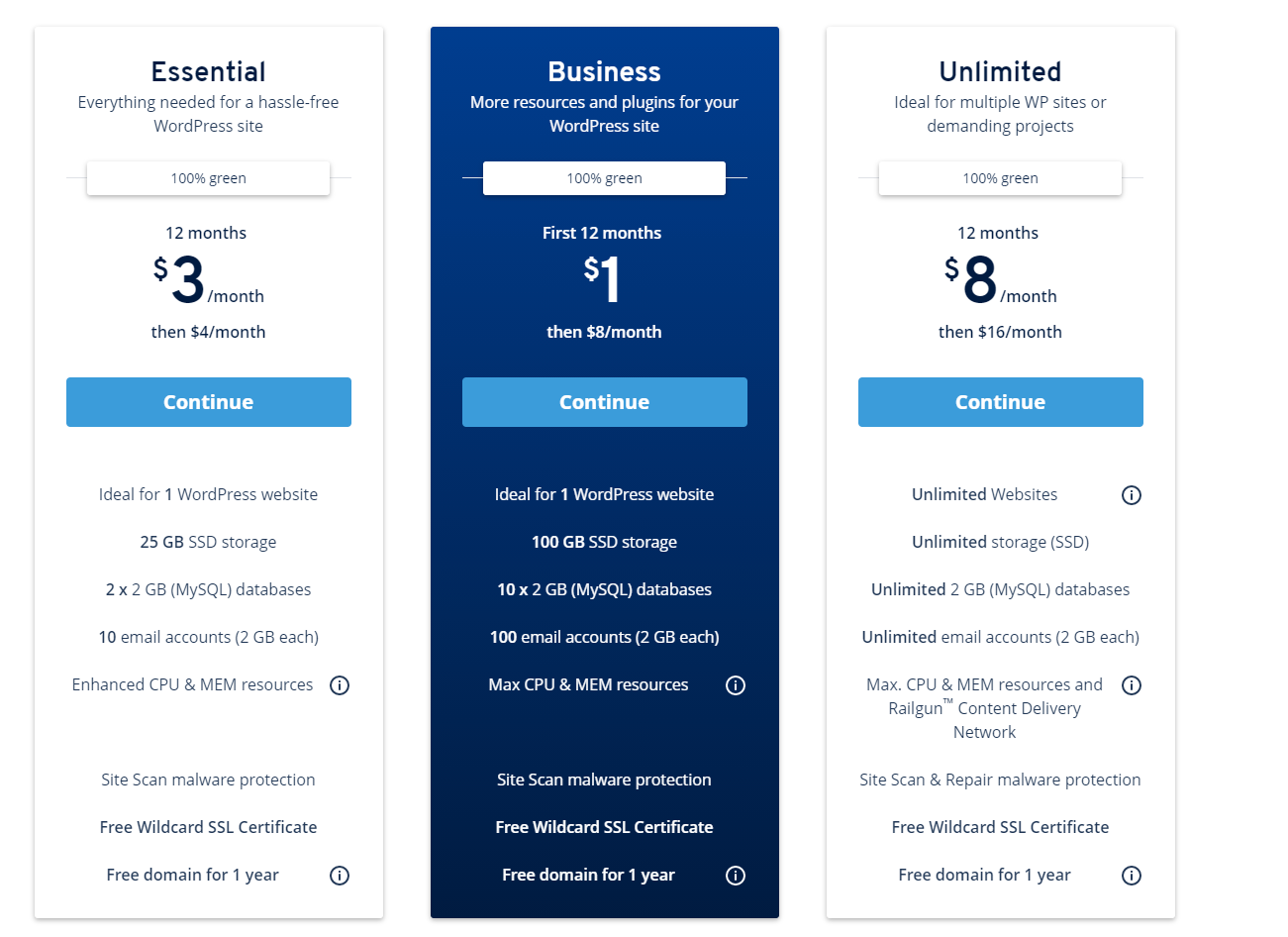 ASP.NET Hosting
All ASP.Net packages come with ASP.NET 4.8 and .NET Core 3.1, free domain, and one free Wildcard SSL certificate. So why should you choose this option? The Ionos data centers have the highest security level, SSL certificate ensures that the data transfers safely, their DDoS protection monitors incoming attacks and keeps your website safe.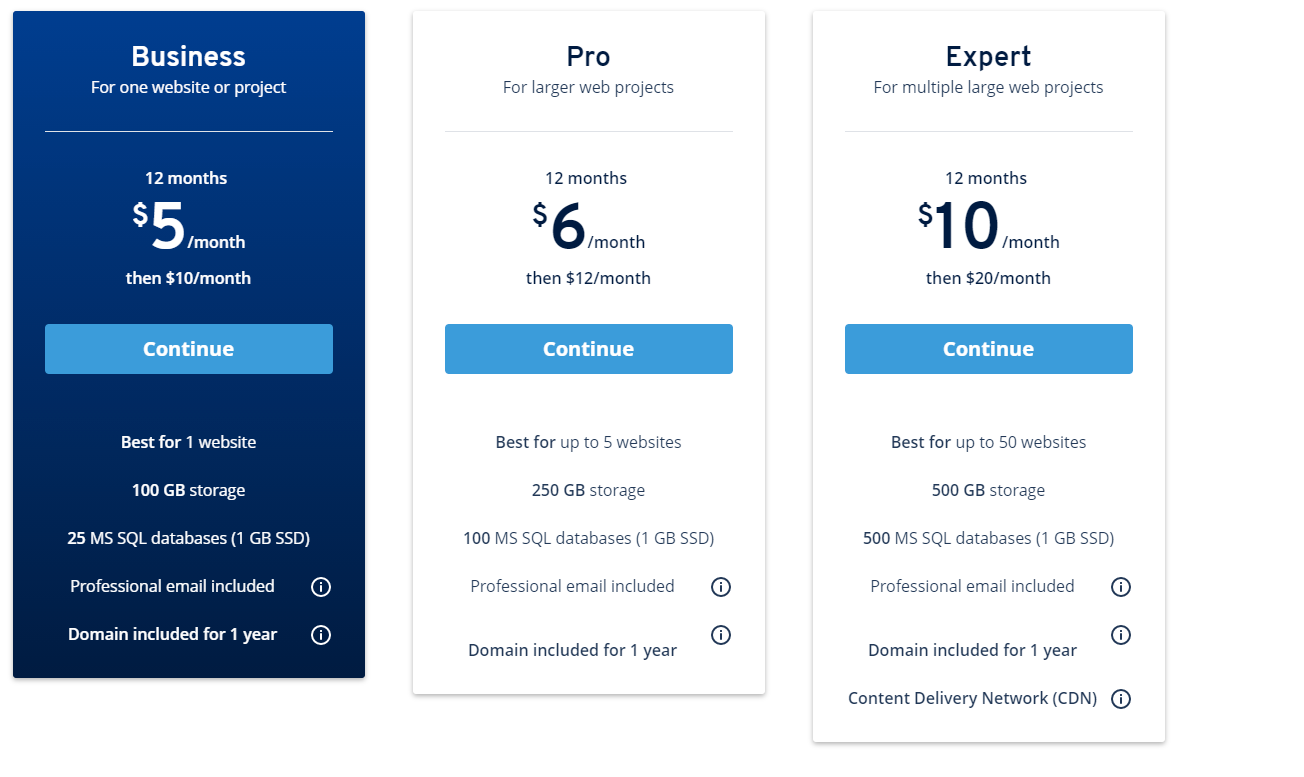 With Windows hosting, you get all the opportunities you need to present modern dynamic web content. Ionos provides users with their website builder so they can create complex websites with no coding skills. Just choose the layout and page settings, and you're good to go.
Dedicated Hosting
Dedicated hosting is assigned just for you–you are in charge of your data now. You don't compete for resources with others and have full flexibility in processing power or bandwidth. You can manage all your dedicated hosting aspects in an intuitive control panel with no server admin required.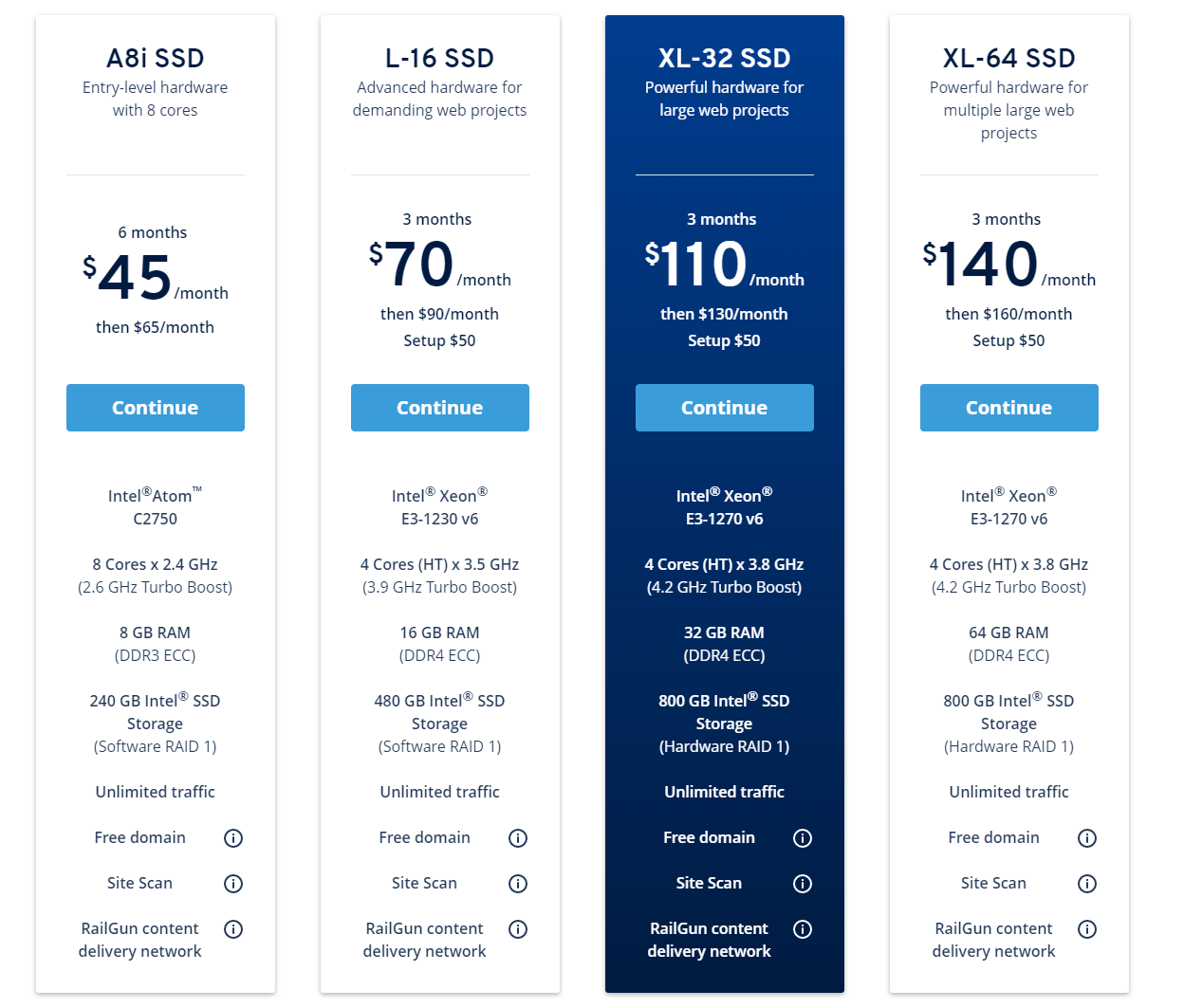 If your visitor number increases, no worries. Dedicated hardware gives the capacity to handle large numbers of users simultaneously, so your website will run smoothly. Their network also offers unlimited traffic and up to 1 Gbit/s connectivity.
VPS Hosting
SSD cloud-powered VPS is a solid choice for demanding projects. You can host your VPS in a location close to your users and spin up the server in just 55 seconds. You also get unlimited traffic and full VMware virtualization, giving you more isolation, autonomy, and security than other virtualization types.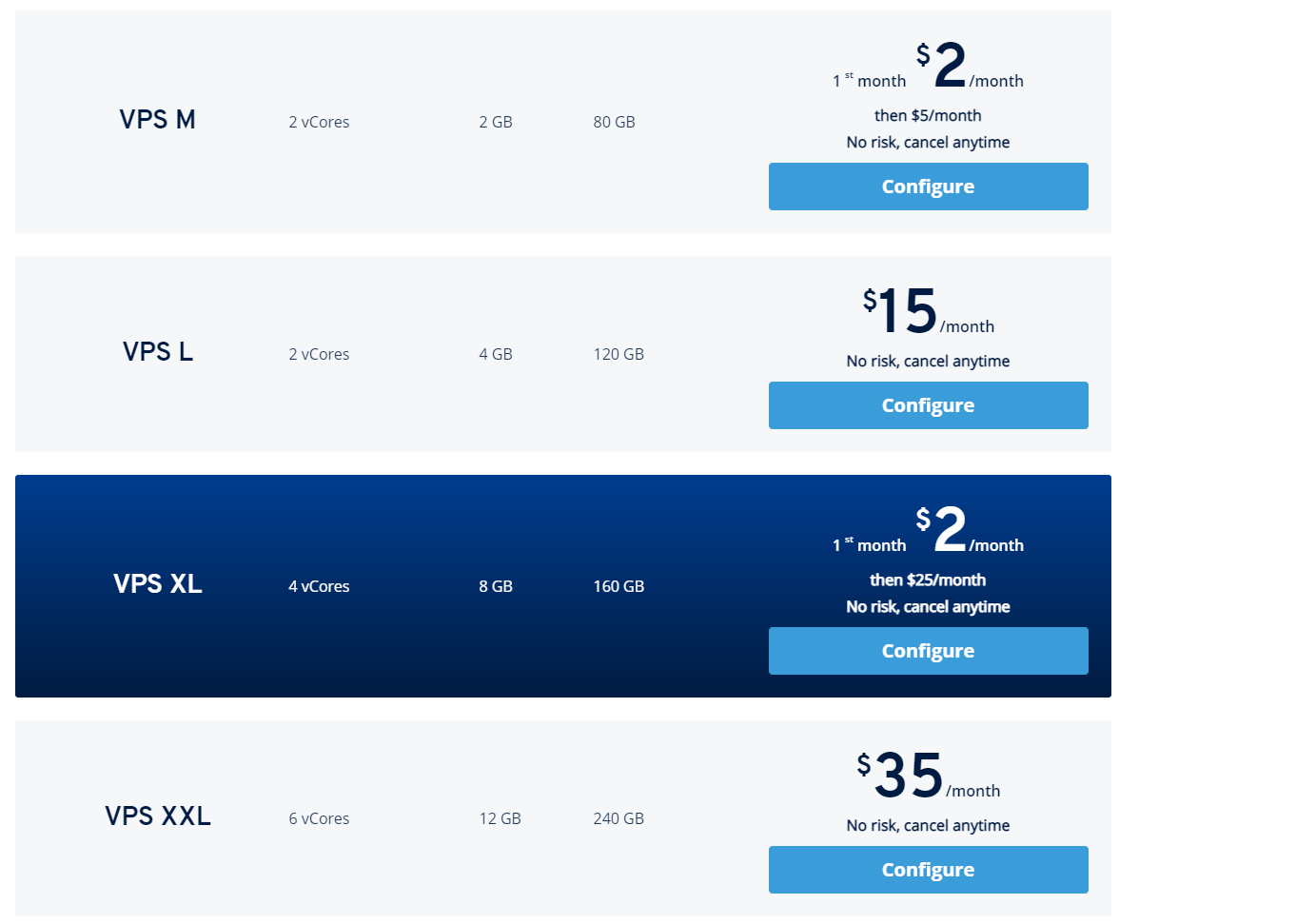 You can use VPS for any industry such as eCommerce, education, and training, games, web apps, and WordPress websites.
Security
Ionos provider uses GeoTrust Dedicated SSL Certificate and a Wildcard SSL certificate that encrypts all the data you use. It also provides free SSL and supports SiteLock, geo-redundancy, HTTP/2. Besides, their denial of service (DDoS) protects your website from incoming attacks.
If any data is deleted or lost, Ionos will restore it, as it automatically stores the backups for up to 6 days. Ionos also includes malware protection and scans your website for threats and vulnerabilities.
Support
Customer support is an essential feature of any provider. If any issue arises, you should be able to contact support so they will resolve it quickly. IONOS includes 24/7 phone support 365 days a year. Also, you can find a lot of guides and how-to articles on their website.
Some plans offer free email support, and also you can contact them via a live chat on the website. A great bonus is that you can receive one-on-one help from your personal consultant, free of charge.
Ionos Hosting Quick Facts
| Fact | Information |
| --- | --- |
| Website migration | Paid |
| Free features | Domain, SSL certificate, email address, unlimited bandwidth, site scan |
| Control panel | Their custom panel |
| Email accounts | Depending on the package |
| Bandwidth | Unlimited |
| CDN | Cloudfare |
| Hidden fees | A lot of upsells and extra features for additional costs |
Ionos Hosting Review: Do We Recommend It?
There are two sides to the coin. On the first side, Ionos is very affordable and comes with a lot of free features and extras. It's great for small businesses, bloggers, and eCommerce stores. They deliver fast uptime, loading speed, and enhanced security.
However, its interface is very confusing, and it can be challenging to use for beginners. Also, you can't sign up with them in most European countries. Also, make sure to read Ionos email hosting review. In general, this hosting is reliable and worth its price. If you are not a beginner, it is a good option for you.
Ionos Hosting Alternatives
If you haven't found what you need in this review of Ionos, consider the following alternatives:
FAQs on Ionos Hosting
What extras do I get with Ionos?
Free migration, cPanel control panel, unmetered bandwidth, 24/7 support, one-click installs, unlimited FTP users, 99,99 uptime guarantee, unlimited MySQL databases.
Can I buy a domain with Ionos?
Yes, it provides one (1) free domain registration with Cloud, Shared, and Optimized WordPress hosting plans with 12 months billing cycle.
Can I upgrade my Ionos pricing plan at any time?
Yes. You can do it at any time. It is free to upgrade, and you only pay for the difference in the plan you upgrade to.
Is Ionos host good for beginners?
No, you should be tech-savvy to use it.
Is the customer support multilingual?
Yes, it provides support in different languages.