Bluehost is one of the oldest and well-known hosting companies. Founded in 2003, nowadays, it is providing services for over 2 million domains. The company operates its servers in-house in a 50,000 square feet facility in Orem, Utah.
Let's dig deeper in our Bluehost.com review to learn why this hosting may be worth using?
Bluehost Pros & Cons
Let's begin our Bluehost review with perks and pitfalls you may face when using the service. Have a quick look at what we've found:
Pros
Cons

Excellent uptime in testing

Easy-to-use interface

Useful Weebly site-building software

Free site migration

Pricing & no hidden charges

Free domain

Access to knowledge base

Upselling Add-ons

Higher domain renewal price
Bluehost Recap
| Characteristic | Information |
| --- | --- |
| Uptime guarantee | 99.95% |
| Server response time | 126 ms |
| Support options | 24/7 email, phone, and live chat |
| Hosting plans | Shared, WordPress, VPS, Dedicated, Managed WordPress |
| Features | unlimited domains and websites, CDN, SSL certificate, no traffic limits, web storage |
| Service locations | USA (Utah), Europe (UK), Asia (India, China) |
| Starting price | $2.75 a month |
Go to Bluehost hosting
Why Choosing Bluehost
Bluehost reviews spotlight numerous advantages of this hosting service. You can build an online store or run your blog without spending much time and effort. You can create as many accounts and domains as needed.
All processes are optimized to ensure a fast pace of your work on the hosting. Bluehost keeps your files safe and sound so that it guarantees security to your business.
Servers all around the globe can cover server speed requirements for all customers. If any problem appears, you can get in touch with a support team at once. You can always get your money back in case you don't like the service.
Possible Drawbacks
Bluehost doesn't guarantee regular backups, so customers should make theirs with Site Backup and store them offline. You can get it through the cPanel.
You should be ready to pay more for domain renewal. Also, you may get annoyed with upselling offers.
Bluehost Performance
Domain manager enables users to purchase or transfer their existing domains and update and manage them in one place. Bluehost applies SSL certificates and encrypted connections to protect users' private information, e-commerce transactions, and other sensitive data.
Specifically, when you choose a Shared hosting plan, your site's performance remains safe and sound.
Bluehost uses CPU and memory to monitor server resources. It ensures a fair share of the system resources for users with shared servers. Moreover, it prevents other users from causing performance issues for other accounts.
If Bluehost detects users who abuse rules and cause problems to other customers, the company takes corrective actions. VPS and Dedicated servers do not have this protection system.
Bluehost Speed Test Results
The speed test result is another crucial factor you should consider when choosing a hosting service. That's why our following step in Bluehost hosting review is to check its performance.
Let's drop a glance at what speed we've detected after testing:
| Test | Average Loading Time |
| --- | --- |
| GTmetrix test | 5.3s |
| Pingdom test | 2.97s |
| PageSpeed Insights (Google) | 3.7s |
Consequently, Bluehost is far from being a leader in this race, but its performance shows that you can still build or transfer your website to this hosting.
Bluehost Uptime Rate
Uptime is crucial for any business. If your site is down, it means no one can access it. So, you lose a lead flow and thus conversions. Consistent uptime is a #1 priority for any hosting service.
Well, how good is Bluehost? Have a look at the results within the last several months.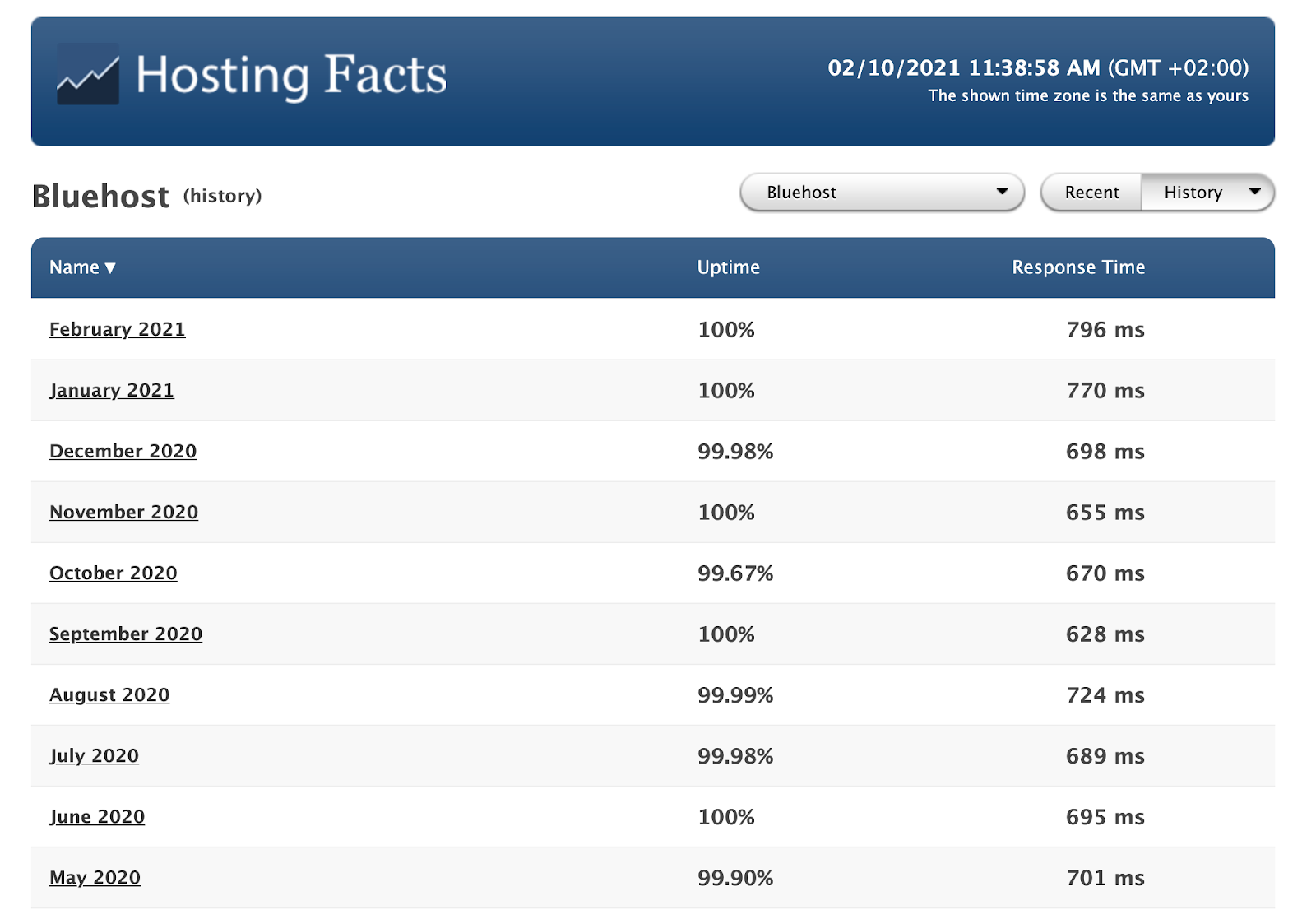 Based on Pingdom stats, you can see that Bluehost shows a 100% uptime in 2021. The lowest rate was in October, but, on average, it's 99,95%. So you wouldn't worry about your website on Bluehost even though it doesn't provide any guarantees. Bluehost promises to resolve any issues within 15 minutes. It may take longer with serious problems.
What is Bluehost Server Response Time?
Among the wide variety of tools, we've used a proven one, Bitcatcha. This service tests a server response time in different spots without loading any data. It shows how fast your site is in such locations as the West and East US coasts, London, Singapore, São Paulo, Bangalore, Sydney, Japan, Canada, Germany. Once Bitcatch has checked the speed three times in each spot, the system provides an average result.
It's time to find out Bluehost's speed server rate: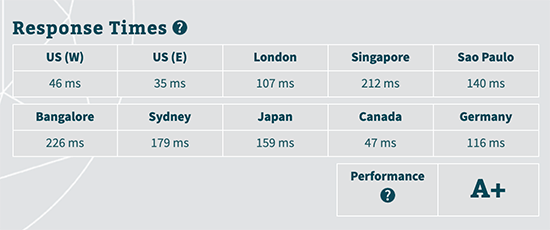 As you can see, the
Bluehost
server works faster in the United States, performing a response in a fraction of a second. In other locations, it takes a bit longer, yet it's less than a second. With this Bluehost web hosting review of the server response time, you can decide whether this platform fits your expectations.
Collect a comprehensive picture of your target audience's features to benefit from Bluehost. Besides, you can change your server location to provide top-notch interaction with a website for your customers.
Bluehost Site Migration
You can transfer your WordPress site to Bluehost for free, using a migration plugin. To do that, you need to create an account and install the plugin. The migration team will contact you to review your website, checking the WordPress version, database size, current secure plugins, use of WordPress multisite, and PHP version. If your website meets the criteria, the experts will move it to Bluehost.
Bluehost also offers paid migration services, transferring up to five websites and 20 email accounts. However, they are not available for Reseller, VPS, or Dedicated Server accounts. These services will cost you almost $150.
Bluehost Plans: Services and Pricing
Bluehost plans encompass several packages with numerous opportunities for your business growth.
What does each plan include?
Shared Hosting
Bluehost web hosting reviews cannot be complete without an overview of plans with Shared hosting. It's the easiest and the most cost-efficient way to have your website working. You can choose out of four different 12-, 24-, or 36-month package.
Each includes domain manager, resource protection feature, scalability options, SSL certificates, and extended opportunities for Google Ads and Google My Business.

Pricing varies from
$2.75 to $16.95
a month.
WordPress Hosting
With in-built features of the WordPress plan, you can get the most out of it. Whether you have a blog, website, or online store, this plan perfectly matches your needs. What do you get then?
Bluehost offers three packages with an automatic WordPress installation and updates, secure setup of login credentials, available Microsoft 365, a domain name free for a year, and Google My Business verification.

Prices start at
$3.95 a month
.
VPS Hosting
Bluehost offers a next-Gen VPS Hosting with multi server management, access control, and file management. Users can also choose such optional add-ons as SiteLock, domain privacy, and protection.
The set of features all of three packages include ensured flexibility and increased power of your website with SSD storage on private servers.

Prices start at
€16.72 a month
.
WooCommerce Hosting
WooCommerce plan is a perfect choice for an online store. It's integrated with WordPress and tailored specifically to help users add products, customize features, and utilize plug-ins.
You can build, promote and start selling by effectively implementing in-built site monitoring and statistics. Multiple caching layers are there to optimize your site. Free SSL, domain privacy, and protection will ensure your business safety. By the way, a domain is free within a year.

Bluehost offers Standard and Premium packages for 1, 12, and 36 months.
Prices start at $12.95 a month.
Dedicated Hosting
A Dedicated hosting plan is intended for websites that require the ultimate control, performance, security, and control. Despite the package, every user gets a free domain name for a year, a free SSL certificate, and a refund guarantee within 30 days.

By purchasing this plan, you can also get advanced features like improved cPanel and multiserver management.
Prices start at € 66.90 a month.

Security
Bluehost cares about security a lot. Users' accounts have excellent protection. Only those with access can log in. The system prevents malicious actions by using different measures.
Bluehost uses two-factor authentication and offers single sign-on. Users don't have to reuse the same insecure password they may use for accounts on other sites.
You can generate a custom token every time you sign the system in. It is used to validate a user's identity and minimizes hacking attacks. Eventually, Bluehost encrypts files and messages, so you can send and receive them securely.
Site security encompasses SSL certificates. Users get them for free when registering. Rookies can find more information on how they work in a simple overview. Besides, users can purchase a private SSL certificate to boost their security, including a dedicated IP address from Bluehost.
Support
Bluehost's customer support team is ready to help you around the clock via different avenues like live chat, telephone, email, and support tickets.
Users have to contact the correct Bluehost support team to get the fastest reply. The Technical support team helps in tackling all technical related issues. If you have problems with account verifications, terms of services, or other inquiries related to billings, you should contact the Account Management team.
The Sales team handles general inquires and deals with new Bluehost visitors or potential customers.
Unlike many other hosting services, users don't have to sign up for an account to get support. Even when not receiving a quick response, they can always search for answers in the extensive knowledge base.
It contains a vast number of articles, video tutorials, step-by-step guides, and detailed FAQs. Users just have to find a good web hosting topic.
Takeaway on Bluehost: Do We Recommend It?
Yes, we'd like to suggest placing your website at Bluehost, one of the oldest global host providers. Whatever your purpose is, you can achieve it at different tech levels and comfort. As our Bluehost hosting reviews show, the service can provide you with a bulk of beneficial features and other business solutions at a reasonable price.
Although speed time isn't the fastest and there's no uptime guarantee, you can rely on this hosting provider. Moreover, a wide range of packages can satisfy the needs of businesses of all scales.
Beginners can launch their sites effortlessly due to embedded Weebly drag-and-drop website building and intuitive interface. For developers, Bluehost provides advanced features to customize and improve their sites. All users can refer to the knowledge base anytime when questions arise.

Alternative Platforms to Bluehost
If you need a bit of information about other hosting services before coming to a decision, check out the next options.
FAQs: Learn More about Bluehost
Is Bluehost good for beginners?
Yes, Bluehost is one of the best choices for beginners on the market. The company automatically installs WordPress when a user signs up. With an integrated, easy-to-use control panel, newbies can manage their accounts without extra help. Otherwise, they can address the support team for help or find needed information in video tutorials or detailed guides.
Can Bluehost handle high traffic?
Bluehost can match small business requirements. However, you should choose and upgrade a hosting plan according to your needs.
Can I transfer my domain name to Bluehost?
Yes, it's an easy process. After purchasing a hosting plan with Bluehost, you need to follow the instructions in your control panel to make the transfer and begin using your domain name from your Bluehost account.
Can I set up an automatic renewal for my site?
Yes, this option is available for every user. Bluehost sets up auto-renewal for all new accounts, but you can switch to manual payment if necessary. So, you can select a renewal per month or year based on your needs. Bluehost team contacts users whenever a payment is due or about to be withdrawn for your renewal.
Is the customer support multilingual?
No, the Bluehost support team speaks only English.