7 Days to Die is a zombie survival game released in 2013 by The Fun Pimps. Since then, 12 mln copies have been sold – a vivid testimony to its success. You can play it on your PC with Windows, Linux, macOS X, as well as PS4 and Xbox One.
7D2D combines elements of first-person shooter, survival horror, role-playing, and tower defense. The player will have to survive the aftermath of a nuclear war. To do it, you should find a safe place to stay, food, and water while fighting off hordes of zombies and wild animals.
The game supports both single and online multiplayer modes. A fan might want to enjoy some unique gaming experiences with others. Various web-hosting companies offer 7 Days to Die servers to provide smooth performance for a large group of players.
However, which hosts are the best? How should one choose the top host for this game? Read on to find out!
Minimum 7 Days to Die Server Host Requirements
If you decide to set up a 7 Days to Die server, you should look at the hardware requirements. The official website of the game states that just to run the game on your computer will need at least:
2.4 GHz Dual Core CPU
8 GB of RAM
2 GB dedicated memory for graphics
Broadband internet connection
12 GB available disk space
The minimum requirements for 7 Days to Die server host will certainly be higher. The game creators specify that "running the Dedicated Server and Client on the same computer will double RAM requirements." The particular specifications will depend on the number of players, size of the game maps, number of adversaries, etc.
The experts advise having at least 8GB of RAM for 7 Days to Die host server. 16 or even 32GB will be better if you aim for some really big multiplayer experience. As for CPU, you should look for a quad-core i5 or Ryzen 5. Note that having an SSD (Solid State Drive) is also important to boost your server's performance.
Benefits Of Running Your Own 7 Days to Die Host Server
Why should you bother to get your own 7Days to Die server? It will definitely require some time, skills, and money. Nonetheless, there are some evident upsides.
First and foremost, you have full control over your dedicated server. Most companies offer 24/7 support to help you with any questions. Also, you have extra hardware resources at your disposal if you need them. Besides, you choose the location of your server to eliminate lags. All that results in a smoother game experience. On top of it, having your own 7 Days to Die dedicated servers provides ample room for game customization.
The Top 9 7 Days to Die Server Hosting Providers
Best 7days To Die Server in Details
You've already seen our list of the top hosts above. What makes them the best for 7 Days to Die hosting? What are their main pros and cons? Let's have a closer look.
1. Host Havoc – Best for Large Servers
Host Havoc offers hosting for a variety of games. It has data centers all over the world and provides great performance. Besides, the company is renowned for helpful 24/7 support.
The price per server slot for the minimum amount of slots (14) is quite high – $1. Thus, small Host Havoc isn't the best option for small 7DTD server hosting. Nonetheless, the price goes down the more slots you purchase. The max option (40 slots) is just $0.59/slot. In combination with other advantages, it makes Host Havoc a great choice.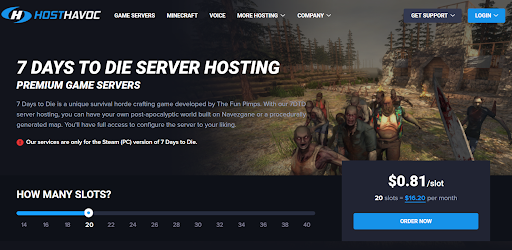 MAIN FEATURES
Price: from $14/month
RAM: 8 GB
Free trial: No
Players: 14-40
Control panel: TCAdmin
DDoS protection: Yes
Mods allowed: Yes
Instant setup: Yes
Pros
Cons

99.9% uptime guarantee
10 locations around the world
72-hour money-back guarantee
Easy mod support

The price per slot is high
No free trial
GTX Gaming – Best 7D2D Hosting Overall
GTX Gaming is a reputable company, operating since 2008. It hosts more than 500 7 Days to Die game servers worldwide. Every year, the company replaces its machines to keep up with the latest technology. All that ensures great performance. The custom panel will satisfy the needs of both a beginner and a pro.
The monthly prices start below $10, which is a really cheap option. The longer billing cycle will make the pricing even more attractive. You have a wide range of slots to choose from (10 – 120). All in all, GTX Gaming is arguably the best 7 Days to Die server host.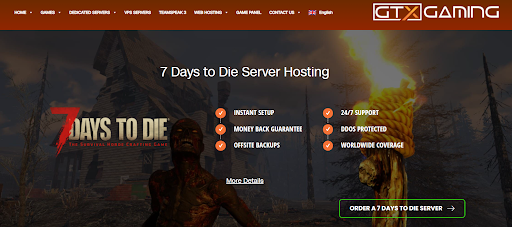 MAIN FEATURES
Price: from $9.20 per month
RAM: 8 GB
Free trial: No
Players: 10 – 120
Control panel: Custom
DDoS protection: Yes
Mods allowed: Yes
Instant setup: Yes
Pros
Cons

Worldwide coverage
Low price
Up to 120 slots
All maps supported
SSD storage
Easy switching between games
Dedicated Discord page for support

Support is relatively slow
The money-back guarantee is only for 24 hours
Survival Servers – Best for Performance
Survival Servers may not be the most popular company in our list. Still, it also has quite a long history, dating back to 2012. Its top-notch hardware, including Intel/AMD CPUs and NVMe SSD drives, ensures excellent performance. Besides, you can switch server locations at any time.
FTP access allows pro players to have more control over the gameplay. The custom-made control panel is quite easy to use. All that comes at a decent price, making Survival Servers a great choice for 7 Days to Die server rental.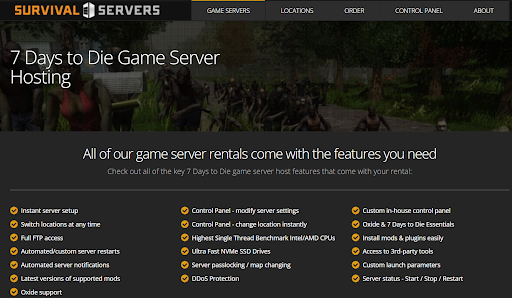 MAIN FEATURES
Price: from 12.50 per month
Free trial: No
Players: 10 – 28
Control panel: Custom
DDoS protection: Yes
Mods allowed: Yes
Instant setup: Yes
Pros
Cons

Great performance
7 data centers around the world
Custom control panel
Full FTP access
PingPerfect – Best Support
PingPerfect supports over 130 games, including 7 Days to Die. It offers reliable, high-performing servers at a decent price, starting from $1.15 per server slot. The advanced features include full FTP and browser support. Free web hosting will come in useful, if you want to create your own gaming community.
PingPerfect's main advantage, however, is its excellent customer support. The response time is really short (ten minutes or even less), and the managers are eager to help. With this company, you will get the best 7 Days to Die server in terms of support.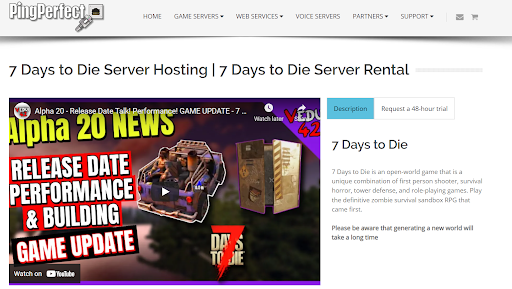 MAIN FEATURES
Price: from $13.12 per month
RAM: from 6GB
Free trial: Yes
Players: 12 – 48
Control panel: Custom
DDoS protection: Yes
Mods allowed: Yes
Instant setup: Yes
Pros
Cons

48-hour money-back guarantee
Servers in more than 20 locations
Great support
Free web-hosting

Large servers are quite expensive
Nitrous Networks – Reliable 7 Days to Die Hosting
Nitrous Networks offers web hosting for more than 20 games. With more than ten years on the market, it has a decent reputation. Nitrous Networks might not be the cheapest 7 Days to Die servers hosting on the list or the one with the most locations. Still, its prices are reasonable, and the uptime record is solid. The support staff is always there for you if you need help.
MAIN FEATURES
Price:
from $13.10 per month
RAM:
unlimited
Free trial:
No
Players:
8 – 32
Control panel:
TCAdmin
DDoS protection:
Yes
Mods allowed:
No
Instant setup:
Yes
Pros
Cons

Unlimited RAM
SSD storage
Free web hosting
7-day money-back guarantee
FTP access

No mod support
No offsite backups
XGamingServer – Hosting for Unlimited Number of Players
XGamingServer is another solid choice for Seven Days to Die server hosting. Top-notch hardware, including Intel i7 6700k/7700k CPUs, boosts performance. Besides, the provider focuses on providing low server response times (though server locations could be more versatile). The custom-build panel is optimized for the game, making customization easy.
What really sets XGamingServer apart is the infinite number of server slots. Its three 7D2D packages vary in CPU capacity, RAM, and storage, not numbers of players. Still, the provider acknowledges that too many players on a cheaper server will affect the gameplay.


MAIN FEATURES
Price: from $13.00 per month
RAM: 4 – 8GB
Free trial: Yes
Players: no limit
Control panel: Custom
DDoS protection: Yes
Mods allowed: Yes
Pros
Cons

Unlimited slots per package
Automated backups
Custom panel
Improved file manager

Servers only in Europe and Canada
Low RAM
Indifferent Broccoli – Hosting with a Free Trial and a Refund
This curiously-named hosting provider is quite serious about the quality of its services. It ensures the high performance and reliability of its servers. The clients often compliment it for quick and easy server setup. Customer service is fast, friendly, and helpful.
Moreover, Indifferent Broccoli offers a 2-day trial as well as a money-back guarantee. You can essentially set up your 7 Days to Die game servers without paying anything. And the price is quite reasonable in comparison to other providers.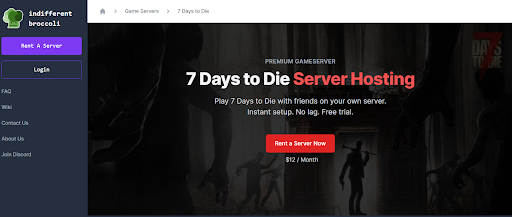 MAIN FEATURES
Price: from $12.00 per month
RAM: 128GB
Free trial: Yes
Players: 12 – 64
Control panel: Custom
DDoS protection: No
Mods allowed: Yes
Instant setup: Yes
Pros
Cons

2-day free trial
7-day refund
Quick setup
Helpful support

No server locations outside North America and Europe
Nitrado – Best Hosting Provider for Flexibility
Nitrado's focus is on providing its clients with as much freedom as possible. The number of available slots varies from just 4 to 200. Also, you can get a server for only three days or a year. You can change the active game for free at any time. Besides, one can switch between many services. All that makes Nitrado a great choice for 7 Days to Die modded servers.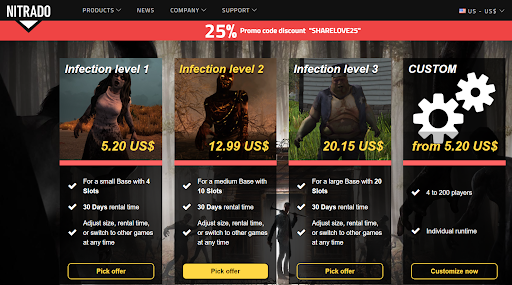 MAIN FEATURES
Price: from $5.20 per month
RAM: from 8 GB
Free trial: No
Players: 4 – 200
Control panel: Custom
DDoS protection: Yes
Mods allowed: Yes
Instant setup: Yes
Pros
Cons

Daily backup for game server files
7 modern data centers worldwide
MySQL database for free
Customer support in 9 languages (via email)
G-portal – Best for Scaling
G-portal offers you a quick 7D2D server hosting. You can have your game server in a matter of minutes. Intel Xeon E5 2690V2 servers ensure sufficient performance. With Random Seeds Generator, you can randomly generate gaming worlds in the web interface. Typical packages include from 10 to 30 slots.
However, the custom configuration allows you to pick as many as 1.000 slots – though it will be a really pricey option.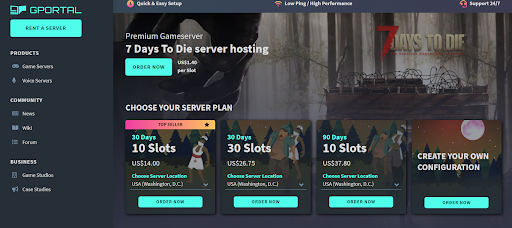 MAIN FEATURES
Price: from $14.00 per month
RAM: from 8GB
Free trial: No
Players: 10 – 1.000
Control panel: custom
DDoS protection: Yes
Mods allowed: Yes
Instant setup: Yes
Pros
Cons

50GB backup
Fast NVMe SSD hard drives
14 server locations all over the world
Random Seeds Generator

Customer support could be faster
Best 7 Days to Die Servers Hosting Comparison (table)
We reviewed the top 9 providers of best 7 Days to Die server hosting in detail. To sum up, here is a table with their main features. Have a careful look at it and make your choice!
Hosting
Pricing / mo
(starting at)
RAM
Free trial
Players
Control panel
DDoS protection
Mods allowed
Instant setup
Host Havoc
$14.00
8GB
No
14-40
TCAdmin
Yes
Yes
Yes
GTX Gaming
$9.20
8GB
No
10-120
Custom
Yes
Yes
Yes
Survival Servers
$12.50
8GB
No
10-28
Custom
Yes
Yes
Yes
PingPerfect
$13.12
6GB
Yes
12-48
Custom
Yes
Yes
Yes
Nitrous Networks
$13.10
unlimited
No
8-32
TCAdmin/td>
Yes
No
Yes
XGamingServer
$13.00
4GB
No
unlimited
Custom
Yes
Yes
Yes
Indifferent Broccoli
$12.00
128GB
Yes
12-64
Custom
Yes
Yes
Yes
Nitrado
$5.20
8GB
No
4-200
Custom
Yes
Yes
Yes
G-portal
$14.00
8GB
No
10-1.000
Custom
Yes
Yes
Yes
How to Choose The Best 7 Days to Die Server Hosting Provider
As you can see, there are a lot of options to choose from. What should you consider to get the top 7 Days to Die servers? These are the main factors:
Performance and reliability. Performance should be your key concern, or the gaming experience will suffer. Look for companies with top-notch hardware, offering enough RAM for your needs.
Price. The price often depends on the number of slots you opt to have. As offers vary, calculating the price per slot may be a good idea.
Server locations. Data centers in close proximity to the gamers ensure better server response time. Make sure your servers won't be on the other side of the globe.
Mods. Mods provide you with more options for game customization. Check whether a hosting provider supports them.
Easy setup. With automatic systems, your server will be up and running in just a few minutes. It will make your experience with private servers much more satisfying.
Control Panel. Many hosting providers use the generic TCAdmin panel. However, a custom-made control panel may be a better choice as more suitable for the needs of a particular game.
Customer Support. At some point, you may need help. Try to find out whether the customer support of the provider is responsive and helpful.
Paying for 7 Days to Die Hosting vs. Hosting Yourself
Connecting with other players via a network and using your private machine to run the game may seem a good choice. You don't have to pay extra and are in full control. However, it doesn't always provide the best gaming experience.
On the one hand, using your PC as a server may be OK for gameplays with moderate requirements and several players. But if you have something big and custom in mind, a beefy machine and really reliable network will be required. Otherwise, the lags and crashes (especially during the Horde Night) will spoil everything. Buying and maintaining a PC with enough CPU, RAM, graphics, etc. may cost a pretty penny.
On the other hand, hosting providers have data centers with excellent resources and connectivity. Top companies will set up your powerful server in no time. 24/7 customer support can help if any difficulties arise. No need to fuss about security and many other technical details. Tune the game to your liking, invite other fans and enjoy! Isn't it worth the fee hosting providers charge?
Final Thoughts
You may shy away from the idea of buying access to a dedicated server to play your favorite game with like-minded people. However, if you yearn to unlock new multiplayer experiences or build your own gaming community, that is the best option. Renting a server isn't as expensive or complicated as it may seem. Study our list of the best 7 Days to Die server hosts and take your pick!
7d2d Server Server Hosting FAQ
Why Get A 7 Days to Die Server Host?
Game server hosting providers offer access to top-notch hardware for affordable prices. They allow you to customize your gaming experience and play together with dozens of other gamers. Also, abundant resources of 7 Days to Die server hosts would ensure security and the absence of lags.
What To Look For in a 7 Days to Die Server Hosting Service?
The key factors to consider are reliability, performance, available numbers of slots, and the price per slot. Contact customer service before buying a server. You will have the ability to estimate the response speed and depth.