The niche of racing games is saturated with quite similar games. In most of them, you need to avoid collisions to win. And only a few games in history offered the fun of ramming your opponents. Wreckfest is the newest of them and probably the best.
We have prepared a comprehensive overview of the Wreckfest game and the possibility of creating or renting your Wreckfest dedicated server to play with friends. We'll also look at some of the best Wreckfest server hostings.
What is Wreckfest? Wreckfest is not a classic online racing game where you must go fast and smoothly in a nice shiny car. Wreckfest is about destruction. How to play Wreckfest? The game's goal is to crash into your opponents and wreak as much havoc as possible, hoping you'll survive and come out on top. It's a game about fun, severe crashes, and heart-pounding races. Soft body damage is even simulated in the game. Wreckfest multiplayer is thus "fun mayhem" worth keep coming back to.
In addition to the more fun Wreckfest multiplayer, you have access to a single-player campaign. It includes five championships, and the events of each of them are unique in style. To unlock the next set of races, you must complete the previous one and score a certain number of points. There are typical speedways, but most single-player campaigns are whimsical tests, destruction derbies, and unusual, funny vehicles. And all thin on various platforms, including PS4, Xbox, and, of course, PC.
Sounds fun, doesn't it? So let's now learn more about how to create your Wreckfest server, what benefits it offers, and what options there are to buy or rent Wreckfest server.
Minimum Wreckfest server Hosting Requirement
It's cool to be able to play Wreckfest with friends on a separate server. Thanks to this, you can customize the multiplayer game as you like and play only with the people you want. You can even start your small community.
But running your private dedicated Wreckfest server is not as easy as it seems. First, you need to have sufficient hardware resources and learn how to create and configure a server. And this whole process requires specialized knowledge, additional time, and often financial costs.
Let's start with the hardware part. The developers say that it is desirable to have the following computer specifications for the Wreckfest multiplayer:
Processor: Core i5 3.0GHz or AMD equivalent
RAM: 8 GB
Video card: NVIDIA GTX 970 or AMD equivalent
DirectX: Version 11
Disk space: 32 GB
Accordingly, to host server, you will need even better hardware. How much better depends on how big a community you plan to build. We recommend having at least two times the recommended stats to keep people returning to your Wreckfest server.
At the same time, if you don't want to spend time and effort figuring out how to run your server, there is a way out. The best solution will be to find the right hosting provider for you. That's why we created this review. We suggest you look at a few of the best hostings among dozens of others we have analyzed. So, the list.
The Top 6 Wreckfest Server Hosting Providers
When we talk about dozens of hosting servers, we are not exaggerating. The data services market is developed, and each provider has its advantages and disadvantages, but there are always the best ones. Currently, the list of the best Wreckfest server hostings looks like this:
Best Wreckfest Servers Hosting in Details
But before choosing any of this list, check out our short reviews of each provider. Each of these Wreckfest game servers hostings has its strengths and weaknesses. Below we explain all these in detail to help you choose the most suitable one.
1. GTX Gaming – one of the most reputable hostings
GTX Gaming is one of the most reputable companies in the industry, founded in 2007. The company constantly updates its equipment to the latest standards. Data centers are located all over the world, which ensures low latency. The cheapest packages cost less than $10 per month. All packages include 24/7 support, DDOS protection, and more. The working interface allows you to configure the Wreckfest dedicated server quickly.

MAIN FEATURES
Price: from $7 per month
RAM: 5–32 GB
Free trial: No
Players: 20–24
Control panel: Custom
DDoS protection: Yes
Mods allowed: Yes
Instant setup: Yes
Pros
Cons

Worldwide coverage

Low price

SSD storage

Dedicated Discord page for support

24-hour money-back guarantee

Relatively slow support
Ready to choose your plan? — Go to
GTX Gaming
hosting
2. Host Havoc – high-performance hardware
Host Havoc is another well-known provider that offers rented servers for many games? incuding Wreckfest game servers. The company invests in high performance and places its equipment in data centers worldwide. Prices per slot start from $0.50 with a minimum of 10 slots. But the more slots you order, the lower the price.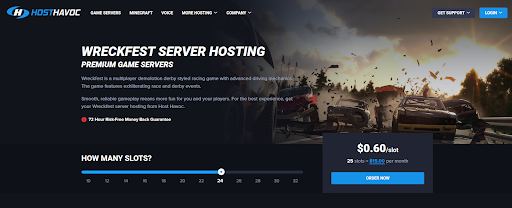 MAIN FEATURES
Price: from $5 per month
RAM: 8 GB
Free trial: No
Players: 10-32
Control panel: TCAdmin
DDoS protection: Yes
Mods allowed: Yes
Instant setup: Yes
Pros
Cons

99.9% Network Uptime

FTP/File Manager Support

Fast plugin/mod support

Good control panel

72 Hour Risk-Free Money Back Guarantee

10 is the minimum number of slots
Ready to choose your plan? — Go to
Host Havoc
hosting
3. PingPerfect – one of the best customer support
Another top-tier Wreckfest server hosting, PingPerfect, has over 130 other games listed. A rented server on high-end modern equipment starts at $0.41 per slot, which is lovely. But the smallest number of slots is 16. Concerning customer support, PingPerfect is one of the best options for hosting your Wreckfest server.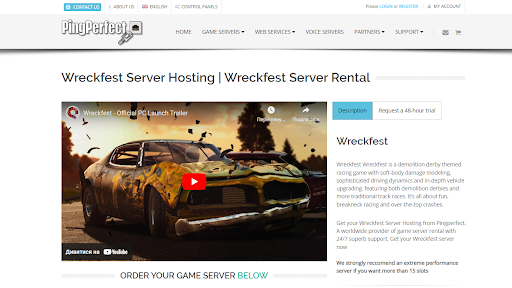 MAIN FEATURES
Price: from $7 per month
RAM: from 6GB
Free trial: Yes
Players: 16–24
Control panel: Custom
DDoS protection: Yes
Mods allowed: Yes
Instant setup: Yes
Pros
Cons

Outstanding performance

48-hour free trial period

Data centers around the world

Good support

Not all needed documentation is available

Large servers can get expensive
4. Zap Hosting – provider of not only game servers
Zap-Hosting was founded in 2010 and is now one of the most famous game server hosting companies. At the same time, the company offers a wide range of services, including voice servers, VPS, root servers, and of course Wreckfest servers. The company's data centers are located worldwide, including US, Europe, China, and Australia.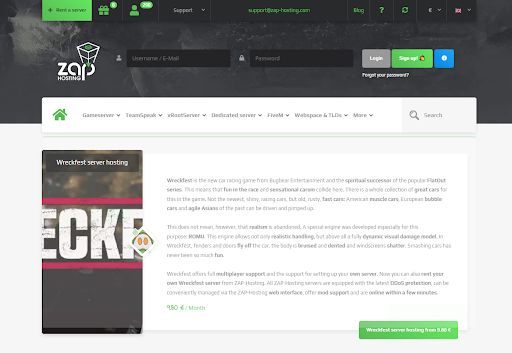 MAIN FEATURES
Price: from $10 per month
RAM: up to 32GB
Free trial: Yes
Players: 20–32
Control panel: Custom
DDoS protection: Yes
Mods allowed: Yes
Instant setup: Yes
Pros
Cons

Outstanding support

Up-to-date info on website

Data centers all around the world

Easy to use with Multicraft or TCAdmin

Root servers may crash
Ready to choose your plan? — Go to
Zap
hosting
5. Citadel Servers – good round-the-clock support
Citadel Servers also differs from many competitors in that it provides more than just game server hosting services. Of course, you can still purchase Wreckfest server hosting. But web hosting, voice hosting, VPS, and others are also available. Coverage of various market segments, including the corporate market, requires the company to provide good round-the-clock support.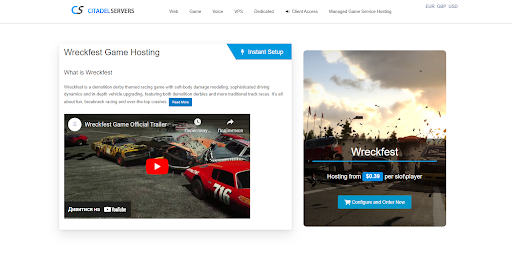 MAIN FEATURES
Price: from $6.8 per month
RAM: unlimited
Free trial: No
Players: 8–24
Control panel: Custom
DDoS protection: Yes
Mods allowed: Yes
Instant setup: Yes
Pros
Cons

24/7 Support

7-Day Money-Back Guarantee

Prices can be Permanently Freezed

DDoS Protection

Slightly lower performance than competitors
6. GamingDeluxe – constantly updates the hardware to the latest
GamingDeluxe is another excellent choice for Wreckfest server hosting. The company uses the latest hardware, including Intel i7 6700k/7700k processors. But unfortunately, the company's data centers are not located all over the world, so this Wreckfest server hosting is not suitable for everyone. Services are available mainly in North America, Great Britain, and Australia. GamingDeluxe also offers several server slots without a limit.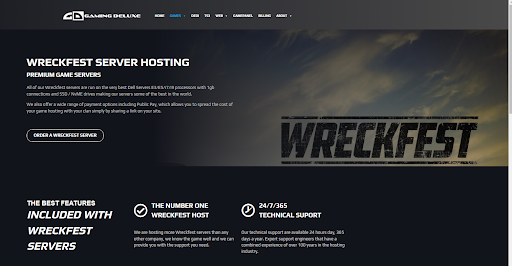 MAIN FEATURES
Price: from $8.4 per month
RAM: 5-32GB
Free trial: No
Players: 20–24
Control panel: TCAdmin
DDoS protection: Yes
Mods allowed: Yes
Instant setup: Yes
Pros
Cons

Free 5GB Memory Allocation

Free 10 Slots

Powerful hardware

Reasonable prices

No free trial

Not much information on the website
Wreckfest Servers Hosting Comparison
Let's now summarize our conclusions in a more convenient table format and compare server hostings of the Wreckfest game:
Hosting
Pricing / mo
(starting at)
RAM
Free trial
Players limit
Control panel
DDoS protection
Mods
Instant setup
GTX Gaming
$7
5-32GB
No
20–24
Custom
Yes
Yes
Yes
Host Havoc
$5
8GB
No
10–32
TCAdmin
Yes
Yes
Yes
PingPerfect
$7
6GB
Yes
16–24
Custom
Yes
Yes
Yes
Zap
$10
32
No
20–32
Custom
Yes
Yes
Yes
Citadel Servers
$6.8
unlimited
No
8–24
Custom
Yes
Yes
Yes
Gamingdeluxe
$8.4
5-32GB
No
20–24
TCAdmin
Yes
Yes
Yes
How to Choose The Best Wreckfest Server Hosting Provider
If you decide to buy Wreckfest server hosting from a specialized provider, be sure to consider all possible pitfalls. In addition, not every server hosting may suit you, so pay attention to the following points before choosing.
Equipment specifications. Hosting the Wreckfest game servers requires one and a half or even two times more powerful equipment than the developers indicate for a comfortable game. This will ensure a great gaming experience for everyone on your server. Usually, providers have sufficient hardware resources; the only question is the price.
Low-cost. An essential factor because despite the low starting price, adding specific parameters can significantly increase the final check. On the other hand, expensive servers do not necessarily mean high performance and reliability.
Data center location. This is one of the most important things about hosting dedicated Wreckfest servers. The lowest latency and stable connection can be guaranteed by data centers located in your area.
Mods. The standard Wreckfest game is fun and includes a ton of content. But mods can make this experience even more vivid. Therefore, consider whether your hosting provider allows you to run modified Wreckfest servers. Also, check if your control panel will enable you to customize mods.
Control panel. This is important because a convenient and understandable control panel can make life much easier. Most Wreckfest game servers hosts use either their custom panels or TCadmin. The latter is usually not configured.
Buy or Rent Wreckfest Server Hosting vs. Hosting Yourself
We have already told you about the advantages of a dedicated Wreckfest server, what you should pay attention to, and what the requirements are for a Wreckfest server. We also analyzed the most popular Wreckfest server hostings and their strengths and weaknesses. And now, one question remains. Buy or rent a Wreckfest dedicated server or host your own?
If you rarely plan to play Wreckfest multiplayer with a limited group of friends, then your own Wreckfest host server is still better suited. Of course, you will need to understand the Wreckfest server setup process well, but as a result, you will have complete control over all functions and processes.
Wreckfest server rental also has its advantages. First, you will be sure that the server is placed on really productive hardware and with a reliable Internet connection. Secondly, the control panels of the providers allow you to install and configure servers and mods in one click. In addition, you have specialized support.
Final Thoughts
Wreckfest servers rental has many advantages compared to a personal server. For a relatively small monthly fee, you get a server that can be configured in one click, installed on high-performance hardware, and maintained by a technical support team 24/7.
If you love the Wreckfest game and want to build a community of interested players, consider buying the Wreckfest server. But before you do, reread our review because we've collected the best advice on this here.

Wreckfest Server Hosting FAQ
How do I host Wreckfest server?
To run a Wreckfest server, you first need to determine if you have a powerful enough computer to run it. Also, consider a stable internet connection. After that, ensure you thoroughly study the complex Wreckfest server setup process.
How do you make a Wreckfest multiplayer server?
You need to select the Multiplayer option in the main menu. Various options will be available there, including the Wreckfest server list with random players and the 'Creating a server' option. Click and configure the server as you want.