Anyone who plays computer games has at least once heard about Minecraft, one of the most famous video games ever created. Its unique concept, gameplay, and versatile mechanics offer players an unforgettable game experience.
Another prominent feature of the game is the availability of thousands of mods that add even more distinctive features to a multifaceted Minecraft universe. Some of them are just cosmetic changes while the others introduce more radical gaming shifts: new survival mechanics, new units, new localities, etc. RLCraft is one of the latter, and RLCraft server can definitely make Minecraft gameplay phenomenal.
But before diving deeper into the comparison of rl craft server hosting providers, let's take a closer look at the aspects that make this mod so attractive. So, what is RLCraft?
This is not a single mod, but a set of 169 ones that is to make the Minecraft world more challenging. On the one hand, it adds some specific units and locations to the game, such as dragons, castles, ruins, or dungeons. On the other hand, it introduces some new features like thirst bar, temperature and heat, enhanced compass and map, random spawning, and many more.
And here's the question: does everyone possess such a powerful PC to ensure a trouble-free game experience for the whole team? Perhaps entrusting this issue to a reliable RLCraft server hosting provider can be a better idea. Deeper analysis of the technical requirements and what resources a gamer needs for server hosting will give us a better understanding of this topic.
Minimum RLCraft Hosting Requirement
RLCraft is a set of modes for Minecraft. Logically, the first thing to do in order to understand the requirements for its server hosting is to look through the hardware requirements of the game itself. Below you can find the minimum and recommended requirements for the PC version:
Minimum Requirement
Recommended Requirement

CPU: Intel Celeron J4105 / AMD FX-4100 or better

Memory: 4 GB RAM;

GPU: Intel HD Graphics 4000 / AMD Radeon R5 series;

Network: Broadband Internet connection;

Storage: 2 GB HDD;

OS: Windows 10 version 14393.0 or higher

CPU: Intel i7-6500U / AMD A8-6600K or better;

Memory: 8 GB RAM;

GPU: NVIDIA GeForce 940M / AMD Radeon HD 8570D;

Network: Broadband Internet connection;

Storage: 2 GB HDD;

OS: Windows 10 version 14393.0 or higher
Rl craft server hosting set up will definitely require even better components. First of all, a player needs the latest variant of Forge (Minecraft Forge is a game add-on that lets you install and enable mods) for the 1.12.2 game version. Moreover, the RLCraft mod's creator insists that the server hosting also requires allocating 3 to 4 GB of RAM. As we can see, rlcraft hosting requires solid machines.
Benefits Of Running Your Own RL Craft Server Hosting
Despite the high requirements for the rlcraft server host, the prospect of launching your own server looks very attractive to many gamers. And here are some most visible reasons.
The first one is total control over your own dedicated server, both from the viewpoint of settings and the gameplay. You choose whom to invite, what mods and mechanics to enable, what rules to adopt.
The second one is additional computing resources at your disposal. Extra hardware is truly in need, especially paying attention to rlcraft server requirements. Together with the possibility to choose the location of servers, this provides smooth game performance and prevents game crashing or lags.
Last but not least, own server hosting offers unlimited space for game customization. This is extremely vital due to the very nature of Minecraft, its focus on world's creation and modification. Make the survival challenge with your friend even more fascinating.
The Top 5 RLCraft Server Hosting Providers
Best RLCraft Hosting in Details
You have just seen our list of the best rlcraft server hosting options. Now we suggest taking a closer look at each of the providers to analyze advantages and disadvantages and compare them.
1. Apex Hosting — Solid Hardware Support
Apex Hosting is 100% among the best server hosting providers. According to official information, it has hosted more than 300 000 Minecraft servers, offering Java and Bedrock editions.
With apex hosting rlcraft mod can be installed in one click — another feature of this provider. It also offers DDoS protection, comprehensive 24/7 technical support, automated backups, and a powerful control panel.
The price varies from $9.99 (2GM RAM, basic servers & some modpacks) to $49.99 (10 GB RAM, basic servers & all modpacks) per month, depending on the plan. However, the company offers a discount for the first month, so if a gamer wants to order hosting only for 1 month, the price reduces to $7.49–37.49, respectively.
At the same time, there is a special ultra-performance plan for the most demanding audience with the following characteristics: 15GB DDR4 RAM, Ryzen 5800X 3.8 GHz (4.7 GHz Turbo), 4 vCores, NVMe SSDs, free support of a premium level, and free dedicated IP. The price is $59.99 ($44.99 first month).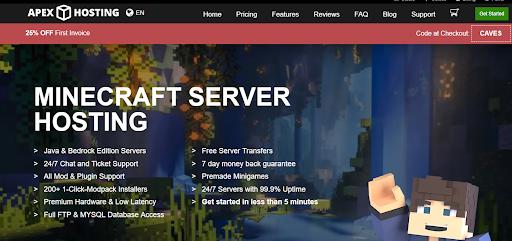 MAIN FEATURES
Price: from $9.99 per month
RAM: 2–15 GB
Free trial: No
Players: unlimited
Control panel: Custom
DDoS protection: Yes
Mods allowed: Yes
Instant setup: Yes
Pros
Cons

Unlimited number of slots

19 server locations

7-day money-back guarantee

Dedicated live chat support

Preconfigured minigames

The price for small teams is relatively high

No free trial
Ready to choose your plan? — Go to
Apex
hosting
2. Scala Cube — Offers the True Variability
Scala Cube is another option for the RLCraft server hosting. It also offers hosting for more than 1000 packs of mods so the player can truly enjoy the game customization. With servers located in North America, Europe, Asia, and Australia, gamers can enjoy smooth performance almost from every corner of the globe.
One-click instant server setup and a solid support system that includes various guides make Scala Cube a good choice for inexperienced players. The tutorial can easily explain how to set up a server and how to play rlcraft mod. At the same time, 9 available plans allow choosing the most suitable opportunity.
The price for the rl craft server hosting with Scala Cube is in the range between $10 for 20 slots and $192 for 600 slots on a monthly basis. We should also mention that a 50% discount is available for the first month. Another feature of this service is that it automatically recommends this or that plan depending on a gamer's server settings.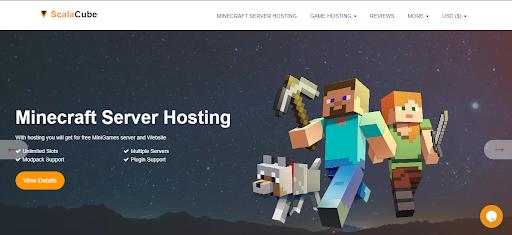 MAIN FEATURES
Price: from $10 per month
RAM: 1.5–32 GB
Free trial: No
Players: 20–600
Control panel: Custom
DDoS protection: Yes
Mods allowed: Yes
Instant setup: Yes
Pros
Cons

9 plans available

Up to 32 GB RAM

Supports both Java and Pocket versions of Minecraft

SSD storage

There could be more server locations

No money-back guarantee

Minimum 20 players
Ready to choose your plan? — Go to
Scalacube
hosting
3. Host Havoc — Unlimited NVMe SSD Storage
Host Havoc possesses its data centers in 10 locations around the globe. Together with ultra-fast processors (latest Ryzen and Xeon E-series CPUs with speeds of up to 4.6GHz), this guarantees a high level of performance.
The loading time is also low due to NVMe SSDs, which are more than seven times faster than ordinary SSDs. This keeps the high general availability of 99.9%. Host Havoc provides instant setup and 24/7 support as well.
There are 8 available plans with an unlimited number of player slots. However, the developers specify in each plan the recommended size of the team, both for vanilla and modded versions. Every gamer should definitely consider these recommendations. Consequently, there are 7 suitable plans between $10 and $80 per month. They offer up to 3 and 80 slots for modded versions, respectively (according to recommendations).


MAIN FEATURES
Price: from $10 per month
RAM: 2–16 GB
Free trial: No
Players: 1–80 (recommended for modded version) – unlimited
Control panel: TCAdmin
DDoS protection: Yes
Mods allowed: Yes
Instant setup: Yes
Pros
Cons

99.9% uptime guarantee

10 locations around the world

72-hour money-back guarantee

Easy mod support

The price per slot in a modded version is high

No free trial
Ready to choose your plan? — Go to
Host Havoc
hosting
4. BisectHosting — Best for Large Teams
BisectHosting offers a reliable rlcraft hosting with a great variety of peculiarities, such as free full FTP access, free MySQL, free modpack installation, free unlimited slots.
The game performance is also on a high level due to the usage of NVMe or SSDs. This allows to cut down I/O time and helps to make loading faster. The possibility to use an unlimited number of slots definitely makes the multiplayer much more attractive. At the same time, an easy-to-customize control panel with many features guarantees efficient management over the server.
The price starts at $11.96 per month for 2 players. In the case of an annual billing plan, it decreases to $10.76. The 199+ player slots cost $95.68 and $86.11, respectively. We should also mention that some services may require additional payments.


MAIN FEATURES
Price: from $11.96 per month
RAM: from 4GB
Free trial: No
Players: 1–unlimited
Control panel: custom
DDoS protection: Yes
Mods allowed: Yes
Instant setup: Yes
Pros
Cons

Unlimited number of players

Free modpack installation

Custom JAR support

4 server locations in a budget version

Some features require additional payments
5. ServerMiner — Comprehensive Technical Support
ServerMiner offers single-click installation, instant setup, and automatic server update to the last version. The provider also handles all the technical issues like port forwarding.
The most prominent feature, however, is the unlimited world size. Players can explore the vast game world without worrying about disk space. Exclusive access to SMpicnic, the world's most powerful Minecraft Server control panel, allows players to manage servers in the way they want. Server location in 10 places provides lag-free game performance.
There are 7 ServerMiner plans for teams of 15 to 100 players. The price is $7.58 and $47.74 per month, respectively. According to the plan, a gamer can count on 1.5–10 GB RAM.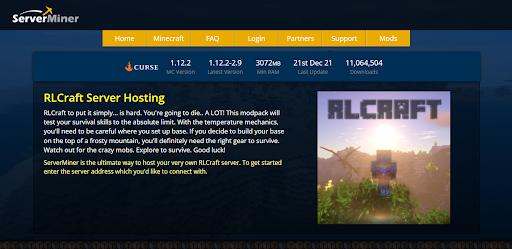 MAIN FEATURES
Price: from $7.58 per month
RAM: 1.5–10 GB
Free trial: No
Players: 15–100
Control panel: custom
DDoS protection: Yes
Mods allowed: Yes
Instant setup: Yes
Pros
Cons

Unlimited world size

Powerful control panel

Easy mod support

A range of support videos and articles

Minimum 15 players

No free trial
Best RLCraft Server Hosting Comparison
We prepared a list of the best rlcraft server hosting providers and described the peculiarities of each one. Let's now sum up everything in brief.
Hosting
Pricing / mo
(starting at)
RAM
Free trial
Players
Control panel
DDoS protection
Mods allowed
Instant setup
Apex Hosting
$9.99
2GB
No
Unlimited
Custom
Yes
Yes
Yes
Scala Cube
$10
1.5GB
No
20–600
Custom
Yes
Yes
Yes
Host Havoc
$10
2–16GB
No
1–80
TCAdmin
Yes
Yes
Yes
BisectHosting
$11.96
4GB
No
Unlimited
Custom
Yes
Yes
Yes
ServerMiner
$7.58
1.5GB
No
15–100
TCAdmin
Yes
Yes
Yes
How to Choose The Best RLCraft Server Hosting Provider
Above, you can find the rlcraft server list. Each of the providers has unique features, pros, and cons. But what should an ordinary player look at while choosing a suitable option? Here are some most crucial moments:
Mods availability. RLCraft is a mod to a vanilla game, so make sure that the server hosting allows you to use it. Otherwise, your efforts are useless.
Reliability and performance. Positive emotions and a smooth problem-free game experience are exactly what every player wishes. Pay attention to the hardware the company uses and double-check RAM availability for your particular needs. This is 100% compulsory if you want to enjoy rlcraft server hosting free of any troubles.
Server locations. Lagging is also possible because of the too distant location of a server. Make sure that the distance between you and a data center is not thousands of miles. A good server response time directly depends on this parameter.
Price. You need to pay some money for the server hosting services in each case. Compare all the providers and their plans. Check the available discounts or billing cycles. Spending some time to calculate the price of one slot is always wise.
Server setup difficulty. Not every player is a professional in technical issues. An automatic setup saves a lot of time and effort. Moreover, it ensures that everything goes well.
Customer support. In case there are any problems, customer support service is your first assistant. Before purchasing a server hosting, check whether you can rely on the provider in the issues of solving problems and providing all the necessary information.
Control panel. Some gamers enjoy possessing full control over all the processes. If you are one of them, take a look at the control panel and its features.
Paying for RLCraft Hosting vs. Hosting Yourself
While preparing to enjoy the rl craft multiplayer, gamers definitely wonder what is better: to host the server themselves or entrust this issue to a specialized provider.
Using your own machine may seem to be a good choice. You can control all the details and manage all the processes. In addition, you don't need to pay extra fees. Finally, some players might consider setting up a server via a hosting provider a difficult task.
In reality, however, everything is not so simple. RLCraft server requirements are quite high, especially if you plan to assemble large teams. It's an open secret that not every PC is able to perform well in such a situation. Game crashing and permanent lagging are issues gamers don't want to experience. Buying the best hardware, on the other hand, is not a cheap task.
Hosting providers can easily solve this problem. Their data centers possess top-notch equipment. The connectivity is also a strength of hosting providers due to server locations distributed all over the world.
Finally, the process of setting up servers with specialized companies is, in fact, a very simple task. Quick installation and instant automated setup allow gamers to save lots of time. Customer support available 24/7 is always ready to answer all the questions and provide any necessary assistance.
With the pros mentioned above in view, it becomes obvious that in order to enjoy the rlcraft server free of any problems, it is much better to rely on a dedicated hosting provider. Assemble as large a team as you want, explore the most challenging locations and build your own world without feeling any limitations.
Final Thoughts
With such a variety of options available on how to enjoy rlcraft servers, gamers may get confused. We did our best to answer the question "what is rlcraft" and elaborate on how to play rlcraft most easily. This guide also contains information regarding the best hosting providers. Specialized companies offer many advantages, such as quickly installing and setting up everything, the opportunity to count on immense hardware, and dedicated 24/7 support.
All these factors guarantee an unforgettable gaming experience. Don't lose your time and energy zap!
RL Craft Server Hosting FAQ
What is the best server hosting for RLCraft?
The answer to this question directly depends on your particular request. Most providers share some common features like instant rl craft server setup, 24/7 support, versatile server locations, DDoS protection, etc. However, each also possesses some unique peculiarities. Consequently, Apex Hosting is a good choice if you need solid hardware. Looking for unlimited NVMe SSD storage? You would better try Host Havoc. Preparing to gather hundreds of players together? BisectHosting would satisfy your needs.