Domain.com was created in 1998 and is currently one of the oldest providers ever. Users note its high-speed operation and quick download times. But is everything so good?
What are the disadvantages of the world's best-known web hosting? Well, let's find out more about it in this domain com review!
Domain.com Pros & Cons
Although Domain.com cannot provide unique features that its competitors have, this service is still one of the most adored. Let's take a quick look at its pros and cons.
Pros
Cons

Easy website setup

Low prices

Security features

Windows-based servers

Unlimited storage

24/7 customer service

99.9% uptime

Scalable bandwidth

Free SSL by Let's Encrypt

No monthly plans

No uptime guarantee

Concurrent HTTP connections

Unmodern interface
Domain.com in Brief
| Characteristic | Information |
| --- | --- |
| Characteristic | Information |
| Uptime guarantee | 99.9%  |
| Support options | 24 hours (live chat, phone, mail) |
| Hosting plans | Web hosting plans, WordPress, Shared, Dedicated, Email |
| CMSs | WordPress, PrestaShop, Magento |
| Features | Unlimited disk space, Create subdomains, SSL certificate, Scalable bandwidth, eCommerce solutions |
| Starting price | $3.75 a month |
Go to Domain hosting
When to Use Domain.com
If you have to find a provider able to guarantee you all the essential functions of competitors for a relatively small fee, then Domain.com is your choice.
It would be a perfect option for those who have already had experience with similar providers. Consider Domain.com if you run a small business. You save money compared to competing services and still have the same functionality.
The distinctive feature of this provider is that it offers e-commerce solutions and marketing tools. Keep it in mind if it is what your business is about.
When Not to Use Domain.com
As we noted above in our brief Domain.com review, you may find it challenging to understand the interface if you are a newbie. Competitors offer a more up-to-date and functional admin panel. More experienced users will be able to figure it out independently, but the support team is unlikely to help you with complex tasks.
Before working with Domain.com, you'd better talk to the support to understand precisely whether this service is suitable for your tasks.
Domain.com Performance
Generally, performance and uptime are the most important advantages of all the providers. Domain.com doesn't provide any information about its performance on the official website. To find out how good Domain.com's performance is, we purposely tested other services. Have a look at their results below.
Domain.com Speed Test Results
To find out how fast Domain.com allows the user to load the page content, we ran some tests. Since the official site does not provide detailed performance information, these tests show us how fast Domain.com is.
Here are the results:
| Test | Average Loading Time |
| --- | --- |
| GTmetrix test | 4 s |
| Pingdom test | 2.22 s |
| PageSpeed Insights (Google) | 3.95 s |
What's our conclusion? We see that although the results are not ideal in comparison with popular competitors, they are close enough. Its performance is sufficient to solve most business tasks. It is an excellent result for its cost. If you need the load time to be shorter, we can suggest looking at other services.
Domain.com Uptime Guarantees
This hosting provider doesn't state an uptime guarantee on their official website. We asked the customer service department for details.


Domain.com offers a
99.99% uptime guarantee
. If we trust the customer service, that's a reliable result! Well, we'll have to take their word for it.
Domain.com Server Response Time
Above, we've already run the tests that let us know the average loading time. These figures indicate how fast users can get all the content from the site. However, to analyze server response time more accurately, without considering content loading, we decided to use Bitcatcha.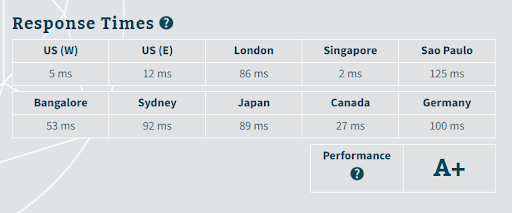 The program noted that regardless of your location, Domain.com provides fast loading speed. Yet again, this hosting provider is swift, and this is the best possible result, according to Bitcatcha. As we can see, the service gave the provider the
A+ mark
. Judging by the numbers, it's an outstanding result! The service compared this result average against Google's recommendations of 200ms response time.
Domain.com Site Migration
Domain.com offers domain transfer services, which are described in detail on its website. However, transferring the domain name and migrating a website is not the same thing. The former is like changing your telecommunications company while preserving your phone number.
The latter is similar to copying the content of the phone to a new device. Domain.com can help you with moving the domain, but not with the website data.
Domain.com Hosting Types, Features, and Pricing
Domain.com provides three hostings options: Dedicated, Shared, and WordPress Hosting. Here are three basic pricing plans suitable for companies of different sizes.

You can choose the right for your needs and not overpay for the functionality you don't need. Unlimited disk space and scalable bandwidth are in every one of the plans.
Dedicated hosting
Domain Dedicated hosting is almost the same as getting your domain. This kind of hosting you won't have to share with other companies, so only you and your company employees will have access to it. It is a great way to get the best possible performance, bandwidth, and storage capacity.
You should choose this hosting if you have a large company whose tasks require a lot of resources. If you run a large online store, then dedicated hosting from this provider is the perfect solution.
The dedicated type of this provider gives users complete freedom of action in a variety of settings. However, there are also some disadvantages. First, the pricing. It is significantly more expensive than the rest two types.
Secondly, to understand settings, you should have experience with hostings like that. According to domain hosting reviews, we can additionally make sure that it is an excellent option for large corporations.
Shared hosting
Shared hosting is one of the most affordable types, which is suitable for most business tasks. The low price and affordability are because your business will share the service with several companies.
Thanks to this fact, you can significantly reduce your budget for hosting ownership. Not bad, is it? Each of the companies that share hosting will have a different storage amount, depending on the plan you choose.
Shared hosting is the cheapest hosting option offered by Domain.com. With less storage, bandwidth, and capacity, it is still ideal for small companies.
WordPress Hosting
In addition to the services above, the provider also offers the opportunity to buy
hosting for WordPress
. Use themes adapted for mobile devices, and be sure that this hosting is perfectly compatible with the platform!
Security
There are two main threats to your site–attackers and the possibility of making a mistake yourself. Domain Confidentiality + Data Protection from Domain.com allows you to conduct regular malware scans. The service representatives state that they do their best to protect the confidential information of users and propose SSL Certificates for every service plan.
It all shows that the company is quite serious about security.
SSL Certificates allow you to show your site users that they will be safe here. It will increase the level of trust from both search engines and users. Thus, your ranks will be higher.
Thanks to Domain.com's advanced security features, you can:
Protect yourself and your site users from personal data leakage.

Filter spam.

Protect your site from access by third parties.
Support
If we talk about support service, the official website notes that operators are available at any time a day by email, live chat on the service's website, even by phone. In domain web hosting reviews, users noted the fast response, responsiveness, and expertise. However, if you come with complex questions or a pressing problem, it can take some time to resolve it.
It is a significant con if you are an experienced user or represent a large product company. Failure to get answers to your problem can result in your company's financial and reputational losses if the problem is not fixed as soon as possible. Keep this fact in mind when searching for the best option.
We contacted the support with several clarifying questions, not answered on the site. We had to wait for nearly 10 minutes, but the answers provided didn't give us any new information. Furthermore, we can conclude that the support is not fast, and not every expert is highly qualified.
Domain.com Quick Facts
| Characteristic | Information |
| --- | --- |
| Storage | unlimited |
| Scalable bandwidth< | included in each plan |
| Free SSL by Let's Encrypt | included in each plan |
| Websites | 1 for the Basic plan, no limitation for other |
| Premium Support | included in the Ultra plan |
| FTP users | unlimited in the Ultra plan |
| Hidden fees and clauses | renewal prices are higher. |
Go to Domain hosting
Domain.com Review: Do We Recommend It?
Yes, we can recommend this hosting. To conclude our domain review , we can say that this is a good fit for users who already have experience with such providers. If you are a representative of a small company and don't expect complicated tasks, then it's the best one for this low price.
Domain.com has shown excellent results in checking the download speed. There are unlimited memory and a free certificate of site protection in every tariff plan.
Of course, it can be difficult to make sense of an outdated interface. However, the support team is available 24 hours a day and will always help you with this issue.
Domain.com reviews from users indicate that it is a quality service that gives constant access.

Domain.com Alternatives
It is a cool choice for a small business. However, to give you confidence in your decision, we have prepared several options to choose from that you can use as an alternative. Read more domain reviews on our site.
Bluehost — a perfect one for WordPress sites with many specific functions;
SiteGround — ensures 100% uptime and has nice reputation;
Hostgator — a good-known web hosting with low prices.
FAQs on Domain.com
What extras do I get with Domain.com?
Here you can get a free domain name for a whole year, unlimited storage for each plan. Domain.com offers a 99.99% uptime guarantee. Every plan includes an SSL Certificate from Let's Encrypt. Even the cheapest one. That's nice. Isn't it?
Can I buy a domain through Domain.com?
Yes, of course. Luckily, it's straightforward. On the main page of the site, use the menu to check the domain's availability and make a purchase in 2 clicks.
Can I Upgrade My Domain.com Plan at Any Time?
To upgrade or change it to another one, you should contact the support service in any convenient way. Hopefully, they'll get back to you quicker than they did to us.
Is Domain.com Good for Beginners?
No. The interface here is outdated, and you may have trouble figuring out all the settings. Choose this provider if you already have some experience with such hosting services. In that case, it won't be too hard for you to start work.
Is the customer support multilingual?
Unfortunately, there is only the English language. Anyway, we don't think it's much of a problem.