Space has always been subject to people's interest — it admires, attracts, frightens. With the launch of Space Engineers, everyone willing can now dive deep into exploring this mysterious world.
Space Engineers is a sandbox game that allows players to explore, construct and survive in open space and on the planets. Gamers can build and pilot spaceships, gather resources, investigate planets and asteroids, settle outposts or space stations.
Space Engineers is available on Windows (via Steam), as well as on the Xbox One console. With more than 4 million copies distributed since the launch of the game, Space Engineers is truly loved by its fans.
Two things particularly contribute to that. The first one is the volumetric-based physics engine that provides a high level of realism. The second one is an opportunity to enjoy the exploration of space in a multiplayer mode, in addition to a single mode. Multiple web-hosting companies provide Space Engineer servers in order to guarantee the efficient and trouble-free interaction of small and large groups of players.
It is no surprise that It is often difficult to determine which Space Engineers server hosting is the best among many available options. Keep on to find some useful findings below.
Minimum Space Engineers Server Hosting Requirement
If you decide to set up a Space Engineers server, hardware requirements are the first thing to look at. According to the information from the official sources, to run the game, you'll need at least the following characteristics:
Processor: Intel i5 @ 3.0 GHz or higher (or AMD equivalent)
Memory: 8 GB of RAM
Graphics: Geforce 750/Radeon R9 270X or higher
Storage: 35 GB available space
Internet connection: 5Mbit/s or more (only for the multiplayer mode)
Running a Space Engineers server hosting definitely calls for higher requirements. Game developers specify that a Space Engineers server host needs .NET Redistributable 4.8 or higher version and installed Visual C++ Redistributable packages 2013 and 2017. If you want to run a server as a service, you need A Windows PC with an administrator account as well.
Moreover, you'll also be needing at least a CPU 3.2GHz, 3 logical cores, 6 GB RAM, and 5 Mbps bandwidth. However, the recommended requirements include CPU 4.5GHz, 3 logical cores, 10 GB RAM and a static IP address, if you'll intend to host the game publicly. The latter is necessary to ensure that anyone from the Internet can connect.
Benefits Of Running Your Own Space Engineers Server
In order to launch a dedicated Space Engineers server, any gamer definitely needs to devote some time, effort, and money. Is it worth doing? For sure there are some obvious advantages.
The first one, the creator of a server has full control over its operation. With 24/7 support provided by most companies, gamers can tailor servers to their particular vision. The second one is reliability. It includes additional hardware resources and the possibility to choose server location. These facts, in their turn, prevent players from game crashing and avert lags.
Last but not least, Space Engineers dedicated server hosting provides an unprecedented free space to boost your imagination and modify the game. Various existing mods prove this is a good peculiarity.
The Top 7 Space Engineers Servers Hosting Providers
With the advantages mentioned above in view, it is clear that many players tend to apply to versatile companies to run their own dedicated servers. Below is the list of best Space Engineers server hosting providers:
Best Space Engineers Server in Details
Now it is time to dive deeper into each of these providers and find out why exactly they are listed in our Top of the best Space Engineers server hosts. We will take a closer look at each company's peculiarities, key advantages, and disadvantages.
1. Host Havoc — Provides Optimal Solution for Large Teams
Host Havoc provides hosting services for many games. With hosting infrastructure located in the industry's best data centers worldwide, Host Havoc guarantees good and smooth performance. Reliable 24/7 support facilitates enjoying the game experience even more.
A player can purchase between 15 and 64 slots, each for the price of $0.75. A flexible billing system allows choosing a suitable billing cycle: monthly, quarterly, semi-annually, or annually. Though the minimum number of slots a gamer can purchase is 15, the price of 1 individual slot is relatively low. In case you can assemble a large team, this provider can be a good option.
Among other advantages of this Space Engineers host server are free DDoS protection, the possibility to use mods, 99.9% of network uptime guarantee, and instant setup.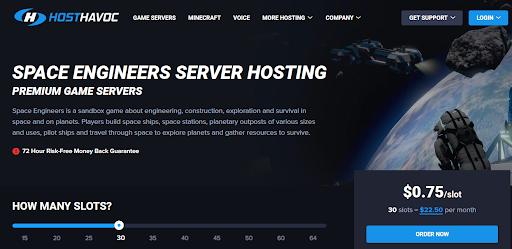 KEY FEATURES
Price: from $12.00 per month
RAM: 8–16 GB
Free trial: No
Players: 15–64
Control panel: Customized TCAdmin Control Interface
DDoS protection: Yes
Mods allowed: Yes
Instant setup: Yes
Pros
Cons

99.9% uptime guarantee

10 available locations around the world

72 Hour Risk-Free Money-Back Guarantee

Easy mod support

Free DDoS protection

Relatively low price per slot

Minimum 15 players in the team

No free trial
Ready to choose your plan? — Go to
Host Havoc
hosting
2. GTX Gaming — Best Space Engineers Hosting Overall
GTX Gaming is definitely one of the best Space Engineers server providers. This is an official service provider for this game, and they directly collaborate with the game developers to guarantee the highest quality of hosting. It is further enhanced by worldwide coverage, great 24/7 support, and a special community-created set of tools to simplify server maintenance.
It is worth mentioning that GTX Gaming pays significant attention to hardware renewal to keep pace with the new technologies. The company also updates the Space Engineers control panel templates and continually adds new functionality.
At this server the price starts with £1 ($1.36) per slot on a monthly basis. However, the longer the billing cycle is, the lower the price per slot. The discount can reach up to 15% if you pay for a year.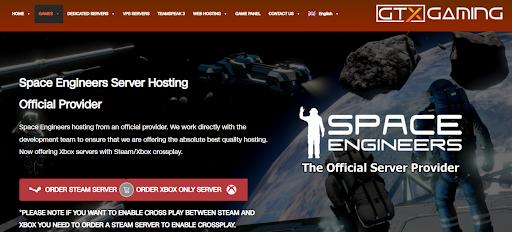 KEY FEATURES
Price: from $13.57 per month
RAM: 5–32 GB
Free trial: No
Players: 10–60
Control panel: Custom
DDoS protection: Yes
Mods allowed: Yes
Instant setup: Yes
Pros
Cons

Global coverage

Custom control panels

Great performance

SSD storage

Possible switching between games

Access to a dedicated Discord page for support

Not the fastest support

Only 24 hours long money-back guarantee
Ready to choose your plan? — Go to
GTX Gaming
hosting
3. Survival Servers — Ensures the Best Performance
Survival Servers is a Space Engineers servers hosting provider known for its good performance and customization opportunities. Various useful features allow gamers to accommodate the server and get full control over it: instantly change the location, modify the server's settings, and install mods or plugins.
A player can choose among 8 server locations and 10-60 slots. The price system consists of two parts: a one-time payment ($1 per slot) and a subscription ($1 per slot monthly). At the same time, if you choose 30 slots or more, the price of one decreases. The annual billing cycle can additionally save up to 35%.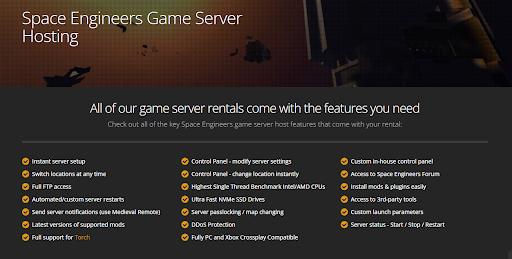 KEY FEATURES
Price: from $10.00 per month + one-time payment
RAM: 8 GB
Free trial: No
Players: 10–60
Control panel: Custom
DDoS protection: Yes
Mods allowed: Yes
Instant setup: Yes
Pros
Cons

High performance

8 data centers worldwide

Custom control panel

Full FTP access

No refunds

Possibility to choose the number of slots only divisible by 10
4. PingPerfect — Guarantees the Most Comprehensive Support
Among the peculiarities of PingPerfect – Space Engineers server hosting provider, we can mention instant server setup, full backup system (not to lose any data), easy game switching possibility, and a user-friendly game panel. Large data centers provide smooth performance.
The price, however, is not quite low. It starts with $1.09 for a slot with a total available number of players between 12 and 60. On the other hand, annual payments can save up to 15%. But, perhaps one of the largest advantages is the availability to request a 48-hour trial period. This option allows everyone first to try and only then to pay.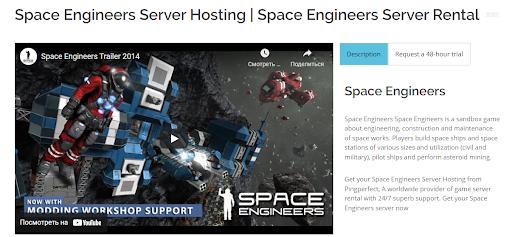 KEY FEATURES
Price: from $13.08 per month
RAM: from 6GB + up to 8 GB additionally
Free trial: Yes
Players: 12–60
Control panel: Custom
DDoS protection: Yes
Mods allowed: Yes
Instant setup: Yes
Pros
Cons

48-hour free trial period

23 server locations

Great support

Free web-hosting

Price is above average
5. Nitrous Networks — Offers Easy Management and Simple Billing
Nitrous Networks is perhaps not the best host Space Engineers server can run at if we are talking about the number of available locations. But an opportunity to assemble a team of up to 100 players along with free web hosting and free 24/7 support are obvious advantages. The price starts at $9.83 per month (10 slots).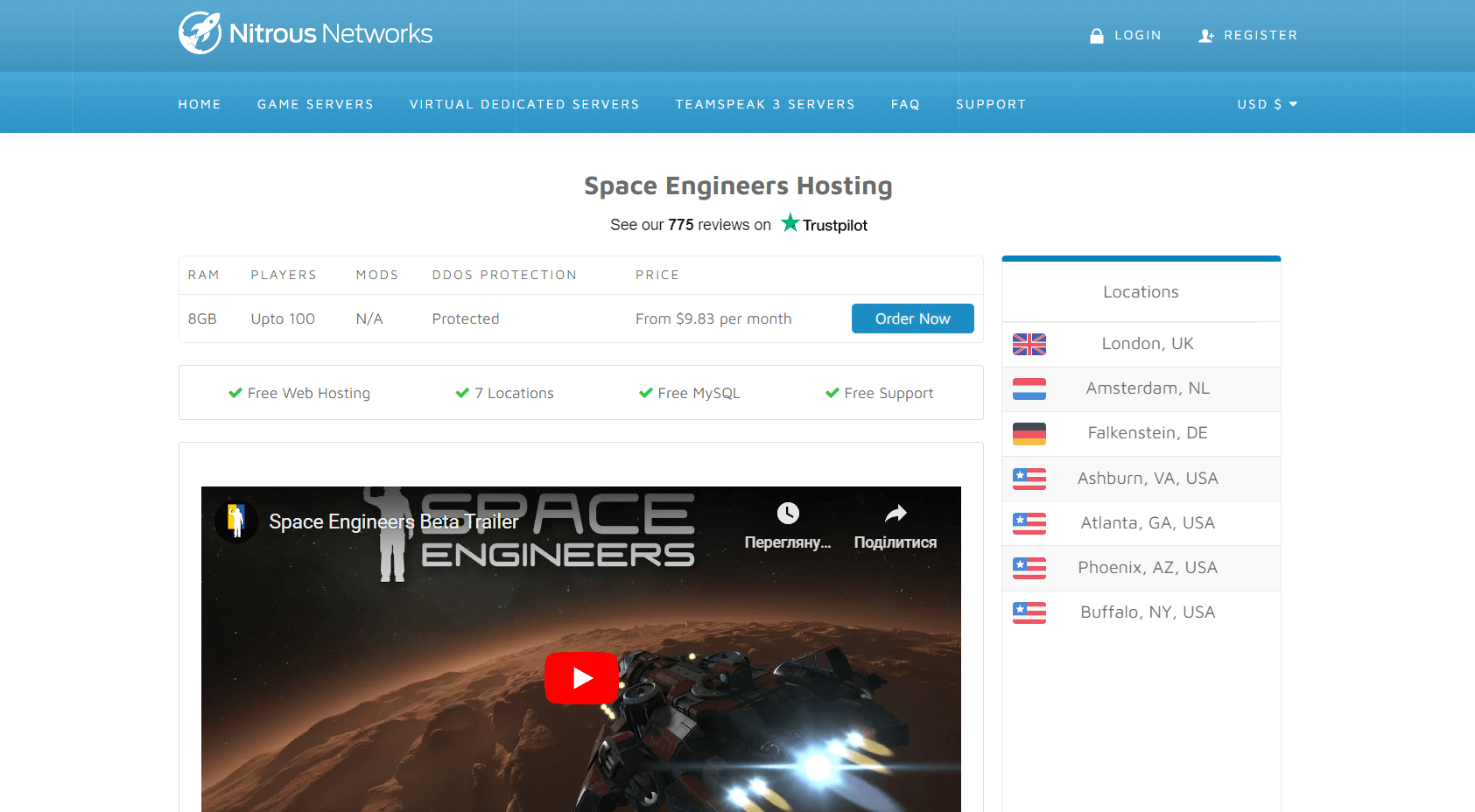 KEY FEATURES
Price: from $9.83 per month
RAM: 8 GB
Free trial: No
Players: 10–100
Control panel: TCAdmin
DDoS protection: Yes
Mods allowed: Yes
Instant setup: Yes
Pros
Cons

Up to 100 players

Free web hosting

7-day money-back guarantee

Free DDoS protection

Accepts Bitcoin

A relatively small number of server locations
6. ServerBlend — Unlimited Number of Players
ServerBlend is a perfect Space Engineers server host for those who don't like limits. The company offers mods support and automatic downloading, SSD storage, one-click installation of plugins, quick server setup, customized control panel, and high-level DDoS protection.
Prices start at $11.48 for 10 slots on a monthly basis. However, a player can purchase an unlimited number of slots for $37.12. Let's also not forget about the option of public/group payments. It means that each player can send a unique payment link to friends or anyone willing to donate in order to share the price.
Another peculiarity is that all of the company's servers come with an unlimited memory feature. It allows players to go over their dedicated RAM limit.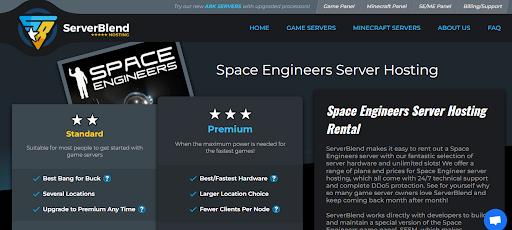 KEY FEATURES
Price: from $11.48 per month
RAM: unlimited
Free trial: No
Players: 10–unlimited
Control panel: custom
DDoS protection: Yes
Mods allowed: Yes
Instant setup: Yes
Pros
Cons

Unlimited number of slots

7-day satisfaction refund

Possibility to exceed dedicated RAM limit

Possibility to switch between standard and premium accounts anytime

Customer support could be faster

Relatively high price for the small number of slots
7. Streamline Servers — Secure Lag-free Gaming Experience
Streamline Servers – the last company in our list of Space Engineers server hosting providers offers 22 locations for data centers. Instant installation, lag-free international network, flexible control panel, and server modding (via Mod Manager) are just some of its features.
A player can purchase from 10 to 50 slots with a price starting at $15. Annual billing plans can save up to 20%. For an additional price, gamers can order daily backups.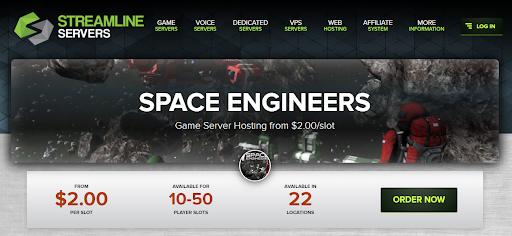 KEY FEATURES
Price: from $15.00 per month
RAM: 8–16 GB
Free trial: No
Players: 10–50
Control panel: custom
DDoS protection: Yes
Mods allowed: Yes
Instant setup: Yes
Pros
Cons

Many data centers

Flexible control panel design

An instant installation of any addons from Mod Manager

Accepts Bitcoin

Relatively high price
Best Space Engineers Server Hosting Comparison
Above in this article, we took a closer look at the 7 best Space Engineers server hosting providers. We compared their technical peculiarities, settings, prices, coverage, and unique features. Let's now briefly sum up our guide.
Hosting
Pricing / mo
(starting at)
RAM
Free trial
Players
Control panel
DDoS protection
Mods allowed
Instant setup
Host Havoc
$12.00
8GB
No
15–64
TCAdmin
Yes
Yes
Yes
GTX Gaming
$13.57
5GB
No
10–60
Custom
Yes
Yes
Yes
Survival Servers
$10.00
8GB
No
10–60
Custom
Yes
Yes
Yes
PingPerfect
$13.08
6GB
Yes
12–60
Custom
Yes
Yes
Yes
Nitrous Networks
$9.83
8 GB
No
10–100
TCAdmin
Yes
Yes
Yes
ServerBlend
$11.48
unlimited
No
unlimited
Custom
Yes
Yes
Yes
Streamline Servers
$15.00
8GB
Yes
10–50
Custom
Yes
Yes
Yes
How to Choose The Best Space Engineers Server Hosting Provider
There is a great variety of options to choose from, and sometimes it might not be easy to make a choice. So how to pick up a provider of a dedicated server Space Engineers game will best run at? Here are some vital moments for consideration to start with:
Overall performance and reliability. This is obviously the key parameter connected to a good gaming experience. It directly depends on the hardware the company uses. Look at the RAM figures as they usually depict the quality of machines.
Costs. Prices vary depending on the number of slots you want to use. The duration of a subscription also affects it. It is always wise to spend some time calculating budgets.
Server locations. Data centers located not far from gamers ensure better server responding time; this prevents lags.
Server setup difficulty level. One can spend hours installing and preparing everything. Automatic systems allow you to set up servers in just several minutes.
Mods availability. Lots of gamers adore customizing games and adding their unique features. Also, make sure the server hosting supports them if you like this process.
Customer support. These guys are those you will rely on in case you need any piece of advice or assistance. Double-check whether the support service responds in time and provides relevant information.
Control panel. Distinct custom-made control panels may offer a more user-friendly interface. This might greatly facilitate the overall interaction with the product.
This is by far not the most comprehensive list of factors that influence the decision. But these are the universal tips, 100% applicable for choosing Space Engineers server hosting as well.
Paying for Space Engineers Server Hosting vs. Hosting Yourself
Many gamers willing to play any game, including Space Engineers, may at one moment face a dilemma: host the game by themselves or entrust this to the specialized companies.
The first option has some pure advantages like full control of all the processes as well as saving costs. Using your own PC as a server seems good for small teams or games with not very high technical requirements. However, if a player wants to experience the highest satisfaction from gaming, this approach is not the best choice.
Hosting providers possess enormous data centers and advanced hardware. These resources guarantee the smooth working of every detail in the comprehensive process of uniting players via the network. Furthermore, the best companies set up servers in a matter of minutes, while the 24/7 support can assist anytime. This saves a lot of time in comparison to organizing everything by yourself. Another advantage of a professional Space Engineer server hosting is security.
Last but not least, pricing. Since there is no free Space Engineers server hosting available, people may choose to run their own server to save money.But buying and assembling a PC with all the necessary hardware costs much more than the services of any server hosting provider.
Final Thoughts
Even the most inveterate fans of the game may doubt whether to rent Space Engineers server or not. They might line this issue with complicated settings, extra payments, or lack of control. But trying out an absolutely new gaming experience can definitely change their opinion.
Outstanding performance, absence of game crashing or lags, teams of any size, and user-oriented support make Space Engineers server rental a deliberate decision. Look through and analyze our list of the best Space Engineers server hosts, choose the one that suits you best, and enjoy the unique gaming process satisfaction. Hope you will never see "Space Engineers server host has left the game" on your screen.
Space Engineers Server FAQ
How much does it cost to host a Space Engineers server?
Cost depends on at least 4 aspects: team strength (the necessary number of slots), subscription duration, billing cycle, and any extra hardware resources. The combination of these factors varies from one provider to another. Each company depending on its own business, establishes these or that ranges. In the case of providers from our list, the price starts from $9.83 for a team of 10 players.
Which server is best for game hosting?
Depends on your request and preferences. ServerBlend, for example, provides unlimited RAM and thus ensures smooth performance. PingPerfect, on the other hand, offers a free trial period. However, the official service providers for specific games are usually considered the best.
How do I host a server for Space Engineers?
You can either choose to host the server on your own using your PC or entrust this process to a specialized provider. The latter option is more suitable for larger teams due to better performance, lag prevention, and DDoS protection.
How much RAM does a Space Engineers server need?
Game developers specify that to host a Space Engineer server a gamer needs at least 6 GB RAM. However, the recommended volume is 10 GB.