Vintage Story is a wild survival sandbox game. At first glance, experienced gamers will have associations with Minecraft. Indeed, VintageStory is a development of the popular Vintagecraft mod, but at the same time, it is a full-fledged independent game about innovation and research.
The game's setting is based on the horrors and aesthetics of Lovecraft's works. The player finds himself in a destroyed semi-wild world over which nature reigns. The game encourages exploration. Intrepid players who accept the challenge will be rewarded with mechanisms that allow them to invent new ways to survive and thrive in a devastated world.
The main plot frame is to become a participant in the emergence of a new human civilization. The game world has its character and, as the developers claim, a deep narrative. Overall, the game takes the voxel sandbox genre to a new level of quality thanks to the constant development of the story, the addition of new tools, survival elements, and other content. The Vintage Story game is relatively cheap but available only on PC and not on PS4.
This review will tell you about the possibility of self-hosting a server at home or renting a ready-made server. We will analyze the best game server hostings and highlight their pros and cons to help you choose. So let's get started.
Minimum Vintage Story Server Hosting Requirement
It's good to play the Vintage Story game with friends on a separate server. This will allow you to customize the multiplayer game entirely to yourself. Or even create an independent gaming community!
But running a dedicated Vintage Story server is more challenging than it sounds. To begin with, you need to have sufficient hardware resources. So let's start with that. The developers say that the following minimum computer specifications are desirable for Vintage Story multiplayer:
Processor: Intel Core i3/i5
Memory: 4 GB RAM
Graphics: Geforce GT 440, Intel HD Graphics 620, Radeon R5, or similar
DirectX: Version 9.0c
Storage: 2 GB free space
But these are the minimum for the game. To host the Vintage Story servers on your computer, you must ensure that it is four times more potent than these requirements.
The Top 5 Vintage Story Server Hosting Providers
That is why placing the server on powerful equipment is recommended for stable VintageStory gameplay. For example, in data centers. For our review, we analyzed several of the best game server hostings. We looked at what they offer and highlighted their features, pluses, and minuses. The following list came out:
Let's take a closer look at these game server hostings.
Best Vintage Story Server Hosting in Details
We have prepared convenient short reviews of each provider, highlighting key features, pros, and cons separately. All this will help you choose the most suitable one.
1. GTX Gaming – well-known reputable hosting
GTX Gaming is one of the world's most famous gaming server hosts. The company offers its services worldwide, including Asia and Australia, but is most represented in the USA and Europe. The control panel available to you is filled with many different functions, but at the same time, it is convenient and intuitive.
The company also offers a convenient manager of mods with constant automatic updates. Starting at $10 for ten game slots, you'll have access to state-of-the-art equipment.


KEY FEATURES
Price: from $10.39 per month
RAM: 8–32 GB
Free trial: No
Players: 10–250
Control panel: Custom
DDoS protection: Yes
Mods allowed: Yes
Instant setup: Yes
Pros
Cons

Worldwide coverage

Relatively low price

SSD storage

Automatic mods update

Only 24-hour money-back guarantee

Slow support
Ready to choose your plan? — Go to
GTX Gaming
hosting
2. Host Havoc – the latest high-performance equipment
Another famous Vintage Story hosting is Host Havoc. The company has deployed its equipment in data centers worldwide and is constantly investing in high performance. One of the essential advantages of the company is the relatively fast round-the-clock support.
The price for a server slot starts from $0.63. At the same time, the costs decrease the more slots you want to rent. Host Havoc is an exciting option, combined with the other benefits.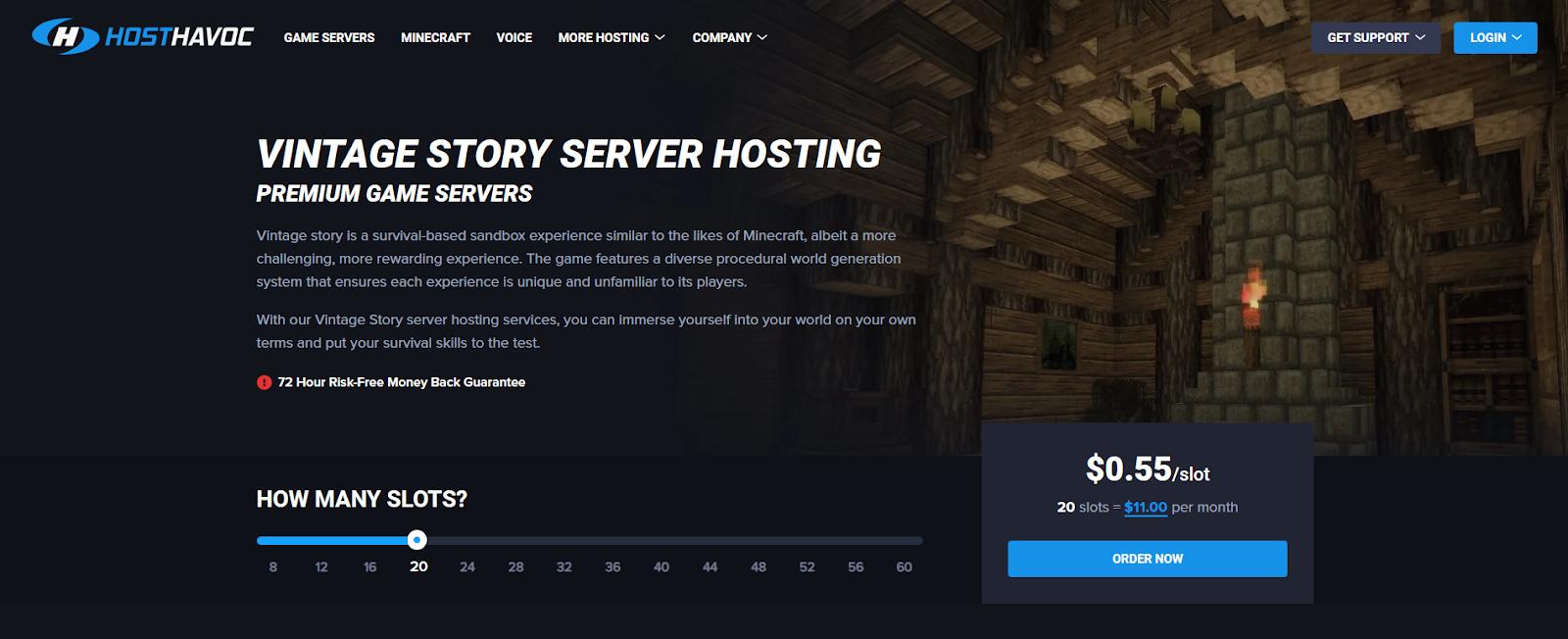 KEY FEATURES
Price: from $5 per month
RAM: 8 GB
Free trial: No
Players: 8-60
Control panel: TCAdmin
DDoS protection: Yes
Mods allowed: Yes
Instant setup: Yes
Pros
Cons

99.9% Uptime Guarantee

File Manager & FTP Support

One of the best control panel

Only 72-Hour Money Back Guarantee
Ready to choose your plan? — Go to
Host Havoc
hosting
3. PingPerfect – the best customer support
PingPerfect is the top Vintage Story server hosting with over 130 games in its catalog. The company offers services in Europe, the USA, and Asia and is distinguished by good customer support.
Rented server on modern equipment starts at $0.68 per slot, which is an acceptable price. Unfortunately, the minimum number of available slots is 10. Concerning customer support, PingPerfect is one of the best providers.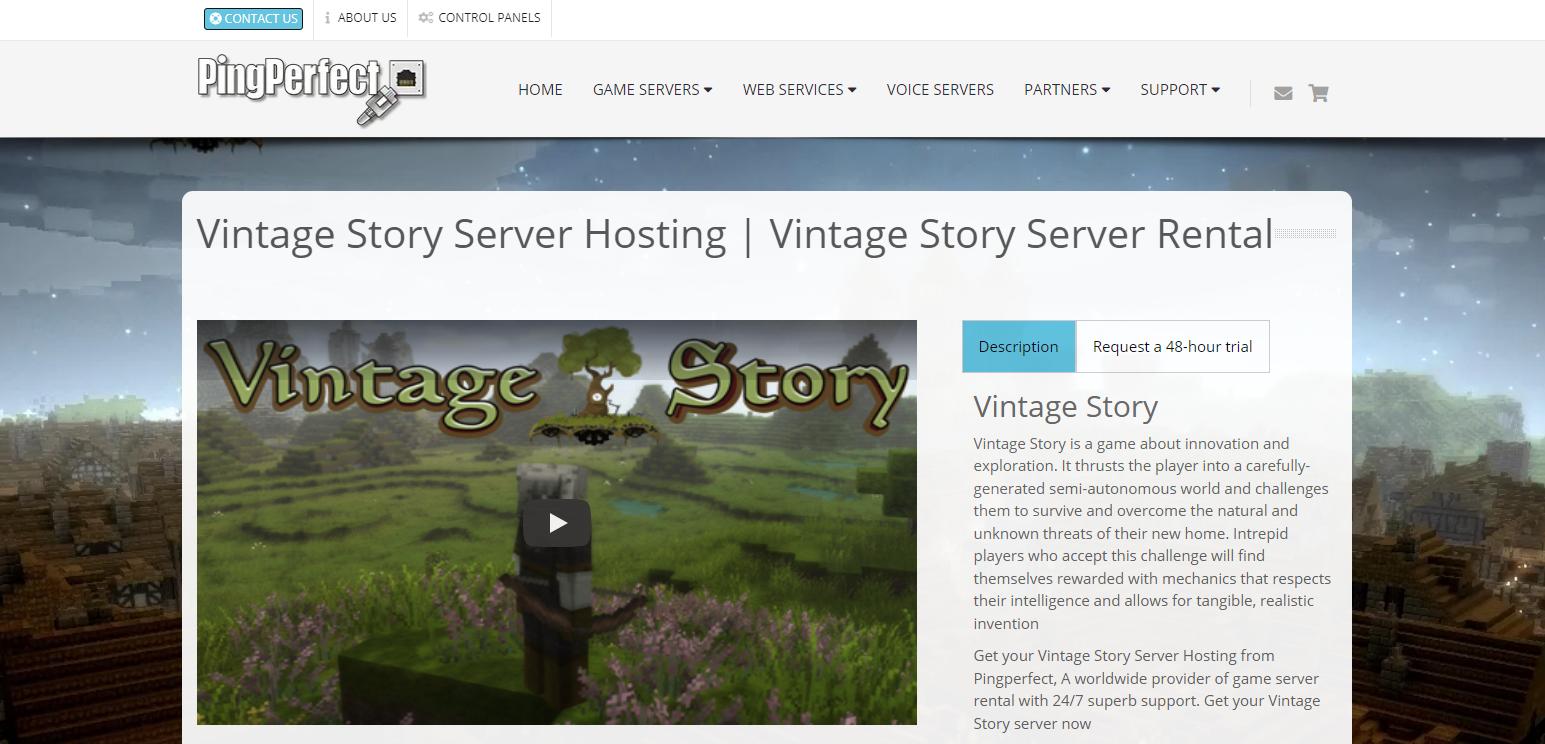 KEY FEATURES
Price: from $6.8 per month
RAM: from 6GB
Free trial: Yes
Players: 10–50
Control panel: Custom
DDoS protection: Yes
Mods allowed: Yes
Instant setup: Yes
Pros
Cons

Good hardware performance

48-hour free trial

Data centers around the world

Best support in the industry

Large servers can be expensive
4. BisectHosting – Minecraft-oriented hosting
BisectHosting stands out from all the competitors by being the only game server hosting focused on Minecraft. Considering that Vintage Story grew out of a Minecraft mod, this provider is one of the best options. At the same time, the company also offers server rentals for other games.
Vintage Story classic server locations are worldwide, including the US, Europe, Asia, and Australia. Prices start at $5.99. At the same time, you can rent a server with one slot!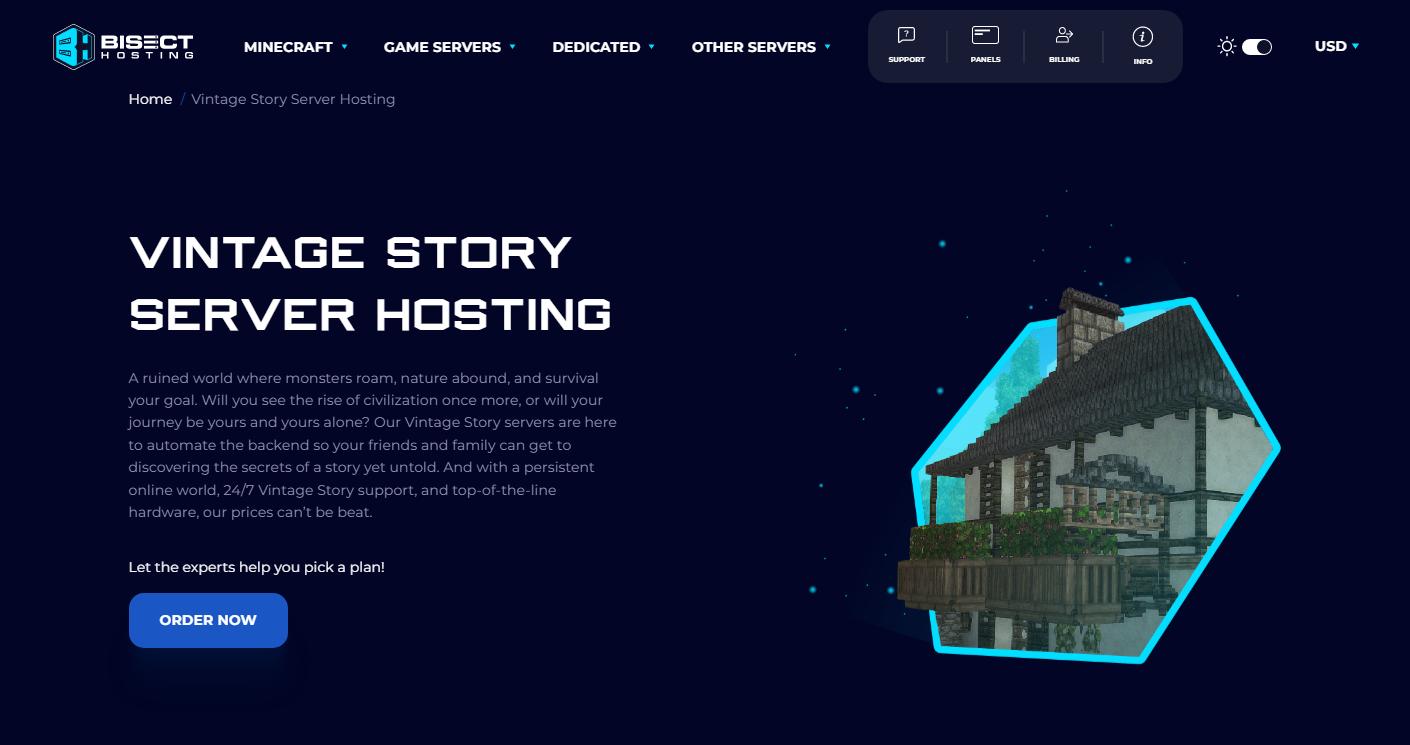 KEY FEATURES
Price: from $5.99 per month
RAM: from 3GB
Free trial: No
Players: 1–100
Control panel: Custom
DDoS protection: Yes
Mods allowed: Yes
Instant setup: Yes
Pros
Cons

24/7 Support

Servers are always ondivne

Automatic backup

Automatic update of the server

Not all locations are available
Ready to choose your plan? — Go to
Bisect
hosting
5. Citadel Servers – without the downtime and lags
Citadel Servers differs from many competitors in that it provides services not only for hosting game servers. Of course, you can still rent Vintage Story dedicated server. But web hosting, VPS, and voice hosting are also available. In addition, coverage of the corporate segment of the market by this provider means that good customer support will be available to you as well.
A monthly subscription to rent the Vintage Story servers starts at $6.39 for six game slots. For an additional fee, you can increase backup storage and other options.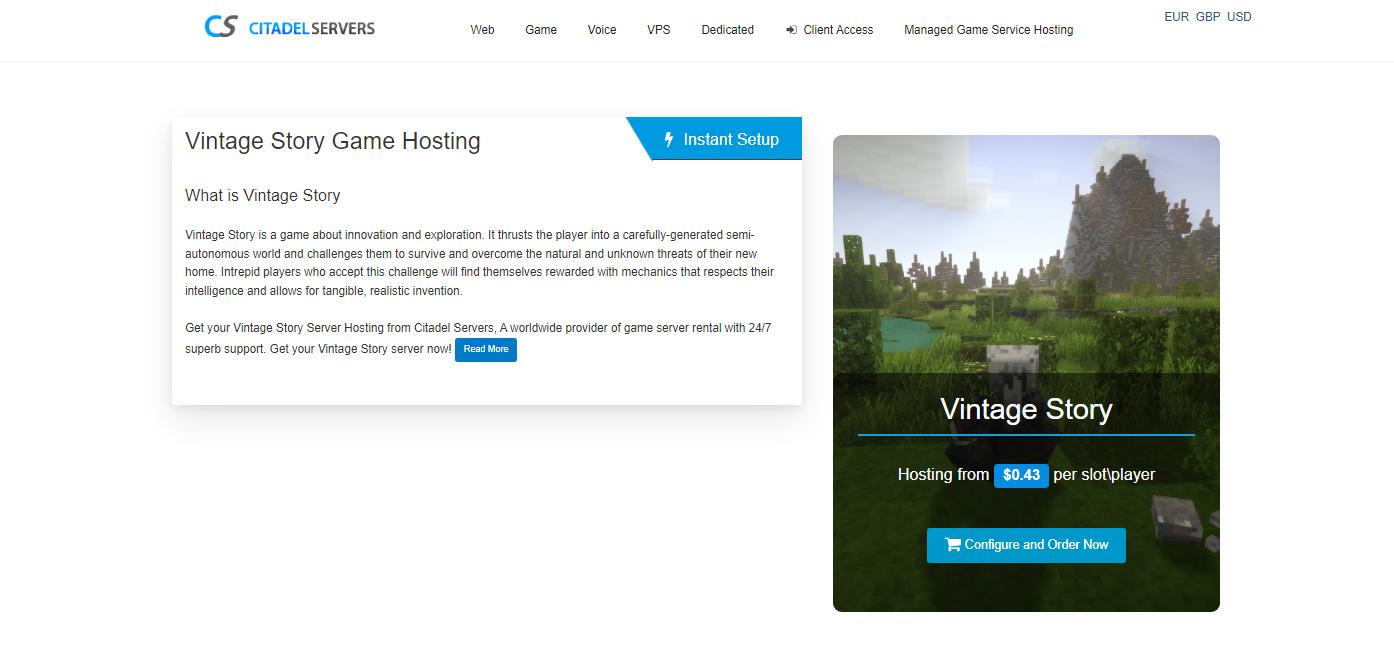 KEY FEATURES
Price: from $6.39 per month
RAM: unlimited
Free trial: No
Players: 6–48
Control panel: Custom
DDoS protection: Yes
Mods allowed: Yes
Instant setup: Yes
Pros
Cons

Worldwide locations

7-Day Money-Back Guarantee

Prices can be Freezed

Premium support option

Slightly lower performance than competitors
Vintage Story Server Hosting Comparison (table)
For clarity, let's collect the main characteristics of the presented providers in a more convenient form of a table:
Hosting
Pricing / mo
(starting at)
RAM
Free trial
Players limit
Control panel
DDoS protection
Mods
Instant setup
GTX Gaming
$8.39
8-32GB
No
10–250
Custom
Yes
Yes
Yes
Host Havoc
$5
8GB
No
8–60
TCAdmin
Yes
Yes
Yes
PingPerfect
$6.8
6GB
Yes
10–50
Custom
Yes
Yes
Yes
Bisect Hosting
$5.99
3 GB
No
1–100
Custom
Yes
Yes
Yes
Citadel Servers
$6.39
unlimited
No
6–48
Custom
Yes
Yes
Yes
How to Choose The Best Vintage Story Server Hosting Provider
So how to choose the best Vintage Story hosting from this variety? First, take your time and don't just choose what you like. Carefully study the functionality, requirements, and pricing policy. Here are the features to consider first.
Productivity of equipment. Hardware will primarily affect your gaming experience on all Vintage Story dedicated servers. The more powerful hardware the vendor offers, the faster the game loads, improving the player experience.
Customer support. Make sure that the hosting company details its customer support on its website. It is helpful if you are confident that you can contact them anytime and get qualified support.
Downtime. How will you and your players react if your server goes down? The advantage of a rented dedicated server is that high-quality equipment allows you to avoid most failures and quickly restore operations.
Subscription and additional costs. Find out all the details about the pricing and other fees that the provider may charge you and in which case. Often, prices are indicated for a basic set of services, and adding new ones dramatically increases the final check. This will make your life much easier.
Buy or Rent Vintage Story Server Hosting vs. Hosting Yourself
This is how Vintage Story's dedicated server hostings look. But one question remains. Still, do you want to buy or rent a Vintage Story dedicated server or host it at home?
If you only plan to play Vintage Story multiplayer with a few friends occasionally while chatting on Discord, it's best you host server. For this, you will need to understand the Vintage Story server setup process and ensure that you have advanced hardware.
But renting a Vintage Story dedicated server has more advantages. First, you will be sure that your server is hosted on perfect hardware. Secondly, the provider's control panel is usually convenient and balanced for quick administration. Plus, you'll have dedicated support that's often 24/7.
Final Thoughts
So what is better: owning a server or renting from the best provider? It depends on your needs and capabilities. Be sure to weigh all the pros and cons before deciding, as this will directly affect your server's players' gaming experience. Check out our review again and choose the best option and enjoy the unforgettable gameplay of Vintage Story.
FAQ
How do I host a Vintage Story server?
If you want to play with friends, local hosting is best. Here are two ways to do it:
-Start the single-player world and click Open for a local network. This will expose an IP address others can connect to you through the Vintage Story server list. The server will be running while you play.
-If you want the server to be active all the time, run VintageStoryServer.exe from the folder where the game is installed. For other players to connect, you must find your local IP and share it with them
How do you play multiplayer on the Vintage Story?
If you want to play multiplayer temporarily with friends, it is enough to start the single-player world and click Open on a local network in the menu. This will allow players on your local network to join you.
Is Vintage Story open source?
The developers have their base of mods, modeling, and animation tools, which are open source.
How do I add mods to my Vintage Story server?
Place .zip in your Mods folder. In the Mod Manager section of the main menu, click Reload Mods or restart the game. Added mods should appear in the mod manager.