Are you a passionate gamer who values freedom and diversity? If you don't want to share your server with people that don't meet your values, the unturned dedicated server is the right choice for you.
Unturned was released in 2014 as a free apocalypse survival video game that you can play both by yourself and roleplay with friends. However, playing multiplayer games with your friend is a real finding because, in a world full of zombies, it's always better to have a reliable team and save yourself and your friends from other players. That's when an unturned server comes to help.
With unturned dedicated server you don't need a host to be an active player in a game. The host can stay on the server to play or just leave it and run it in the background while others are playing. Fortunately, this blog post will help you to choose a reliable hosting provider. Continue reading to learn about unturned hosting providers and how to download the right one.
Minimum Unturned Hosting Requirements
Most of the unturned hosts will have, at the very least, basic security measures — a firewall, uptime guarantee, free CMS, etc. The official information on dedicated server hosting states that to set up an unturned hosting on your computer will need at least:
Windows (7, 8.1 or 10) 64-bit
RAM 4GB (minimum), 8GB+ (recommended)
Available Hard Drive Space 4GB (minimum)
Here are the other minimum unturned hosting requirements you should pay attention to:
Uptime
Uptime indicates the amount of time the server hosting your website is up and running. Uptime rates are typically listed as a percentage, such as 99.95%. If a provider has strong uptime rates, it means that their servers perform well, and you'll have no issues with slow performance or downtime.
Speed
Any hosting review emphasizes this provider's speed. Reliable providers use SSDs; also, pay attention if your hosting provider has Cloudflare CDN — a popular content delivery network. Such global networks of servers help deliver web content faster, depending on a user's location.
Customer Support
Customer support is one of the key factors to consider when choosing a hosting provider. Check what is the response time provider promises and what are the main channels you can reach them on. The provider must have various touching points you can contact them through.
The Top 7 Unturned Server Hosting Providers
Best Unturned Hosting in Details
In this blog post, we will discuss the seven most famous providers in more detail and how to host unturned server. But first, let's start with a short overview of unturned best servers.
1. GTX gaming – premium host for Unturned
GTX gaming is a premium host for Unturned. It provides easy-to-use sliders and text input fields, making it so easy for a beginner but with advanced tools for a more professional gamer. GTX provides the following features:
One of the GTX advantages is that it offers support that is second to none. Their 24/7 server is ready to help you around the clock. They also provide a game-switching service roleplay, so you can switch to any game.
GTX makes extensive use of the intel CPU range from powerful E3 processors up to the latest i7\i9 CPU's. They have also started to implement the new powerful AMD Ryzens.
One of the features GTX gaming provides is called Schedule Tasks, an easy-to-use feature that enables you to auto-update your server, mods, backups, wipes, rocket updates, plugins updates, and server restarts.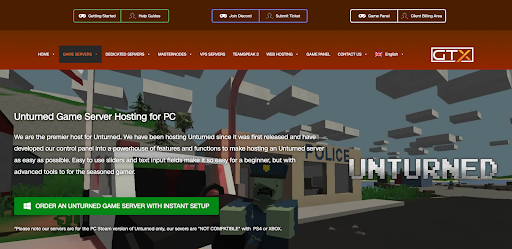 Players can enter the PVP world servers and join together to easily make clans with their online buddies to explore the world.
You will also be able to construct the visual parts of your worlds utilizing the Vive's motion controllers with modes that offer the same support and functionality of the desktop editor, along with awesomely awesome abilities like throwing things.
MAIN FEATURES
Price: from $10.99 per month
RAM: 2–15 GB
Free trial: No
Players: Unlimited
Control panel: Custom
DDoS protection: Yes
Mods allowed: Yes
Instant setup: Yes
Pros
Cons

DDOs protection

Worldwide coverage

24-hour refund

Dedicated divve chat support

Rocket mod support

Oriented only for game service development

No free trial
Ready to choose your plan? — Go to
GTX Gaming
hosting
2. Host Havoc – servers hosted on the modified TCAdmin v2 control panel provider
HostHavoc is one of the best unturned servers as it holds all of its game servers on the modified TCAdmin v2 control panel. This is a provenly reliable, consistent control suite. It also has custom-tailored each game template, so now it provides unique features and installers and also guides on how to host an unturned server.
HostHavoc has 11 global data centers, unturned free hosting, and is established a widespread network that uses the most reliable facilities and networks with true redundancy, so you will get 99.9% uptime and consistent server performance.
MAIN FEATURES
Price: from $0,70 per slot
RAM: 2–10 GB
Free trial: No
Players: Unlimited
Control panel: Custom
DDoS protection: Yes
Mods allowed: Yes
Instant setup: Yes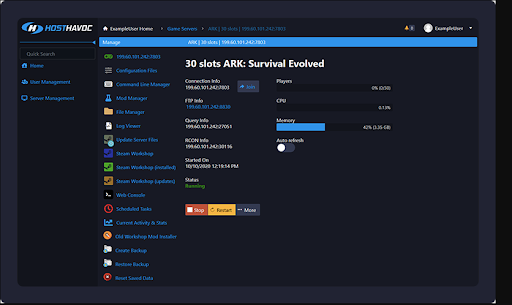 Pros
Cons

99,9% uptime guarantee

Step authentication

24-hour refund

Dedicated divve chat support

Rocket mod support

Oriented only for game service development

Some features require additional payments
3. PingPerfect – worldwide provider of game server rental
PingPerfect is a worldwide provider of game server rental; their Unturned servers are in most of the world's best data centers and can offer our services to gamers no matter where you are from. They have a full backup system that gives you protection to minimize any interruption to your Unturned server. With PingPerfect, you will never lose your data.
MAIN FEATURES
Price: from 0,47 USD
RAM: 8–15 GB
Free trial: Yes
Players: Unlimited
Control panel: Custom
DDoS protection: Yes
Mods allowed: Yes
Instant setup: Yes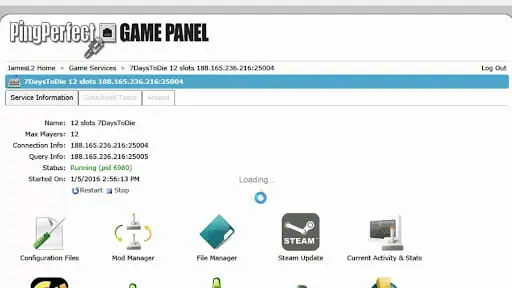 Pros
Cons

99,9% uptime guarantee

Your own game panel

Free debranding

Enterprise hardware

DDoS protection

Control panel has less functionality than others

Some of their support documentation is lacking
4. Apex – unturned storage
Apex Hosting provides outstanding Unturned Server Hosting. One of the advantages is that their dedicated server hardware allows you to run your Unturned Server with unturned storage without bothering about lag or latency, no matter which of their worldwide locations the server is located in. Also, they offer a lot of tutorials if you want to know how to make unturned server.
MAIN FEATURES
Price: from $7.49 first month
RAM: 2–15 GB
Free trial: No
Players: Unlimited
Control panel: Custom
DDoS protection: Yes
Mods allowed: Yes
Instant setup: Yes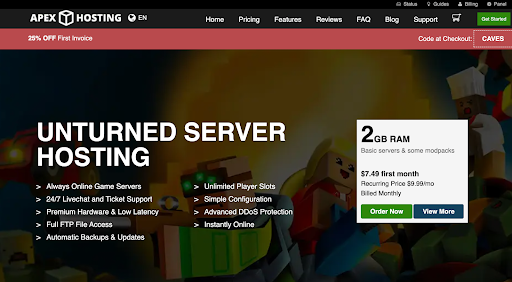 Pros
Cons

99,9% uptime guarantee

Undivmited player slots

Automated backups

Enterprise hardware

Ultra-low latency

Non-dedicated IP

Absence of advanced solutions

Available in few languages
Ready to choose your plan? — Go to
Apex
hosting
5. Nitrous Networks – dedicated, high-performance game server
Nitrous Networks is the home of dedicated, high-performance game hosting for Minecraft, Garry's Mod, Rust Hurtworld, CS:GO, Team Fortress 2, Terraria, Conan Exiles, ARK: Survival Evolved, Starmade, Blackwake, etc. You will find everything you need depending on your requirements and preferences, as well as instructions on unturned rp servers.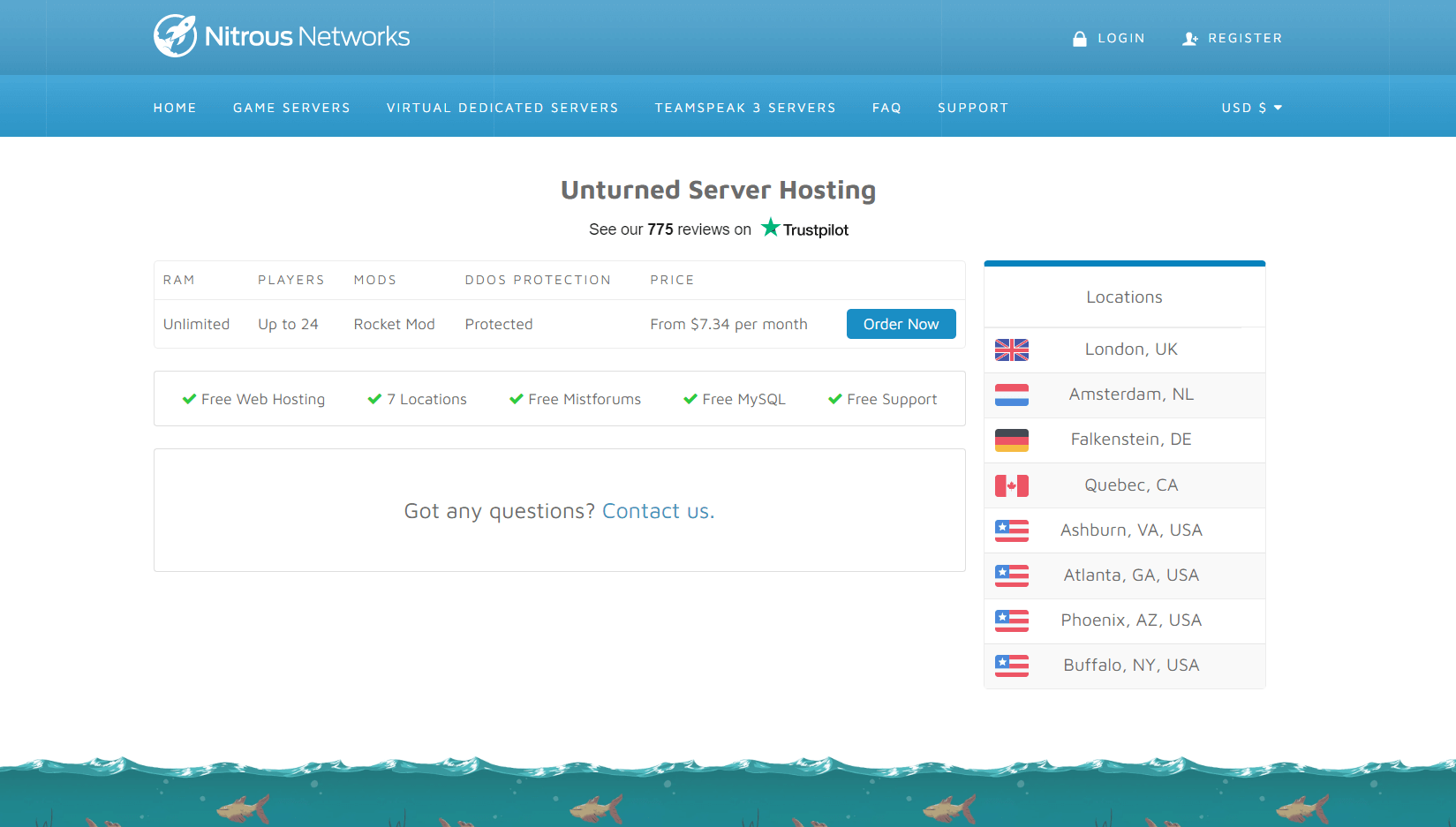 MAIN FEATURES
Price: from $7.58 per month
RAM: 1.5–10 GB
Free trial: No
Players: 15-100
Control panel: Custom
DDoS protection: Yes
Mods allowed: Yes
Instant setup: Yes
Pros
Cons

SSD storage

Premium connectivity

DDoS Protection

Premium connectivity

Easy management

A limited amount of disk space
6. Game Servers – simple unturned server management hosting
Game Servers is all about the long-term game and hosting unturned platforms. Their worldwide network, designed by gamers for gamers, provides multiple redundant locations in your geographic region for lag-free Unturned hosting. If you change your mind, you can migrate your server to a new data center from the control panel when needed. They also offer free unturned hosting and instructions on how to setup an unturned server.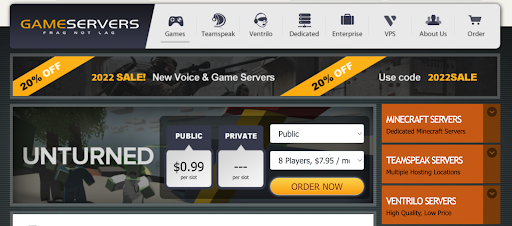 MAIN FEATURES
Price: from $0,99 per slot
RAM: 2–15 GB
Free trial: No
Players: Unlimited
Control panel: Custom
DDoS protection: Yes
Mods allowed: Yes
Instant setup: Yes
Pros
Cons

10 TB bandwidth

Custom packages

24/7 support

Premium connectivity

Easy management

No performance information on the website

Only suitable for the gaming industry

Uncomfortable interface
7. Streamline Servers – user-friendly control panel
Streamline Servers provide an internationally renowned network designed by gamers for gamers, offering lag-free gaming for all players. It has a flexible design and powerful features together with a control panel that gives end users complete control over their servers and unturned free hosting.


MAIN FEATURES
Price: from $1 per slot
RAM: 8–15 GB
Free trial: No
Players: 8-24
Control panel: Custom
DDoS protection: Yes
Mods allowed: Yes
Instant setup: Yes
Pros
Cons

Server modding

Control padding

Low ping servers

A lot of network locations

Easy management

Uncomfortable interface
Best Unturned Dedicated Server Hosting Comparison
We have reviewed top 7 dedicated server providers, their features and pricing. Here's a table that summarizes our findings. Use it when you need to compare service providers and make a right choice.
Hosting
Pricing / mo
(starting at)
RAM
Free trial
Players limit
Control panel
DDoS protection
Mods
Instant setup
Host Havoc
$14.00
8GB
No
14-40
TCAdmin
Yes
Yes
Yes
GTX Gaming
$9.20
8GB
No
10-120
Custom
Yes
Yes
Yes
PingPerfect
$0.47
6GB
Yes
12-48
Custom
Yes
Yes
Yes
Apex Hosting
$7.49
unlimited
No
8-32
TCAdmin
Yes
No
Yes
Nitrous networks
$7.58
4GB
No
unlimited
Custom
Yes
Yes
Yes
Game server
$0.99
128GB
Yes
12-64
Custom
Yes
Yes
Yes
Streamline Servers
$1
8GB
No
4-200
Custom
Yes
Yes
Yes
How to Choose The Best Unturned Server Hosting Provider
Each of the providers has unique features, pros, and cons. But there are some basic and necessary features each provider should have:
Check out mods availability. Make sure that the hosting allows you to use mods avalilability.
Consider the platform. For some games, it's important to choose a server that can accommodate both PC and console gamers.
Find out where server is located. The location of the host server has a big influence on the in-game experience. If you want to set up an Unturned game server primarily to play with your friends and family, choose the server location. Also, check out what engine does unturned use.
Compare the price. Compare all the providers and their plans, as well as check the discounts the providers offer. Is unturned free? Unfortunately, no.
Consider latency. Latency, commonly referred to as ping is the time it takes for data to travel from your network to the game server's network. It has a large influence on gameplay. Location plays a big factor in the amount of ping that you experience, but a lot depends on the network quality.
Benefits Of Running Your Own Unturned Server Hosting
Unturned is a real finding for game lovers. It's a sandbox game in the emerging multiplayer apocalypse survival genre kits. Instead of focusing on being an MMO, it provides players with easy systems to sit down and survive the zombie infestation. It provides players with a blast of fortifying locations, scavenging for supplies, trying to live off the land, and negotiating with other people. Here are the main benefits of running your own unturned hosting:
The game is being developed entirely with the community in focus, and tons of features are based entirely on feedback:
The unturned server is about teamwork and collaborating to build a community and survive. That's all about being picky with people you play to make a difference and create the kind of Unturned world that lives with your rules. It's your own server, so you can avoid the drama of playing with people who are not as passionate as you are.
Another prominent advantage of creating your own Unturned server hosting maps is that you get full control over the map, game mode options, and survival elements. It's up to you to decide if you want to focus on cooperative PVE or hostile PVP.
You can do anything you want: change damage, experience, armor, resources, and hunger settings to create the best config options for your ideal gameplay style. You can also choose your favorite Unturned map depending on if you want a harsh environment or something with more adventure and good storylines.
Setting up unturned server means you get all the benefits of enjoying the game version with friends without distracting on larger multiplayer PVE or PVP servers.
Paying for Unturned Hosting vs. Hosting Yourself
Probably, you have asked yourself what is better: hosting the server or contacting a specialized provider. You have already learned how to setup an unturned server. If you use your own hosting, you can control all the details and processes. You also save money as you don't need to pay extra fees. However, setting up your own server requires a lot of effort, and you need to spare some time. Also, if anything breaks, you need to fix it yourself.
Unturned hosting server requirements are high, and providers can easily solve this problem. They have well-equipped data centers and nice connectivity with server locations distributed worldwide.
Finally, when paying for unturned hosting, you get a quick installation and instant automated set-up. Also, their customer support is available 24/7, so you have a person to reach out to when any issues arise.
Final Thoughts
Unturned gameplay hosting is perfect for those who want to enjoy playing games without any worries or other players stealing your server resources. It gives you full control over your server and the freedom to decide whom to keep on your map and whom to kick out. We recommend choosing a provider; in this case, you won't have t worry about maintenance and error fixing. Your provider will settle everything, and you just have to enjoy the freedom and diversity of gaming.
Unturned Server Hosting FAQ
Can you host your own server on Unturned?
If you want to have more control over the game or limit access to random players that can steal your resources, you can host a server in unturned private servers. Setting up an unturned server takes a lot of time, so choosing a provider is better.
Is the Unturned server safe?
Yes, it is completely secure. Also, it is important to ensure that your server has VAC enabled. If it is not VAC enabled, it may draw the attention of cheaters.
How do I use Hamachi for Unturned?
Here's an instruction on how to use Hamachi for Unturned: Right click on unturned - Properties - Local files - Browse local files - A window pops up - Find unturned.exe at the bottom - Create a shortcut of that file and rename it - Right-click on that shortcut.
There's a way to play peer-to-peer, but just via Hamachi.
How do I join my friends unturned server?
How to play Unturned with friends? To join your friends unturned server, one person should host, and the other one connects. First, the host needs to port forward the port number and then send his IP address to his friend. After that, the friend can easily connect to it. You don't need Hamachi in this case.