You are trying to access your website — and get the message that it is unavailable. You might want to contact your web host provider immediately. But then the doubts start to creep in. Is this site down? Or is it just some troubles with your internet provider? Or, maybe, something is wrong with your computer/smartphone? There are different reasons why it may become inaccessible for you.
So is site down for real? One way to find out is to eliminate all other possibilities, but it may take a while. Another way is to use a special tool, which tells you exactly what you want to know. And we've designed it for you.
How Does a Website Down Checker Work?
Our server in the selected area will check if site is down, trying to access it. The first row in the report tells whether this attempt was successful or not.
After trying to check website availability, we dive deeper into technical details. You get the screenshot of a target page with an IP address. Besides, you find out its response time. If your site is up but takes ages to load, it might be as good as down for many users. Almost half of them expect your website to load in up to 2 seconds. If the loading time is 3 seconds – 40% of users will leave.
The report also contains the response code. HTTP status codes, returned by servers, indicate the site status. They have three digits and usually begin with one of five numbers, 1 – 5. You might be familiar with 404-error ('Page Not Found') or 200 ('OK'). But there are a lot of other status codes that may be unknown to you. Have a look at our Server status checker to find out more about them.
And the last but not the least significant bit of information is the most recent downtime date. 'Is my website up or down right now?' is an important question, but you may want to know when the last serious trouble occurred. It can give you some idea about your provider's reliability.
How to Check if a Website is Down?
Step 1: Insert your domain and start free trial
"Is it down for everyone?" — that's the question you ask. With the help of our site status detector, you can test its availability for free. That is very easy! Enter the URL or domain and start a free trial, just confirm by email or use Google or Facebook account to sign up.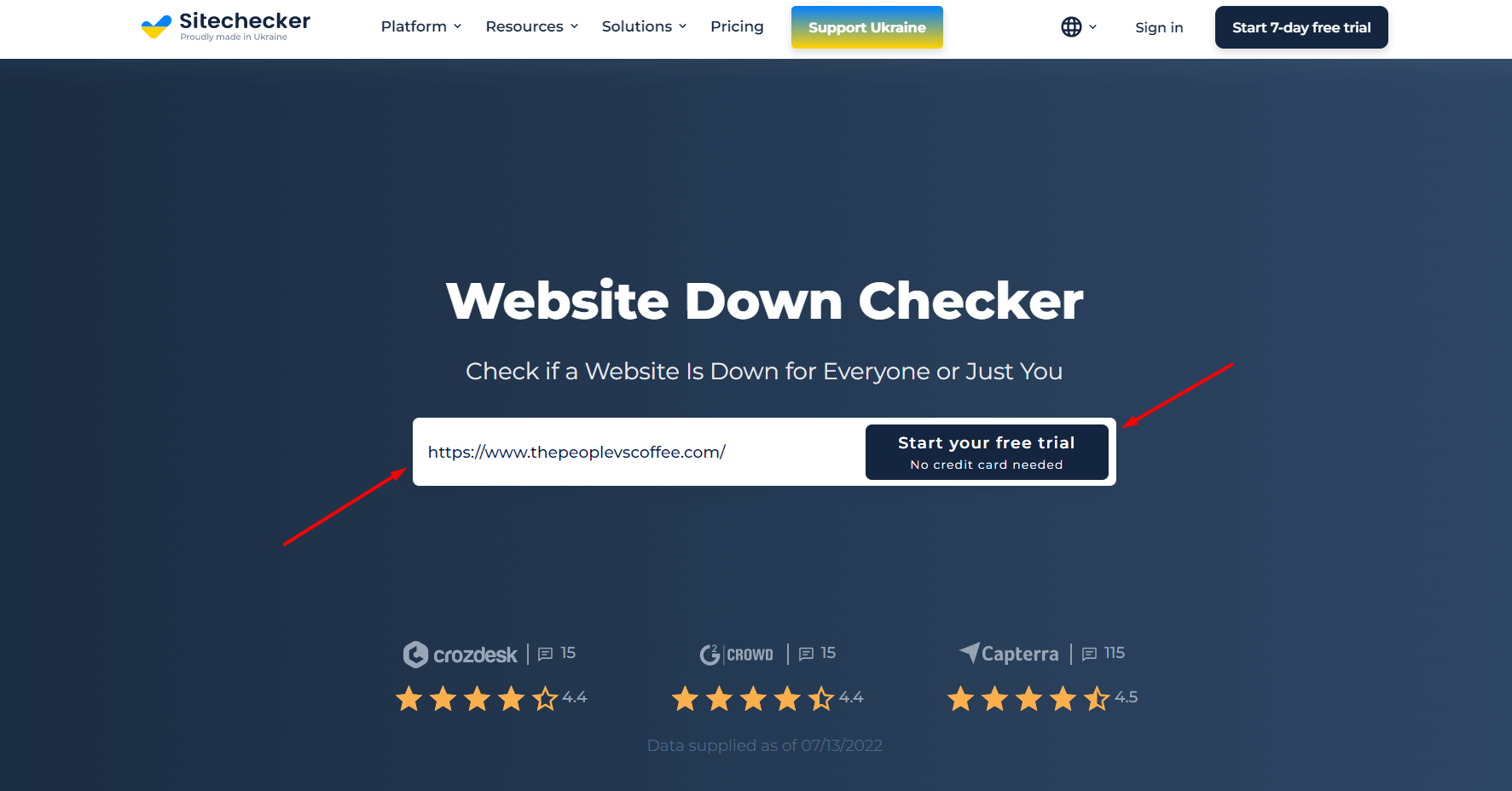 Step 2: Get result
In a matter of seconds, you will get a report with detailed information about website status.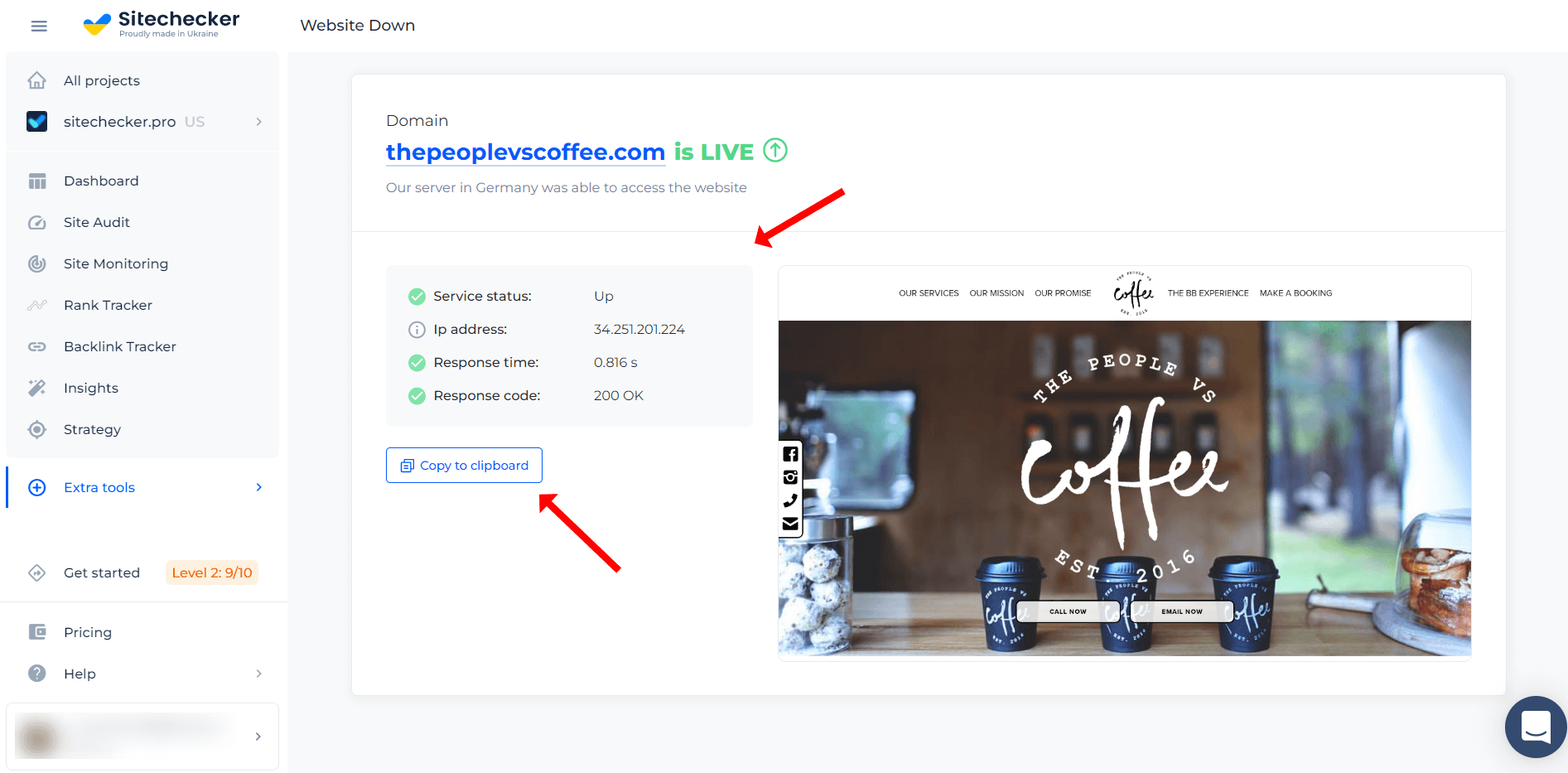 Want to save the website down checker report or send it to someone else? No need to screenshot it! You can copy the report to a clipboard in one click to paste it elsewhere in this format:
Web Site URL: https://copywritely.com
• Service status: Up
• Ip adress: 148.251.238.57
• Response time: 3.251 s
• Response code: 200 OK
In the future, if you need to check out, for example, a competitor's site, you can always use a website down checker in the "Extra Tools".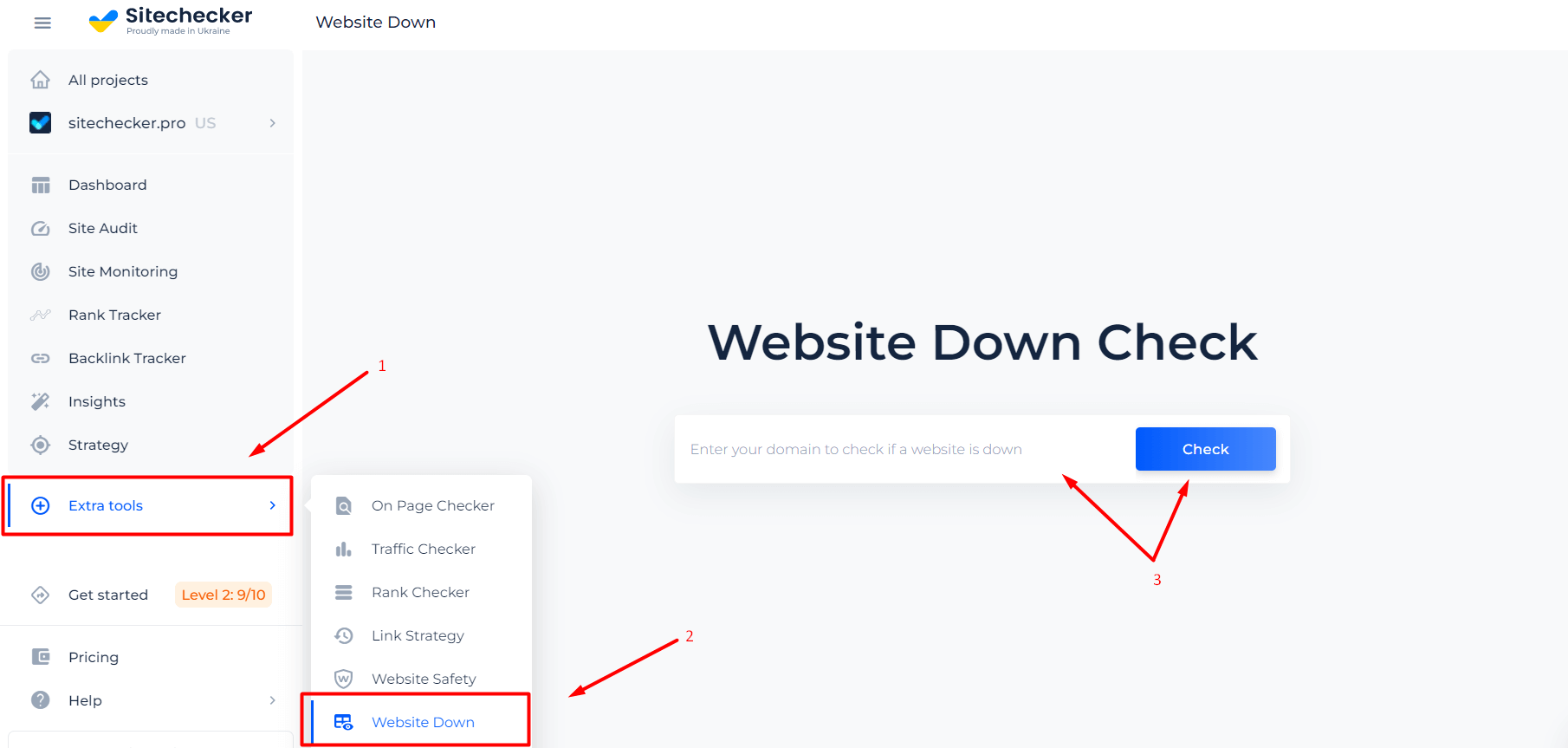 Features of Website Down Tester
In the case of working with your site, one-time checking of your site is not enough, because you never know when the site can get down in case of technical issues. To ensure your website is always up and running, we offer website monitoring. This allows you to track uptime and downtime, as well as see which pages have been added or deleted. This way, you can be the first to know if there is a risk of losing Google traffic.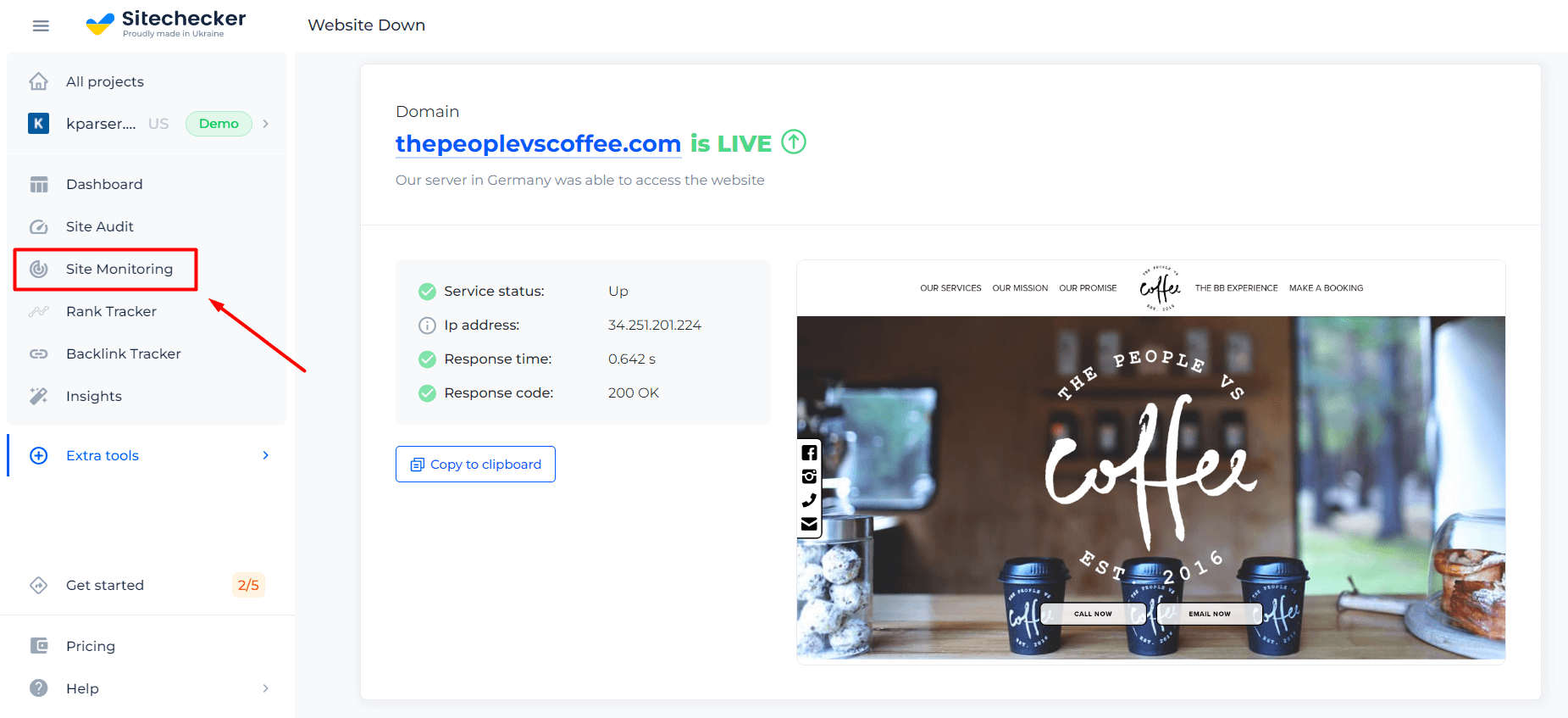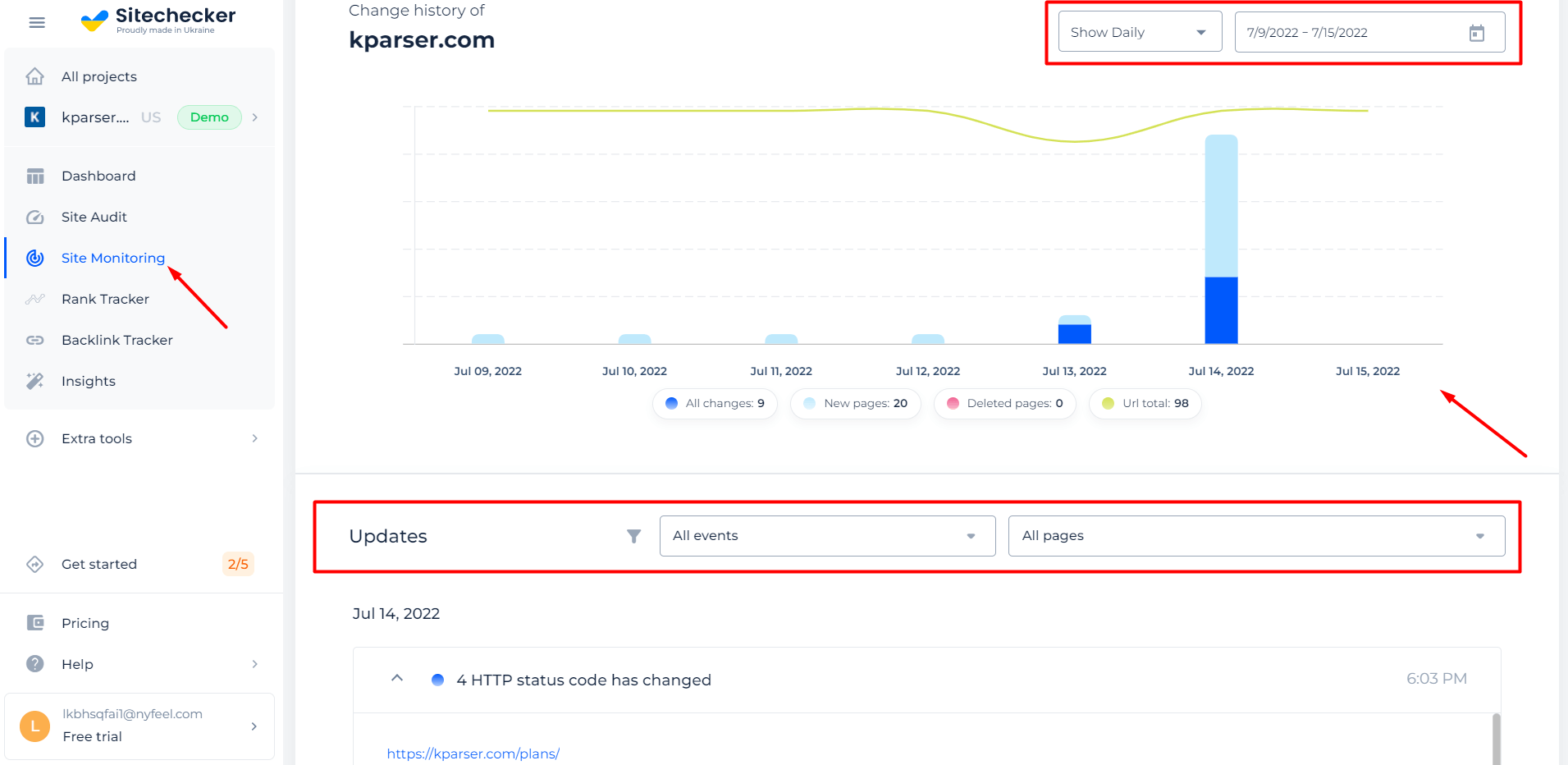 Also, we're not just tracking the changes but offering you to find out what exactly changes and where they happened.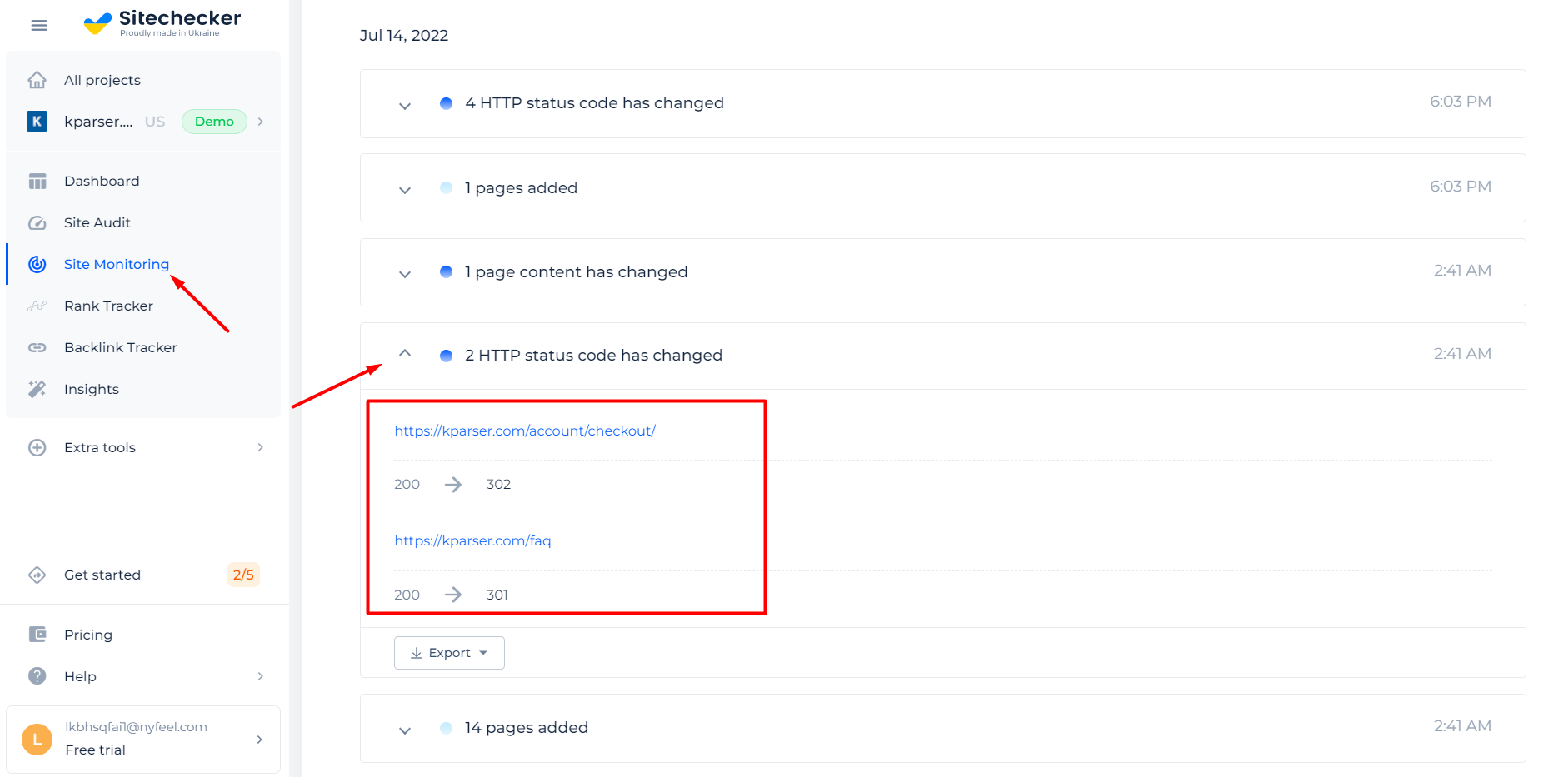 When a website is down, it is bad, but there are a lot of another issues that can harm your SEO!
To detect not only website crashes but other kind of technical issues, just make the full site audit.
Why Uptime Matters?
The site uptime is critical. Each minute of downtime costs you money, not to mention the reputation. And the larger the business — the more you lose. For example, a minute of downtime would cost Amazon around $220k.
Also, it can be the reason for losing positions if your site was down for a long time. Check out what Google says about that.
Here are the main reasons to test if a site is down regularly:
| Reason | Explanatioin |
| --- | --- |
| Providing a better user experience | Users hate an unavailable site. New visitors might never return again while existing customers get frustrated. Your competitors will gladly lend them a helping hand. |
| Maintaining high search engine ranking | Google will rank slow or inaccessible websites lower. If your website is down often enough, get ready to be 'punished'.The rankings can take a long time to recover from such a blow. |
| Protecting advertising revenues | Obviously, the ads are not served when your site is down. Ad services also monitor downtimes and don't like it when your site is unavailable. Many of them will suspend a campaign if the site is down, especially for a while. |
| Detecting hackers | Hackers' intervention may cause downtime. A malicious code can damage your site and potentially infiltrate the visitors' devices. Using a website uptime checker, you will find out that the site is unavailable and may act in time to prevent the damage. |
How to Monitor Website Availability?
You've learned how to check if a website is down. But because of the above mentioned reasons we may want to do it constantly. Here are some ways to establish monitoring:
Use custom alerts in Google Analytics. They are triggered when Google detects the traffic drop below some set value. The notification will be sent to your email;
Develop a loyal community in social media. Regular users of your web-resource will notify you via Facebook or Twitter if the site is down;
Set up Sitecheckerbot monitoring. The bot will check your site for critical changes and report you if there are any;
Use our free website uptime checker. As soon as your website is down, you will get a notification.
What Causes Website Downtime?
You have used our website down checker and are sure that the website is down for everyone. What's the problem? Let's have a look at the most likely scenarios:
| Reason | Explanation |
| --- | --- |
| Issues with the web hosting provider | Poor hosting is one of the top contributors to website downtime. There are some planned downtimes due to maintenance, but unplanned ones can also happen. What compensation are you going to get in this case? Choose Web hosts with the best uptime guarantees to get the top-insurance against such accidents; |
In this case, you can check out the best alternatives for your hosting provider.
| Reason | Explanation |
| --- | --- |
| DDoS and hacker attacks | Your site doesn't necessarily have to be directly hit by a DDoS attack to suffer from it. If you use shared hosting, your site is on the same server as numerous other sites, which may fall prey to attackers. Luckily, most hosting providers have advanced anti-DDoS services. You might also think about using dedicated servers for extra protection; |
| Problems with databases or software | For example, incompatible plug-in installation may bring the entire WordPress site down. Accidental deletion of some files or coding errors (typos, incorrect syntax, infinite loops) can result in server errors. Internal conflicts, database errors can also lead to your site displaying partially loaded pages, blank pages, or not loading at all; |
| Hardware failures | No number of redundancy levels, power supplies, or network controllers can guarantee 100% uptime. You can't predict a wide-spread power outage or some accidental cord damage; |
| Domain name server (DNS) issues | Sometimes it's just DNS propagation. A change to a DNS record is usually a matter of hours but can take up to 72 hours to propagate globally. Incorrect configuration may also be the reason. A simple misspelling of a nameserver can shut your website down; |
| The domain name was not renewed | Even if you bought a domain name, you are not entitled to use it forever. Similar to an apartment or a car lease, the registration of a domain name must be renewed. Otherwise it will become available for another user. Search for the domain names you can buy with our Domain Availability Checker |
Troubleshooting Tips
You've tried to access a site but got nowhere. What should you do? Here are some recommendations for beginners:
Check the URL. No matter how obvious it sounds, you may just misspell it without noticing;
Does your URL have 'http' or 'https' at the beginning? It's not the same and some websites can't work with both;
Is your internet connection OK? Try visiting some popular sites like Google.com or Facebook.com;
Are you using a Proxy or a VPN? Turn it off and try again;
Is it your website? If the answer is 'yes', look at the DNS settings, and contact your hosting provider to check the server. If the problem lies with hosting and is recurrent, you may consider changing your host. Find yourself a reliable company from the list of the Best Web Hosting Providers!