What is the HTTP Status Checker Tool?
The HTTP Status Code Verifier is a tool capable of fetching the HTTP status code yielded by a web server when a specific URL is accessed. It supports both HTTP and HTTPS URLs seamlessly. With a single query, our utility delivers crucial insights about a URL's HTTP status, serving as an invaluable asset for troubleshooting, debugging, and testing purposes. Upon diagnosing and rectifying the issue, the results can be easily shared with your team or downloaded for individual problem-solving tasks
Moreover, our verifier is freely accessible and can be utilized on any website.
Our free URL status checker is designed to assist you by
URL Analysis: The tool is capable of assessing both HTTP and HTTPS URLs to determine their status codes (2xx, 3xx, 4xx, 5xx).
Detailed Analysis: The tool provides an in-depth report highlighting the specific HTTP response status for full website URLs. This insight allows you to understand and address any potential issues that could be impacting your website.
Redirects Tracking: It efficiently tracks all redirects and their corresponding status codes, which can help you address any redirection issues.
Server Response Time: The tool offers feedback about your website's server response time, which is crucial for improving your website's performance and user experience.
Real-time Alerts: Regular monitoring of your website is conducted to detect any changes in HTTP status codes, with real-time email alerts sent for prompt action.
HTTP Header Information: It documents the entire HTTP header information that can help in diagnosing potential issues with the server.
Utilizing the URL status code checker involves inputting a URL for a site-wide scan.
Alternatively, a browser extension can be used for real-time checks as you navigate a site.
Key Features of the HTTP Response Status Checker Tool
Unified Dashboard: All data related to the HTTP response status codes from your URL is compiled in one easy-to-access place, offering a streamlined and effective way to manage URL health.
User-friendly Interface: With our intuitive interface, the HTTP status checker ensures effortless navigation through your URL's response codes, simplifying the process of identifying and resolving issues.
Response Status Assessment & Sharing: Evaluate your URL's status codes, identifying successful and problematic ones. Utilize these insights to maintain your website's health. Our tool generates concise reports, easily shareable for effective website management.
Complete SEO Toolset: Our platform provides more than just checking HTTP status codes. With features such as SEO audits (on-page & off-page), rank tracking, and website monitoring, Sitechecker equips you with the necessary tools to mitigate website issues and seize optimization opportunities.
URL Status Checker Usage
With our simple state code checker, you can effortlessly determine which state code a specific URL has. Cheat your sheet pages to make sure each page gets traffic from users and can be scanned by a search engine.
The HTTP status codes tool enables you to examine the response codes of your desired URLs. We offer an exclusive feature that enables a comprehensive check for all your website pages, which we will elaborate on in the following steps.
Step 1: Insert your URL and use the "Check status code" button
Enter your URL into the field below and hit the button to push the "Check status code" button.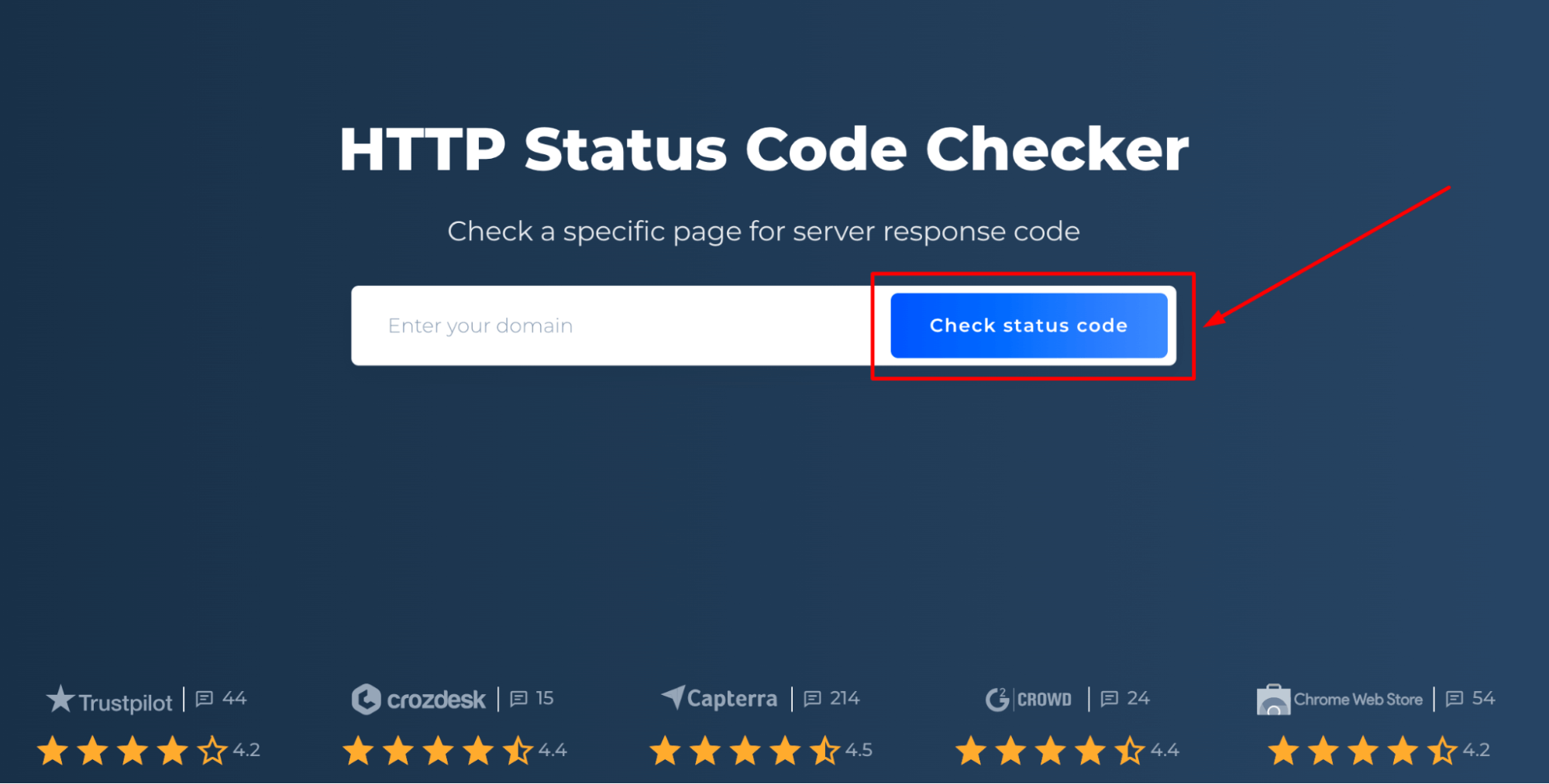 Start your FREE trial to obtain results and gain access to Sitechecker's features for 14 days. Easily sign up using your email, Google, or Facebook account. No credit card required.
Step 2: Results analysis
When you add a URL to our online tool, we will crawl your site to collect data for that URL. This process only takes a few seconds. On the results page, you will find the URL's response Status and other on-page SEO audit data.
HTTP status checker result for the page: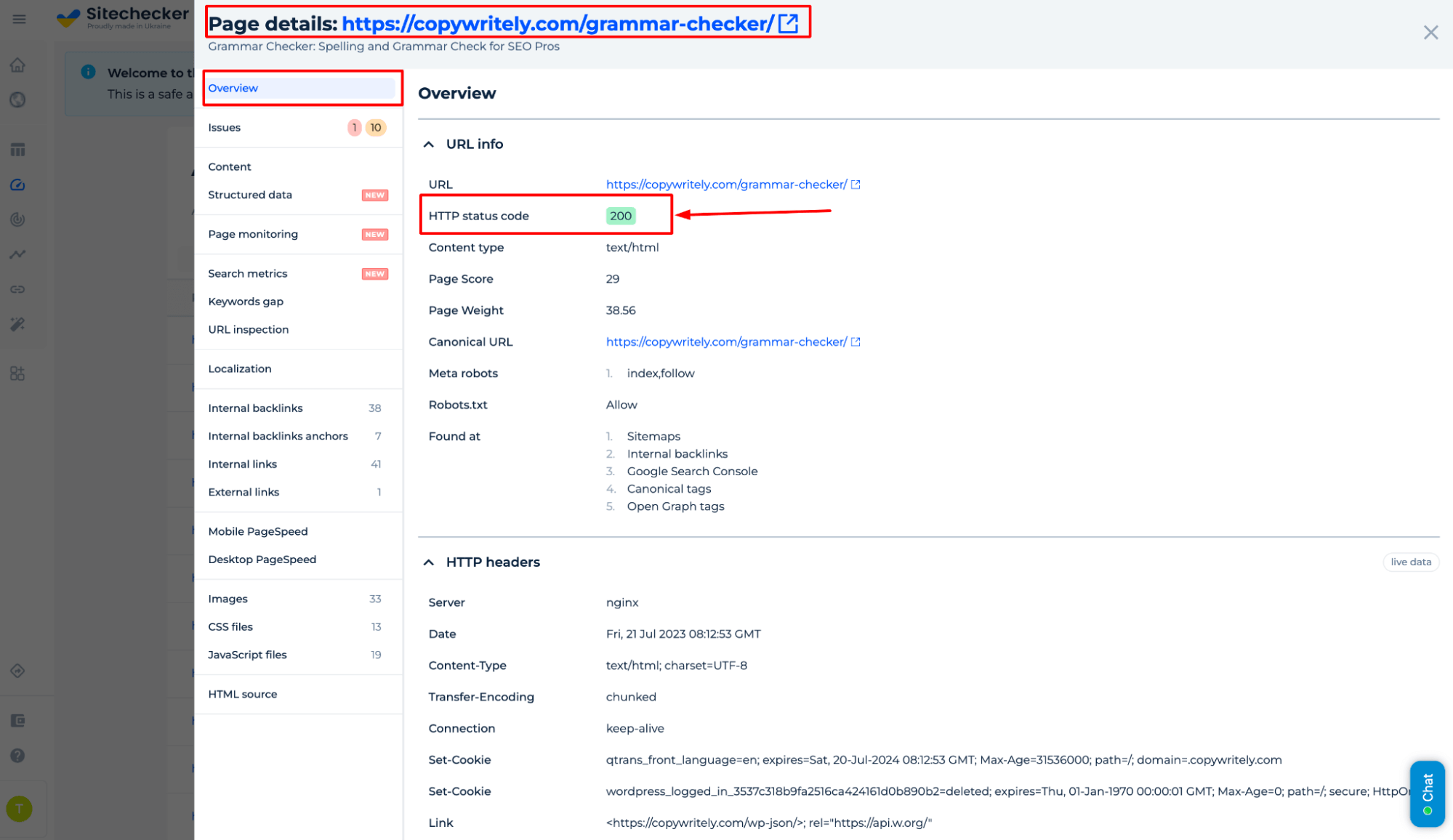 The HTTP status codes tool provides a holistic analysis of your website beyond response codes. It delves into content optimization, structured data checking, and monitors page performance. The tool offers insightful search metrics, performs keyword gap analysis, and provides detailed URL inspections. Additionally, it tracks and analyzes internal backlinks and inspects the anchor texts of your links.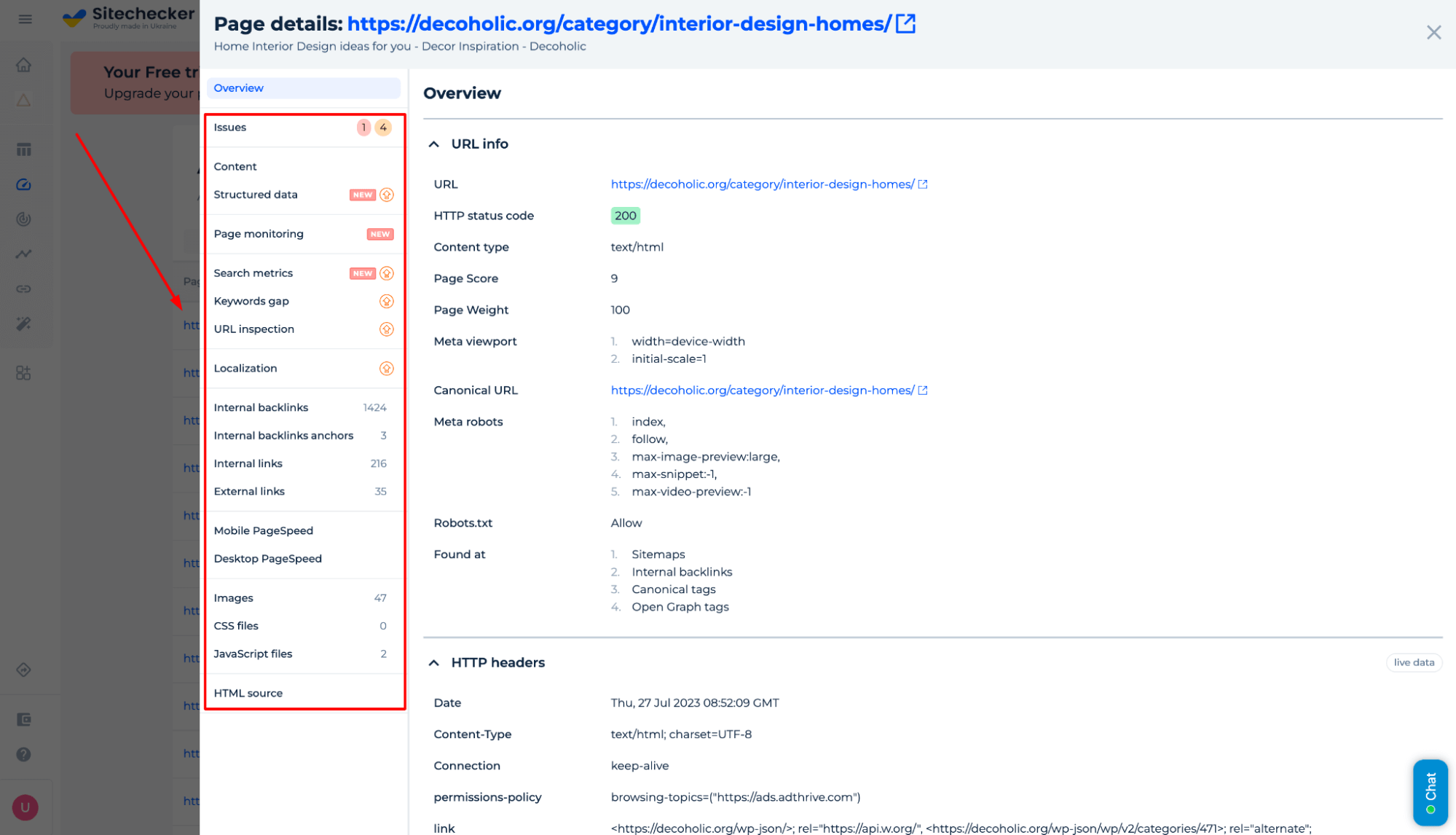 This comprehensive tool facilitates routine website checks, identifying areas for enhancement, and highlights potential errors for prompt rectification, ensuring overall website health and performance.
Beyond its primary functions, the Response checker tool also boasts a range of additional features, providing a more holistic and efficient website analysis experience. Let's explore these advanced capabilities that elevate our tool's value for comprehensive website management.
Additional Features of HTTP Code Checker
Once you start checking the server response with us, we'll conduct an audit of your entire website–not just the URL you checked. This way, you'll be able to see the HTTP state of every page on your site: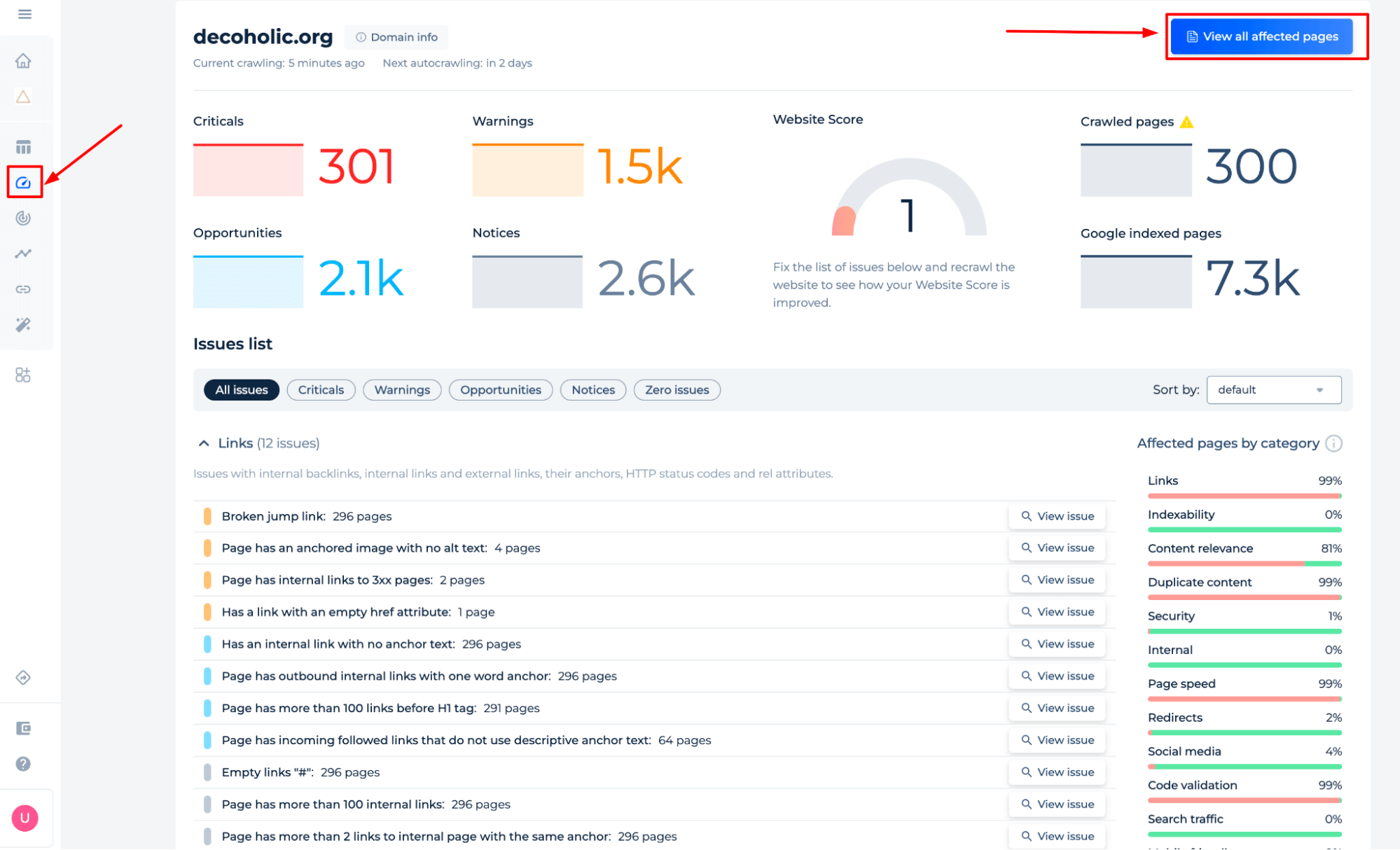 Click the "View affected pages" button to view all code responses of URLs on your website:
For keeping track of status codes different from 200 – choose the filter by Category → Internal → Non 200 URLs: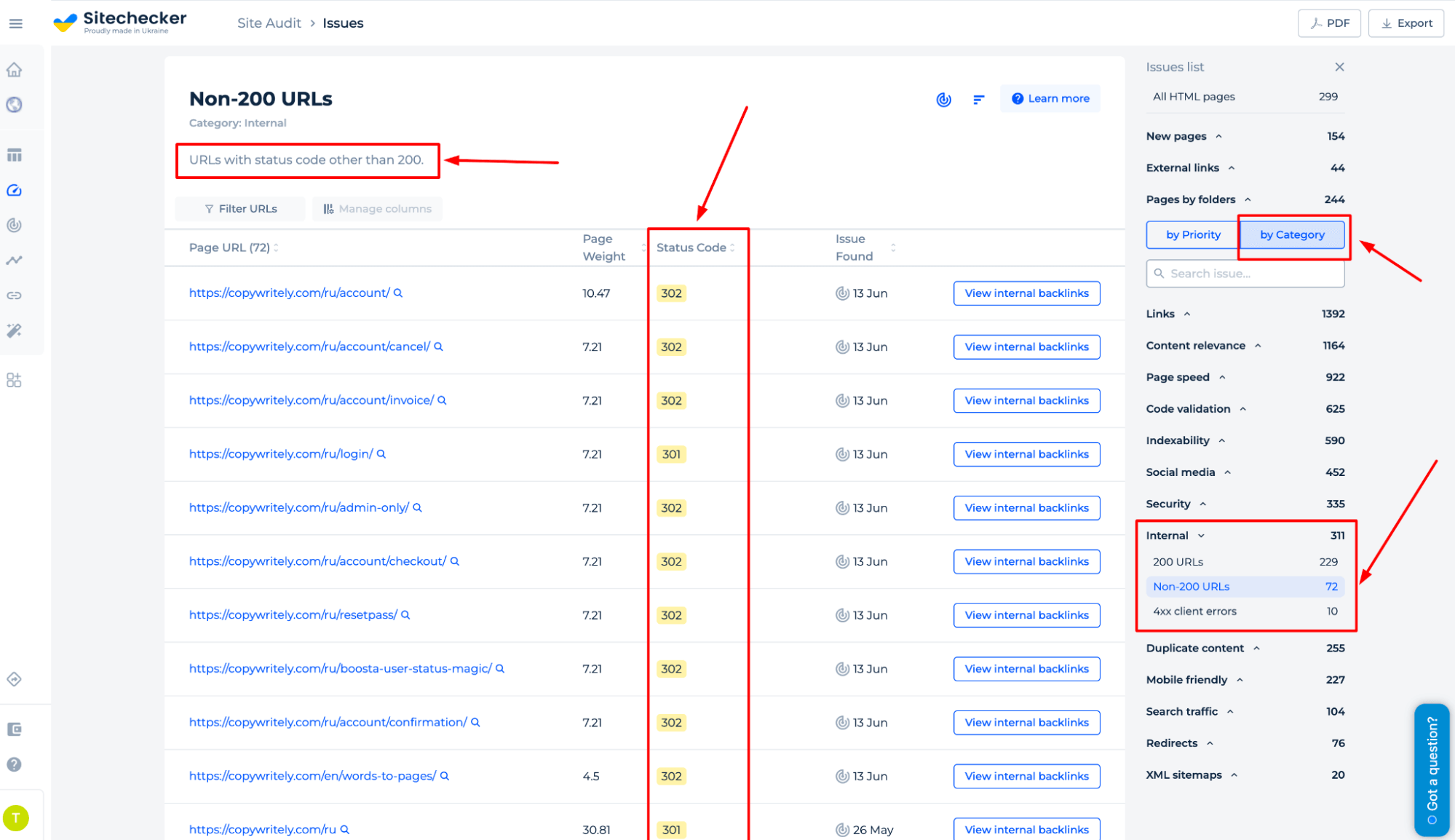 With a complete review of a website's URLs, the website status code checker also generates an extensive site audit report, assisting you in pinpointing diverse issues plaguing your website, along with guidelines for rectification.
Additionally, you can categorize and filter issues based on their severity (Critical, Warnings, Opportunities, Notices, Zero Issues) or their nature (Links, Indexability, Content Relevance, etc.). This feature allows you to promptly identify and tackle the issues that are most critical to your website's effective operation.
You also have the option to utilize the search function to locate the specific server statuses you require: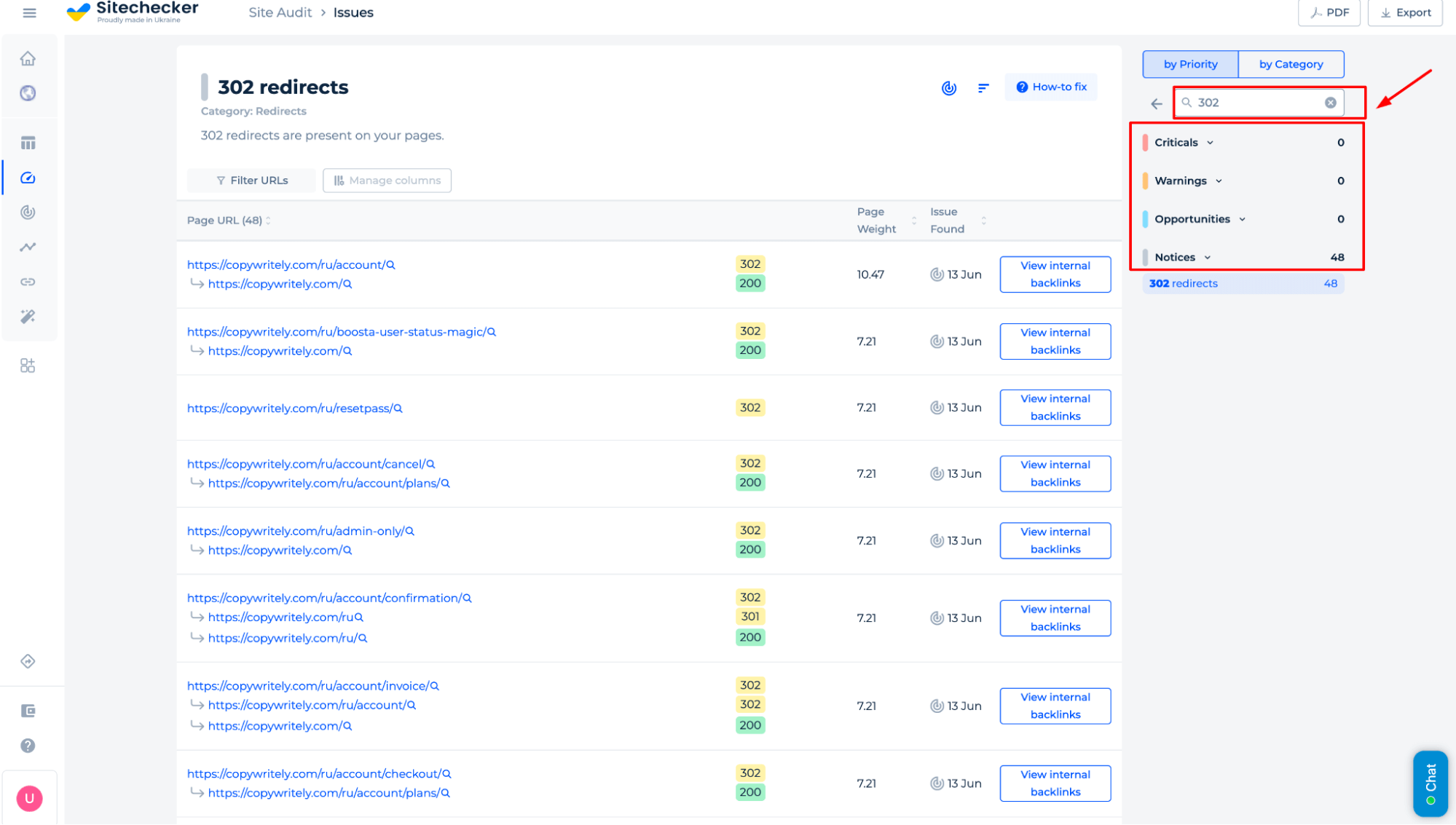 For detailed error analysis, you have the option to conveniently download the error list in PDF format or directly to Google Sheets for further review and editing. This ensures a professional and streamlined approach to rectifying any issues identified by our tool: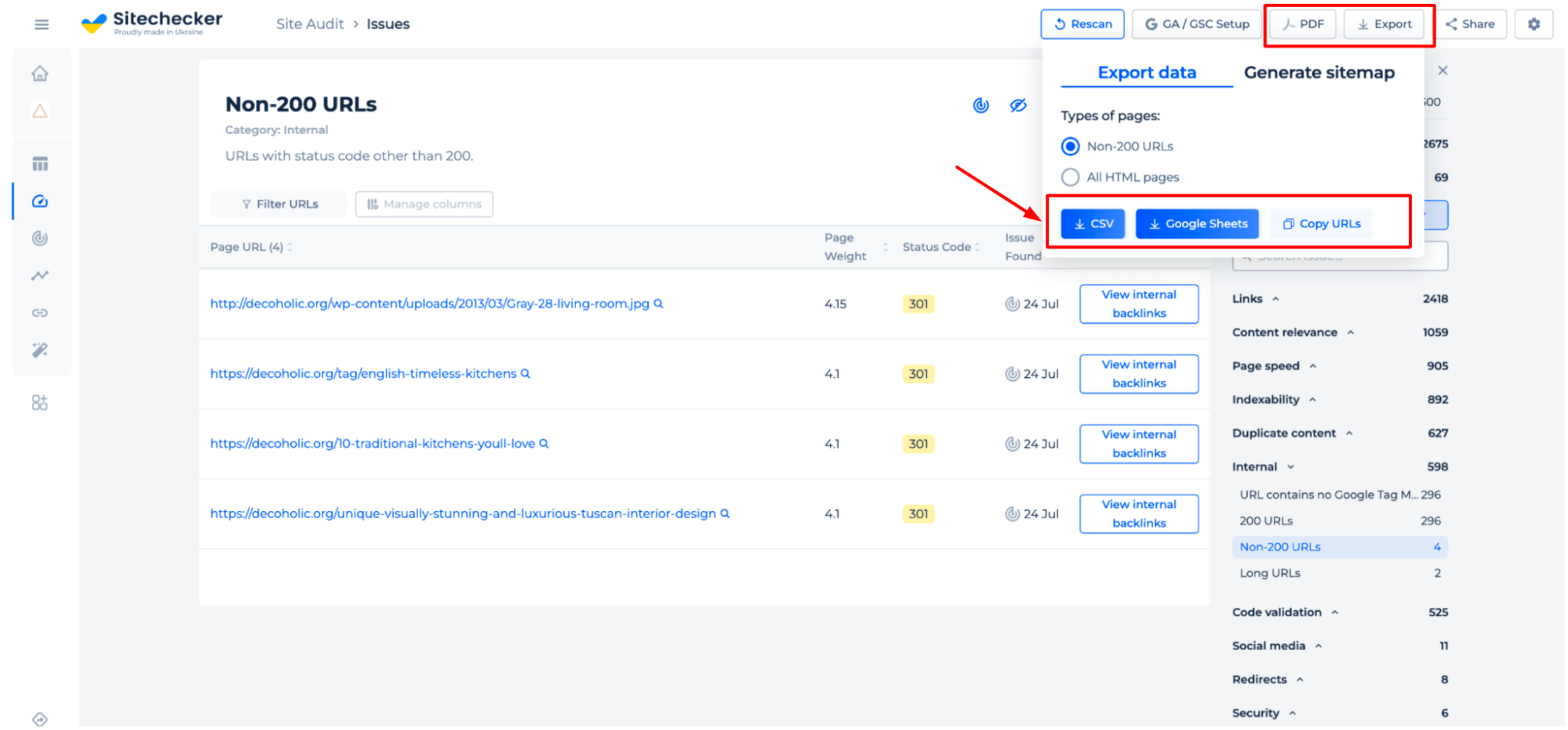 Website Status Codes' Email Alert System
HTTPS code checker features a comprehensive email alert system, specifically tailored to keep you updated about your website's availability and potential server-related issues. In the event of website downtime or significant server errors, the tool promptly triggers an email notification: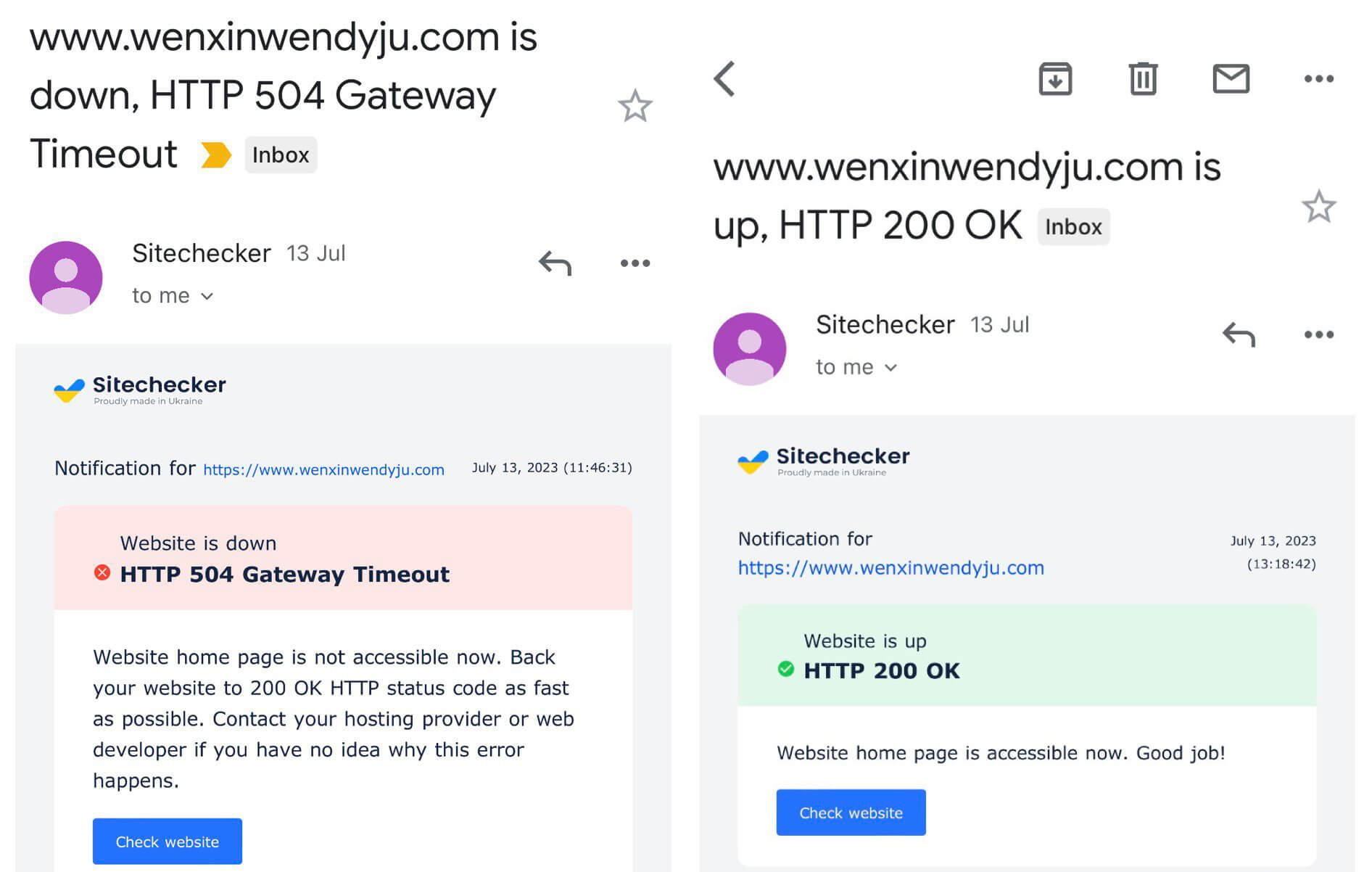 This rapid alert enables you to swiftly detect server problems that might lead to website unavailability or other significant errors, both of which could adversely affect the user experience and your site's SEO standing.
With these real-time email updates, you are empowered to promptly address and mitigate server issues, minimizing any potential disruption to your site's performance.
Sitechecker Chrome Extension for Checking Response Codes
You can also opt to perform a quick evaluation of the webpage and validate the server answer through our browser add-on: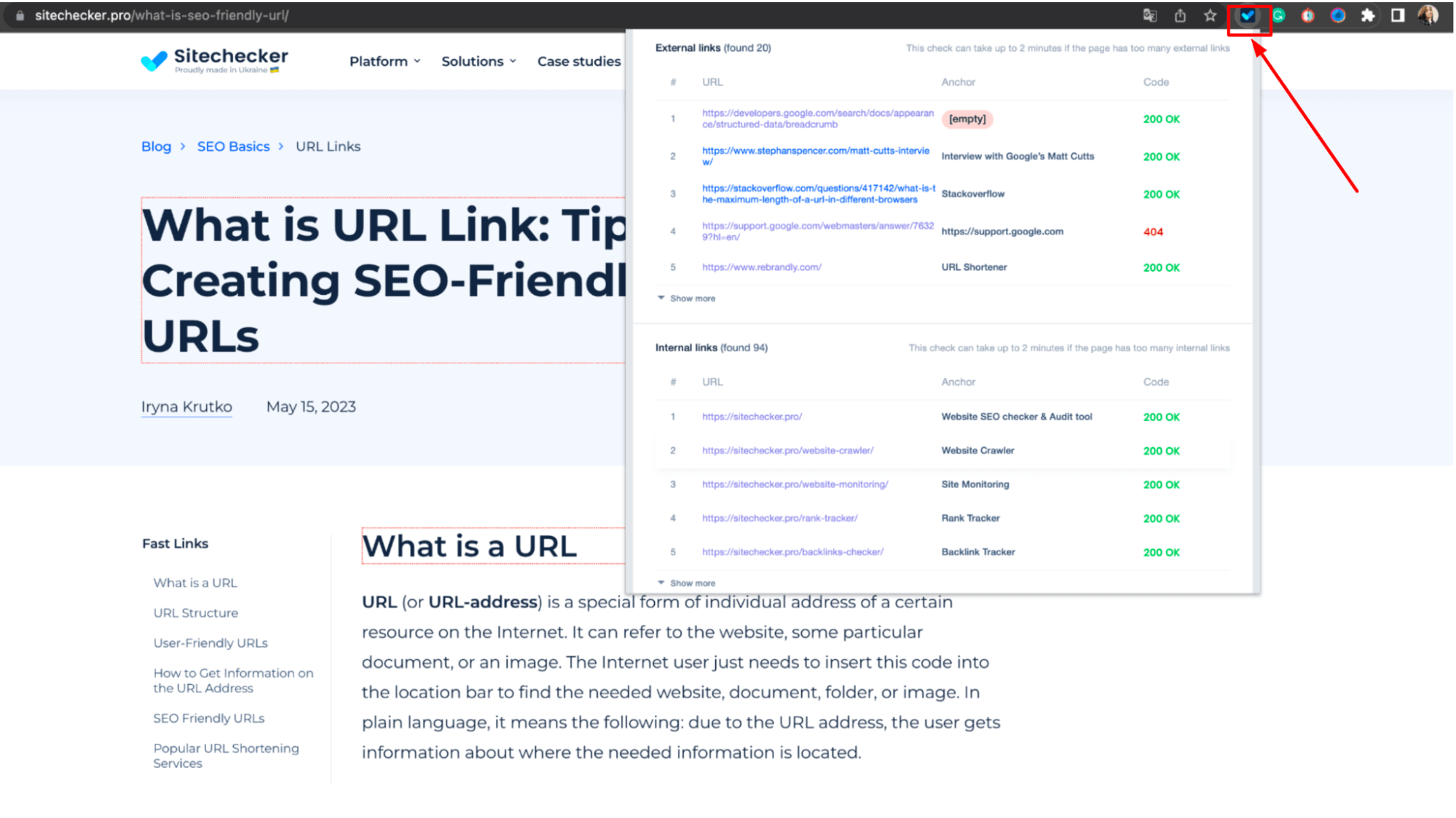 Sitechecker's browser extension for Chrome serves as an efficient solution for spotting and resolving faulty hyperlinks. Once installed on your Chrome browser, it allows for seamless scanning of any webpage, scrutinizing the legitimacy of all links.
This tool organizes links according to their HTTP status codes, emphasizes those posing issues, and even proposes fixes for their resolution.
Conclusion
The HTTP URL Tester is an efficient tool for assessing HTTP and HTTPS URLs, offering features like URL analysis, bulk checking, detailed reports, redirects tracking, server response time, real-time alerts, and HTTP header documentation. A free version and premium plans are available. It provides comprehensive site audits, issue categorization, and filters for efficient problem resolution.
Also, it features an email alert system for website status and server issues and a Chrome extension for real-time webpage checks and hyperlink diagnosis.
FAQ
How do I check the HTTP server response?
You can check HTTP responses using tools like the
HTTP Status Code Checker
. Simply input your URL into the tool, and it will return the status code.
What are the five status codes of HTTP?
How to read error responses in Java?
In Java, error responses can be read using exceptions. For HTTP calls, you would typically use an
HTTP client library
, which will throw an exception in case of a client or server error. The exception should contain information about the error, including the HTTP states.