Gameservers is a gaming service that allows its customers to use managed hosting specifically to serve games worldwide. The company's servers are in 36 locations around the planet so that you can use the provider's services in any city. Take advantage of both dedicated servers and voice servers.
Elastic bandwidth allows for growth and scalability to meet any requirement, and highly customizable hardware options provide flexibility to suit your solution. It's the perfect solution if you're a gaming service provider and need a reliable hosting provider.
GameServers Pros & Cons
In the gaming industry, this provider is the most popular, according to gameservers com review. However, the fact that there is very little information on the site about the servers' performance and capacity can make one doubt about the quality of the services offered. Let's quickly go over their main advantages and disadvantages.
Pros
Cons

24×7 support engineers

Custom control panel

Support over 200 mods for games

Payments with PayPal

5-day money-back guarantees

High download speed

Voice servers for gaming

No performance information on the website

Only suitable for the gaming industry

Uncomfortable interface
GameServers.com Briefly
| Characteristic | Information |
| --- | --- |
| Uptime guarantee | 99.995% |
| Support options | email, ticketing |
| Hosting plans | Ventrilo, Teamspeak 3, and Mumble |
| Bandwidth | 10 TB |
| DDOS protection | yes |
| Server RAM | 16 GB |
| Starting price | $69.99 a month |
Go to GameServers hosting
Who Needs to Use GameServers
If you are looking for an excellent service to host games, we recommend paying attention to this provider. Here you can take advantage of a lot of practical features that are useful for the game industry.
The speed tests are also satisfactory. If your goal is to provide your users with a stable hosting service, look at this provider. Take advantage of voice servers, features for the gaming industry, and be sure that the support team will help you solve any problem on the service part in the shortest possible time.
When Not to Use GameServers
Suppose you are promoting an online store or provide any other services other than gaming. In that case, you'd better look for a less specific service. Stop at other popular providers that have clear and easy-to-get pricing plans with an explanation of performance.
Judging by the many gameservers.com reviews, those users who have worked with this provider for non-gaming purposes are very frustrated with the resulting experience. It is not surprising since the provider itself claims to focus only on the gaming industry. Well, we hope made this point clear.
GameServers Performance
Server RAM is 16 GB in the cheapest tariff plan, which is more than the competition offers. Thanks to the fact that the company's servers are in 36 cities worldwide, you can be sure of high performance of this provider. HDD is 1TB, Bandwidth is 10TB, DDoS Mitigation is up to 10Gbps.
For better performance, it's better to spring for a dedicated server GameServers.com. A dedicated server will give you a lot more flexibility, plus you won't have to share it with any other gaming groups.
GameServers Speed Test Results
The company's official website has almost no information about the performance and speed of the servers. That's why we decided to check the performance of the provider ourselves. For this purpose, we used the most popular download speed services.
Here are the results:
| Test | Average Loading Time |
| --- | --- |
| GTmetrix test | 1.0 s |
| Pingdom test | 1.34 s |
| PageSpeed Insights (Google) | 1.9 s |
You can see for yourself that the figures are quite good. We can conclude that domains on these servers will load quickly, which is crucial for the gaming industry. As you can see, we tried to make this gameservers.com review as objective as possible.
GameServers Uptime Guarantees
Constant availability of the game server is the most critical factor when choosing a hosting. You should be sure that the server will always be available, as it plays a significant role for your users.
On the company's official website, there is no information about what Uptime Guarantee they provide to their users. In response to our question, the support service referred to the appropriate section of the site policy, but even there, we did not find a specific indicator.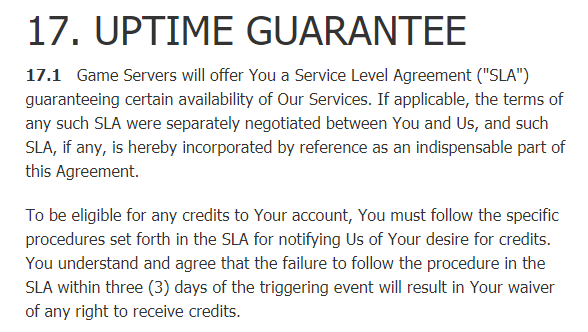 In gameservers review, we found information that the support team once promised a 99.995% Uptime Guarantee. Well, we can only believe it, as we have no official data on this matter.
GameServers Server Response Time
In the tests above, this provider showed excellent results in terms of content download speed. We decided to check the download time for the user additionally. For this purpose, we used a popular service that takes Google's recommendations that the server response should not exceed 200 ms as a basis.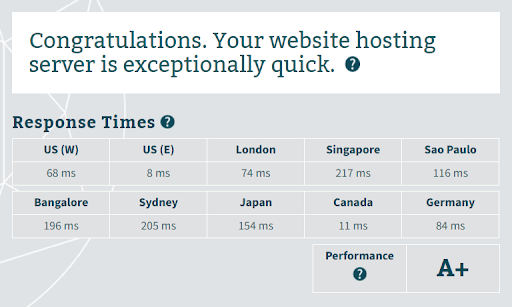 As you can see, Bitcatcha gave the provider the highest A+ rating. It shows that the download time is very high and is on par with the leaders among hosting providers.
GameServers Site Migration
Many traditional web-hosts offer their clients assistance in transferring the data from other providers. However, the term "site migration" doesn't apply to GameServers. We didn't find any information that this company offers assistance in data transfer to or from their servers. "If we have to cancel this agreement, it is up to you to move your content to another provider", — the Terms of Service-document says.
GameServers Hosting Features and Pricing
GameServers.com specializes exclusively in providing hosting services for the gaming industry. There is not a great variety of hosting types, and in principle, it is not necessary. Supports servers for all the world's most popular games.
The service does not spill over into many functions and focuses on providing quality gaming for its users. Use dedicated hosting if you need to host your gaming resources. Besides, there are also voice servers. Let's take a closer look at these.
Dedicated hosting
The GameServers provides you with four plans for dedicated hosting. Each has 10 TB Bandwidth by default. All standard dedicated servers include 1000 Mbit/s connections and IP/ 29 space. The cheapest plan starts at $69.99.
Voice Hostings
Besides, the company provides the ability to use Teamspeak, Mumble, and Ventrilo voice servers. GameServers is an authorized Ventrilo host, and they offer their clients Ventrilo hosting at any of the locations listed on their website. The user will have a free opportunity to change the area while using the service. If you are not getting the best voice quality for the server you ordered, you can cancel your subscription within the first five days and receive a full refund.
Security
Depending on the game, users may apply a connection password to prevent accidental, unauthorized access by third parties. If you use the Personal Subscription service, you must use the connection password. By the way, note that some games do not have a password function.
Also, users need to have FTP access to the game files. Some games will not have FTP access because of restrictions imposed by game developers. However, GameServers.com does have editable configurations available in the member area.
GameServers takes several steps to protect against DDOS attacks:
Software firewalls on machines to filter minor attacks.
Hardware firewalls on GameServers.com networks.
Router and switch filters to detect improper traffic.
Guided screening and attack intervention.
However, due to the nature of such attacks, there is no complete and reliable way to protect against them. Currently, GameServers.com does everything possible to prevent and filter malicious traffic from affecting the network.
Support
Support service is available in the form of an appeal to e-mail, or you can create a ticket directly on the company's website. In most gameservers reviews, customers note the high speed of the support service and their professionalism.
We decided to check for ourselves how right the answers to our simple questions would be. An hour after creating a ticket on the website, a company representative responded to our email and dropped the links to the website's relevant sections. When we asked more complicated questions, we were given a detailed answer in no time.


In general, the customer service experts are at a high level of qualification. We think that you will have no problem discussing issues you've met, if any at all.
GameServers Quick Facts
Bandwidth: 10 TB
Custom Packages: available in select datacenters
Remote Management: included in each plan
Where are servers located?: 36 cities around the world
Support: 24/7 ticketing and email
GameServers Review: Summing Up
Yes, we recommend this provider. First, if you need a dedicated gaming service for a reasonable fee, you simply won't find a better option. Secondly, the service showed relatively high results in our tests, proving its high performance. Third, they do care about protecting user data and servers from attacks, so they use the latest security certificates.
If you need a provider for other purposes, we recommend looking among the market leaders. GameServers.com specializes exclusively in game servers' quality, so you should not expect it to work well for e-commerce sites.
GameServers Alternatives
If you want to check out other hosting providers suitable for use in the gaming industry, we have prepared some appropriate options for you. Here are the ones that are likely to satisfy your needs:
If you're looking for the cheapest way to get online, check out:
FAQs on GameServers.com
Is an additional GameServers control center available?
Yes. Definitely. The Game Control Panel is available as an option on dedicated servers for most games, making it much easier to install games.
Are there any Dedicated Server Add-ons?
Yes. You can get Operating System Reinstall: $25 (BF3/BF4 Ranked Only) and 100 Additional Ranked Slots: $50/month.
Can I Change My GameServers Plan at Any Time?
Yes, of course, you will have that opportunity. You can upgrade your plan in both dedicated services and voice services. To do this, you just need to contact the support service and make the appropriate request. It is free.
Is GameServers Good for E-Commerce?
No, definitely not. Only use this provider if you are connected to the gaming industry. Otherwise, you might not have enough functionality; you might have problems. Look for other hosting providers that are suitable for this purpose.
Is the customer support available by phone?
No, but you can issue a ticket on the site's main page or in the Help section. Alternatively, you can write an email to solve your problems. The support service will try to help you with the solution to your concerns in a short time.