Looking for the fastest WordPress hosting to power your web project? Speed is an important factor in selecting the best service provider. Fast working sites are convenient for users, they improve the overall quality of Internet search results, and additional traffic to such projects is commercially beneficial to their owners.
Hosting choices are often overlooked, and overlooked is the fact that quality hosting is one of the key aspects of every successful website. Today there are various types of WordPress hosting, such as free WordPress hosting, virtual, managed WordPress hosting. In this guide, we'll help you choose the fastest hosting for WordPress websites.
The 5 Fastest WordPress Hosting Providers
How to Choose Fast WordPress Hosting?
Hosting for a WordPress site should be chosen carefully, taking into account all the features and requirements of an online project. If you do not know where to start, then we will analyze here the points that you should pay attention to when choosing fast WordPress hosting.
Factor 1 – Server Configuration
This means all the general specifications of the server you are going to use and those that affect whether you get the fastest WordPress host or not. These are computing power, stability, processing speed, supported software, load capacity, etc.
Learn more about these parameters in advance to ensure that the server will be stable, without interruption. The higher each of them, the more data the hosting servers can process simultaneously.
Factor 2 – Traffic & Resilience for Sudden Loads
The traffic depends on the bandwidth, CPU resources, the number of visitors, and their activity. Imagine a situation: your ad is getting incredible feedback, or your blog post hits Google, which brings tens of thousands of visitors to your site at once.
Will the hosting withstand such traffic? These are all important questions that should be clarified with the company of your choice. Most of the providers claim unlimited traffic on their web hosting.
In practice, when the load is higher than the bandwidth of the channel, the hoster requires an additional fee.
Factor 3 – Disk Space & RAM
Memory is one of the most important indicators affecting the speed of information processing and data transfer. It temporarily stores input, output, intermediate data. It depends on how quickly your site will load on users' devices. This, in turn, determines their loyalty.
So, disk space and RAM (random access memory) are two indicators to look out for when choosing the fastest web hosting for WordPress. It is important that you use fast solid-state drive (SSD) disks for storage, and that the size of the RAM allows you to perform all the necessary operations. For example, for a blog on WordPress with traffic up to 1,000 users per day, 512 MB of RAM is enough.
Factor 4 – Server Geographic Location
Site loading speed directly depends on the distance of the user to the server. It is important that the site is located as close to your target audience as possible. So, if you are targeting the American market, then it is logical to rely on servers in the United States.
If you intend to operate exclusively in the European market, select the appropriate server location and so on. If it is not possible to determine the optimal value, or you plan to immediately "capture the whole world", then focus on the global location of the servers.
Factor 5 – Data Protection & Security
⅓ of all sites in the world are built on WordPress. The popularity of this open-source and free software continues to grow. But the downside is also widespread: hackers create many scripts and programs to hack WordPress every day.
Therefore, it is very important that the hosting provides security and protects against viruses and various vulnerabilities. The best way out is to have antiviruses on servers that scan all files, and then send a report to your mail. This will significantly increase the safety of data.
Different Types of the Fastest WordPress Hosts
There are 3 key types of hosting used for WordPress projects. Therefore, each site owner can find the best option for themselves.
Type 1 — Shared Hosting
In fact, this is one server. Its capacity and hard disk space are divided among many users. Each of the site owners disposes of the resources allocated for their project. The whole software is preinstalled – you do not need to search and install it yourself.
Shared hosting is suitable for small web resources with low requirements, for example, landing pages for the startup. That's why this is one of the most popular solutions due to the simplicity of settings and the low prices (on average – up to $ 10 per month).
Find out more about shared hosting as a simple solution for web projects.
Type 2 — VPS (Virtual Private Server)
If you immediately start a more powerful project on WordPress than a landing page, then your choice is to pay for a virtual private server (VPS). There is more guaranteed SSD memory and more RAM, server processing power, and other resources. With VPSes, there is no capacity or restrictions on the number of sites hosted.
In this case, each user is provided with a separate virtual machine with all the necessary resources. The ability to install your own software allows you to customize your project based on any requirements. And yes, it will be more expensive for you than shared hosting services (more than $ 10 per month).
Here are more details about VPS hosting and its benefits for your own business.
Type 3 — Dedicated Hosting
A full-fledged server will be allocated for your control. This will be your own space where you can develop large projects, store large amounts of data, and so on. Control over the processes is only in your hands, the service provider is responsible only for the hardware.
It will be the most expensive and least common among WordPress sites. But, nevertheless, you can refer to it, having in mind large-scale Internet projects. But here it is worth remembering that a qualified system administrator is required to configure and manage the server.
Inexpensive dedicated hosting services come in handy in many cases.
#1 – BlueHost – Cheapest Plans Among Fastest Shared Hosting for WordPress
BlueHost is one of the most popular and inexpensive shared hosting options for WordPress. As an official partner of WordPress.org, it offers automated CMS installation and robust features.
Bluerock is a new platform from Bluehost. This is a WordPress focused control panel offering an integrated experience with WordPress websites. WordPress Pro is a newly launched managed WordPress hosting platform optimized for WordPress websites for fast loading and security. As a result, you will get speed 2-3 times faster than before.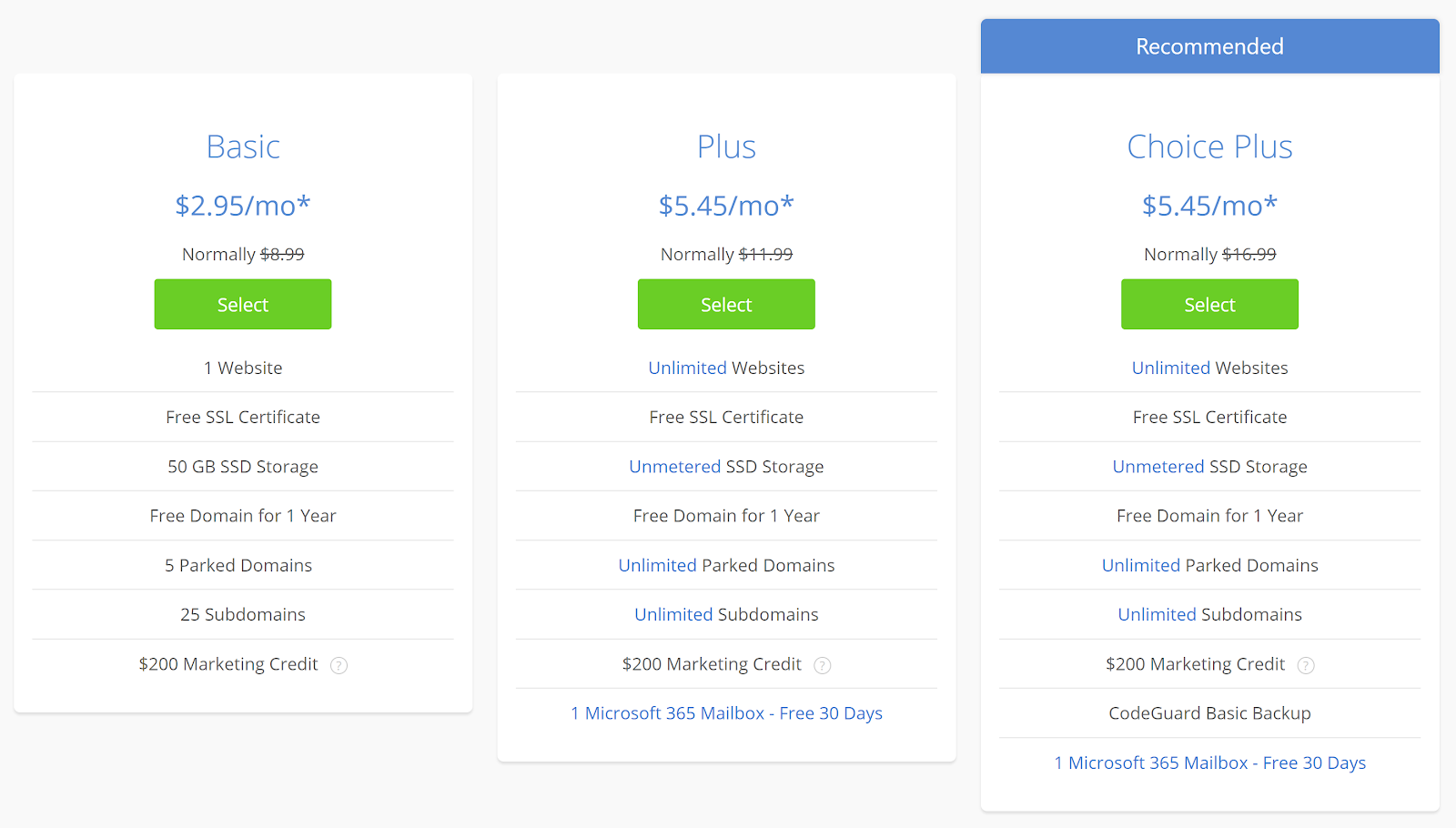 Other features and benefits:
Automatic WordPress installation & updates;
The latest security and performance features;
Hundreds of design themes available
Dynamic scalability, speed, and support
Server location: USA, Netherlands, UK, Singapore

#2 – A2 Hosting – Fastest WordPress + Eco-Friendly Hosting
A2 Hosting is a great web hosting option for WordPress sites of any size and type. It is perfectly optimized to work with this CMS, offering all the managed functionality (from setting up accounts to a high-speed package tailored to all possible needs).
The feature the team praises the most is speed (they even have a Turbo Server option that makes pages load faster). Decent packages start at 9.99 per month. Compared to other popular companies, their prices are intermediate: not too high and not too low.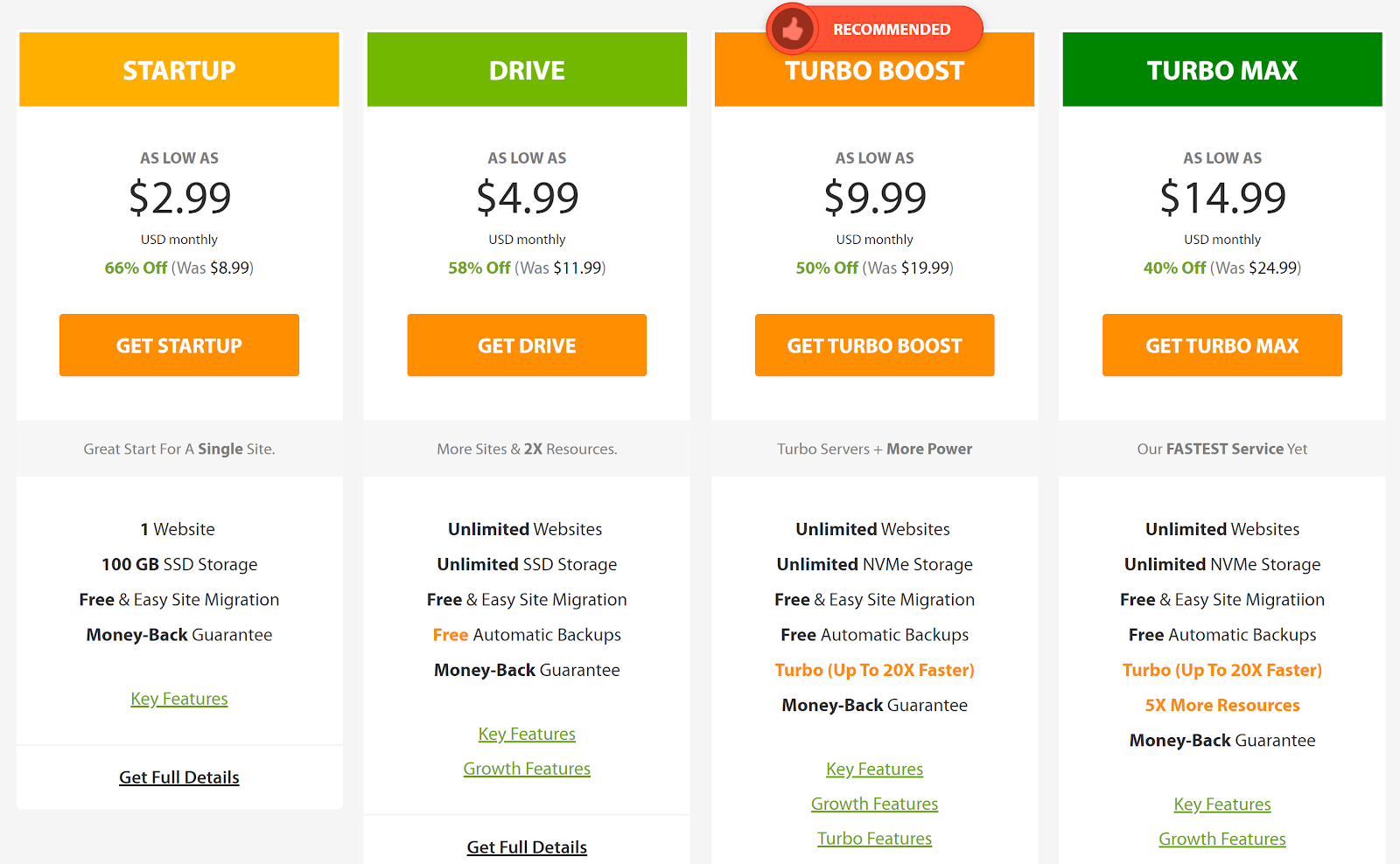 Other features and benefits:
Automatic WordPress setup;
SwiftServer platform;
Turbo servers up to 20x faster;
Free HTTPS protection, etc.
Server location: USA, Europe & Asia

#3 – SiteGround – Fully-Managed WordPress Fast Hosting
SiteGround has an excellent reputation for fully-featured WordPress hosting for all types of sites. The team offers an exclusive, custom set of built-in tools for WordPress – from the quick start of CMS to its unmatched performance.
The company is responsible for updating the core CMS files and plugins, as well as finding and fixing vulnerabilities. So you don't have to worry about the security of your sites or manually update files.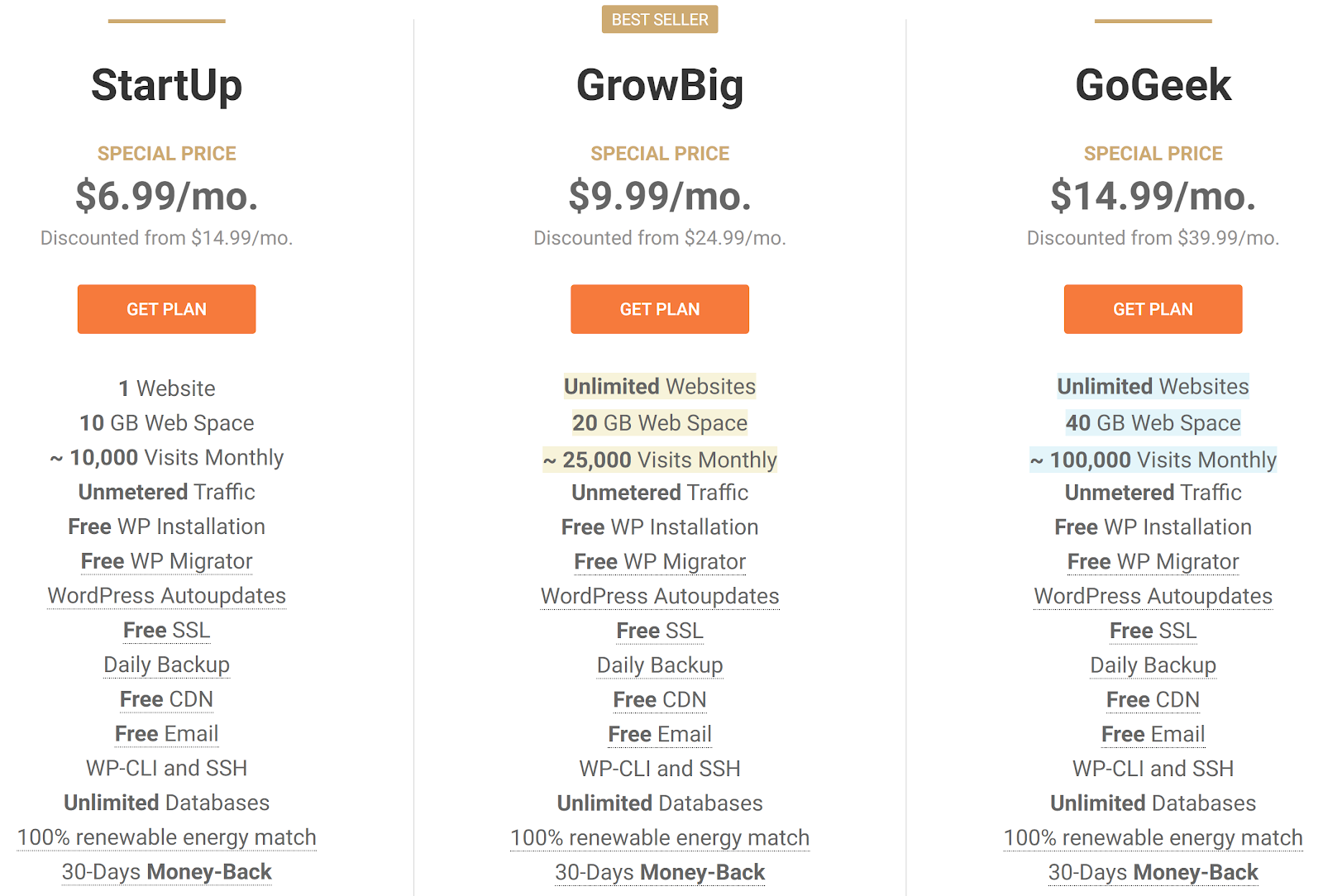 Essential features and benefits:
Free Weebly website builder with drag & drop function;
A wide range of friendly site tools & performance boosters;
Extended security and related support, etc.
Server location: USA, Europe & Asia/Pacific

#4 – Cloudways – Best Managed WordPress Cloud Hosting
Cloudways is relatively young in the hosting industry (founded in 2011) but it is a reliable integrator of cloud services. But the company is already deploying its successful solutions to various cloud platforms such as Google Cloud Platform or Amazon Cloud Services (AWS).
The company independently manages these cloud hosting services on behalf of the client. You can just install WordPress and get back to business.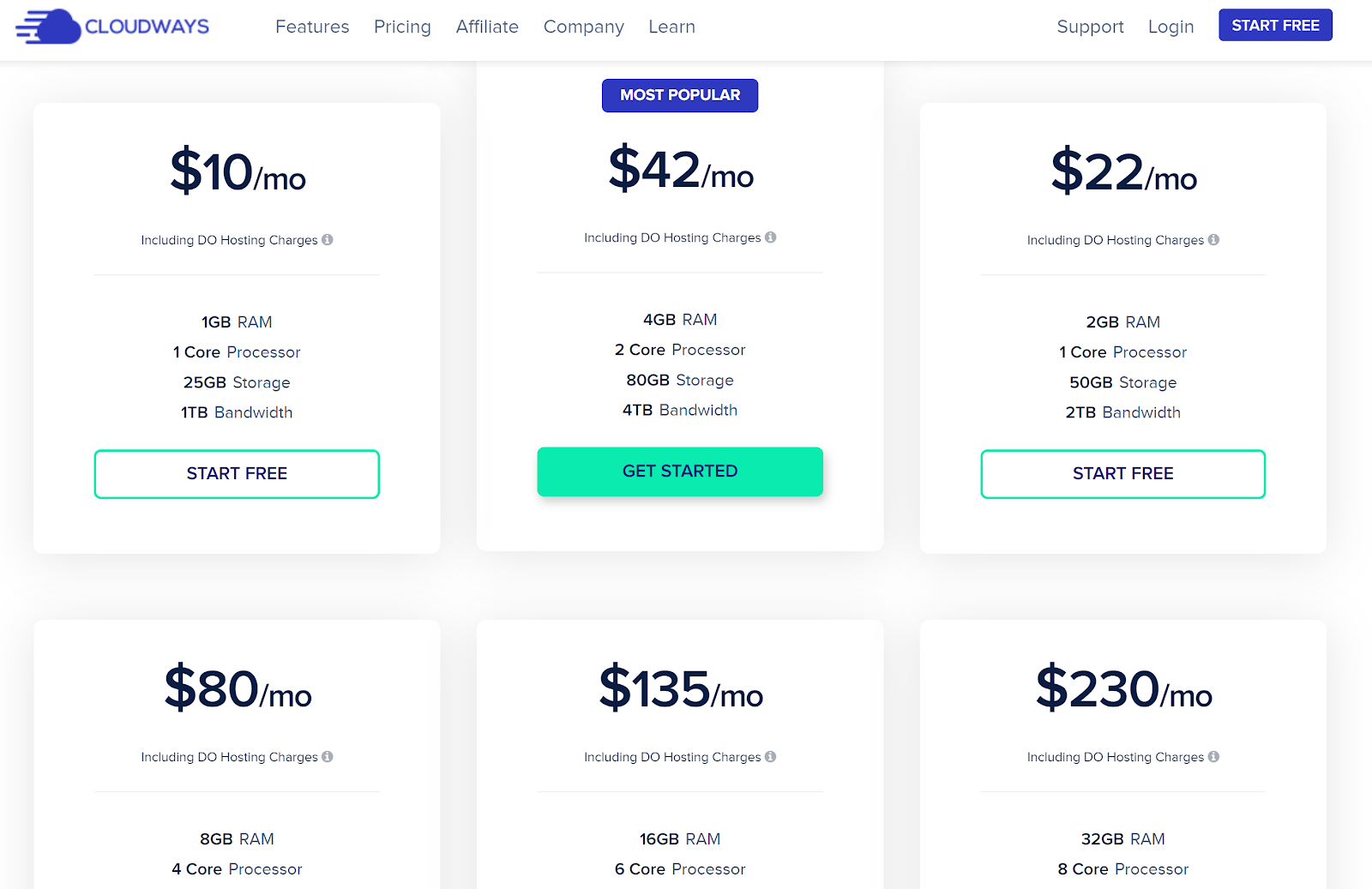 Key features and benefits:
Well-optimized site performance;
Easy server customization & configuration;
Managed cloud servers with automatic recovery, etc.
Server location: USA., Europe, Asia, & South America

#5 – WP Engine – Well-Optimised WordPress Hosting with Fast & Reliable Servers
This company fully supports the critical elements of the CMS, handling updates, doing caching, making frequent backups, periodically conducting security scans, and much more. The company has many solutions. For example, Evercache.
It is a fairly aggressive caching system that optimizes overall performance by making your web pages load at incredible speed.

Features and benefits:
World-class WordPress expertise with many useful solutions;
Detection of security threats in real time;
Proprietary EverCache caching technology and global CDN, etc.
Server location: North America, Europe, Asia/Pacific

Ready to choose your plan? — Go to WPEngine hosting
Want to read some more information — Go to
WPEngine review
Server location

Server location is the location of the data centre where your website is hosted. This location can be anywhere in the world irrespective of where you are based.

Hosting plans

Different types of website need different types of hosting, so we've shown you which web hosting services provide which types.

Storage

Storage is to do with how much content your website needs to hold.

Control

Dashboard used by hosting providers. You can manage your site's hosting through the type of dashboard.

Pricing / mo (starting at)

Bluehost.com Review
USA
Shared, WordPress, VPS, Dedicated, Managed WordPress
2.000.000
50 GB
cPanel, Custom built
$3.95
30 Days
Siteground.com Review
USA, United Kingdom, Netherlands, Singapore
Shared, VPS, Dedicated, Green, Reseller, WordPress, Web, WordPress, WooCommerce, Cloud
1.700.000
20 GB
Custom
$3.95
30 Days
A2hosting.com Review
USA, Netherlands, Singapore
Shared, WordPress, Reseller, VPS, cloud, Dedicated server, Email200.000
200.000
Unlimited
cPanel
$4.90
30 Days
Cloudways.comCloudways.com Review
USA, Germany, Singapore
Digital Ocean, Linode, Vultr, AWS, Google Cloud
12.500
xx
in-house
$10
3 days
Justhost.com Review
USA
Shared, VPS, Dedicated server
1.000.000
Unlimited
cPanel
$3.38
30 Days
Interserver.net Review
USA
VPS, Dedicated, WordPress
50.000
Unlimited
cPanel, Direct Admin, Plesk, Custom panel
$4.20
30 Days
Hostmonster.com Review
USA
Shared, VPS, and Dedicated Hosting
1.700.000
Unlimited
cPanel
$8.45
30 Days
Netim.com Review
Europe
Web, Email-oriented, WordPress, PrestaShop
30.000
Unlimited
Parallels Plesk
$7.45
-
Domain.com Review
USA
Web hosting plans, WordPress, Shared, Dedicated, Email
10.000
Unlimited
cPanel
$3.75
-
Canadianwebhosting.com Review
Canada
Shared Hosting, Cloud Hosting, Managed WordPress, VPS Hosting, Dedicated Servers
100.000
1 GB
cPanel
$3.95
60 days
Hostupon.com Review
Canada
Shared, WordPress, VPS, dedicated servers, reseller, cloud
10.000
Unlimited
cPanel
$9.95
30 Days
Milesweb.com Review
USA, India, United Kingdom
Shared, WordPress, Reseller, VPS, Dedicated server, Cloud
10.000
1 GB
cPanel, Plesk
$0.60
-
Greengeeks.com Review
USA, Canada, Netherlands
Shared, VPS, Dedicated, Green, Reseller, WordPress
40.000
Unlimited
cPanel
$3.95
30 Days
Fastwebhost.com Review
USA, Germany, India, Netherlands, China
Web hosting, VPS, Dedicated servers, Domains
30.000
20 GB
cPanel
$2.95
30 Days
Exabytes.com Review
USA, Singapore, Asia
Web hosting, Email, WordPress, Cloud SSD VPS
100.000
1 GB
cPanel,Plesk
$1
-
Mochahost.com Review
USA
Shared, WordPress, VPS, dedicated, reseller
500.000
Unlimited
cPanel
$1.95
180 days
Eukhost.com Review
Europe, United Kingdom
Web hosting, Email, VPS, Cloud, Dedicated
35.000
Unlimited
cPanel, Plesk
$4.44
-
Netfirms.com Review
USA
Shared hosting
1.200.000
Unlimited
Custom built
$4.45
-
Namecheap.com Review
Europe, United Kingdom
Shared, WordPress, Reseller, VPS, Dedicated
3.000.000
Unlimited
cPanel
$2.88
14 Days
KnownHost.com Review
USA, Europe
Web Hosting, WordPress Hosting, VPS Hosting, Dedicated Server Hosting
No data
Up to 300 GB
cPanel
$3.47
30 day
Hostwinds.com Review
Seattle, Amsterdam, Dallas
Shared, Business, Reseller, White label
No data
Unlimited
Custom
$5.24
-
Hostgator.com Review
USA
Shared hosting, Website builder, WordPress hosting, VPS hosting, Dedicated hosting
No data
Unlimited
CPanel
$2.75
45 days
Gameservers.com Review
Worldwide
Ventrilo, Teamspeak 3, and Mumble
500.000
10 TB
Custom
$69.99
No data
Dreamhost.com Review
USA
Shared, WordPress, VPS, cloud, dedicated, managed
No data
Unlimited
Custom
$2.59
14 days
Gandi.netReview
France, Europe
Dedicated, WordPress, PrestaShop, Cloud Servers
30.000
Unlimited
cPanel
$4
-
Easyspace.comReview
United Kingdom
Dedicated WordPress Hosting, Shared hosting, VPS
300.000
10 GB
Plesk, cPanel
$4.8
-
Midphase.comReview
USA
Shared, VPS, Cloud, and Dedicated
120.000
Unlimited
cPanel
$3.48
30 Days
Fatcow.comReview
USA
Shared, WordPress, VPS, dedicated
100.000
Unlimited
vdeck, Custom built
$4.08
30 Days
Startlogic.comReview
USA
Shared Web Hosting
50.000
Unlimited
cPanel
$5.99
30 Days
Server4you.comReview
Germany
Dedicated, Virtual Dedicated, Virtual
10.000
20 GB
cPanel
$5
-
Servermania.com Review
USA, Canada, Netherlands
Dedicated, Hybrid, Cloud
8000
250 GB
cPanel
$5
-
Hostpapa.comReview
Canada
Web hosting, Online store, WordPress hosting, VPS hosting, Reseller hosting, PapaCare+
150.000
Unlimited
cPanel
$4.95
30 Days
UltaHost.comReview
Frankfurt (Germany), Dallas (USA), New York (USA), Los Angeles (USA) Toronto (CA), Amsterdam (NL)
Shared, WordPress, VPS, Windows, Dedicated, Managed WordPress
49K
50Gb NVME
cPanel
$2.90
30 Days
LWS.fr
France
Shared, VPS, Dedicated, Reseller, WordPress, Web, WordPress, WooCommerce, Cloud
1.000.00
100 Gb
cPanel, Custrom built
$1,99
30 Days
Kinsta.com
35 locations, across USA, Canada, South America, Europe, Asia, Australia
Managed WordPress
25,400+ companies
Varies per plan, starting from 10 GB
Custom-built (MyKinsta)
$35
30 days
No matches
Web Hosting Comparisons
When choosing the fastest hosting for WordPress, it is very important to focus on more detailed expert reviews, which carefully examine the two services. That is, if you are now in doubt between the two providers, then our next comparative articles will come in handy. We'll compare two or more of the very best hosting providers against each other, weighing the pros and cons of each to give you a clear idea of what is right for you.
Useful Hosting and Seo Tools
Fastest Hosting for WordPress: FAQ
What are the most important web host features?
First of all, there is nothing more important than having a 24/7 web host. Reliable service providers often boast 99.95% or better uptime. Also, pay attention to the server's responsiveness. The longer a user waits for a website to load, the more likely they are to leave the site. The data transfer speed also depends on the location of the servers. In addition, without the required amount of disk space, you may have problems with data storage. For example, a volume of 20-30 Gb is already sufficient, of course, if you do not plan to host a library of media files.
How to test website speed?
Today, many special tools are available. But we'd recommend you to try out this
Website Speed Test
. This online tool usually helps not only to measure, in fact, the speed of the site. You will get recommendations for eliminating errors and optimizing individual elements that slow down its work.
Which is the best WordPress hosting?
Thanks to a detailed analysis of each of the services, we can safely conclude that SiteGround and Cloudways are among the leaders in all the main parameters of the fastest hosting for WordPress.