It is crucial to keep track of when your domain expires. Imagine that all your invested labor will be transferred to other people. It's an easy process to check the expiration date of a domain name by using our sitechecker.pro domain expiry lookup, with help of which you can quickly and easily see the expiry date of a domain.
In case the hostname you are interested in is still busy, you can regularly check it using our tool. Let's take a closer look at what you may need this tool for and how to use it for maximum efficiency. We will provide you with some useful tips on how to avoid losing a website name during its expiration date.
Using a Domain Expiry Checker (How to Use)
With the help of our expired domain checker tool, you can easily check the current status of the domain and domain expiry. It is a convenient way to get complete information about it. To find out the expiration date, complete the following steps:
Step 1: Insert your domain and start free trial
If you're looking to keep track of your check domain expiry date, our free trial is the perfect solution for you. By simply pressing the free trial button, you can get started in no time at all – and with absolutely no credit card required! All you need to do is enter your desired domain name into the field provided and click – no credit cards or additional information necessary!
Additionally, if you are short on time, you can choose to sign up by using either a Google or Facebook account for our free trial. Surely, this way is easy to keep track of the current status of your website name.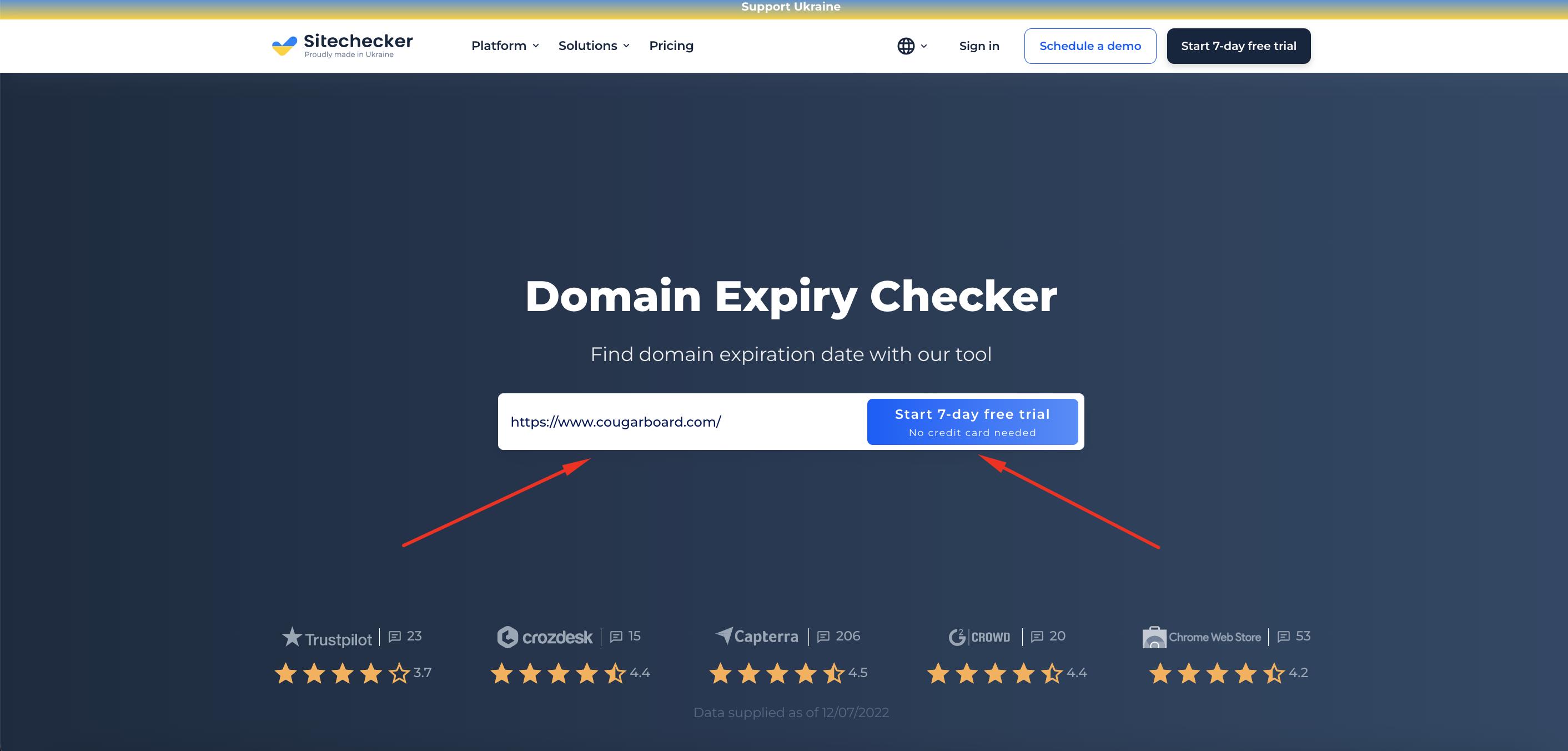 Step 2: Get the result
Once you perform a scan of your website, you will be provided with an audit of your domain. In just a few moments, all the pertinent information such as the expiration date of your domain will be accessed and located in the "Security" section, more specifically in its subsection "Checks passed".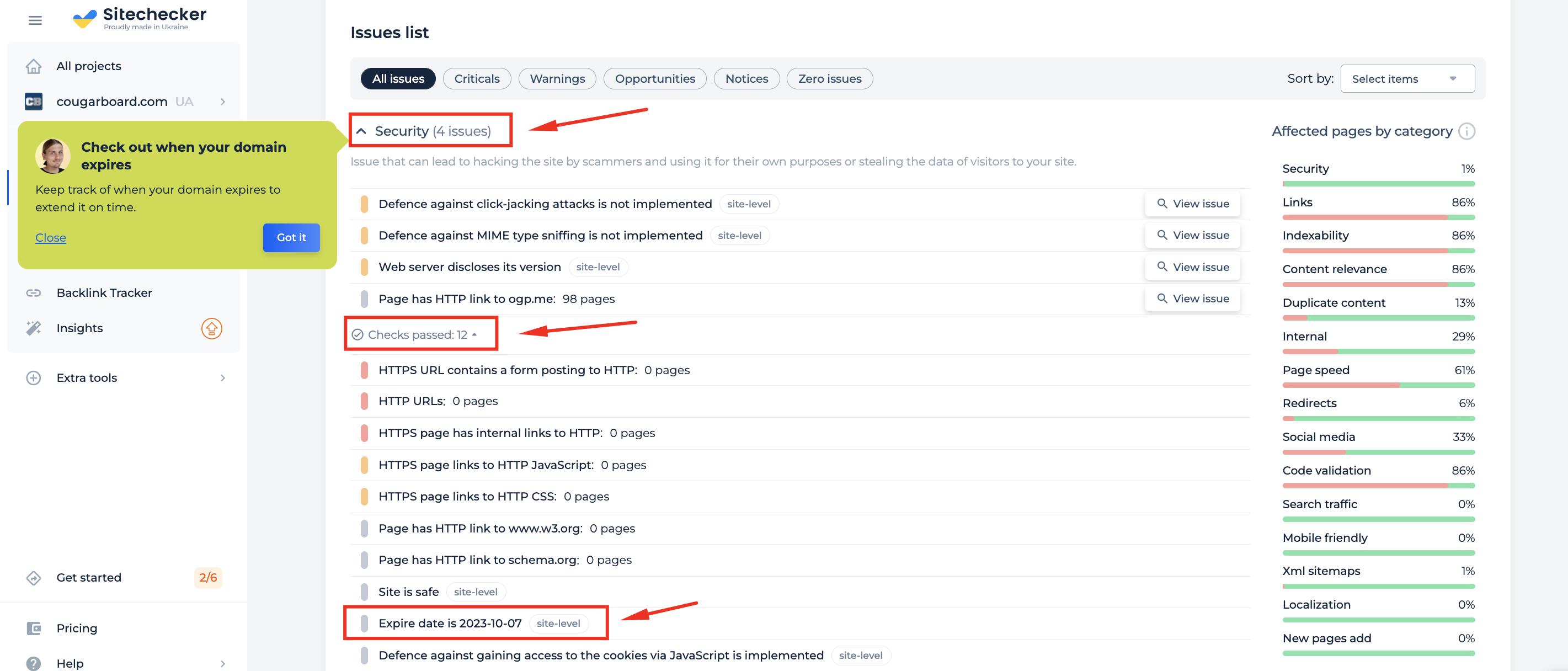 Expiration date
Domain names that do not renew by their expiration date will enter a renewal grace period. During this time, you can either renew the domain or set it up for auto-renew. If you do not take any action, the domain will be deactivated and "parked" on the day after expiration.
How to find out when a domain expires? Just use our tool! Most of the site names can be registered for one to ten years or more. You can renew them while they are still active, or you can renew them after they expire. With this feature, you can regularly monitor when the domain expires and know the domain expiration date.
Keep track of when your domain expires to extend it on time.
Free Domain Name Expiry Check Special Features
When you investigate your website to check the expiration of its domain name, we will conduct a deep analysis of your site in the background. Our Site Audit feature provides a comprehensive report that examines all aspects of your website and helps to identify any issues or obstacles that may be present.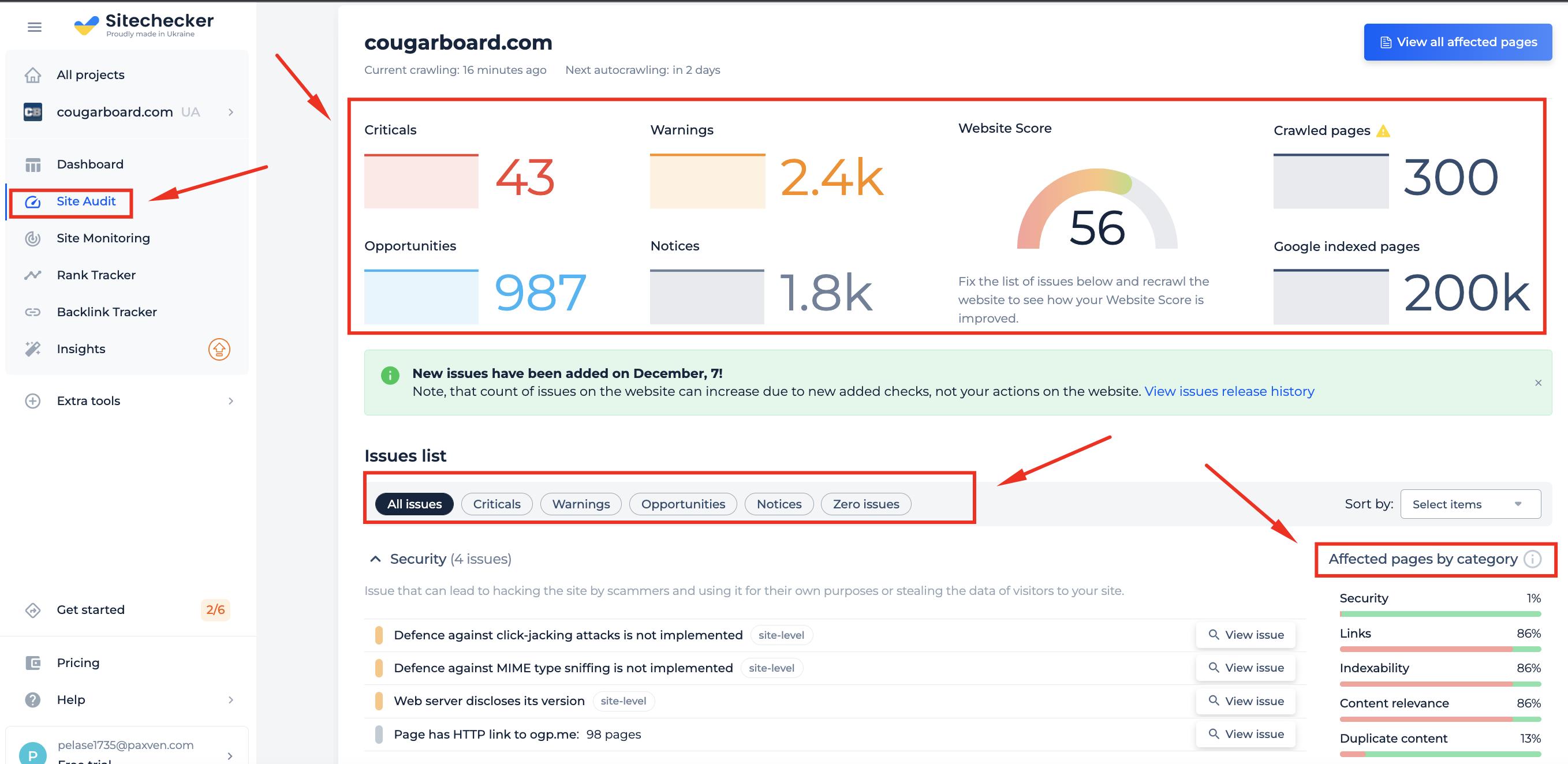 Typical Symptoms of Expired Domain
An expired site name is a big problem if you have not had time to renew it. Let's take a look at what exactly is the threat of losing an expired address.
If your domain has expired, there is information that there could be a leak of your personal information.

The new owner gets access to the domain name and all the personal information that was used within that website. 

You can lose everything you have been working on for a long time.

Your site name can be bought out by cybercriminals who want to destroy your brand or business by framing you as a scam.

A hostname can be bought out by your competitors, which will also be bad for your

market opportunities

.
Why Do You Need To Know The Expiration Date Of a Domain Name
If you do not know and do not keep track of the expiration date, then you are at great risk of losing control of your site name. Imagine that one day all your efforts will be in vain because it began to belong to another owner. Unpleasant, indeed.
It would help if you always were careful not to lose control of the site name and check when a domain expires. We recommend that you keep an eye on the current status of the website and don't forget to renew your rights to own it. We recommend putting in an automatic domain renewal or setting yourself reminders to renew.
You can also be on the other side and hunt for a good dropped domain name with domain expiration lookup. In that case, you can regularly check domain expiry date and check the active status of that site name to be among the first to bid on it.
Keep an eye on when it comes up for auction so that you can get it at the best price.
What Happens When a Domain Name Expires
As soon as you or someone else's domain name expires, it goes through several stages before it can change ownership. The first stage is reminder letters from the hosting provider. The provider will try several times to remind the website owner that the domain is about to expire and be extended.
If the website owner does not respond to the reminder letters, a grace period will be in effect for a while. It is the period during which the current owner has the first right to redeem his hostname. Besides, the owner will also have to pay a fine for overdue domain renewal.
If, during this period, and the domain owner does not get in touch and does not show their desire to redeem the domain, the domain name is put up for auction and becomes available for purchase by anyone who wants to.
If no one wants to buy the site name during the auction, it will be offered for public sale on the market. Please take advantage of our Best Website Hosting Providers with the possibility to buy a domain!
In case you are the owner of an expired site name, you can try to look for it on the open market, but the better the performance, the less chance that the site name will be available for purchase.
Troubleshooting Tips
There are several ways to protect yourself from losing your domain name when it expires. Let's take a look at some of them so that you can protect yourself from potential problems. First, remember of domain name expiration check.
Perform a full site name audit – if you have more than one hostname, you should create a base. The base can be a document on your computer or a file in your notes. Specify the expiration dates for each of your domains, and also specify whether you have access to the mail to which the hosting provider will send notifications.
Don't ignore reminder emails – the hosting-provider sends these letters for a reason. You are reminded of the need to renew the hostname to avoid losing your hostname in the future.Please pay attention to these letters and follow the hints from them.
Enable auto-renewal – if your hosting provider provides this option, we recommend that you immediately use the auto-renewal. In this way, you can greatly reduce the risk that the hostname will belong to someone else, and you can be sure that you won't forget to renew the site name on time.
To keep your domain is important, but not less is keeping your website SEO score high!
Make that full technical audit of website to find out all kinds of issues and get guides on how to fix them.
FAQ
What is the Active Domain Life Cycle
The active domain life cycle lasts for a minimum of one year, but some domains may require more time. Domains can be registered and renewed for up to 10 years at a time.