KnownHost Web Hosting has been on the market since 2006. The company shows excellent performance in customer service. Hosting capabilities provide high loading speeds for your website. It is a reliable provider with thousands of customers all over the world.
KnownHost web hosting offers a high-performance hosting solution with shared hosting, managed VPS, dedicated servers, WordPress at an affordable price. The company provides a 99.9% uptime guarantee on all its hosting solutions. It is a high figure, indeed.
Let's understand the characteristics of using the service.
KnownHost Pros & Cons
Let's quickly go over the key pros and cons.
Pros
Cons

DDoS Protection

30-day money-back guarantee

Cloud Storage

SSD Backed

Free SSL Certificates

Unlimited Bandwidth

Free Migrations

No Windows Server

Overwhelmed Plans
KnownHost in Brief
| Characteristic | Information |
| --- | --- |
| Uptime guarantee | 99.99% |
| Support options | Email/ticket |
| Hosting plans | Web Hosting, WordPress Hosting, VPS Hosting, Dedicated Server Hosting |
| CMSs | WordPress, Joomla, and Drupal |
| Features | Premium Bandwidth, Guaranteed RAM, CPU Processor |
| Starting price | $3.47 a month |
Go to Knownhost hosting
When to Use KnownHost
This provider gives excellent service for new users and advanced users alike. You should pay attention to KnownHost if your site has many needs for powerful resources. You'll find the right functionality here if your site is based on the WordPress platform or is an e-commerce site. There is enough high speed, uptime, and help from the support team.
When Not to Use KnownHost
If you are a fairly experienced user of hosting providers, you may critically miss important advanced features such as pre-installed Git repositories. If you need hosting with more advanced features, then we recommend looking for other options. You should also be careful with the themes of the sites that you plan to place on this hosting.
There is a list of forbidden topics for which the administration of the platform can block your site, according to knownhost reviews. In any case, if your business does not violate the law and has no purpose of fraud, then you will not have a problem.
KnownHost Performance
Your hosting servers' power will give your site more room for development and promotion in search engines. Content loading speed, constant online availability, security measures, and optimized content are all important factors for ranking. To keep your site SEO-optimized, you should choose a hosting service with good performance. A fast site equals a popular site!
Let's take a closer look at server functionality and the features offered in our knownhost review.
Performance Database Engine
QUIC – HTTP/3
DDR4 ECC Registered RAM
SATA + SSD Storage
Zend OpCache
LiteSpeed
Isolated Resources
High-performance MySQL replacement
The larger your business website, the more resources it will need to meet the challenges. Note that the more expensive plan you choose, the more performance and capacity you will have available. It applies to disk storage capacity, storage size, and the number of cores in the processor.
We recommend that you start with less expensive plans to test the functionality. Consult the support team if you need additional features. You can also contact support if you're having trouble choosing the right plan.
KnownHost Speed Test Results
Above, we provided a few facts about performance in our knownhost shared hosting review. Let's check how this is reflected in practice! With the help of free services to test the average loading speed, we will determine how fast this hosting is loaded. You, by the way, can also use the mentioned services to check the loading speed of content on the sites you are interested in.
Here are the results:
| Test | Average Loading Time |
| --- | --- |
| GTmetrix test | 2.4 s |
| Pingdom test | 298 ms |
| PageSpeed Insights (Google) | 3.6 s |
Look at this speed. It's amazing! The content loads very fast, which means that the hosting does provide excellent performance.
KnownHost Uptime Guarantees
We continue to look at the key factors of hosting performance. As you probably know, if your website is unavailable, you will lose customers and earnings and your search engine ranking positions. It will hurt SEO. You should not lose your position, so choose a reliable hosting!
Uptime Guarantees shows the probability of problems with access to sites on this hosting. All market leaders strive to increase this indicator to 100%. KnownHost guarantees 99.99% availability of the site.


It is almost the highest figure possible. But the provider is honest with its customers and notes that unexpected circumstances may arise due to which the website will be unavailable to your users for some time.
KnownHost Server Response Time
It is important to consider the time it takes for all the content on the site to load. No less crucial is the time it takes for the server to deliver the first byte of content to the user's device. Google rates as fast those sites that deliver the first byte faster than 200ms. To check the download speed of KnownHost, we used a free service to test the speed of hosting providers Bitcatcha.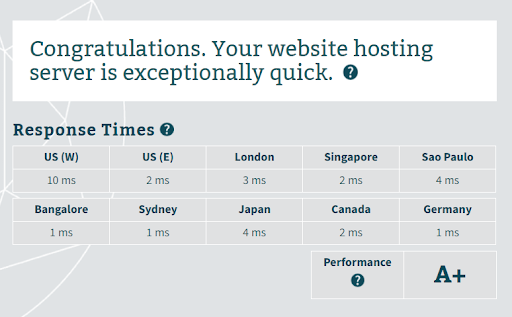 Wow, look at those numbers. The site is giving away content almost instantly. That's an amazing result. Way to go!
KnownHost Site Migration
If you want to change providers and switch to KnowHost, you can take advantage of the migration options included with all plans. These are special tools that will automatically help you migrate your website and content.
If your hosting service does not use one of the supported control panels to provide a free migration, contact the service support team. A completely free transfer will be processed in a short time with all your content intact.
KnownHost Types, Features, and Pricing
Another great advantage of KnownHost is the availability of all popular types of hosting here. The provider can solve all the problems and tasks of your business with a variety of hosting options.
Depending on the resources your company needs, you can choose the right type of hosting and get started right away. Start with knownhost shared hosting servers, if you don't know what to choose.
If you're looking for the cheapest way to get online, check out:
Web Hosting
KnownHost managed shared hosting gives each account dedicated resources to use without having to share them with other users. Separate IPv6 addresses are also provided here. By default, basic features are available to you completely free of charge – backup, migration for new customers and Softaculous installer. Prices start at $3.47 a month for new customers.
Managed WordPress Hosting
Fully managed knownhost wordpress hosting plans allow the provider's clients to launch their site without any technical difficulties. The provider takes care of all account and site setup. In addition to ease of setup, WordPress servers are designed with customers' needs in mind when working with the WordPress platform.
It gives your site great speed! Dedicated WordPress utilities such as WP-CLI, LiteSpeed LS Cache and Imunify360 contribute to an ecosystem that allows you to use WordPress to its fullest potential. The low-cost plan will only cost you $5.98 a month.
Managed VPS Hosting
Managed VPS hosting is the ideal solution for both non-technical and technically proficient people. KnownHost's technical team is responsible for server management, including system updates and configuration.
It is where you get administrative access through your control panel. At that time, the service's technical team will keep the system software up-to-date and secure. Get started for as little as $40 a month.
Shared Hosting
KnownHost shared hosting means that each account gets dedicated resources, separate IPv6 addresses for a great marketing advantage and high-speed performance.
With a Basic plan for just $3.47 a month, you get these features:
1 Domain
5 GB Cloud Storage
5 Email Accounts
2 MySQL Databases
Unlimited Premium Bandwidth
LiteSpeed Included
Free SSL Certificates
Patchman Optional
Dedicated Server Hosting
All KnownHost managed dedicated servers are custom-built, secure and fully optimized for SEO. All dedicated server hosting packages are Linux-based and come complete with a cPanel control panel.
With all plans, you can get 24/7 support and high Uptime. To find the right dedicated server for your business needs, contact the support team.
Security Features
As for security measures, KnownHost is perfectly fine with it. Thanks to DDoS Protection, your site will be protected from intruders and information leakage. All websites there are provided with free SSL certificates powered by Comodo. Security setup by default helps to defuse all attacks which can take up precocious resources.
There are other security measures:
Imunify360
CloudLinux Isolation
Patchman
Server Hardening
Excellent protective measures. Not every hosting provider can boast of such security features. It is another advantage of the service!
Support Options
You can get in touch with support by phone, email, and online chat on the website. Support responds quickly, according to our Knownhost shared cloud hosting review!

KnownHost provides all customers with an extensive knowledge base called the KnownHost Public Wiki. It contains detailed information about working with the service. Specialists from the company have written articles to make it easier for you to understand this hosting's features.
For your convenience, all information is divided into thematic blocks. If you can't find answers in the knowledge base, please contact the support service's technical specialists.
KnownHost Quick Facts
Visits Per Month: unmetered
Bandwidth: unmetered
FREE SSL Certificate: included in each plan
WordPress Pre-installed: included in each plan
Advanced Features: SFTP, Shell Access, WP-CLI
Free Domain: included in each plan
KnownHost Review: Do We Recommend It?
Can we recommend KnownHost to you? Yes! Here you will get many useful features that can solve all types of businesses' problems. Excellent performance, responsive customer care service, speed, and 99.99% uptime make KnownHost an excellent choice.
Of the downsides, we were able to highlight the lack of Windows-based hosting. In that case, you might want to consider a few other alternatives if this is critical for you. For all other users, you won't have a problem with it working. Great choice!
KnownHost Alternatives
Here are a few alternatives if you're unsure of which provider to choose.
Hostinger — excellent dedicated hosting, reliable provider
TMD Hosting — hosting with servers in all parts of the world
BlueHost — reliable and popular provider
FAQs on KnownHost
Can I Upgrade My KnownHost Plan at Any Time?
You can move to a VPS or dedicated server without problematic downtime. Make sure that you have the perfect plan to fit your needs without any difficulty.
Here is a 30-day money-back guarantee.
Do Cheapest Knownhost Plans Have The Same Uptime?
Absolutely yes! Be sure that basic performance factors are included by default in all plans.