Choosing forum hosting can be a difficult task. The forum is a non-standard resource that has its characteristics and needs. Given the large selection of hosts specifically for forums, the job can be complicated if you do not know what criteria it is to choose.
To facilitate your choice in this matter, we have collected a list, so you can find the best forum hosting. Each item has its own characteristics and advantages. You can find the right and best free forum hosting.
5 Best Forum Hosts
How to Choose the Best Forum Website Hosting?
But before we move on to the list of the best forum hosts, it is necessary to understand what parameters you need to pay attention to before choosing. Forum – it's a specific resource that works differently than most sites. Therefore, the requirements for hosting will also be slightly different. Consider the most important factors about forums web hosting in detail.
Hosting factor #1 – Email limits
Usually, forums send more emails than any other resource: registration confirmation, notifications of new threads and discussions, replies to comments, etc. Therefore, when choosing a forum website hosting, it is necessary to pay attention to email sending's daily limit. It may be a lot for an ordinary website if it goes about several thousand, but not enough for a standard forum.
Hosting factor #2 – RAM
All actions on the forum are dynamic, and their number can reach tremendous values. Therefore, one of the critical factors when choosing a hosting is the amount of RAM. Typically, web hosting has two limitations: the total amount of RAM and the memory limit for a single process. If the best forum hosting service provides less than 1 GB of RAM and allocates less than 512 MB per process, the forum will not work well. The optimal amount of RAM depends on the specifics of the forum. The main recommendation is that the more, the better.
Hosting factor #3 – Disc type
The worst option for a forum is the traditional HDD. They have already been abandoned by all advanced best forum hosting sites, but some providers still use them. The optimal option is an SSD, which handles data many times faster. There is also a more efficient type of drive SSD NVMe, but the price for such type can be very high. It is also worth separately clarifying whether the hosting uses an SSD to store files and a database. Some providers in this industry combine SSDs with old HDDs, which is not suitable for the forum.
Hosting factor #4 – PHP
Only the latest version of PHP is suitable for smooth operation. It has no bugs of the previous version and also speeds up the work. Therefore, it is necessary to make sure that the provider offers the latest version of PHP.
Hosting factor #5 – Free trial
The choice that seemed perfect may not give the desired result. Therefore, it is necessary to test it before paying a provider. It is advisable to choose a provider that offers a free trial period. Some providers instead promise a refund in case of failure. Both options are suitable.
The Different Types of Best Forum Hosting
In addition to the features of hosting, it is valuable to pay attention to its type. Each type of the best forum hosting has its own characteristics and advantages, so it is essential to consider them.
Shared server
A shared server is the most popular type of hosting used by most sites in the forums community. This hosting usually hosts several sites that use one common server. From this follows the first disadvantages. Shared hosting has many limitations, including the amount of RAM. Heavy loads on one site can cause problems on all the others on the server. Therefore, this type of hosting is not the best option for online forums. However, its main advantage is the price. Shared type is usually cheaper than others, so they are suitable for small projects with a limited budget.
Read more information about Best Shared hosting providers.
Managed and unmanaged hosting
Difference in the way they are managed. All managed ones support is under the control of the provider. Any malfunctions and problems will be solved by the internal support service, which can significantly simplify working with hosting. However, this type of hosting will cost more. Unmanaged hosting is cheaper, but all the administration in the hands of the owner of the site. Therefore, to work with such a hosting will require additional staff.
VPS
The virtual private server hosts only one site, which can freely use all server resources. Therefore, the impact of other sites is excluded. But such type is usually much more expensive than shared, so it may not be suitable for projects with a limited budget.
Read more information about Cheap VPS Hosting Providers.
Cloud Hosting
Cloud type is the most stable because it uses cloud technology. Such hosting uses several servers at once, which complement each other. Therefore, even if one server fails, another will replace it. Cloud provider is usually not limited in capacity so that they can run the largest sites. The payment system of cloud hosting is more flexible than the others. You pay when you use the server only. If the site is idle, you do not have to pay.
#1 – GreenGeeks – best-known forum hosting service
GreenGeeks is also one of the best-known hosting companies. During its ten years of experience, the company has recruited top professionals and created a stable and competitive environment.
A key feature of GreenGeeks is sustainability. It is one of the few such companies that operate solely on renewable energy. GreenGeeks says it purchases three times as many renewable energy certificates as it consumes. The provider partners with EPA Green Power, which works with wind power.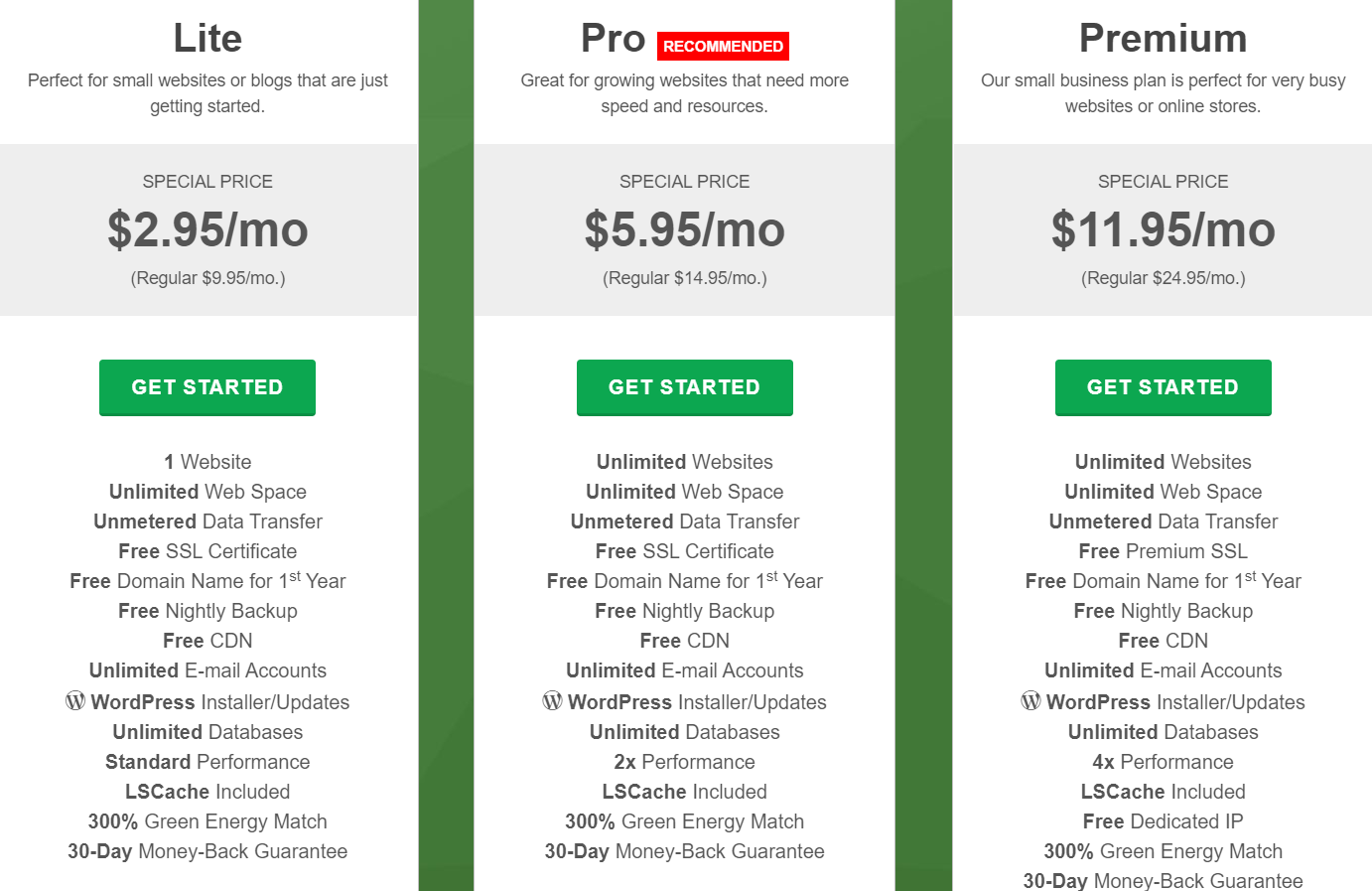 Here are some facts you should know about GreenGeeks:
It hosts the fastest speeds of any company on this list. It applies to all regions, from North America to Asia.
The speed may be slower in Singapore since GreenGeeks does not have a data center there. But the slippage is insignificant.
GreenGeeks also provides adequate security guarantees, including malware scans. Also, all sites are protected from the influence of other resources on the server. Usually, on shared servers, too much activity on one site can disrupt others. GreenGeeks has no such problem.
Another good plus is the user-friendly interface that even a novice can cope with. GreenGeeks has a rich knowledge base and prompt support service that will help with any problem if there are any difficulties.
However, there are some disadvantages.
In the case of refunds, the provider will only refund part of the money spent. The cost of installation will cost $15, and additional software is not included in the refund.
The renewal price is much higher than the first month's fee. The cheapest plan will cost $2.95 for the first month. Renewals are $9.95.
GreenGeeks Shared Hosting has catastrophically low RAM capacity. Even the most expensive plan, which costs $11.95 for the first month and $24.95 for the next, offers only 1 GB of RAM. And that may not be enough for a forum. The solution is moving to a VPS with 2 GB RAM or more. But the cost of such a tariff is $39.95 per month.
#2 – A2 Hosting – fastest provider
A2 Hosting is an experienced provider that has been providing its services since 2002. It has data centers in Michigan, Amsterdam, and Singapore, which gives global coverage. Therefore, there will be no speed problems with hosting anywhere in the world.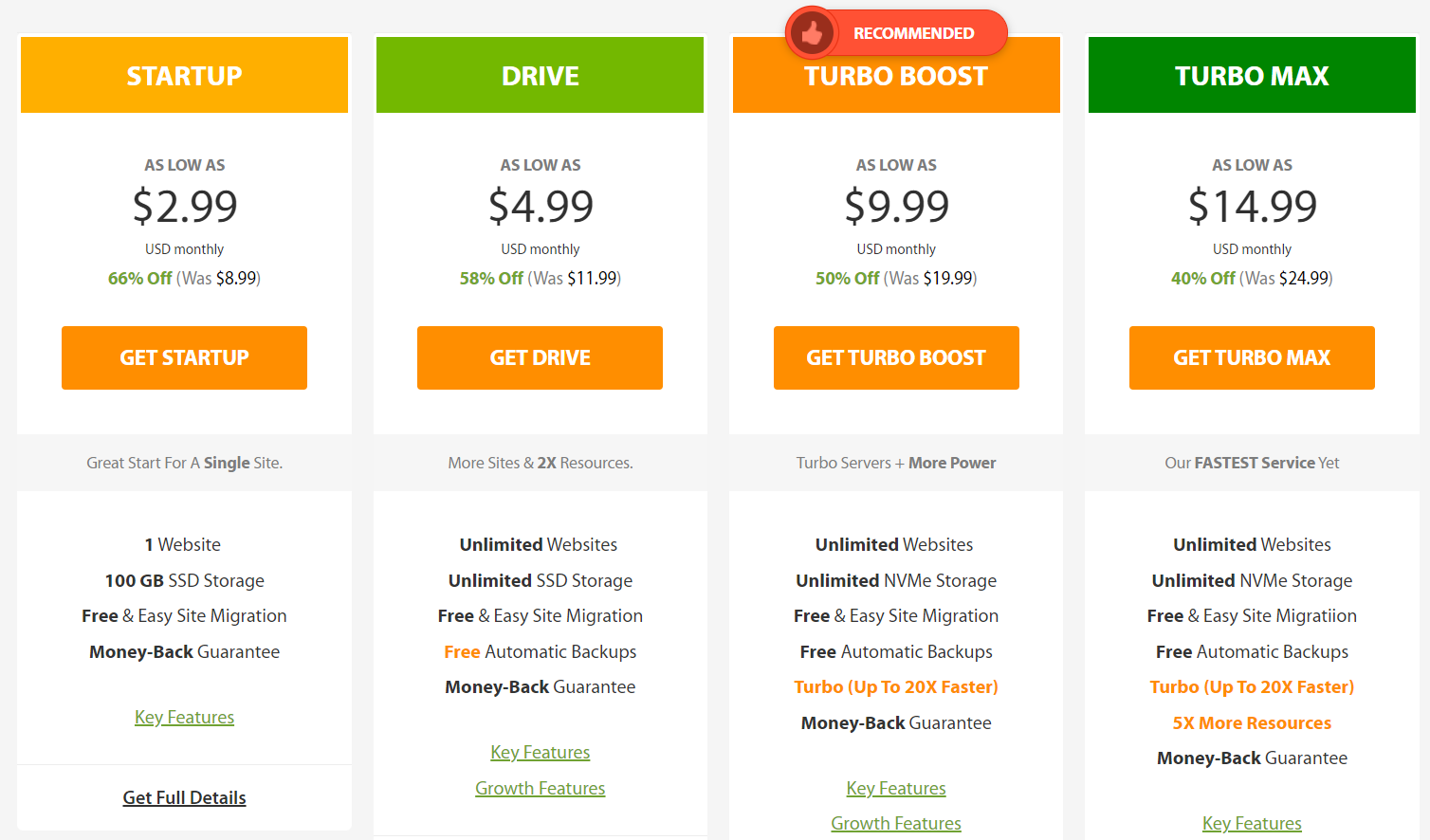 The main advantage of A2 Hosting is the high speed that its impressive resources provide. Even the cheapest plan offers a full SSD, 1 GB RAM, and a dual-core processor with a frequency of 2.1 GHz. Hosting uses Cloudflare CDN technology, which loads site pages twice as fast.
Also, A2 Hosting has a friendly pricing policy. Even though the renewal price is higher than the initial cost, it is still not as high as other web hosting companies. A2 Hosting guarantees a full refund in case of failure. The provider is also willing to refund money for unused features.
One of the main drawbacks of A2 Hosting is the support service. It is not always available in chat rooms. If you encounter problems, you will most likely have to wait for a while. Another disadvantage is the paid migration of the site. The cheapest plan will cost $2.99 for the first month and $9 for subsequent months. For this, you get an SSD, 1 GB RAM, and unlimited emailing. That should be enough for a regular forum.

#3 – Hostinger – ideal hosting for large sites
Hostinger has an extensive range of hosting services. The provider will suit both large sites with numerous staff and newcomers working with hosting for the first time.
The indisputable advantage of hosting is the price. The cheapest plan costs just $0.99 for the first month and $2.99 for the following months. It is the most profitable hosting plan on this list. Unfortunately, this plan will not suit forums, as it has a lot of restrictions. However, even the optimal plan, which will cost $1.89 for the first month and $4.99 for the renewal, is hugely profitable. For that, you get 20 GB SDD, unlimited email, and 1 GB RAM.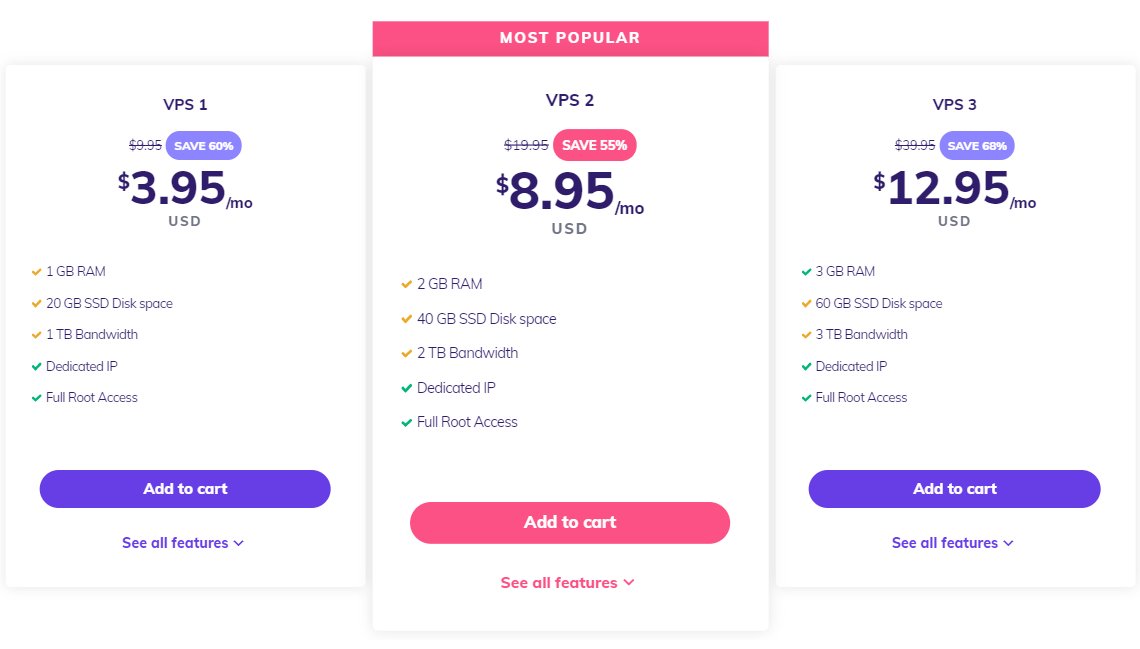 Problems with Hostinger may occur for those who are planning to move their website to a new hosting. The provider does not provide any support, so you will have to do this on your own. You may also encounter problems with the installation of an SSL certificate. It will have to be created separately and copied into your account.
Ready to choose your plan? — Go to Hostinger hosting
Want to read some more information — Go to
Hostinger review
#4 – JustHost – more suitable for U.S. forums
JustHost provides its services to medium and large businesses. The provider's data centers are only located in North America, so this hosting is only suitable for U.S. and Canadian sites.
JustHost has a reasonably high upload speed and good uptime. The provider offers the most considerable amount of RAM of all those on this list, which is critical for any forum. It is also effortless to manage, so it is suitable for beginners. If you do not like the hosting, you can request a refund.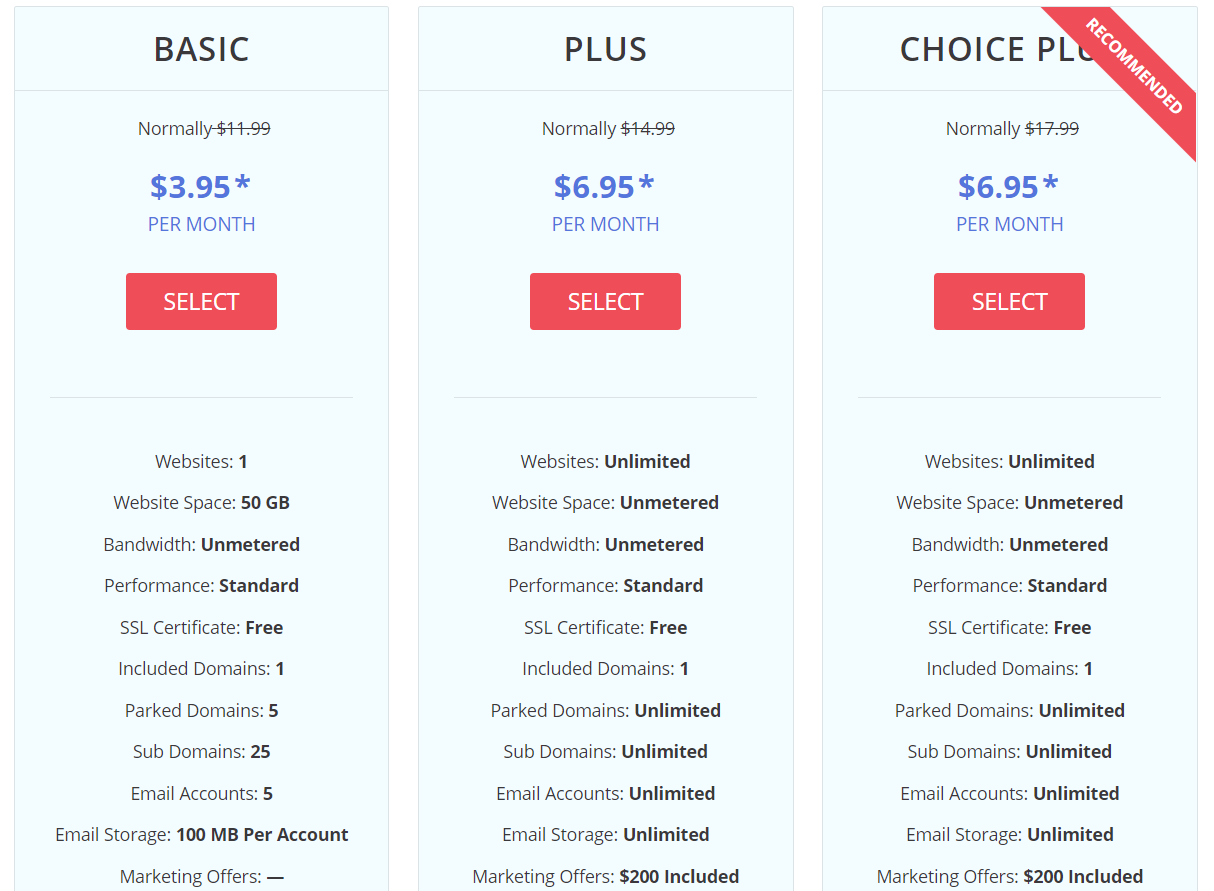 One of the main disadvantages of JustHost is the price. The cheapest plan will cost $3.95 for the first month and $11.99. This offer may seem lucrative, but it has email restrictions, which is no longer suitable for forums. The optimal plan will cost $6.95 for the first month and $14.99, which is already more than some other hosts on this list. For this money, the provider offers 4 GB RAM and more, which may be worth it.
Ready to choose your plan? — Go to JustHost hosting
Want to read some more information — Go to
JustHost review
#5 – SiteGround – most popular provider
It's one of the best and most well-known platforms. Over the past few years, the company has shown incredible growth and constant development. Therefore, this hosting is worth paying attention to in the first place. It is worth noting that SiteGround is suitable not only for forums but also for any other site, as the provider offers its customers all kinds of hosting: from shared to the cloud.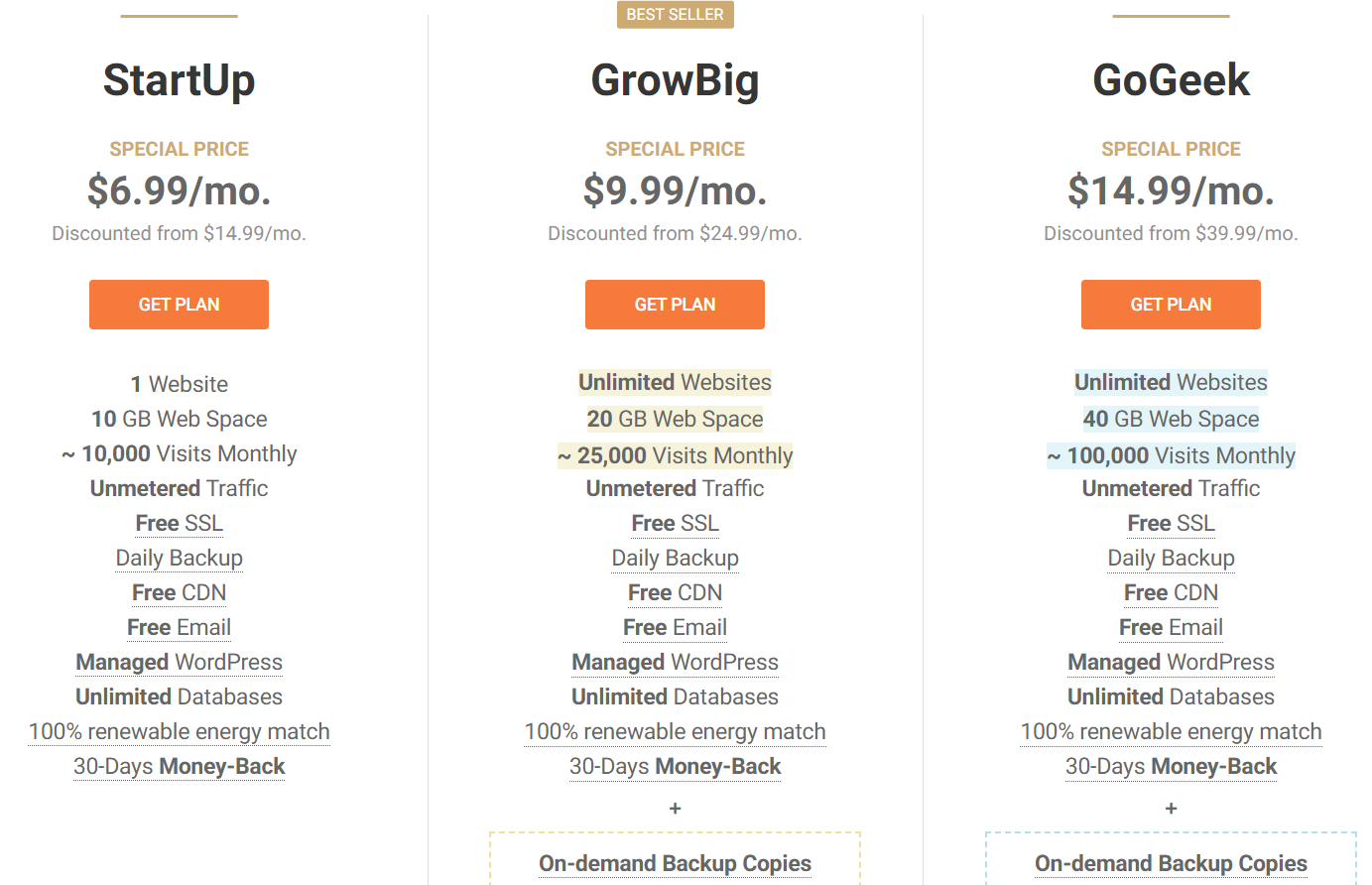 Here are some main advantages of SiteGround.
Among the main advantages is the stability. SiteGround guarantees 100% uptime, which can be very attractive for forums.
It can also be noted a very high performance, which provides SSD and support for HTTP/2.
Many users report the support service's excellent work, which will help you with any problems in any form you want.
Another critical plus for forums is unlimited emailing.
SiteGround has some severe drawbacks as well. First, 100% uptime does not consider the possibility of DDoS attacks, which are a big problem for many forums. Second, there is the price. The cost of plans has recently increased dramatically and now starts at $6.99 for the first month. Given the quality, the price increase is reasonable, but some smaller resources can no longer afford SiteGround.
As for pricing, the cheapest plan will cost $6.99 per month. However, it is only the price for the first month. Subsequent ones will cost $14.99. It includes 10 GB of free space and 10,000 visitors per month. It may not be enough for a forum, so you have to go with a more expensive plan. The optimal plan for the forum will cost $9.99 for the first month and $24.99.

Web Hosting Comparisons
Our team has done a thorough analysis of all the providers mentioned in this article. Now you can compare and choose the best option for your forum. Compare all the advantages and disadvantages of forums and make the right decision. Read more in these articles:
You can also use this table to compare the key features of the providers.
Useful Hosting and SEO Tools
Choose the right forum provider – is an important task. However, SEO is essential, as well. Here are some SEO tools that will make your work easier.
Best Forum Hosting FAQ
What are the costs of forum hosting?
The cost depends on the provider, the type, and the number of additional services it provides. Shared type is usually cheaper. Their price tag starts at $1 per month. More expensive VPS can cost up to $300 per month.
What is the best free forum hosting site?
Unfortunately, 100% free forum hosting does not exist. Some providers offer a free trial period, but after that, you have to pay.
What is the cheapest forum web hosting?
The cheapest one on our list is Hostinger. Its rates start at $0.99. However, this plan may not suit the forum, so you will have to choose a more expensive plan – $1.89. Noteworthy is the fact that these prices are only for the first month of use. The subsequent ones will cost $2.99 and $4.99, respectively. However, despite this, Hostinger is still cheap forum hosting on the list provided.