Kinsta is a hosting provider that offers premium managed WordPress hosting powered by the Google Cloud platform with some fantastic features. Their hosting services are designed for everyone, from startups to larger companies.
Let's dig deeper in our Kinsta hosting review to learn why you should develop your personal or business website on this platform.
Kinsta Perks & Pitfalls
Let's begin our Kinsta web hosting review with the pros and cons you may face when using this hosting service. You may check out what advantages and disadvantages we've found:
Pros
Cons

Solid performance & Uptime

Around the clock Support

24 server locations worldwide to choose from

Straightforward navigation and a pleasant user experience

Team management

Site backups: you only get 14 days automatic backups on the lower plans

Made for WordPress and the architecture is optimized for the CMS

WordPress only, no other CMS can be installed on a Kinsta server

No unlimited storage, CDN or monthly visits. If you go over, you'll be charged extra

Higher prices
Kinsta in Brief
| Characteristic | Information |
| --- | --- |
| Uptime guarantee | 99.9% |
| Server response time | 154 ms |
| Support options | 24/7 email, tickets, and Knowledge base |
| Hosting plans | Starter, Pro, Business 1, Business 2, Business 3, Business 4, Enterprise 1, Enterprise 2, Enterprise 3, Enterprise 4 |
| Starting price | $30 a month |
Go to Kinsta hosting
Why Choosing Kinsta Web Hosting?
Kinsta hosting reviews spotlight numerous advantages of this hosting service. You can build an online store or run your blog without spending much time and effort. You can always get professional support from a team of experts.
All processes are optimized to ensure a fast pace of your work on the hosting. Kinsta is powered by Google Cloud Platform, which means its servers are running on the same cloud-based infrastructure that Google uses to power its own products. It is important because cloud servers are not limited by what the hardware they're running on is capable of.
Kinsta creates daily backups of your site no matter which plan you choose. Backups are stored on an encrypted, off-site vault, and they allow you to roll back your site whenever you need to.
Servers all around the globe can cover server speed requirements for all customers. Kinsta makes it easy to create a staging area. You even have direct access to SFTP and MySQL in your staging area. And moving a site between live and staging takes just a couple of clicks.
Why Not Choosing Kinsta WordPress Hosting?
Kinsta doesn't offer domain registrations and doesn't allow its users to create email addresses using the domain. It can be a disadvantage to some, especially novice website owners used to shared hosts that offer everything under one roof. However, you can just as easily use a domain registrar and connect your domain to Kinsta.
As a managed WordPress host, they don't allow their users to use a specific set of plugins. It's better to check beforehand what plugins match Kinsta's policy.
Kinsta Performance
Kinsta team states that they use 'speed-obsessed architecture through technologies like Nginx, PHP 7, LXD software containers, and MariaDB.
You can also fill out your website on Kinsta with various add-ons and plug-ins. What's more important, you'll definitely need CDN. And Kinsta partners with KeyCDN, a fantastic HTTP/2 and IPv6-enabled content delivery network to offer the best opportunities for your website growth.
Kinsta users receive a set amount of free CDN bandwidth, dubbed Kinsta CDN. They also benefit from KeyCDN's extensive global network, with servers in 34 strategic locations to increase their media around the planet.
Kinsta Speed Test Results
The speed test result is another crucial factor you should consider when choosing a hosting service. That's why our following step in Kinsta WordPress hosting review is to check its performance.
What speed we've detected after testing this hosting service?
| Test | Average Loading Time |
| --- | --- |
| GTmetrix test | 0.6 s |
| Pingdom test | 1.54s |
| PageSpeed Insights (Google) | 2.7s |
Consequently, Kinsta showcases impressive results that make Kinsta hosting multisite one of the leaders in the niche.
Kinsta Uptime Rate
Uptime is crucial for any business. If your site is down, it means no one can access it. So, you lose a lead flow and thus conversions. Consistent uptime is a #1 priority for any hosting service.
Well, how good is Kinsta WordPress hosting? It showcases 99.9% levels of uptime.
Kinsta also provides a 99.9% uptime guarantee, with money off your bill if the uptime drops below this level. However, during the test, Pingdom recorded an impressive uptime of 100%.
What is Kinsta Server Response Time?
Among the wide variety of tools, we've used a proven one, Bitcatcha. This service tests a server response time in different spots without loading any data. It shows how fast your site is in such locations as the West and East US coasts, London, Singapore, São Paulo, Bangalore, Sydney, Japan, Canada, Germany. Once Bitcatch has checked the speed of Kinsta hosting services three times in each spot, the system provides an average result.
It's time to find out Kinsta's speed server rate: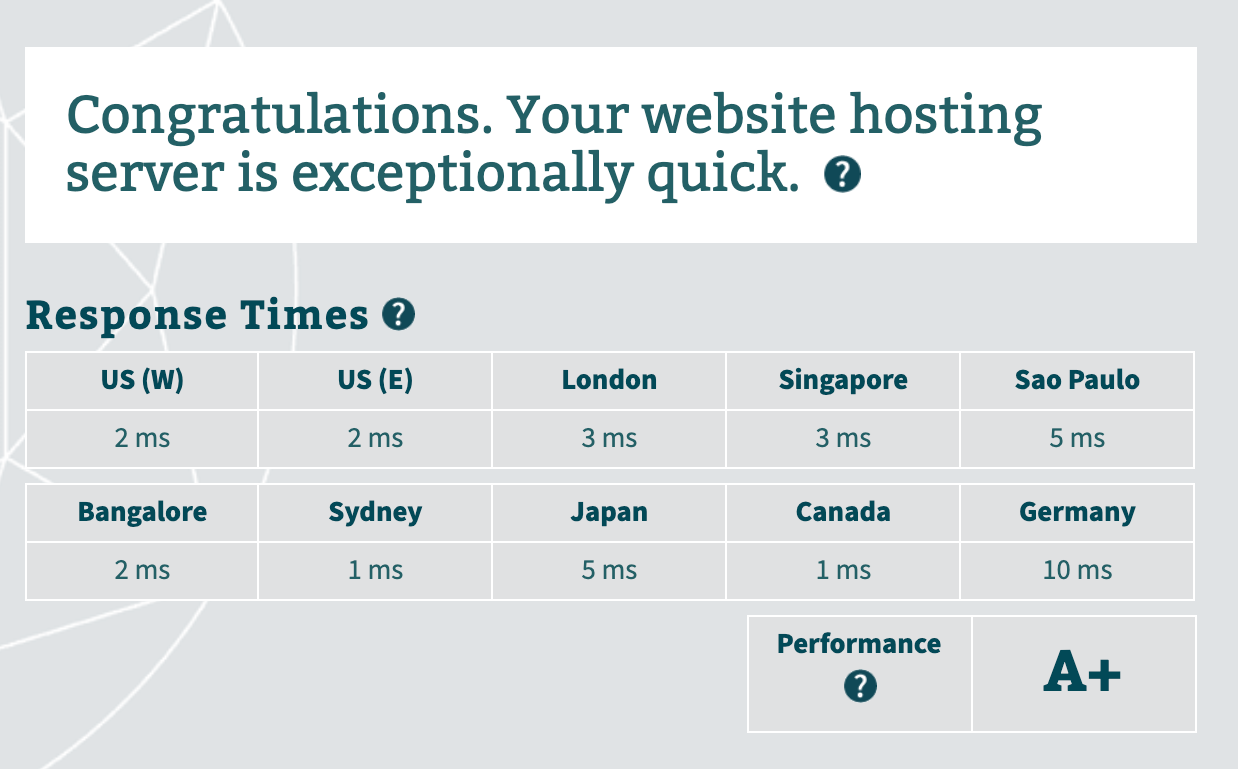 As you can see, Kinsta' servers work fast all around the globe. It takes them up to 10 ms to represent the slowest response time. With this Kinsta web hosting review of the server response time, you can decide whether this platform fits your expectations. However, it's really hard to find a hosting service that can work faster.
We hope that you will not hesitate to choose Kinsta web hosting or not. Yet, the only thing you need is a comprehensive picture of your target audience's features to know what server is the best for you. Besides, you can change your server location to provide top-notch interaction with a website for your customers.

Kinsta Site Migration
If your site is already hosted on another hosting, and you want to switch to Kinsta, then you have two ways to do it. The Migrate Guru plugin for WordPress will allow you to transfer your site data to the new hosting completely automatically. You will keep your domain name when you migrate. It will be free because migrations are included in the price of the plan.
The second way to migrate your site is to use the detailed instructions from the official website of the provider. You will need to request a free migration using a special section in your personal cabinet. Transferring your site to Kinsta usually does not cause delays. The technical team will help you check the migrated site before launching, so you don't lose your content.
Note: If you have a large site, contact support service. Migrating your site on your own can cause data loss.
Kinsta Plans: Services and Pricing
Kinsta web hosting review cannot be complete without an overview of plans, including numerous opportunities for your business growth.
Kinsta hosting plans offer you ten different packages with a price starting at $30.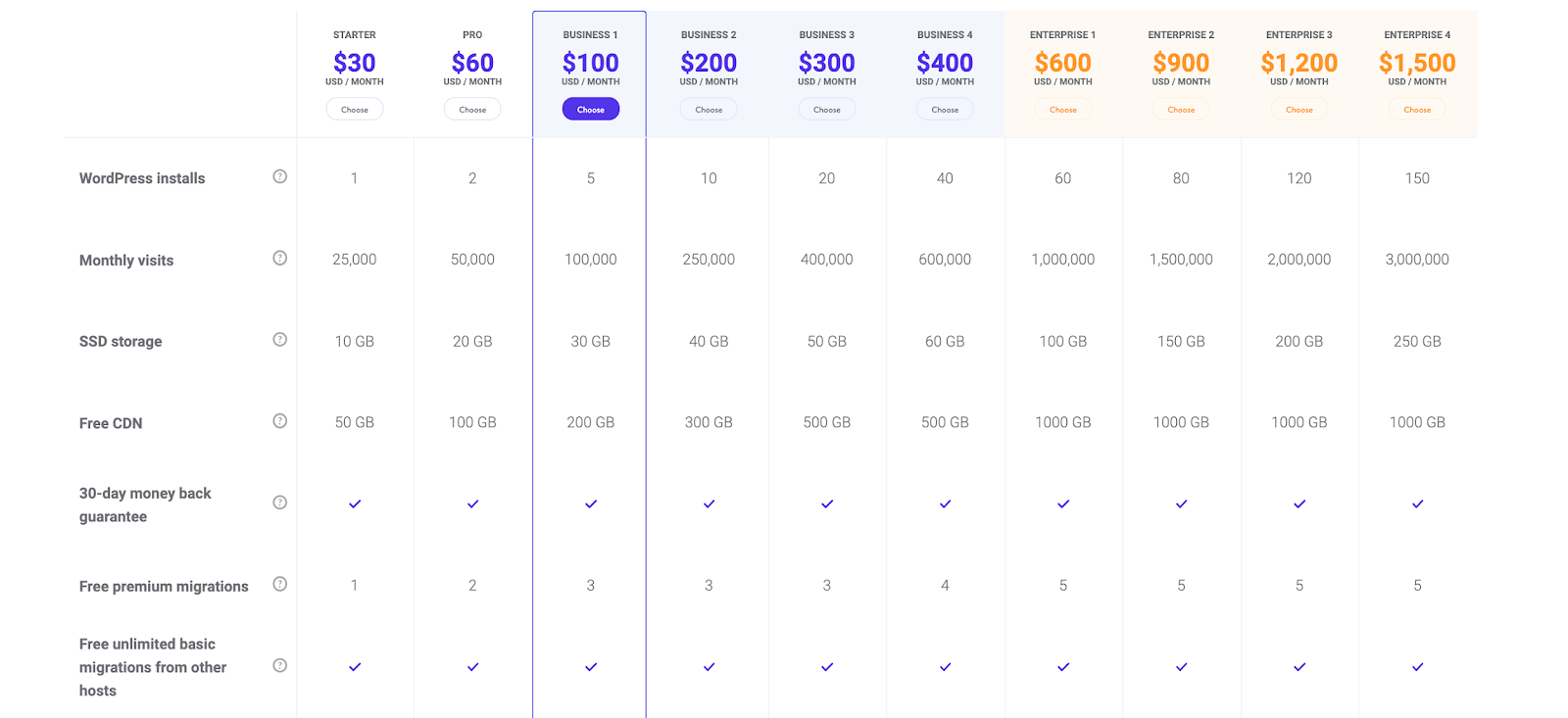 What do you get in each plan?
You can choose one of the 24 Google Cloud Platform regional data centers for each of your sites.
Kinsta offers you expert support. Their WordPress developers are always ready to help their customers with any issues that may appear.
All packages include active/passive security protocols, firewalls, daily backups, uptime checks and the like.
You get a staging area for development, testing or tweaking and tuning – all in a single click.
To enhance your website speed, Kinsta offers Nginx, LXD containers, PHP 8.0, and MariaDB on the Google Cloud Platform.
Kinsta admin is packed full of great features and is easy to use.
Security
Kinsta takes security very seriously, implementing active and passive measures to stop attacks and malicious intent in its tracks.
Kinsta utilizes full page caching at the server-level to deliver content almost instantaneously to your visitors. Along with this, the Kinsta cache plugin developed in-house is installed by default on all hosted sites.
It allows Kinsta web hosting users or website visitors to easily clear page cache and automate the clearing based on certain activities, such as when publishing a new post. This approach in security offers more granular control over your caching.
Moreover, Kinsta users can get SSL certificates for free.
Support
The next point of Kinsta reviews is a customer support team ready to help you around the clock via different avenues like live chat and support tickets. They don't offer support via telephone.
Users can find answers to their questions via 24/7 live chat with an average initial ticket response time of fewer than two minutes. Otherwise, a Knowledge base is always open with an endless number of resources and feasible answers to your questions.
Kinsta support team is available to assist users around the clock. Support is provided exclusively through a chat system integrated into MyKinsta. To reach the support team, you can use the chat icon in the lower right-hand corner of MyKinsta at any time.
Do We Recommend Kinsta?
Yes, we'd like to suggest placing your website at Kinsta, a dedicated WordPress hosting. All features are carefully thought out and fine-tuned to extract maximum performance. They indeed have quite a few restrictions – like banned plugins. But they do this to preserve your site speed, and they always offer drop-in replacements of their own.
It's more expensive than shared hosting. It happens because your sites don't share resources with anyone else. There's no overselling. Their customer support is always available around the clock and staffed with knowledgeable WordPress experts. That kind of service isn't cheap, and Kinsta's prices are quite affordable compared to similar competitors in the industry.
If your priority is a stable, smooth, and fast WordPress website, Kinsta is a perfect choice.
Alternative Platforms to Kinsta
If you need a bit of information about other hosting services before coming to a decision, check out the next options.
GreenGeeks a leading green energy web hosting provider. The company uses renewable energy to provide high-performance and reliable hosting solutions.
A2 Hosting is well-known for its turbo servers. This service is easy-to-use and contains high-powered functions.
Siteground is the perfect choice for big projects. This hosting service provides more performance down the line so that you can upgrade your plan at any time.
If you're looking for the cheapest way to get online, check out:
FAQs: Learn More about Kinsta
Does Kinsta provide a money-back guarantee?
Yes, Kinsta offers you to get your money back within 30 days from the initial sign-up. During this time, you can upgrade or downgrade your plans.
What Plugins are forbidden?
Kinsta bans the use of the following WordPress plugins: Cashing, Backup, Image optimization plugins, Performance enhancing plugins, Security plugins, Social media plugins.
Why does Kinsta offer no phone support?
Kinsta claims that a text-based system is better than a voice system.
Where are Kinsts's servers located?
Kinsta uses the Google Cloud Compute engine for its underlying infrastructure. It allows for offering servers in 24 locations worldwide.