As Hostinger states on its website, its mission is to simplify developers and their customers' lives. So said, so done.
Hostinger is a simple and intuitive platform with high website speed, a user-friendly control panel, and a variety of scalable hosting packages. In this ultimate Hostinger review, you'll learn everything you need to know about its features, pros, and cons for your website.
Pros and Cons
Before choosing any provider, make sure to know two sides of the coin and learn everything about its advantages and disadvantages. Take a look at the following table:
Pros
Cons

Strong uptime

385 ms average load time

30 days money-back guarantee

Multiple server locations

Easy and detailed onboarding

No free site migration

Limited disk space

You can contact support only via chat and only if you are already a customer

Individual charging for extra features
Hostinger Hosting in Brief
| Characteristic | Information |
| --- | --- |
| Characteristic | Information |
| Uptime guarantee | 99.98% |
| Server response time | 116 ms |
| Support options | 24/7 live chat  |
| Plans | Shared, Cloud, WordPress, VPS, Minecraft, Windows |
| CMSs | WordPress, Joomla, Drupal |
| Features> | Free SSL certificate, powerful control panel, webmail access, DNS management, weekly backups, File manager, PHP configuration, remote MySQL. |
| Server locations | UK, US, Brazil, Netherlands, Singapore, Indonesia, and Lithuania |
| Starting price | $0,99/month |
Go to Hostinger
When to Use Hostinger
Hostinger is a great choice for small websites and bloggers, as it can support up to 10,000 monthly users. As your traffic grows, you can always upgrade to Premium and Business shared packages. The provider is one of the cheapest hosting platforms on the market, so keep it in mind if you have a limited budget.
What can see in a typical Hostinger review say? The idea that it is a good option for low-traffic sites and websites with no need for dedicated hosting.
When Not to Use Hostinger
As we have mentioned, the provider doesn't provide dedicated hosting, so if you have a medium or large-size business and your website needs extra security, it may not be the best option.
Another thing to remember about Hostinger is that it has a limited disc space in all plans. 30 GB is the maximum disk space they can provide. It makes the provider no the best choice for websites that contain a lot of data, images, documents, etc.
Hostinger Hosting Performance
Hostinger offers the following features that make its performance better: SSD hardware, 99,9% uptime guarantee, and custom-built cache manager. Moreover, anyone can find information about Hostinger servers' performance and their uptime data within a certain period on their website.
Besides, the provider has a server deployment time of around 10 minutes, which is impressive. They have a fully automated bootstrap process and customizable server-level caching that hyper-charge any web app and help handle large traffic. If something goes wrong, the Hostinger team will restore your account at no time. They also provide predictive monitoring, which helps eliminate any issues before they occur.
When it comes to WordPress websites, It provides HTTP/2, HTTP/3 (Quic) and IPv6, PHP7, Litespeed (with plugin) caching, and GZIP compression to keep your website performance on a high level.
Speed Test Results
The provider plans include SSD Drives for extreme speeds, streamlined and automated server deployments, Intercom, and HTTP/2 to ensure your website's lightning speed. They also use a powerful Smart Purge technology to manage cache easily. That's why its servers work fast in different locations.
Less words, more action – let's see how Hostinger performs in real-time.
| Test | Average Loading Time |
| --- | --- |
| Pingdom test | 1.42 s |
| PageSpeed Insights (Google) | 1.9s |
As you can see, the results impress. A lot of other Hostinger reviews state the same.
Uptime Guarantees
In our Hostinger hosting review, we can't ignore the most important metric – hosting uptime. Hostinger offers an uptime guarantee of 99.9% of available time per month.
If they fail to maintain this Service Uptime Guarantee in a particular month, you may reach out to them and get a credit of 5% of your monthly hosting fee for that month.


So if your website's uptime is lower than promised, don't hesitate to contact them and grab a 5% discount from your monthly fee.
Hostinger Server Response Time
To check out the Hostimger performance in different locations, we have used a famous speed checker tool – Bitcatcha.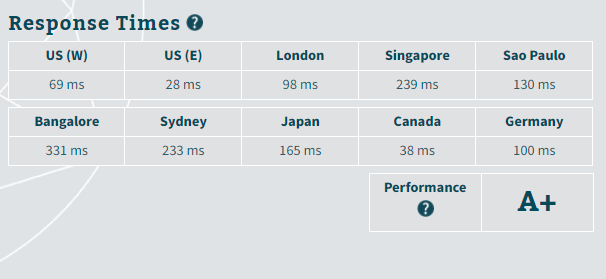 As you can see, the average Hostinger response time is 143 ms, which gives it a solid
A+ score
.
Hostinger
is an excellent choice for those who target the European market. If you plan to launch your product in other countries, just choose the closest data center to your country.
With the provider, it's not a problem, as they have 6 data centers in countries like the USA, EU, Brazil, Netherlands, Singapore & Indonesia.
Hostinger Site Migration
The provider will help to move your website from another host to its servers. The process is quite simple. Create a new Hostinger account and request the transfer by filling out the migration form.
You need to specify the correct control panel you used (WordPress, FTP, cPanel or other) as well as some other details and select the account you want the migration for. The technical support team will do the rest and notify you via an email once the migration is done.
Hostinger Types, Features, and Pricing
Hostinger offers various types of hosting packages that are fast, secure, and user-friendly. Let's dig deeper into more detail here in our Hostinger review.
Shared Hosting
Hostinger provides three types of shared hosting: single shared hosting, premium shared hosting, and business shared hosting. It is the cheapest type of hosting they offer, as your website is hosted together with others on the same server. This option is a good fit for bloggers and hobbyists, as you don't need a lot of storage space and resources.

All the shared hosting plans include 30 days money-back guarantee, GIT access, and WordPress website management.
Cloud Hosting
It provides three types of cloud hosting: startup, professional, and global. All three packages come with the bonus – a free domain name. What are the benefits of cloud hosting? It's 4x faster than the other types, and the Hostinger team manages your website's backend, so you don't have to bother.

Also, you can start with a small website and grow as your website scales. You have a dedicated IP and resources because your hosting cloud server runs on an isolated virtual instances. You will also get a custom control panel, daily backups, instant setup, and integrated caching.
WordPress Hosting
All provider WordPress hosting plans include a free domain name, SSL and CDN. They offer 4 WordPress packages that differ in the number of visitors and space you need. Hostinger provides the advanced features specifically for your WordPress website.

They use the fastest web server LightSpeed to provide the best WordPress website performance, WordPress accelerator to guarantee exceptional speed, 1-click WordPress install, and SSD storage to store your website's files and data.
VPS Hosting
Another thing we want to note in our Hostinger hosting review is a server that is exclusively yours. Hostinger VPS hosting platform features SSD disk drives, 100mb/s network, dedicated IP, full root access, IPv6 support, and 30 days money-back guarantee. Their VPS hosting platform runs on such operational systems as CentOS, Ubuntu, Fedora, Debian, and Suse.

Another perk you get is the use of multiple kernels to build projects the way you want. Also, you get a bunch of powerful management tools and a team of experts that support your website around the clock.
Minecraft Hosting
With Hostinger's VPS Control Panel, you can host and manage your own Minecraft virtual server. Server installation takes just several minutes. You can choose among different plans and choose one that works best for you.

The Alex plan suits those who want to play with a small number of friends, and Creeper, Herobrine, or the Enderman plans are perfect for those who want to play with more participants at a broader bandwidth.
Windows Hosting
All Windows Hosting plans include the following features: Windows server 2012 layout, dedicated live chat support, unlimited hardware space, dedicated IP, data backups, and easy to use interface.

Windows server can come in handy for those who can't get used to Linux code lines, as you get the same Windows desktop interface with Windows server.
Security
Hostinger servers use advanced security modules (such as Apache mod_security, Suhosin PHP hardening, PHP open_basedir protection, and others) that provide the highest security level that is available today.
Remember that you are also responsible for the security o your servers. That's why you need to watch out for outdated scripts, script plugins, weak passwords, and infected local computers.
In 2019 Hostinger servers were affected by an unauthorized third party, which resulted in a data breach; that's why Hostinger has made many security improvements since then. They've rewritten a considerable amount of our backend system code, assembled a dedicated cybersecurity team, rolled out a Two-Factor Authentication feature for their clients, etc.
That's only the beginning, and Hostinger will keep working on their security.
Support
If you need any assistance, you can contact the provider support via live chat. Also, they have detailed documentation where you can find answers to most of your questions.
Their learning database includes 680+ help articles and 500+ video tutorials. They don't provide support via phone or email, so keep this in mind if you are not into live chats.
Hostinger Quick Facts
| Fact | Information |
| --- | --- |
| Website migration | Free |
| Free features | Up to 100 Websites; Unlimited Bandwidth; Up to 100 Email Accounts; Free SSL Certificate & Domain |
| Control Panel | CPanel |
| Email accounts | Depending on the package |
| Bandwidth | Limited |
| Webspace | Starting from 10GB |
| Hidden fees and clauses | No hidden fees |
Go to Hostinger
Hostinger Hosting Review: Do We Recommend It?
Yes, we do. The only thing you should keep in mind is that Hostinger restricts bandwidth to 100GB. For other cases, Hostinger offers cheap solutions for small websites and are best known for their low-price shared servers.
They have a variety of packages you can choose for your business purpose. The other bonus is the 30-day money-back guarantee for all the packages.

Hostinger Alternatives
If you have read a lot of Hostinger reviews but haven't found what you need, consider the other hosting providers:
FAQs on Hostinger
Do I need to have some technical knowledge to use Hostinger?
No. You don't need to be tech-savvy to use the provider. They have an excellent support team and many online guides, courses, and articles that will guide you through the process. Everything you need is done in just a few clicks and is easy for everyone.
Does Hostinger provide a free domain name?
Yes, when you choose an annual plan, you get a free domain name.
Does Hostinger support e-commerce websites?
Yes, of course. Hostinger provides auto-installers to set up a range of content management systems (CMS) and e-commerce platforms.
Is the customer support multilingual?
Yes! Hostinger's customer support team also provides multilingual assistance.
Can I upgrade my hosting plan
Yes, the upgrade process is straightforward and intuitive. You can start from a basic plan and then upgrade in the future.