InMotion Hosting provides hosting services for customers from all over the world. Highly trained experts have worked to ensure that you can take advantage of a suite of open source digital products and infrastructure technologies such as UltraStack, cloud computing, and website hosting. We have servers located in more than 175 countries around the world.
The provider has an excellent reputation. Here are the basic types of hosting that will satisfy the resource needs of almost any project. In this inmotion hosting review, we will objectively consider all the advantages and disadvantages and elaborate on performance testing and security measures.
InMotion Hosting Pros & Cons
We studied in detail the information on the official website of the provider. It allowed us to highlight the weaknesses and strengths of the InMotion. We hope this information will be useful to you and help you make the right choice.
Let's quickly go over the key pros and cons.
Pros
Cons

One-Click Installs of 400+ Applications

Free No-Downtime Website Migration

Spam Experts

Backup Manager Available

SSH Access

Unmatched money-Back Guarantee

Free SSD Storage

No CDN is included

Delayed account setup

Limit for Number of Sites
InMotion Hosting in Brief
| Characteristic | Information |
| --- | --- |
| Uptime guarantee | 99.99% |
| Bandwidth | Unlimited |
| InMotion Plans | Shared, VPS, Dedicated, WordPress |
| Security facts | Free SSL, Premium malware, hack protection |
| CMSs | Drupal, Joomla, Magento, Jetpack, WordPress |
| Support options | Phone, Email, Live Chat, 24/7 Monitoring and Ticketing, Online Support Center, Step-by-Step Education Channels, Community Support Forums |
| Starting price | $5.99 a month |
Go to Inmotionhosting
When to Use InMotion
You can use this provider to host your business website. It won't take you long, and the server capacity and performance offered will cover the needs of almost any project.
If you have a small business, then it will be enough for you to try Shared Hosting. For larger enterprises, a Dedicated one is a better fit. Both types of hostings are presented on the company's official website, and, besides, further in this inmotionhosting.com review, we will tell you about each of them.
When Not to Use InMotion Provider
Well, if you represent a large corporation, then you really should consider more alternatives. This provider's performance is enough to cover the basic needs of websites, but you might have a problem with that when it comes to extensive projects.
The company's website does not have an exact list of requirements for sites that can be hosted on their services. However, according to numerous inmotion hosting reviews, there are known cases that fraudulent sites got blocked for hosting on this provider.
InMotion Hosting Performance
The provider claims exceptionally high performance. Next, we will check how true this is, but for now, let's focus on the essential information. So, here is what InMotion Hosting promises us:
SSH & develop in PHP, 

PHP 7 Supported (up to 3x faster load times),

MySQL, 

PostgreSQL, 

Perl & Python,

Free SSD Storage,

Powered by UltraStack,

Max Speed Zones,

Easy Control Panel.
All the necessary resources that ensure the performance of a provider are taken into account here. Also, there are some unique features rarely found in the default providers. A great option to ensure maximum performance for your site!
Speed Test Results
The site of this provider has plenty of detailed information about the benefits of the service. However, we have met inmotionhosting.com reviews online that say that sites on this service load slowly. That is why we decided to check it by ourselves! (After all, it is better to test once and make a conclusion yourself than to trust the inmotionhosting reviews on the web. You can try their performance yourself).
Here are the results:
| Test | Average Loading Time |
| --- | --- |
| GTmetrix test | 7.2 s |
| Pingdom test | 2.62 s |
| PageSpeed Insights (Google) | 3.85 s |
Impressive! These are excellent results for any provider. You can be sure of fast hosting downloads.
InMotion Uptime Guarantees
When it comes to uptime, InMotion data center locations can place customers anywhere in the world geographically and still guarantee 99.9% uptime for all customers.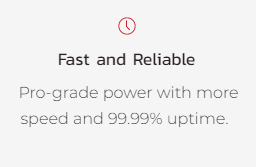 InMotion Hosting's data centers are located very close – literally across the street – from Internet Exchange Points (IXPs). It is a significant advantage of InMotion over other companies.
InMotion Hosting Server Response Time
After we have checked the download speed of the content, it is also worth checking the first byte's download time. To do this, we use a popular service Bitcatcha.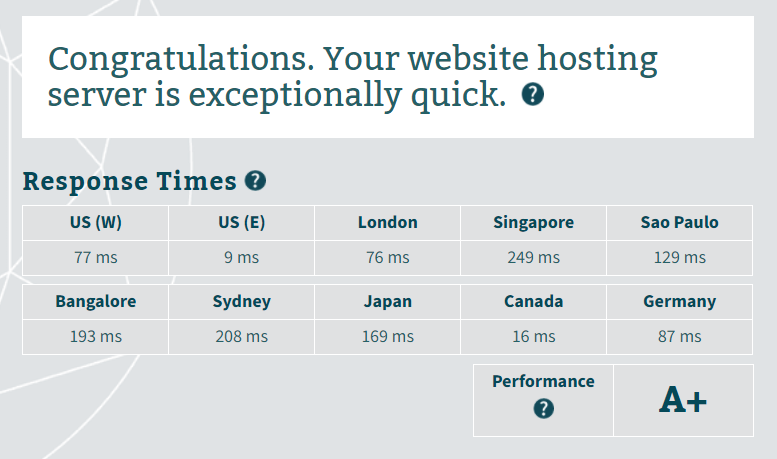 Let's have a little look at the importance of results. Google considers high-quality sites where the first byte load time does not exceed 200 ms. This service compares the performance of thousands of successful sites and assigns scores to them.
As you can see for yourself, InMotion Hosting received the highest score, just like the leading companies in this niche. It shows that the hosting does provide its users with high performance and good loading times.
InMotion Site Migration
The challenges of moving a website may deter some people from changing their provider. That's why many hosts offer their clients help in website migration. InMotion is one of them.
The provider promises to "transfer you for free with no hassle and no downtime." Website Transfers include moving your databases, files, domains and emails.
Note that free transfer service applies to accounts with less than 3 cPanels, databases or websites. To move larger accounts you will have to pay $10 per item. You can also migrate the website yourself, using the Support Center for guidance.
InMotion Hosting Plans and Pricing
InMotion Hosting provides its users with classic types. Decide which option is best suited to cover your business needs. Can't work it out? Take a look at the official site and ask for help from the support team if necessary.
The site is very user-friendly, with all pricing plans located on the main page. You will have no problem comparing the main benefits and choosing the most important one for your project. Let's take a closer look at each type of hosting and analyze its advantages.

Shared hosting
Shared hosting is ideal for beginners. Transparent and simple rates, reliable resources, good performance. Users get a secure virtualized environment, like a dedicated server, but at half the cost. It improves the stability and performance of your site.

Costs are low because you share hosting with other users. However, each company has its memory size, as well as individual login details. You won't overlap with other projects, and you can have peace of mind about keeping your information safe.
Dedicated
You don't share a dedicated server with other clients or companies. The software is entirely under your control. All resources are aimed at ensuring the vitality of your site only. This type is designed for more advanced users. You can choose both managed hosting if you don't have enough experience to set it up correctly and unmanaged type if you can do everything yourself.

If you still have additional questions, you can contact the support team even without being their customers. Support experts will tell you what type of hosting and management type is right for your project's needs, and you'll minimize the risk of being dissatisfied with the service.
VPS
It is a middle ground between dedicated and shared types. VPS option provides customers with a secure virtualized environment like a dedicated server, but at half the cost. It improves the stability and performance of your site. There are three plans for different business needs.

WordPress hosting
To get your WordPress site up and running, you need WordPress web hosting. At InMotion Hosting, they place great emphasis on supporting sites on the WordPress platform. WordPress Type provides excellent uptime, speed, and security. There are four pricing plans for businesses of different sizes.

Starting at $6.99, you can get the cheapest plan, which includes single-site support, 50 GB SSD Storage, excellent performance, Free Domain & SSL. These features are enough to keep a small site on. As you can see, getting this kind of robust functionality at this price is a bargain. In any case, you can always get your money back if you are not satisfied.
Security Features
InMotion takes good care of security on the side of its servers. It uses Custom Advanced Policy Firewalls, suPHP for file permissions, and Mod Security for general attacks on the server.
Free SSL, 

Malware and Hack Protection

DDoS Protection

Automatic Backups Available
InMotion Hosting constantly scans sites for malware and hacks, quarantines files if necessary, and informs users about viruses.
Support Team
InMotion Hosting allows you to contact the support team via online chat, phone, or email. The company's specialists will communicate with you since the provider does not outsource customer care to other companies.
You can contact the specialists either as a client or just interested in the service's options. We asked a simple question about the servers' location, and we were transferred to a specialist in the sales department. After the end of the dialogue, we received an email saying that we can write and clarify what we want if we still have questions.


It was unobtrusive and not like active sales. We were pleased with both the speed of the support and the quality of the conversation. It's safe to say that, unlike other companies, InMotion Hosting pays proper attention to the issue of communication with customers.
InMotion Quick Facts
| Fact | Information |
| --- | --- |
| BoldGrid Website Builder | included in each plan |
| Bandwidth | unlimited |
| FREE SSL Certificate | included in each plan |
| UltraStack Optimized Performance | included in each plan |
| Advanced Features | Pro Level Support, eCommerce Ready, Dedicated Opcode Cache Pool, Automatic Offsite Backups, CPU Cache, RAID Technology, Intel® CPU Specs |
| Free Domain | included in each plan |
Go to Inmotion hosting
InMotion Hosting Review: Do We Recommend It?
We certainly recommend this provider. Take advantage of InMotion Hosting if you are a small or large online business.
A variety of types, an adequate price policy, a high level of protection, excellent performance (which we have tested in practice!), responsive customer service (and we have tested that too!) – what more could you want from a provider? If you're missing a particular feature, you can always contact the support team and be sure that they will provide an appropriate solution for your task.

InMotion Alternatives
If you're not ready to make a final decision, and you need to take a look at other options – use this list of alternative hosts!
WP Engine — provides excellent prices on managed hosting plans.
Nexcess — provider that supports many platforms.
FAQs on InMotion Hosting
How many websites can I host with my InMotion Hosting plan?
It depends on which plan you have chosen for your project. If we are talking about Shared Type, then starting with one site and ending with a hundred. No hidden fees or surprise charges, just multiple websites for one low price.
Is InMotion Hosting Good for WordPress Websites?
Yes! This provider has paid particular attention to this type as WordPress Hosting. There is a separate team of developers who make sure that your sites on this platform perform at their best daily. Besides, there are many notable features here that most other alternatives do not have. Consider this provider if you need to host your WordPress site.
I already have a website with another host. Can I transfer my website?
Yes, of course! You can transfer your site to your InMotion account for free. Your free site transfer includes up to 3 sites, databases, and cPanel accounts. Contact support to make the transfer quickly and hassle-free. The provider specialists are always ready to help you in this matter and solve this task quickly.