Selectel hosting is a Russian service with cloud and dedicated server solutions tailored for businesses. This service provides high-quality products for low prices compared to their competitors.
Data centers are located across Russian, which enables them to deliver stable services. They provide cloud and dedicated servers and other network services. The website is available in English and Russian.
Selectel Pros & Cons
There are not many reviews of this web hosting because it is not the most popular. Nevertheless, it does not mean that this hosting loses out to its competitors. Maybe it will be ideal for your business?
If you do not have time to read the entire review, especially for you, we have collected all the pros and cons in one table.
Let's quickly check them.
Pros
Cons

Good prices

99.98% uptime

Great support service

Bilingual website

Servers are only in Russia

Servers are only in Russia

No free plans

No free SSL
Selectel in Brief
| Characteristic | Information |
| --- | --- |
| Uptime guarantee | 99.98%  |
| Support options | live chat, email |
| Hosting plans | Dedicated and Cloud hosting |
| OS | Linux (Ubuntu, Debian, CentOS), Windows Server, and VMware ESXi |
| Payment methods | PayPal, Qiwi Wallet, OKPay, credit card, or bank transfer |
| Starting price | $2.59 a month |
When to Use Selectel
If your business clients are located in Russia, this hosting can be a great solution for you. Dedicated servers of different performance and capacity can provide options for both a small business site and a large corporate site. You can choose the configuration specific to the needs of your business.
A lot of positive selectel reviews suggest that the company's dedicated servers work at a high level. This provider is a leader in Russia, so it is a great option for your business. By migrating your data to the cloud, you can streamline costs, ensure transparency of business processes, and reduce time to market.
When Not to Use Selectel
Keep in mind that the company's servers are located in Eastern Europe, specifically in Russia. It does not mean that you will not be able to use the service when you are physically outside of Russia. But in this case, you should look for another provider.
If you have a small website, then a dedicated server's resources will be simply unnecessary for you. In that case, you need to look for regular Shared Hosting for a lower fee from other providers. The target audience of this provider is large sites that need a lot of resources and performance.
Besides, you cannot host sites here that violate the law or engage in fraudulent activities.
Selectel Performance Facts
Performance is the main advantage of this provider. However, you should pay attention to the power of the servers when choosing a provider. The bigger your website, the more tasks you have, the more powerful the servers should be.
In every tariff plan, it is enabled by default:
1 shared public IPv4 address

OS FAI

network statistics

free traffic: unlimited at 100 Mbps or 30 TB at 1 Gbps

SSD storage

dedicated bandwidth of 1Gbps

unlimited traffic
The high performance of this provider is at a competitive level. For this cost, you get a great opportunity to promote your business on the Internet.
Selectel Speed Test Results
When considering how hosting can affect SEO, you should consider the loading speed of content. Speed is one of the critical factors in ranking a site in search engines. The faster your site loads, the more traffic you'll get, and the higher you'll appear in search engine rankings.
Of course, many factors affect speed. However, hosting is the most mattering. Now we will check how fast your site will load if you put it on this hosting.
Here are the results:
| Test | Average Loading Time |
| --- | --- |
| Pingdom test | 2.75 |
| PageSpeed Insights (Google) | 3.6 s |
These are quite good results for any provider. But you should understand that this result depends on your location. And if we will check the speed from Russia, these numbers will be lower.
Selectel Uptime Guarantees
The accessibility of the site affects SEO. Accessibility also affects the perception of your resource by search engines and your customers. First, this indicator depends on how the hosting provides high Uptime Guarantees. Usually, this figure tends to 100%, but few can boast of such an indicator. On average, hosting companies guarantee 99-99.9% availability.
It can be affected by various factors, such as unplanned server outages, outages, or environmental disasters. Expensive providers, in this case, have backup servers that ensure the availability of sites during repair work. However, not all providers will offer this option.
In the case of any technical problems during operation, Selectel provides free hardware diagnostics of the server. If they detect any troubles, they will replace failed components.
Selectel Server Response Time
We have already checked the speed and Uptime. Now we will use a Bitcatcha to check the download time of the first byte for the user. The most popular web hosts get an A+ rating here.
Let's see what kind of rating this provider gets.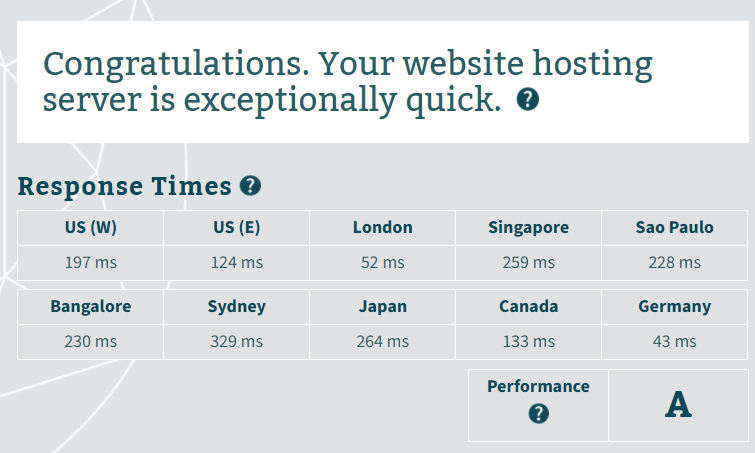 Google likes fast websites! And if a website gives the first byte of content less than 200 ms, it is a fast website. You can see on a screenshot that Selectel gets an A rating. It's quite good, but this result will be better if you use hosting in Europe.
Selectel Site Migration
You can easily move your site to this hosting. All you have to do is contact customer service. Get detailed instructions and start using new hosting in a short time.
Selectel Types, Features, and Pricing
Since the service provides quality services for large sites, you will not find Shared hosting here. Take advantage of all the benefits of dedicated and cloud hosting by matching your business's capacity. You can discuss the price of dedicated space individually; Selectel will consider your requirements in terms of enclosures.
Let's check selectel hosting plans.
Dedicated hosting
Keep in mind that there are many servers out there, and if you still have questions or have trouble choosing a business solution, then contact support. First, you should consider how much memory and CPU you might need for your website's functionality. The more content and features you have on your site, the more resources you will need.


Each of the dedicated server plans includes Rescue Mode. When your operating system fails with no access to the console, Rescue mode comes in handy. It starts an OS unattended and independent of the host system, running it in RAM only.
Cloud hosting
When creating a cloud server, you can select RAM within the dedicated resources, use prebuilt images or upload your own, choose a local or network volume as a boot volume and, if necessary, connect additional network volumes. Individual configuration of the tariff plan will solve all the business problems on the Internet at an affordable price.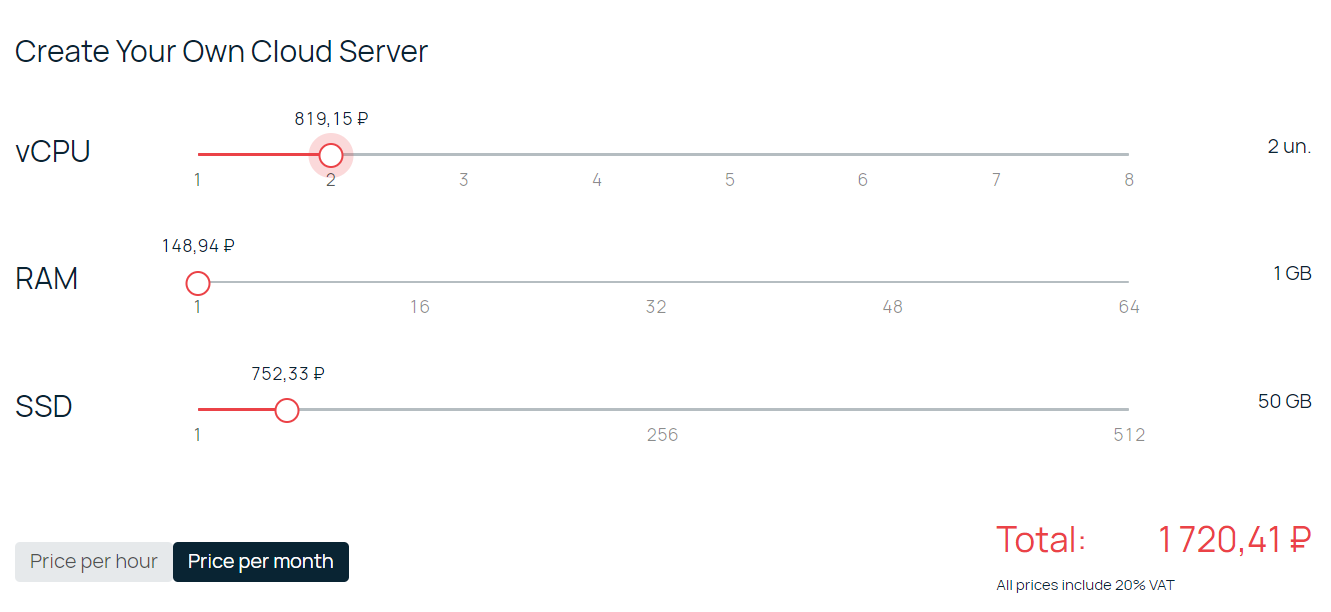 Here are some advantages of Cloud Servers:
3 TB free external traffic

Network connections with 1 Gbps of bandwidth

Different sizes of Public and private subnetworks

Floating IP addresses
Security Features
Now it's time to talk about security. Security affects the reputation of your site more than you can imagine. The leakage of sensitive user data will result in no one wanting to use your site. Besides, search engines will rank your site much worse. As we noted, there is no default SSL certificate here, so you will need to use third-party services to install it.
However, the good news is that there is DDoS protection in every plan. Website protection methods are usually used to prevent DDoS attacks, such as firewalls with intrusion detection systems (IDS). If an attack is made by sending standard network packets, which are harmless in and of themselves, then Selectel can handle such an attack.
Also, there is a Two-Factor Authentication. The activation code will be sent to the contact phone number specified in the account profile.
Support Options
Caring for customers takes a company to a more competitive level, but only if it is good enough. The customer should be able to contact support in any way that is convenient for him. Also, the answers are to be fast and as qualified as possible. This way, the company can retain its regular customers and attract new clients.


We decided to check in our selectel hosting review how well Selectel's support works. The chat operators responded quickly and sent us all the necessary documentation by email. Unfortunately, we did not receive detailed advice on the specifics of working with the service.
Selectel Quick Facts
| Fact | Information |
| --- | --- |
| Bandwidth | unmetered |
| FREE SSL Certificate  | no included |
| Advanced Features | Data centers in Russia, Clear documentation, API and KVM console, Free technical support |
| Free Domain | included |
Selectel Review: Do We Recommend It?
Hosting satisfies all its responsibilities, so we can certainly recommend it to you. Nevertheless, keep in mind a few peculiarities, according to our selectel web hosting review. First, if you and your clients are in Eastern Europe, there is nothing to worry about loading speed. But from other places in the world, the content's download speed will be a little slower.
Secondly, there is no shared hosting. It means that this hosting is not suitable for small sites because you can find a cheaper option.
In any case, we hope that if you choose this provider, your cooperation will be top-notch!
Selectel Alternatives
If you still can't get enough of the listed benefits and performance, we suggest you check out a few alternatives.
BlueHost – reliable and popular provider.
Inmotion – excellent web hosting for your business.
Hostwinds – the best features for dedicated hosting for low prices.
We hope that these alternative hosts will help you make the right choice for your business needs!

FAQs on Selectel
For MS Windows, backups can be set up via agents for a fee.
Can I buy a domain through Selectel?
Yes, you will get the free domain name.
Is Selectel Good for Beginners?
No, there are many difficult tools and settings.