WebHostingPad has set itself the goal of providing the best web hosting at the lowest possible price, at which everyone can afford a website. The company is committed to creating the best web hosting experience by providing a safe, reliable, and efficient service to its customers.
The company has been on the market since 2005 and has long earned a reputation as a reliable and safe resource. High-quality customer service is in the first place here. Let's understand who should pay attention to this service and why!
WebHostingPad Pros & Cons
This hosting service is famous for its low prices. In this webhostingpad review, we decided to look at the positive aspects of the service and the disadvantages, so you can decide how well the provider is suited to your hosting needs.
Let's quickly go over the key pros and cons.
Pros
Cons

Full Root Access

24/7 Network Monitoring

WordPress & Softaculous

30-Day Money-Back Guarantee

Security Enhancements

Low Prices

Limited Website Transfers

Restrictive Backup Option

Hidden Fees and Clauses
WebHostingPad in Brief
| Characteristic | Information |
| --- | --- |
| Uptime guarantee | 99.9% |
| Support options | Live Chat, Phone, Email, and Knowledge Base |
| Hosting plans | Website, WordPress, VPS |
| CMSs | WordPress |
| Features | unlimited email accounts for your domain, free SSL certificates, eCommerce Ready, Free Analytics Tools,  |
| Starting price | $1.99 a month |
Go to Webhostingpad hosting
When to Use WebHostingPad
The service provides standard types of hosting services that are suitable to cover the needs of most businesses of small or medium size. You will be satisfied with the quality of service, especially if you run a small company. For a small price, you get a great feature set that is definitely enough for your site. There are solutions for e-commerce sites, which is a nice bonus.
WebHostingPad will suit those who haven't worked with ISPs before. There is an extensive knowledge base here for beginners. All the standard questions are already covered. All you have to do is open the base and find the right section. If you can't find it, write to support to solve any problem.
When Not to Use WebHostingPad
Keep in mind that there is no dedicated hosting here. It is this type that provides the greatest performance and is most suitable for large companies. So if you are looking for a solution for a site with many loads, you should look at other providers.
We don't imply that WebHostingPad is a bad provider. It's just that it has a different audience and capabilities. According to webhostingpad reviews, this platform is not suitable for asp or Java.
WebHostingPad Performance
Hosting performance is an important factor that affects how much the provider will cover your site's tasks. The bigger your site is, the more pages and content it includes, the more performance it has to use to work correctly.
Performance depends on the plan you choose. If you want to get the most power, then consider the Power Plan Plus.
Power Plan Plus offers you:
High Traffic Server Optimization

Boosted Server Power

Any Size & 1-Click Button Automatic Backups

Included Free SSH Access
As for the cheaper plan, this functionality is also available there but is not included in the price. If you don't need this kind of performance, then go with the starter plan. All in all, these are great performance figures!
WebHostingPad Speed Test Results
A key indicator of a hosting provider's success is Average Loading Time. To make sure that the loading time of WebHostingPad content is all right, in this webhostingpad hosting review, we used free services to analyze sites' performance. By the way, you can also check the sites you are interested in using these services to check how fast access to a resource they provide.
| Test | Average Loading Time |
| --- | --- |
| GTmetrix test | 2.7 s |
| Pingdom test | 1.06 s |
| PageSpeed Insights (Google) | 4.1 s |
That's a great result for such an affordable provider. Yes, more expensive services offer you even faster content download speeds. But for such a low price, the result is more than adequate.
WebHostingPad Uptime Guarantees
Customers and users love sites that are always available. When choosing a provider, you should pay attention to its Uptime Guarantees. This indicator should be close to 100%.
As for WebHostingPad, they promise 99.9% Uptime. WebHostingPad guarantees that our servers will be up and running at least 99.9% of the time during any given 12-month period.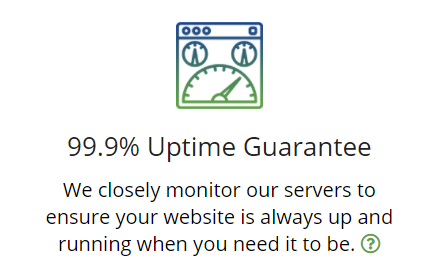 That is great, but there is still a chance that your site will be unavailable at some point. Nevertheless, few providers promise a fail-proof 100% availability. Uptime is monitored within WebHostingPad's servers, and any third-party monitoring software will not be honored.
So let's get Uptime to benefits!
WebHostingPad Server Response Time
Server Response Time indicates the time it takes for a user to receive the first byte of content from the site. This indicator is as important as the average content download time and shows the speed of the site. To find out this indicator in our webhostingpad.com review, we used the free service Bitcatcha. You can also use it to check the speed of sites if you ever need it.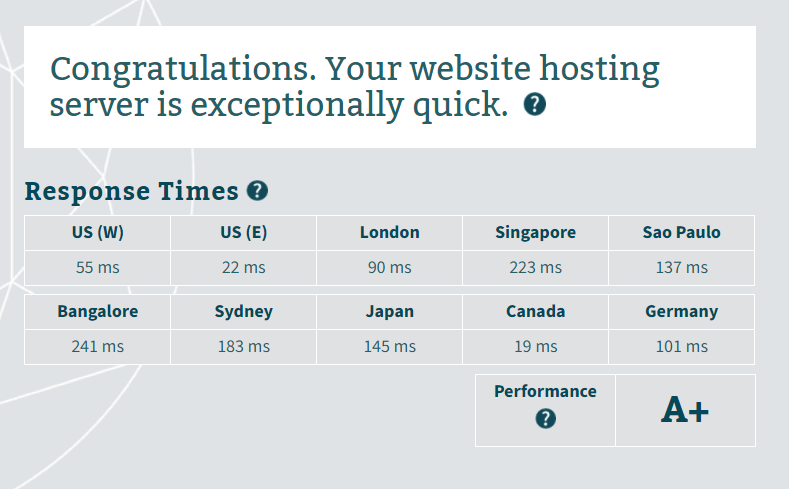 Google defines fast sites as those that load faster than 200ms. Check the results in the screenshot. In general,
WebHostingPad
loads fast. However, from some points in the world, the index exceeded 200 ms. Nevertheless, Bitcatcha compared the results with other resources and rated the provider
A+
. Other reliable services get the same grade, so that's a great result!
WebHostingPad Site Migration
If you have a website on another hosting service, you can transfer it to this provider. Just write to the support team and make a request.
Besides, you can also move your existing website files and databases over to your new VPS plan. Consolidate your domains and products into your VPS billing profile, so you can manage and pay for everything in one place. It is also done by contacting customer support.
WebHostingPad Types and Pricing
With its low prices and easy-to-understand pricing plans, this provider can be the perfect solution for your business. The basic types of hosting are presented here, there are no complicated settings, and in case you have questions, you can look into the knowledge base. Or contact customer service for a free consultation.

Prices start at
$1.99 a month
, which again is very cheap for this kind of hosting. Let's break down the basic types, so you can decide which one is right for your business.
Website hosting
Everything you want from hosting this provider has put together for you in two simple plans! They differ in price and functionality, but if you own a small site, then the Power Plan is enough to cover your needs.

WordPress hosting
A great solution for sites and blogs on the WordPress platform. The team of developers of the service constantly improves the tariff plans and monitors the introduction of new technologies. It helps facilitate and enhance site maintenance.

Each pricing plan includes a security certificate and excellent performance. Choose the one that suits you best, and get started now!
VPS hosting
A lot of memory, a dedicated IP address – that's what you get when choosing any of the VPS plans. Services for this type of hosting are offered by the sister company VPS Depot.
Private resources for every account

Dedicated IPs for increased deliverability

24/7 network monitoring and expert support
Security Features
Secure site access shows how seriously webmasters and site owners take the privacy of their users. The more seriously you take security measures, the higher the reputation of your resource. As for the role of hosting in this matter, the provider has to protect your site as much as possible.
Therefore, before you make your final choice regarding your provider, we recommend that you familiarize yourself with the security features.
Let's take a quick look at what security measures web hosting webhostingpad provides to make our webhostingpad vps review more comprehesive:
Free SSL Encryption

UNLIMITED MySQL Databases

SSD Database Storage

High Traffic Server Optimization
Trusted CA Certificate

SSH Access

Advanced Spam Filter

Firewall Protection
For a hosting service of this level, these are quite excellent tools for security.
Support Team
For any questions, you can contact technical customer support. The specialists will solve your problem or answer all your questions in a short time, even if you are not their customer yet.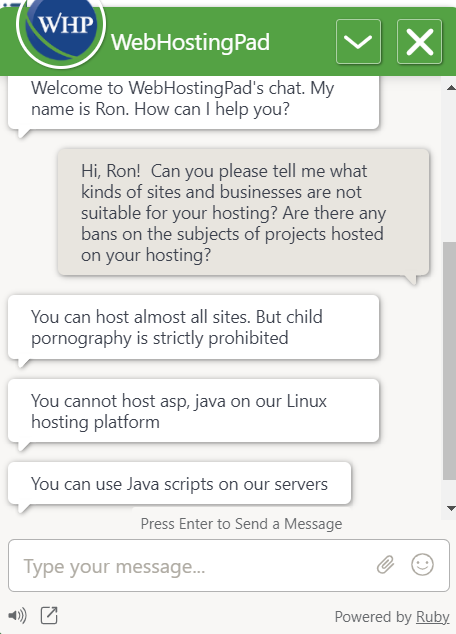 For our
webhostingpad user review
, we decided to check how quickly the support would respond. Additionally, we clarified what sites can not be placed on the hosting. The answer came within a minute and completely covered our request. Great job!
WebHostingPad Quick Facts
| Fact | Information |
| --- | --- |
| Bandwidth | UNLIMITED |
| FREE SSL Certificate | included |
| WordPress Pre-installe | included |
| Advanced Features | SSD Database Storage, CGI-BIN, Perl, Python, Ruby on Rails, Cron, Video & Audio Streaming |
| Free Domain | included in each plan |
Go to Webhostingpad hosting
WebHostingPad Review: Do We Recommend It?
Yes, we can recommend this hosting. If you are a small company representative and don't expect complicated tasks, then it's the best one for this low price!

WebHostingPad Alternatives
If you are looking for a service with similar features at a low price and are still not ready to opt for WebHostingPad, then consider these alternatives:
Inmotion — an excellent choice if you need a VPS;
SiteGround — ensures 100% uptime and has a nice reputation;
Hostgator — a good-known web hosting with low prices.
We hope that our review of webhostingpad will help you make the right choice for your business!

FAQs on WebHostingPad
What extras do I get with WebHostingPad?
Free SSL Encryption, Full Root Access, Reseller Hosting, Firewall Protection, and other features.
Can I buy a domain through WebHostingPad?
Yes, you are given a domain name for free for the whole year of provider use. After that, you have to pay for it.
Is WebHostingPad Good for Beginners?
Thanks to the extensive training base and the availability of many guides, we can confidently say that the service is great for beginners