Scala hosting started in 2007 and set an exciting goal–to make VPS hosting available to all people. No matter your initial project budget, Scala can offer you a great secure way to put your website on reliable hosting.
Whether it's a student project, an online store, or a large business, everyone can find the right plan there. Well, let's take a closer look at how reliable Scala provider is!
Scala hosting Pros & Cons
Scala hosting is well known as an innovator. They are the first to implement many features, which competitors then borrow. Their security systems set Scala apart from other companies.
Let's quickly go over the key pros and cons.
Pros
Cons

Industry-leading Performance & Speed

Free & Effortless Migration

Free SSL Certificates For ALL Websites

99.9% Uptime Guarantee

30-day Money-back Guarantee

Excellent Support

SPanel

Only VPS plans get all-in SSD performance

Higher fees upon plan renewal

No website builder
Scalahosting in Brief
| Characteristic | Information |
| --- | --- |
| Uptime guarantee | 99.9% |
| Support options | live chat |
| Hosting plans | Web hosting, WordPress, VPS |
| CMSs | WordPress, Magento, Joomla, Drupal, Prestashop, Moodle™ LMS, WooCommerce |
| Features | Free Website Migration, Remote Daily Backup, SShield Cybersecurity, 1-Click Installer, SPanel |
| Starting price | $3.95 a month |
Go to Scalahosting
When to Use Scala hosting
We recommend you pay attention to Scala hosting if you like to test new features and use service capabilities to their full potential. If you have a small project or an online store, Scala hosting is the one. The company's servers are in North America and Europe, which will positively impact your site if its audience is in these locations.
The pricing plans here are straightforward. Beginners will have no difficulties understanding the settings of the hosting. Besides, the support service here is at a high level and will gladly help you solve any problem related to the account registration.
When Not to Use Scala hosting
You are better off looking for other options if you do not need alternative Scala technologies. The alternative to cPanel here is sPanel's development. It is a significant plus in terms of innovation, but it can be a minus for some users. It is also forbidden to host sites that engage in illegal activities and fraud on this service.
Scala hosting Performance
Scala hosting has servers in Europe(Bulgaria) and the USA (New York, Dallas). Also, they provide additional locations via the DigitalOcean partnership. More information about this partnership you can find on the official website.
With this provider, you can count on the ultra-high performance and speed thanks to 100% SSD storage and premium networking at no extra cost. Scala hosting is constantly introducing its proprietary technologies, which give users even more unique opportunities in hosting websites with this company.
Scala hosting Speed Test Results
We checked for ourselves how good the provider's performance is. To do this, we tested the loading speed of content in three services. Let's look at and analyze the results.
| Test | Average Loading Time |
| --- | --- |
| GTmetrix test | 2.3 s |
| Pingdom test | 803 ms |
| PageSpeed Insights (Google) | 3.2 s |
As you can see, the service loads content fast enough. The performance is on par with more expensive competitors, which proves the high performance and speed once again.
Scala hosting Uptime Guarantees
The constant availability of your site is an essential factor for your visitors. After all, if your site is unavailable at any point in time, the potential customer will go to your competitor's site and take a targeted action there.
Because of this, you can incur both financial losses by losing a client and losses in traffic by losing a reader. Also, it negatively affects search engine rankings, and your site will lose points. It is why it is worth taking Uptime Guarantees into account when choosing a provider.


The provider's official website states that their Uptime Guarantees are 99.9%. Such a high indicator can boast only the leading providers of the sphere. Well, numerous scalahosting shared hosting servers reviews only confirm this indicator. It is indeed a reliable service!
Scala hosting Server Response Time
Another important indicator of reliability and speed of service is when the site gives the first byte to the user. We decided to check this parameter with the popular Bitcatcha service. This service assigns scores to providers based on how good the download speed is.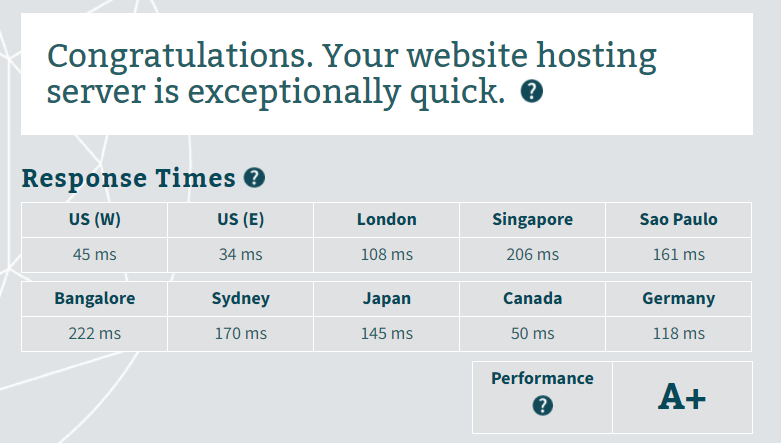 Bitcatcha rated Scala with
the highest rating of A+
. It means that the site is high-speed. And a little about how sites are ranked. Google considers sites that load in less than 200 ms to be fast. You can use this site to see for yourself how fast the provider is.
Scala hosting Site Migration
Scala hosting will migrate all the websites you need at no additional cost. There are no limitations concerning the platform or server. However, the cheapest plans include only one website. If you have multiple sites to transfer, choose more advanced packages.
The process is quite simple. All you need to do is to provide the login details to your old account, and the support will migrate any website. The specialists will also verify that it functions properly on the new server. Then you change the nameservers and direct your website to the Scala hosting server.
Scala hosting Features and Pricing
The provider allows its users to take advantage of one of three types of hosting. There are Web, WordPress, and VPS plans for your projects. You can choose all features that you want and get them there.

The site transparently states all the prices and what you get for your money. If you have problems with which plan is right for your needs, then you can quickly contact the support team, even without being their customers. User care specialists will help you understand and choose the right plan for you.
Web hosting
Web hosting is the most popular type of hosting on this platform. There are three basic plans for different types of businesses. The lowest price is $3.95. You get one website, a free domain, a security certificate, Unlimited Emails, Databases, and Bandwidth for this money. If you need more, then look at more expensive plans.

WordPress hosting
Prices for WordPress hosting also start at $3.95. It is a particular type for hosting sites on the WordPress platform. It has a development department that is dedicated only to supporting WordPress. You can be sure of the quality of this service, placing your site here.

Each WordPress plan provides:
Automated Updates

Malware Scans & Removal

Custom Security Rules

Dedicated Firewall

Web Attacks Blocker
VPS hosting
This provider's VPS prices start at $9.95 and vary depending on what features and how much memory your business needs. Conveniently, you can build your own hosting plan for your project.

All plans include:
Free Migration

SShield Security Protection

SPanel Control Panel

Daily Remote Backups

Free Snapshots

Dedicated IP Address

Guaranteed Resource

Better Google Rankings
Security
Site security is one of the most crucial tasks for any hosting provider. Unique technology SShield blocks 99.98% of web attacks while protecting all of your sites in real-time. SShield monitors and detects threats, and also mod_sec, csf.
All plans include Free SSL Certificates for use on your sites. The company makes sure that your sites are not vulnerable to attacks and does everything possible to prevent them.
Here are the SSHIELD main features:
Blocks 99.998% of the Attacks

Automatic Notification in Case of a Hack

Built-in AI to Detect Malicious Behaviour
100% Automated

Protects All Your Websites
With its machine intelligence logic, SShield detects malicious behavior dynamically and, most importantly, without the need for a virus database that someone has to update daily with the newest viruses that hackers release.
Support
The service support service is another significant advantage. You can contact the specialists via online chat on the official site or write an e-mail. In either case, your appeal gets a response very quickly. For such speed and responsiveness, the support department has won many awards.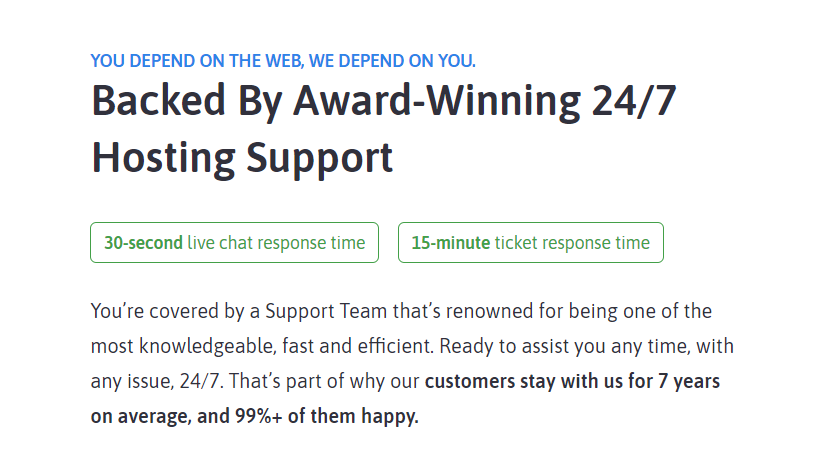 We also decided to check how fast and well the specialists responded. It took less than a minute to connect with the chat operator, an excellent indicator of the reply speed. Scala has not outsourced the care of customers so that you will talk to real professionals of the company.
Scala hosting Quick Facts
| Fact | Information |
| --- | --- |
| Bandwidth | unlimited |
| FREE SSL Certificate  | included in each plan |
| WordPress Pre-installed | included in each plan |
| SShield Security Protection | included in each plan |
| Free Domain | included in each plan |
Go to Scalahosting hosting
Scala hosting Review: Do We Recommend It?
Yes! We can confidently recommend you this provider. According to our scala hosting review, you could conclude that it is a reliable and fast service. It indeed is. The tests we have conducted confirm it, so do the reviews on the web. Most of all, we liked the communication with the support service.
They answer quickly and understand all questions. We can also see that the provider cares about the introduction of new features and develops exciting technologies to improve performance and speed.

Scala hosting Alternatives
If you still want to look for another provider, even despite the many advantages of Scala hosting, then we have prepared some similar options for you. Check them out before you make your final provider choice.
Hostinger – fast, reliable, cheap service.
Bluehost – the most popular and high-performance service.
One.com – there are straightforward rate plans here, so there's no chance for a beginner to get confused.
FAQs on Scala hosting
If I Already Have a Site Can I Move It To Scala hosting?
Migration specialists will migrate as many websites as you ask, free of charge.
You provide the login details to your old server.
You change the nameservers and point the website to the new server.
Is Scala hosting Good for Blogs?
Yes. There is a WordPress type here, which also provides resources and blogs. You can comfortably move your blog to this hosting and attract even more readers because sites on this hosting are better ranked than the competition.
Is the Scala hosting legit?
Of course! It is a registered service with a long history and millions of hosted sites. You can be sure that they are not frauds!