Wix is one of the leading website builders with a headquarters in Israel. The software company offers cloud-based web development services. With online drag and drop tools, users can create websites and mobile sites for e-commerce, online booking, tickets and events, online orders, art and content monetization platforms.
Wix also has offices worldwide: Brazil, Canada, Germany, India, Ireland, Lithuania, the United States, and Ukraine.
In our wix.com review, we'll light on the hosting platform at different angles to find out all pros and cons. Let's get started!
Wix Hosting Benefits and Drawbacks
Wix is by far one of the site builders that has experienced a skyrocketing rise in uptake over a relatively short period. What features set it apart from other hosting platforms?
After testing all multiple tools available on the platform, we've pinpointed the following pros and cons.
Pros
Cons

The full gallery of exquisite website templates to choose from

Intuitive visual site editor

Numerous widgets

Unique mobile site editor

Powerful add-ons through App Market

Comprehensive support available

Excellent uptime and customer service support

Wix branding on every site

Difficult to switch templates

No built-in statistics

Non-exportable Wix site
Wix in Details
| Characteristic | Information |
| --- | --- |
| Uptime guarantee | 99.8% |
| Server response time | 120 ms |
| Support options | 24/7 email, chatbot, ticket, callback request |
| Hosting plans | Website (Connect Domain, Combo, Unlimited, VIP), Business & eCommerce (Business Basic, Business Limited, Business VIP) |
| Features | unlimited bandwidth, free domain, SSL |
| Server locations | USA, Europe |
| Starting price | $4.5 a month |
Why Wix Is Worth Using?
The provider reviews are aimed at checking out numerous advantages of this hosting service. What perks can you get using this hosting? First and foremost, Wix is all the rage nowadays because it demands only a few steps to launch a website, aka create a profile, complete the payment, and design a website with all available tools.
Wix allows you to build your business website (unless you are a large-scaled one) and run your blog without spending much time and effort.
Optimized processes and access to templates for a website constructor are another advantage of choosing the provider among their competitors. Everyone can create a website from scratch and customize it according to their preferences and needs.
Whether it's a take-way restaurant or personal blog, the platform offers multi-faceted ad-hoc user experience tools.
Wix's services are placed in Europe and the United States. However, location doesn't affect their work. The hosting ensures maximum uptime and minimal loading time. All server configurations are prepared for comfortable interaction with users.
Possible Pitfalls
As Wix com reviews show, the hosting provides limited control over your website. And, it matches only small or medium businesses needs. If you're an owner of a large company or a corporation, you should look for other alternatives.
There may also appear problems with transferring your website from Wix to another hosting. Thus, you should check out more details with a customer support team to avoid unpleasant situations in the future.
Wix Performance
Wix, as a leading website builder, showcases good performance. It allows users to load pages fast, maintaining an average speed of 85-90% without using advanced software. When building your website with Wix, it automatically becomes a top-speed one. All processes are optimized, so you don't have to get down to the nitty-gritty and boost your website performance.
Speed Test Results
A speed test is another key criterion we've included in our Wix.com reviews. We tested the hosting by using GTmetrix test, Pingdon, Google's PaceSpeed Insights.
What did we detect?
| Test | Average Loading Time |
| --- | --- |
| GTmetrix test | 8.3 s |
| Pingdom test | 1.2 s |
| PageSpeed Insights (Google) | 2.9 s |
As a result, Wix hosting speed performance is impressive with a high rate on Pingdom. We've got an average result on PaceSpeed, and the worst is on GTmetrix.
Uptime Rate
Uptime is a crucial factor for promoting your business on the web. If no one can access your site because it's down, you're losing your money then.
Let's check out the level of Wix's uptime rate.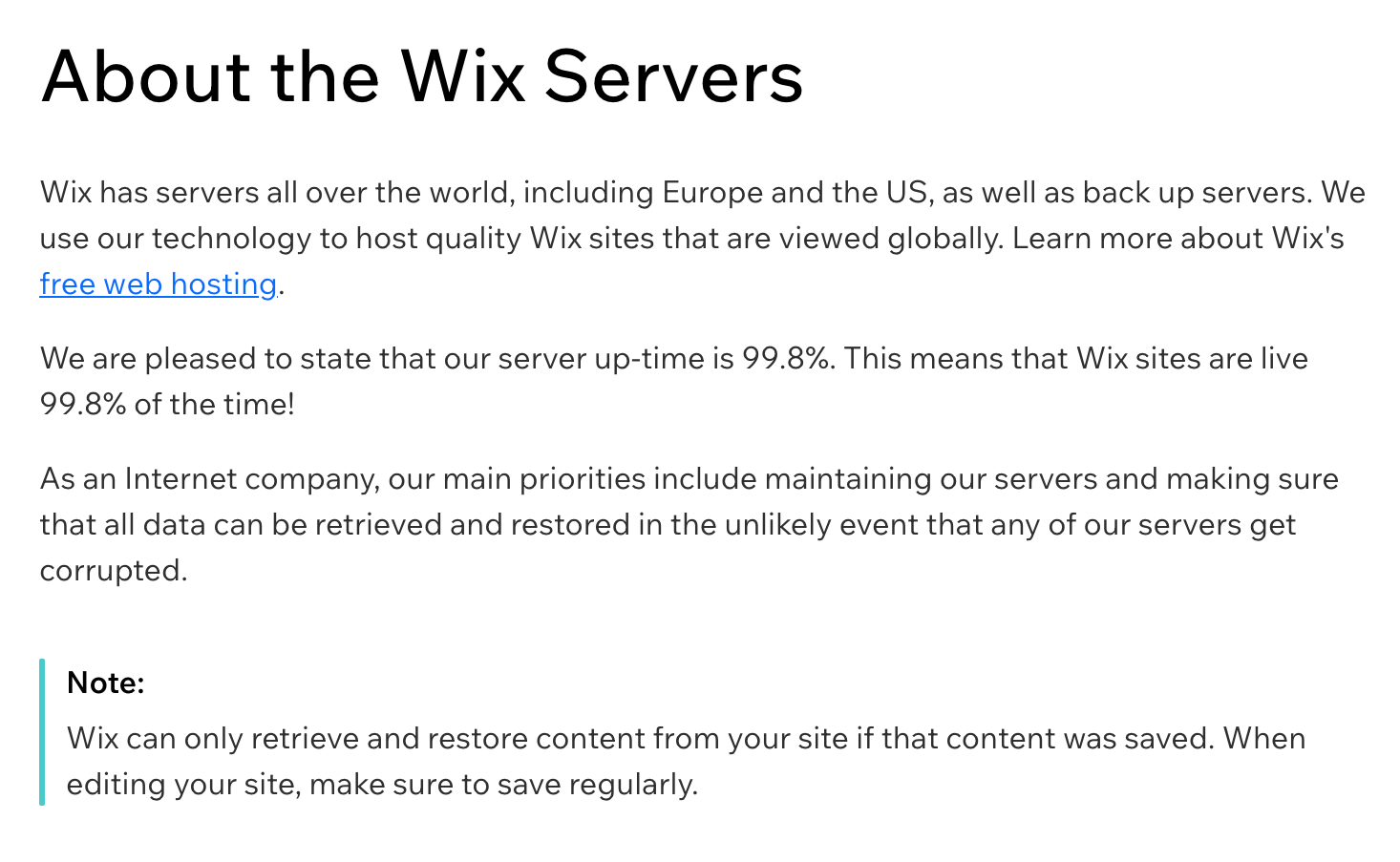 Wix indicates that respectable server uptime is 99.8%. However, there's no written guarantee. You can refer only to this note. Wix doesn't provide any information on what actions to take in such cases or any refund when your site is down for an extended period. And, the ultimate tip is to save all changes and run backups regularly.
What is Wix Server Response Time?
The next stage of our Wix hosting review sheds light on Wix's server response time. No matter what are the other site capabilities, but speed remains a crucial factor. Therefore, we've used Bitcatcha, as one of the industry's proven tools, to find out how good site speed is.
This service checked a server response time in 10 different locations worldwide: the West and East US coasts, London, Singapore, São Paulo, Bangalore, Sydney, Japan, Canada, Germany. Bitcatcha tested the speed three times in each spot and showed an average result.
Let's have a look at Wix's speed server rate: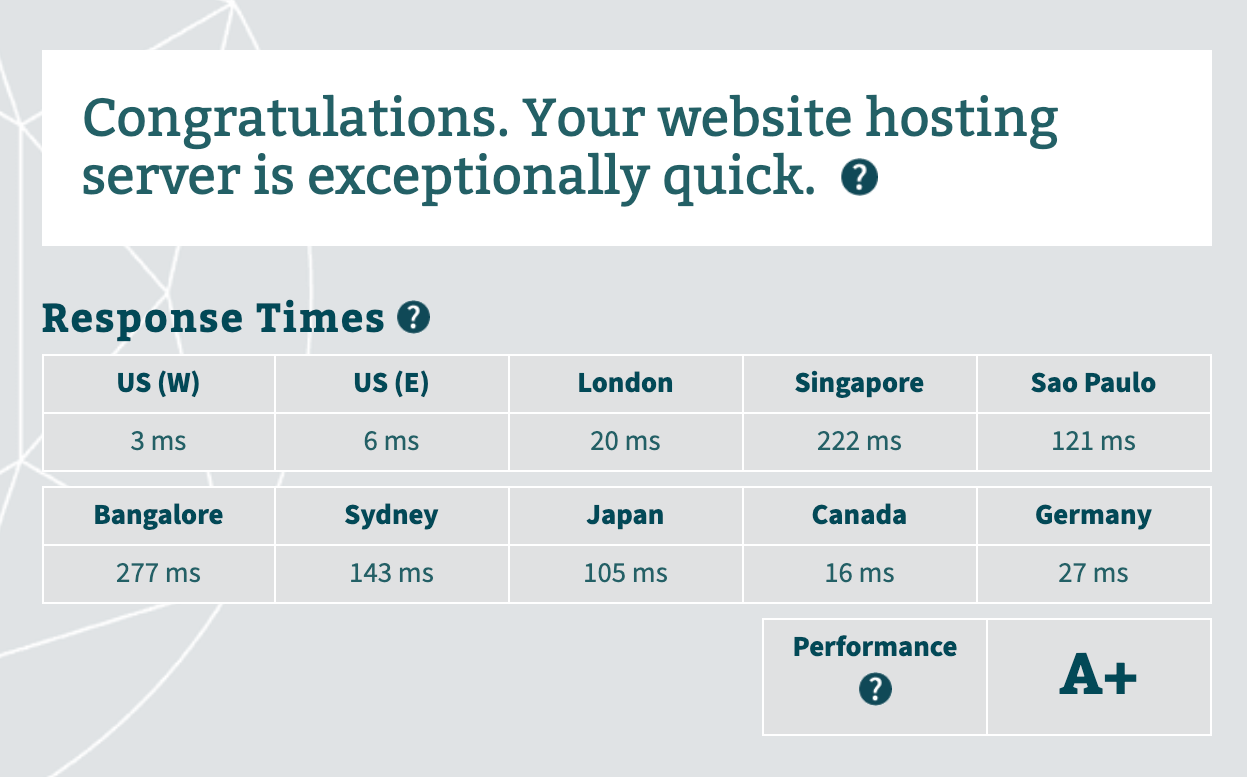 Obviously, Wix's speed server rate is impressive and is far from performing like a snail. The fastest response time is in the US, Canada, London, and Germany. It takes from 3 ms to 27 ms to load Wix's website there. As for other locations, the performance varies from 105 ms in Japan to 277 ms in Bangalore.
After all, this web hosting review demonstrates what speed opportunities you can get, choosing this hosting for your website development. Fast server response time is an advantage since the site is optimized by default.
Wix's Site Migration Possibilities
Another stage in Wix hosting reviews is an option of site migration. Wix supports site migration from and to other hostings. Site transferring from other platforms to Wix is simpler than moving it from Wix.
You can contact the support team for extra help or use guidelines on the site in both cases. Specifically, it's impossible to export and embed files, charts, sites, and pages created with the Wix Editor or AD to another host or external destination.
Wix Pricing
Now we have come to the most interesting moment of Wix hosting reviews – pricing. What plans does the hosting service offer, and how much will you pay?
The provider offers packages in two main categories: Websites and Business & eCommerce.
The Websites package includes four plans: Connect Domain, Combo, Unlimited, VIP.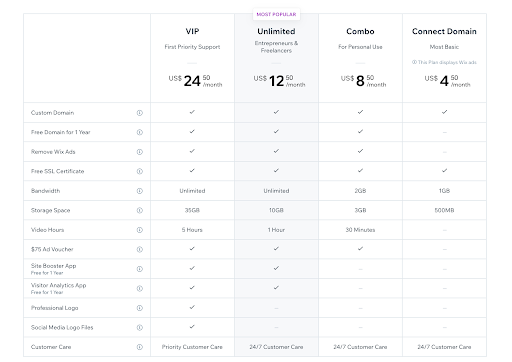 Wix web hosting prices
Connect Domain is the cheapest and offers a custom domain, a free SSL Certificate, 500 MB of storage space, and 1 GB of bandwidth. It starts at $4.50 per month.
Combo provides a free SSL Certificate, 3 GB of storage, and 2 GB of bandwidth. With this plan, you can use a custom domain, remove Wix's ads on your site, use a custom domain, and add 30 minutes' worth of videos to your site.
Unlimited offers endless bandwidth for your site. You also get more storage (10 GB), $300 in vouchers to advertise your site, and free access to the Site Booster and Analytics apps (valued at $60 each).
VIP starts at $24.50 per month. Wix gives you all tidbits from unlimited bandwidth to site booster and video analytics apps with this plan.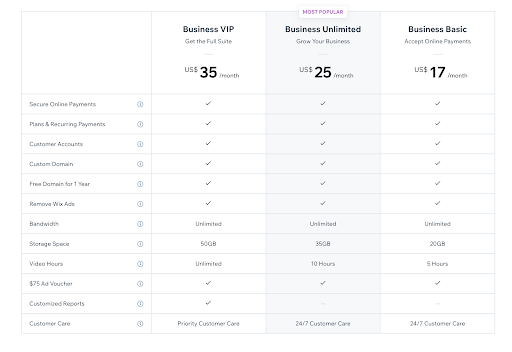 Wix web hosting prices
Prices for Business & eCommerce Plans range from $17 to $35 per month. Each package encompasses the same number of options and differs only in the volume of space storage, video hours, and customized reports.
Security
Wix web hosting reviews pay much attention to security. Security is a cornerstone of Wix operations. The team monitors all hosted websites 24/7 for any suspicious activity and continually carries out software security reviews. This domain manager provides SSL web security to keep connections secure and private over an HTTPS connection.
When using Wix, you can also set up 2-step verification. It prevents unauthorized entries into registered users' accounts. They get a code anytime an unrecognized device attempts to log in.
Moreover, Wix utilizes DDoS Protection to provide a reliable web hosting service. The company runs all the servers through extensive hacker testing. Thus, users can be sure that their website is always up and running.
Support
Wix offers 24/7 support, but you should pass a long way before accessing it. There's no pop-up window offering you fast help. You can find the link to a Support Center at the bottom of the Wix site that functions primarily as a knowledge base. You can find tones of troubleshooting information, yet it's really difficult to get in touch with a support team via webchat.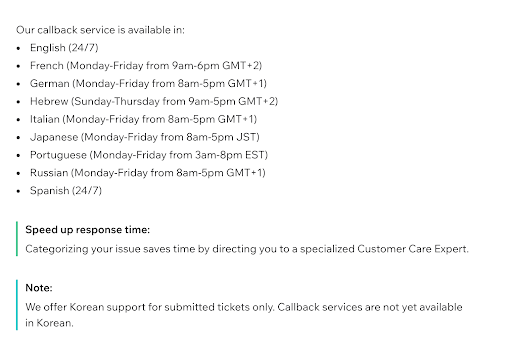 Wix call centers work in different spots around the world only during working hours from Monday to Friday.
Final Thought: Do We Recommend Wix hosting?
We definitely recommend using Wix, especially for those who own small or middle-scaled businesses and want to save money. This hosting is a great opportunity for everyone to get online fast with minimum investment.
Unlike traditional web hosts, Wix offers a brand-new experience. You should get ready to pay more for bandwidth and storage, yet you also have a chance to create your website on your own. Wix's site builder is hard to surpass.
You need minimum knowledge and expertise to run a business site, landing page, personal site, portfolio, blog, or any other primary site.
Alternative Platforms to Wix
Before taking the right decision, you can also have a look at other options. Check out other hosting services.
GreenGeeks a leading green energy web hosting provider. The company uses renewable energy to provide high-performance and reliable hosting solutions.
A2 Hosting is well-known for its turbo servers. This service is easy-to-use and contains high-powered functions.
Siteground is the perfect choice for big projects. This hosting service provides more performance down the line so that you can upgrade your plan at any time.
FAQs: Pay Attention to Details
Is Wix good for beginners?
es, Wix is one of the sites that may spring to beginners' minds while looking for an optimized platform. This hosting's simple-to-use functionality allows newbies to build a website from scratch without learning to code and hiring a professional web designer. Moreover, creating a website with Wix is a real blessing for beginners. They can rearrange objects on their page, write content, drag and drop images or symbols, and add media in a user-friendly environment.
Are any add-ons available on Wix?
Wix is a leading versatile website builder with over 250 add-ons. You can add them to your site with just a few clicks.
Can I transfer my domain name to Wix?
Yes, it's possible. Yet, you should consider two important aspects for transferring your domain to Wix from another registrar.
Initially, Wix becomes the domain host. It means that if you need domain renewal in the future, it will be run not from the previous domain host but your current Wix account.
Secondly, you can manage DNS records like pointing a domain to another IP address, connecting subdomains, and your email from your Wix account.
Wix uses a best-in-class security system to ensure a safe environment for payments and other business assets. A large security staff monitors and deals with all malicious activity on the hosting.
Is the customer support multilingual?
Yes, you can not only communicate desirable language with a support team but use Wix Multilingual to translate your content on your website. So, visitors from around the globe can enjoy your site.