Search engine optimization is not a one-time project, but a long-term process. The techniques and strategies that work today, may not necessarily work tomorrow and it is, for this reason, one needs to be up-to-date when it comes to SEO.
When your website is not optimized correctly, you will miss out on search traffic and risk losing new customers. Remember, mistakes happen to everyone. Many sites, from the small local businesses to the big corporate ones, are making mistakes. The ultimate goal of our research is to share the biggest SEO mistakes for avoiding them in the future.
Results of the study
During the past quarter, Sitechecker users carried out 52K audits using the Sitechecker audit tool and checked 6M pages. We investigated this information and introduced the most well-known SEO mistakes found on the analyzed websites.
Sitechecker website score consists of 60 SEO checks that are valuable for website promotion. It is calculated based on the errors divided into blocks: Critical, Warnings and Notices. The more critical errors you have the lower performance score is.
Firstly, we divided all studied websites into 4 groups by Sitechecker website score. It is our internal rate based on the combo of estimation of critical errors, warnings, notices, and Google Page Speed results. As you can see on the diagram, most sites (53%) had a website score from 50 to 90 and only 5% of analyzed websites — more than 90. There's no better time to take a look at your web strategy than right now, check your website for mentioned above mistakes, fix or prevent them, and be on the top of Google.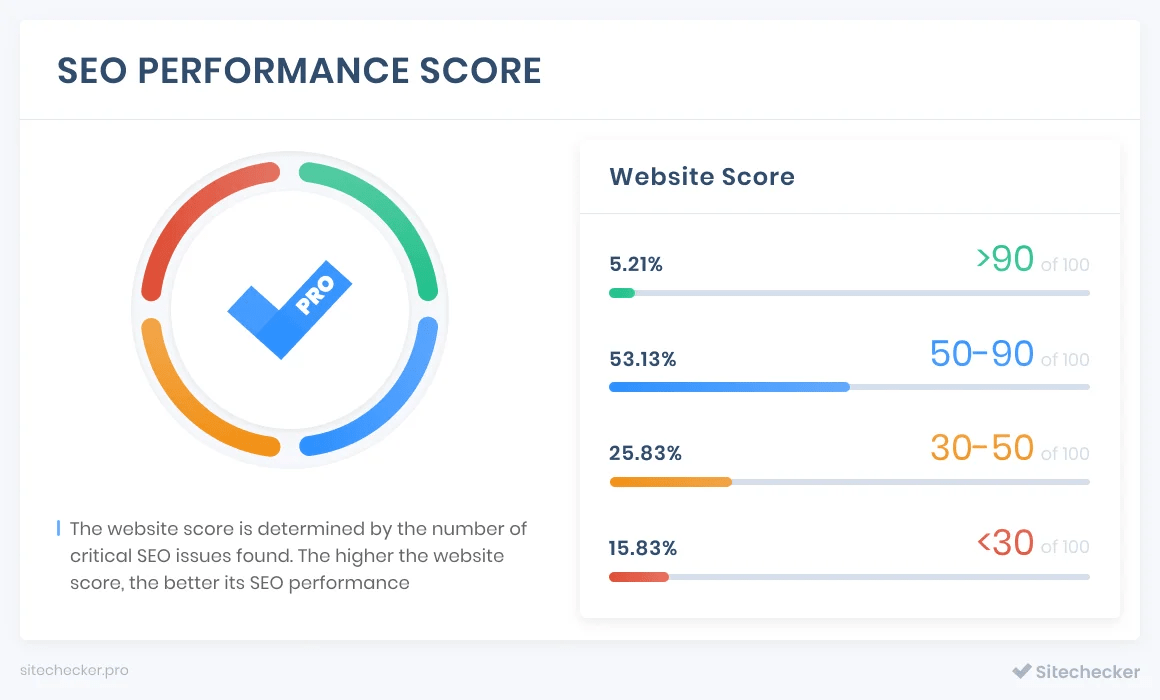 Our study revealed that the most popular critical mistake is missing Tittle, H1, or Description. One could achieve a high ranking page by putting great efforts into optimizing the site but if the meta tags are missing, search engines would auto-complete it, however, this is hit-and-miss, with the latter occurring more often.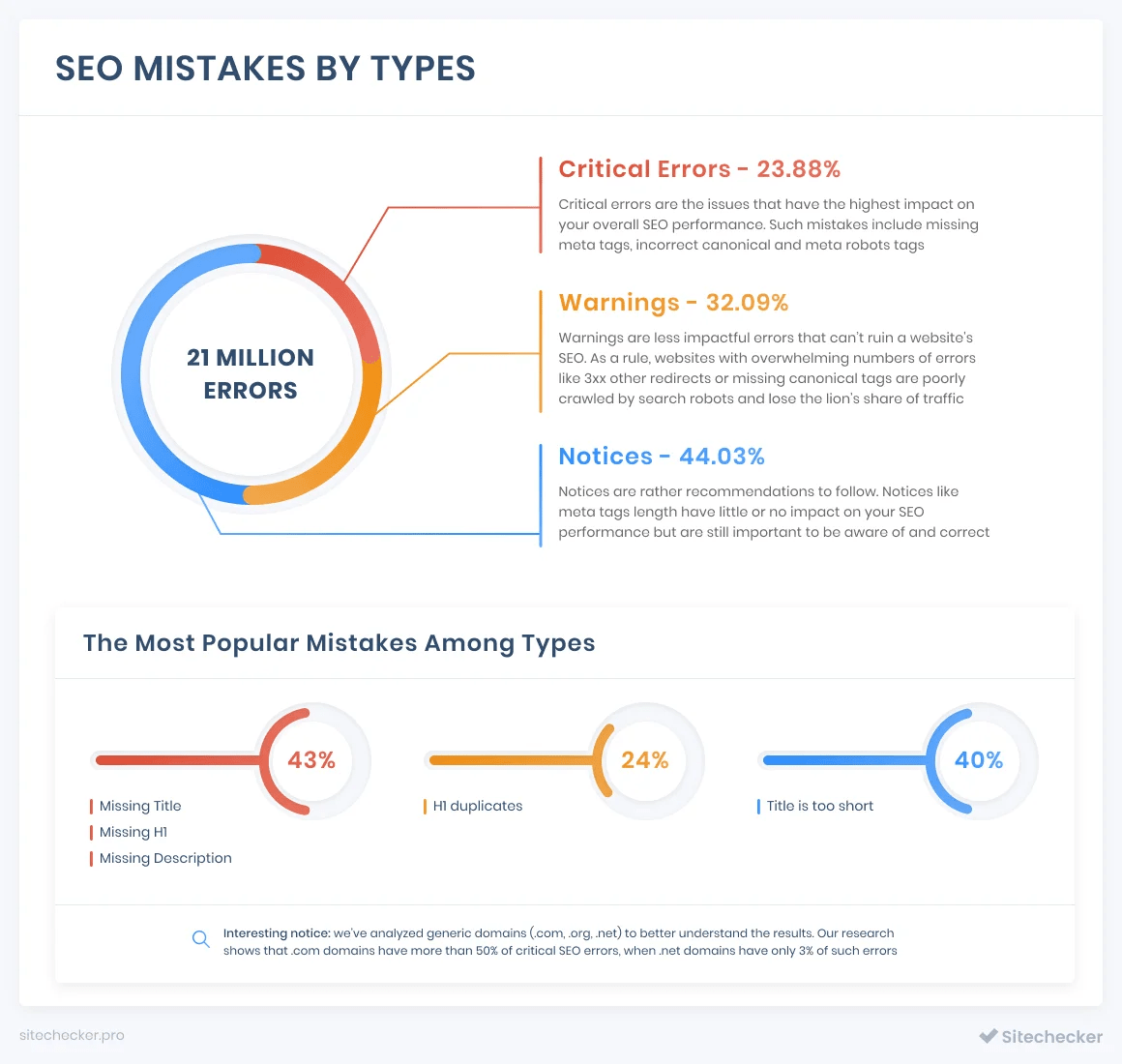 We have decided not to concentrate only on common mistakes, but to provide as much information as possible. So below you will see statistics on 20M errors, divided into three big groups:
Technical errors
On-page SEO errors
Crawlability errors
Technical errors
These errors lead to a high bounce rate. However, the good news is that all of them can be avoided. Let's take a look at those mistakes and prevent you from making it.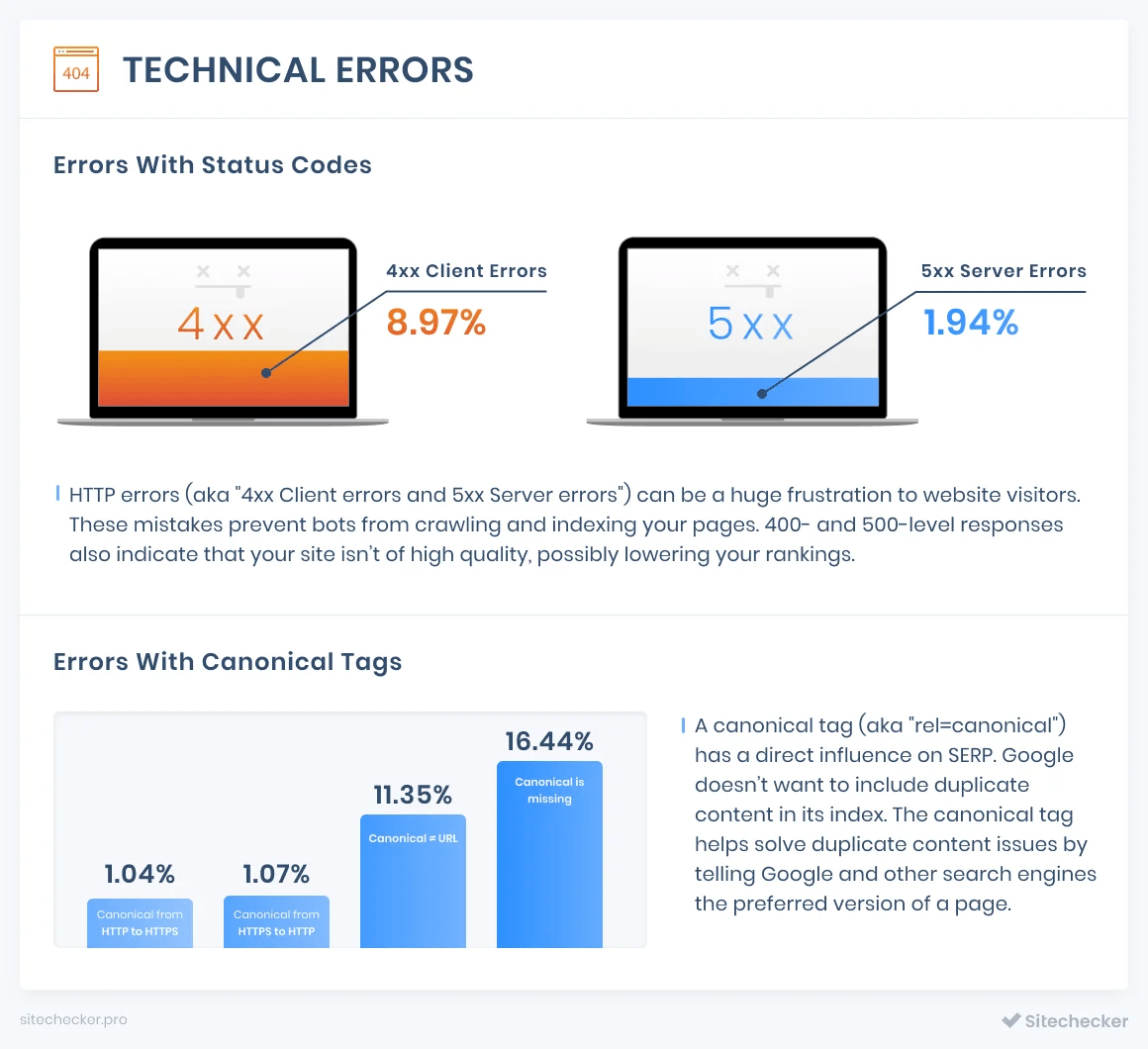 4xx errors mean that something went wrong on the client-side, while 5xx errors indicate an issue with the server. Website visitors and web crawler bots the same will be lost, and your connection value will go nowhere quickly. If bots don't crawl a website, then it can't be indexed, and it won't show up in search engine results. So you will need to check these HTTP status codes and get these fixed as soon as you found them.
Errors with canonical tags have a big impact on the appearance of a website in search results. If there are numerous pages with duplicate content on your site, crawlers won't realize which page to list in their index. Using rel="canonical" helps the bot to understand the preferred version of page and avoid duplicate issues.
Fixing all these technical issues alone will improve your website's ranking and provide visitors with good user experience.
Check your website SEO score instantly
Launch website audit and detect what pages need improvement, fix SEO errors and gain more traffic
On-page SEO errors
The content of meta tags generally describes data about the HTML page which as a rule cannot be represented by any other HTML tags. They "explain" the page so a browser can understand it and tell search engines how to display it to visitors.
Let's get more about these tags:
Title tag is the first impression many people have of your page. It appears in the head block of the search engine results pages, web browsers, and social networks.
H1 is used for the title of a page or post. The combination of relevant keywords at the top of the page and the presence of desired information in this place makes the H1 tag so important for user experience.
Meta description sums up the page's content. Search engines frequently use it for the snippet in SERP. You can also craft your descriptions to be calls to action, so start thinking about them as a conversion factor.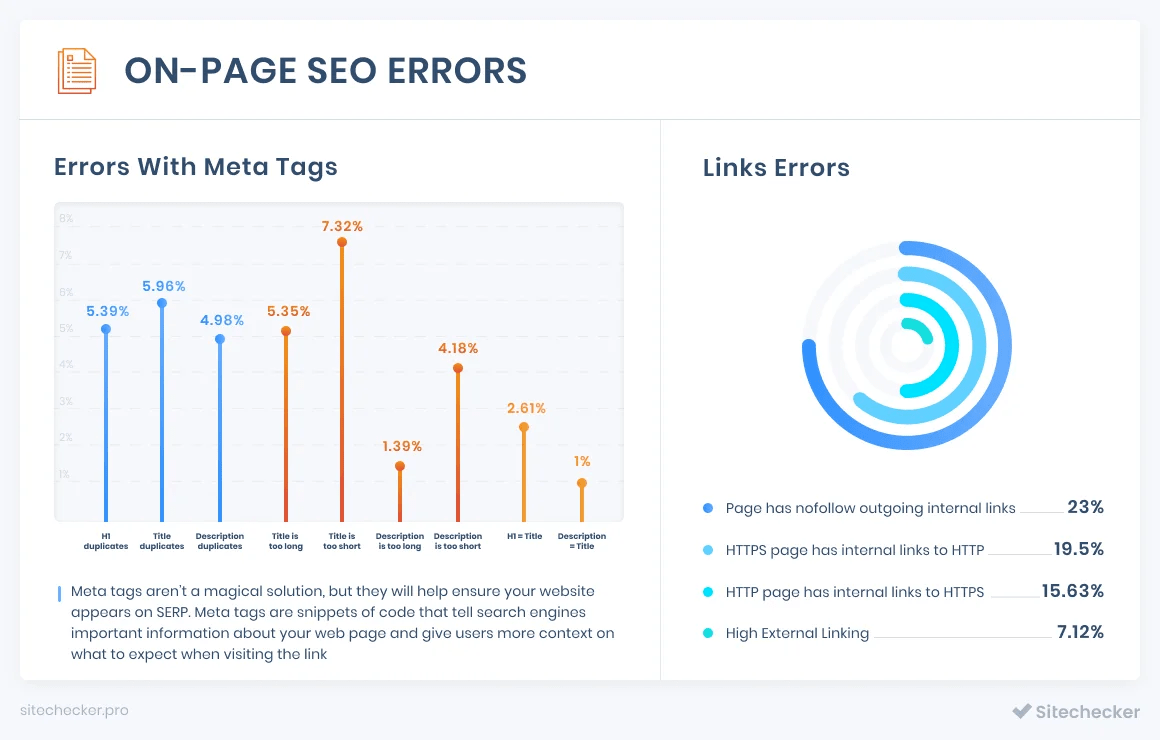 As the research shows, you should first check the title length and meta tags duplicates. Make sure that the meta tags on your website are unique for each and every page and try to make them as attractive as possible.
The biggest problem related to the HTTPS certificate is the referral of HTTPS to HTTP websites. Links to old HTTP pages may cause an insecure exchange among clients and a server, so make certain to watch that every one of your links are updated.
Internal links are generally used in main navigation and lead from one page on a domain to a different page on the same domain. They are commonly used in main navigation. Ensure that internal links are used effectively and reliably for the keywords that define the content of the linked page and for which you need to rank.
External links are very important for a good ranking is beyond question but in SEO, quality precedes quantity. One link from a mainstream blog may help out your rankings more than hundreds or even a large number of low quality links.
Crawlability errors
If you ignore any crawling issues from a technical SEO perspective, your page has no chance of making it to the SERP.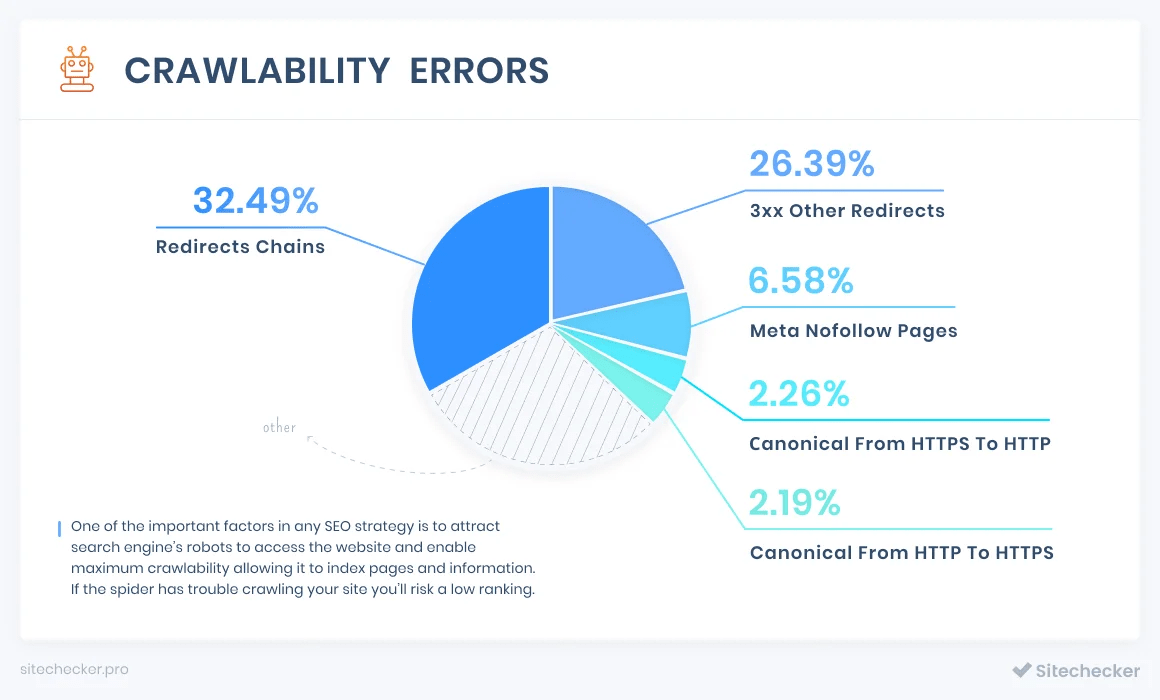 The most common are redirects chains and 3xx other redirects. The lowest share was found in the problems with meta nofollow, canonical from HTTPS to HTTP and vice versa.
Redirect chain occurs when there is more than one redirect between the initial URL and the destination URL. Too many redirects can cause crawling bot to even give up on the page.
3xx redirects are transcendently 301 or 302 yet there are additionally less well known ones.
The 303 status code is identical in significance to "see somewhere else"/"see other". It is preferably a notification than a true redirect. It tells the application to look for the correct answer at a different link.
The importance of the 304 status is "not modified" — a sign from the server that the page has not been changed since it was last accessed or cached. Consequently, it additionally doesn't look like a true redirect.
As expressed before, 303 and 304 are fairly uncommon. Simultaneously, 305-308 redirects can be particularly unpopular.
Meta nofollow pages are all URLs that are blocked by nofollow tag. It tells search engines not to crawl the links on your page. If you want that the links on this page should be followed, check the source code of your page and change to say "follow", or just delete that element.
Many website owners after moving their sites to HTTPS often leave, the original version of their site — the canonical version — is the old HTTP version. In fact, you point Google that the HTTP version is the real one that should be in the index. The bot is confused about canonical from HTTP to HTTPS and waste crawl budget to rescan your website. On the other side having both the HTTPS and HTTP versions live can cause link dilution. When users will come across both site versions, sharing and linking to them respectively, it causes external link equity to get split into two URLs instead of one.The similar situation is happening with using canonical from HTTPS to HTTP. Make sure that you do not have several versions of web pages.
Conclusion
The infographic below highlights the most common SEO mistakes that you need to avoid at all cost.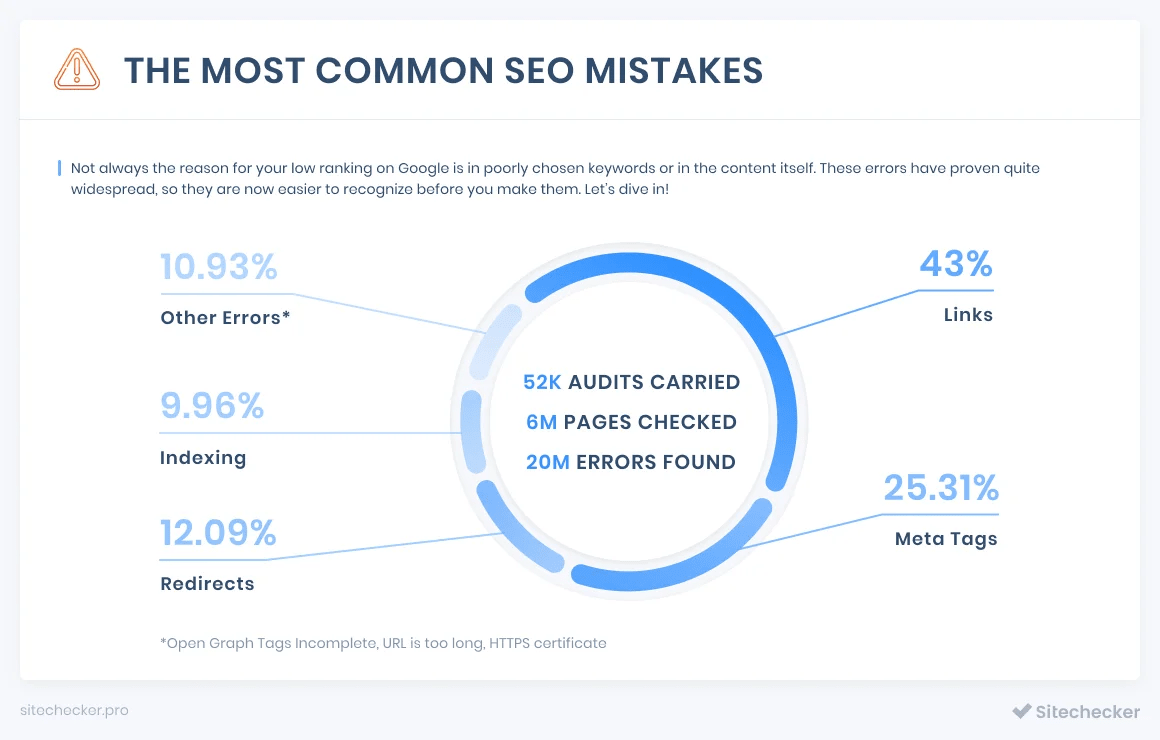 The issues with the following blocks are not only affect user engagement but also harms your site's credibility and ranking:
links
meta tags
redirects
other errors (Open Graph Tags incomplete, URL is too long, HTTPS certificate)
A well-optimized website is a key to a business site success. Presently you comprehend what are the most popular SEO errors website owners make, you are in a superior situation to overcome them. So let's fix these SEO mistakes immediately so as to make your site user & web index friendly and to improve its general performance & usability.

Copy this infographics and paste to your site: