SEO changes really fast. Google is continually introducing new algorithm updates even more often than in previous years. However, will these updates dramatically change the way of work of SEO specialists?  Let's deep dive into SEO experts' thoughts about the future of search engine optimization and their SEO strategies for 2022.
Research methodology
We asked 56 of today's top SEO professionals 4 questions. There were 3 voting questions with 28 SEO practices (they could choose as many variants as they like):
Which techniques and terms do you think were overrated in the SEO industry in 2021?
Which techniques and terms do you think were underrated in the SEO industry in 2021?
Which techniques have you previously had no time for implementation, but plan to devote time to in 2022?
The last one was the open question to share their thoughts about the SEO landscape in 2022.
We summed up the votes of the second and third questions and got the top 10 SEO trends for 2022. You can view the raw data in this Google Sheet. Based on this table we built all graphs. Our data revealed some very interesting (and useful) insights. Let's dive right in!
The most underrated SEO techniques in 2021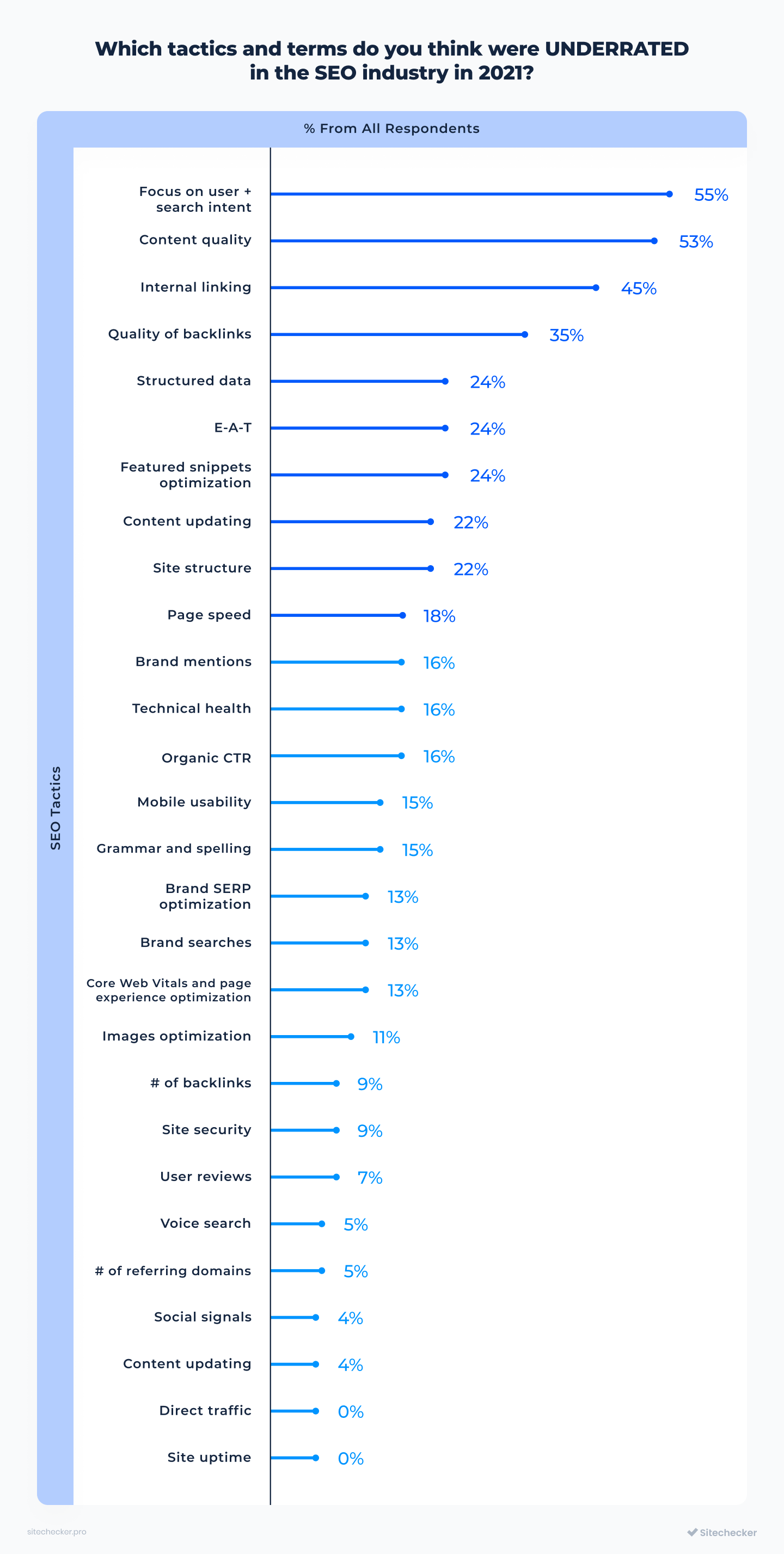 The most overrated SEO techniques in 2021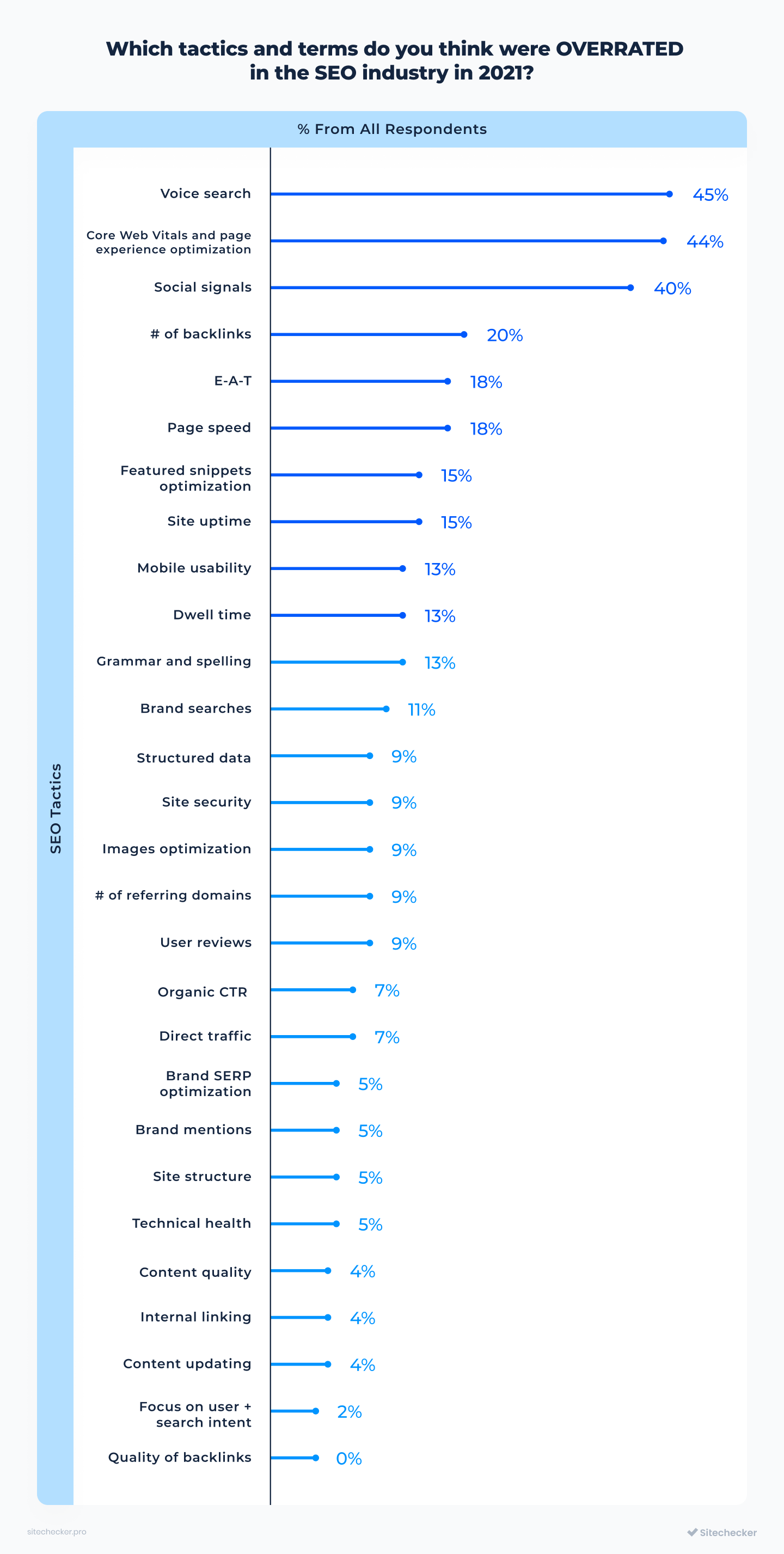 Top SEO trends to focus on in 2022
Now let's look ahead to what we can expect from SEO in 2022. We put together the most important SEO techniques and strategies according to the SEO experts to help you prepare for what is coming!
#1 Focus on user + search intent
I think SEOs will continue to look for ways to delight every single visitor that comes to their website, even those that might not ultimately convert. They can do this by making sure every interaction and design element has a voice and is remarkable. Internally we refer to these as Superpixels, though you can think of them as the digital manifestation of what Seth Godin would call - in his best-selling book - a Purple Cow. SEOs will put more focus than ever on making their websites bookmark-worthy and query-altering worthy so that people actively seek out their specific website when they don't find it in search results.
One of the biggest mistakes I see people make is not continuously tracking the intents' changes for important queries. Once they hit the top spot, they think the job is done and move to the next. But, as we know, intent can change over time and sometimes abruptly shift due to sudden changes that affect the users. e.g., Covid. Another critical thing to remember is intent is not always one-dimensional, and search engines can struggle to understand the true intent for some queries. Especially generic terms where the actual intent is hard to guess.
The basic goal of Google's semantic search is to truly understand a user's search query so that the search engine can answer the query thoroughly and take the user on a journey of discovery. What I mean by 'journey of discovery' is when a user searches, Google doesn't just want to answer the query. Google also wants to intuit the user's next question and present the answer to that question in the same SERP. In order for Google to actually do this, Google stores information about entities in its Knowledge Graph. This helps Google 'understand' what the user is searching for so that Google can give the best answer.
Everything will be focused on user intent and page authority. Page authority will be a reason to get to the top 1 rankings. Your domain trust, backlinks, and relevant content push you to the top. As soon as you get the first CTR from SERP and Google gets data on user behavior - the quality of your page matters the most. So your content and UX must satisfy users better than other sites in a vertical.
With RankBain, BERT & now MUM, Google is creating AI relevancy algorithms to better satisfy user/search intent. Google will get better at this and start to use user interaction signals like dwell time and CTR more to work out when its users' needs are met, or not. So, Google will turn up the user/search intent dial more in 2022, and SEOs will be turning to more advanced content strategies like Topic Clusters to create high-quality and satisfying content.
I believe that over the course of 2022 it will become even clearer that Google, even if they won't admit it, is utilizing machine learning in near to real-time for determining signal weightings. This appears to be happening on almost a query-by-query basis based on searcher intent. Therefore, it is also going to be crucial for SEOs to shift (if they haven't already) to intent-first strategies.
We need to think big picture about what MUM is and what changes it's going to bring. MUM focuses on the search intent of the user. It utilizes passage indexing to split content across the web. We're already seeing this with the mobile scrolling feature. This launch will shift into more transactional topics that will eat up page 1. Then informational topics will get pushed to pages 2, 3, etc. This means SEO professionals will need to revisit their approach to content creation.
#2 Content quality
Businesses will need to have a clear AI strategy to cope with increasing content demand and personalization requirements. Conversational UIs will become the new content hubs and Google will rank content by evaluating at the same time text, images, videos, and other media formats. I expect to see more rich features with a strong focus on expert content and rich media elements.
With the rise of artificial intelligence (AI) copywriting, I think internet users will eventually start to reject mass-produced, robotic-sounding content and specifically seek out content that was obviously written by a human. And where the searchers go, Google inevitably follows. So, I would expect Google to tweak their algorithm to try and reward human-written content over obvious AI-written content. I think over-reliance on AI to write your copy is going to lead to stale content pretty quickly and AI-written content will be a go-to only for small businesses with a limited budget.
Content optimization will finally catch up with content creation. You can't add more and more content while your existing assets deteriorate increasingly or aren't well optimized in the first place.
It would be nice to think that Google is continuing their push on ensuring the better results get the higher positions - results that deserve to be at the top rather than someone who has been gaming the system. I would anticipate more work around content and quality signals as well as continued improvement for user experience.
As the algorithm continues to get smarter, high-quality content will become even more important for ranking. In 2022, to rank on the first page of Google for the keyword, you need to have the best piece of content on the internet about the subject. To copy, replicate, or do anything else is not going to get it done. With this in mind, it's better to spend 20 hours writing an incredible blog post than publish 10 posts that take two hours each.
I would predict that Google will enhance the reliability of links inserted in the content. Quality content has always been the number one reason people end up on your site, therefore, why would Google not follow your lead?!
I believe that the quality of your content and ability to answer a searcher's questions quickly and adequately will have even more of an important role in SEO than in previous years.
My new saying for 2022 is.... 'Context is King' where things like topical authority, relevance, and comprehensiveness rule the SERPs. Along with writing a great article that not only answers the search intent but may also provide the user with some new insights (Information Gain Score) and completely cover a topic in its entirety.
There will be a focus on items that should always have been a priority like clear and direct messaging, especially when using features that define topics like an H tag or Title Tag. The added value here is that all channels win, not just SEO. The largest obstacle will be branding teams, but as data becomes more available the finance teams and data teams will begin siding with performance, growth, and marketing.
#3 Internal linking
Developing depth for your content in the form of topic clusters will be critical to the success of SEO in 2022. Become the authority on your topic by covering the content in-depth across multiple interlinked pages. Involve subject matter experts to build expertise and trustworthiness. Include multiple forms of media. These strategies will be rewarded as Google continues to modify the SERPs with the Multi Unified Model (MUM) algorithm and deliver a more visual and query-refining search experience. If you have all of the answers across all of the pertinent search intents for each persona, content cannibalization will no longer become a threat to your visibility.
#4 Quality of backlinks
Backlinks will remain one of the most important factors for Google's ranking. All the new Google algorithms and updates, which are meant to weaken the influence of the backlinks, have shown some results, but have not changed the overall state of affairs by more than 30%. And such a situation will not change during the next 2-3 years.
Internet marketers should focus more on building high-quality backlinks. Focus on the quality of the links you get (do-follow links from relevant sites with high DR), rather than on the quantity.
#5 Content updating
In 2022 we have to use complex content for the pages: pictures, videos, animations, graphics. For the local SEO: keywords in the reviews, photos, and the correct answers to the reviews are crucial. Google tries to associate the picture with the context of the use of what's in it. Not many people have updated their content to meet the above algorithm's requirements.
The most important is not just update content but use keywords from Search Console after some time page is published. The more unique your page structure, and its optimized for user intent, it will outrank any competitors. So, nonstop updating layout and content.
#6 Structured data
There are several groups of factors in the search engine that developers periodically work on to improve search results, for example, link algorithms, information quality, behavioral factors, technical optimization, etc. If we study the history of updates, we will notice certain patterns. For example, Core Web Vitals, popular in 2021, is an improvement in SpeedUpdate (2017) and a consequence of changes in front-end development. The search engine should work on the LTV of users. I think that the developers of the search engine will continue to work on the quality of the content. For example, we will see more influence of semantic search (knowledge graph), which means that SEO specialists should understand more about using Schema.
#7 E-A-T
I expect Google to increase the importance of E-A-T factors. Most probably this trend will continue for the next 3 years, not only for YMYL sites but also for all other types. So SEOs will have to pay more attention to how to show expertise, authority, and trustworthiness on their websites. For example by creating a detailed "About Us" page with a description of the project, managing and improving company reviews, achieving awards and accolades, etc.
I think there will be more of a focus on content quality around E-A-T signals.
We know that Core Web Vitals/Page Experience update will be rolled out to desktop, I see E-A-T continuing to be a critical factor, and they're going to continue to test new features for the SERPs. So hopefully SEOs continue to have an influence on UX and content strategy within organizations.
You have to make sure visitors know why you are the resource they need to navigate all the options. This has an added benefit: when clients walk in the door, they already have a reason to trust your advice: you've shown them you're an expert in what you do. And this sets you up for long-term success, making a name for yourself that keeps clients coming back for more.
#8 Brand SERP optimization
Google's understanding of your brand (company, person, podcast, music group, product, etc.) is obviously key. Educating Google so that it has a basic understanding is the strict minimum. But Entity SEO goes WAY beyond Google simply understanding who you are ... think topics and your authority on those topics. That is the single most important thing that will drive your overall SEO strategy in 2022 and beyond. And yet more! The "killer". Only when Google has understood who you are can it start to apply E-A-T signals. And yes, that means building E-A-T is a futile exercise if Google has no basic understanding of who you are, what you do and who your audience is. So, the number #1 strategy for 2022 is to educate Google about who you are, what you do, and who your audience is. Google is a child, and it wants to understand. Your job, as the responsible adult in the room, is to educate it about your small corner of the Internet.
It's been clear from the last few years that to truly succeed in SEO, you need to be more than just a website. It's not as simple as just having a website, some half-decent content, and some links. It's about building a brand, getting involved in the community, and making a name for yourself. By doing so, SEO and marketing, in general, become much easier.
#9 Featured snippets optimization
I believe in 2022 the Core Updates from Google will focus on further integrating machine learning into their algorithms and making them play nice together. Along that line, I believe we're going to see the results pages change to promote even less clicks for simple queries, and SEO's will be fighting more for featured snippets and answering more robust questions with deeper content.
In 2022, we are going to see Google continue to list more "top lists" and "-" articles at the top of the search results. We are seeing more brand resources and guides getting pushed down from big players, and more list/top style content getting pushed up from news publications and lesser-known media outlets.
There are many rumors now around Apple's own search engine, and I'm very curious if they will come true in 2022. Also, I think Google is heading towards adding more content types to SERP (like, featured snippets or video boxes), so we'll see many experiments on how search results look. The world is now moving to simplicity, and it's going to affect how people search for things. We'll be getting more and more short-tail searches, and Google will learn search intent not only from the query but from the search history or user's location as well.
I predict that rich snippets will peak in importance in 2022, fueled by deep penetration of smart speakers and smartphone personal assistants driving usage of voice search and position zero SERP results.
Google will continue to answer more and more queries directly on the search engine results pages.
#10 ​​Site structure
SERPs in Google are constantly changing. More and more often we see new sites replacing old ones. The role of technical SEO has increased. Good site structure works wonders.
A few more predictions for 2022
AI Technologies
AI content is going to become more rampant. To deal with this Google will have to do one of two things: 1) Figure out how to detect it properly; 2) Turn back the ranking factor dial on content in favor of other signals.
Google will release an AI ranking "solution" that anticipates what the searcher wants and gives usually accurate results. Google will continue to push organic results further down the page. Google will offer a "premium seating" option for a fee such that organic results can receive a boost in rankings to a premium section - not quite PPC but higher than "just organic". Google remains in the business of making money first and providing accurate results if convenient. Google stops confirming core updates and goes radio silent.
In 2022 we will see an even greater impact of Google's AI on search results. Expect mobile results to become more dynamic and things like title tag changes to continue.
Google algorithm will rely more and more on AI. AI is a black box. This will make it more difficult to understand why a page/site is ranking. We've seen so much volatility in 2021 already. SEOs will have to work on all aspects of SEO, from technical, to EAT. The only constant we've seen through all the years is that links are still a very important criterion.
As Google's Machine Learning is getting smarter (which it naturally will the more training sets and RL data it processes), I think in 2022 we're going to see more qualitative metrics when it comes to judging it a specific web page is "a good fit" for a search query, and if the page has a strong, and "beneficial purpose" and is "helpful" for users. All of this is outlined in Google's Quality Rater Guidelines and makes sense, and we can see a lot of this retrospectively in a number of Google's 2021 updates.
Core Web Vitals & UX
Many sites really got caught off-guard by Google's Page Experience algorithm roll-out in 2021. The result was sites dropping in SERPs and many brands wondering what happened! The key problems were page speed as measured by Google's Page Speed Insights and mobile user experience. It became clear that not only is Google the dominant player in search but they really control the rules and they are getting nitty-gritty on what they get from sites. It's critical for ranking to meet the criteria Google has set for Page Experience and that your site passes the Core Web Vitals test. I know I'm doubling down on this in the months ahead.
Google will keep pushing websites to improve core web vitals as seen with the latest announcement around Desktop Core Web Vitals. Users will continue to favor sites that deliver answers they seek, quickly and with a good user experience.
We are going to see Page Experience become a ranking factor for desktop, which will certainly have an impact on many websites. However, we do know that the measures that makeup Page Experience (including Core Web Vitals) has been slightly exaggerated in the impact it has on ranking in 2021. So I would expect to see people continuing to talk about Core Web Vitals at the beginning of the year before falling back to the traditional ranking factors to improve performance (content quality, backlinks, structure, internal links, etc).
Change is the only constant factor in Search. Google, the dominant force in a majority of languages will continue to evolve, likely maintaining a sharp focus on their user experience. With that in mind, there are a number of safe bets for 2022. Unique selling proposition and page performance are poised to remain central and grow in importance over time. Google Web Vitals and Cumulative Layout Shift in particular will become a much higher priority in the months to come. Links at the same time will lose some of their relative relevance. They will remain important for content detection and crawl prioritization but are likely to play a progressively diminished role in SEO.
My prediction for the SEO landscape in 2022 is that website accessibility will be of greater importance, due to Google having a greater emphasis on the user. Typically speaking most websites contain logical headers and descriptive alt text but this may evolve to consider how accessible from completions or the buyer's journey is. I also predict machine learning and AI will become a part of every SEO's day-to-day toolset due to their ability to speed up processes and reduce human error.
Crawling and indexing will change from pull to push systems. Search engines will push even harder to make a user-friendly website or app. More metrics for measuring UX.
UX and users' intent will increase their impact on the top-10 results. Adding keywords to the content will diminish their impact because Google can recognize the real intent of the content.
Local SEO
Mostly more of the same. But I would guess more SEOs and business owners work on what I call cold-start SEO, which is the process of trying to rank for relatively low-volume terms with low competition but a high degree of "buying intent" on the part of the searcher. Because I'm a local SEO, the scenario I tend to think of is this: you offer products or services that few other businesses in your city or immediate area offer, but customers search from far afield for them, and are willing to drive a bit, pay your trip charges, work with you remotely, or pay for shipping. That is people REALLY want them. As I wrote on a variety of occasions in 2020, one effect of the Covid era is that every business's "service area" has expanded, and local businesses in a niche can and do take advantage of that. In other words, I suggest business owners and SEO focus on (what we used to call) a "long-tail" strategy minus the lengthy search terms. The high-payoff search terms aren't necessarily overlooked or obscure because they're long, but rather because would-be competitors don't compete with you on those terms, because they don't offer those products or services. To the extent you can, become more of a specialist. The most successful businesses I've seen since 2020 have done that.
I feel like people will continue to get smarter at searching. Local SEO will continue to get harder and harder to rank. Hoping Google will not continue to credit and rank clients spamming their Google Profile with keywords. The legal space will continue to be extremely competitive. LSA will continue to play an important role in local searches.
Ecommerce SEO
Google Shopping Graph in the COVID-19 pandemic, online shopping became the only option for consumers. Shopify's financial results surpassed everybody's initial expectations. Google's online shopping capabilities haven't been strong. Their Shopping search engine had existed for a long time but never became as popular as Shopify or Amazon. Now, Google seems to have finally taken online shopping seriously.
Third-party cookies
Here's what I hope: 2022 is the year that people stop repeating goofy SEO myths like "domain authority is a thing" or "it's all about social signals" or "Google uses CTR as a ranking signal" or "E-A-T determines rank" or "Over 50% of searches get no clicks"… I could go on and on. However, I'm not expecting much. Frankly, I think we'll all be more concerned with Google killing 3rd party cookies than SEO issues, but you never know.
I feel that 2022 might be quiet for SEO. We've had a really turbulent couple of years with the global Pandemic. So much so that Google delayed the rollout of Core Web Vitals and page experience updates. Then SEO's noticed a lot of change over the summer with multiple algorithm updates and changes to title tags amongst just some of the changes. As we enter 2022 and third-party data becomes extinct and first-party data becomes important. I feel that a focus may even move away from SEO temporarily whilst many businesses work out how to work in a new digital world without third-party cookies. I feel that for Google and some businesses, SEO might not be the biggest priority in 2022. Giving those that do focus on SEO efforts a competitive edge.
Technical SEO
I don't have a prediction. I DO have hopes and dreams that SEOs will focus more on technical infrastructure and rendering. Technical SEO continues to kill a lot of sites. I hope that they'll do a bit more critical thinking when it comes to Google's answers and policies.
New search engines
SEO is basically staying the same regardless of Google updates. Generally, the only change I'm seeing in how SEOs work is in their keyword research processes. Some SEO tools including Ahrefs already offer features for keyword clusterization and classification so doing keyword research at scale is getting easier. From the user perspective, we already see the rise of new search engines–from Neeva, Brave and Ahrefs. While it's incredibly difficult to compete with Google, we may see a higher churn rate in Google's user base.
Business metrics
More people will be number and KPI-focused.
Top 10 SEO trends infographics

Share this article and infographics with your colleagues and followers in social media to get know if they agree with this list.
A few interesting facts
Divergence of views
If we compare the most underrated with the most overrated techniques, there will be several techniques with the biggest divergence of views among SEOs.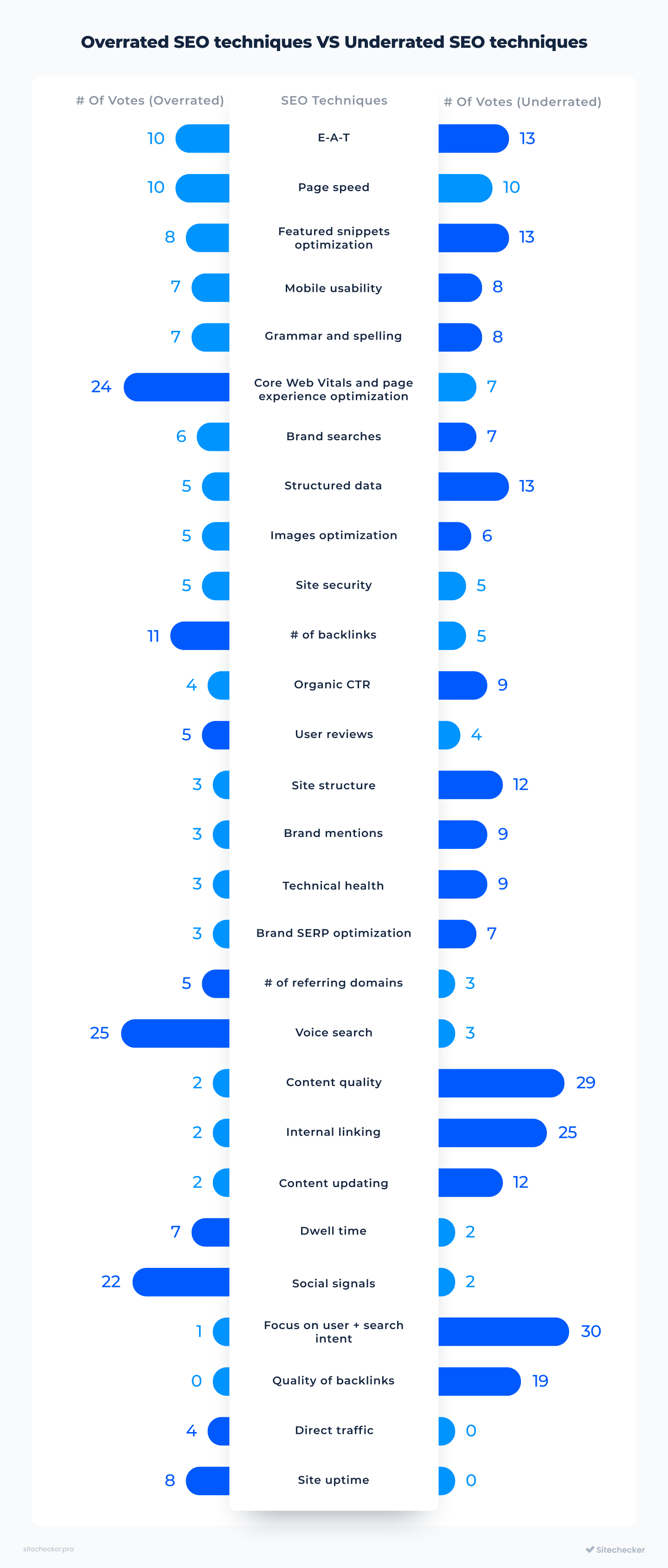 E-A-T
10 out of 56 SEO experts consider E-A-T to be an overrated method, while 13 experts consider it to be the opposite – underrated method.
You can see people arguing over whether E-A-T is a ranking factor on many SEO blogs and forums. Probably, the problem is that measuring a website's E-A-T is much more difficult than measuring website speed, links, and keywords.
Mary Haynes has analyzed if E-A-T is really a ranking factor in her blog. Google employee Danny Sullivan argues that E-A-T is not a ranking signal. It's one of the approaches which Google raters use to rank websites.
Page Speed
10 out of 56 SEO experts consider Page Speed to be an overrated method, while other 10 experts consider it to be the opposite – underrated method.
The dissonance among specialists arises due to the fact that Google is actively promoting Core Web Vitals and says that this factor will rank websites soon. On the other hand, Google employees say that site speed is an insignificant factor at the level of the HTTPS protocol.
Brand awareness
The top tactics that SEO specialists did not pay attention to in 2021, but plan to devote in 2022, there are 3 tactics related to brand awareness:
Brand SERP optimization
Brand searches
Brand mentions
SEO is increasingly becoming more about marketing and vice versa.
So, do you agree with experts? It's time to discuss this research with your colleagues.